It only takes 20 minutes (including bake time) to make delicious individual-sized Pesto Pizzas. We're using a shortcut (naan bread) in place of regular pizza dough to have dinner on the table in a flash!
Pair easy Pesto Pizzas with a simple salad like this panzanella salad, kale avocado salad, or this apple salad.
20-minute Pesto Pizza
Pesto Pizzas are one of my favorite and easy go-to recipes. They're so fast to make, relatively healthy, delicious, and the whole family loves them. Making pizza crust from scratch is not too difficult or super time consuming, but it does require raising time and a longer bake time.
So, these "cheater" pizzas are a lifesaver when it's dinnertime, the family is ready to eat, and no other dinner prep has been started. While nothing will beat a homemade pizza crust, these are pretty darn good, especially when you consider the effort required. And if you've tried this popular Margherita pizza recipe, you know I'm not exaggerating how fast they are to make!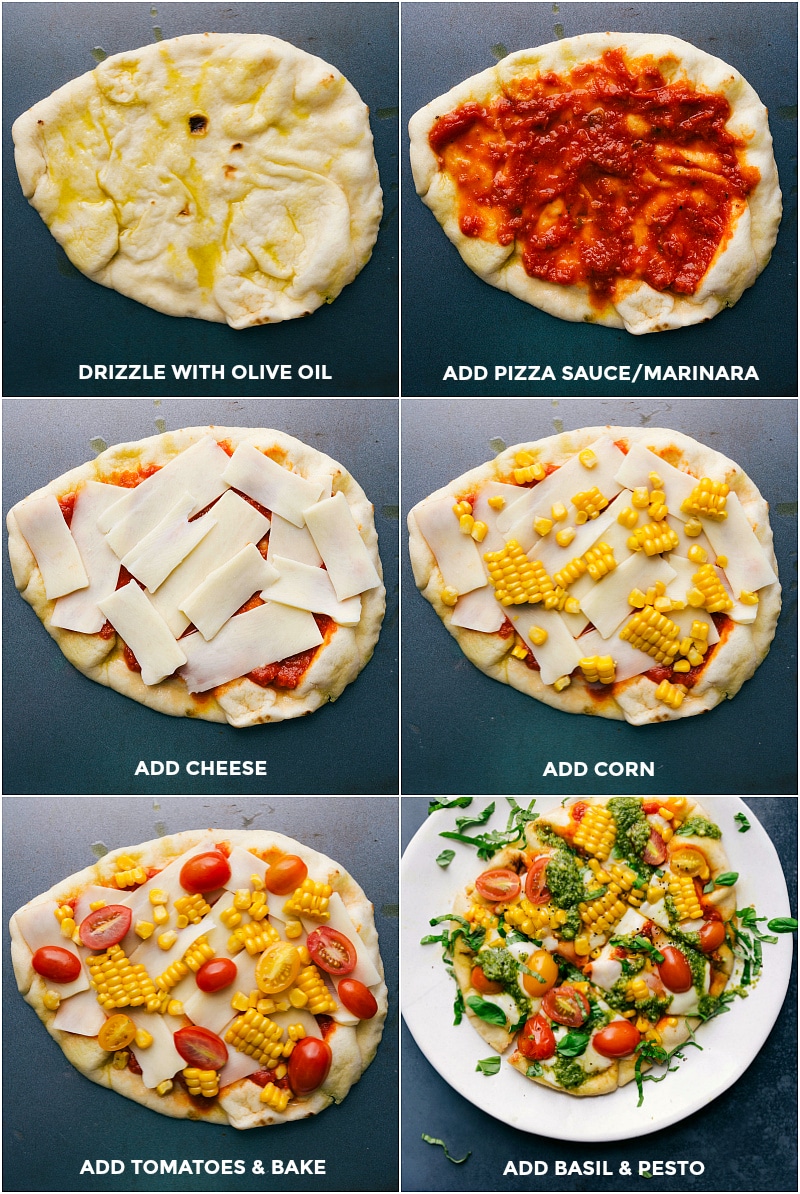 How to make naan bread Pesto Pizzas
Start with store-bought naan bread. For these pizzas, I always use Stonefire naan (not sponsored). You can choose from original, whole grain naan, or roasted garlic. Any work for this pizza, but we prefer the original. In our local grocery store, the naan bread is typically in the bakery section with breads and rolls.
Quickly toast the naan bread in the oven with a little olive oil while the mozzarella cheese, Monterrey jack cheese, corn, and tomatoes are prepped. Thinly slice the cheeses, cut the corn off the cob, and halve the cherry tomatoes.
On top of the toasted naan bread we add marinara or pizza sauce.

For marinara sauce (our preferred pesto pizza topping!) I recommend Rao's® Marinara (not sponsored).
Since there are so few ingredients make sure to use a good marinara or pizza sauce. For pizza sauce, I love and recommend Muir Glen® (not sponsored).
Spread the sauce over the toasted naan, layer with the two cheeses, corn, and tomatoes, and slide into the oven.

While the pizza is baking, chiffonade basil leaves. Right out of the oven, add a little bit of salt and pepper, a quick drizzle of olive oil, and plenty of fresh basil leaves. Last, but not least, generously drizzle pesto over the pizza.
Pesto
True to the quick-prep theme of this recipe, we use a store-bought pesto for these pizzas. Of course, homemade will work and is absolutely delicious, but it will increase overall prep time.
I recommend using freshly made basil pesto, not the preserved or jarred kind. Freshly made pesto is typically near the fresh (not dried) pasta or in the produce section of the store. My absolute favorite on these pesto pizzas is Rana's® Basil Pesto (not sponsored).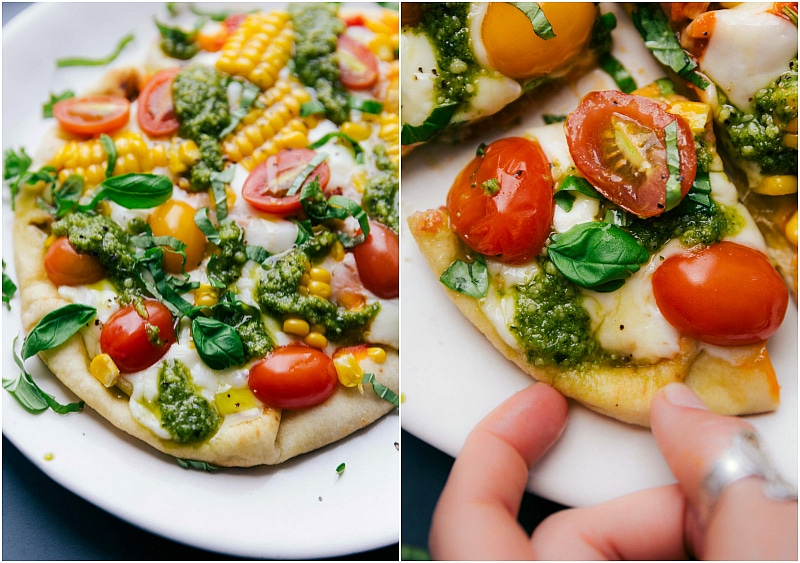 Pesto Pizza tips
Good ingredients: Quality ingredients make all the difference in the flavor. Go for good naan bread, quality pizza sauce or marinara, whole milk mozzarella cheese, fresh tomatoes and basil, and good basil pesto.
Drizzle of olive oil: A drizzle of high-quality olive oil adds a delicious richness to these Pesto Pizzas.
Eat quickly: Don't let these pizzas sit around for long after being baked or they will get soggy. Eat them fresh from of the oven!
Watch closely: Ovens differ, naan bread differs, etc. etc. so watch the pizzas carefully. As soon as the cheese melts, pull them out.
Not too much cheese: Go lighter than you might think on the mozzarella cheese. Since the crust isn't super thick, the cheese can easily overtake it. I recommend very thin slices and about 1.5 ounces total of cheese per pizza.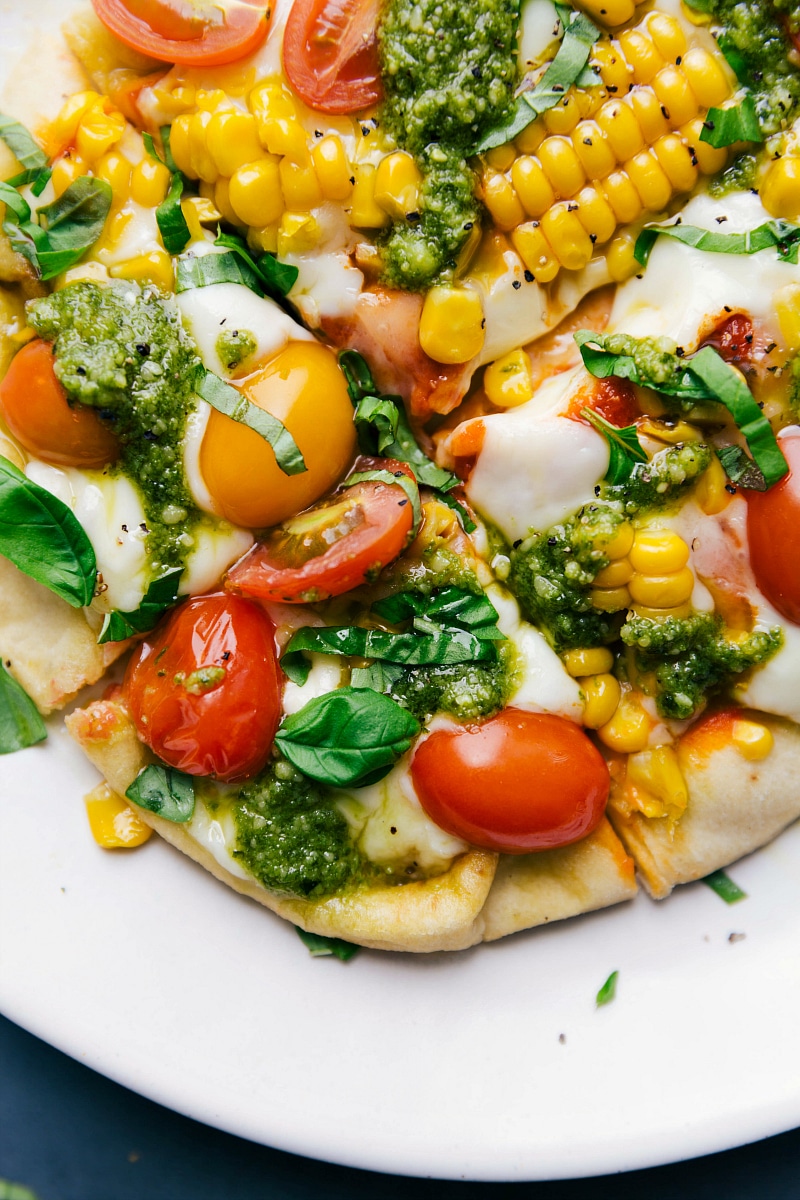 Pesto Pizza variations
Add some heat by sprinkling some red pepper flakes on top.
Make it herb-ilicious by adding some Italian seasoning on top of the pizza sauce/marinara
Use Campari tomatoes in place of the cherry tomatoes.
Add a few more veggies. Sprinkle on some chopped bell pepper, sautéed mushrooms, red onion, spinach, or artichokes.
How many servings does this recipe make?
While I've done my best to include measurements in the recipe, this pizza recipe is more of adding however much of whatever you like. Eyeball the amounts to fill up the naan bread. This recipe is also easy to scale up or down, so you can make as many pizzas as you'd like. In our home, the boys share one pizza, my husband can eat one plus a half of another, and I'll usually eat one full pizza.
More super-fast recipes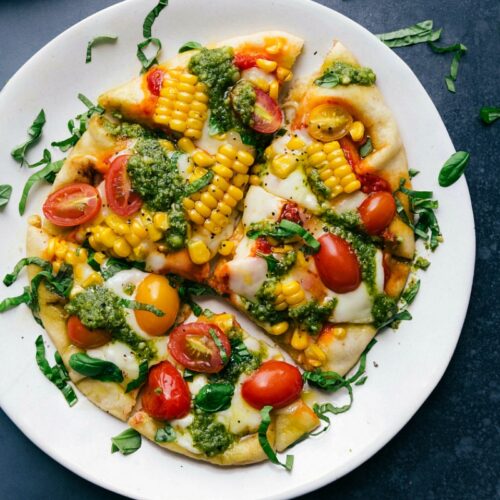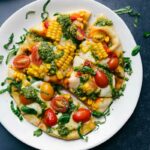 Pesto Pizza
Only 20 minutes (including bake time) to make amazing individual-sized Pesto Pizza. We're using a shortcut (naan bread) in place of regular pizza dough to have dinner on the table in a flash!
Course:
Dinner, lunch, Main Course, Vegetarian
Servings
:
2
pizzas (See Note 1)
Ingredients
1

package (8.8 ounces; 250g)

packages pre-packaged naan bread

(2 breads in a package)

1

teaspoon

extra virgin olive oil,

divided

1/2

cup

Rao's Marinara or good quality (Muir Glen) pizza sauce

(we like marinara best!)

1.5

ounces (45g)

whole milk mozzarella cheese,

very thinly sliced (~1/3 cup)

1.5

ounces (45g)

Monterrey jack cheese,

very thinly sliced (~1/3 cup)

1/2

cup (86g)

ripe cherry tomatoes,

halved

1

ear

fresh corn on the cob,

sliced off the cob

For topping: fine sea salt and freshly cracked pepper
Instructions
PREP: Preheat the oven to 400 degrees F. While the oven is preheating, line a baking sheet with parchment paper. Set the naan bread on the cookie sheet (2 per sheet). Lightly drizzle the naan breads with olive oil (about 1/2 teaspoon per naan). Bake in the oven for 2 minutes and then remove.

CHEESE/VEGGIES: While naan in baking, thinly slice the mozzarella and Monterrey jack cheeses. Halve the cherry tomatoes and cut the corn off the cob. Pull the naan breads out of the oven after 2 minutes and spread about 1/4 cup of marinara or pizza sauce evenly on each naan, leaving about 1/2 inch of crust around the outside.

BAKE AGAIN: Divide sliced mozzarella cheese and Monterrey jack cheese evenly between the 2 naan breads and arrange over the sauce, leaving some of the sauce exposed. Add the halved tomatoes and corn kernels. Return pizzas in the oven for 6-8 minutes, or until cheese is melted.

FINISHING: Remove from the oven and immediately drizzle a tablespoon of olive oil on top, add a sprinkle of salt and pepper, and add fresh basil to taste (full leaves if small or chiffonade larger leaves). Cut the pizza into slices and generously spoon fresh basil pesto over all the pizza. Serve immediately.

STORAGE NOTE: This recipe isn't great for leftovers; I recommend eating everything once baked; otherwise the naan bread becomes soggy.
Recipe Notes
Note 1: This recipe is also easy to scale up or down -- make as many pizzas as you'd like