A thin crusted pizza smothered with pizza sauce and topped with fresh vegetables. This pizza comes together in less than 30 minutes!
Growing up pizza night was always my favorite night. 
But they didn't happen all that often.
You see, my mom, she isn't the biggest pizza fan in the world. Which is fine and great. She would make us very healthy meals throughout the weeks. Lots of beans and rice and quinoa which I personally go nuts over.
But every once and a while it was dad's turn to make us dinner.
And my dad basically had two go-to options. One. The most amazing, best-ever dutch oven dinners. He has quite the collections of dutch ovens and would even cook the meals in the backyard over charcoals. Talk about authentic campfire meals! He is the pro at dutch oven and was always determined to make the best dutch oven dinners. Growing up, those were some of my favorite meals ever.
But the dutch oven dinners – those took a lot of preparation, a lot of time, and a whole lot of effort. So those nights when it was his turn to come up with dinner and he didn't have the time for dutch oven?
Those were (Option Two) pizza nights.
And a party at our house it was!
And now that I'm grown up and don't have my dad to make me pizza (slash go buy it and bring it home for us all) I'm still addicted to pizza. And love it just as much!
And here's the great part – less than thirty minutes guys! Yeah, no rising, no yeast, no hassle!!
I used pre-made pizza crusts for this pizza to make it so quick and easy. If you have the extra time and want to, you can definitely make your own pizza crust!
Basil and Mozzarella Chicken Veggie Pizza
Ingredients
1

ready made pizza crust

I love Boboli

2

teaspoons

olive oil

1/2

cup

pizza sauce

1/2

pound (~1 cup)

rotisserie chicken

or other prepared leftover chicken

1

cup

red and orange bell pepper slices

1/2

cup

thinly sliced red onion

6

ounces

fresh mozzarella cheese

sliced

Small basil leaves

optional
Instructions
Preheat the oven to 400 degrees F.

Place the ready-made crust on a pizza tray (or large tray) and brush the olive oil to coat the crust.

Spread the pizza sauce on top of the olive oil on the crust.


Chop the cooked/prepared chicken into bite-sized pieces.

Slice the bell peppers and red onion. Cut off thin slices of the mozzarella cheese.

Evenly top the pizza with the cooked chicken, peppers, onion, and cheese.

Bake for 8-10 minutes. Remove and allow to cool for 1-2 minutes and then top with shredded basil if desired.

Serve immediately.
More easy pizzas: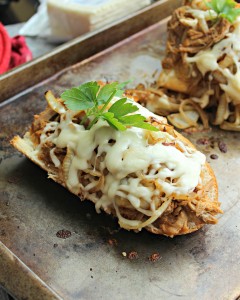 Sweet Pulled Pork and Onion French Bread Pizza