An easy apple salad with mixed greens, sliced apple & pear, rotisserie (or leftover grilled) chicken, dried cherries, candied pecans, and crumbled cheese. This salad has an easy apple cider vinaigrette which takes minutes to whip together.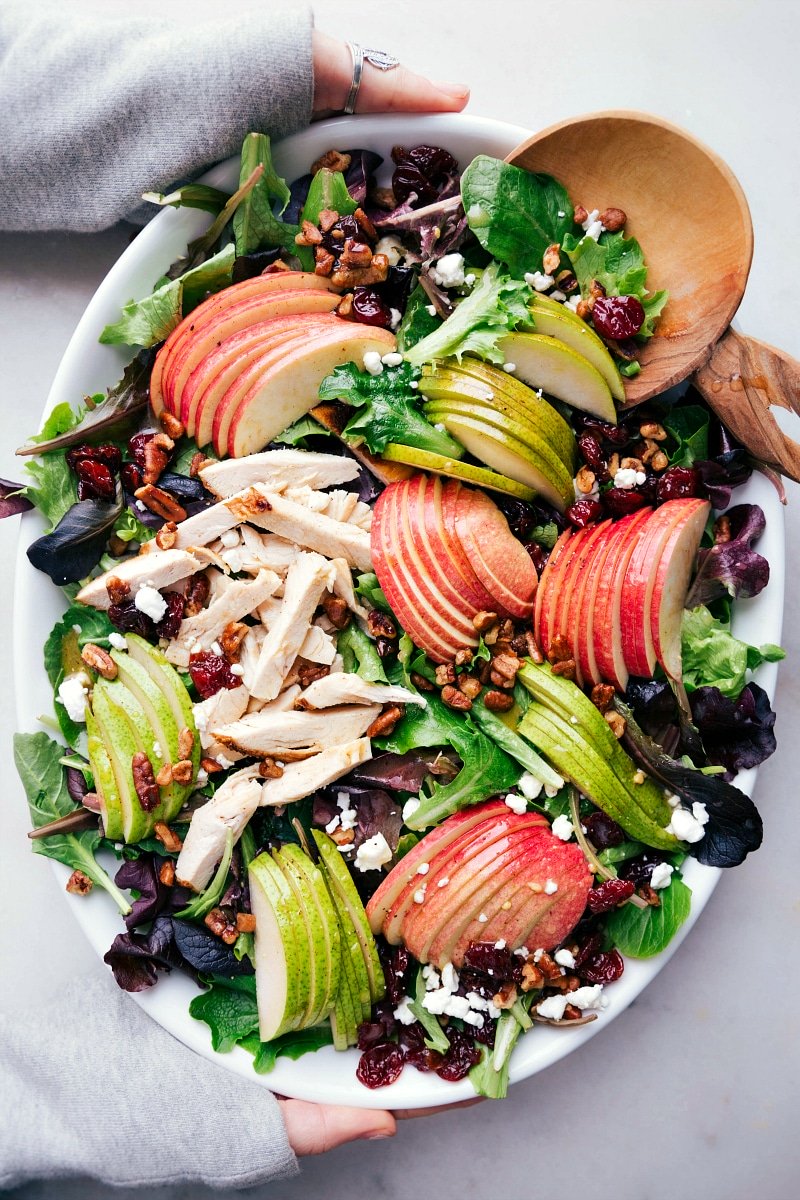 Easy apple salad
This apple salad is so fast and easy to make — it calls for store-bought rotisserie chicken and store-bought candied pecans to make assembly a breeze.
I don't know how it happened, but my boys literally beg to eat salads for lunch or dinner. I couldn't be happier about that because I love throwing together a big salad and making it a meal. Without much thought I whipped up this apple salad using a few pears that were ripe and apples that needed to be used and my boys declared this the best salad ever. So obviously it needed to be shared here. 🙂
The dressing is tangy and acidic, but overall subtle. It's a dressing that lets the salad and each individual ingredient shine through. It's not a super overpowering dressing, but a great complement to the ingredients. I add a pinch of ground cinnamon to the dressing which is the perfect addition to the apples, pears, and dried cherries.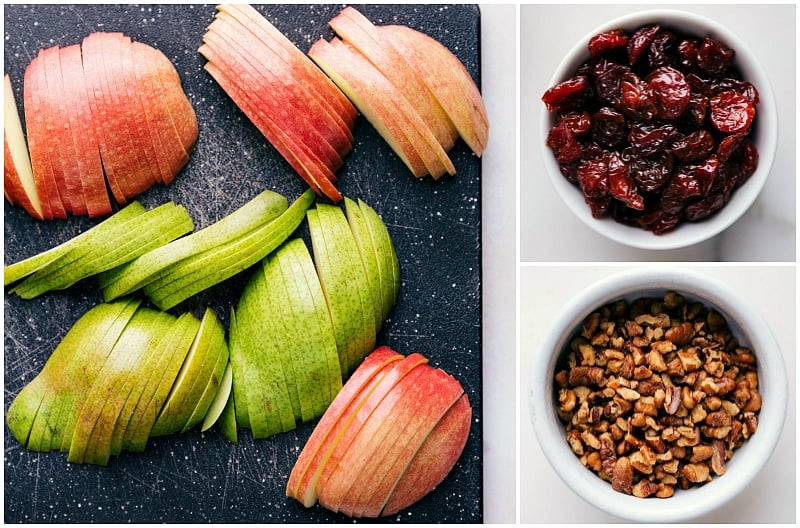 What is the best apple for salad?
When adding apples to a salad, you want a good crunchy apple that won't brown quickly after being sliced. The best varieties are Honeycrisp, Fuji, Jazz, Empire, Pink Lady, & Envy. My personal favorite in this salad is Honeycrisp or Pink Lady.
Drizzle fresh lemon on the cut apples to keep them from browning as quickly.
Apple salad shortcuts
I mentioned a few shortcuts that make this salad really quick. I will make a big salad whenever we have leftover grilled chicken or leftover rotisserie chicken that needs to be used. Our local grocery store will sell rotisserie chickens that are about to expire for 2-3$ so I'll occasionally grab those and make a salad out of them.
Another shortcut is using already candied pecans. Already made candied pecans are typically sold in "salad topper" packets in the grocery store. Of course you can make your own, but if you want the salad to come together quickly come lunch or dinner time, I'd recommend grabbing some pre-made from the store. Here's my favorite candied pecans recipe.
One other shortcut I like to employ? Making a double or triple batch of salad dressing at the beginning of the week. With dressing already made, chicken already seasoned & cooked, and pecans candied, it's just about assembling the apple salad.

Make ahead & storage
This salad doesn't sit well once dressed, but it can be prepared, made ahead, and stored as long as ingredients are stored separately. (Lettuce separate, chicken separate, cheese, dried cherries, and pecans in a separate bag — slice up the pear and apple right before eating).
Dressing stays good for 5-7 days in an airtight container in the fridge. It can be made ahead of time — just shake it up before dressing your salad. Don't dress any salad that you want to keep leftover for another day.

Quick tips
The ingredients you use matter: make sure to get good, ripe fruit or the apple salad won't be as good texturally and taste wise. Good olive oil and apple cider vinegar make all the difference in the dressing.
Cut apples and pears right before serving: even if you add lemon juice, these fruits will brown probably faster than you'd like. Cut them up and add them to the salad as close to serving as possible.
Season: don't forget a little sprinkle of salt at the end; it will intensify and balance all the flavors going on in the salad.
More salad recipes: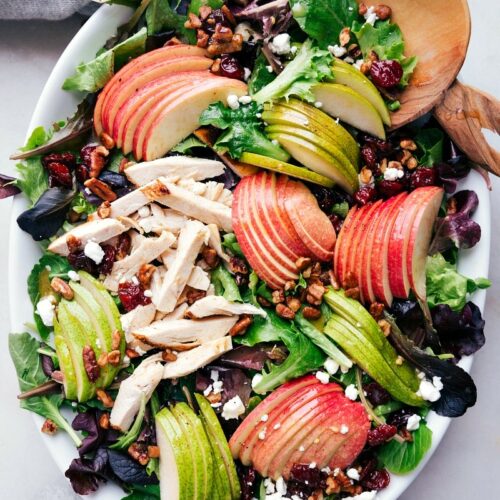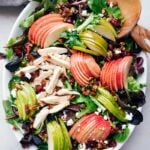 Apple Salad
An easy apple salad with mixed greens, sliced apple & pear, rotisserie (or leftover) chicken, dried cherries, candied pecans, and crumbled cheese. This salad has an easy apple cider vinaigrette which takes minutes to whip together.
Servings
:
4
large salad servings
Ingredients
Salad
8

cups

fresh mixed greens lettuce

1

large

apple,

thinly sliced or chopped (I use Pink Lady or Honeycrisp)

1

large

pear,

thinly sliced or chopped

2 and 1/2

cups

shredded seasoned rotisserie chicken

1/2

cup

dried tart cherries

(or dried cranberries)

1/2

cup

candied pecans

Note 1

1/2

cup

crumbled goat cheese

(or feta or gorgonzola cheese also work well)
Dressing
2

tablespoons

good quality olive oil

2

tablespoons

honey

1/4

cup

apple cider vinegar

1/4

teaspoon EACH:

ground cinnamon, fine sea salt, ground pepper

1/8

teaspoon

garlic powder

1

teaspoon

dijon mustard
Instructions
SALAD: add the lettuce in a large bowl, core and thinly slice (peel if desired; we leave the peels on) the apples, add in the pears, slice or chop the chicken and add that in, add in the dried tart cherries.

DRESSING: combine everything in a mason jar and shake to combine. Taste and adjust to personal preference.

FINISHING SALAD: Toss the salad with 80% of the dressing and then add in the candied and coarsely chopped pecans. Add crumbled cheese on top. Drizzle remaining dressing on top and a tiny bit of sea salt if desired. Enjoy immediately.

STORAGE: Only add dressing, nuts, and cheese to what you will eat because leftovers don't store well -- it all gets soggy! You can store the salad, nuts, cheese, and dressing separately for delicious leftovers or meal prep for the week; just add in freshly sliced apples or pears and assemble right before eating.