Delicious and simple salad with dried Montmorency tart cherries, skillet cooked chicken, sliced apple, crumbled goat cheese, and candied walnuts.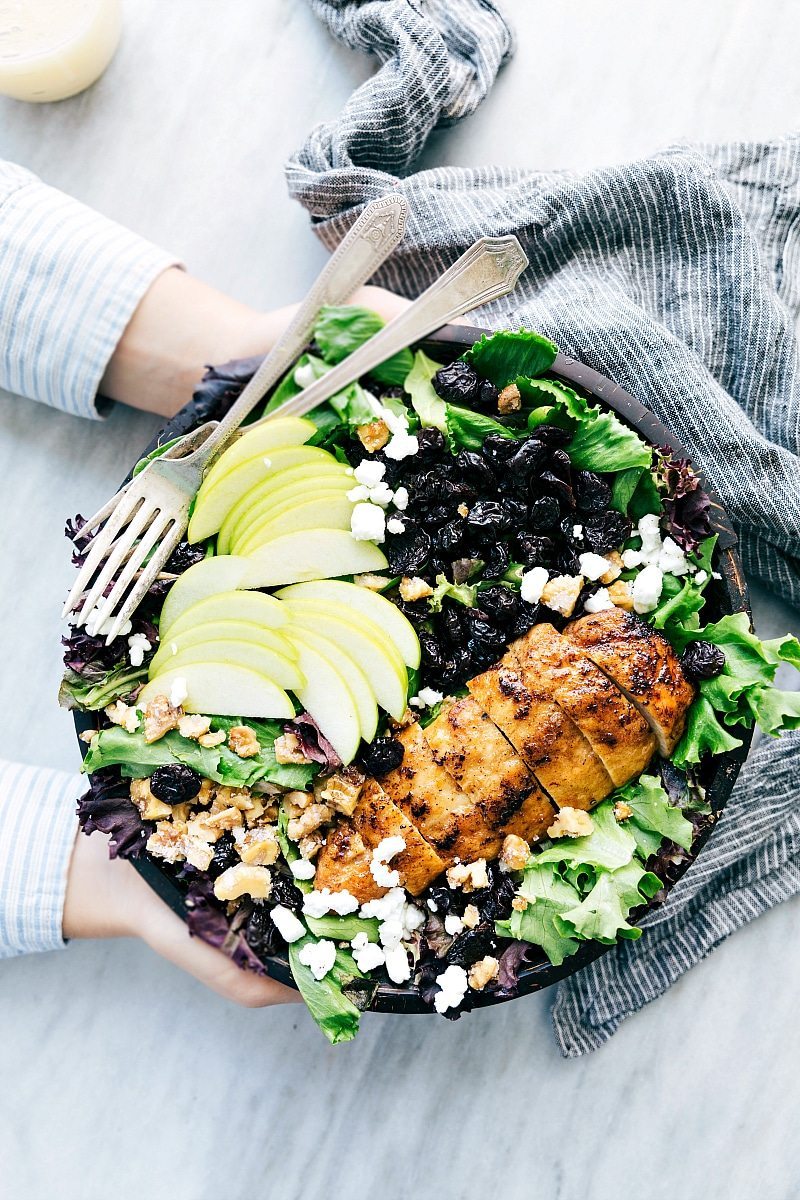 Although we've still got a good amount of summer left, a lot of you are gearing up for "back to school time." Whether that means attending school yourself or getting your kiddos ready, it tends to be a busy time! The toddler is starting up his second year of preschool and it feels like there are no short of a hundred things I've got to do.
So the last thing we all need is meals that complicate things! And today I'm bringing you a deliciously tasty AND nutritious dinner that is super convenient and easy to make. I've also got tips for how you can prepare this salad ahead of time and even use it as a meal prep!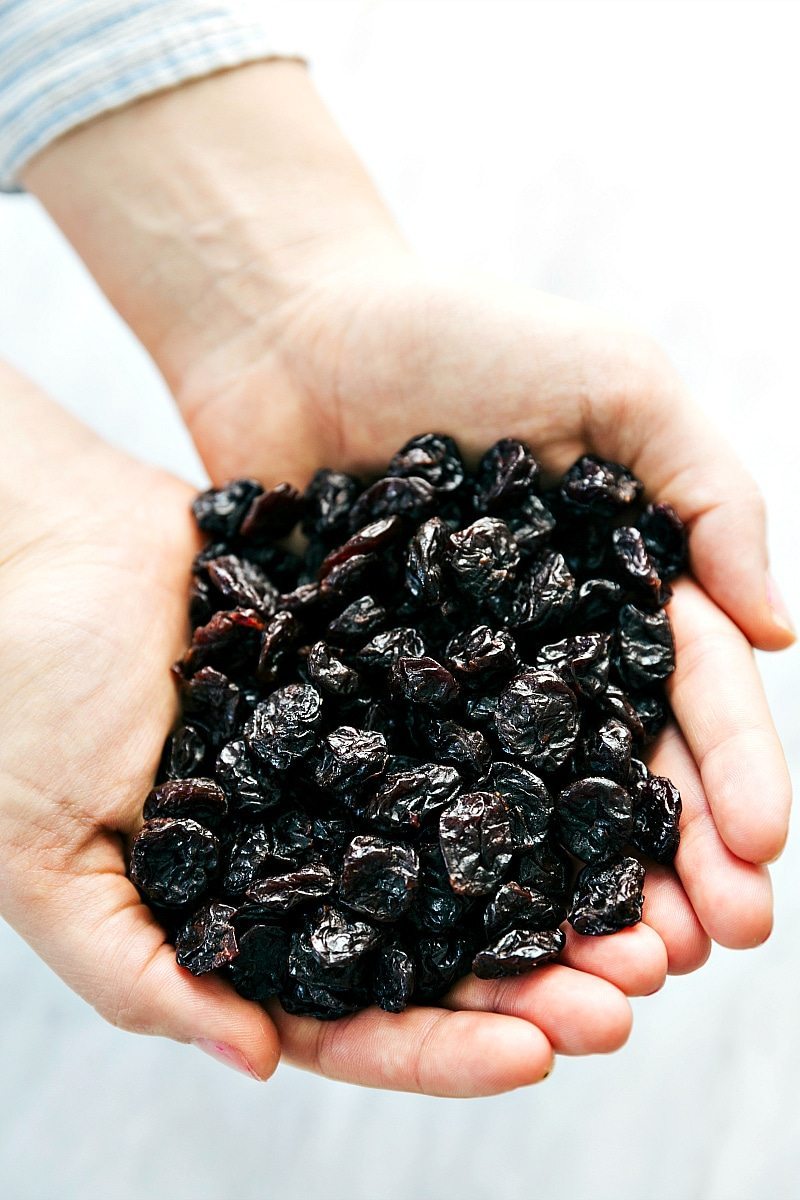 I've been doing quite a few salads as a sort of "meal prep" lately and we've been loving them for quick lunches.
So, here's how I meal prep a salad:
Grab a large plastic container of your favorite lettuce: spinach, mixed greens, arugula, etc.
Prep the "protein" for the salad. For this salad that's the chicken and I'll cook 4-5 breasts at once. Slice them up and put them in their own tupperware container. For other proteins that work well in this salad: make a bunch of hardboiled eggs and store them (peeled for even quicker access) in the fridge, beans (drained, washed, in tupperware), ham/turkey — diced and store in the fridge.
Prep the "toppings" for the salad. For this salad I've got dried cherries (my FAVE salad topping), candied walnuts, apples and goat cheese. Not a whole lot of prep for the cherries or goat cheese, so I will just set them in the fridge right with the protein and salad. The idea is easy access so you can pull it all out at once and quickly assemble the salad 🙂 The candied walnuts do take a minute of prep, but if you're making enough for salads for the entire week, it's well worth the effort. I just store the candied walnuts in a plastic bag and add them to the salad as I'm assembling. For this same recipe you can switch out pecans if you'd prefer that! 🙂 The last topping is sliced apples. I buy enough apples for the week and just slice them up the day I make the salad to keep them super fresh. If you make the salad ahead of time for the afternoon, squeeze on some lemon juice and it will still be good!
Make extra dressing: The quantities for the dressing listed below makes enough for just the salad ingredients listed. If you want to do a meal prep with the dressing, you simply multiply the recipe by how many times (and servings) you want the salad. I store the dressing in a mason jar in the fridge and it keeps for the week. Just shake it up and pour it on!
You'll basically have to assemble the salad each day, but by doing the majority of the prep in one day, the salads each day come together super quickly. I'm talking less than 5 minutes! It's a great way to keep on track and have a super healthy, but also hearty and filling lunch every day of the week!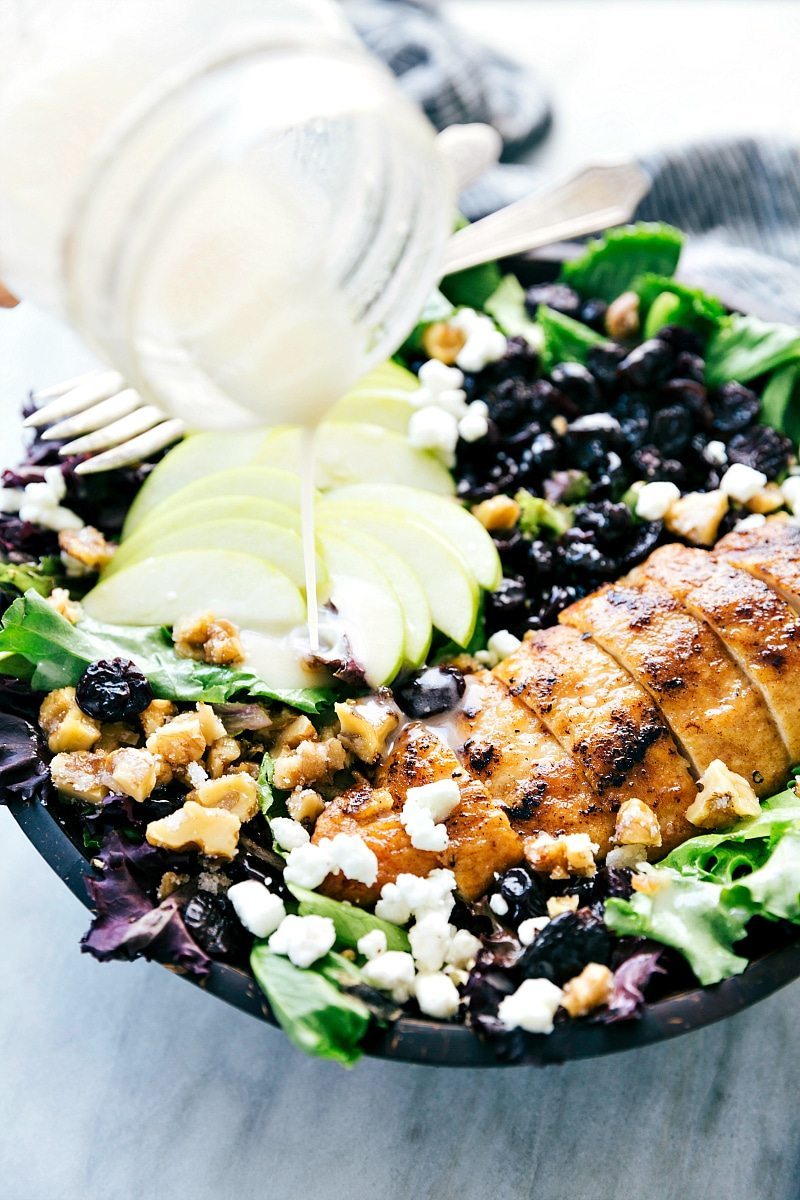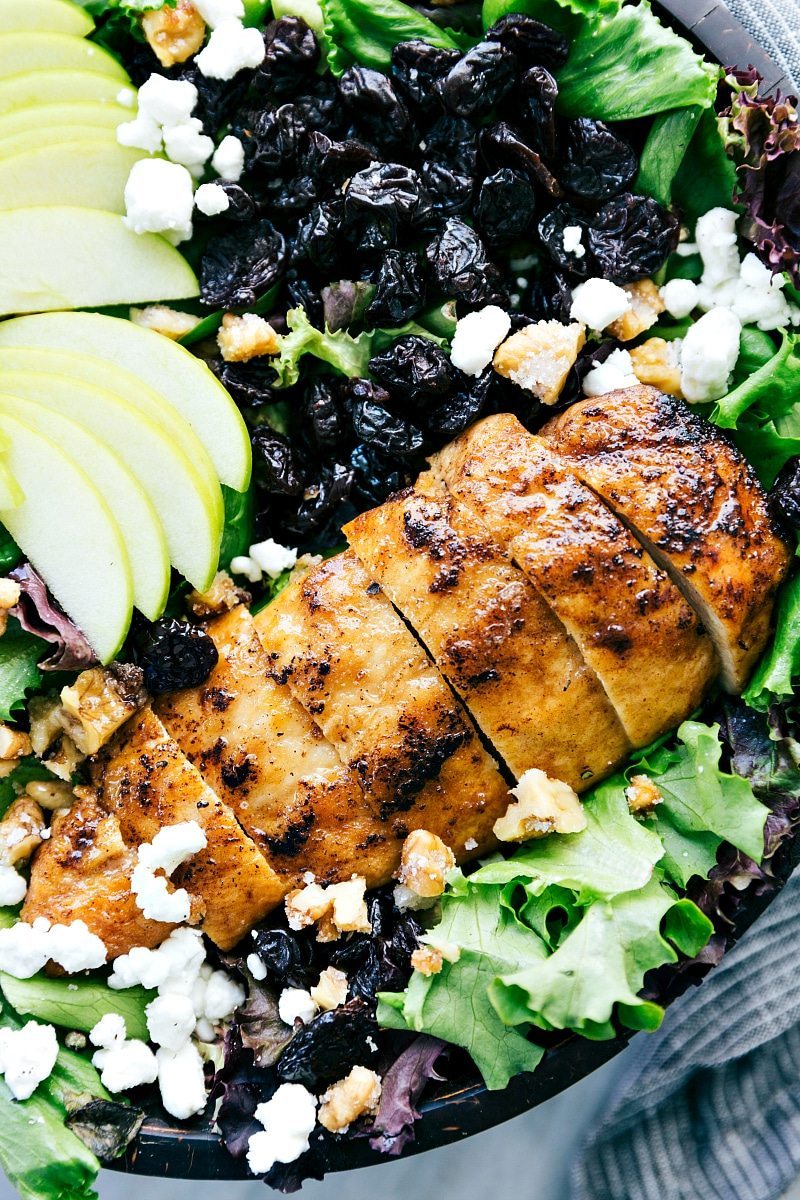 I mentioned one of the toppings being tart cherries and they are seriously one of my all-time favorite salad toppings. They've got the perfect texture and flavor to go along with all these other ingredients. Tart cherries are a superfruit known for their unique nutrient profile and sour-sweet flavor. Researchers have found that tart cherry juice may help improve the quality and duration of sleep as well as increase overall sleep efficiency.
No time like back-to-school time to make sure everyone is sleeping well, right? 🙂
Whether you prep this salad for an entire week of meals or just enjoy it for a dinner (or even a side), I hope you love it!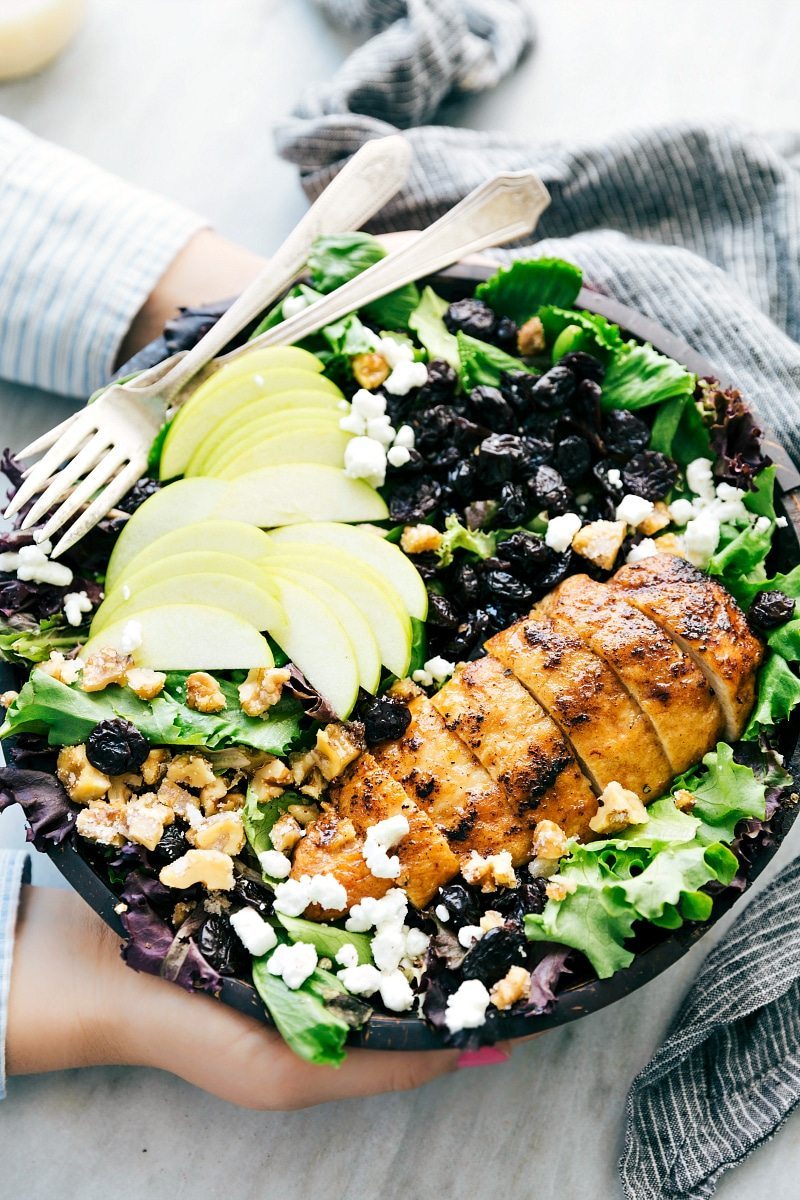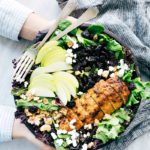 Apple, Cherry, and Chicken Salad
Delicious and simple salad with tart dried cherries, skillet cooked chicken, sliced apple, crumbled goat cheese, and candied walnuts.
Servings
:
4
large salad servings
Ingredients
Salad
1

cup

whole walnuts

1

tablespoon

butter

4

tablespoons

white granulated sugar

9-10

ounces

fresh mixed greens lettuce

2

medium green apples

1

pound

leftover cooked chicken

(marinated and then grilled or cooked in a skillet)

3/4

cup

dried tart cherries

3/4

cup

crumbled goat cheese,

or feta
Dressing
1/4

cup

regular (full fat) mayo

1/4

cup

pure maple syrup

3

tablespoons

white wine vinegar

2-4

teaspoons

white granulated sugar,

to taste

1/2

cup

vegetable oil

Salt and pepper to taste
Instructions
Start with the candied walnuts. Place a non-stick skillet over medium heat and add in the walnuts, butter, and white sugar. Stir the mixture frequently and as soon as the sugar starts to melt, stir constantly. The sugar should melt and coat the nuts. Immediately (watch careful because these can burn quickly) transfer to a large piece of parchment paper and quickly separate the nuts. Let harden (about 10 minutes) and then coarsely chop the walnuts.

Assemble the salad: add the lettuce in a large bowl, core and thinly slice (peel if desired) the apples, slice or chop the chicken and add that in, add in the dried tart cherries, and add in the crumbled goat or feta cheese.

Prepare the dressing: in a bowl whisk mayo, maple syrup, vinegar, and sugar (add to taste preference) until smooth. Gradually whisk in the oil until mixture thickens slightly. Season to taste with salt and pepper.

Toss the salad with the dressing and then add in the candied and coarsely chopped walnuts. Enjoy immediately.

Only dress and add walnuts to what you will eat because leftovers don't do so well! You can store the salad, walnuts, goat cheese, and dressing separately for delicious leftovers or meal prep for the week!