A cheesy and flavorful chicken tortilla soup that can be made on the stovetop in 20 minutes!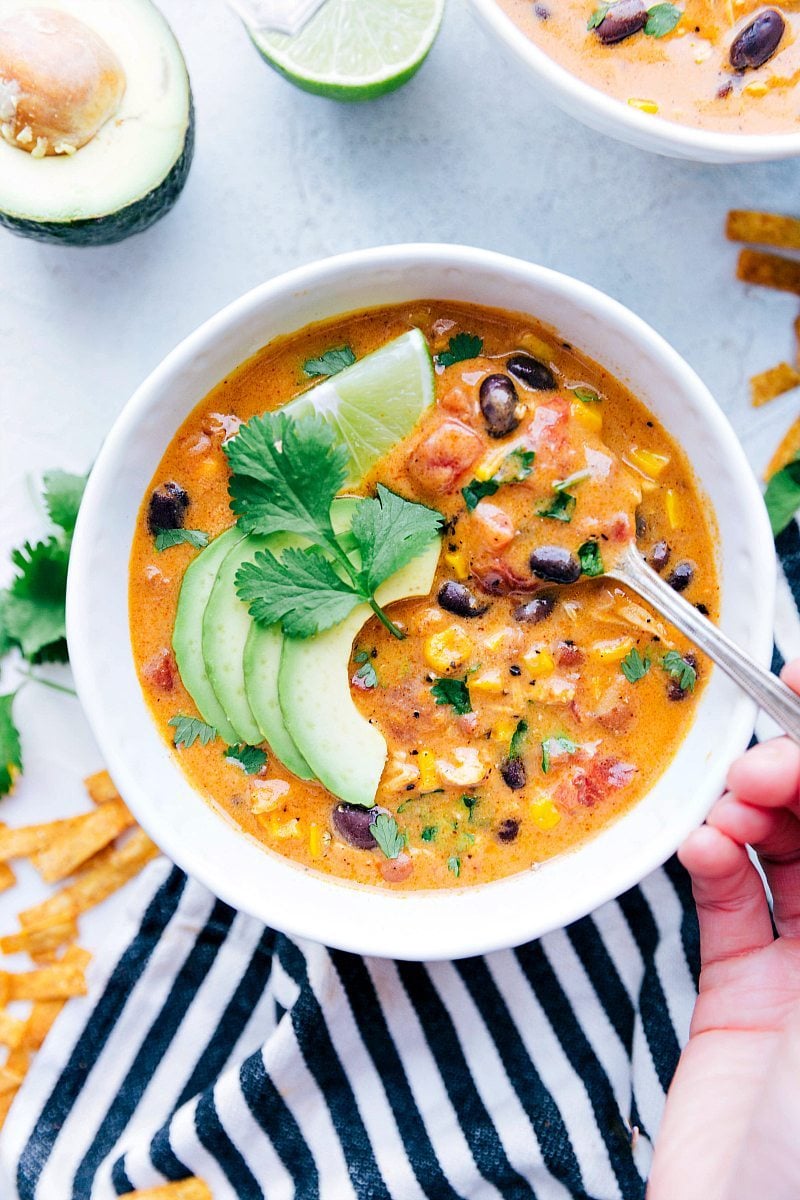 I'm excited to be partnering with Swanson as a blog ambassador this year to bring you delicious recipes!
You might think there is no way this soup can be ready in only 20 minutes. But I'm here to tell you; no gimmicks; yes, this soup really can be ready in 20 minutes. If you've got all your ingredients out, this soup comes together in no time at all, creating a bit of a mid-week miracle. And this is not one of those ok-ish meals that might have started in a box and you're alright eating because it only took 15-20 minutes to make. It's a knock-your-socks off flavor-packed meal you'd be proud to serve to company!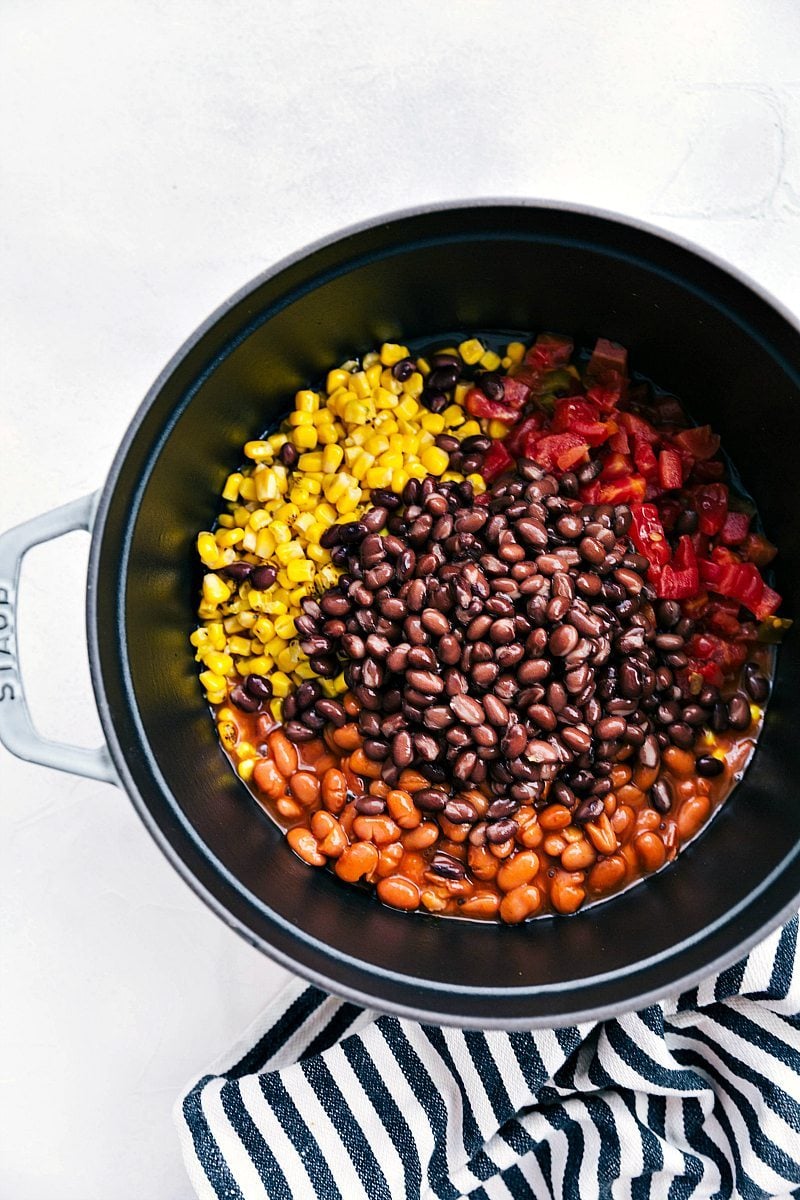 Still skeptical? Let's break it down!
How do you make this Cheesy Chicken Tortilla Soup in 20 minutes?
This cheesy chicken tortilla soup begins with some pretty traditional soup components:

onion and garlic.

To keep this soup truly a quick recipe, you can buy pre-chopped fresh onions from the deli, pre-chopped frozen onions from the freezer section (yes! these exist and they work great!), or omit the onions entirely. While they're a good addition, they aren't essential and being married to an onion-hater, I leave them out more often than I put them in. Garlic? I use pre-minced and packed in olive oil. So, your most time-consuming part can be done in a minute or two.

Saute the onions for one minute and stir in the garlic and for another 30 seconds or so. And here's where the magic happens:

open the cans and dump them in

! Tomatoes and green chilies, black beans, chili beans, corn, and one can enchilada sauce. Your soup is now halfway done and where are we at on the time? 7 minutes? Perfect.

Next comes a true flavor "hack." We're using

Swanson Chicken Stock (or Broth)

to give us loads of flavor and a delicious base to this soup in 30 seconds or less. Pour in most of the carton (3 and 1/4 cups to be exact) and then you'll stir through and let the ingredients heat up. I like to use

Swanson

stocks and broths because they are made with ingredients you can trust and recognize. The chicken and beef is sourced from trusted farms and uses vegetables and spices picked at the peak of freshness. . I like

Swanson

Chicken Stock best in this soup recipe, but their chicken broth works well too.

While they are heating, you can add in the seasonings and a

pre-shredded rotisserie chicken

. My final "hack" for having a true 20-minute soup is buying some pre-shredded rotisserie chicken. Just dump it in and you've got your protein.. Alternatively, you can pre-shred leftover chicken  a day earlier in anticipation of making this soup.

By this time everything's heated through — whisk in some softened cream cheese and some shredded cheddar cheese (I shred it while everything is continuing to heat through). Stir until melted and you're ready to serve!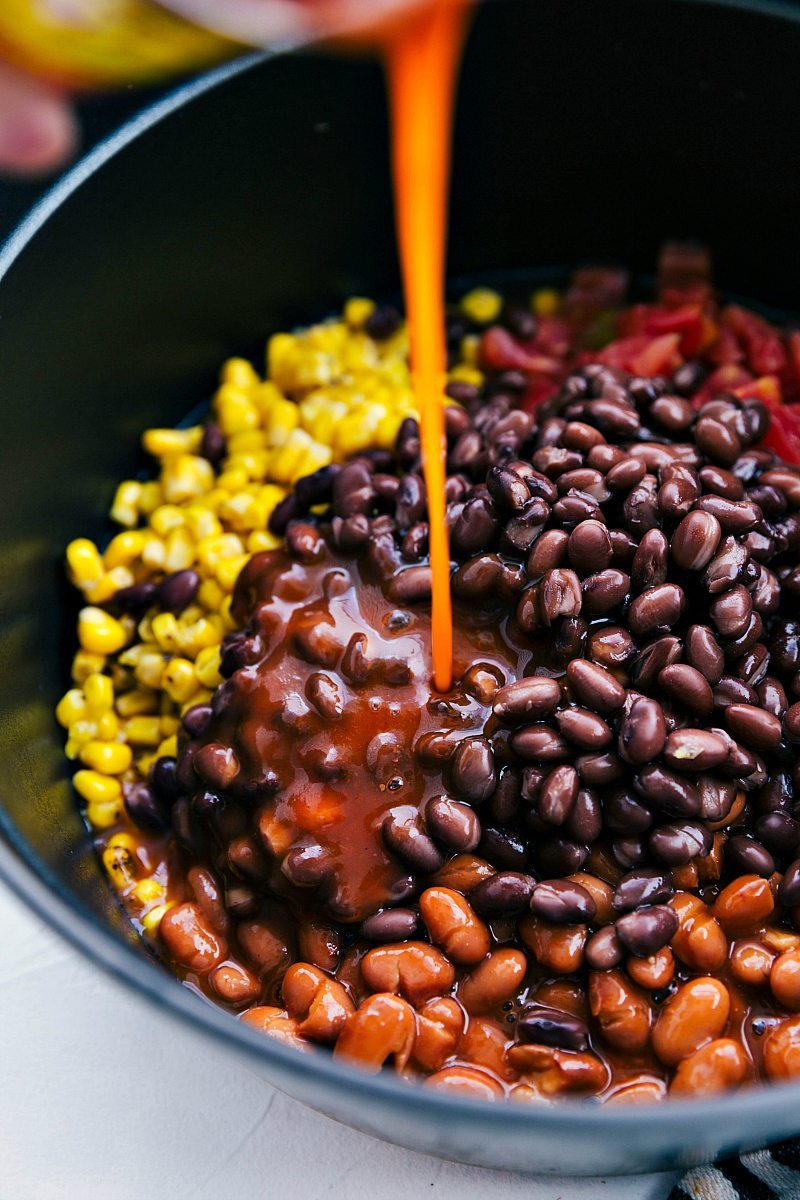 Coming from someone that genuinely loves to cook and sometimes spends all day in the kitchen, there are days that you just really need a 20-minute meal that still feels and tastes completely homemade. Like, when both boys have the flu and you think you might be getting it too. Which just so happens to be how this soup originated 🙂
It's adapted from a couple of reader favorites on my site — this crockpot chicken enchilada chili and this crockpot Mexican tortilla soup, but we're making it a bit cheesier, exchanging a chili for more of a soup consistency, changing up the spices a little, using some rotisserie chicken, and making it ready in 20 minutes instead of 4-6 hours 🙂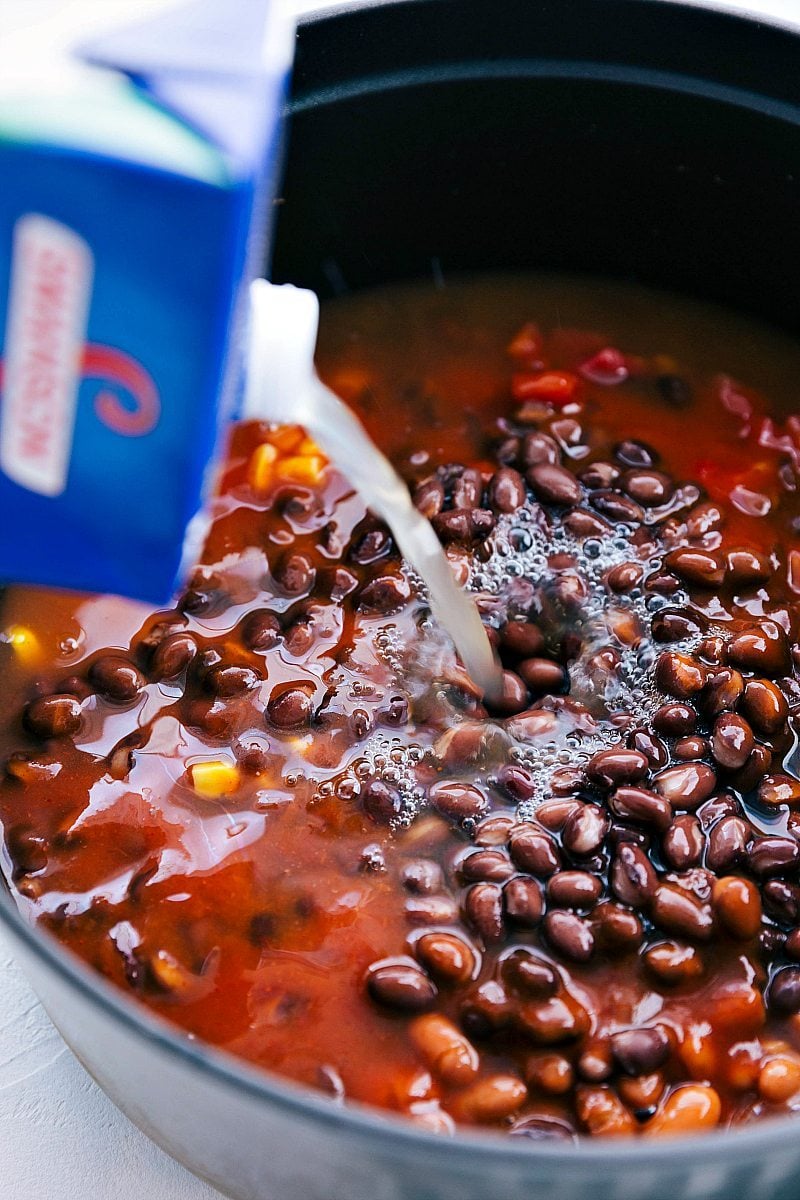 Now that you've got your cheesy chicken tortilla soup ready in 20 minutes, what to serve it with?
Of course you need some tortilla strips! Grab some of your favorite tortilla strips from the grocery store to keep everything easy for this soup! If you're wanting to make your own homemade tortilla strips try these

seasoned tortilla strips

.

Fresh and ripe avocados: I like to quickly chop up an avocado and add it to the soup.

Fresh lime juice: I add a few squeezes of lime to the entire soup and then serve bowls with an extra wedge.

Fresh cilantro: If you are a cilantro fan, load up on some finely chopped cilantro. If you aren't a cilantro fan, just skip it!

Pico de gallo: a spoonful of homemade or store-bought pico de gallo is always a fun addition.

Sour cream: sour cream just amps up the creaminess of this soup and if you use fat free sour cream you won't be adding quite as many calories!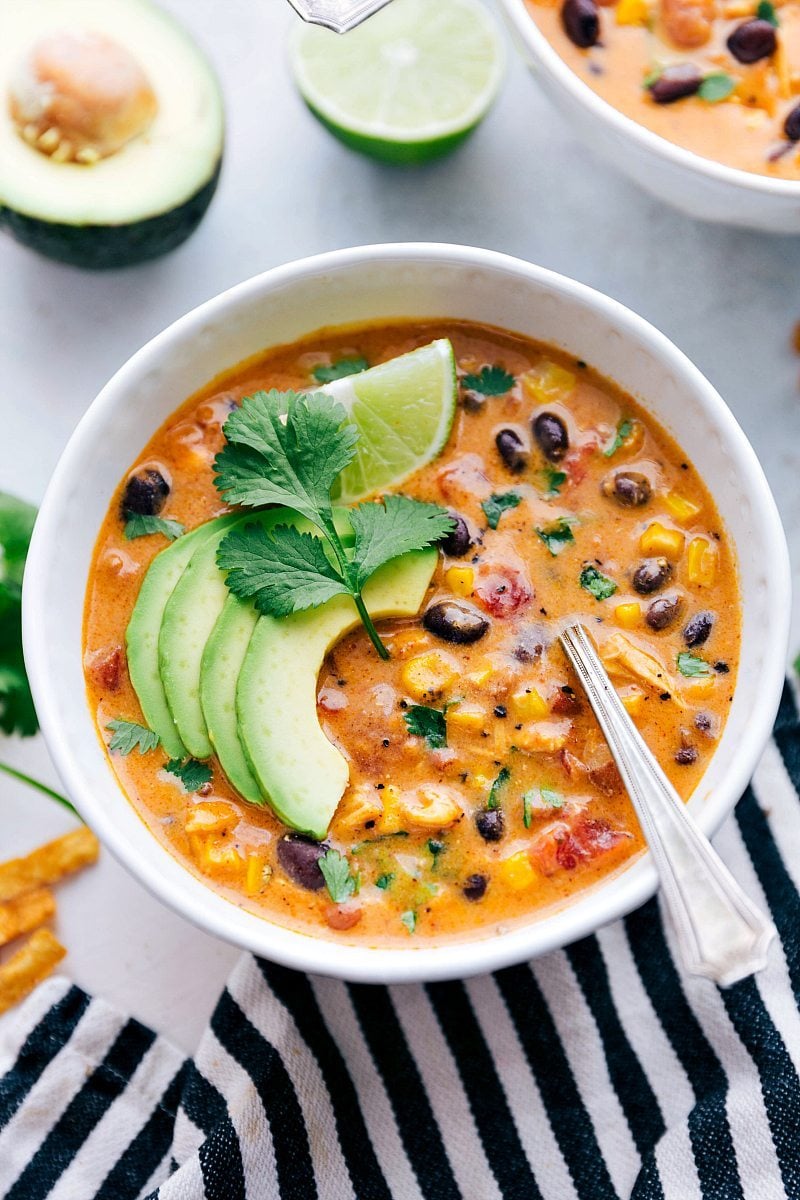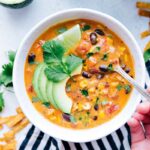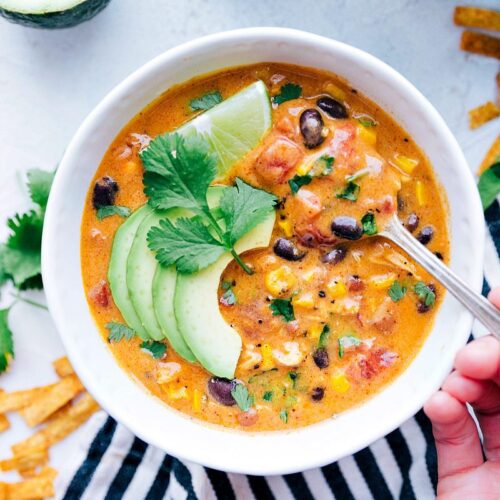 20-Minute Cheesy Chicken Tortilla Soup
A cheesy and flavorful chicken tortilla soup that can be made on the stovetop in 20 minutes!
Ingredients
1

tablespoon

olive oil

1/2

of 1

yellow onion,

diced (optional)*

1

teaspoon

minced garlic

1

can (10 ounces)

red enchilada sauce

(I use mild)

1

can (10.5 ounces)

fire-roasted diced tomatoes with green chiles added in,

undrained

1

can (15 ounces)

chili beans in mild sauce

(found near kidney beans in the grocery store)

1

can (15 ounces)

black beans,

drained and rinsed

1

can (15 ounces)

fire-roasted corn,

drained

3 and 1/4

cups

Swanson Chicken Stock**

(you can use Swanson Chicken Broth)

1/2

teaspoon

ground cumin

3/4

teaspoon

paprika

1

teaspoon

seasoned salt

1/4

teaspoon

pepper

1 and 1/2

teaspoons

chili powder

4

ounces

full fat cream cheese,

softened

1

package (8 ounces)

sharp cheddar cheese,

freshly grated

2

cups

pre-shredded rotisserie chicken

Toppings: sour cream, avocado, fresh lime, and fresh cilantro
Instructions
Place a large dutch oven or pot over medium high heat and add the olive oil. While that oil is heating, give a quick dice to the yellow onion. Alternatively add a pre-chopped onion (or frozen chopped onion) to the oil once it is hot and shimmering. Saute, stirring occasionally for 3-4 minutes. (While the onion is cooking, open and prepare cans.

Add in the garlic and stir for another 30 seconds. Pour in the enchilada sauce, the undrained fire-roasted diced tomatoes, undrained chili beans, drained and rinsed black beans, drained corn, and chicken stock or broth. Stir to combine and increase the heat to high. While it's heating through to a boil, add in the cumin, paprika, seasoned salt, pepper, and chili powder. Stir again.

Meanwhile, cube the cream cheese into small cubes (it should be very softened -- melt in microwave). Once the soup is boiling, stir in the cream cheese. Let that melt down a bit while you grate the cheddar cheese.

Briskly whisk the soup until the cream cheese completely melts into the soup. Stir in the grated cheddar cheese and stir until melted. Stir in the rotisserie chicken.

Serve with your favorite toppings such as sour cream (we use fat free), a chopped avocado, fresh lime juice, tortilla strips, fresh chopped cilantro, pico de gallo, guac, etc. -- whatever you like best!
Recipe Notes
*To make the onion prep even quicker you can buy pre-chopped onions. You can even buy frozen pre-chopped onions. **As is, this soup is pretty thick which is how we love it. If you want it thinner, feel free to add in extra stock/broth!