Special thanks to Pillsbury for sponsoring this post and creating the best refrigerated pizza crust I've ever had!
30-Minute blackberry pizza with Italian sausage and fresh basil. This combo might sound strange, but it's adapted from a local restaurant and one of the best pizzas I've ever eaten. Love pineapple on pizza? You'll love blackberries!
Pair this blackberry pizza with a side salad like this fruit salad recipe or this delicious Italian salad.

A quick dinner recipe: blackberry pizza!
Blackberry-basil pizza might sound like a strange combination, but this is my all time FAVORITE simple pizza recipe. With less than 30 minutes from start to finish (including bake time), you've got to try this pizza!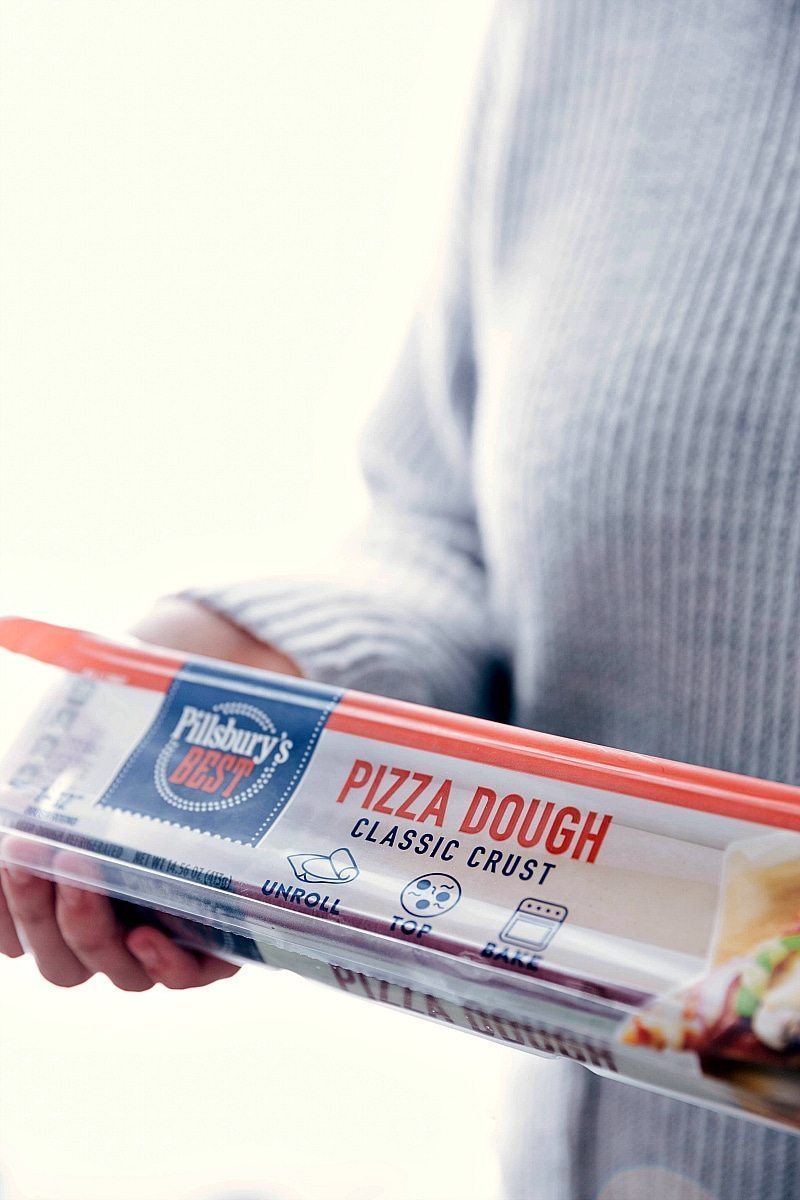 Pizza crust
I'm so excited to share with you this recipe and a new product that I've quickly become obsessed with. Pillsbury just launched a new premium pizza dough — Pillsbury's Best — that is made with fresh & clean ingredients and is super convenient. (You can find this pizza dough in the refrigerated section of your grocery store. And while you're in that area make sure to grab the mozzarella block and grated parmesan cheese!)
All you have to do is unroll the dough, top it, and bake the pizza. In less than 30 minutes you can have a restaurant-quality pizza that your whole family will go crazy for!
In fact, I actually based this recipe I'm sharing off of a favorite pizza we get at a local restaurant. I know blackberries may seem a little odd on a pizza. Admittedly, I thought it was weird the first time I saw it, but after just one bite, I've never been able to order a different pizza there. And now my whole family is hooked on blackberry pizza!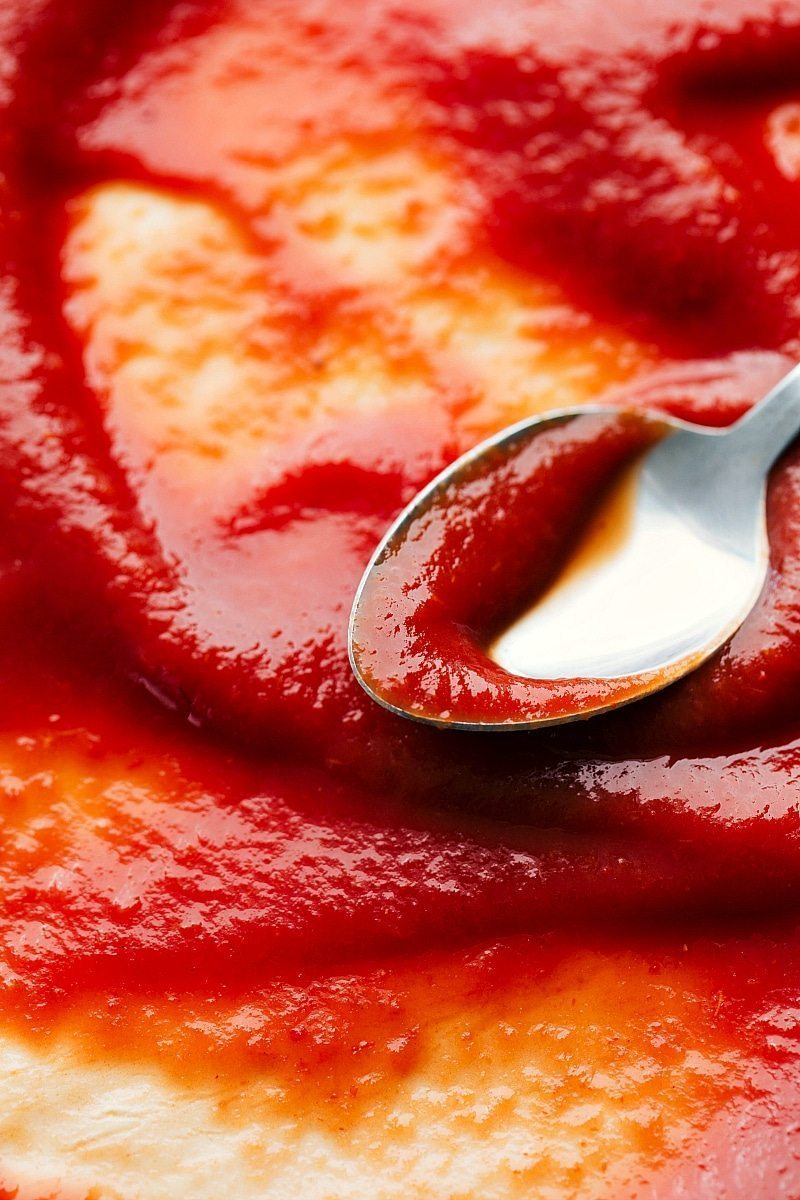 As much as I love going out and ordering pizza, nothing beats making it in the comfort of my own home. Being able to make one of my favorite pizzas at home and having it come out just as delicious as in the restaurant is a huge game changer!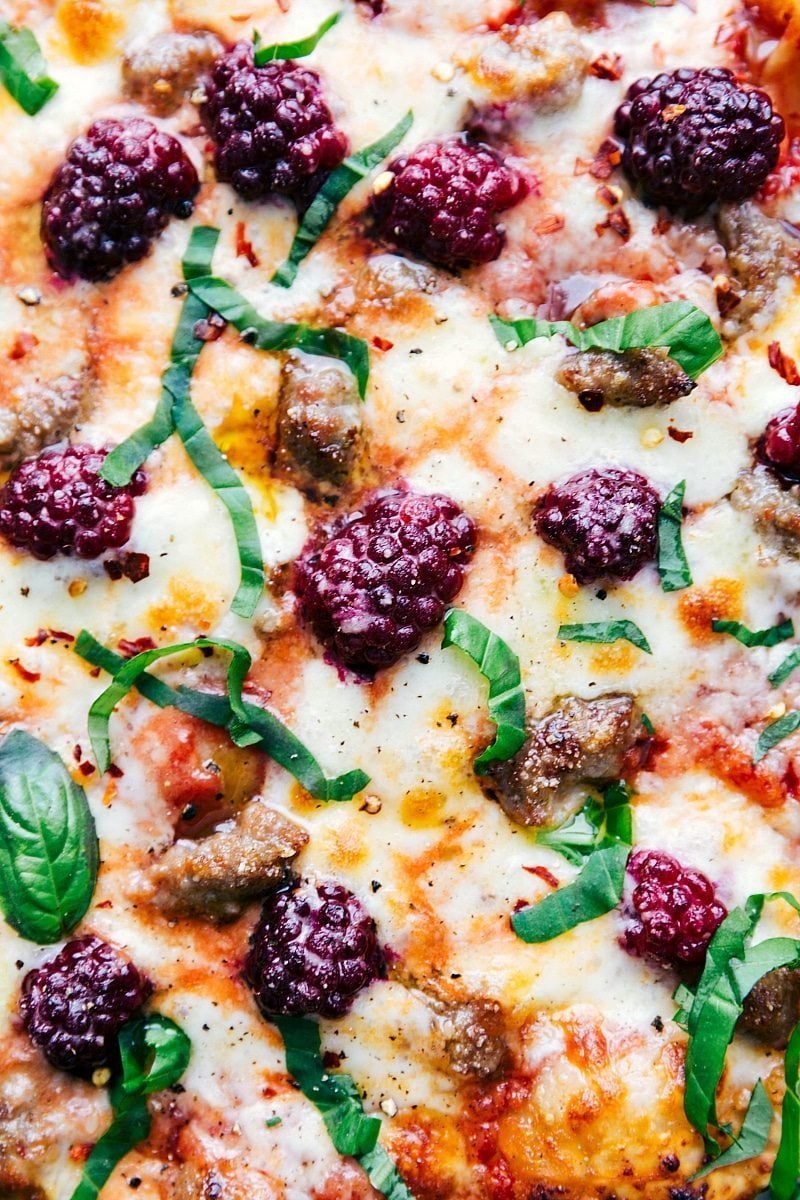 How to make blackberry pizza
This pizza comes together in no more than 10 minutes and with baking time you're looking at right around 30 minutes.
First, you'll brown the Italian sausage. While that is browning, unwrap and unroll the pizza dough and parchment paper right onto the baking tray. Spread some tomato sauce (I highly recommend Muir Glen's tomato sauce!) generously over the pizza and add the cheese.
I prefer cutting small chunks of mozzarella cheese instead of grating the mozzarella. Spread those chunks evenly all over the pizza and fill in empty spaces with the cooked sausage and fresh blackberries. Cover it all with an even sprinkle of pre-grated parmesan cheese and a drizzle of olive oil and that's it!
Let it bake and then top evenly with fresh basil and a sprinkle of red pepper flakes (if desired). And your blackberry pizza is ready to be devoured!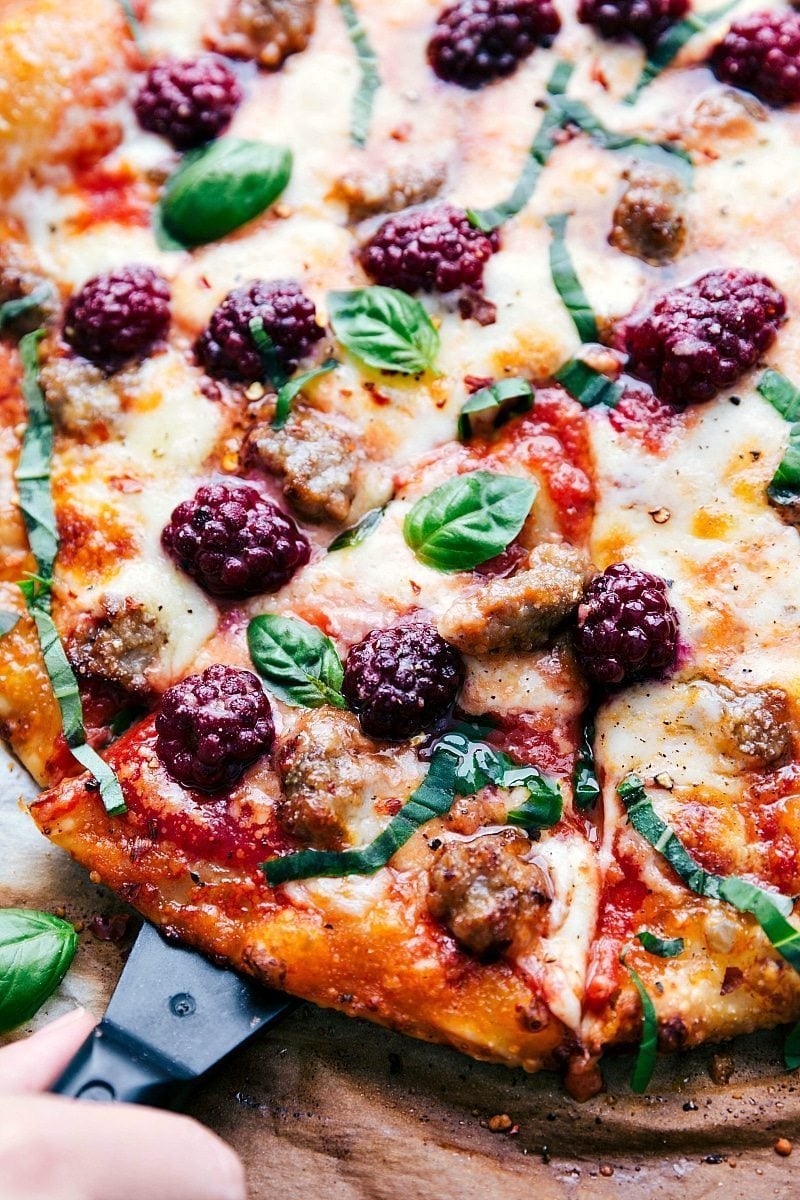 More easy 30-minute meals:
Helpful tutorial: How to chiffonade basil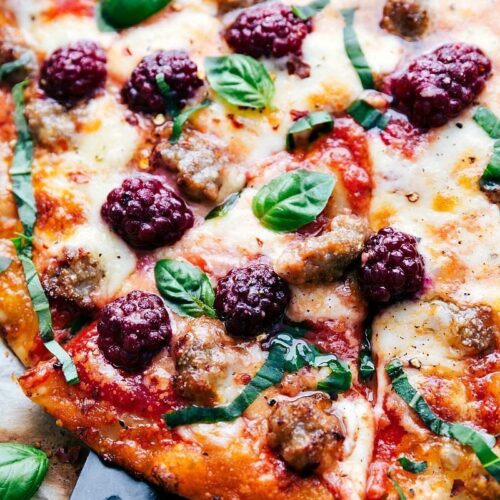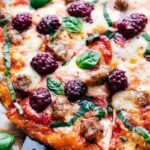 Blackberry Basil Pizza
30-Minute Blackberry Basil and Italian Sausage Pizza
Keyword:
blackberry pizza
Ingredients
1

package

Pillsbury's Best refrigerated classic crust pizza dough

4

ounces

Italian sausage

2

teaspoons

minced garlic

3/4

cup

Muir Glen organic tomato sauce OR crushed tomatoes (from a 14.5 ounce can)

1

heaping cup

blackberries (15-20 large blackberries)

6

ounces

fresh Mozzarella cheese (on a block)

OR mozzarella pearls*

1-2

tablespoons

olive oil

1/2

cup

freshly grated Parmesan cheese

(use a good quality pre-grated)

1/3

cup

fresh basil leaves

Salt, pepper, red pepper flakes

to taste
Instructions
Preheat the oven to 425 degrees F. Place the oven rack in low position. In a 10-inch nonstick skillet, add the sausage, and cook 3 to 4 minutes, stirring occasionally, until no longer pink. Add in the garlic and stir for 30 seconds to 1 more minute or until fragrant. Using slotted spoon, transfer to small bowl.

Unroll the dough with the oven-safe parchment paper onto an ungreased large cookie sheet (dough bakes on paper). Spread the tomato sauce evenly over dough avoiding the "crust." Cut the mozzarella cheese into 1/4th inch thick pieces and cut those pieces in thirds. Place these pieces all over the pizza. Alternatively, use mozzarella pearls*. Fill in any empty spaces with the blackberries and cooked sausage mixture.

Drizzle olive oil all over the top of the pizza and then generously sprinkle the parmesan cheese on top. Add a sprinkle of salt, pepper, and red pepper flakes as desired.

Bake for 16 to 21 minutes or until crust is golden brown. Meanwhile, ribbon the basil. Let pizza stand for 3-4 minutes and then top with basil. Cut and enjoy immediately.
Recipe Notes
*If you use mozzarella pearls, thoroughly pat down on paper towel to make sure they aren't wet.