Easy 5-ingredients (and no baking required) oreo truffle cookies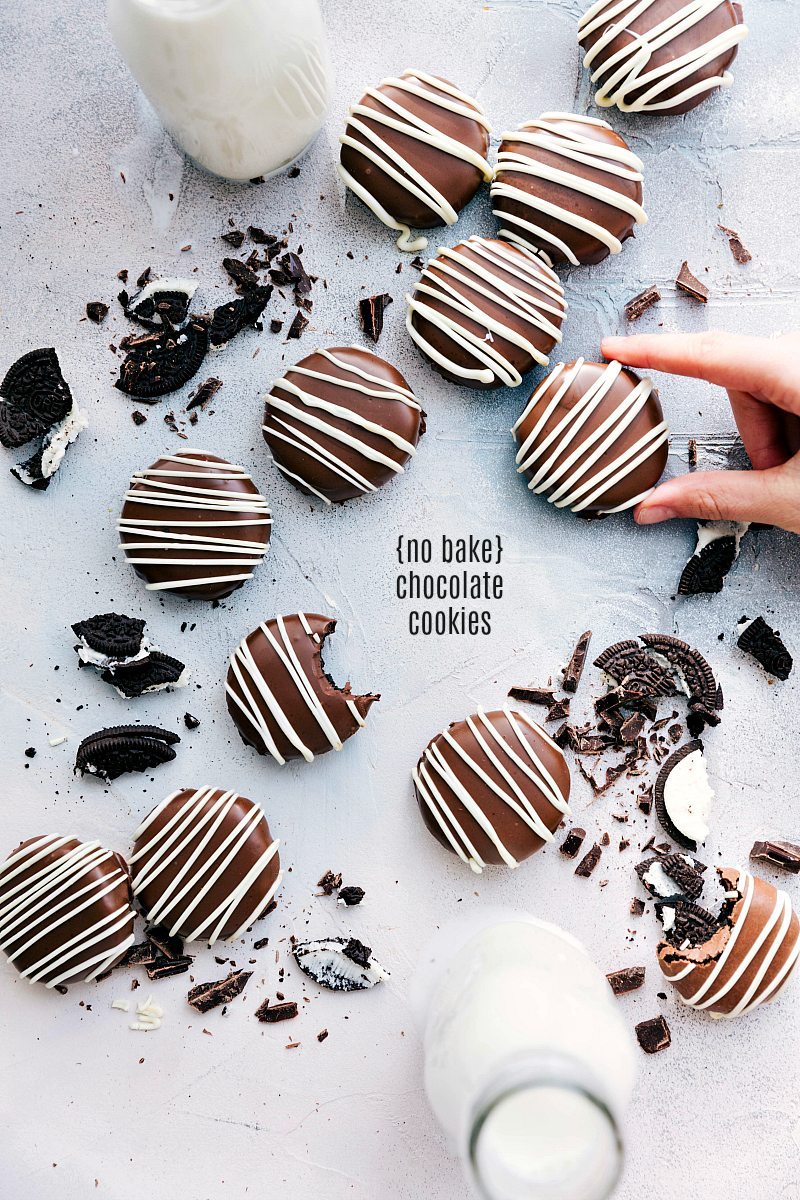 It's been mostly healthy recipes the last few weeks so I thought it was about time for a little dessert 🙂 Especially with Valentine's day coming up — these no bake oreo truffle cookies are the perfect treat.
If you've ever made (or eaten) oreo truffles, you'll notice this recipe is very similar. These are essentially oreo truffles but in dressed-up cookie form. So a little backstory on these: This past December, my sister got married and I volunteered (with the help of my other sisters) to make 800 cookies for her reception's "cookie bar". We wanted to make sure we served the bride's favorite cookie and the groom's favorite cookie. And the bride's favorite? All she wanted were Oreo truffles! Hands down her favorite dessert.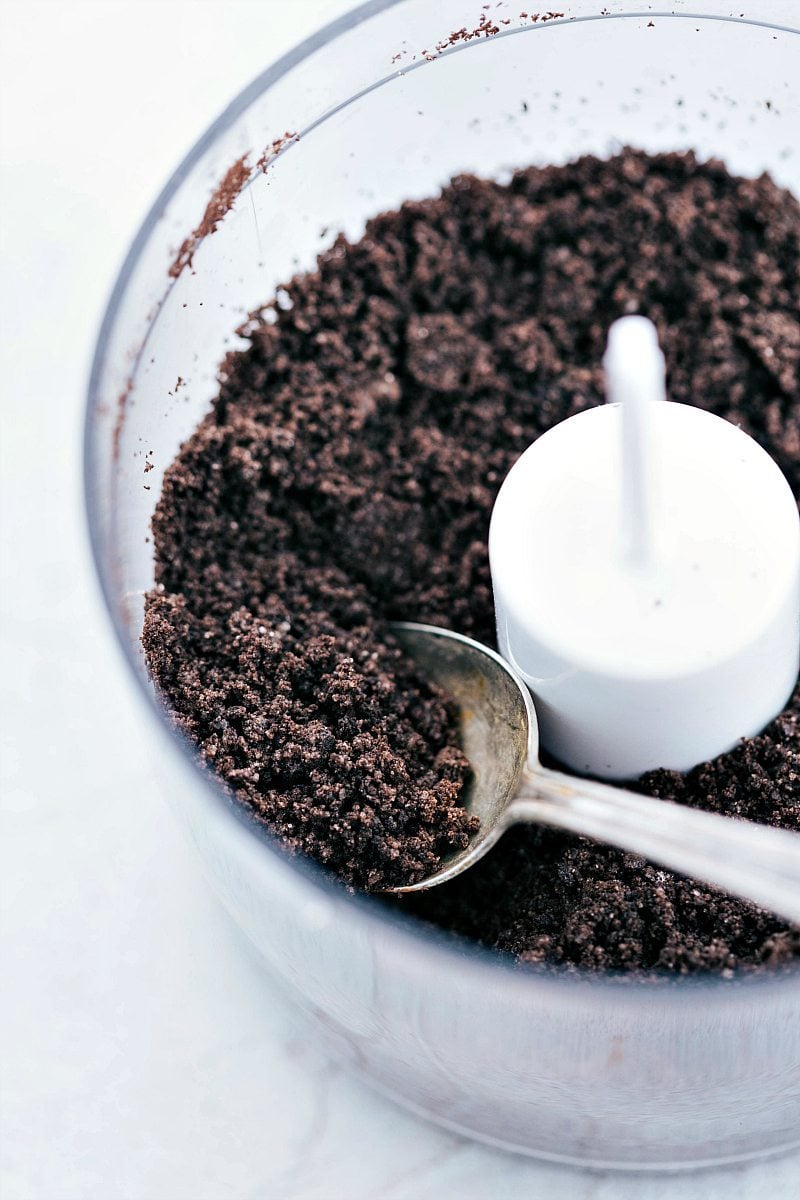 So I had the idea to make oreo "truffles" into oreo "cookies" and dress them up a bit for a wedding reception. I wasn't sure if I should post these or not, but after getting dozens of comments about them during the reception, I knew I had to! These were definitely the most loved cookie!
In all honesty I think they're even better than regular oreo truffles — more chocolate to oreo filling is always a good thing 🙂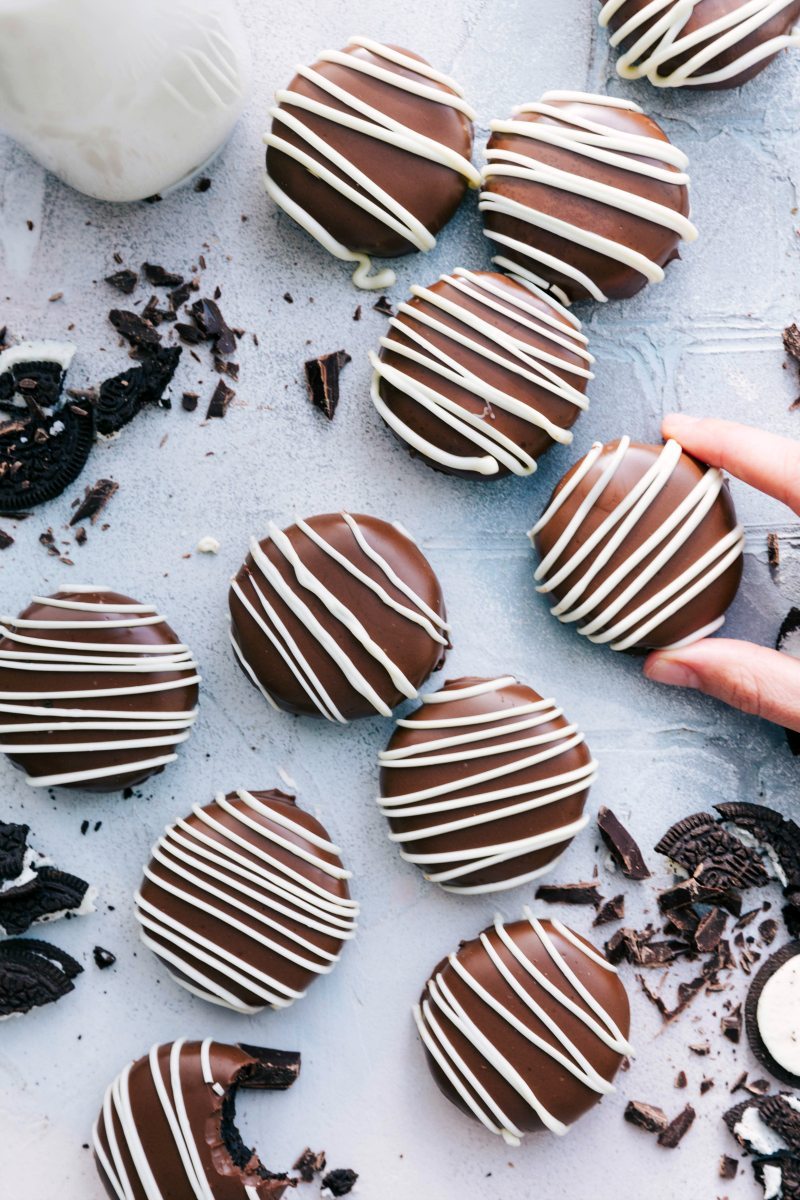 How do you make No Bake Oreo Truffle Cookies?
These cookies start the same way that oreo truffles do: softened cream cheese and crushed oreos. You'll want to make sure the oreos are evenly and finely crushed. Any big pieces of oreos and it messes up the texture of these cookies. I pulse full oreos in the blender until all the cookies are fine crumbs.
You'll mix the cream cheese and oreo crumbs until you've got a thick and slightly sticky dough. You can knead the mixture with your hands, use a stand mixer, or use hand mixers. I like using hand mixers best. Once you have that thick dough you're ready to form the cookies.
To form the cookies I pinch off a heaping tablespoon of the dough and knead it for a bit. Then form it into a ball and then flatten the ball. Now you've got the filling to your no bake oreo truffle cookie!
I like to place the center pieces on a parchment lined tray and stick them in the fridge to chill. This makes them so much easier to dip!
Finally, it's time to dip them in melted chocolate. I've found it's easiest to place the cookie on top of a large fork and to spoon chocolate over. Tap that fork against the bowl a few times to make the chocolate nice and smooth and then slide the fork against the edge of the bowl to remove excess chocolate. And then you should have a beautifully covered oreo cookie. Place on a parchment lined tray and allow to harden.
The last step is to pipe on some white chocolate. I do this once the milk chocolate layer is set up so there is a distinct white chocolate layer. If you don't wait, that's fine but the white chocolate will settle and blend in with the milk chocolate.
Let the chocolate harden at room temperature and enjoy!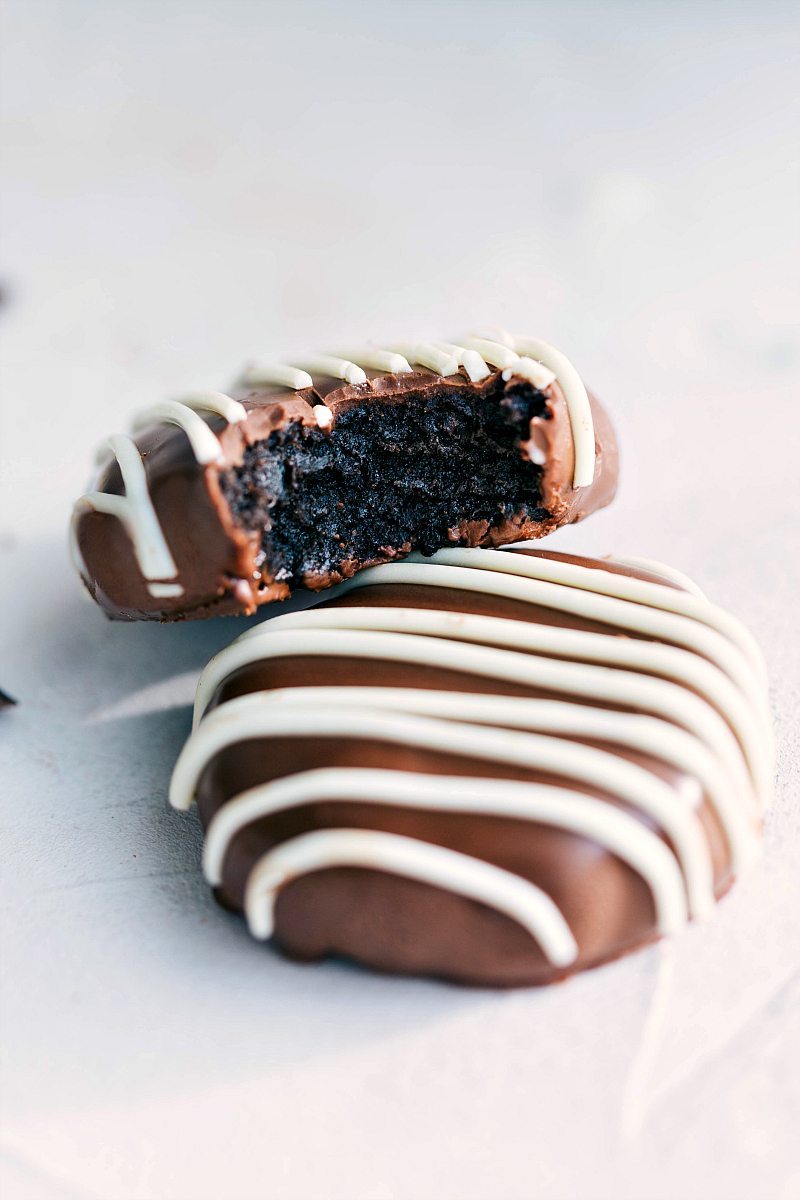 More Easy No Bake Treats: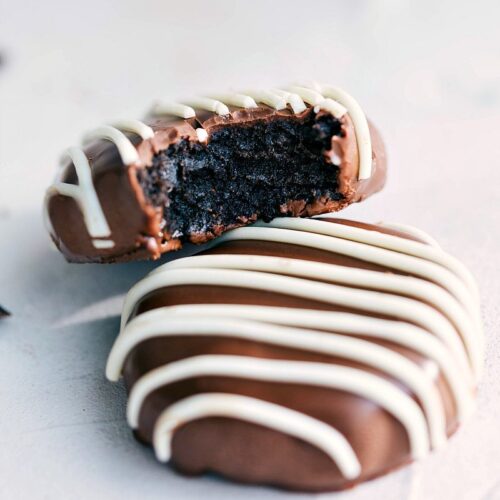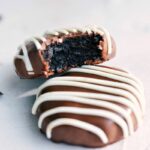 No Bake Oreo Truffle Cookies
Easy 5-ingredients (and no baking required) oreo truffle cookies

Ingredients
1

package (16 ounces)

Original Oreo Cookies (not double stuffed),

finely crushed

1

package (8 ounces)

full fat cream cheese,

at room temperature

3

cups

high quality milk chocolate chips

(can use semi-sweet/dark if you prefer)

1

cup

high quality white chocolate chips

Shortening or Vegetable Oil
Instructions
Pulse the full oreo cookies (no need to separate cream from cookie) in a food processor or blender until it is in fine crumbs.

Using a hand-held mixer, beat the oreo crumbs and cream cheese together until well combined.

Roll the mixture into large balls and then flatten and shape into even sized discs. Chill the discs, covered tightly, for an hour in the fridge or 20 minutes in the freezer. Keep the discs as cold as possible right up until it is their turn to be dipped in chocolate!

Once the discs are chilled, separate the chocolate in two parts. To one part (1 and 1/2 cups) add 1 teaspoon shortening or vegetable oil. Melt in the microwave in bursts of 15 seconds, stirring in between each burst for 15 seconds. Be patient microwaving to avoid burning the chocolate and remember the chocolate is melting even outside of the microwave.

Once melted and smooth, coat the oreo discs in the chocolate. I take an oreo disc straight from the fridge and place it on top of a large fork and then spoon melted chocolate over the fork. I tap the fork a few times to get the chocolate smooth and then drag the fork across the edge of the bowl to remove excess chocolate. I use a knife to push the oreo disc off of the fork onto a prepared sheet pan lined with parchment paper. If the chocolate is still too thick and not coating the oreo disc well, add 1/2 teaspoon additional shortening or oil. Once you've used all that chocolate, repeat the directions to melt the remaining 1 and 1/2 cups chocolate. Allow to harden at room temperature.

Once the chocolate is hardened, melt the white chocolate chips (I don't add oil/shortening to the white chocolate, but you can add a little if needed/depending on the brand of chocolate you use) in the microwave. Microwave them in bursts of 20 seconds, stirring in between each burst for 15 seconds. Transfer the melted white chocolate to a plastic bag and seal the bag. Cut off the tip of the bag and pipe stripes over the oreo cookie discs. Work quickly as white chocolate hardens much faster than milk chocolate.

Let set and they're ready to enjoy! Store any leftovers in an airtight container in the fridge.

Best enjoyed within 5 days.
Recipe Notes
Depending on how quickly you work and/or how fast the chocolate hardens, you might have to re-melt the chocolate a few times.