A super easy, 15-minute prep, ONE SKILLET tomato tortellini with sausage. This is an easy family-friendly meal!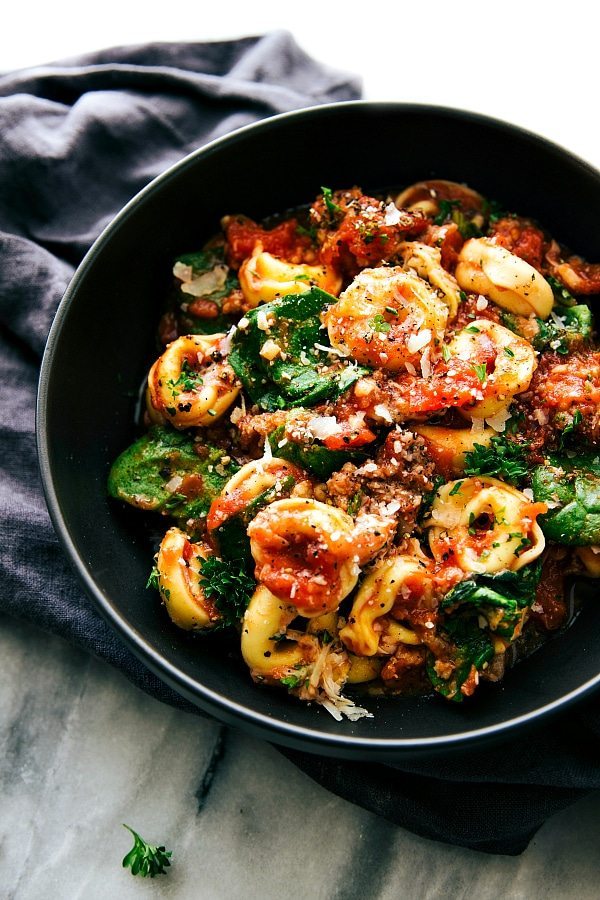 Comfort food on Mondays. It's a new thing that I'm going to be keeping up for-ev-er. Especially after having sick kiddos (and husband) all last week. This is just the meal to combat that crazy ever-changing Spring weather (seriously Utah, pick a season and stick to it ?) or just the general Monday blues.
Although I'll admit, I actually love Mondays. New fresh start to the week and lots to get done. I'm ready! ??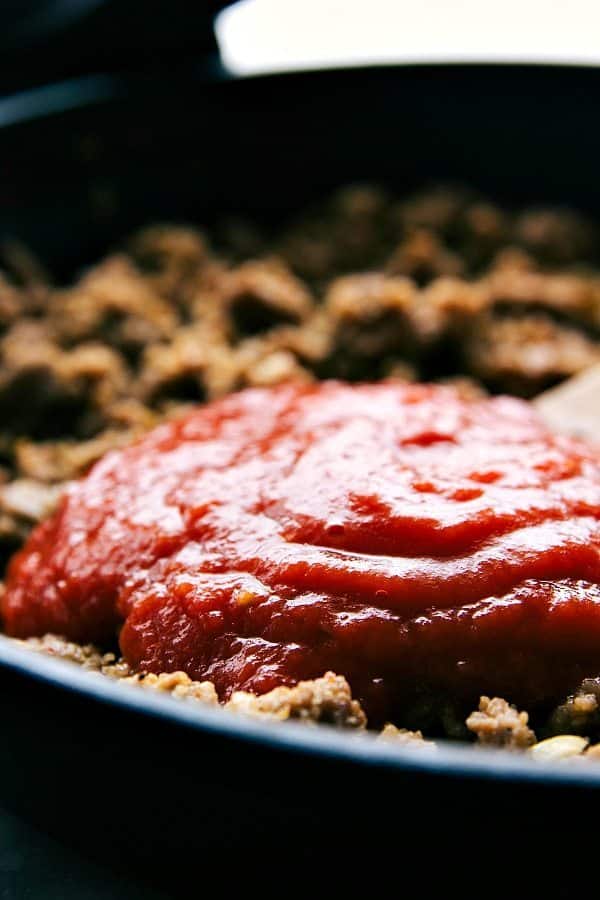 It's no secret that we love tortellini. It's been in quite a few recipes here and to be honest, it's probably our dinner at least every other week. We LOVE tortellini.
For some reason the toddler thinks it tastes like pizza (I guess the cheese inside?) and he calls tortellini "mini pizzas" which actually sounds like: "min-knee peet-zas." I've got to get some of the words he says recorded before he grows out of it. And I know just about every single toddler pronounces yellow like "lellow" but I just about die every time Grey says the word.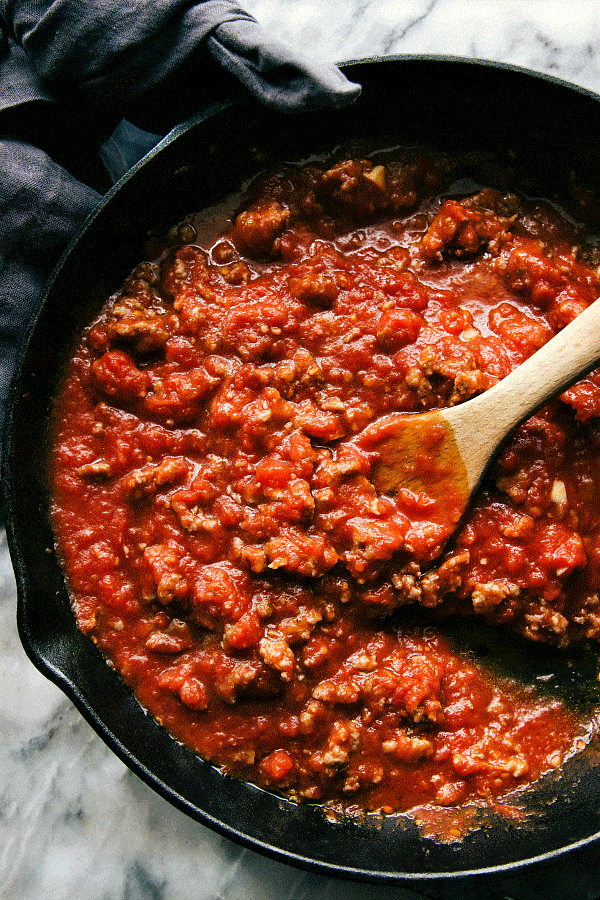 Since our tortellini dinners are generally just boiling the noodles and serving them with a red sauce, I thought it was time to make something a little more interesting. BUT it still had to be just about as easy.
And this is totally just that! It's so quick to assemble and the taste is well worth the extra 10 minutes of effort (as opposed to just boiling noodles!)
AND it only takes one big skillet to make. Less dishes is another thing that your Monday needs.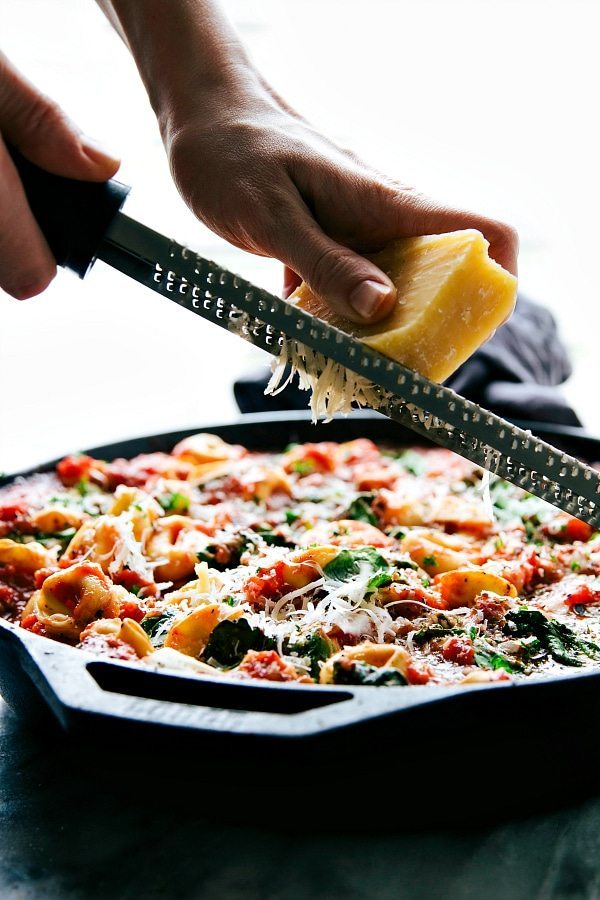 So let's just break this down to just how easy it is:
✔️Saute the onion + garlic in olive oil and then add in the sausage. Cook through.
✔️Stir in the UNCOOKED tortellini, spinach, spices, tomato sauce, and cheese.
✔️Bake for 20 minutes.
✔️DEVOUR.
Yes, it's really that easy! ?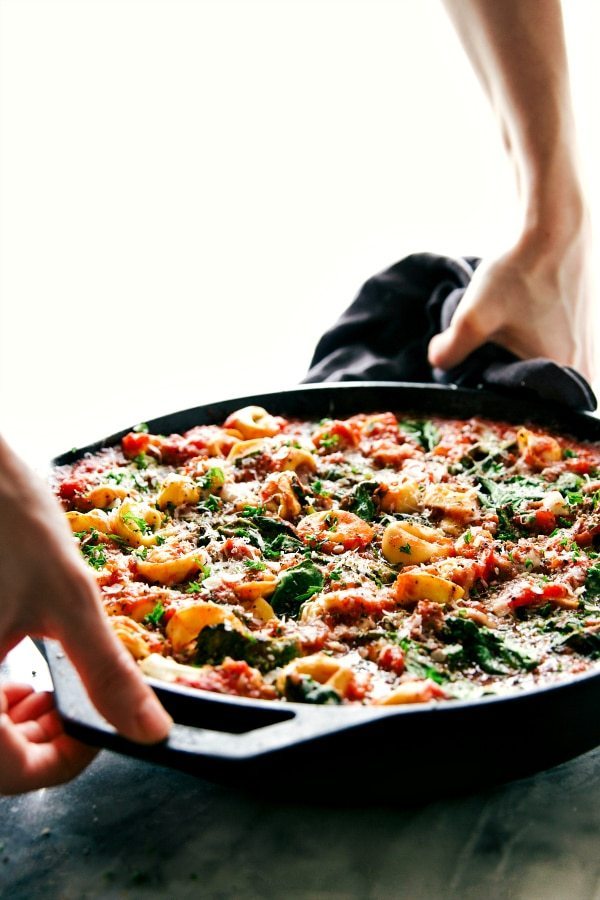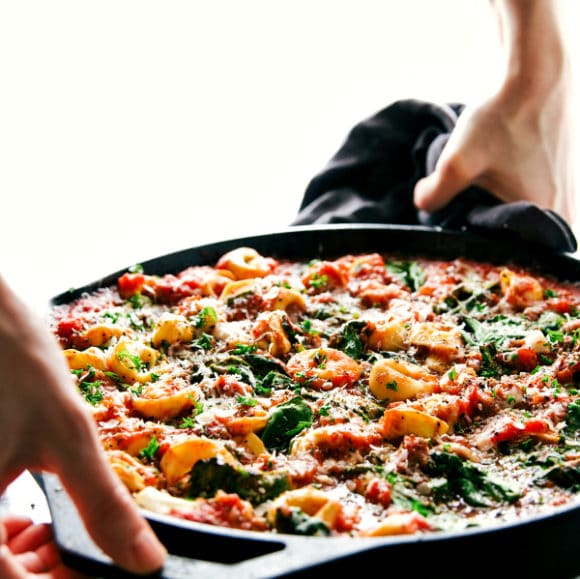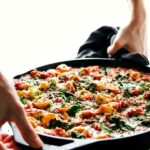 Tomato Tortellini with Sausage
A super easy, 15-minute prep, ONE SKILLET tomato tortellini with sausage. This is an easy family-friendly meal!
Keyword:
Tomato Tortellini with Sausage
Ingredients
2

tablespoons

olive oil

1

small yellow onion

3

cloves

garlic

1

pound

Italian Pork Sausage

2 cans

(28 ounces EACH)

crushed tomatoes

1-2

teaspoons

Italian seasoning

1 package

(19 ounces)

FROZEN cheese tortellini

1

cup

freshly grated mozzarella cheese

2 and 1/2

cups

fresh spinach

1/3

cup

freshly grated Parmesan cheese

Optional: fresh parsley or basil, cracked pepper
Instructions
Move a rack in your oven to the upper third of the oven and then preheat to 425 degrees F.

You will need a LARGE 12-inch skillet for this recipe. I use a 12-inch Lodge cast iron skillet and it works best in that.

Dice an onion and mince the garlic. Pour the olive oil in the skillet and add in the onion. Cook over medium-high heat until translucent and then add in the garlic and stir for 20 seconds.

Add in the sausage and cook until browned through.

Drain off any extra grease.

Add in two cans of crushed tomatoes, Italian seasoning (to taste preference, we used 2 teaspoons), uncooked frozen tortellini, grated mozzarella cheese, and spinach.

Stir to just mix things together and quickly press the tortellini's below/into the tomato mixture.

Top with the Parmesan cheese, freshly cracked pepper, and a pinch of salt.

Cook, uncovered, in the oven for 17-22 minutes.

If desired, turn on the broiler and then broil for another 2-3 minutes for a delicious crispier tortellini.

Remove from the heat and top with chopped fresh parsley if desired. Enjoy immediately.
More EASY One Pot Meals:
One Pot Southwestern Ranch Chicken
One Pot, 10 easy ingredients Balsamic Caprese Chicken
ONE POT Chicken and Vegetable Gnocchi