An easy skillet lasagna made with extra lean ground beef, rotini noodles, spaghetti sauce, and flavored with Zesty Italian dressing.
I <3 Lasagna.
But all the long noodles and layers… It just takes a lot of time. And sometimes that's fine, but sometimes I want lasagna quicker. Like in less than thirty minutes. Sound good?!
But before we start talking about this zesty, easy, tasty skillet lasagna…how was your Valentine's Day? The hubs and I celebrated with a night in which was perfect. Every year since we've been together he has gotten me a Valentine's Build-a-Bear. I am about ten years old sometimes and still obsessed with stuffed animals so it's my favorite kind of gift! And the best gift because the bears he gets me are PINK and covered with hearts. AKA my two favorite things.
I know what you are probably thinking I have a lot of favorite things. Yes, yes…you are very right… Anyways…the first year I got a Build-a-Bear, he stuffed it with a custom voice. It says, "I love you Chelsea, and I can't wait to marry you." Cute right. 🙂 Even cuter is the story that he told me – the worker actually made him kiss the heart and twirl circles with it before putting it in the bear. Oh gosh I would have LOVED to see that. But envisioning it = almost as good.
Now that you all know how stinkin' cute my husband is, we can talk about this lasagna. Namely the ease of it.
Start out by cooking the noodles. I used rotini, but you can substitute with whatever kind of noodles suit your fancy. I used 3 cups, but feel free to use a little bit more if you want a more pasta in this lasagna dish. While the noodles are cooking, start one pound of extra lean ground beef (or ground turkey) cooking in a large skillet over medium heat.
Once the meat is cooked through, drain it, and then add in the usual lasagna suspects: an onion and some garlic. And then you'll also add in some not so usual lasagna ingredients.
These "secret ingredients" make this lasagna is burst with flavor and give this dish a heightened and unique flavor. Zesty Italian Dressing and a Thick & Zesty Spaghetti Sauce mix. The dressing and the sauce mix get stirred right in with the ground beef mixture.
Then into the skillet goes stewed tomatoes and spaghetti sauce + 1 cup of water. Easy enough. Let the mixture boil and then turn to low and let the ingredients simmer for about 10-15 minutes stirring occasionally.
Drain the pasta and add it right in to the skillet. Remove from heat and add your choice of cheeses right on top in the skillet. I added a thick layer of ricotta cheese, an even thicker layer of mozzarella cheese, and then a sprinkling of Parmesan. Extra cheesy thank you very much!
Seriously, I told you that was easy! And just wait til you taste it. Gahhhhh the flavors!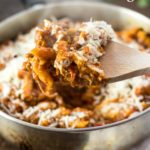 Easy Skillet Lasagna
Ingredients
1

pound

extra lean ground beef

1/2

cup

yellow onion

chopped

1

teaspoon

minced garlic

1

packet

Zesty thick and dry spaghetti sauce mix

dry

1/2

cup

Zesty Italian dressing

1 can

(14.5 ounces)

stewed tomatoes

not drained

1 jar

(24 ounces)

onion and garlic spaghetti sauce

1

cup

water

3

cups

rotini pasta

1

cup

ricotta cheese

1

cups

and 1/2 mozzarella cheese

1/4-1/2

cup

Parmesan cheese
Instructions
Follow package directions and cook 3 cups rotini pasta. Drain and set aside.

While the pasta is cooking, brown the ground beef in a large skillet over medium heat. Drain excess fat and return the ground beef to the skillet.

Add in the chopped onion and minced garlic. Continue to cook until fragrant and then add in the packet of dry spaghetti sauce and the zesty Italian dressing.

Stir well. Add in the un-drained stewed tomatoes, spaghetti sauce and water.

Get the mixture to boiling point and then turn on low, cover the skillet, and let simmer for 10-15 minutes making sure to stir every couple of minutes so it doesn't stick to the skillet. Add more water if needed. Stir in the drained pasta.

Top the skillet with ricotta cheese, then mozzarella cheese, and sprinkle Parmesan cheese on top.

Cover for 1-2 more minutes to let the cheese melt.

Optionally garnish with fresh parsley and serve immediately.
More easy dinner meals:

One Skillet Chicken Enchilada Pasta