Easy and flavorful ONE pot chicken burrito bowls with a delicious cilantro lime sauce

Pin this One Pot Chicken Burrito Bowls to your Recipes Board!
Years ago I shared these one skillet sweet potato burrito bowls and they've remained one of the most liked recipes on my site to this day. One of my favorite things about blogging is when so many of you fall in love with the recipes that have become our family favorites 🙂
I've had so many requests from you on how to add chicken or beef to the original sweet potato burrito bowl meal, so I decided to make a whole new version of that recipe. These one pot chicken burrito bowls are even a little bit easier because I'm using store-bought shredded rotisserie chicken which cuts down on prep and cooking time. (AND If you follow my series of making 3 meals with 1 rotisserie chicken, this recipe (along with 2 others) is going to be in my next rotisserie chicken series post. :)…stay tuned!)
How do you make one pot chicken burrito bowls?
The recipe for these burrito bowls DOES seem overwhelming at first glance, but I promise you this is a simple dish to make! There are a lot of ingredients and toppings and then a delicious cilantro-lime sauce which I think just takes these burrito bowls from wow to WOAH! However, all of the toppings (avocado, cilantro, lime, cheese) and the cilantro-lime sauce can easily be used in other meals throughout the week such as tacos, tostadas, salads, etc. The sauce makes a lot so if you make it at the beginning of the week you can throw it on all your Mexican-inspired dishes throughout the week!
To make these one pot chicken burrito bowls we start by sautéing onions in olive oil, adding garlic, and then the seasonings. Adding the seasonings at the start with the oil helps to deepen and intensify the flavors. Next the rice comes in and again, saute that rice dry to infuse more (and deeper) flavors. After that it's really about just opening cans up and dumping the rest of everything in: diced tomatoes, enchilada sauce, beans, corn, green chiles, and stock. And that's it for about 20-25 minutes! The pot will work it's magic leaving the perfect amount of time to assemble and prep toppings, make the sauce, and even throw together a salad if you're feeling super ambitious 🙂
Once the rice is cooked through, the cheese and chicken gets added in and warmed through and dinner is ready to serve!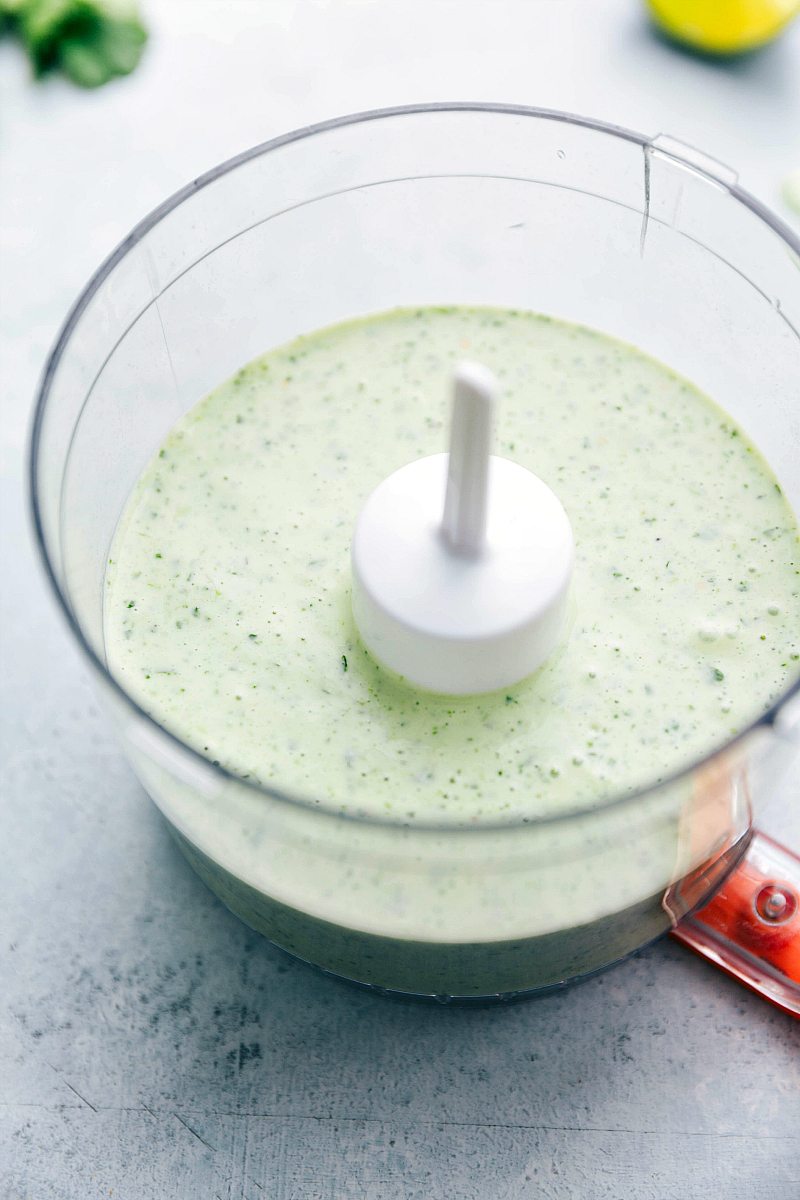 What should I top this one pot chicken burrito bowl dish with?
Really, whatever you like! Our favorites are fresh cilantro, fresh lime juice, sour cream, and fresh avocado or guacamole. And of course, the cilantro-lime sauce is a MUST HAVE. I like having lots of toppings and then re-using the toppings throughout the week in different meals. The cilantro-lime sauce is really easy to prepare — essentially adding a ton of ingredients to a food processor or blender and pulsing until smooth!
Can I meal prep these one pot chicken burrito bowls?
YES!! We've been doing these chicken burrito bowls as our meal prep for a couple of weeks now and loving it! To do this: follow directions to make the rice/chicken burrito bowl mixture. Divide that evenly among 4 containers and then add the cilantro-lime sauce into smaller Tupperware/dressing containers. You can also add sour cream to a small individual Tupperware/dressing container. I like to add toppings such as a lime wedge, fresh cilantro, and a quarter of an avocado in individual ziplock bags to add to the burrito bowl once it's been warmed up. Sometimes instead of the avocado, I'll buy the individual packets of pre-made guacamole and add one of those to the daily portions.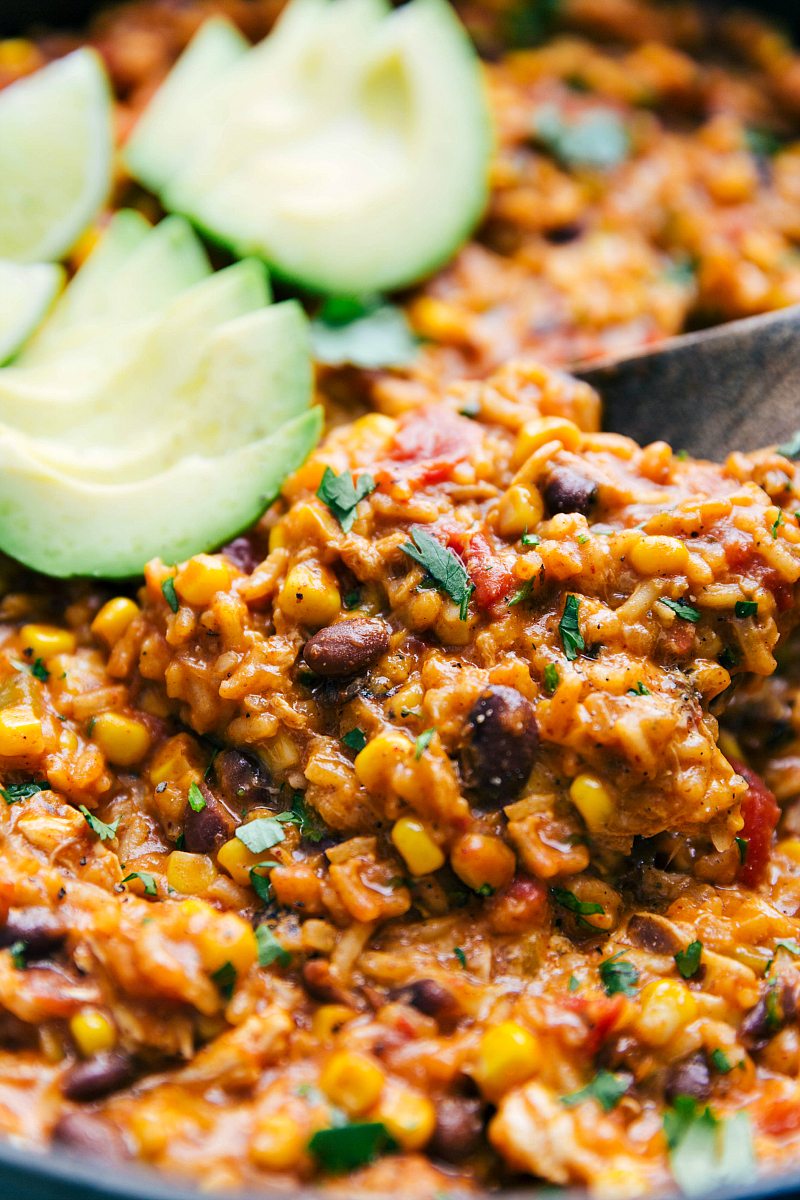 More Easy One Pot Dishes:
One Skillet Chicken Enchilada Pasta
For more delicious recipes, follow along on Pinterest, Instagram, Facebook, and YouTube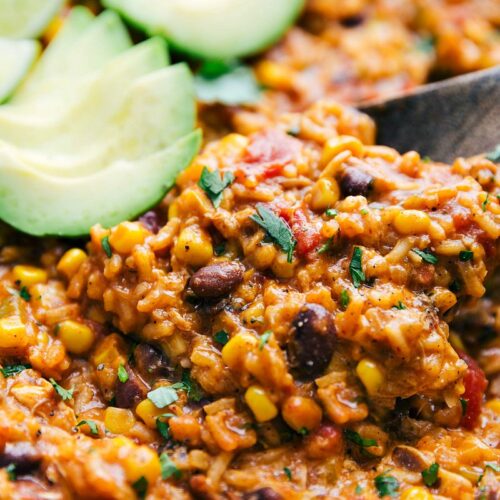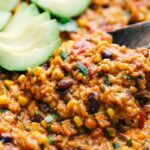 Easy ONE SKILLET Chicken Burrito Bowls
Easy and flavorful ONE skillet chicken burrito bowls with a delicious cilantro lime sauce
Ingredients
Burrito Bowls
3

tablespoons

olive oil,

separated

1/4

cup

yellow onion,

diced

1

teaspoon

minced garlic

1

tablespoon

chili powder

1

teaspoon EACH:

ground cumin, paprika

1/4

teaspoon

cayenne pepper

1/2

teaspoon

dried oregano flakes

1

cup

uncooked extra-long grain rice

1 can

(14.5 ounces)

fire-roasted diced tomatoes,

undrained

1

can (11 ounces)

mild red enchilada sauce (I recommend old el paso; I've tried a few other brands and they've been too hot for the family!)

1 and 1/2

cups

chicken stock

1 can

(15 ounces)

black beans,

drained and rinsed

1 can

(15 ounces)

fire-roasted corn,

drained

1 can

(4 ounces)

mild fire-roasted diced green chiles,

optional

1 and 1/2

cups

colby jack or sharp cheddar cheese,

freshly grated

2

cups

prepared and shredded rotisserie chicken

Fine sea salt and freshly cracked pepper

1-2

tablespoons

fresh lime juice,

optional

Additions: lime wedges, fresh cilantro, fresh ripe avocado
Cilantro Lime Sauce
1

lime juiced and zested

2

tablespoons

dry ranch seasoning mix (I like Hidden Valley)

1/2 - 1

full teaspoon minced garlic

1

medium sized tomatillo,

husk removed and coarsely chopped

1/3

of a large bunch of cilantro

1/2

a jalapeno,

seeds removed for mild and left for spicy dressing

1/2

cup

full fat regular mayo

1/2

cup

sour cream

(fat free is great)
Instructions
Burrito Bowl
In a 3-quart NONSTICK (must be nonstick) skillet or pot, add 2 tablespoons olive oil and heat to medium high heat. Once the oil is shimmering, add in the diced onion and stir for 3-4 minutes. Add in the garlic and stir for 30 seconds. Add all of the seasonings: chili powder, ground cumin, paprika, cayenne pepper, dried oregano flakes, and salt + pepper to taste. (I add ~ 1/2 teaspoon of each). Stir until fragrant, about 30-45 seconds and then add remaining 1 tablespoon oil and the rice. Stir, without liquid, for 1-2 minutes.

Add in the undrained diced tomatoes, enchilada sauce, stock, drained and rinsed beans, drained corn, and diced green chiles. Stir everything together and then reduce the heat to low and cover.

Cook about 20-25 minutes or until rice is tender, stirring occasionally and adding additional chicken stock IF needed to get the rice completely tender.

Season with additional salt and pepper as desired. Add the cheese and shredded rotisserie chicken on top, stir it together, and cover for another 3-4 minutes to allow the cheese to melt and chicken to warm through.
Cilantro Lime Sauce
While the dish is cooking prepare the sauce: Zest and juice 1 lime. Add the juice and zest to the blender along with the ranch seasoning mix, minced garlic, chopped tomatillo, and cilantro (Just cut off the large stems, but the rest is fine).

Add 1/2 a jalapeno (a full one for more kick) and the mayo. Add some seasoned salt and pepper to taste (I use 1/4 to 1/2 teaspoon of salt and 1/8 teaspoon pepper). Blend until completely smooth. Taste and adjust to personal preference (more lime, more garlic, salt/pepper). Add the sour cream and pulse until just combined.
Assembly
If desired, add lime juice over the entire dish OR to individual servings. Add the sauce, additional lime wedges, additional cilantro, and avocado to individual servings.*
Recipe Notes
*Do not add optional/additional toppings or sauce to anything you want to keep leftover. Store separately and reheat chicken/rice mixture as needed.