A cheesy taco pasta dish with taco seasoned ground beef, taco sauce, pasta, corn, and lots of cheese! This meal comes together all in one pot – even the pasta gets cooked in the same pot.
Pair this taco pasta with a big salad like this Italian salad, this Caprese salad, or this panzanella salad.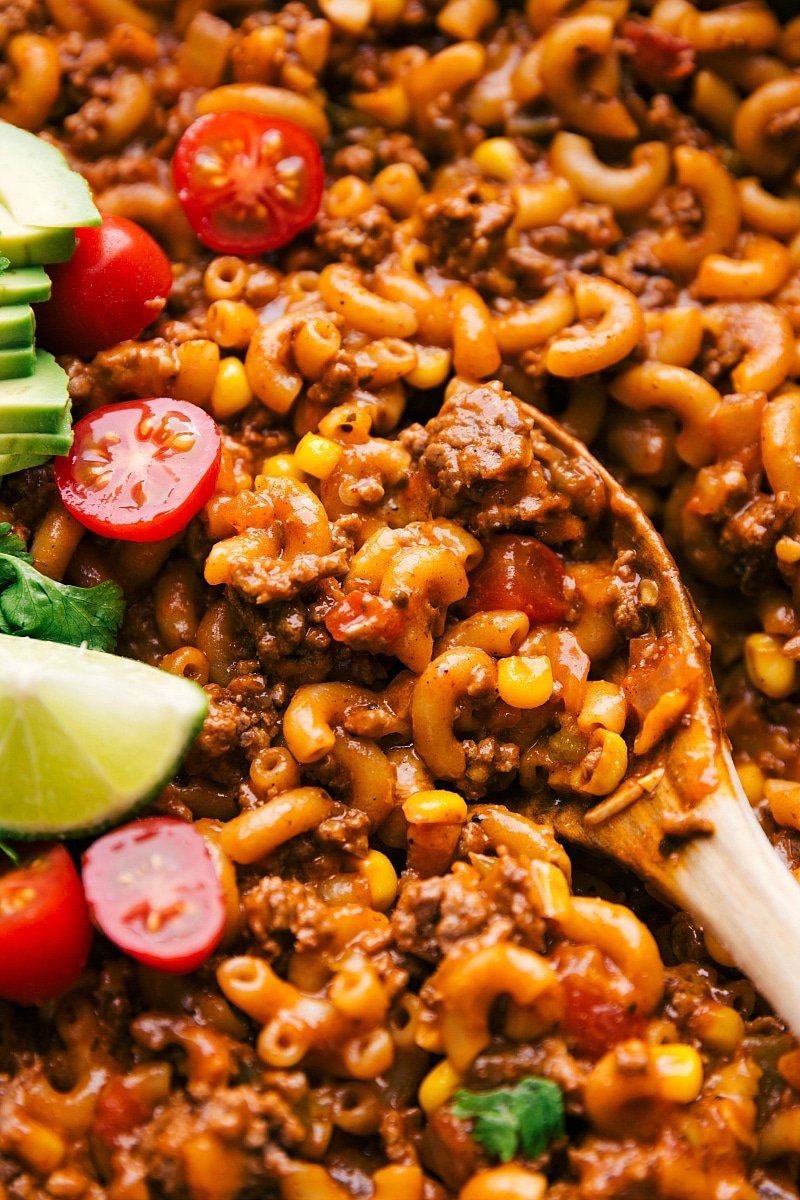 A couple days ago I shared my obsession with oatmeal cookies, and today I'm sharing an equal obsession with one pan/one pot meals. When a dinner comes together super quick and dirties minimal dishes, it's a wonderful thing :).
This cheesy taco pasta is inspired by hamburger helper (a staple from my childhood), but made with real ingredients. No fake ingredients in this meal and trust me, there's a huge difference in taste — for the better of course!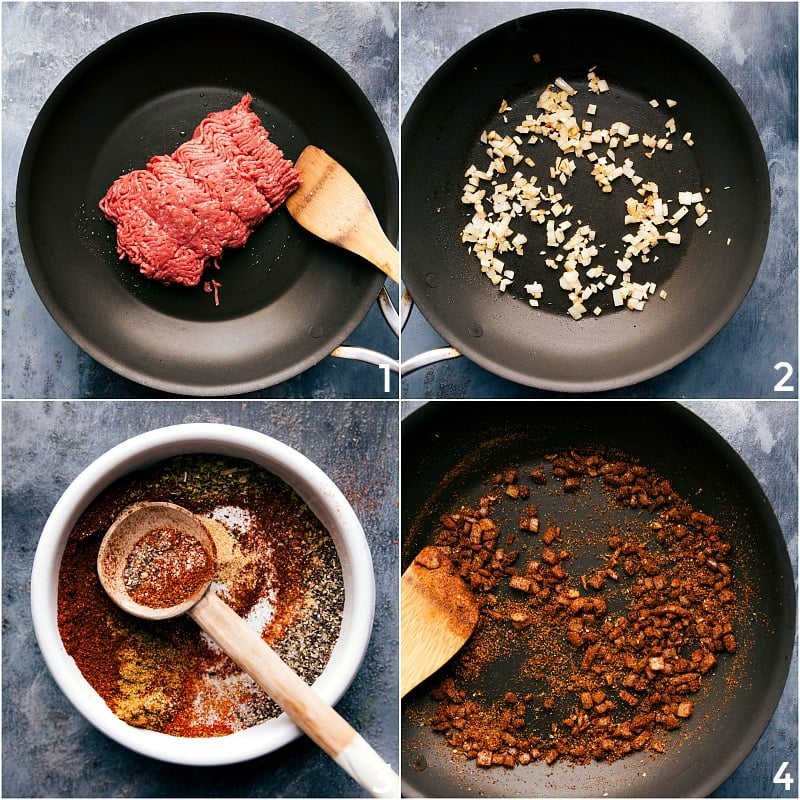 How to make taco pasta
Below I'll share a quick overview of the steps for making this easy pasta dish. The numbers on the photo collages (above and below this text) correlate with the steps listed below.
Brown the ground beef. Transfer the cooked ground beef to a plate and drain off any fat. You CAN keep the ground beef in and just drain off the fat, but I find it easier to transfer it to a plate 🙂
Sauté the onion and garlic.
Taco seasoning: either homemade or store-bought — either will work with this recipe
Sauté the spices to intensify the flavors.
Add in the salsa and corn and water.
Next the UNCOOKED pasta and taco sauce.
Here's a great place to add back in that ground beef 🙂 Stir everything together and simmer.
After it's simmered, add in some more water and continue to simmer it until pasta is al dente.
Add in the cheese (add as much as you'd like!) and stir until nice and melted.
And that's it — perfectly cheesy seasoned taco pasta. All that's left is adding the toppings.
Our favorite taco pasta toppings
While this taco pasta is delicious as it, we always like to add in some toppings. Whatever you like on regular tacos will (probably) go great with this dish. Below are our favorites:
Freshly squeezed lime juice
Fresh cherry tomatoes
Ripe, thinly sliced avocado (or guacamole)
Fresh diced cilantro or green onions
Sour cream (low fat or fat free is great)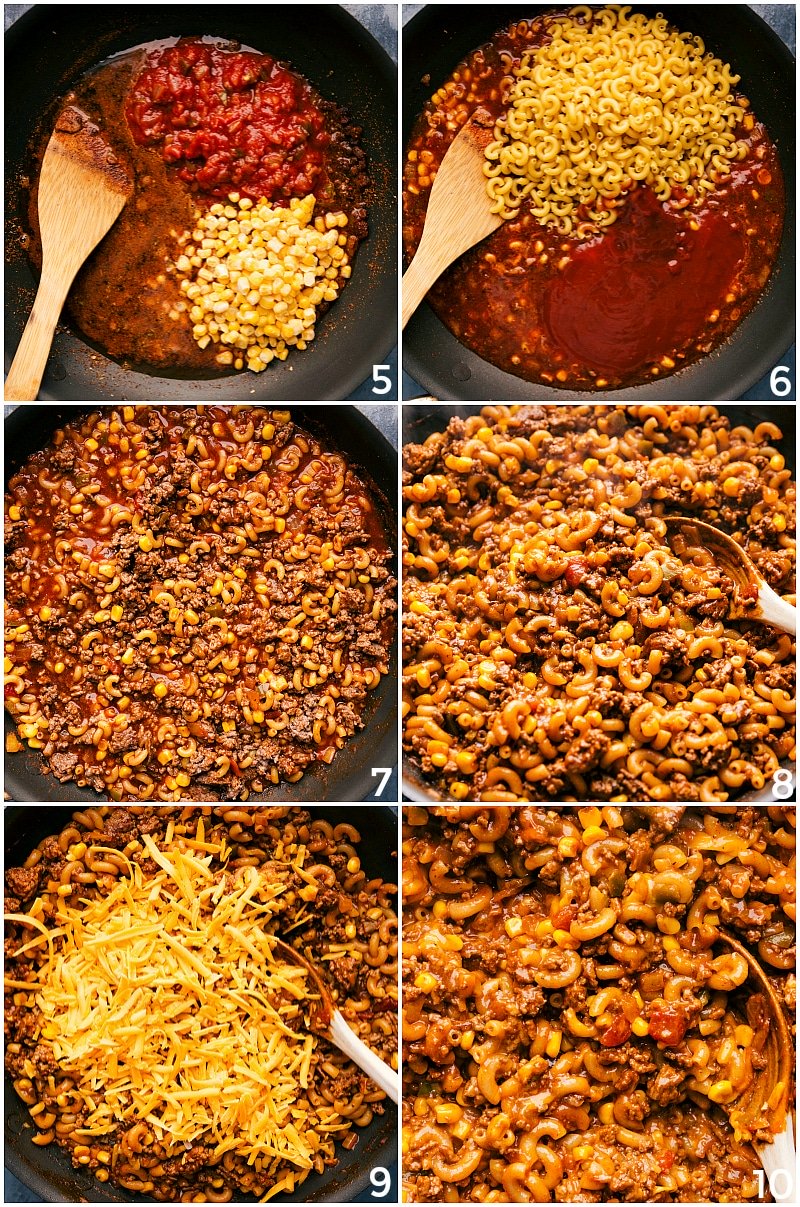 Quick notes
Be careful about substituting different kinds of pasta. The macaroni noodles cook quickly and work well in this dish. If you use larger noodles, it may take a bit longer and may require more water/liquid to cook through.
Make sure to use a nonstick LARGE skillet. There are a lot of ingredients in this taco pasta and it won't cook properly in a small skillet. The noodles may stick and burn to the bottom if you don't use a nonstick skillet.
Add additional water if needed: every stovetop is different and the skillet you're using is likely different than mine. So check the pasta at the times I've indicated, but don't be afraid to add a little extra water and/or give the pasta a little extra time to cook through. Just taste a few noodles to see if a little more time is needed (and if the water has evaporated, add a bit more in).
Taste and adjust seasoning: depending on the taco seasoning you use, you may need to add additional salt or pepper at the end, don't forget to give the dish a taste and add any additional seasoning as needed.
Unsure what taco sauce is? Taco sauce is typically added as a topping to tacos, burritos, etc. It is usually found near enchilada sauces, salsas, and green chiles in the grocery store. Here's a homemade alternative.
Homemade taco seasoning
Here's my favorite homemade taco seasoning:
1 tablespoon chili powder
1 teaspoon paprika and 1 teaspoon cumin
1/2 teaspoon oregano and 1/2 teaspoon roasted garlic powder
1/2 teaspoon fine sea salt and 1/2 teaspoon freshly cracked pepper
Simply whisk together these seasonings in a small bowl and use in place of the taco seasoning packet in this taco pasta.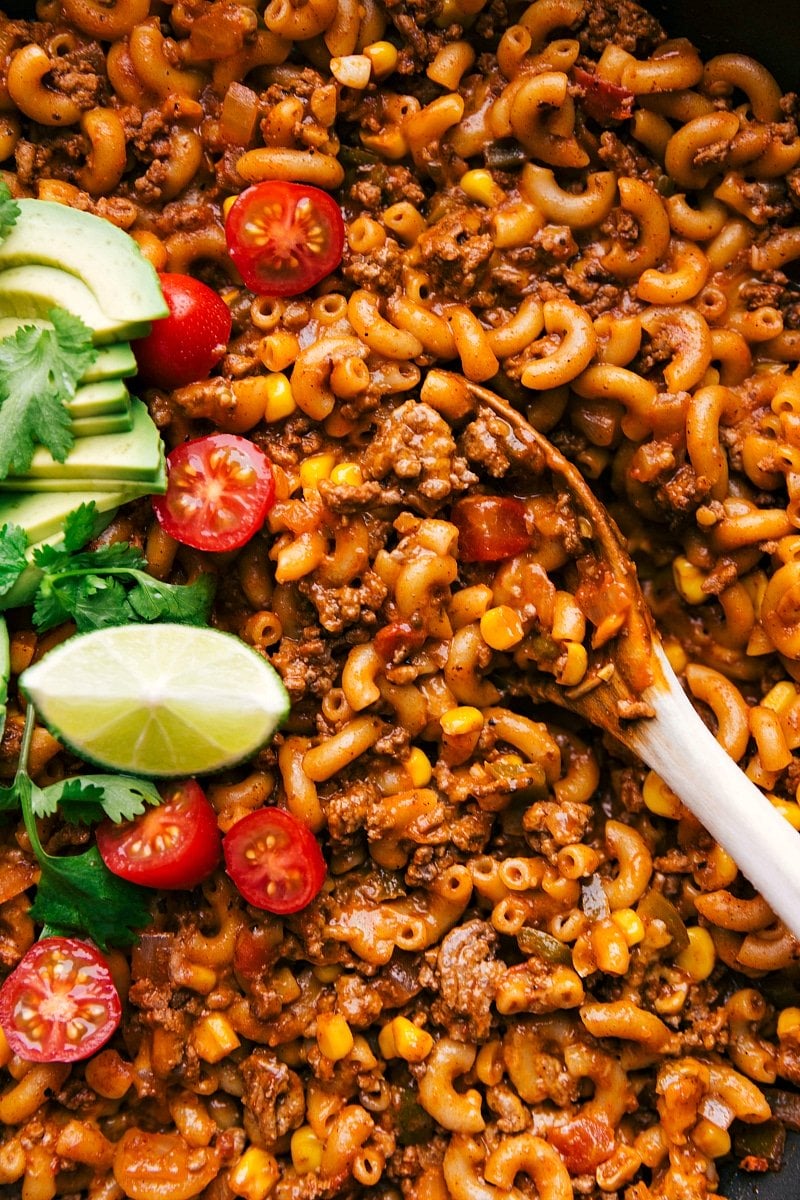 More easy dinner recipes:
One Pot Cheesy Taco Pasta
A cheesy taco pasta dish with taco seasoned ground beef, taco sauce, pasta, corn, and lots of cheese! This meal comes together all in one pot - even the pasta gets cooked in the same pot.
Ingredients
1

pound

extra lean ground beef

1/2

cup

yellow onion,

finely diced

1/2

teaspoon

minced garlic

1

packet taco seasoning

Note 1

2

cups

water,

separated

1

cup

mild salsa

1

cup

frozen corn

2

cups (10 ounces)

elbow macaroni

1

cup

mild taco sauce

1 and 1/2 to 2

cups

Mexican shredded cheese or sharp cheddar cheese

Optional toppings: green onions or cilantro, sour cream, diced tomatoes, diced avocado
Instructions
Brown the ground beef in a large nonstick skillet.

Drain the fat (if desired transfer the beef to another plate to drain off the fat). Add in the onion and garlic in the skillet. Stir until fragrant - about 30 seconds to a minute on medium-high heat. Add in the taco seasoning and stir for 30 more seconds.

Add in one cup of water, salsa, and corn. Stir well and add in the uncooked pasta and taco sauce. (If you removed the beef, add it back in here).

Bring mixture to a boil and then lower to low-medium heat and cover the skillet with a lid.

Let simmer for about 5-7 minutes and then add in the last cup of water and stir everything together again. Return lid and let simmer until pasta is tender, about another 5-7 minutes.

(If you don't have a nonstick skillet, you will need to stir this every 3-4 minutes so it doesn't stick to the bottom.) If pasta isn't done yet and water has fully evaporated, add an additional 1/4 cup water and continue to cook until pasta is al dente.

Remove from heat and sprinkle with cheese. Stir into the pasta until melted. Top taco pasta with optional toppings of choice. We love avocado, sour cream, cherry tomatoes, and fresh cilantro or green onions.

Serve immediately.
Recipe Video
Recipe Notes
Note 1: if you'd rather use a homemade taco seasoning mix, stir together the below seasonings and use in place of the packet:
1 tablespoon chili powder
1 teaspoon paprika and 1 teaspoon cumin
1/2 teaspoon oregano and 1/2 teaspoon roasted garlic powder
1/2 teaspoon fine sea salt and 1/2 teaspoon freshly cracked pepper