A pasta dish with extra lean ground beef, taco seasoning, taco sauce, corn, and plenty of cheese that comes together all in one skillet – even the pasta gets cooked in the same skillet!
video tutorial
Yep. You read that introduction right – all in ONE skillet, even the pasta. This dish could not be any simpler – especially when you consider the only dish that needs to be cleaned is the skillet.
Oh, and if you choose to use plates. That is, if this dish even makes it to plates…
For me, it didn't…
I shared a couple days ago my obsession with cookies, but I think I am about equally obsessed with one-pot/one-skillet meals. When a dinner comes together super quick and dirties minimal dishes, it's a beautiful thing.
And the one pot dinner can be healthy too! Like my one pot quinoa & vegetable dish. That was healthy & easy perfection.
This dish = cheesy perfection. Because, as you can see, there is no skimping on the cheese in this taco pasta!
Ready for a step-by-step photo to see how EASY this is? I gotcha covered:
Told you it was easy! There are basically two steps – cooking the ground beef and then adding in all the other ingredients to let it simmer. Make sure to watch the dish so the noodles don't get stuck to the bottom of the skillet. Especially if you don't have a non-stick skillet – you will want to stir the ingredients a couple times during the whole simmering process.
I'd also be careful about substituting different kinds of pasta. The macaroni noodles cook quickly and work well in this dish. If you use larger noodles, it may take a bit longer and may require more water.
And finally, get creative with your toppings! Whatever you like on regular tacos will (probably) go great with this dish. I added some green onions which were great. Other thoughts: a dollup of sour cream, some diced tomatoes, or even a chopped up avocado.
And here's to hoping that an extremely cheesy, delicious taco pasta (made in one skillet) will make this weekend last longer. (You know, since you are saving all that time by NOT being in the kitchen!)
Have a great weekend everyone 🙂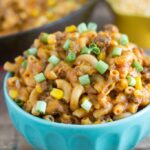 One Skillet Cheesy Taco Pasta
Ingredients
1

pound

extra lean ground beef

1/2

cup

onion

finely chopped

1/2

teaspoon

minced garlic

2

cups

water

separated

1

cup

salsa

1

cup

frozen corn

1

packet taco seasoning

2

cups

elbow macaroni

10 ounces

1

cup

taco sauce

1 and 1/2 to 2

cups

taco or Mexican shredded cheese

Optional toppings: green onions, sour cream, diced tomatoes, diced avocado
Instructions
Brown the ground beef in a large skillet.

Drain the fat and add in the onion and garlic. Stir until fragrant - about 30 seconds to a minute on medium-high heat.

Add in one cup of water, salsa, corn, and taco seasoning. Stir well and add in the uncooked pasta and taco sauce.

Bring to a boil and then lower to low-medium heat and cover the skillet with a lid.

Let simmer for about 5-7 minutes and then add in the last cup of water and stir everything together again. Return lid and let simmer until pasta is tender, about another 5-7 minutes.

(If you don't have a nonstick skillet, you will need to stir this every 3-4 minutes so it doesn't stick to the bottom.)

Remove from heat and sprinkle with cheese. Top with optional toppings of choice.

Serve immediately.
Want some more EASY one skillet meals? Check these out:

One-Skillet Chicken Enchilada Pasta
Or some meals IN a skillet?