Skip the take out, this Chicken Stir Fry is the real deal. Packed with fresh sautéed veggies, flavorful chicken, and an addictive savory sauce all ready in 30 minutes or less!
This stir fry is the perfect easy weeknight dinner solution. After you've tried this stir fry, make sure to try these other easy dinner favorites: chicken chow mein, beef lettuce wraps, or easy asian steak bites.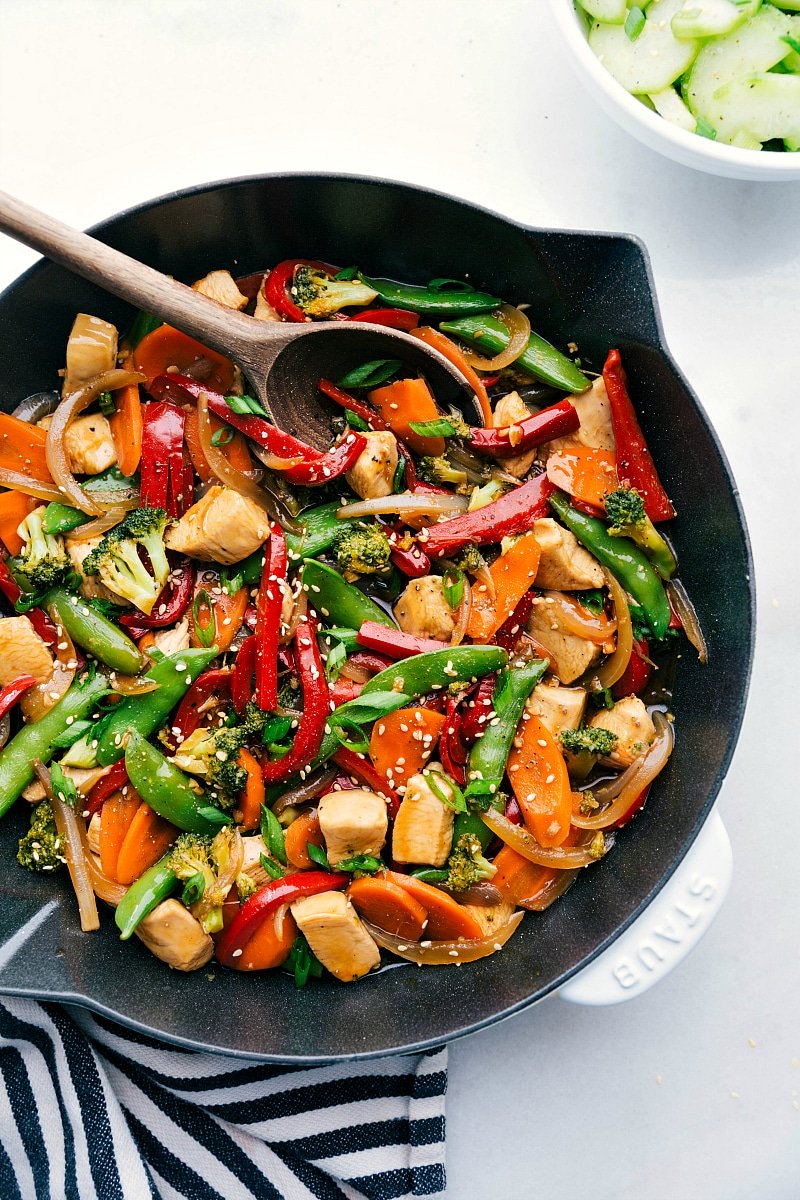 Quick & easy dinner recipe
When you're looking for a quick weeknight dinner or a meal to clear out those leftover veggies hanging out in your fridge, a chicken stir fry always comes through. But not just any chicken stir fry — this recipe is loaded with flavors and a delicious sauce that coats it all. You can prep the veggies, chicken, and sauce ahead of time to have a dinner that will take less than 10 minutes to cook through after a busy day of work. This meal also makes a great meal prep recipe as leftovers store well for 3 to 4 days.
Today I'm also sharing my favorite quick cucumber salad to pair with this stir fry. It takes minutes to whip together and truly rounds out this chicken stir fry beautifully.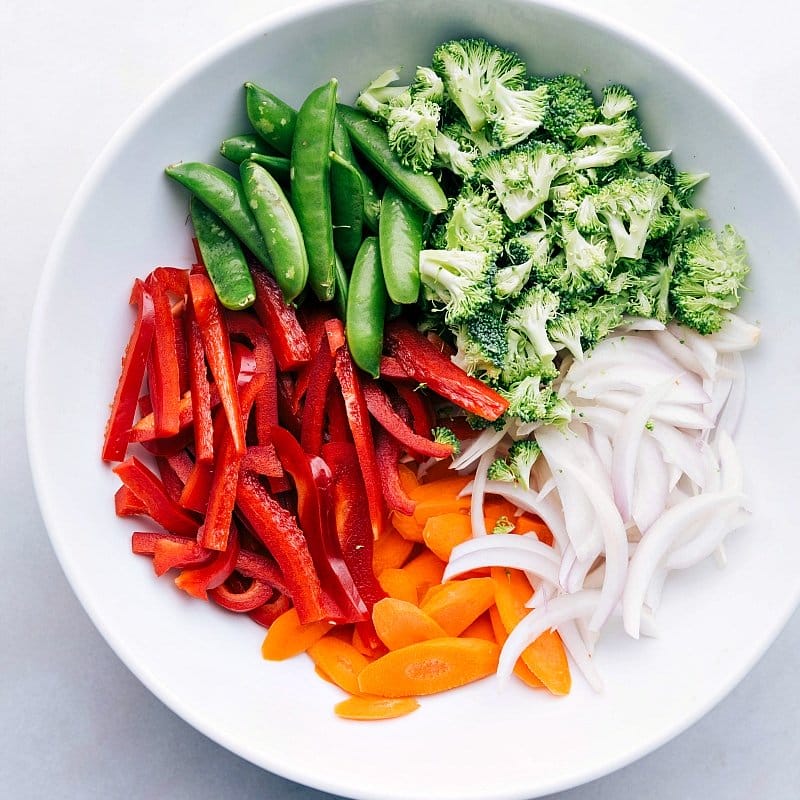 Yes! Stir fries are
packed
with vegetables. They are cooked in a small amount of oil and the fat content is low. Also, when
sauteing
in a pan, the vegetables will retain more nutrients than if they were
boiled
. (More information
here
.)
Below are some of the health benefits of the ingredients in this chicken stir fry:
Ginger: aids in digestion, helps prevents nausea, lowers blood sugar, improves heart disease risk factors
Fresh Vegetables: rich in potassiums, folate, dietary fiber, vitamin A & C
Chicken Breasts: great source of protein, phosphorus, niacin, and vitamin B6
Garlic cloves: combats the common cold, reduces blood pressure, improves cholesterol levels, helps detoxify your body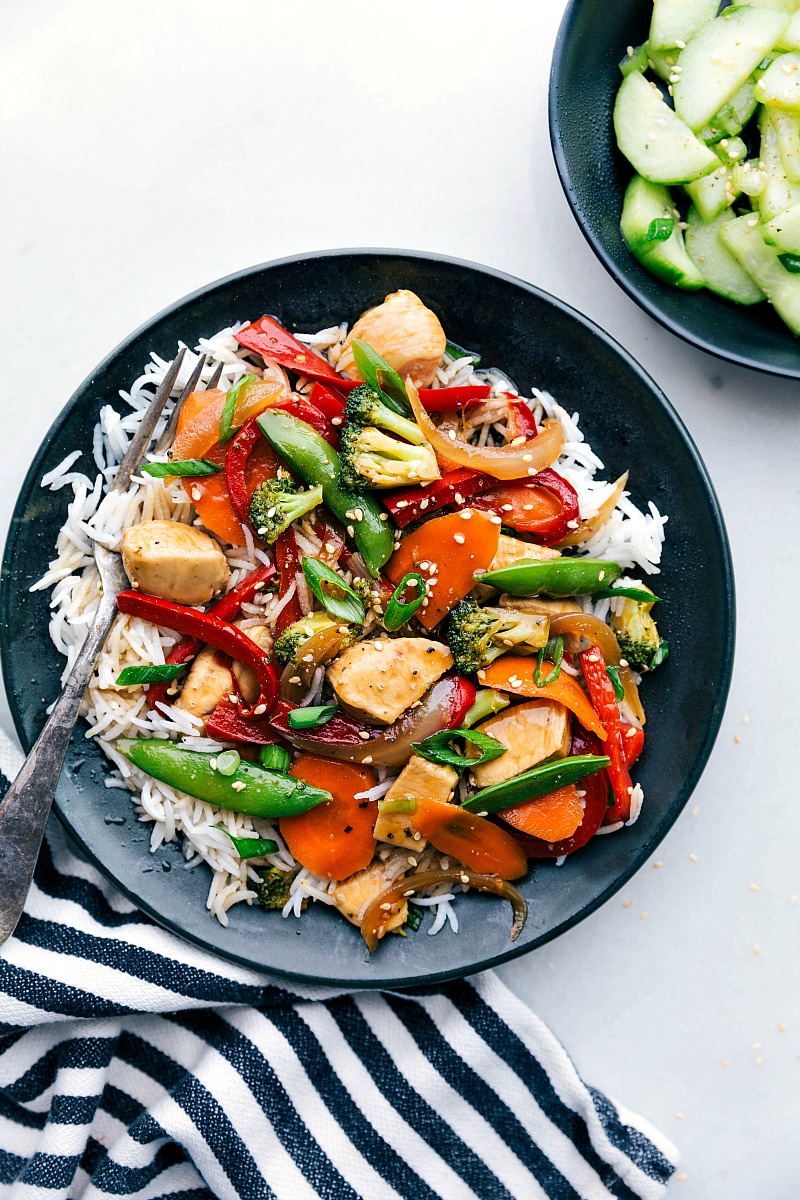 More easy chicken dinners: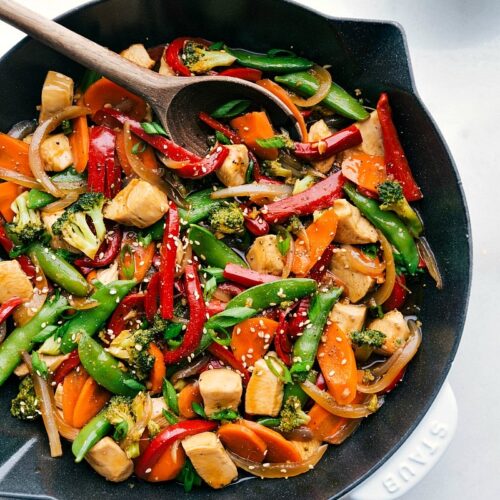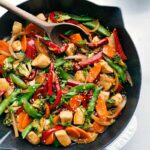 Chicken Stir Fry
Skip the take out, this Chicken Stir Fry is the real deal. Packed with fresh sautéed veggies, flavorful chicken, and an addictive savory sauce all ready in 30 minutes or less!
Keyword:
chicken stiry fry
Ingredients
SAUCE
2

teaspoons

cornstarch

1 and 1/2

tablespoons

lite soy sauce

1

tablespoon

oyster sauce

3/4

cup

chicken stock

(chicken broth works)

1

tablespoon

brown sugar,

lightly measured, do not pack!

1/2

teaspoon

toasted (or plain sesame oil)

Freshly cracked pepper
STIR FRY
1 and 1/2

tablespoons

vegetable oil

2

garlic cloves,

finely chopped

1/2

tablespoon

fresh ginger,

finely chopped

1

cup

yellow onion,

thinly sliced (~1/2 medium onion)

1/2

pound (8 ounces)

boneless skinless chicken breast,

cut into 3/4-inch chunks

3/4

cup

carrot,

very thinly sliced on the diagonal (~1 large carrot)

1

cup

sugar snap peas

1

cup

broccoli florets

1

cup

red pepper,

cut into strips (~1 medium pepper)

Optional: crushed red pepper flakes, green onion, toasted sesame seeds

Optional: serve over white or brown rice
Instructions
SAUCE: Start by making the sauce. In a small bowl, add the cornstarch and soy sauce. Whisk with a fork until smooth. Add in the oyster sauce, chicken stock, brown sugar, sesame oil, and a few cracks of pepper (to taste). Whisk until smooth and set aside.

PREP: Prepare the chicken and veggies. Cut the chicken into small chunks (about 3/4 to 1 inch). Finely chop the garlic and ginger. Slice the onion into thin strips. Peel and then very thinly slice the carrot into diagonal slices (important the slices are thin so they cook in time). Chop the broccoli into small pieces, very thinly slice the pepper. The veggies need to be thinly sliced (or chopped small) so they can cook through quickly.

COOK: Add the vegetable oil to a very large nonstick skillet or wok. Heat to high heat. Once hot, add garlic and ginger, stirring quickly to keep from burning. Add onion. Cook, stirring constantly for 1 minute or until onion begins to soften. Add chicken and stir for 1 minute until surface goes from pink to white. Add in the carrots, sugar snap peas, broccoli, and red pepper. Stir constantly for 1 minute. Pour in the sauce and cook, stirring near constantly for another 2-3 minutes or until sauce has thickened, chicken is cooked through, and veggies are crisp tender (they shouldn't get soggy or soft -- you want some bite to them!)

SERVE: Remove from heat and serve immediately with your preferred base (we like rice!) Garnish with crushed red pepper flakes, thinly sliced green onions, and/or toasted sesame seeds as desired.

See the blogpost for my favorite side to this chicken stir fry -- a simple cucumber salad!
Recipe Video