One pan easy dinner — garlic butter and herb seasoned shrimp, sausage, and potatoes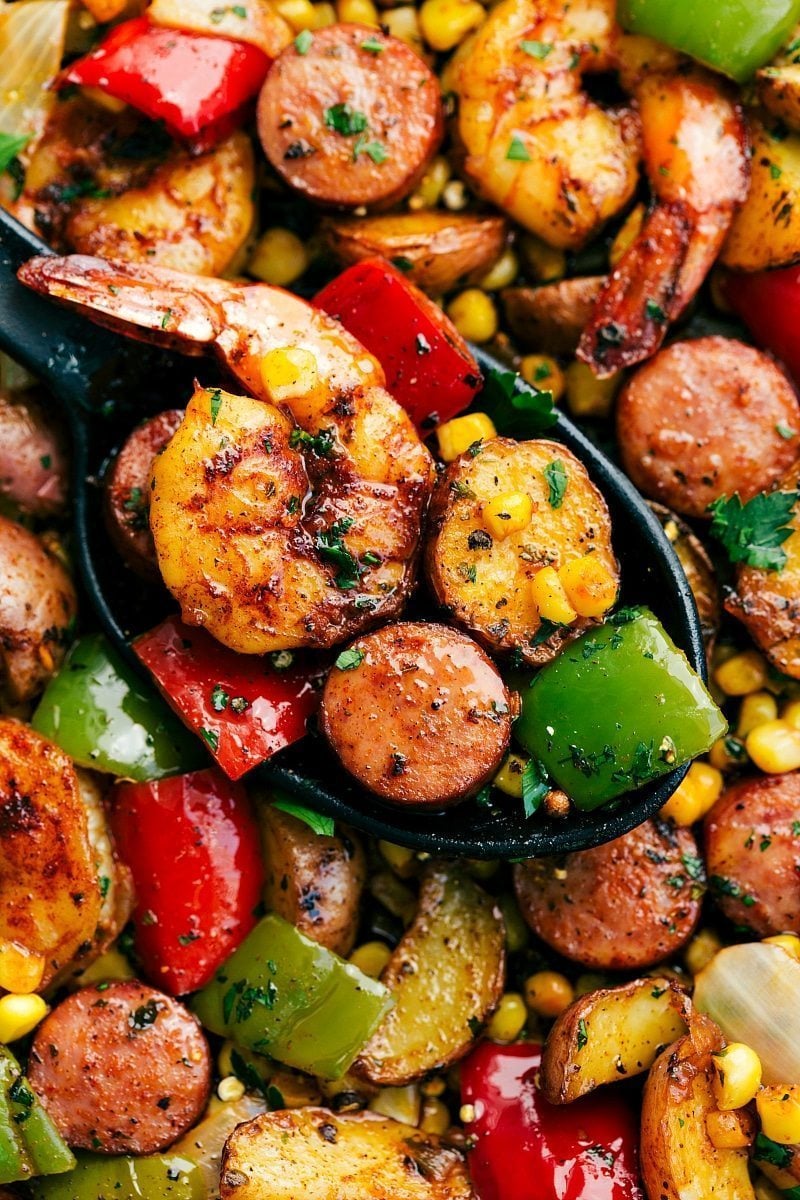 The boys and I LOVE making cookies together — it has recently become a Sunday tradition for us and I look forward to it all week long. We get home from church, eat a quick lunch, and then all work together on some kind of cookies — usually these ones.
Whatever cookie we make, it pretty much always starts with butter. My toddler's favorite job (besides taste testing) is to un-wrap the butter and, if needed, melt it in the microwave. I hold him (and sometimes his brother too) up to press the buttons on the microwave and watch as the butter circles around and around slowly melting. …Microwaves are just so entertaining…
Once the butter is ready to go, the rest of the cookie making is basically just endurance to the dough taste test. After every ingredient we add, the toddler asks if it's ready for him to try. The babe just grabs at it ?.
So, true story, if you happen to ask my toddler what all good recipes start with, he won't even hesitate before saying yelling, "BUTTER!" And, anytime, I grab out some butter, he also yells, "YAY! COOKIES!"
Unfortunately, these "cookies" didn't quite turn out how he was hoping, but luckily he still loved this dish. Well, the sausage (which he calls "hot dogs"), the corn, and the potatoes haha. Neither of the boys are a huge fan of shrimp just yet, but we'll keep trying 🙂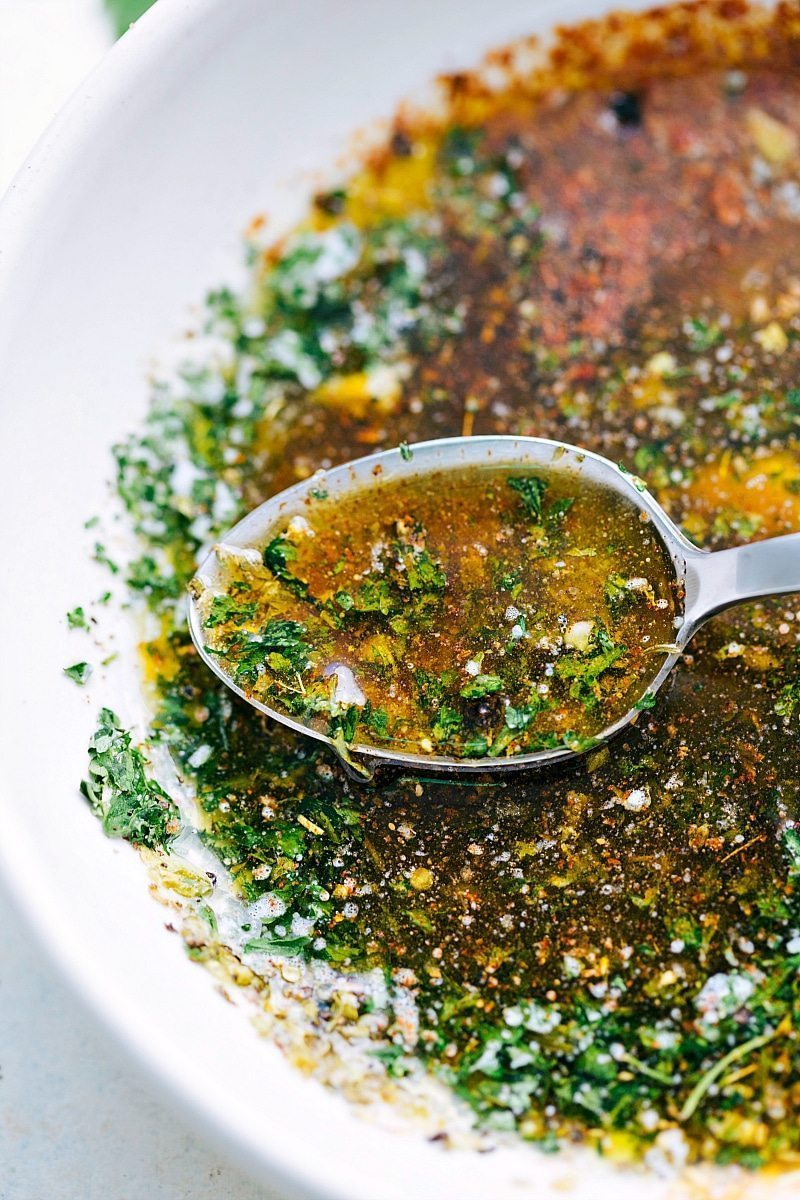 Using both butter and olive oil in this dish really gives you the best of both worlds. The butter gives the veggies and shrimp color and flavor while the olive oil lets the veggies "fry" and sizzle. Combining the two with a whole bunch of herbs packs this dish with a crazy amount of flavor!
I'm sharing this delicious recipe over at Go Bold With Butter so make sure to check it out there along with hundreds of other delicious butter-filled recipes.
This sheet pan dinner may not be cookies, but it's definitely a close contestant 😉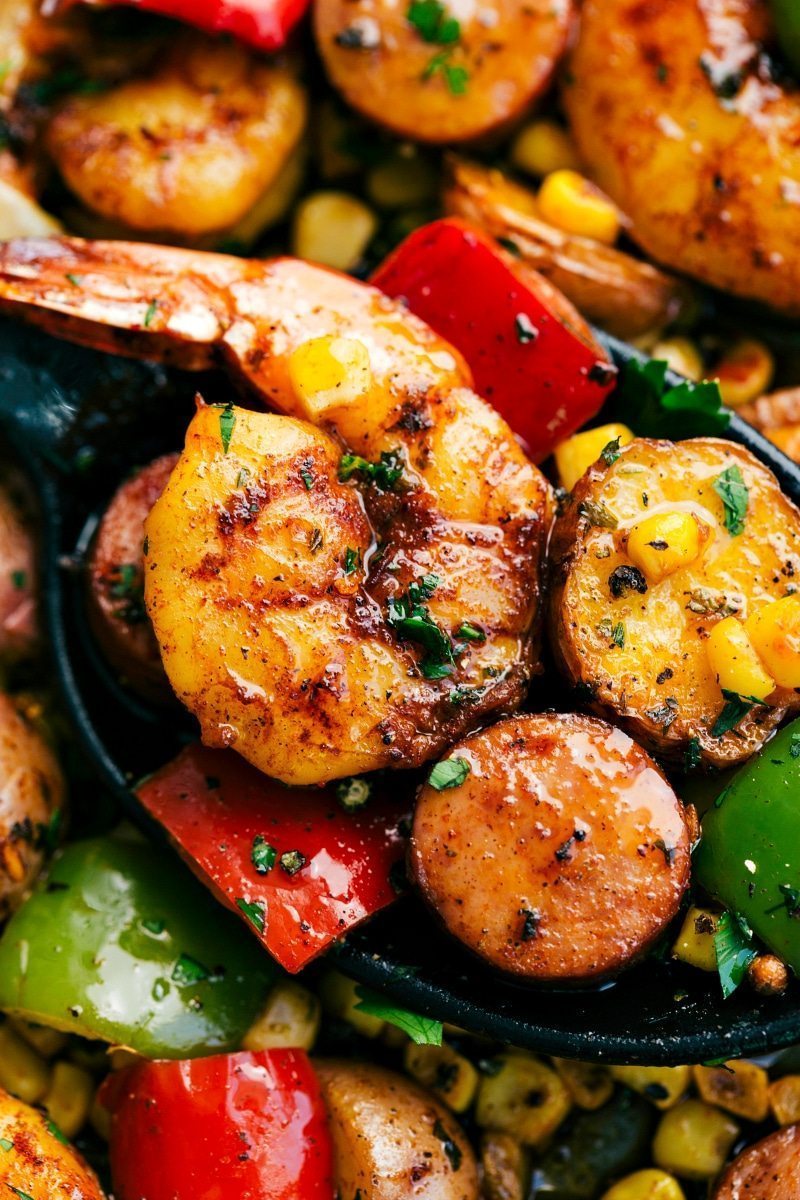 VIDEO TUTORIAL HERE: https://www.youtube.com/watch?v=JaQmJuf8FiA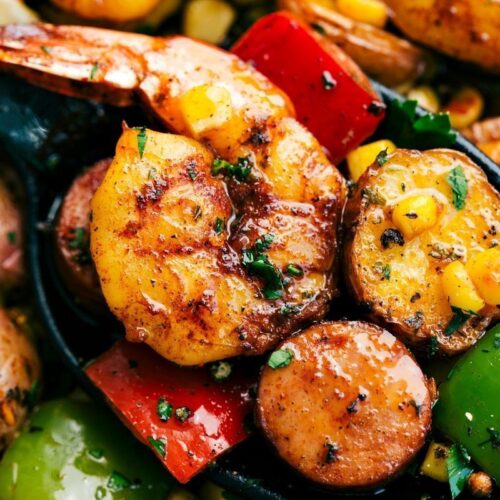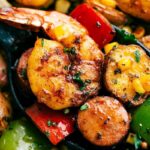 One Pan Garlic Herb Shrimp and Sausage
One pan easy dinner -- garlic butter and herb seasoned shrimp, sausage, and potatoes
Ingredients
1

pound

baby red potatoes,

halved or quartered

1/4

cup (4 tablespoons)

unsalted butter,

melted

3

tablespoons

olive oil

2

teaspoons

minced garlic

1

tablespoon EACH:

dried parsley, dried oregano

1/2

teaspoon EACH:

garlic powder, seasoned salt

1

teaspoon

paprika

Optional: 1/4 teaspoon cayenne pepper

1

pound

large shrimp,

peeled and deveined

1 package

(13 ounces)

smoked sausage,

coined

1

large

yellow onion,

chopped into 1-inch pieces

1-2

bell peppers

(I used 1 red and 1 green)

1

(15 ounce)

can of corn

Optional: fresh parsley, 1/4 cup freshly grated Parmesan cheese
Instructions
Preheat oven to 400 degrees F. Lightly coat a large sheet pan with nonstick spray. Wash and dry the potatoes and then slice in half (or in quarters if they are larger baby potatoes). Place the cut potatoes on the pan.

In a small bowl, add the melted butter, olive oil, garlic, dried parsley, dried oregano, garlic powder, seasoned salt, paprika, and if desired cayenne pepper. Stir or whisk until completely combined. Remove 2 tablespoons of this mixture and toss the potatoes with it until well coated. Place in the oven and bake for 10 minutes. (15 minutes for larger potatoes)

Meanwhile, marinate the shrimp. Place the shrimp in a bowl and toss with 2 and 1/2 tablespoons of the butter-herb mixture. Stir and set aside.

Slice the sausage and prepare the veggies. Cut the onion into 1-inch pieces and cut the bell peppers into 1 inch pieces. (Use one or 2 peppers depending on preference -- if you really like peppers add 2 :)). Throughly drain the canned corn.

Remove the potatoes from the oven and toss with a spatula. Using the spatula, push the potatoes to one side of the sheet pan. Add the sausage, onion, and pepper(s) to the other side of the sheet pan. Add the remaining herb-butter mixture and toss generously to coat. Toss everything together and return to the oven for 10-15 minutes.

Remove from the oven and toss the veggies. Add the shrimp on top of everything and cook for another 12-14 minutes or until shrimp is cooked through and veggies are crisp tender. Stir in drained canned corn immediately after removing from the oven so it can be warmed through.

If desired, top with fresh parsley and parmesan cheese. Enjoy immediately.
More Easy ONE PAN Dinners: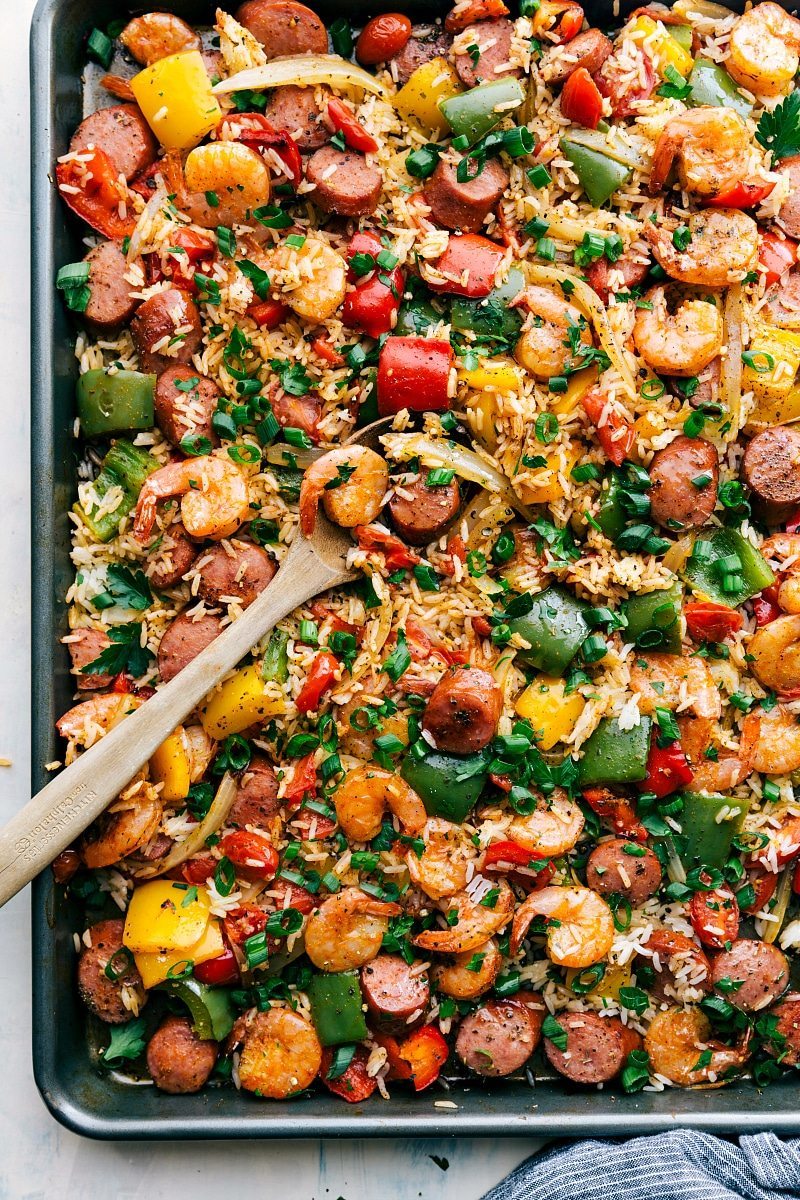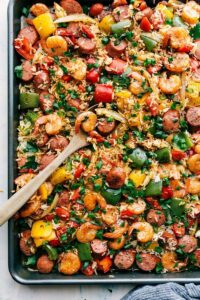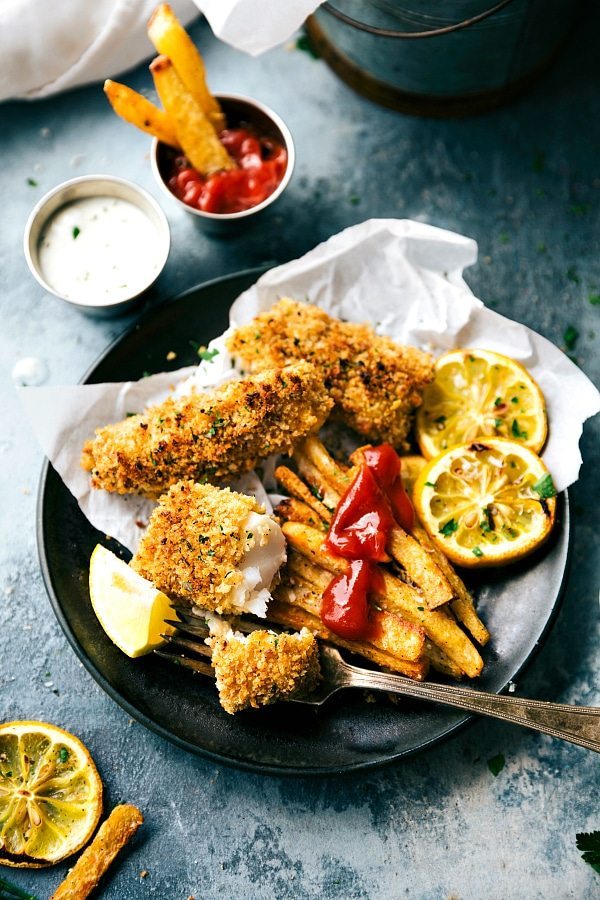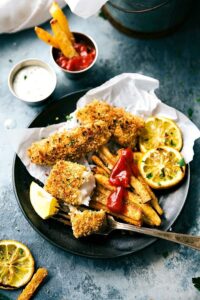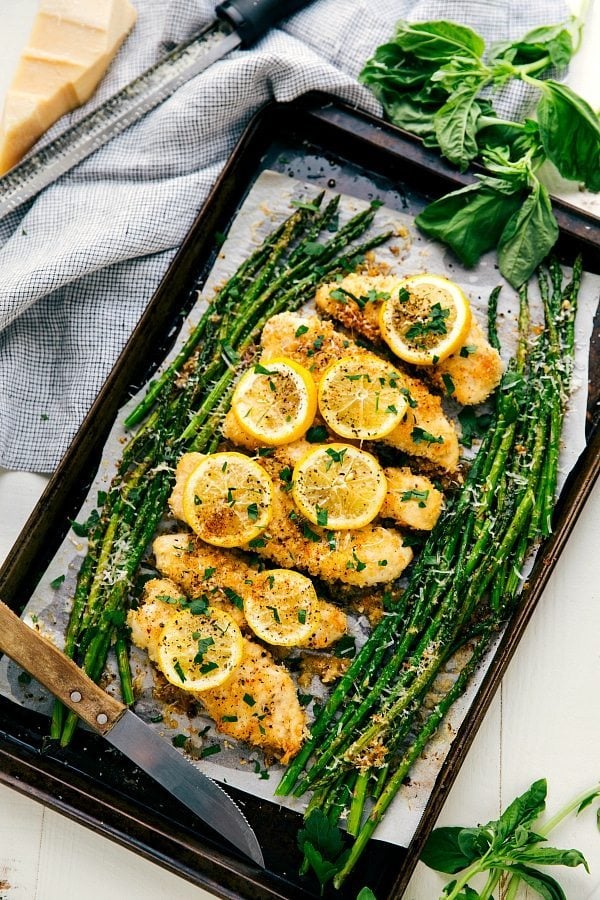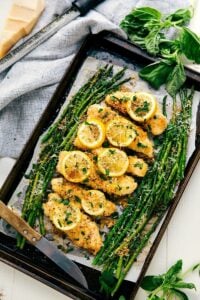 One Pan Lemon Chicken and Asparagus