Mexican tortilla crusted chicken baked on one pan with plenty of veggies! A delicious, hearty, and healthy meal the whole family will love!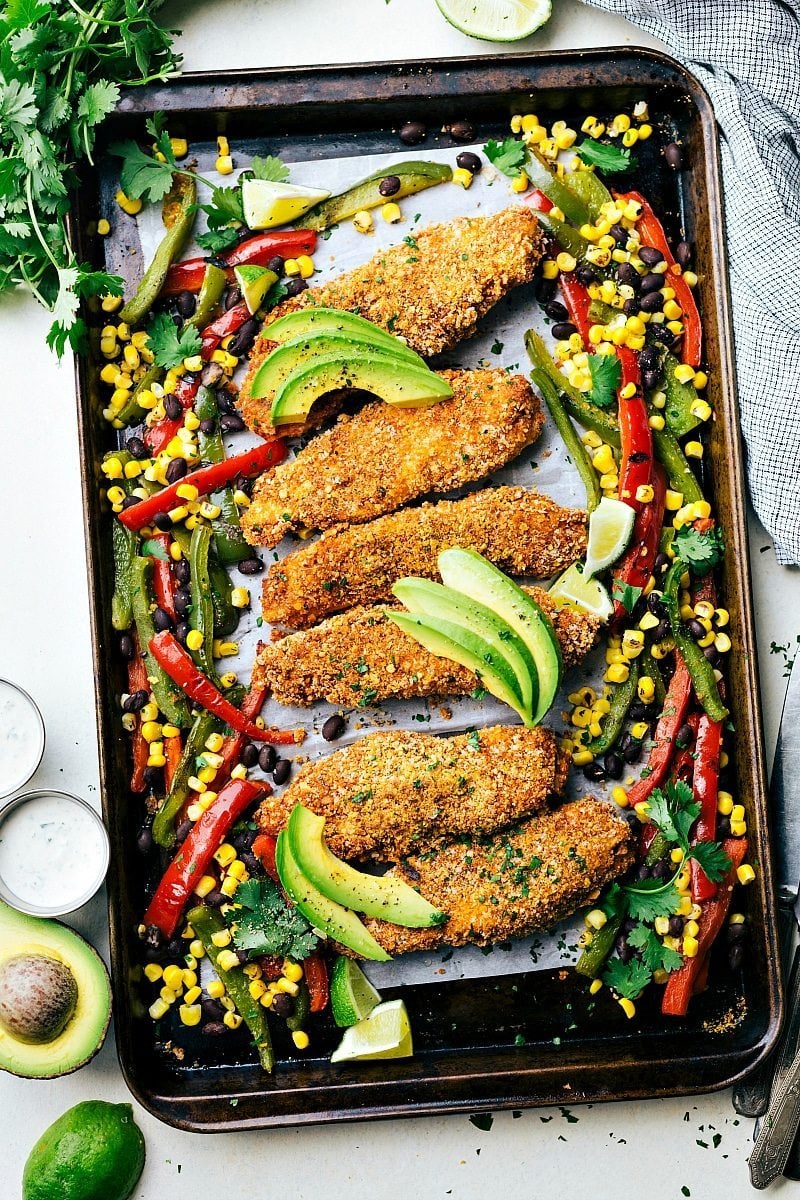 I recently discovered a new (to me) glass cleaner and it is seriously amazing. I've been running around the house cleaning all the windows and mirrors and maybe more than once. I'm kind of like a kid in a candy store, except, er, a full grown adult using a new cleaning product. So pretty much the same thing right? ?
After texting my husband about how excited I was over this glass cleaner that ACTUALLY cleans so well, I realized how incredibly boring and um. old I am.
My 10-year-old self would have never wanted to grow up. ?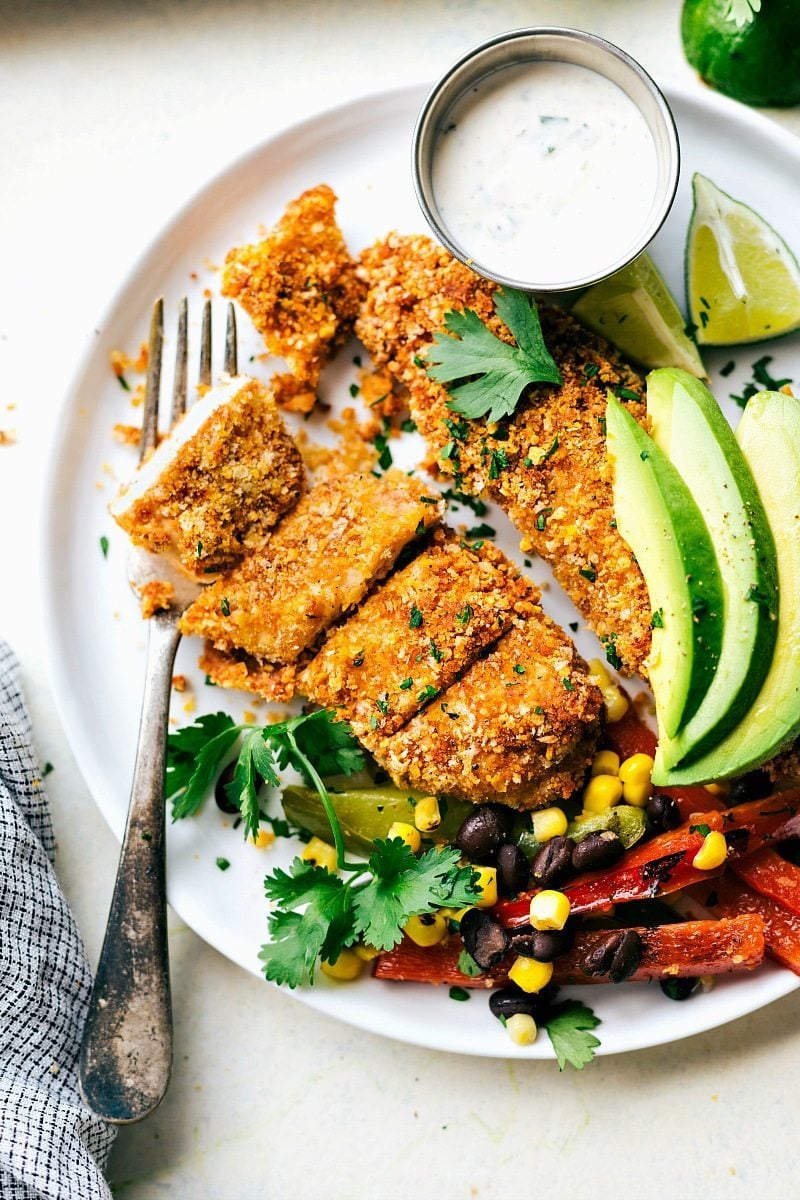 But the fact is, I do get really excited about new cleaning products and I get even more excited about delicious meals that take minimum time, effort, and dishes. Like this one right here. This is a total game changer and you are going to love it!
You're getting tons of veggies, protein, and a mega amount of flavor for so little effort.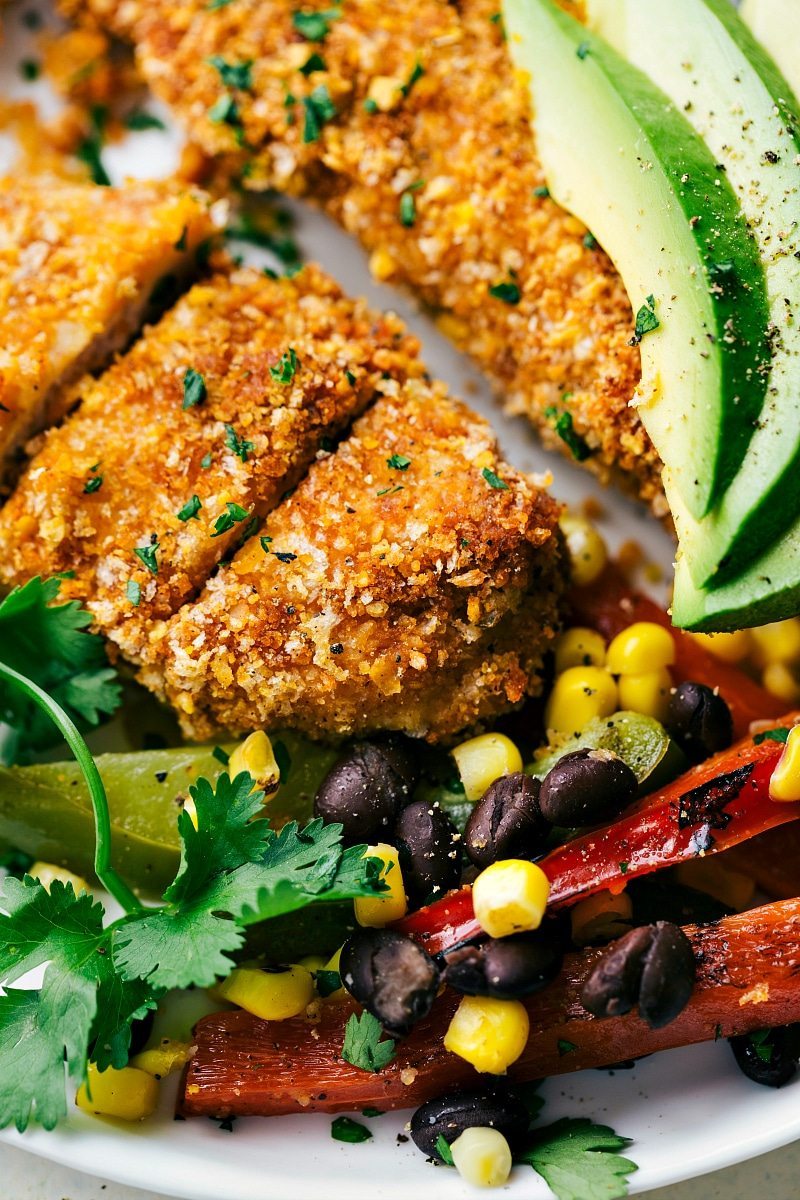 The inspiration for this recipe actually came from a breading package I grabbed on a whim at the store. It sounded so delicious I had to give it a try. The concept was similar — dredge chicken in a tomato based sauce and then into a Panko seasoned mixture.
We loved the dinner and I instantly knew it was something that needed to be re-created. The best news is, this re-creation is SO much better. The chicken is more flavorful and crunchier and the crust is even crispier.
But the best part about the re-creation? The SAUCE. The packet didn't have any mention of a sauce, because the chicken really can stand on its own and be delicious, but I knew it would be that much better with a dipping sauce.
So I made three different sauces in testing and the one that ended up with this recipe is a complete winner. We are totally obsessed with this sauce. It did happen to be the most ingredients though so if you are interested in the easiest (& fewest ingredients) dipping sauce I tried: grab 1/2 cup Ranch dip (not dressing) and add 1-2 tablespoons taco seasoning and done. ✔️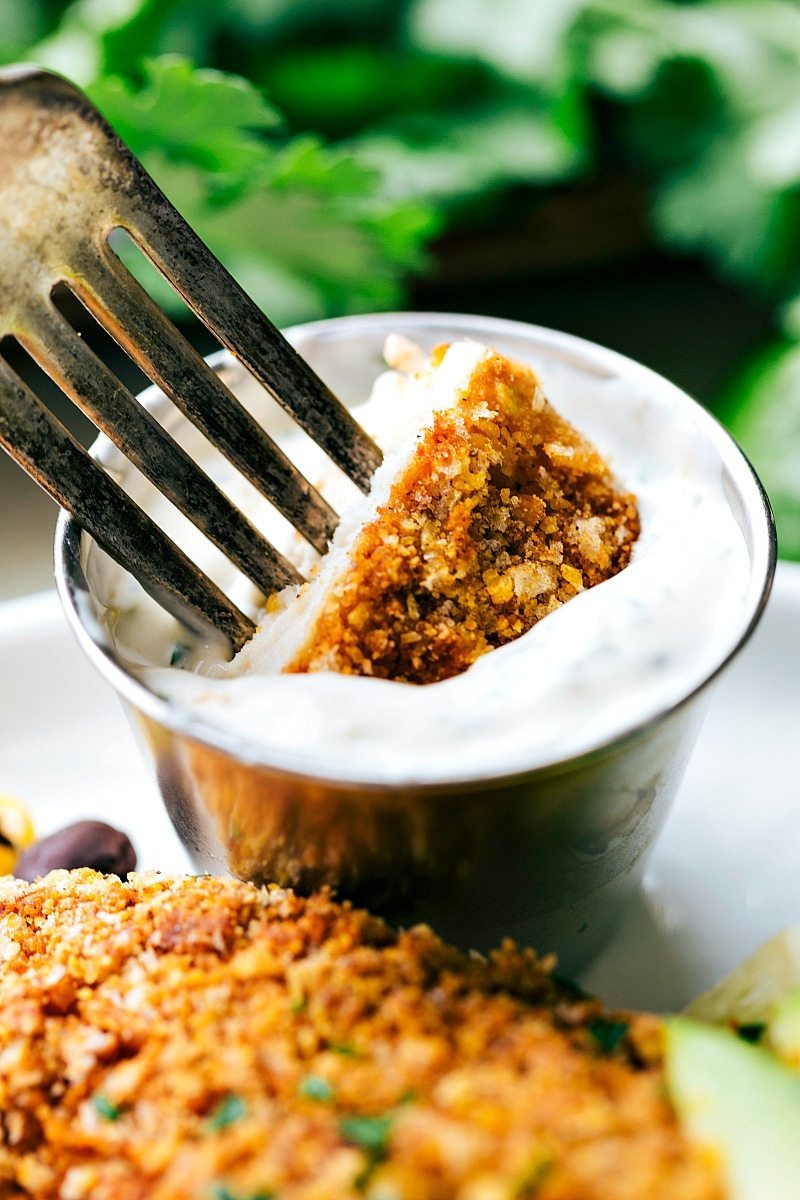 Besides the sauce you can add a few other toppings IF you want (we've eaten this with just the dipping sauce and it's perfection). I'm pretty sure avocado or guac is always my default with anything Mexican and it's great with this dish. Sour cream, lime, cilantro, or even topping the cooked breaded chicken with some cheddar cheese.
This dish is pretty easily customized and best of all its just simple to make in general! Definitely something to get excited about ?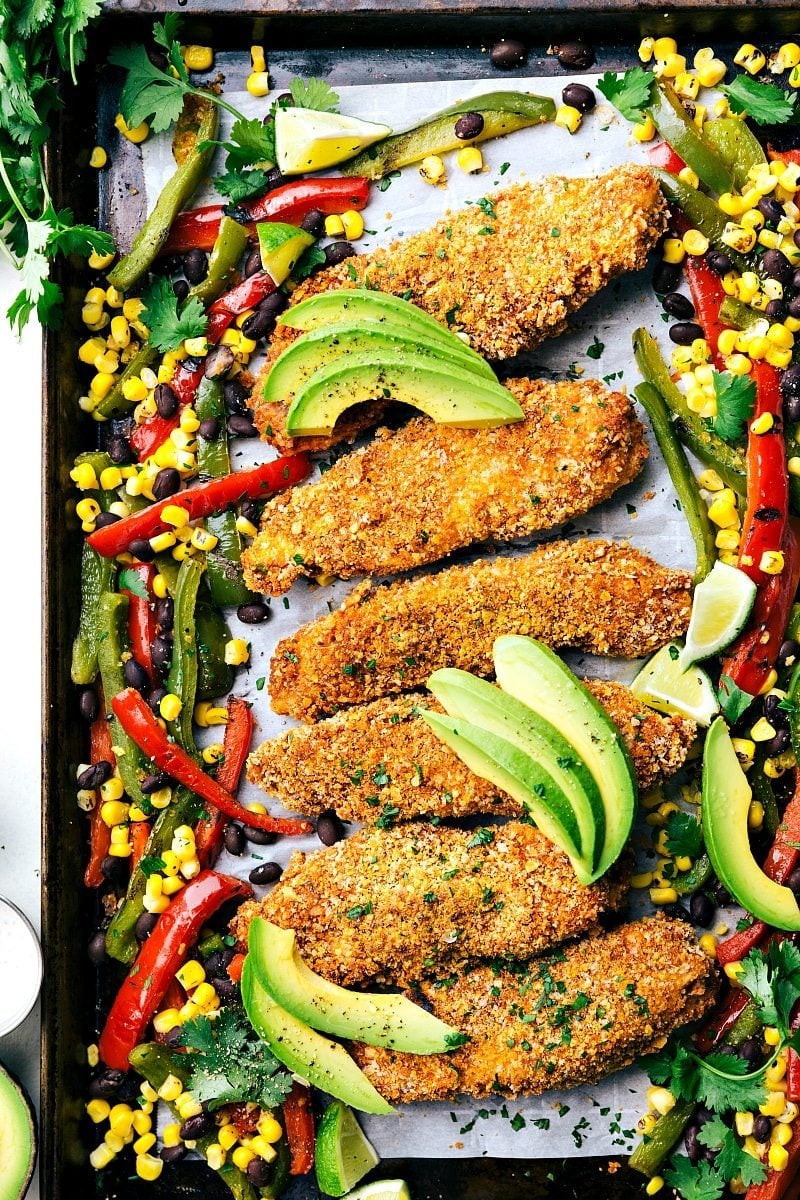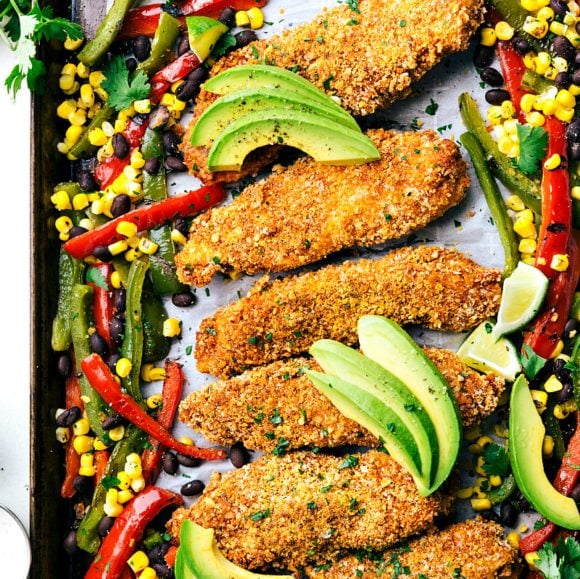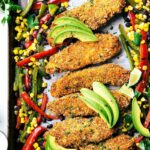 One Pan Mexican Tortilla Chicken and Veggies
Ingredients
2

bell peppers

1 and 1/2

tablespoons

olive oil

1

can (8 ounces)

tomato sauce

1

packet

taco seasoning

separated

1 and 1/2

pounds

boneless skinless chicken breasts

1

cup

Panko*

1

cup

crushed corn tortilla chips

1

ear

sweet corn

1/2

cup

canned black beans

Seasoned salt and pepper

Optional: avocado, limes, cilantro
Optional Cilantro dipping sauce
2

tablespoons

fresh lime juice

1 lime

1/4

cup + 2 tablespoons

sour cream

I used light

2

tablespoons

real mayo

1

tablespoon

cilantro

finely chopped

1

green onion

finely minced

Pinch of garlic powder
Instructions
Preheat the oven to 400 degrees F. Line a large tray with parchment paper and set aside.

Prep the peppers. Remove the tops and seeds and thinly slice. Place the peppers on the prepared tray and add olive oil, salt and pepper.

Toss on the tray and then arrange so peppers are on each side of the tray. (See video tutorial above recipe). Set tray aside.

Trim the chicken breasts of fat and pound the breasts to even thickness. Slice into even 1 and 1/4 inch strips.

Place the sliced breasts into a shallow dish. Pour half of 1 packet of taco seasoning into the tomato sauce (you can pour it straight into the can to save a dish or in a bowl. Stir together and then pour the tomato + seasoning mixture right on top of the chicken pieces.

Grab another shallow dish and add the remainder of the taco seasoning, Panko, and 1 cup crushed tortilla chips (crush full sized tortilla chips in blender or food processor until they resemble Panko. Measure AFTER blending). Toss together with a pinch of salt and pepper.

Coat the breasts in the tomato mixture and then generously in the chip + Panko mixture.

Place the chicken breasts in the center of the tray.

Press any remaining Panko + chip mixture on top of the chicken. You should use all of this mixture!

Bake 10-12 minutes. Remove and flip the chicken and toss the peppers.

Slice the corn off the cob and add the corn + drained and rinsed black beans to either side of the tray.

Place back in the oven and cook for another 10-12 minutes or until chicken registers 165 degrees F.

While the chicken is cooking, whip together the sauce. Mix together all of the ingredients with a whisk, add 1/4 teaspoon salt, and pinch of pepper, and store in the fridge until chicken is ready.

Serve the chicken with the dipping sauce and if desired additional lime juice, cilantro, and a sliced avocado (or guac!)
Recipe Notes
*Panko is generally used in Japanese cooking and it can be found in the grocery store in the Asian foods aisle.
More Delicious ONE PAN Dinners: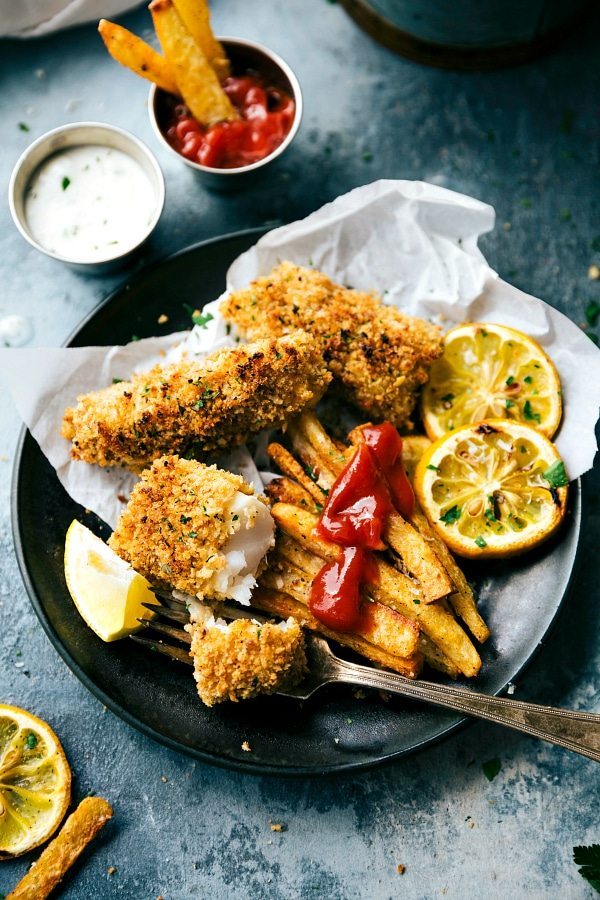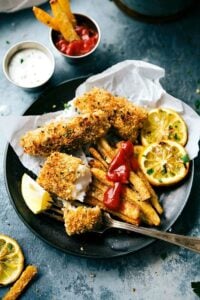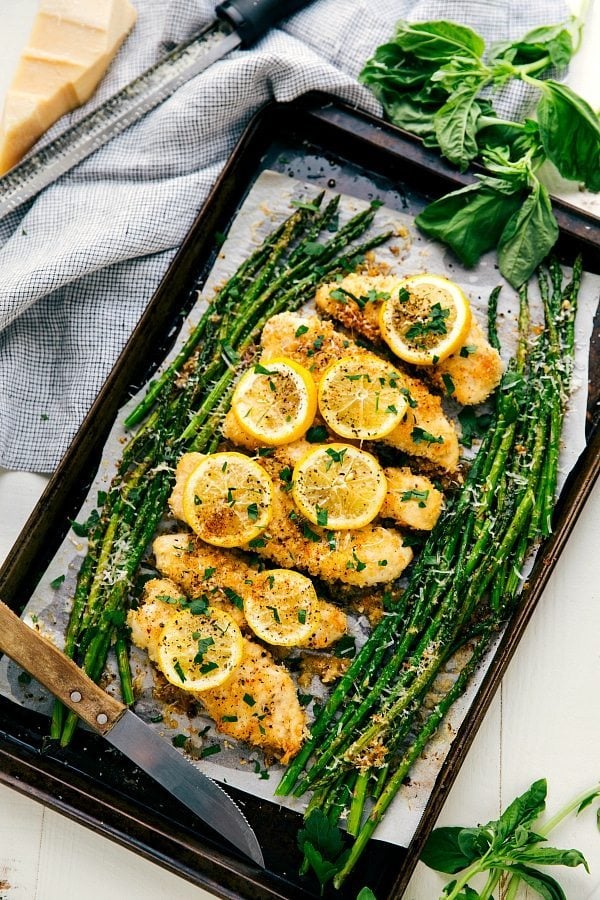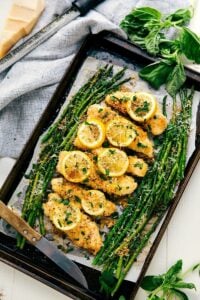 ONE PAN Lemon Parmesan Chicken and Asparagus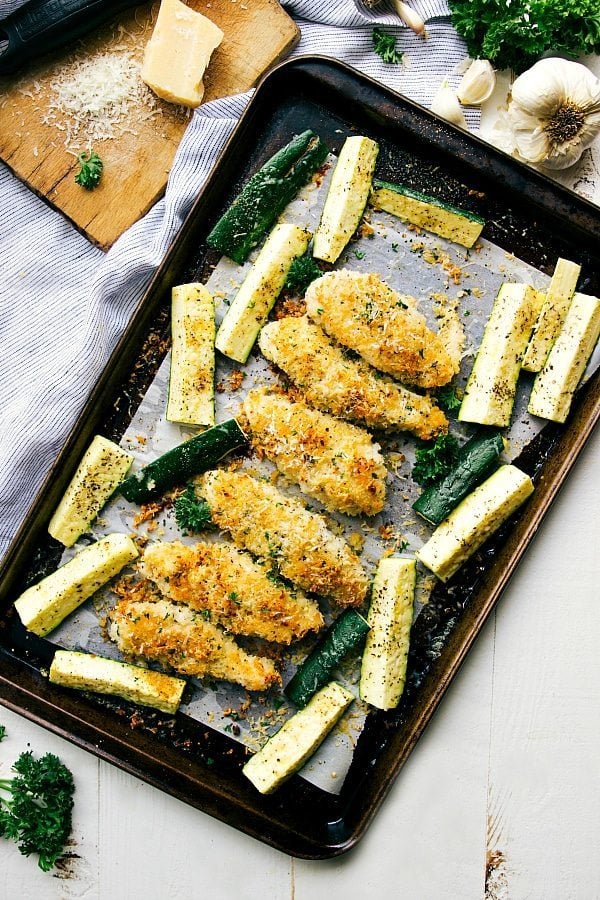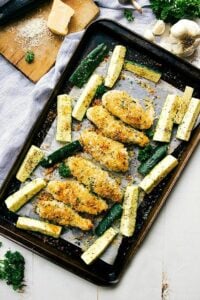 ONE PAN Parmesan Garlic Chicken with Zucchini
WITHOUT DIPPING SAUCE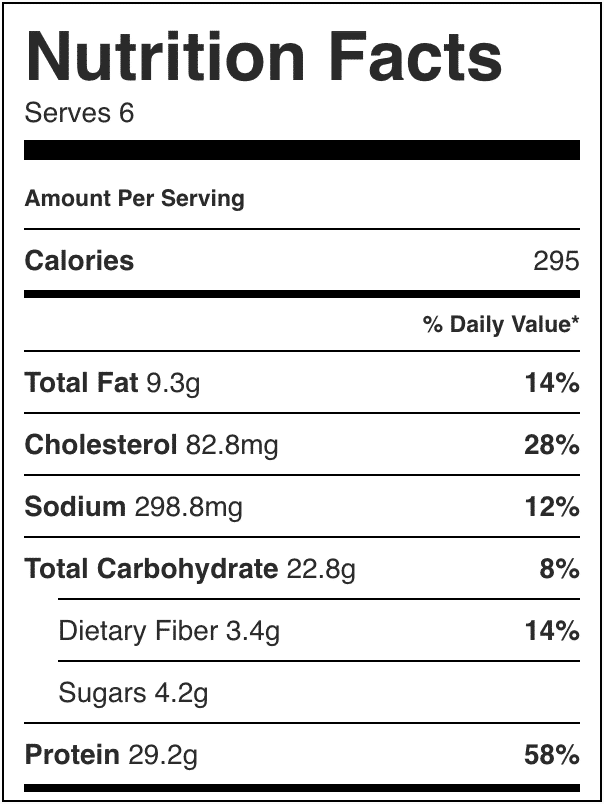 WITH EQUAL PARTS DIPPING SAUCE PER SERVING