Mini Meatloaf, mashed potatoes, and roasted green beans all get baked together on ONE sheet pan!
Looking for other easy one pan dinners? Try Sausage Pesto & Veggies, One Pan Jambalaya or One Pan Healthy Sausage, Chickpeas, and Veggies.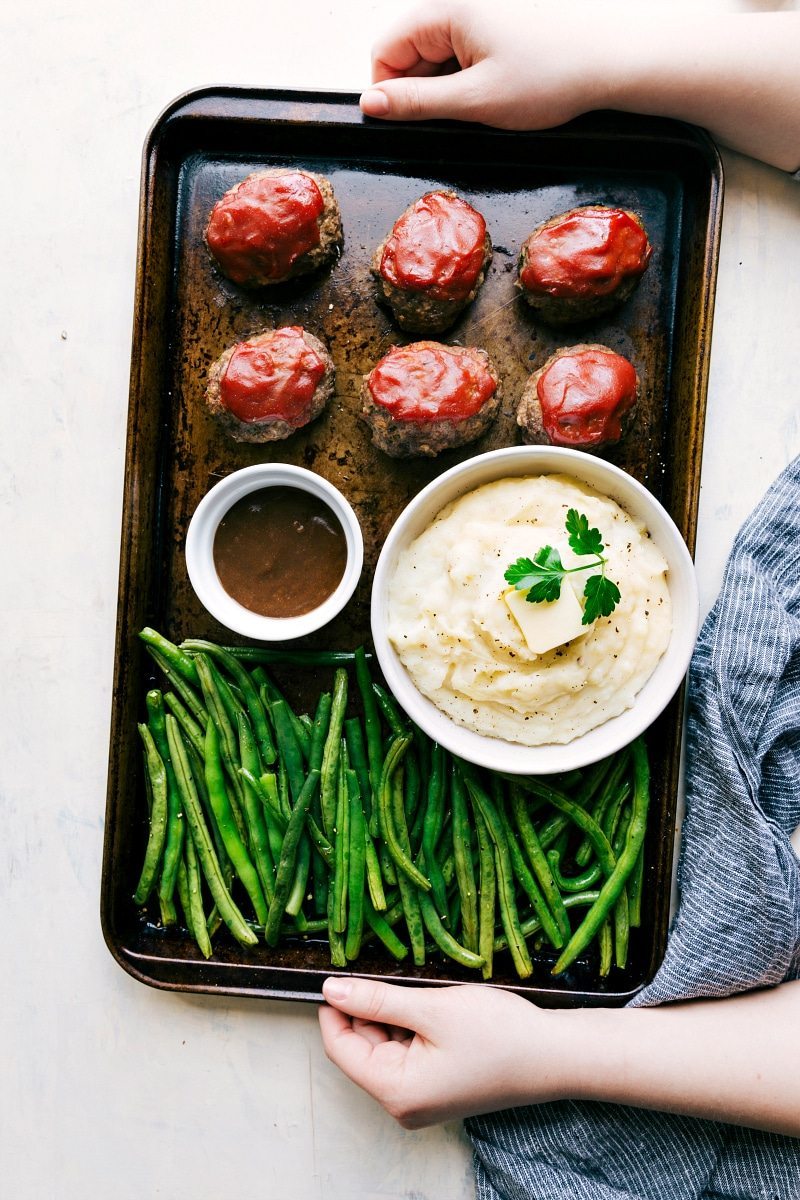 Mini Meatloaf:
This dinner is quite impressive! Not only is it a delicious comfort meal, but it's secretly SO easy.
I mean, who ever heard of making mashed potatoes on a sheet pan along side your mini meatloaf and green beans?! No one will know you took a crazy short-cut ?
Unless you have someone else washing the dishes — and then they'll be crazy confused by how little there is to wash up!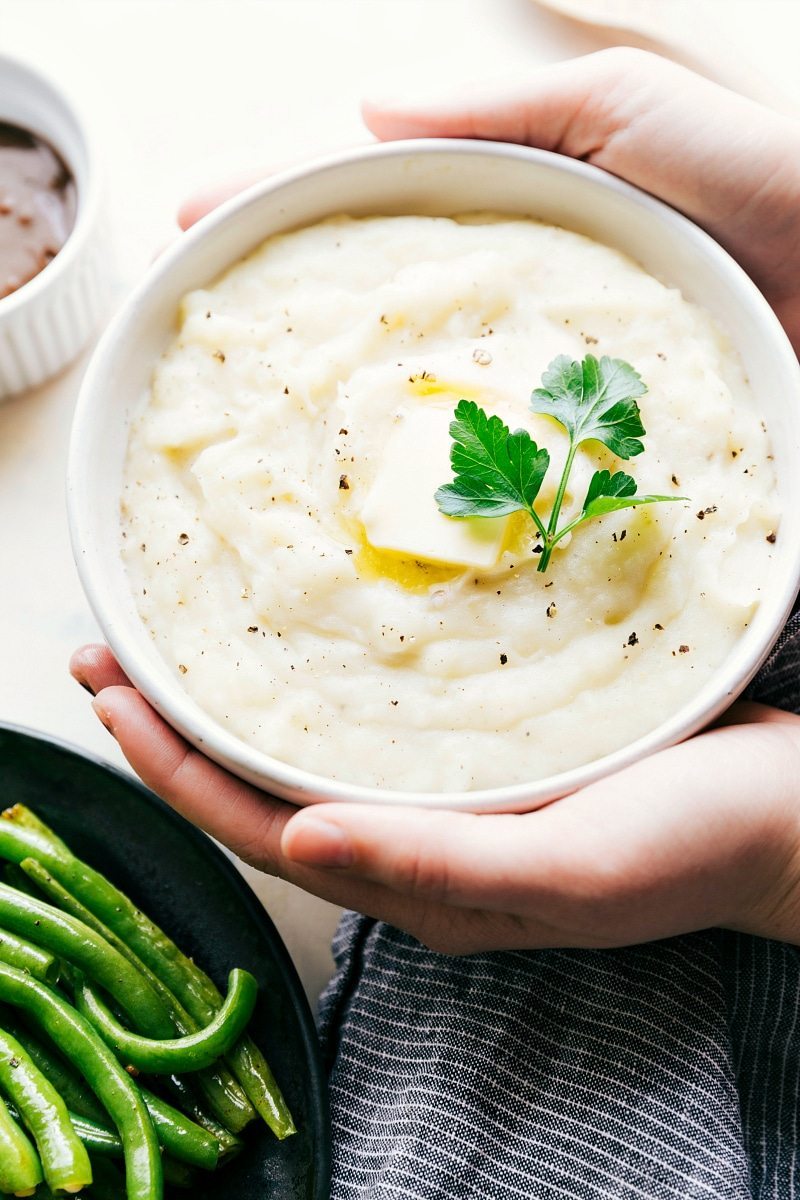 How to make mini meatloaf tips:
Cover sheet pan with foil & spray: Cover the 13 x 18 sheet pan with foil. This keeps your mini meatloaf mess to even less and helps serving them much easier.
Grating your onion: while this step is (admittedly) annoying, it gives these mini meatloafs the best possible taste and texture. You don't end up with large chunks of (uncooked) onions, but still have all the great flavor dispersed throughout.
Do not over work the meat: Once you combine the meat with the other ingredients mix them together until just combined. Be sure to not over work the meat for these mini meatloafs as it will cause the meat to become tough.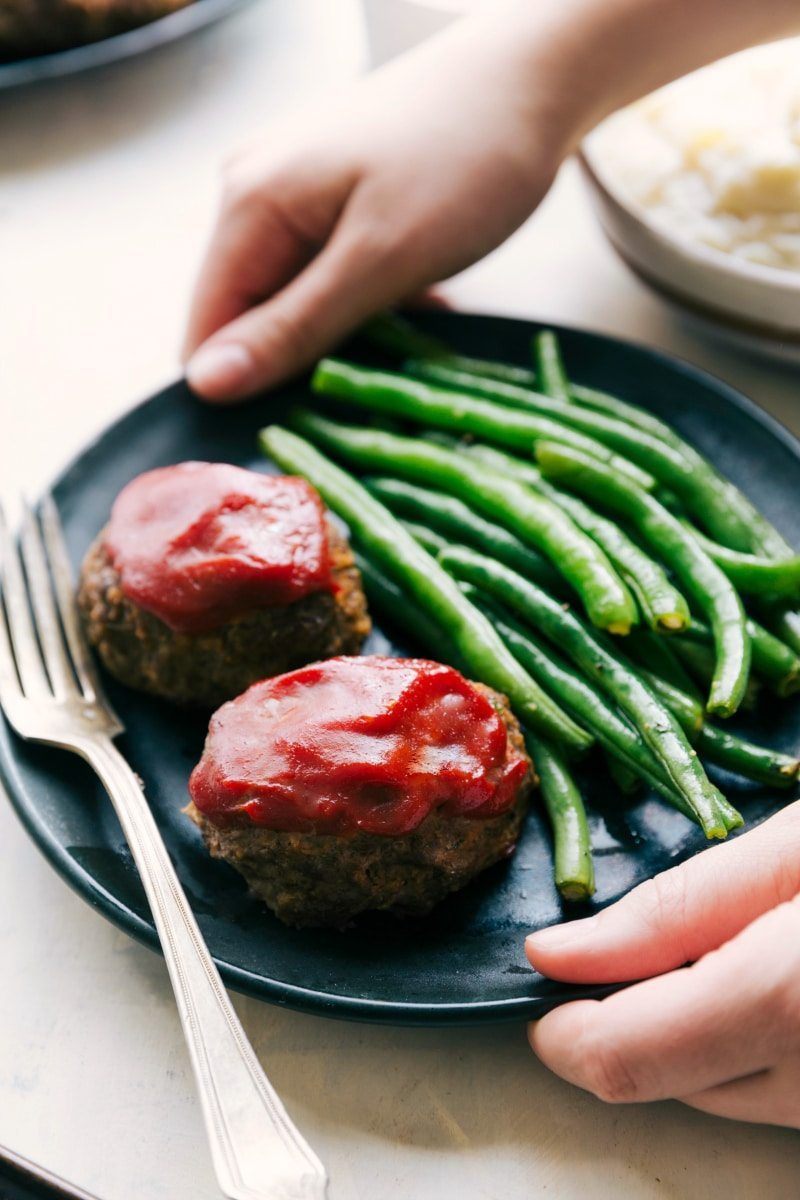 The mashed potatoes are literally prepared by cooking the potatoes on the sheet pan. You'll chop up the potatoes, wrap them in foil, and add in some water. I've tried this method several times and I promise it works! You just have to be careful to follow the directions — no heavy duty foil and most importantly — do not double wrap the potatoes. One piece of foil is all you need!
The mini meatloafs are super simple to make and the end result is pure deliciousness! One of my favorite things about them is the "onion secret." Most mini meatloaves ask for a chopped up onion and inevitably you get a bite of crunchy onion in the cooked meatloaves. BUT not these! Instead of chopping the onion, you'll grate it on a cheese grater which gives you all the great flavor with none of that raw crunch.
The green beans are about as simple as they get! Often-times less is more; just pour some olive oil + salt and pepper over the beans and that's it — sheer perfection!
Lastly, check out this easy gravy recipe.
While this dinner takes it's fair share of time in the oven, it couldn't be easier to prep! Enjoy 🙂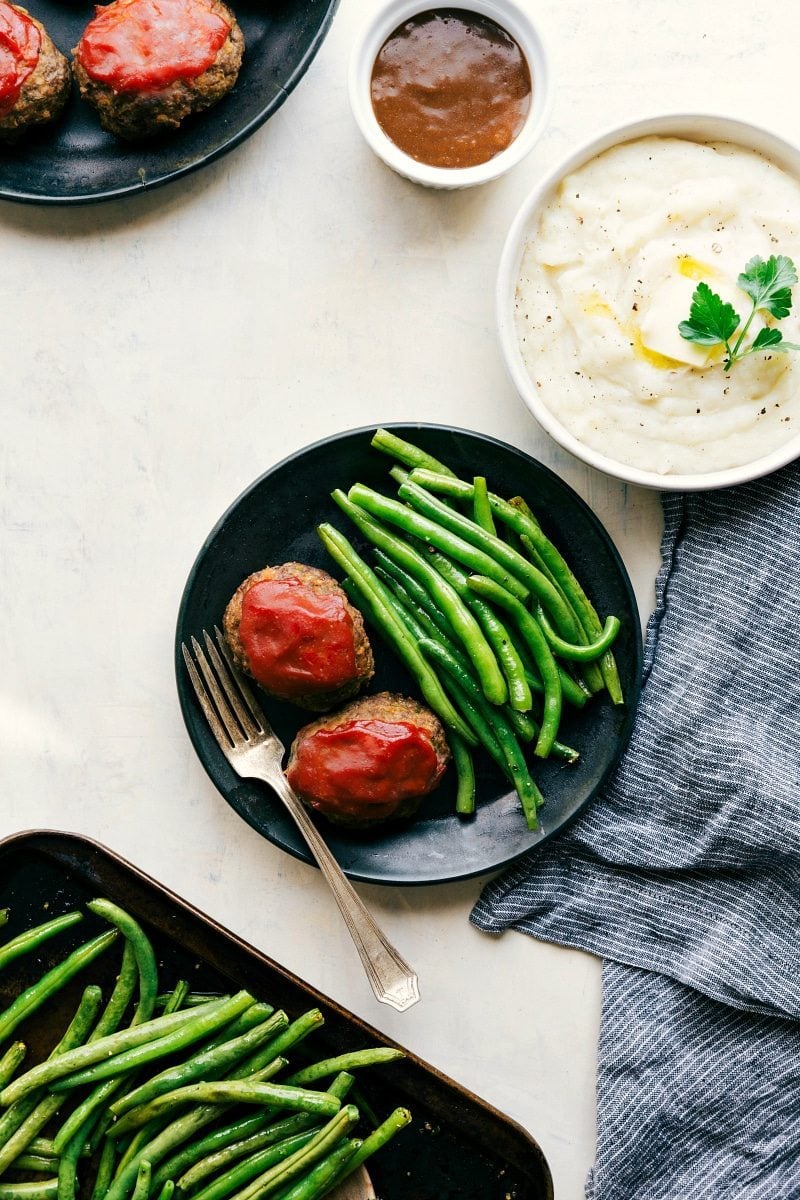 More Quick & Easy Meals: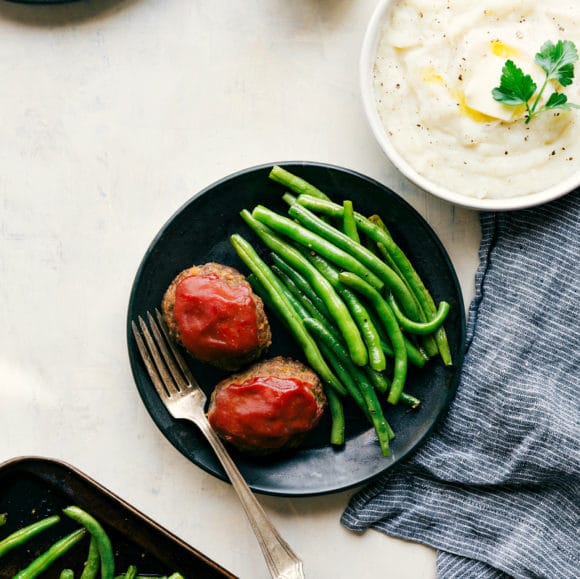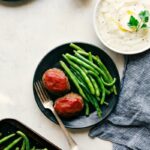 One Pan Meatloaf Dinner
Mini Meatloaves, mashed potatoes, and roasted green beans all baked together on ONE sheet pan! An easy & impressive dinner!
Ingredients
Kosher Salt & Freshly Cracked Pepper
Mashed Potatoes
1 and 1/2

pounds

russet potatoes,

peeled and chopped into small pieces

1/3

cup

water

1

tablespoon

unsalted butter

2/3

cup

milk,

1%, 2%, or whole

1

packet

gravy mix + water,

optional
Mini Meatloaves
1

large

egg,

lightly beaten

1

cup

grated yellow onion

(1 large onion or 2 medium)

1

teaspoon

Italian seasoning

1

tablespoon

tomato paste

1/4

cup

Panko*

1 and 1/2

tablespoons

Worcestershire sauce

2

tablespoons

milk,

1%, 2%, or whole

3

tablespoon

Italian flat-leaf parsley,

finely chopped

1 and 1/4

pounds

lean ground beef

1/3

cup

ketchup
Roasted Green Beans
1

pound

fresh green beans,

trimmed

1 and 1/2

tablespoons

olive oil
Instructions
Start by preheating the oven to 425 degrees F. Place a large sheet of regular foil on a large (13 x 18-inch) sheet pan. Spray both the sheet pan and the foil generously with nonstick cooking spray.

Place the peeled and chopped (into small pieces) potatoes along with a generous pinch of salt and pepper in the center of the foil.

Fold the foil up around the potatoes and add in the water. Seal the potatoes into a packet. Do NOT use heavy duty foil or more than one piece of foil or the potatoes won't cook properly.

Place in the oven for 10 minutes. Meanwhile, prepare the mini meatloaves.

In a large bowl, add in the egg and lightly beat it with a fork. Using a cheese grater, grate the onion (grating keeps you from getting a bite of raw onion - yay!) and add it to the bowl along with the Italian seasoning, tomato paste, Panko, Worcestershire sauce, milk, 1 teaspoon salt, 1/2 teaspoon pepper, and chopped parsley. Whisk ingredients together and then add in the ground beef.

Mix the ingredients together being careful not to over-mix or mash the meat as that creates a denser meatloaf. Handling as little as possible, form 6 small meatloaves. Add to the tray with the potatoes and spread the ketchup evenly among the top of the meatloaves.

Place in the oven for 20-25 minutes. Remove from the oven, dab up some of the grease (shouldn't be too much with lean ground beef) with a napkin, and add the trimmed green beans in the last section of the sheet pan. Drizzle with olive oil and about 1/2 teaspoon salt and 1/4 teaspoon pepper. Toss and place in the oven for another 15-20 minutes or until the beans are roasted and the meatloaf is cooked to an internal temperature of 160 degrees F.

Remove from the oven, and carefully open the foil pack of potatoes. Transfer the potatoes to a large mixing bowl and add in the butter, milk, and salt + pepper to taste. Use a potato masher to mash the potatoes and if needed, hand mixers to make them smooth.

If desired, prepare the gravy packet according to package directions to serve with the potatoes.
Recipe Video