Miniature bundt cakes (or you can make cupcakes) covered with a chocolate ganache and lots of sprinkles. Ice cream is mixed into the batter to make it super creamy and flavorful!
Yup. Ice cream INSIDE the cake. Like mixed in.
As in, its one of the batter ingredients.
I know, do a happy dance. I already did.
Because these are the creamiest, densest, moistest cupcakes you will ever eat. Or mini bundt cakes.
This batter works for both. I just happened to buy a mini bundt pan and was so excited I had to use it. But I also tried these in a cupcake pan and they worked just as well.
This cupcake/bundt cake recipe is still very simple. It's another doctored cake mix, but this time there is ice cream added in the batter. The ice cream gets softened just a tiny bit and then beat in with the rest of the ingredients. The cake mix I started with (and recommend) is Betty Crocker's  chocolate fudge. There is already pudding in the mix, and this recipe calls for even more. Unbelievable fudgy goodness. So cake mix, pudding mix, and then eggs, oil, vanilla extract, and buttermilk. Which, if you don't have buttermilk, no problem. Take a scant one cup of milk and add one tablespoon of either vinegar or lemon juice. Stir it together and let it stand for about 5-7 minutes before adding it with the other ingredients.
I used chocolate ice cream for these cakes, but you could try a different flavor to make things more interesting. I'm not sure how ice cream with "mix-ins" would do, but that is on my to try list. Let me know if you give it a go before I get around to it!
Have I mentioned yet these mini cakes/cupcakes are covered with a chocolate ganache?
And the drenched in sprinkles?
The chocolate ganache is just two ingredients – heavy cream and bittersweet chocolate. My favorite is from Ghiradelli. They have a 60% Cacao bittersweet chocolate and it is to die for. Especially when it is drenching an ice cream mini cake.
Talk about chocolate overload. Is there such thing?
Mini Ice Cream Bundt Cakes
Ingredients
1

package (15.25 ounces)

Betty Crocker Chocolate Fudge Cake Mix

1

package (3.9 ounces)

chocolate fudge pudding mix

dry

3

large eggs

at room temperature

1/2

cup

vegetable oil

1

cup

chocolate ice cream

barely softened

2 and 1/2

teaspoons

vanilla extract

1

cup

buttermilk

or sub scant 1 cup milk + 1 tbsp vinegar- mixed together and let sit for 5 minutes
Chocolate Ganache
1

cup

bittersweet chocolate

I recommend Ghirardelli Bittersweet 60% Cacao

3/4

cup + 2 tablespoons

heavy cream

Optional: colored sprinkles
Instructions
Cupcakes:
Preheat the oven to 350 degrees F. Either spray a mini bundt pan with nonstick spray and then lightly coat with cocoa powder OR line a muffin tin with liners and set aside.

In a large bowl, sift together the pudding and cake mix.

In a separate bowl, combine the eggs, vegetable oil, vanilla, and buttermilk.

If you don't have buttermilk, combine 1 cup of milk with 1 tbsp. white vinegar in a separate cup and let sit for 5 minutes and then add to mixture.

Beat in the ice cream with the wet ingredients. Beat until smooth.

Mix wet and dry until combined (do not over-stir or beat in too much air)

Fill up the liners 3/4ths the way full and bake for 17-20 minutes or until a toothpick inserted in the center comes out clean.

Remove and let cool completely.
Chocolate Ganache
Place the chocolate into a medium bowl. Heat the cream in a small saucepan over medium heat. Bring just to a boil, watching very carefully that it doesn't boil over the pan.

Just when the cream has come to a boil, remove it from the heat, and immediately pour it over the chocolate.

Whisk until completely smooth.

Allow the ganache to cool slightly before pouring over a cake.

Optionally garnish with sprinkles
Want some more delicious cupcakes?

Cinnamon Roll Cupcakes with a Brown Sugar Streusel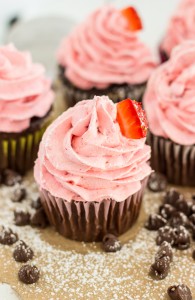 Chocolate Cupcakes with a Strawberry Mousse Frosting