Spring Confetti Bars start with a white chocolate cookie base and are topped with gooey marshmallows, spring-colored M&M's, pastel sprinkles, and more white chocolate! These easy dessert bars are sure to please a crowd!
For more cookie recipes, try these lemon curd cookies, M&M Cookies, or bakery style chocolate chip cookies.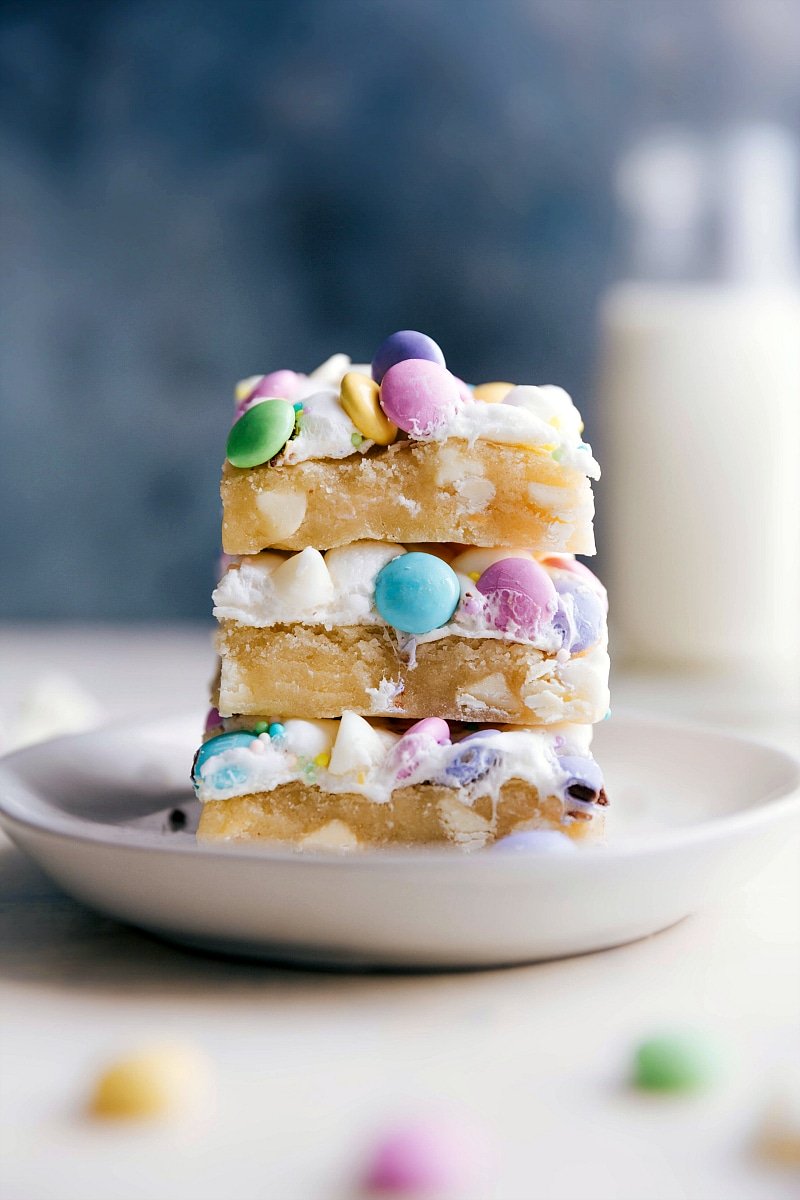 Confetti Bars
Growing up, my mom often made these funfetti bars for my siblings and me. They were definitely one of our favorite desserts (along with her famous carmelitas).
For her confetti bars, she'd use a chocolate chip cookie base, loads of marshmallows, colorful sprinkles, miniature chocolate chips, and chocolate-covered pretzels. I'm putting a fun twist on her bars by adding springtime M&M's, white chocolate chips, and pastel sprinkles. They're every bit as good as her original confetti bars, but perfectly festive for springtime!
These Confetti Bars would make the perfect Easter dessert!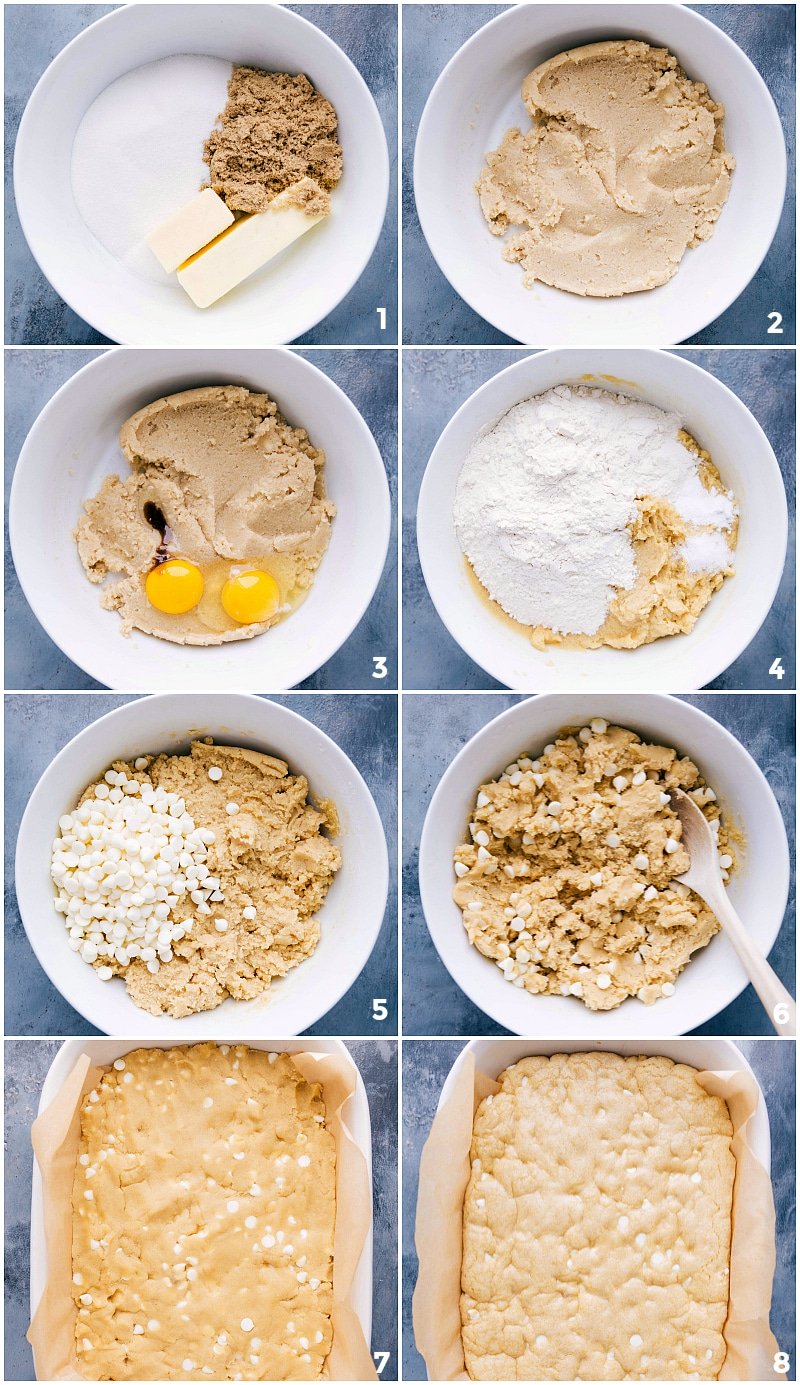 How to make Confetti Bars
The step-by-step photos in the collage above this text correlate to the numbered descriptions below.
Cream butter and sugars together.
Mix until smooth, creamy, and light.
Add one egg, one egg yolk, and vanilla extract. Discard the whites of the one egg or use them in this egg wrap recipe.
Add dry ingredients.
Mix until a thick dough forms and then add in the white chocolate chips.
Stir the chips in to finish the Confetti Bars dough.
Press dough into a parchment paper-lined 9×13-inch pan.
Bake until no longer glossy on top and lightly browned at the edges.
(Process photos shown below:) Add marshmallows immediately after removing from the oven, and then return to the oven for 1 and 1/2 minutes.
Remove from the oven, sprinkle on M&M's, white chocolate chips, and finally sprinkles. Let Confetti Bars sit until firm before cutting.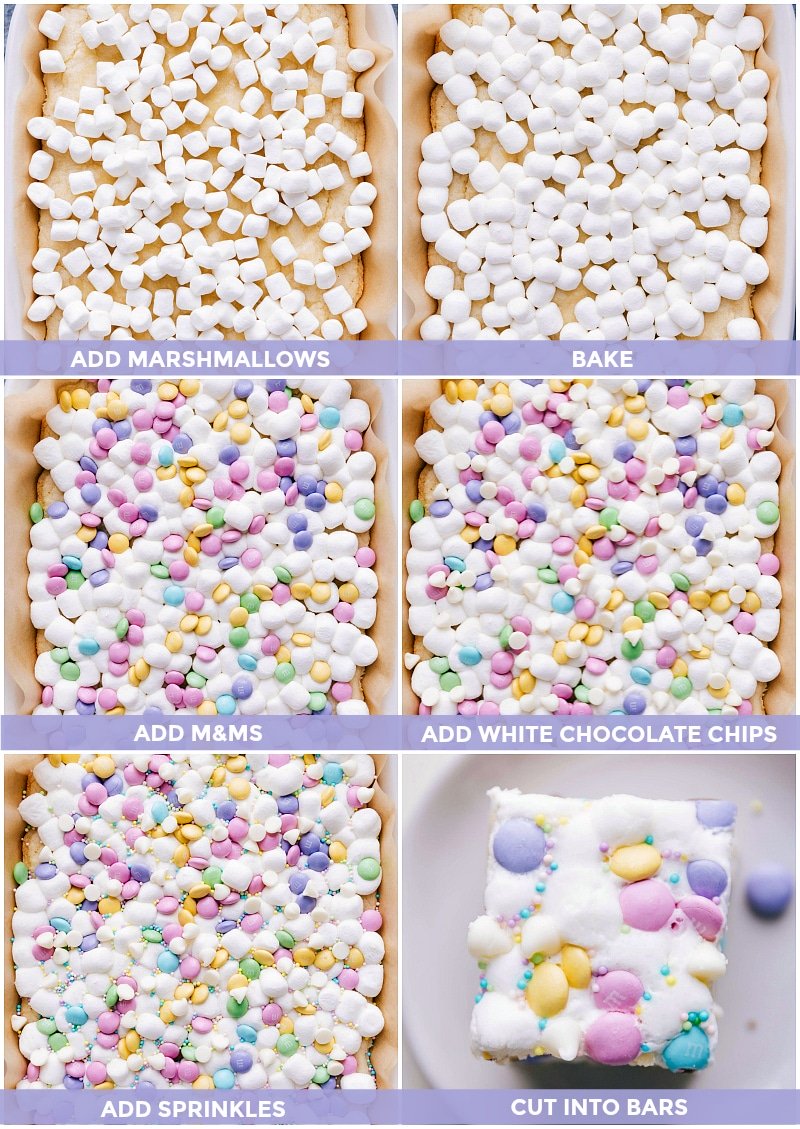 Quick tips
If you have a food scale, I highly recommend weighing the flour for an accurate measurement. With too much flour packed into a measuring cup, the cookie base on these confetti bars becomes dense (less cookie-like). No food scale? No problem, just be sure to spoon and level the flour into the measuring cup.
Let bars completely cool: Confetti Bars need at least an hour (or two) to cool before cutting them into individual pieces. If you cut too soon, the marshmallow layer tends to separate from the cookie layer.
Use fresh marshmallows: The newer and softer the marshmallows, the better the topping on these bars will taste.
If you're concerned about the sweetness of these confetti bars, leave off the top layer of white chocolate chips and the sprinkles.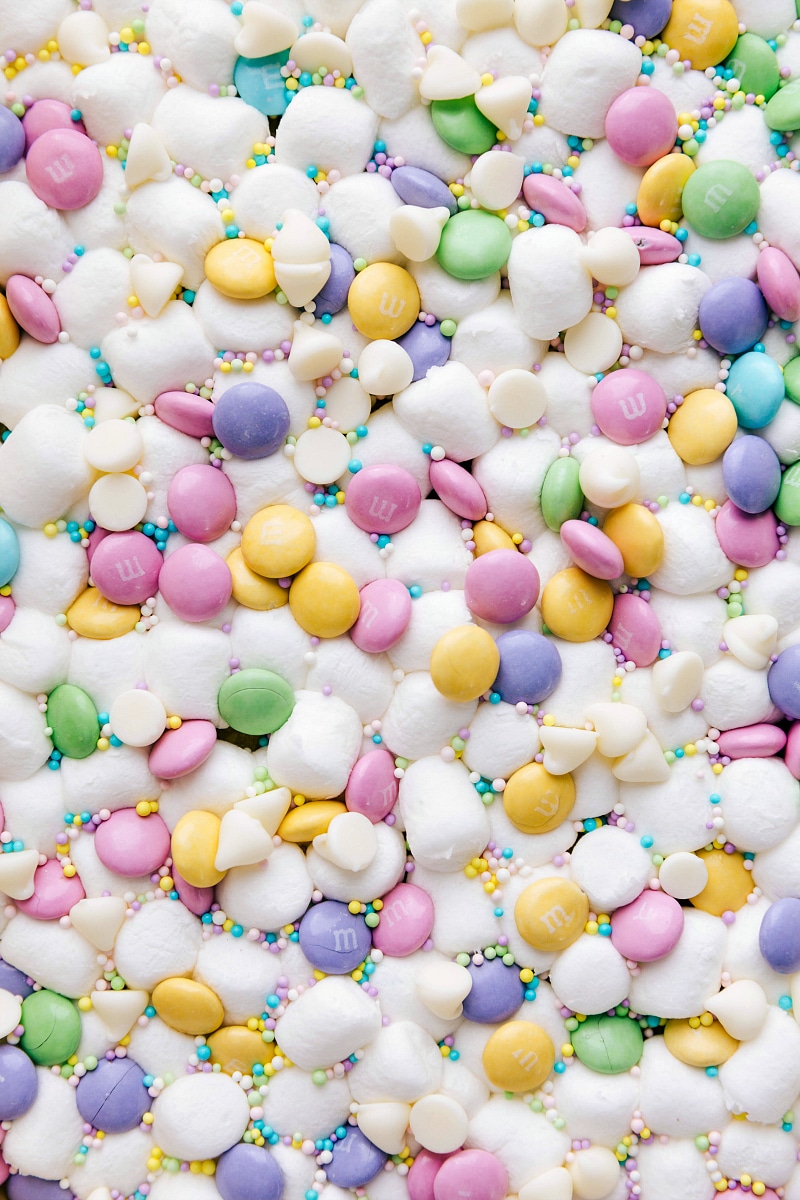 More spring treats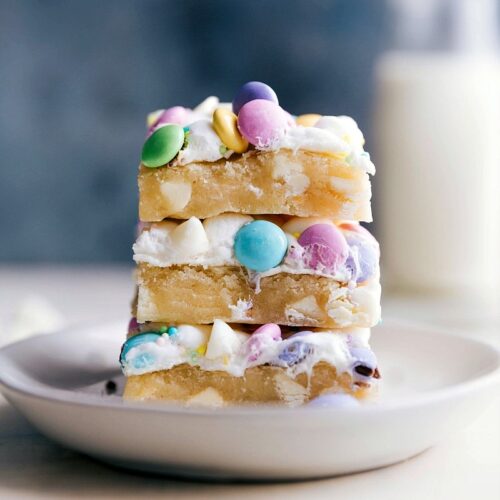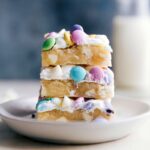 Confetti Bars
Confetti Bars made with spring-colored M&M's, white chocolate, spring sprinkles, and gooey marshmallows. These easy dessert bars are sure to please a crowd!
Ingredients
12

tablespoons (170g)

unsalted butter,

at room temperature

1

cup (205g)

white granulated sugar

1/2

cup (100g)

light brown sugar,

lightly packed

1

large

egg

1

large

egg yolk

2

teaspoons

vanilla extract

2

cups + 2 tablespoons (300g)

white all-purpose flour

1/2

teaspoon

baking soda

1/2

teaspoon

fine sea salt

1 and 1/4

cups

white chocolate chips,

divided (1 cup is 160g)

3

cups (137g)

miniature marshmallows

3/4

cup (152g)

spring-colored M&M's

1-3

tablespoons

spring-colored sprinkles

(See Note 1)
Instructions
PREP: Preheat the oven to 350 degrees F. Grease a 9x13-inch pan with cooking spray and line with parchment paper (I don't recommend lining with foil). These bars are sticky so you do want the parchment paper.

WET INGREDIENTS: In a large bowl, combine 12 tablespoons room-temperature butter with the 1 cup white sugar and 1/2 cup light brown sugar in a medium sized bowl. Beat with hand mixer (or in a stand mixer) until light and creamy. Add in the egg, egg yolk, and 2 teaspoons vanilla. Mix until combined.

DRY INGREDIENTS: In a separate large bowl, combine the 2 cups + 2 tablespoons white flour, 1/2 teaspoon baking soda, and 1/2 teaspoon salt. Stir. Add wet ingredients to dry ingredients and stir until just combined. With a wooden spoon, stir in 1 cup of white chocolate chips and stir until combined.

BAKE: Press the cookie dough into the prepared 9x13-inch pan. Bake the bars for 22-26 minutes or until the top is no longer glossy and edges are ever-so-slightly browned. Remove from the oven and immediately top with the miniature marshmallows. Return to the oven for 1 minute and 30 seconds.

FINISHING: Gently press the marshmallows down a little. Sprinkle the remaining 1/4 cup white chocolate chips evenly over the bars. Sprinkle the 3/4 cup M&M's evenly over the bars. Scatter the sprinkles evenly over the bars.

SERVE: Let cool completely (these bars take 1-3 hours to really set up) and then cut with a hot, sharp knife (run the knife under hot water, dry, make a slice, repeat). Confetti Bars are best enjoyed within 1-2 days; after that the marshmallows become unpleasant.
Recipe Video
Recipe Notes
Note 1: Use 1 tablespoon nonpareil sprinkles or 2-3 tablespoons jimmies sprinkles.