Confetti bars made with Spring colored M&M's, white chocolate, Spring sprinkles, and gooey marshmallows. These easy dessert bars are sure to please a crowd!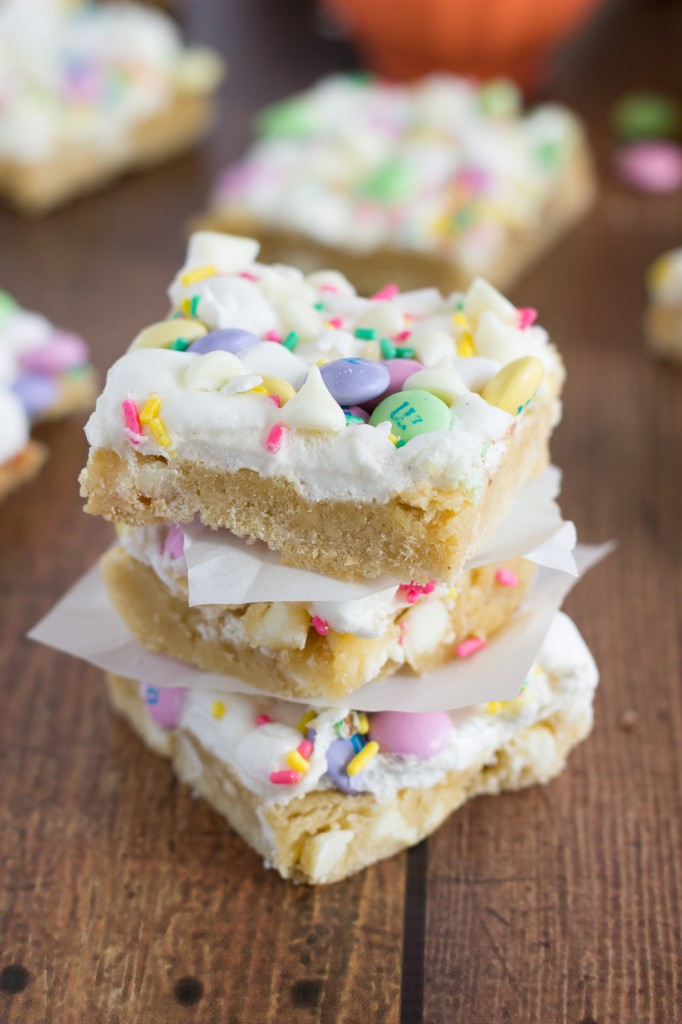 Aren't these Spring confetti bars so fun?! And perfect for Spring and Easter-time?
Growing up my mom often made these confetti bars for my siblings and me. They were definitely one of the favorite desserts (along with these carmelitas).
She would use a chocolate chip cookie base, loads of marshmallows, colorful sprinkles, miniature chocolate chips, and chocolate covered pretzels.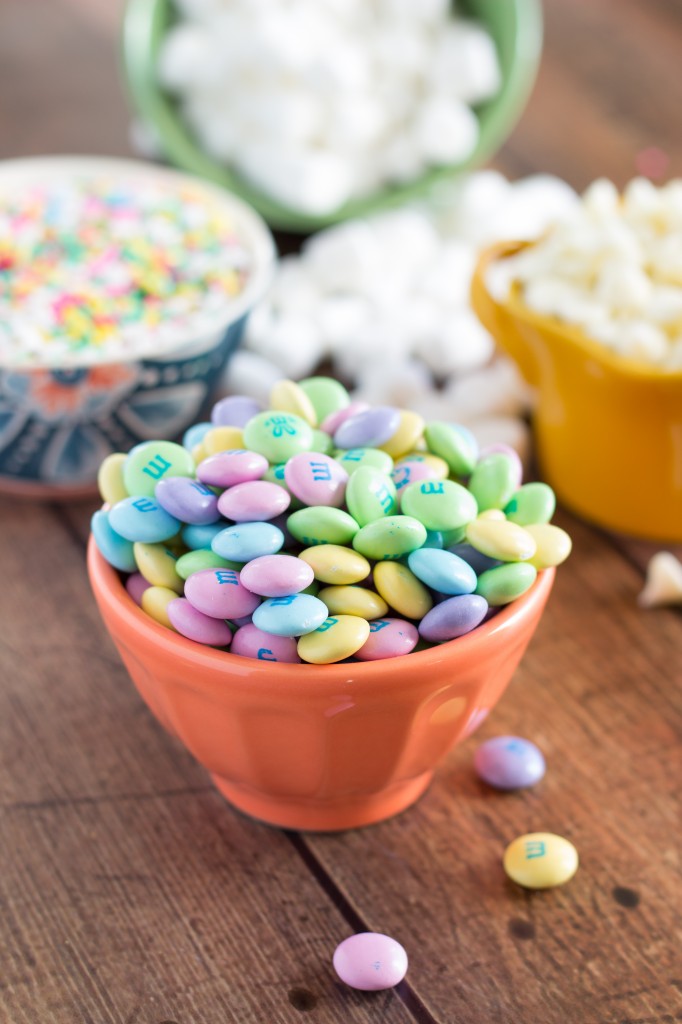 They are the best dessert bars! We'd always get excited when my mom would buy miniature chocolate chips or when chocolate covered pretzels would go on sell. Because that meant lots of confetti bars! My mom would hide the miniature chocolate chips and wouldn't let us to eat them because they were ONLY for confetti bars.
Which was fine by us; as long as she kept good on her word to make them!
These confetti bars are similar, but a little bit different. The base is a white chocolate chip cookie dough that is baked for about 17-22 minutes. Then marshmallows, white chocolate chips, and M&M's are thrown on top and these bars get baked for another 2-3 minutes. Everything gets all sorts of gooey and delicious. And then comes the time for sprinkles!
I used white chocolate to make these a lighter and more Spring-like dessert. You can definitely change out the white chocolate for milk, dark, or semi-sweet chocolate. Just make sure to change the chocolate chips in the base and for what is sprinkled on top.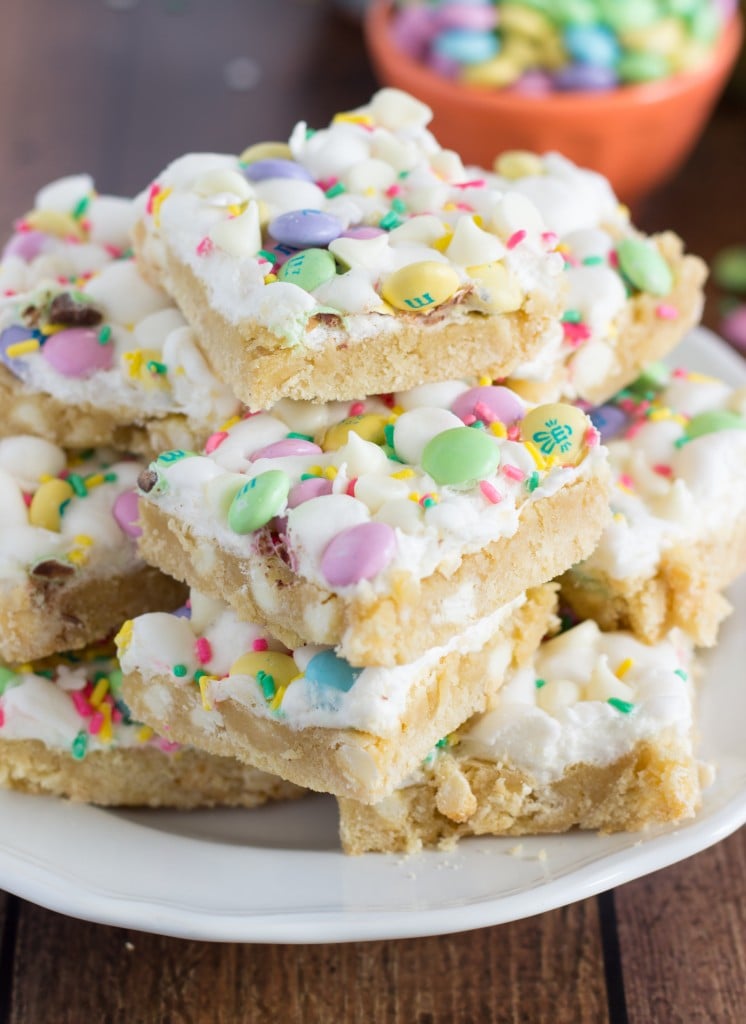 More Spring Treats: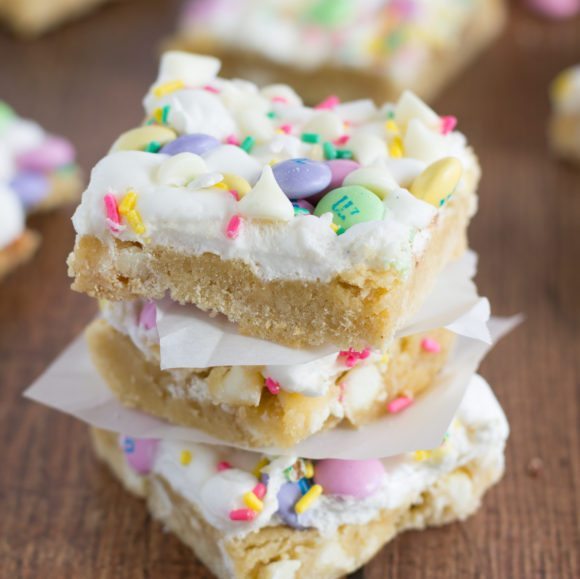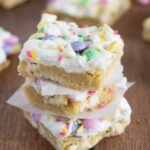 Spring Confetti Bars
Confetti bars made with Spring colored M&M's, white chocolate, Spring sprinkles, and gooey marshmallows. These easy dessert bars are sure to please a crowd!
Ingredients
1/2

cup

butter

at room temperature

1/2

cup

white sugar

1/4

cup + 1 tablespoon

brown sugar

1

large

egg

at room temperature

1

teaspoon

vanilla extract

1 and 1/2

cups

white flour

1/2

teaspoon

baking soda

1

teaspoon

baking powder

1/2

teaspoon

cornstarch

1/4

teaspoon

salt

1 and 1/4

cups

white chocolate chips

separated

3

cups

miniature marshmallows

3/4

cup

Spring M&Ms

3

tablespoons

sprinkles

Spring colored
Instructions
Preheat the oven to 350 degrees F.

Combine the room temperature butter with the white and brown sugar in a medium sized bowl.

Mix the butter and sugars together with hand beaters or in a stand mixer until creamy and fluffy. Mix in the egg and vanilla and beat until just incorporated.

In a separate bowl, combine the flour, baking soda, baking powder, cornstarch, and salt. Stir together and slowly add the dry ingredients to the wet ingredients.

Mix until combined.

With a wooden spoon, stir in one cup of the white chocolate chips. Press the cookie dough into a 9 x 13 pan that has been sprayed with nonstick spray.

Bake the cookie dough for 17-22 minutes or until the edges are lightly browned.

Remove and immediately top with the miniature marshmallows and M&M's. Return to the oven for 1-2 minutes or until the marshmallows become puffy.

Remove and sprinkle the remaining 1/4 cup white chocolate chips and sprinkles over the bars.

Let cool completely and then cut with a wet knife.