Special thanks to Genova for sponsoring this post. As always, all opinions in this post are my own.
A deliciously light and healthy Mediterranean-inspired orzo salad with tuna, veggies, and a lemon-oregano vinaigrette.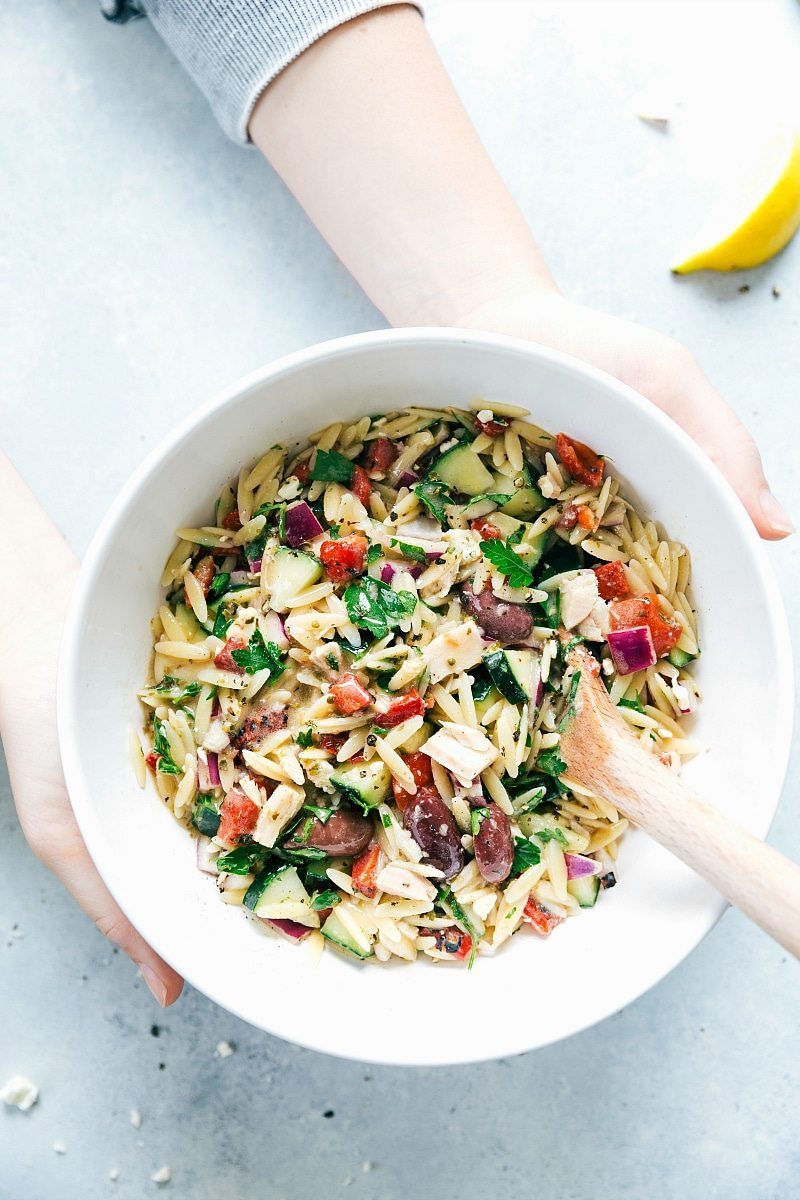 Occasionally when the husband and I are out on a date, I'll try to remember a little something to bring home for the boys.
On our last date night we went to a local diner and they had large lime rickeys on sale for 99 cents. Of course I had to grab one for the boys (and drink half of it first to ensure it was really good). The minute we walked in the door they somehow knew that drink was for them and started jumping up and down and squealing in excitement.
Which, of course, I pretended was excitement to see me and not just to get a treat. ?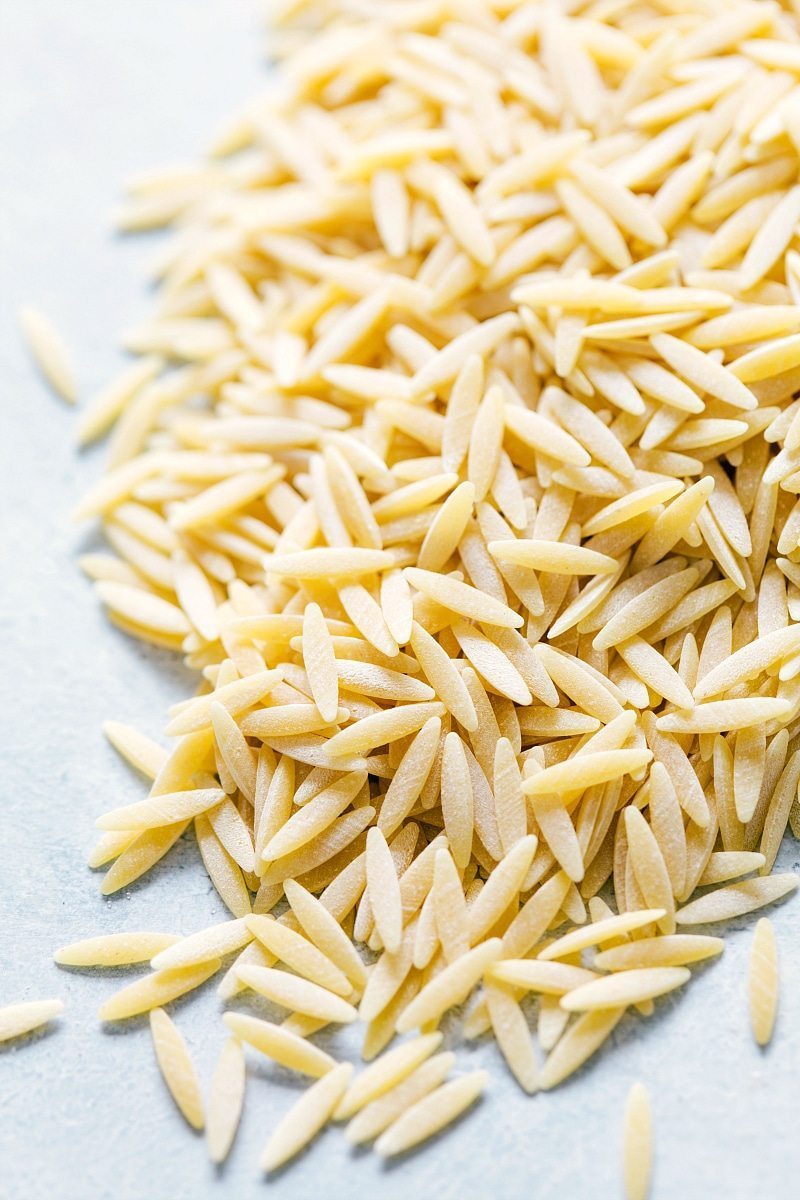 We quickly had to set a system for taking turns because they both were obsessed with the drink. Good thing I'd gotten my share of it on the ride home because I was not getting even one more sip of it!
I tell you this story, because the EXACT thing happened after I made this salad. Those boys loved it so much that we had to take turns taking bites. It didn't even make it into individual bowls before they'd filled up on it.
Just straight out of the bowl we made this in, bite for the toddler and then bite for the babe. They inhaled it. (Well, all of it besides the olives, red onions, and feta cheese — I was instructed to leave those off the forkfuls).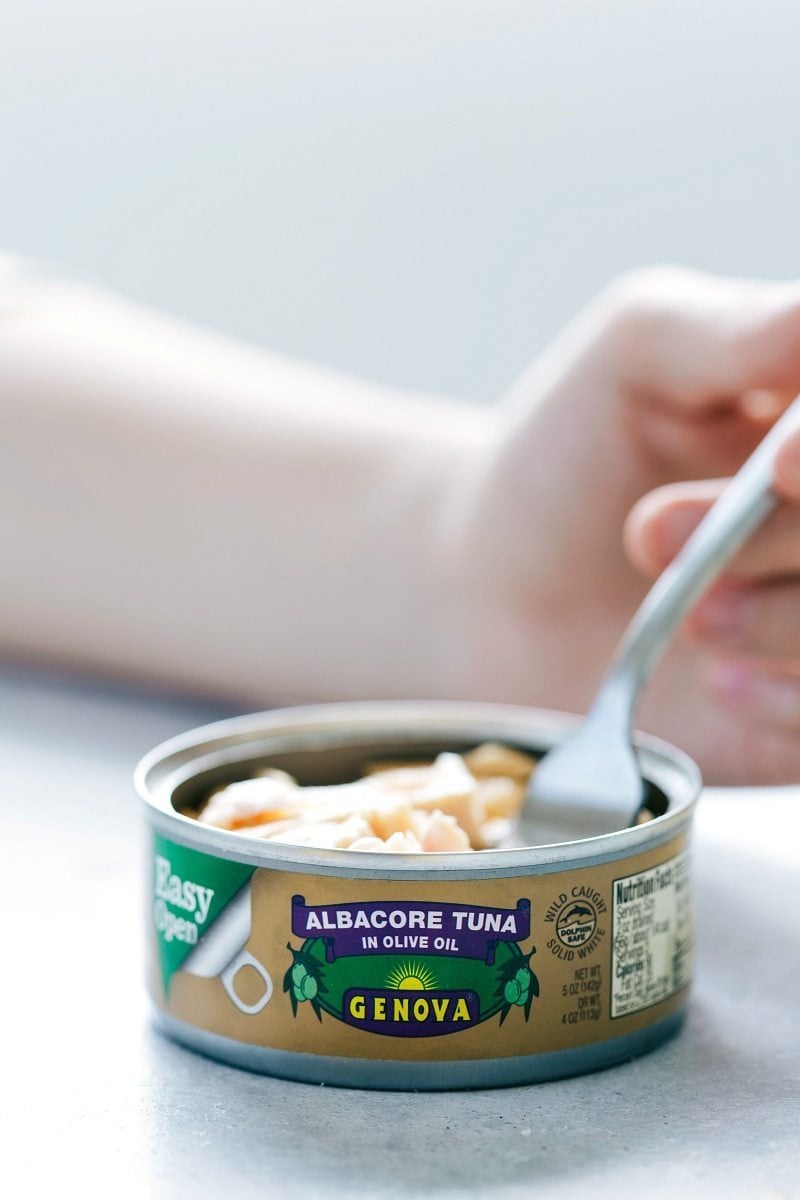 The lemon dressed roasted red pepper, cucumber, orzo, and tuna though? They couldn't get enough.
This salad is crazy delicious! It's light, refreshing, and it's conveniently healthy!
The two "secrets" that make this salad outstanding? First, the dressing. It's tangy, herbed, light, and so fresh tasting. It pairs so perfectly with all the ingredients!
And the second? The tuna fish. I'm using Genova's Albacore Tuna in Olive Oil and it is hands-down the BEST. Not only is it packaged in easy open cans making it a time-saver, but it makes for a great healthy protein option that is perfectly tasty! Being packed in olive oil really does make a huge difference and Genova does it right!
Genova also makes a Yellowfin Tuna that we love and works great in this dish too!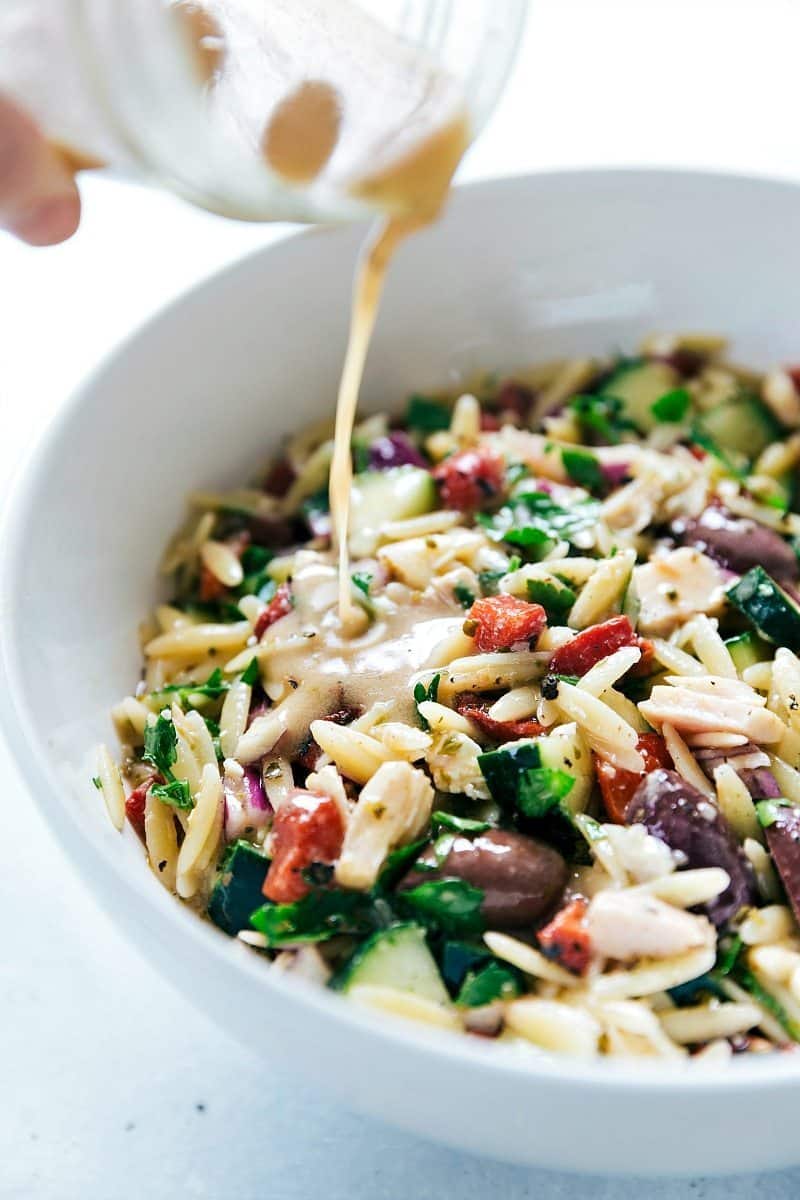 This salad does take a bit of prep time getting all the veggies chopped, but once they are ready to go, it all comes together really nicely.

Feel free to adjust the ingredients in your finished salad to what you like best. The boys didn't like the olives, but my husband LOVED them in this salad. And vice versa with the onions 🙂 The nice thing about this salad is how easily customizable it is. If you've got the orzo, tuna, and dressing you can pretty much top it however you like and it will be amazing! Enjoy!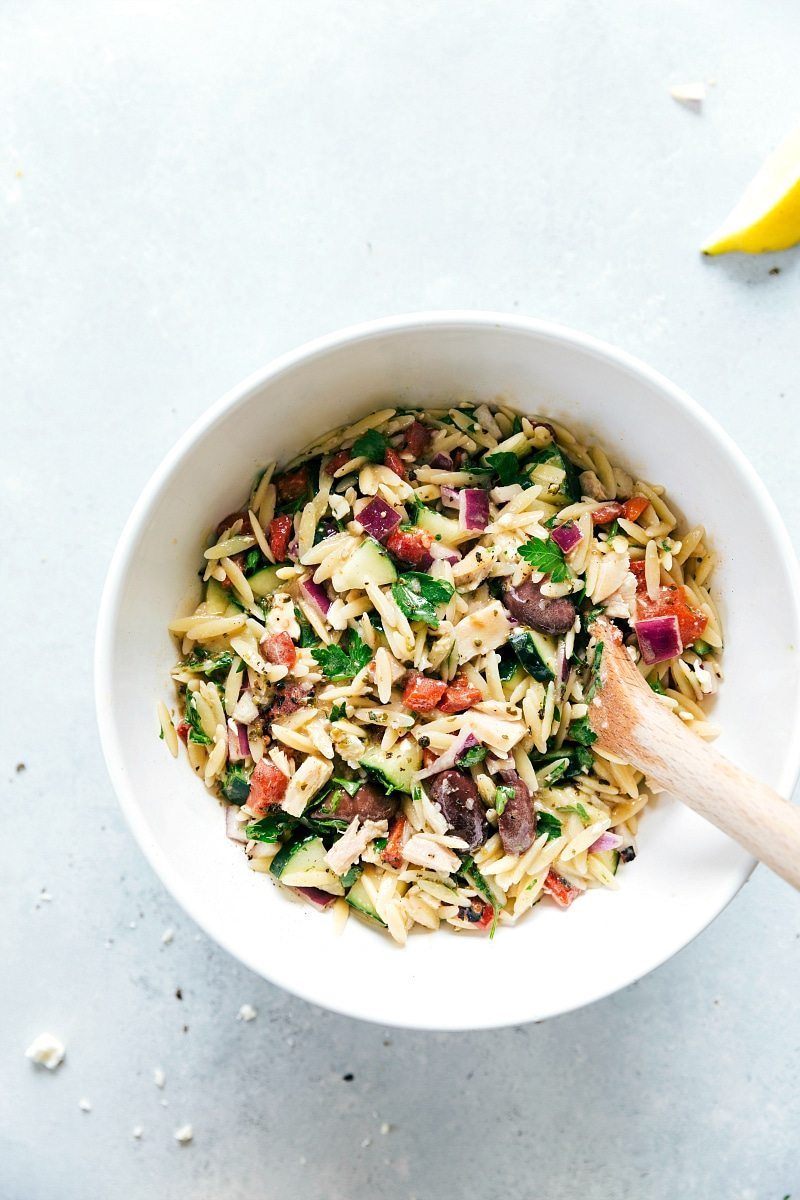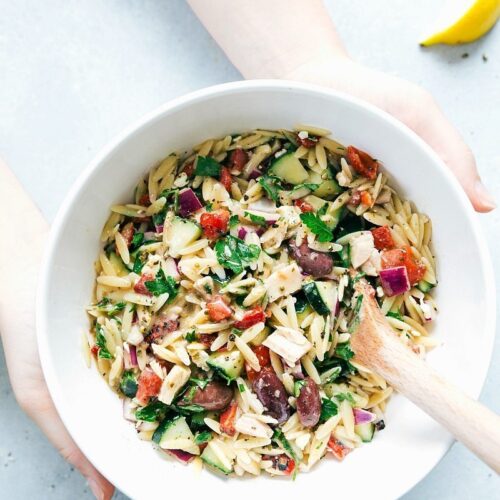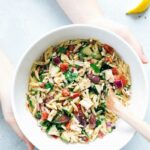 Mediterranean Tuna Orzo Salad
A deliciously light and healthy Mediterranean-inspired orzo salad with tuna, veggies, and a lemon-oregano vinaigrette.
Ingredients
Dressing
4

tablespoons

red wine vinegar

2

tablespoons

Dijon mustard,

do not use regular mustard

1

teaspoon

dried oregano

1

clove

garlic,

minced

1/2

cup

olive oil

1

lemon

(2-3 tablespoons fresh lemon juice)

Salt and pepper
Salad
1

cup

dry orzo pasta

(measured when dry)

2

cans (5 ounces EACH)

Genova Albacore Tuna in Olive Oil in Easy Open Cans,

drained

4

full, canned

roasted red bell peppers,

drained and coarsely diced

1/2

cup

kalamata olives,

drained and coarsely chopped

1/2

cup

flat leaf parsley,

chopped (very loosely measured)

1/2

red onion,

diced

1

large

cucumber,

chopped

3/4

cup

crumbled feta cheese
Instructions
Begin by prepping the dressing. Whisk the red wine vinegar, Dijon mustard, oregano, garlic, 1/2 teaspoon salt (or to taste), and 1/4 teaspoon pepper (or to taste) together in a small bowl. Slowly add in the olive oil into the vinegar mixture while whisking briskly. Whisk in the lemon juice. Pour into a jar and store in the fridge while prepping the rest of the salad.

Cook the orzo pasta according to package directions. Drain and rinse in cold water. Toss with 2-3 tablespoons of the dressing and pour into a large bowl.

Meanwhile, prep the rest of the ingredients: drain the tuna and add to the pasta. Coarsely dice the roasted bell peppers, coarsely chop the olives, finely chop the parsley, dice the red onion, and chop the cucumber. Add all the ingredients to the pasta.

Toss with the dressing to taste (you can use all of it or less) and top with the feta cheese. Toss and enjoy immediately!
Recipe Notes
The amounts of toppings are general guidelines -- obviously adjust to your personal preferences (if you like more parsley, add more. If you hate it, it's fine to omit or reduce it 🙂 Same goes for the peppers, olives, feta, cucumber, and red onion.)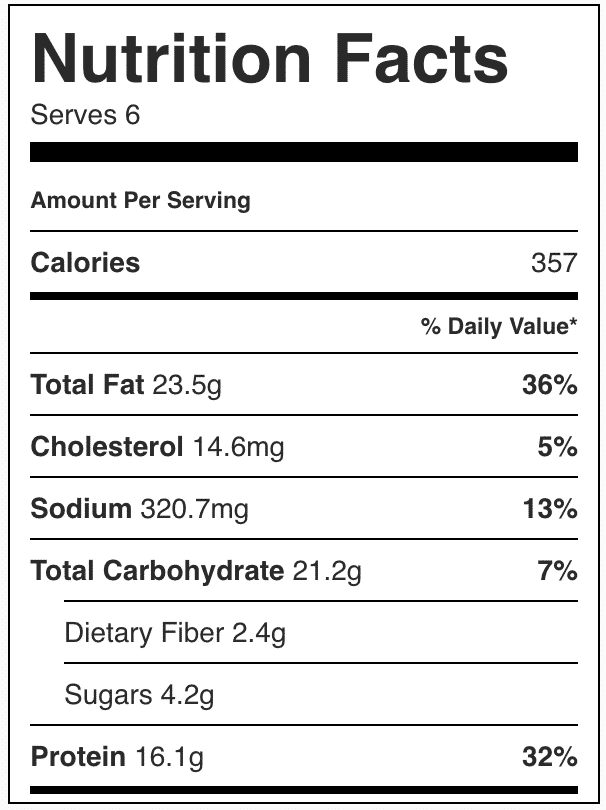 More Recipes using Tuna Fish: