Healthy Chocolate Cookies with no butter, white sugar, oil, or flour. These cookies are thick, chewy, and filled with good-for-you ingredients.
Try some of our other wholesome recipes: healthy banana muffins, healthy no bake cookies, or healthy pumpkin bread.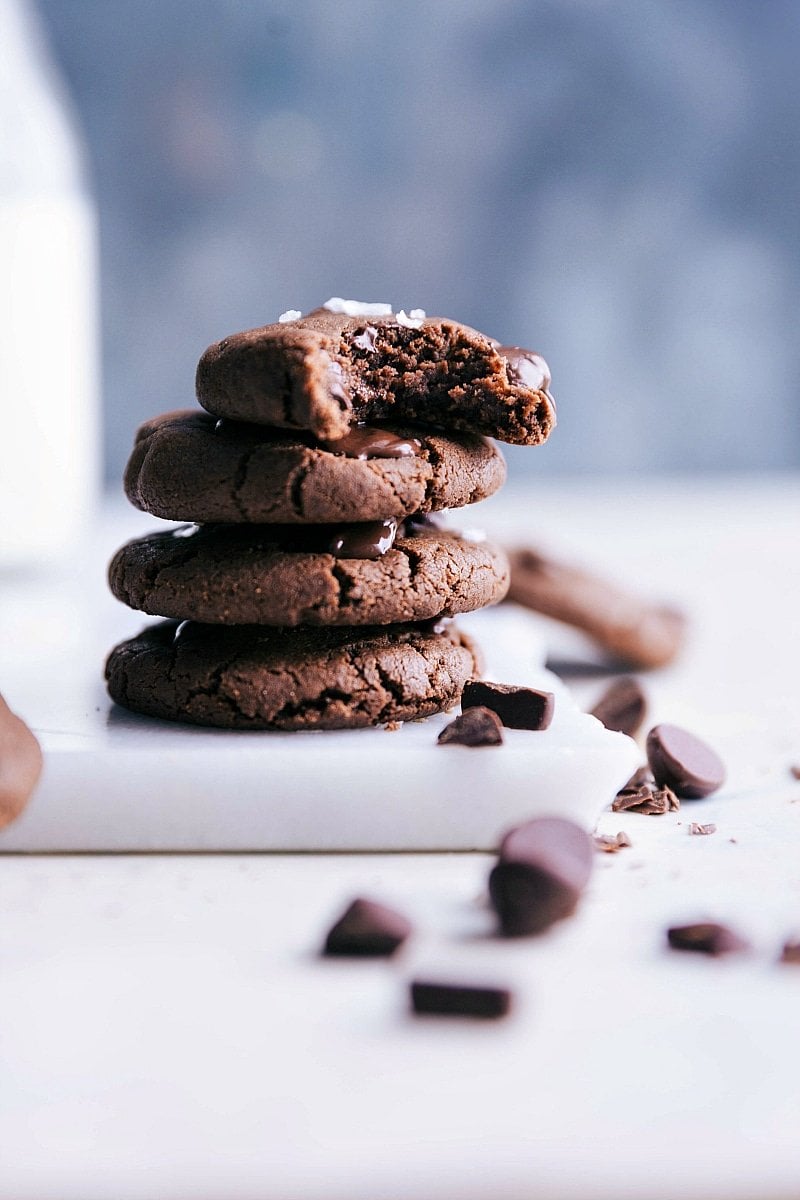 We make a lot of cookies in my home and while I wish I could feel great after eating the entire batch of these caramel snickerdoodles…it doesn't usually work that way.
So, healthy cookies for the win! These Healthy Chocolate Cookies are made with natural ingredients and are naturally sweetened. They've also got peanut butter in them which has lots of protein and healthy fats, making these cookies more substantial and more filling than most.
Healthy Chocolate Cookies ingredients
Peanut butter: This ingredient forms the base of these cookies and is integral to the texture and flavor.
Coconut sugar: If you aren't familiar with coconut sugar, you can read up on it here. Essentially it is a natural palm sugar produced from the stem of a coconut palm. I don't find it makes these cookies taste at all coconutty, but if you're super sensitive to the flavor of coconut you may be able to pick it up. Light brown sugar can be used instead, but does make these cookies less healthy.
Vanilla extract: Just a dash provides so much flavor enhancement.
Dutch process cocoa powder: Make sure to get Dutch process instead of natural or plain cocoa powder. The Dutch process offers a much more robust and intense chocolate flavor. Regular cocoa powder will make these cookies overly dry and less flavorful. Here's the exact cocoa powder I use (and highly recommend; affiliate link)
Egg: The egg binds all the ingredients together and also contributes some extra protein to these cookies.
Salt and baking soda: These important baking agents add flavor and texture.
Dark chocolate chips: While any type of chocolate chips will work in these cookies, dark chocolate chips have more health benefits and offer antioxidants.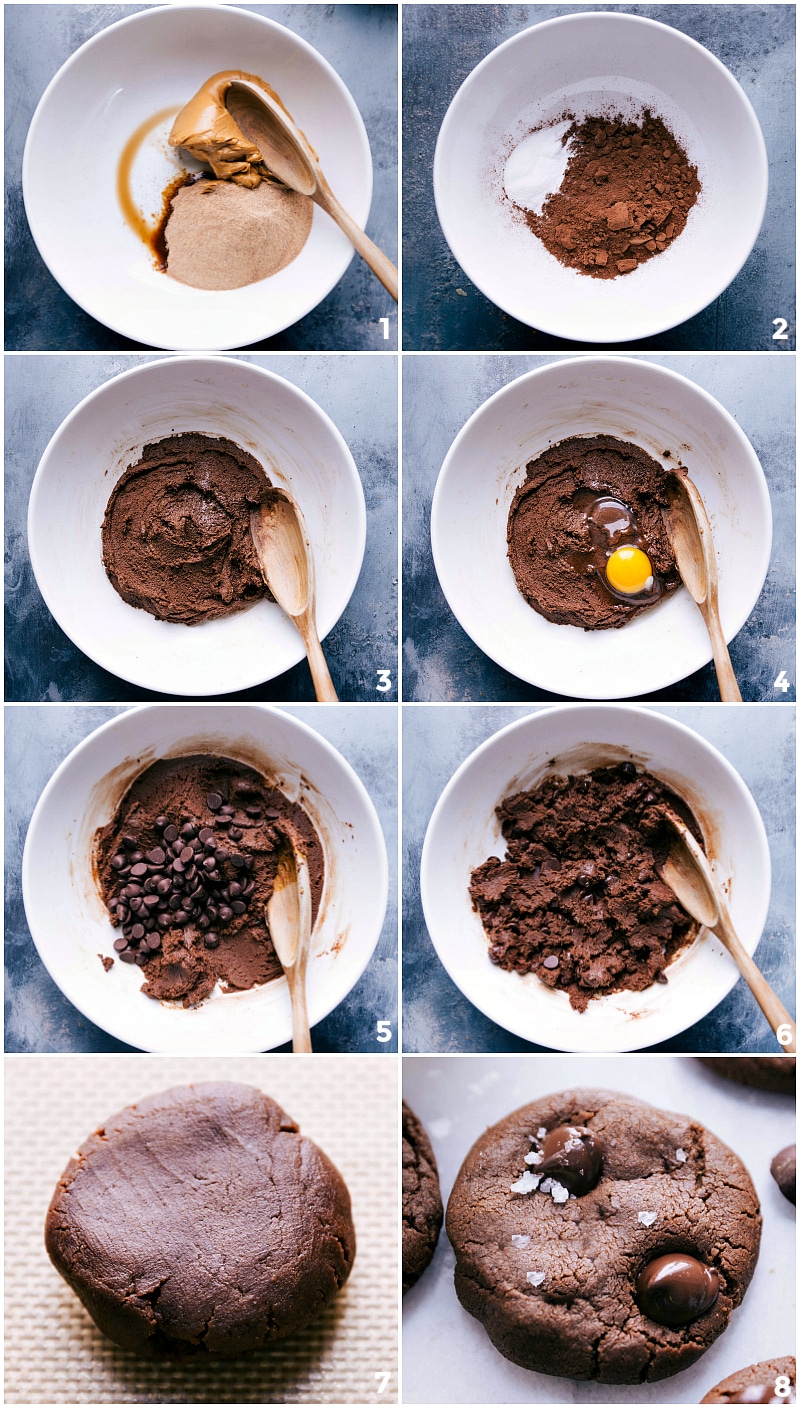 How to make Healthy Chocolate Cookies
The descriptions below correlate with the photo collage above this text
Add peanut butter, coconut sugar, and vanilla to a large bowl. Mix until smooth and creamy.
Stir together cocoa powder, salt, and baking soda in a separate bowl.
Combine the wet and dry ingredients. Mix until combined.
Add in the egg and stir until combined.
Add in the chocolate chips.
Stir until combined.
Using a tablespoon measuring spoon, measure cookie dough balls, roll them, flatten, and bake.
Add a few chocolate chips on top of the finished cookies and a sprinkle of sea salt if desired.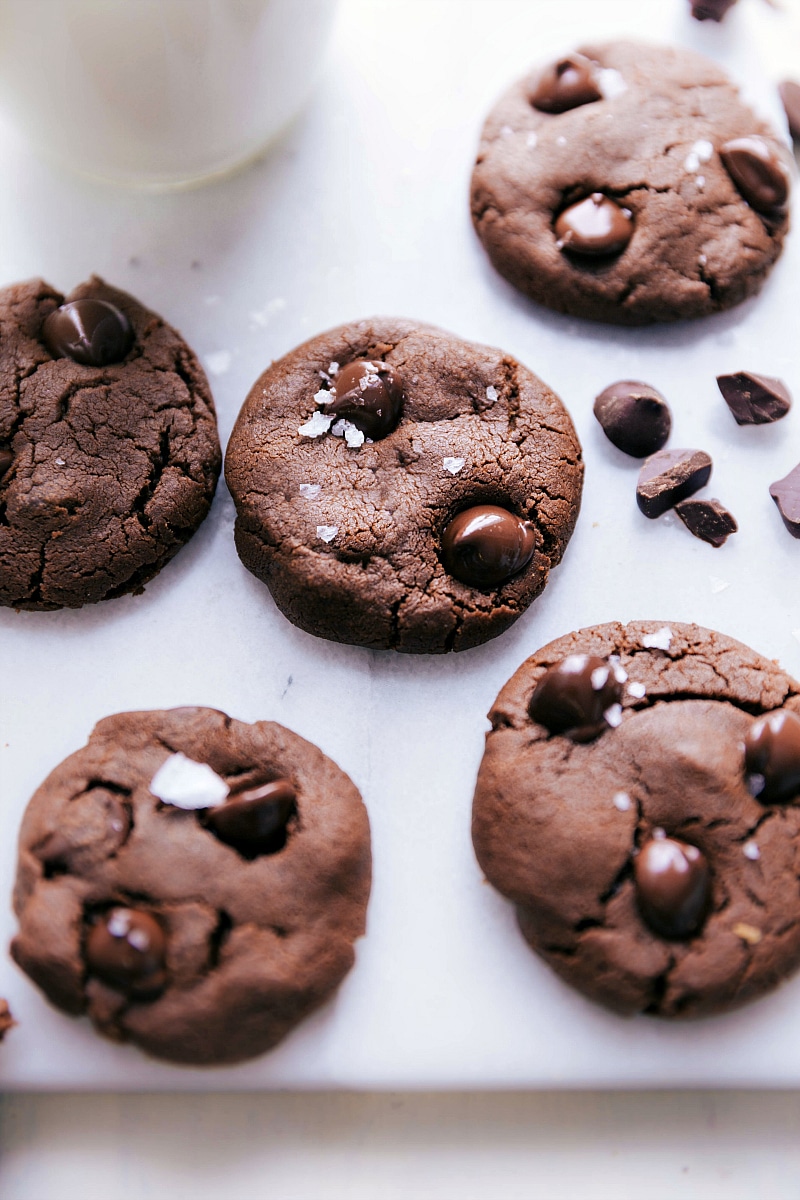 Baking tips
Flatten the cookies before baking. These cookies don't spread much, so press them down a bit before baking.
Watch bake time carefully. Healthy Chocolate Cookies go from perfectly cooked to burnt very quickly so watch carefully. They're a bit gooey and crumbly right out of the oven, but they firm up quickly as they cool.
More cookie recipes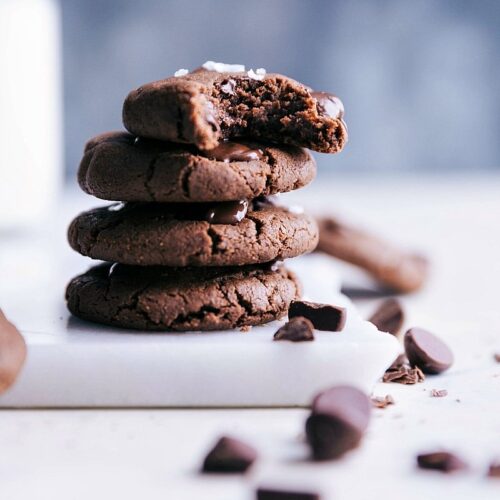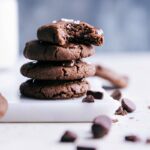 Healthy Chocolate Cookies
Healthy Chocolate Cookies with no butter, white sugar, oil, or flour. These cookies are thick, chewy, and filled with good-for-you ingredients.
Keyword:
healthy chocolate cookies
Ingredients
1

cup (242g)

creamy peanut butter

2/3

cup (142g)

coconut sugar

1/2

teaspoon

vanilla extract

1/4

cup (23g)

unsweetened Dutch process cocoa powder

(See Note 1)

1/8

teaspoon

fine sea salt

1

teaspoon

baking soda

1

large

egg

1/2

cup (89g)

dark chocolate chips,

plus extra for topping

Optional: Maldon sea salt flakes
Instructions
PREP: Preheat the oven to 350 degrees F. Line a large sheet pan with parchment paper or a nonstick liner.

WET INGREDIENTS: In a medium sized bowl, beat together the 1 cup peanut butter, 2/3 cup coconut sugar, and 1/2 teaspoon vanilla extract. Don't heat up the peanut butter at all, even if it's a little stiff and hard to work with. Beat together with a hand mixer until smooth.

DRY INGREDIENTS: In a separate bowl, combine the 1/4 cup Dutch process cocoa powder, 1/8 teaspoon salt, and 1 teaspoon baking soda. Stir to combine.

COMBINE: Add dry ingredients to the wet ingredients and mix until just combined. Add in the egg, beat until just combined. Stir in the 1/2 cup dark chocolate chips.

FORM COOKIE DOUGH BALLS: Use a tablespoon measuring spoon to measure exact amounts of dough for how big the cookies should be. Roll the tablespoon amount of dough into a ball and flatten slightly with your hands. Press 3-4 chocolate chips into the tops of the cookie dough balls.

BAKE: Bake for 6-8 minutes. Watch them carefully because they go from perfectly baked to burned very quickly because of the coconut sugar. If desired, add a few more chocolate chips on top, let melt slightly from residual heat, and then add on a sprinkle of sea salt.

COOL: These cookies are crumbly while they are hot. Let them cool completely to firm up and harden (or enjoy some deliciously hot, but crumbly cookies right out of the oven). Store in an airtight container at room temperature. Cookies best eaten within 2-3 days.
Recipe Notes
Note 1: Make sure to get Dutch process instead of natural or plain cocoa powder. The Dutch process offers a much more robust and intense chocolate flavor. Regular cocoa powder will make these cookies overly dry and less flavorful. Here's the exact cocoa powder I use (and highly recommend; affiliate link)