No white flour, no butter, and no oil in these almond butter, apple, and pecan muffins. These muffins are bursting with flavor, healthy, and gluten-free!
How do you feel about nuts in your baked goods? For me, when there are nuts in brownies a very good thing was ruined! I don't like nuts in cakes or even cookies really. Okay sometimes in cookies they are okay, but on a very rare occasion. And in breads or muffins I'm not usually a fan either.
But these muffins, they have some nuts in them and oh man are they good. The nuts are scarce and far between (only three tablespoons for the whole recipe), but they make these muffins! And there are actual apple bits in these ones and when they are baked it's just an unreal taste + texture combining soft baked apples with crunchy pecans.
And the good news is, there aren't just pecans, there are also almonds in these muffins – in the form of almond butter. If you haven't ever used almond butter, this recipe is a great place to start with almond butter! You can usually find it right next to peanut butter and jams in the grocery store. And if you aren't a fan of peanut butter, I bet you'll love almond butter. It's definitely a very subtle taste in these muffins and complements the cinnamon, apples, applesauce, and pecans perfectly.
So there are only three tablespoons of pecans in these muffins – two get mixed in and the other one gets sprinkled on top of the muffins. BUT if you'd rather, you could be a cinnamon-pecan streusel topping on these muffins using this recipe. Such a simple topping, but I absolutely love it! Plus it's pretty stinkin' healthy.
For the apple in this recipe, try and get a tart one that has a lot of flavor. I used a Granny Smith apple, but if you don't like that variety use another one. The peel and core gets removed, and then you just quickly and coarsely chop up the apple. These muffins are supposed to be quick to make! They also freeze and re-heat really well. So if you want to make a bunch and have ready-to-go breakfasts that you pull out of the freezer and warm in the microwave – well this is your recipe! As far as the yield for this recipe – these make about 8-9. I filled up 8 muffin cavities pretty full and those are the muffins pictured here. I also made a batch with 9 muffins which worked great as well, they just weren't as big.
One last note – try not to over-mix the batter. It makes the muffins more dense if you do. Mix until *just combined* and these are ready to go into the oven.
Okay enough talking; time to get these in the oven!!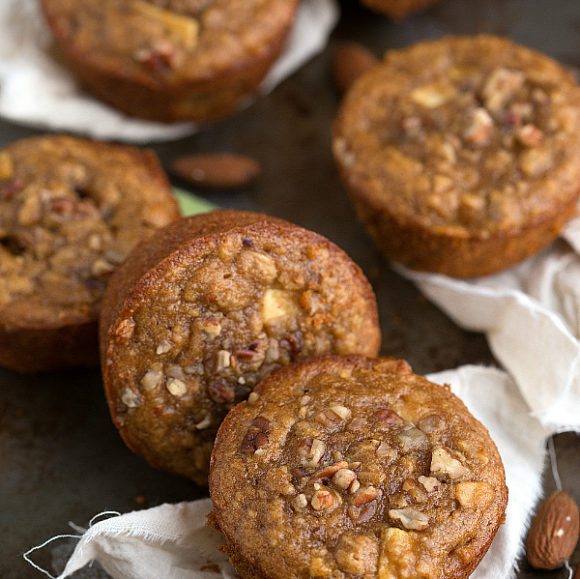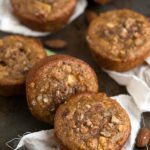 Gluten Free Apple Muffins
No white flour, no butter, and no oil in these almond butter, apple, and pecan muffins. These muffins are bursting with flavor, healthy, and gluten-free!
Keyword:
Gluten Free Apple Muffins
Ingredients
1/2

cup

unsweetened apple sauce

1/2

cup

almond butter

don't substitute peanut butter

2

tablespoons

honey

1

teaspoon

vanilla extract

2

tablespoons

brown sugar

lightly packed

1

large egg

Pinch of salt

1/2

teaspoon

baking soda

1/2

teaspoon

baking powder

1/3

cup + 1 tablespoon

oat flour

old fashioned oats that have been blended

1/3

cup

old fashioned oats

1/2

cup

chopped tart apple

1

teaspoon

lemon juice

1/2

teaspoon

cinnamon

more if desired

3-4

tablespoons

chopped pecans

optional
Instructions
Preheat the oven to 350 degrees F. Spray 8-9 cavities with nonstick spray and fill the other ones halfway up with water (ensures even baking).

Do not use muffin liners.

Beat together the applesauce, almond butter, honey, vanilla extract, and brown sugar in a large bowl. Beat in the egg.

Beat in the salt, baking soda, baking powder, and oat flour.

To make oat flour, take oats and pulse them in a blender or food processor until they are in a flour like consistency. Make sure to measure the oat flour AFTER blending and not before or the amounts will be off.

Beat just until combined.

Stir in the old-fashioned oats.

Remove the peel and core of an apple and finely chop the apple into small pieces. Mix with the lemon juice and then add the apples to the mixture along with 2 tablespoons of chopped pecans.

Using a cookie scoop, scoop two full scoops of the dough into each muffin cavity. If you want larger muffins only fill 8 of the cavities. If you'd rather have more muffins fill up 9. Evenly disperse the last tablespoon (or two) of pecans among the muffins.

Bake at 350 degrees for 16-18 minutes.

I find that slightly under-baking these muffins makes them taste more moist and light. If you don't like that though, bake them a little longer, just watch them carefully so they don't burn.
Recipe Notes
*If you want your muffins sweeter, increase brown sugar by 1-2 tablespoons. **Make sure oats are certified gluten-free to have a gluten-free muffin.
More healthy and flourless snacks:
Pumpkin Chocolate-Chip Cookies
Skinny Peanut Butter, Chocolate, & Banana Muffins