Easy spice-rubbed grilled BBQ chicken rice bowl. This BBQ chicken can stand on its own OR serve it with cilantro-lime rice, black beans, corn, cheddar cheese, avocado, tortilla strips, and an addictive spicy-sweet BBQ sauce. This is a meal you'll want to make over and over again!
Make this grilled BBQ chicken as a standalone chicken dish or in a BBQ chicken rice bowl. This recipe is great for weekly meal prep or a makes for a delicious dinner served alongside roasted brussel sprouts or roasted carrots.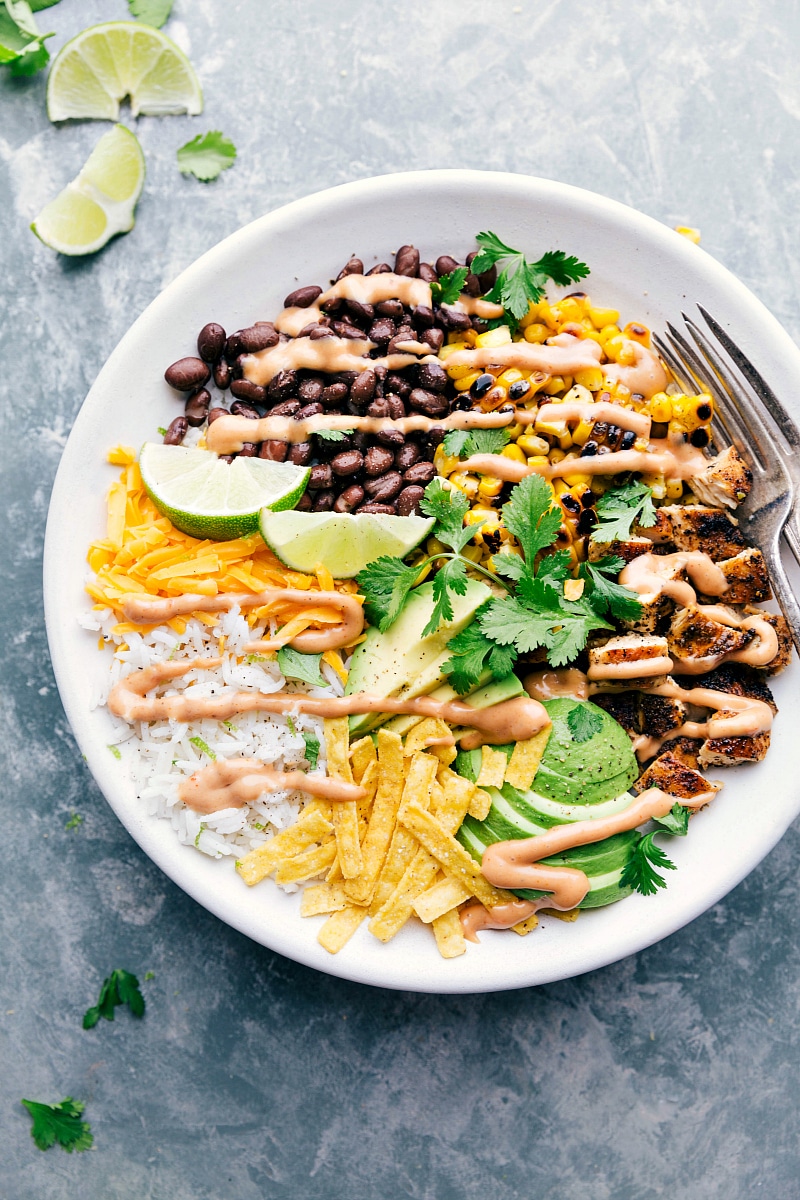 I'm obsessed with this easy chicken dinner recipe! It's one of those meals that tastes like you've slaved in the kitchen all day long, when in reality, it can be prepared in 30 minutes or less. An easy chicken rub, a 2-ingredient BBQ sauce, simple cilantro lime rice, and a few quick toppings! Let's dive right in 🙂
This grilled BBQ chicken rice bowl is easy to make and the preps flows nicely. Here's a quick overview of the process:
How to make this chicken rice bowl
Rice: start the rice going first. We're making a simple cilantro lime rice for these bowls!
Prep the chicken: toss together the seasonings, drizzle some oil on the chicken, and then pat the mix on all sides of the chicken. Make sure to slice the chicken breasts in half or pound them into even pieces before adding the seasoning blend. This ensures even cooking and that every part of the chicken is deliciously seasoned!
Cook: use an outdoor grill, indoor grill pan, or skillet to cook the chicken. More directions for alternate cooking methods/tips below.
Sauce: whisk together the tastiest 2 "ingredient" sauce and drizzle all over. Alternatively you can just add plain BBQ sauce to your grilled BBQ chicken!

Sauce note: I'm not often a proponent of store bought dressings because I think homemade dressings are relatively quick to make, they're more economical, and they're far tastier. HOWEVER, today, we're going for few ingredients + fast prep so we're grabbing a store-bought dressing (Jalapeño Ranch; pictured below) and store-bought sauce (BBQ sauce). And it just works. This two ingredient sauce is the perfect complement to the veggies and beans, has the perfect amount of kick & sweetness – and best of all – it's

FAST

.

Toppings/Assembly: rice first, chicken next, then your choice of toppings (such as cheddar cheese, black beans, roasted corn, avocado or guac, and tortilla strips), and finally that easy 2 ingredient sauce. How easy is that chicken rice bowl to make?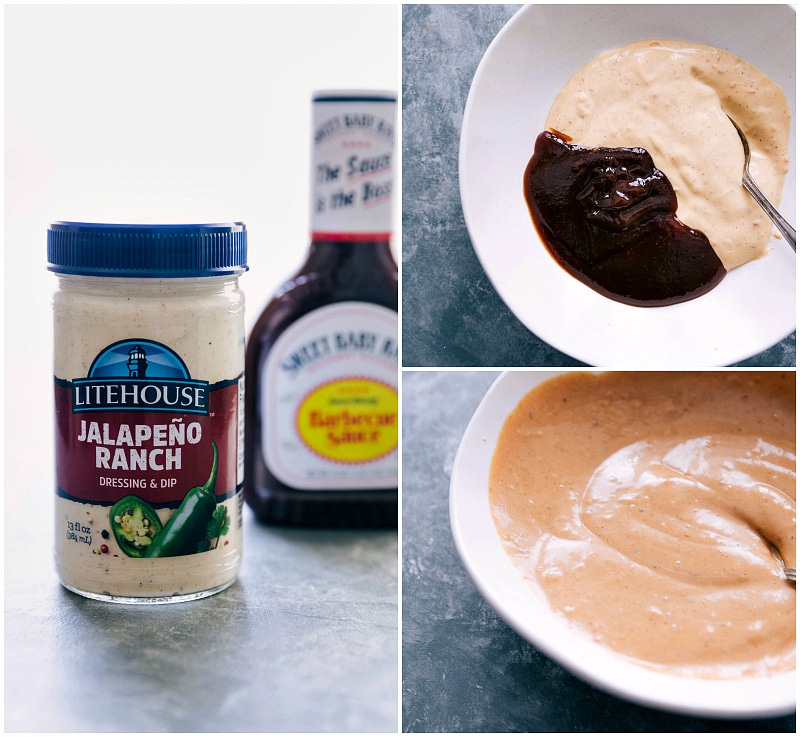 Chicken grilling tips
Generously oil your grill grates. I do this by rolling up a few paper towels, drenching them in oil (canola or vegetable), and using tongs, rub the drenched paper towels along the grill grates. Doing this will contribute to a beautiful sear, and ensure the chicken doesn't stick to the grates.
Fully preheat your grill. I know it's hard to wait, but adding meat to a fully preheated grill will sear the surface of the meat which will give you a juicier chicken. It also allows the chicken to get a great char.
Let the cooked chicken rest, tented with foil, for 5-10 minutes before cutting in. This allows a redistribution of the juices inside the chicken.
Not grilling the chicken? Check below for alternative cooking methods.
Alternate chicken cooking methods
Cooking times will vary depending on several factors so I always recommend using a thermometer to test your chicken as it cooks. Aim to hit 165 degrees Fahrenheit. (Undercooked = unsafe; Overcooked = dry chicken)
Baked Chicken: Preheat oven to 450 degrees F. Place chicken on a baking sheet (do not cut breasts in half for this method) lined with parchment paper. Bake for approximately 15-18 minutes, flipping the chicken halfway. Remove from the oven, and loosely cover sheet pan with foil. Let the chicken rest for 5-10 minutes.
Sauteed Chicken: Heat 1 tablespoon oil in a sauté pan over medium-high heat. Add (horizontally halved) chicken breast and cook for 4-6 minutes per side until the chicken is cooked through and the juices run clear. As you saute the chicken, brush it generously with the reserved marinade. Transfer the chicken to a clean plate, and loosely cover with foil. Let the chicken rest for 5-10 minutes.
Variation Ideas
Add roasted (or grilled) corn instead of canned or frozen corn
Use guacamole in place of the avocado
Add roasted or raw bell peppers (see: how to cut a bell pepper)
Use just BBQ sauce in place of the 2 ingredient sauce
Try making a homemade BBQ sauce if you're feeling ambitious! (Recipe here)
Make it vegetarian: toss sweet potatoes in the chicken seasoning mix and use them in place of chicken (tutorial on roasted sweet potatoes here).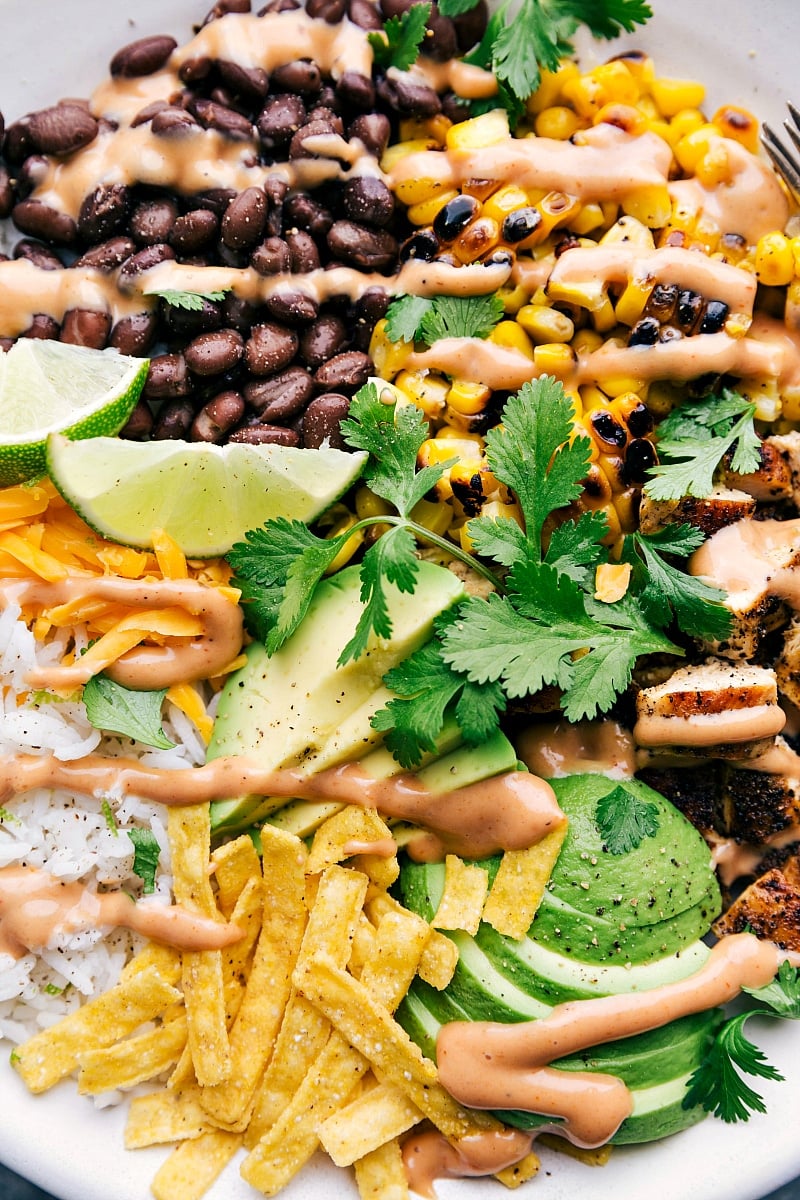 Other recipes you'll love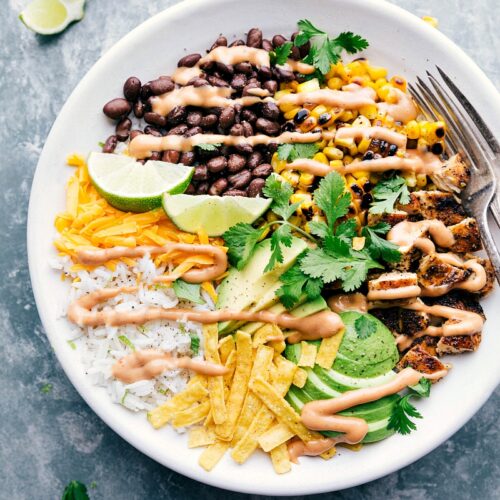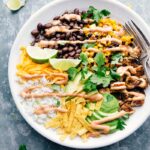 Grilled BBQ Chicken Rice Bowl
Easy spice-rubbed grilled BBQ chicken in a delicious burrito bowl style meal. This BBQ chicken can stand on its own OR serve it with cilantro-lime rice, black beans, corn, cheddar cheese, avocado, tortilla strips, and an addictive spicy-sweet BBQ sauce. This is a meal you'll want to make over and over again!
Keyword:
grilled bbq chicken
Ingredients
Chicken
Olive oil

2

large

boneless skinless chicken breasts

(~1.3 pounds total) (can use thighs!)

1/2

tablespoon EACH:

fine sea salt, light brown sugar

3/4

teaspoon EACH

pepper, chili powder, sweet paprika

(Note 1)

1/2

teaspoon EACH:

garlic powder, onion powder, cumin

BBQ sauce

Fine sea salt and freshly cracked pepper
Cilantro Lime Rice
1

cup

white basmati rice

2

cups

chicken broth, stock, OR water

1

large lime

2-3

tablespoons

chopped cilantro
Toppings
1

can (15 ounces)

black beans,

drained and rinsed

1

can (15 ounces)

fire-roasted corn,

drained and rinsed (Note 4)

1

large avocado,

diced or thinly sliced

1/2

cup

freshly grated sharp cheddar cheese

1/2

cup

tortilla strips

Additional limes/cilantro
Sauce
3/4

cup

jalapeno ranch dressing

(Note 2)

1/4

cup

BBQ sauce
Instructions
RICE: Cook rice in chicken broth, stock, or water. Once cooked, fluff with a fork and add the juice of a lime (to taste; I add all of it) and cilantro to taste.


CHICKEN: Remove excess fat from the chicken breasts. Slice the breasts in half horizontally, cover with plastic wrap (avoid splatter), and pound halves to an even thickness using a meat mallet or the bottom of your frying pan (this helps them cook evenly) Add the salt (if you are using table instead of kosher salt, you'll need to reduce amount; also reduce if sensitive to salt), brown sugar, pepper chili powder, paprika garlic powder, onion, powder, and cumin to a small bowl. Stir. Pat chicken dry with a paper towel, drizzle with oil (use a silicone or pastry brush or your hand to evenly spread the oil) and then sprinkle and gently press this seasoning mixture evenly onto all sides of the chicken pieces.

Preheat a grill or grill pan to medium-high heat (about 400 degrees F.) (Note 3.) Generously oil the grill or ridges of grill pan (I drench a rolled-up paper towel in vegetable oil and, holding it with tongs, rub it over the grill grates.)

Place the chicken onto the grill and grill 5 to 6 minutes per side, until the chicken is cooked through (registers 165 degrees F on a food thermometer and juices run clear). Remove the chicken from the grill and let rest for 5 minutes, tented with foil. Chop the chicken into small, bite-sized pieces. If desired, baste chicken with additional BBQ sauce as it cooks OR toss it in BBQ sauce after you've chopped it into bite-sized pieces. (Add additional BBQ sauce to personal taste preference.)

ASSEMBLY: Separate the rice and chopped chicken into 4 separate plates or bowls. Add your favorite toppings evenly among the bowls (we add drained and rinsed black beans, drained corn, avocado, cheddar cheese, and tortilla strips. Whisk together the jalapeno ranch dressing and BBQ sauce and spoon/drizzle over bowls (Add as much or as little of this sauce as you want; we love a lot of sauce!) Serve bowls with a few lime wedges and sprigs of cilantro if desired.
Recipe Notes
Note 1: for a smoky flavor use chipotle chili powder and/or smoked paprika
Note 2: I find the jalapeno ranch dip in the refrigerated area of the produce section of the grocery store. (See post for the product photo of what I used). Spicy ranch also works here, but is quite a bit spicier.
Note 3: for alternate cooking methods check "Alternate chicken cooking methods" in the blog post.
Note 4: Alternatives to canned corn: sauté (drained or completely thawed out) corn kernels in a preheated large cast-iron skillet 3 to 5 minutes, stirring constantly, until kernels are lightly charred over high heat. Remove to let cool completely before adding. Alternatively, grill cobs of corn, let cool completely, and then slice off the cob. To grill corns on the cob: peel back husks and remove silk. Rub oil on all sides of the corn and lightly salt and pepper. Place on heated grill (400 degrees F) and rotate every 3-4 minutes or until charred. Remove let cool and then slice off the cob.