Special thanks to the Cherry Marketing Institute for sponsoring this post. As always, all opinions are my own.
A simple-to-make skillet tart cherry crisp. This crisp requires a fraction of the effort required to make a cherry pie and tastes even better!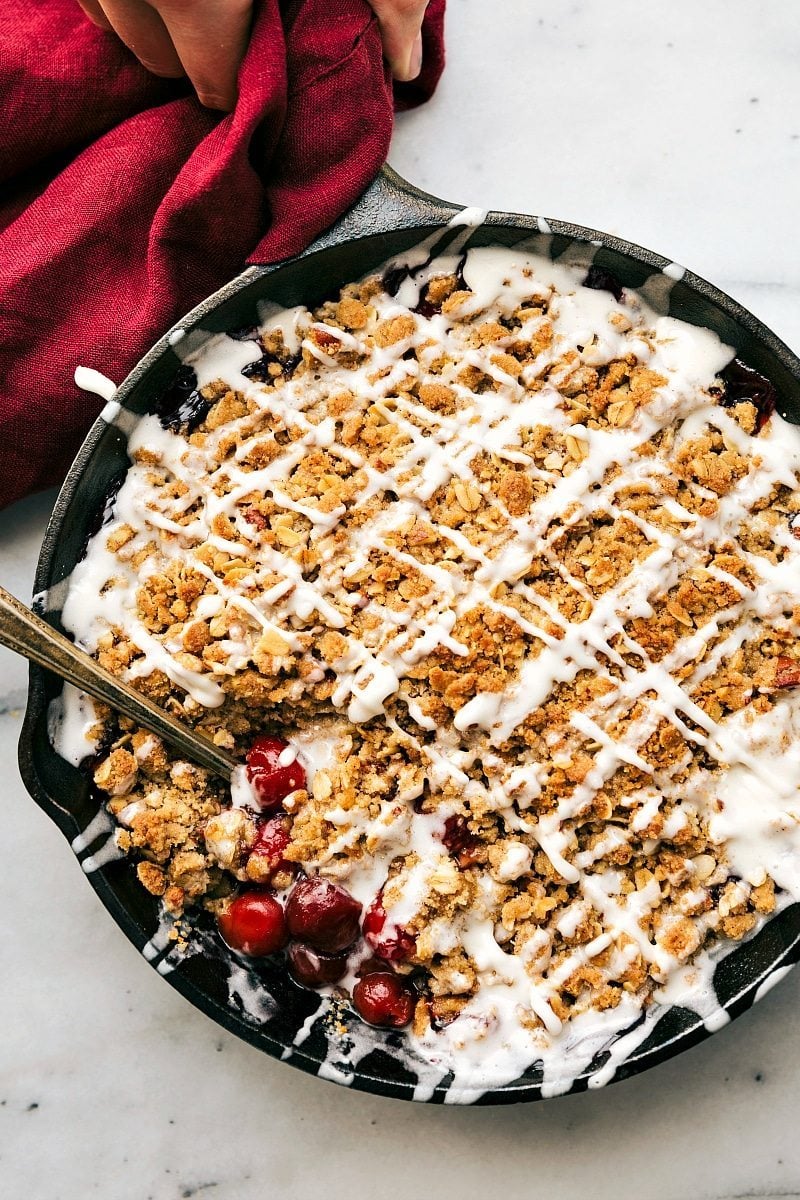 For the past few months, the toddler has referred to himself in third person. Lately, he's been learning how to properly use "me, mine, I, you, yours, ours" etc. He still hasn't quite learned the difference between "me" and "mine" and usually will say "mine" when referring to himself.
The other day the toddler ran into the other room where I was with the baby. He was screaming frantically, yelling "I broke mine bum."
It took him a few times to say that before I understood what he was actually saying. But it turns out he fell down on his bum and was convinced he had broken it. A few minutes to calm down and five or so band-aids and he was miraculously healed.

When his dad came home that night and asked him what he had done that day he said very matter-of-factly, "I broke mine bum, dad" and "I made treats with mom". The husband burst into laughter which completely confused the toddler. How could someone laugh at such a serious injury?!
The toddler then asked for his dad to kiss it better. ?
Aaaaannd that's when I suggested we eat the treat we had made earlier — skillet Montmorency tart cherry crisp to be exact.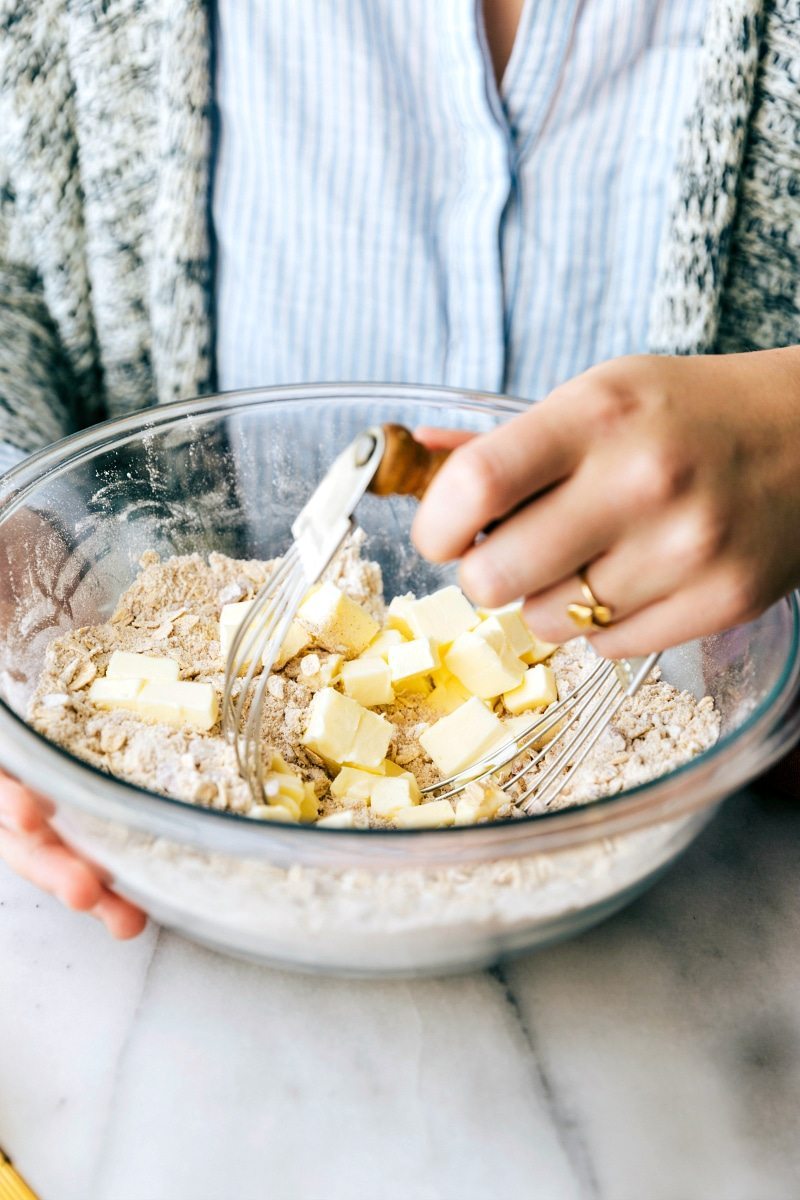 I've mentioned it a few times, but pie is hands down my husband's favorite dessert. Pies don't rank at the top of my list (chocolate is where it's at!), but, top a pie with an oatmeal crumble and it definitely has climbed the ladder to top desserts. I love a thick oatmeal crumble on top of fruit!
The husband ranked this as the very best cherry pie he's ever had, and I'll admit it has been my favorite one as well!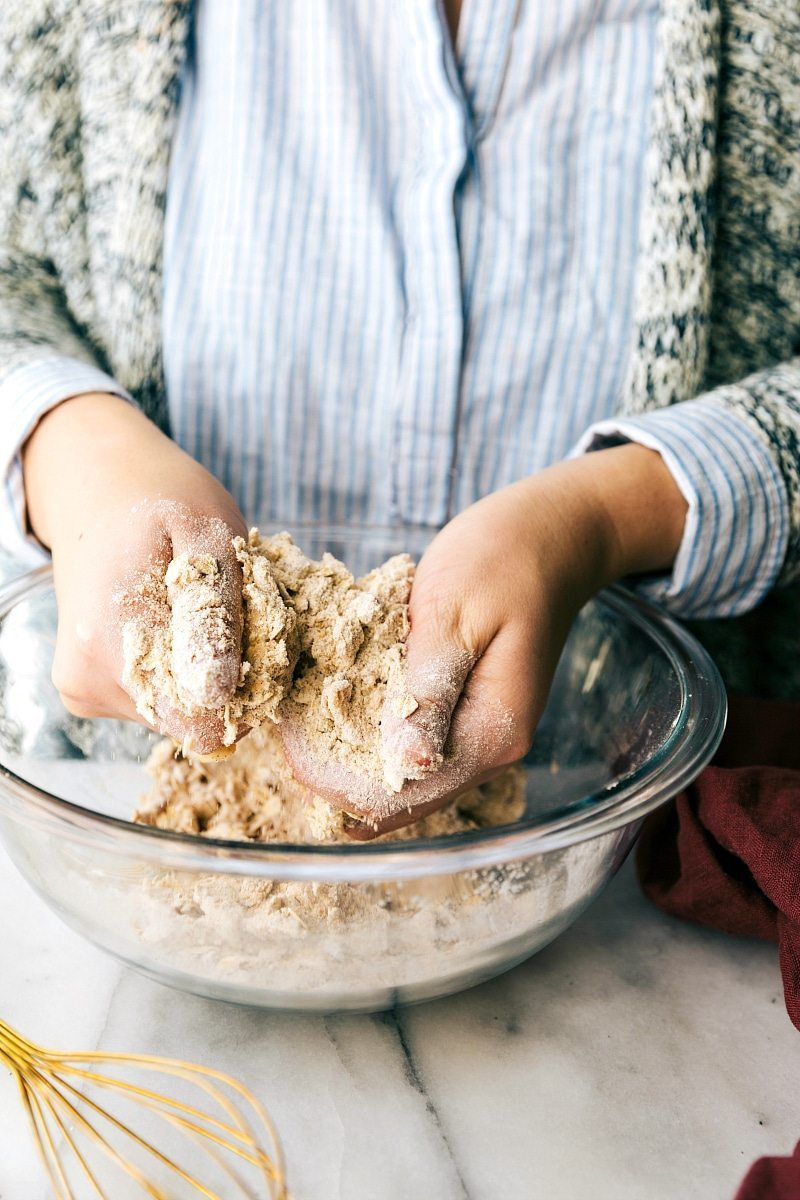 Tart cherries make the absolute best pie filling — they are my favorite fruit in a pie! And I honestly can't think of a better holiday dessert than this tart cherry crisp. It's wonderful for entertaining both because it tastes fantastic and displays beautifully. It's a next generation cherry pie that everyone will love — the maker of the crisp (hello SO much easier and quicker than dealing with pie crusts) and the eaters of the crisp!
Obviously, the cherries you use in this crisp are very important since they are the base of this pie. I'm using Montmorency TART Cherries (must be tart!) which are the most common variety of tart cherries grown in the U.S.
Montmorency tart cherries are a super fruit known for their distinctive sour-sweet flavor (SO delicious in this pie) and their unique nutrient profile. The tart taste you get from these cherries is because of the anthocyanins inside. These compounds are responsible for the sour flavor, color, and various health properties. My favorite health property? Tart cherries are one of the few natural sources of melatonin a hormone that regulates the body's internal clock. Tart cherry juice has been linked to improved sleep quality and duration. With two seriously active boys (I mean, come on, one is already breaking his bum!) I seriously need good sleep haha!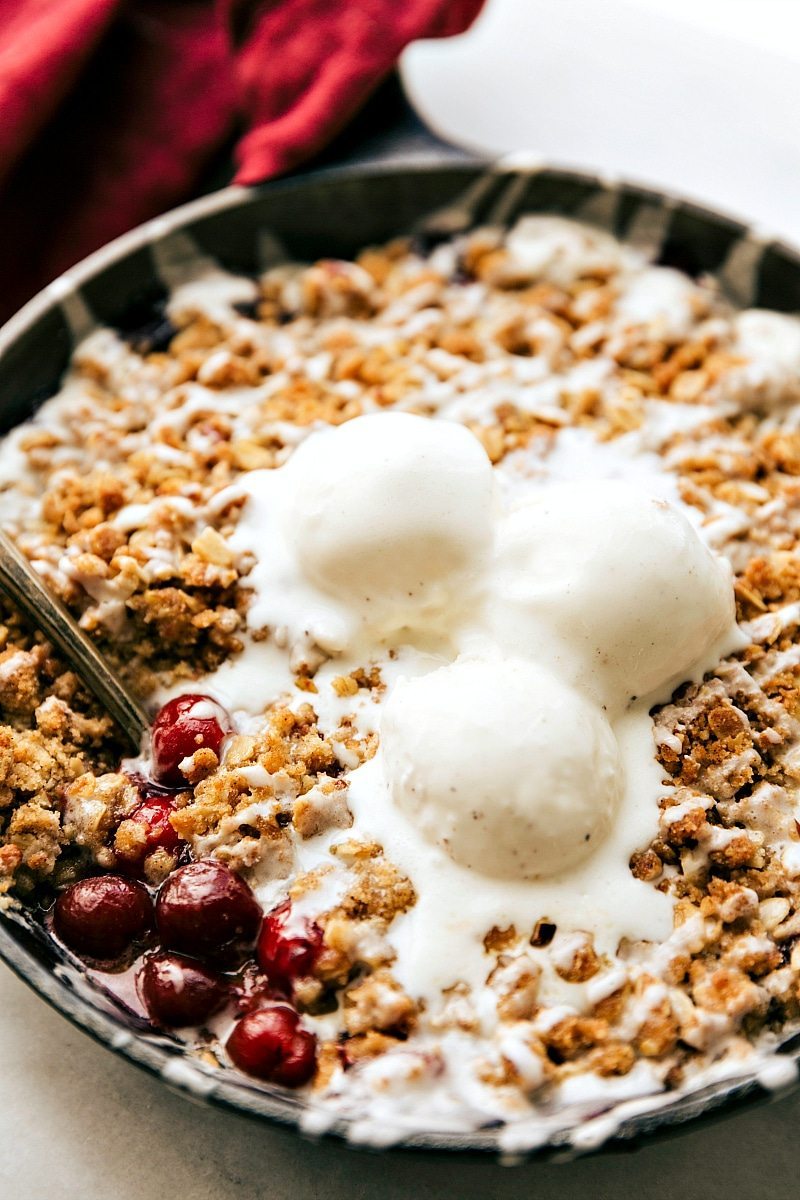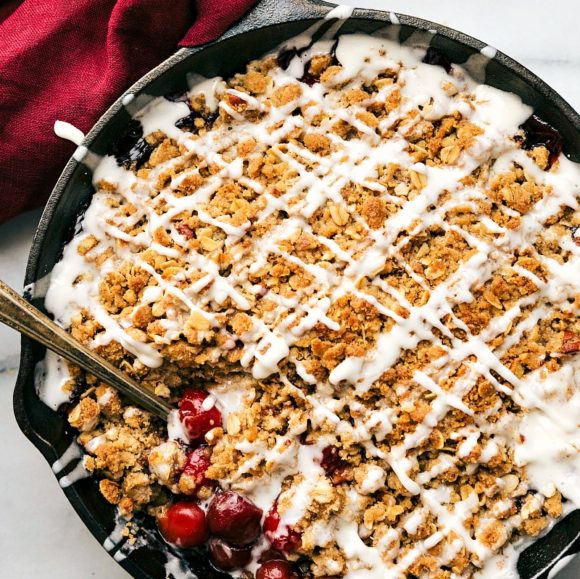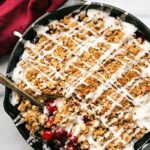 Easy Skillet Montmorency Tart Cherry Crisp
Ingredients
Cherry Filling
4

cups

frozen Montmorency tart cherries

completely thawed

1 - 1.5

cups

white sugar

1/4

cup

cornstarch

1/4

teaspoon

salt

1

teaspoon

fresh lemon juice

1

teaspoon

vanilla extract

1/8

teaspoon

almond extract
Crumble Topping
1/2

cup

white flour

1/2

cup

old fashioned oats

2/3

cup

brown sugar

lightly packed

1/4

teaspoon

salt

3/4

teaspoon

ground cinnamon

1/4

teaspoon

ground nutmeg

1/4

cup

finely chopped pecans

1/3

cup

unsalted butter

at room temperature
Cherry Crisp Topping
1

cup

powdered sugar

1-2

tablespoons

heavy cream

Vanilla bean ice cream
Instructions
Set out the tart cherries in a strainer in the sink until completely thawed. Shake off all excess liquid and place in a large bowl.

Add in the sugar, (this is to taste depending on preference and tartness of the cherries you are using; I generally always do the full 1 and 1/2 cups to balance the tart) cornstarch, salt, lemon juice, vanilla, and almond extract. Toss gently to combine and set aside while making the crisp.

Preheat the oven to 350 degrees F.

Lightly grease an 8 inch cast-iron skillet.

In another large bowl, toss together the flour, oats, brown sugar, salt, cinnamon, nutmeg, and chopped pecans.

Cut the butter into small cubes and then cut that butter into the mixture. Use your fingers to work the butter into the mixture until a thick "dough" has formed.

Using a slotted spoon, spoon the cherry filling into the bottom of the skillet and throw away the leftover juices in the bottom of the bowl. You don't want the filling too liquidy because it will become more liquid while being baked so get rid of most of the extra liquid.

Top the cherry filling evenly with the crumble. You'll only need about 90% of the crumble and the rest you can eat or discard 🙂

Place the skillet on a baking sheet (in case anything spills over) and in then in the oven.

Bake for 35-40 minutes or until lightly golden brown on top.

Remove and allow to slightly cool.

While it's baking, make the glaze: add the powdered sugar to a bowl and slowly beat, with hand mixers, in the heavy cream. Add the cream just until a thick glaze forms.

Transfer the glaze into a small plastic bag and cut off the tip. Pipe the glaze over the crisp.

Serve the crisp topped with plenty of vanilla bean ice cream!