Easy, 30-minute (including bake time!) cinnamon roll cherry danishes. Only FIVE ingredients needed!
video tutorial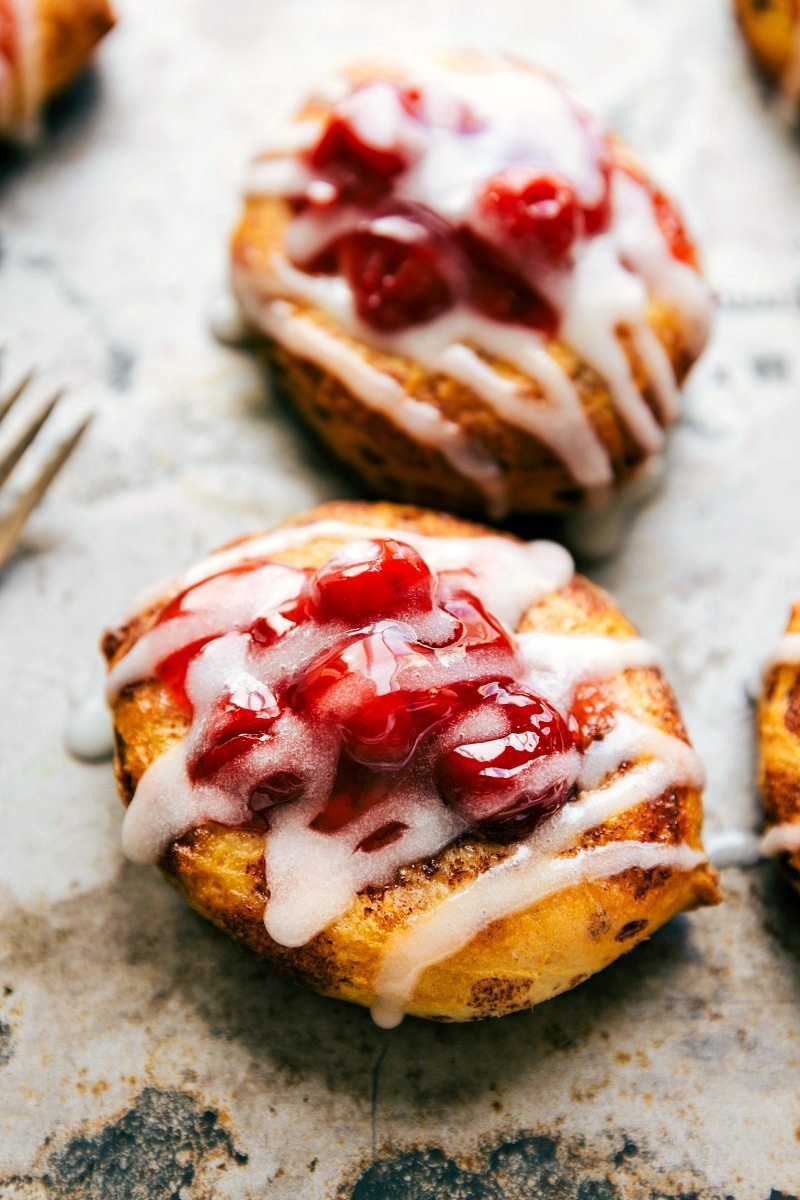 Growing up, our family's Christmas morning always started with breakfast. (Breakfast that was more dessert, but still…?) Since we were up at a ridiculously early hour each year, my mom's go-to breakfast she'd make for us had to be quick. Every single year that I can remember we had canned cinnamon and orange rolls with a homemade Orange Julius smoothie.
We loved the cinnamon rolls and raved over the smoothie. And, I still love both of them!
While there is nothing quite like a hot, fresh-out-of-the-oven, homemade-from-scratch cinnamon roll, the canned ones aren't too bad. And especially considering the effort required to have them out on the table.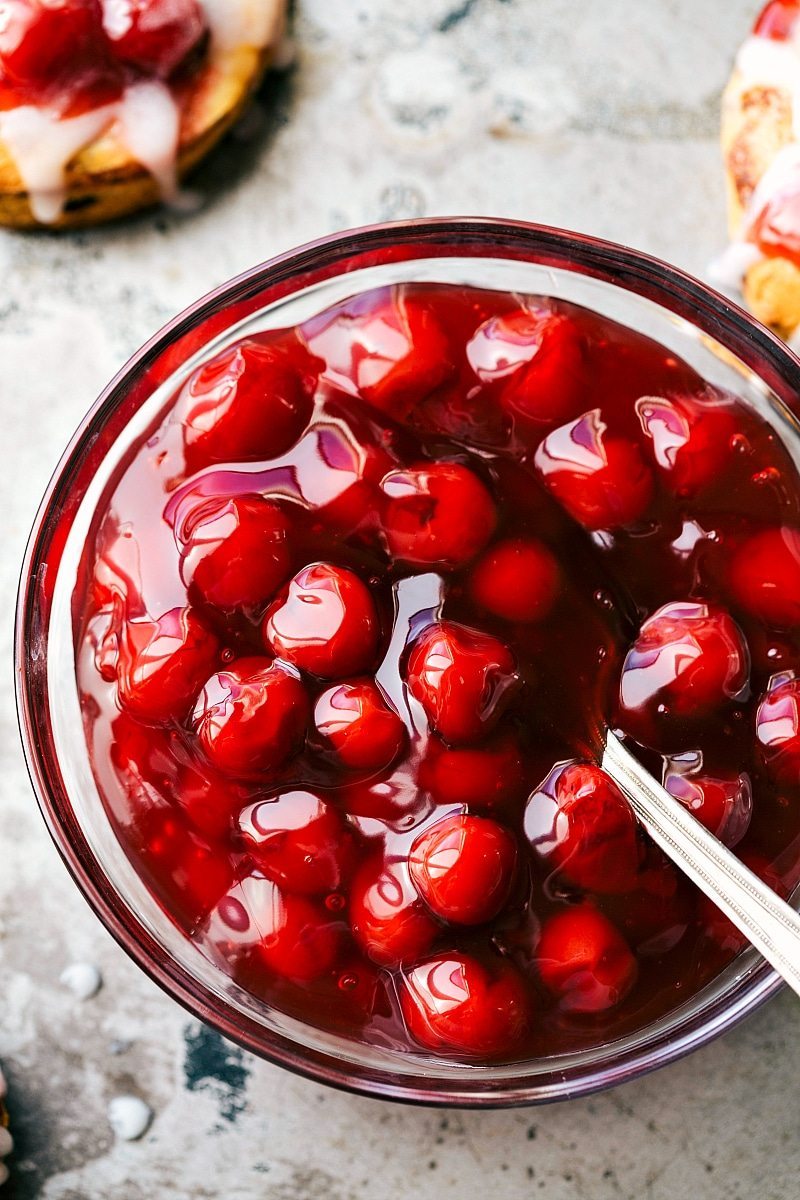 That said, you top a canned cinnamon roll with a cream cheese mixture and cherry pie filling, and I'd pick that over homemade-from-scratch cinnamon rolls any day!
And that is just what these are — sugared cream cheese + cherry pie filling topped cinnamon rolls. These "cheater" quick cherry danishes are CRAZY good. And equally easy!
I use Lucky Leaf Cherry fruit filling and topping for these danishes — spoon a tablespoon of the mixture over the cinnamon rolls and these are ready to be thrown into the oven. The cherry topping makes these danishes not only so pretty and festive for Christmas, but also completely changes the flavors and textures in all the best ways. For more delicious Lucky Leaf recipe inspiration, click here. Or for a complete product list of the premium flavors that don't use any high fructose corn syrup, click here.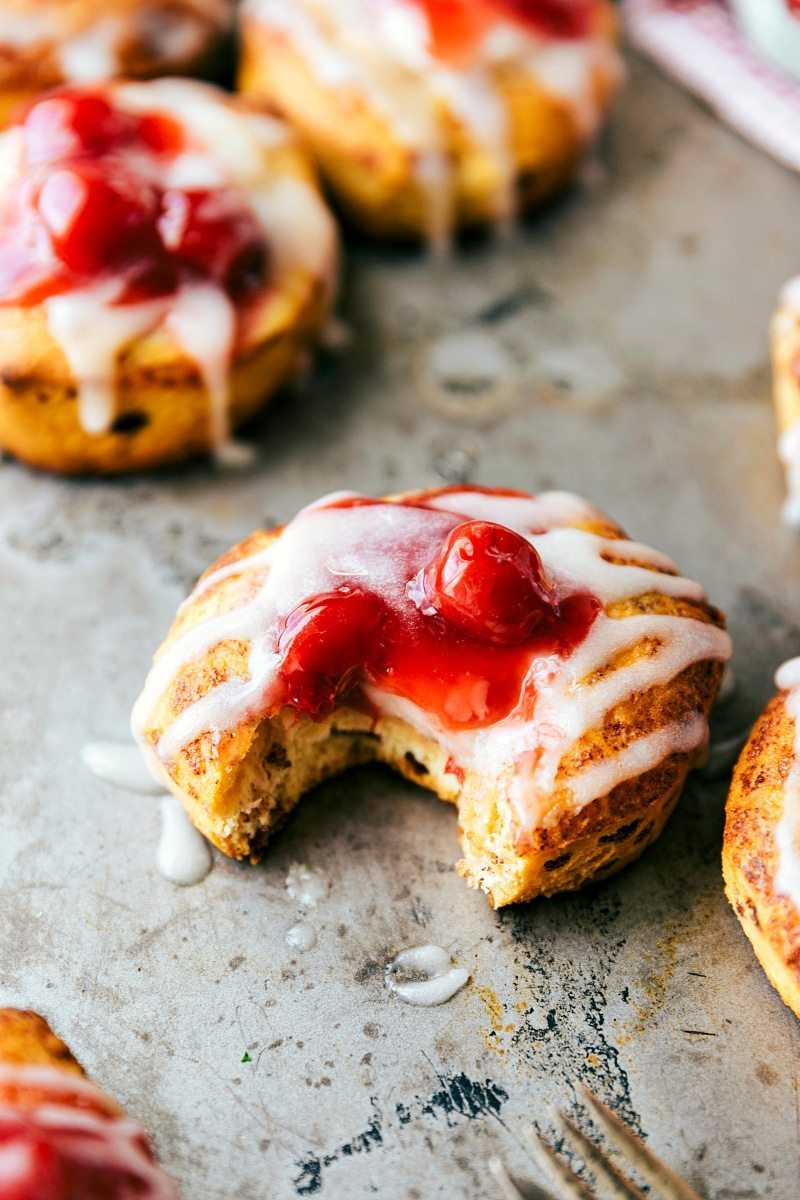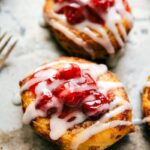 30-Minute Cinnamon Roll Cherry Danish Treats
Ingredients
2

packages (12.4 ounces EACH)

packaged cinnamon rolls

1

package (8 ounces)

full-fat cream cheese

softened

2/3

cup

white sugar

2

teaspoons

vanilla extract

1

can

Lucky Leaf Cherry Fruit Filling & Topping
Instructions
Preheat the oven to 400 degrees F. (Or follow cinnamon roll package directions).

Unroll the cinnamon rolls and place them an inch apart on a large baking sheet lined with parchment paper or a silpat liner.

Using the back of a tablespoon measuring spoon, press an indent into the center of each cinnamon roll.

In a small bowl, beat together the cream cheese, sugar, and vanilla until smooth.

Add a dollup of this mixture to each of the cinnamon rolls.

Then top each roll with a heaping tablespoon of the cherry pie filling.

Bake according to package instructions with the cinnamon rolls (9-12 minutes).

Remove and allow to slightly cool for about 1 minute.

Drizzle the icing included in the cinnamon roll package evenly over all of the cinnamon rolls.

Enjoy immediately.
Recipe Notes
The video tutorial shows this recipe halved 🙂 Recipe adapted from Hugs & Cookies XOXO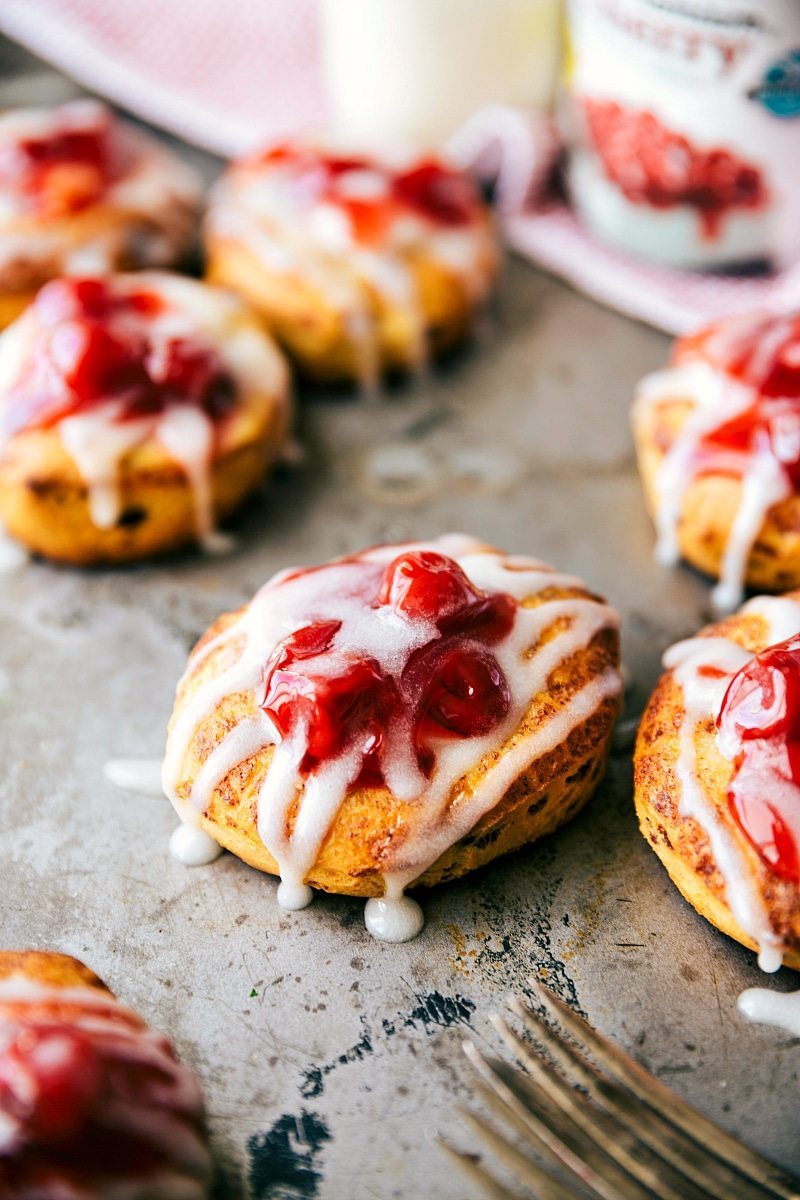 Special thanks to Lucky Leaf for partnering with me on this post! Thank you for supporting the brands that I love to use! Make sure to follow along with Lucky Leaf on Facebook, Twitter, and Pinterest!