Special thanks to the Cherry Marketing Institute for sponsoring this post. As always, all opinions are my own.
These homemade Tart Cherry Scones are packed with dried Montmorency tart cherries and a hint of almond flavor. Finish them off with a simple glaze. Yum!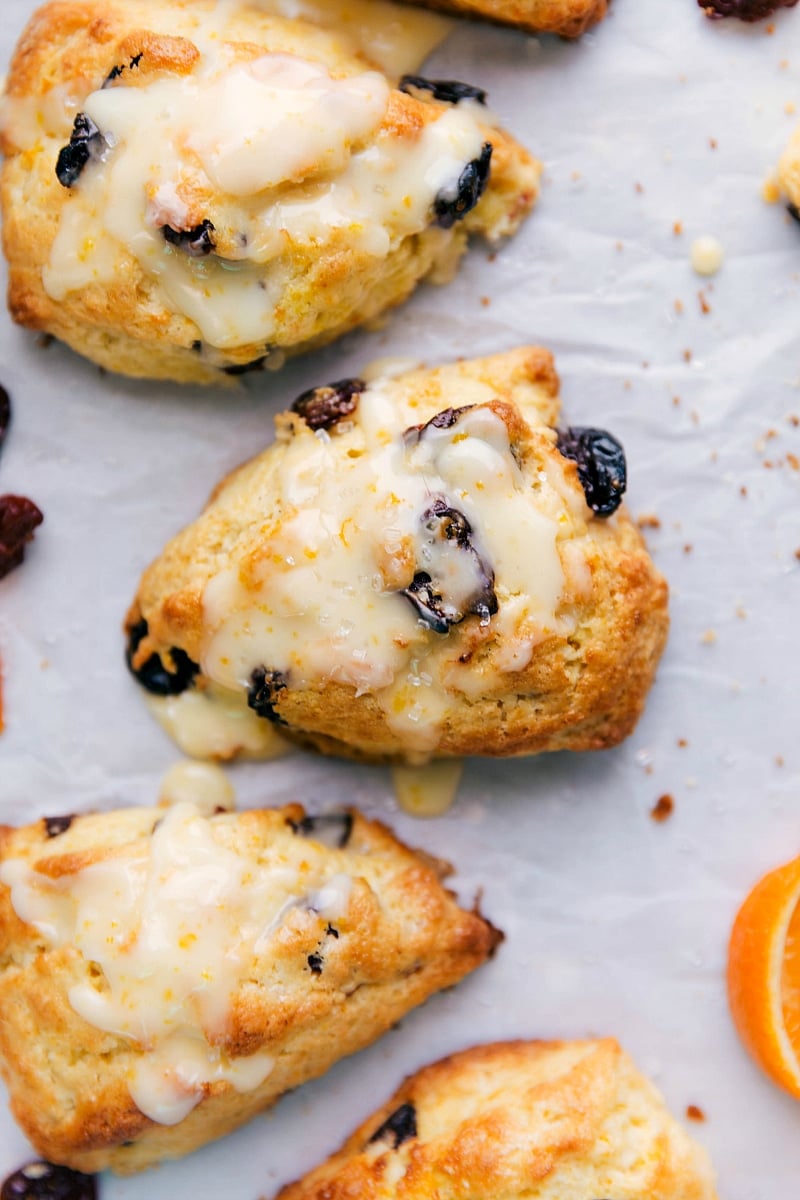 Tart cherry scones
I recently had the opportunity to tour Cherry Hill Farms in Santaquin, Utah. The family farm grows Montmorency tart cherries, which are one of my favorite superfruits. During the tour one of the farmers, Marc Rowley, told me about a homemade spiced bread he makes with dried tart cherries. I thought that was such a great idea, I wanted to try it out with these dessert scones!
And let me tell you, these tart cherry scones are incredible. They're crumbly, buttery, and speckled with plump bites of dried Montmorency tart cherries. I also love how dense they are while still maintaining that "melt in your mouth" quality. And the simple glaze on top balances the slightly tart and buttery scone perfectly.
Before I go into too much detail about the tour, I'm going to share how to make these scones and a few tips to ensure they come out perfectly every time. After that I'll be sharing all about the farm and this special homegrown superfruit. Be sure to watch the video to see just how beautiful tart cherry harvest is!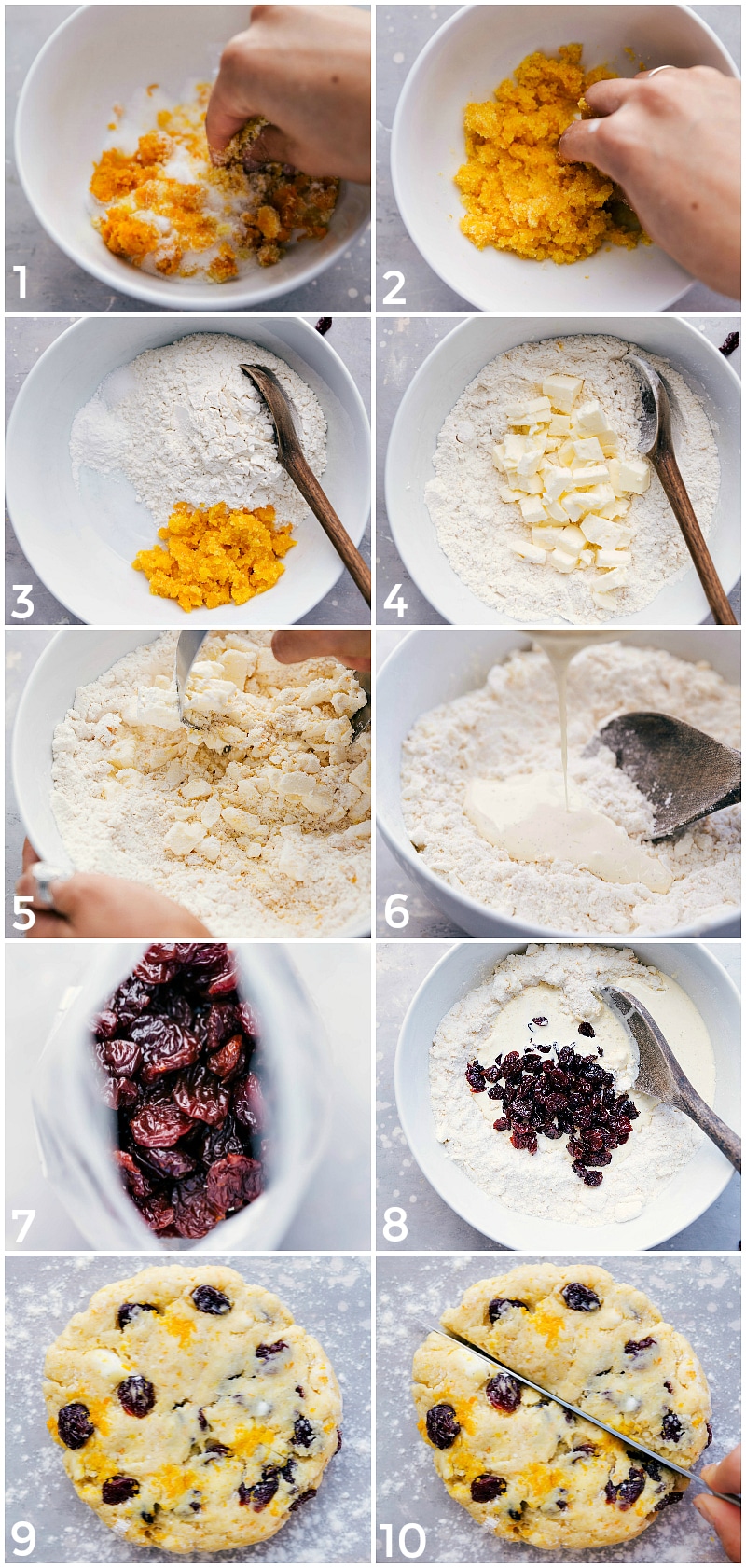 How to make tart cherry scones
Above I've broken up the steps for making these scones in picture form, and below is a description of what's happening in each photo.
Picture 1-2

: massage freshly grated zest into the sugar until the sugar is fragrant and steeped in orange oil.

Picture 3

: add sugar to the other dry ingredients; mix

Picture 4

: add small cubes of COLD butter to the center of the dry ingredients

Picture 5

: cut into the butter cubes until butter is evenly dispersed and pea sized

Picture 6

: whisk together vanilla extract, almond extract, heavy cream, & egg in a small bowl and pour into the dry ingredients/butter mixture

Picture 7

: delicious dried Montmorency tart cherries

Picture 8

: add tart cherries; mix

Picture 9

: gently form two 5-inch rounds of scone dough

Picture 10

: cut in half with a sharp knife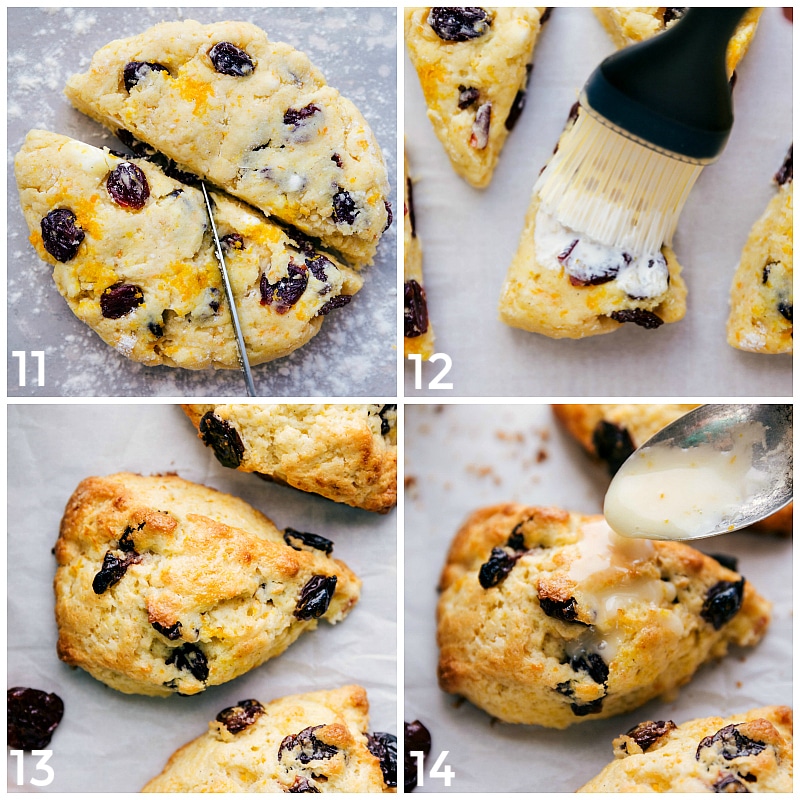 How to make tart cherry scones cont.
Picture 11

: cut halves into 4 wedges to get 8 scones per round (or 16 scones total)

Picture 12

: brush with heavy cream and sprinkle with sugar

Picture 13

: bake!

Picture 14

: spoon simple glaze over scones
Baking tips
# 1 tip:

keep the

butter

and

batter

as cold as possible! I chill the flour, freeze the butter after cutting it, and grab wet ingredients straight from the fridge. The colder your batter, the better your scones will be

Go easy on the kneading:

as soon as the dough comes together then STOP. A few bumps and lumps are good. Remember we want to keep the dough as cold as possible and the more you have your hands on the dough, the softer the butter will become.

Don't use a rolling pin:

doing this will flatten your scone dough too much; instead use your hands to work the dough into two 5-inch rounds.

When cutting out these scones

press a sharp knife straight down

— don't swivel, shimmy, or shake it! This is important for how they rise.

Let baked biscuits stand: once you pull the biscuits from the oven, let them stand on the sheet pan for about 5 minutes. The residual heat and steam ensures the insides are fully baked through.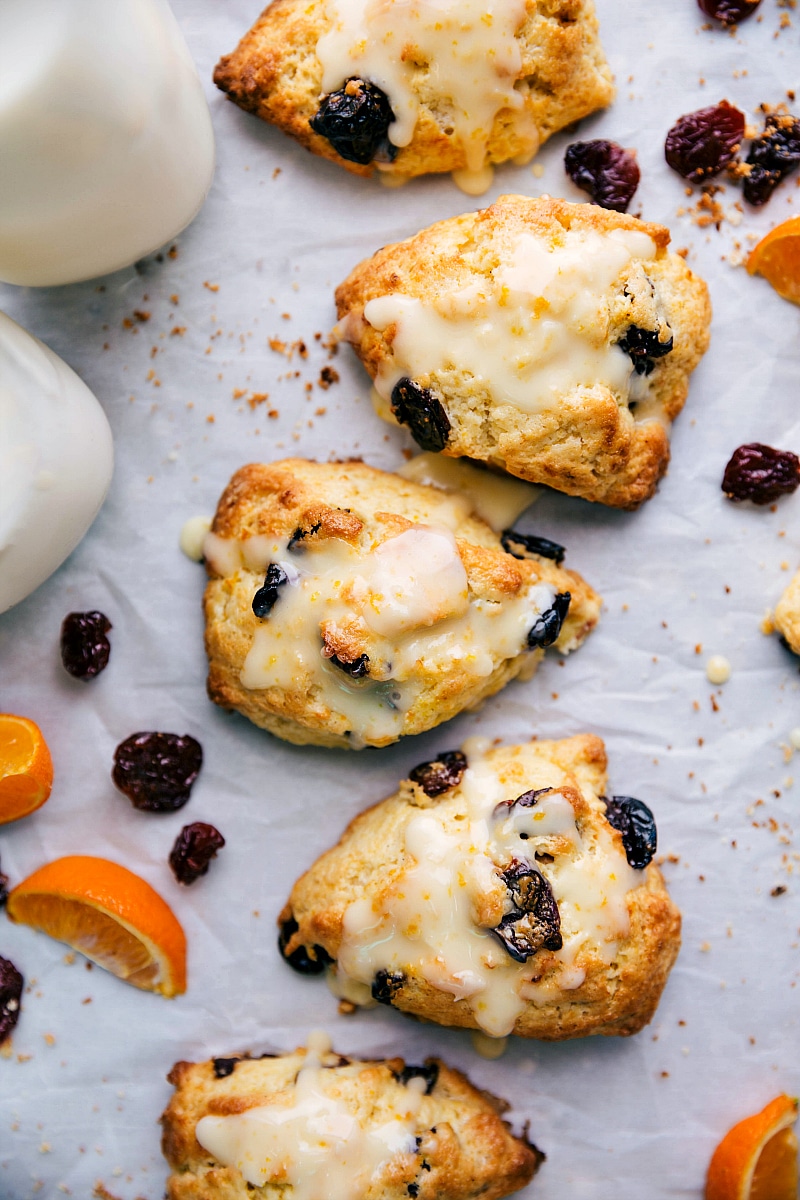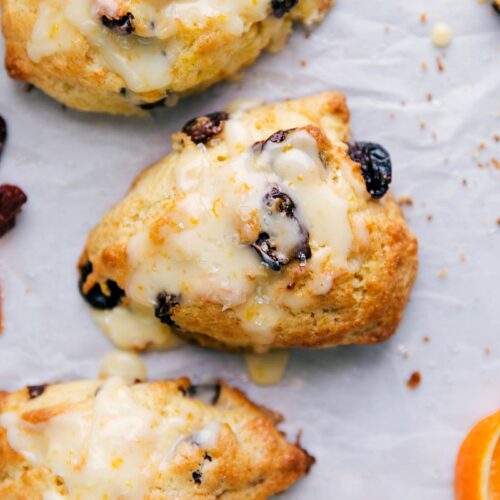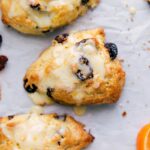 Tart Cherry Scones
Homemade tart cherry scones packed with dried Montmorency tart cherries, fresh orange zest, and a hint of almond flavor. These delicious scones are topped with a simple orange glaze.
Servings
:
16
miniature scones
Ingredients
Scones
8

tablespoons (113g)

unsalted butter,

cut into small cubes and then freeze

2

tablespoons

orange zest

(from 1-2 large oranges)

1/2

cup (103g)

white granulated sugar

2

teaspoons

baking powder

1/2

teaspoon

fine sea salt

2

cups (246g)

white, all-purpose flour

(measure by spooning and leveling)

1/2

cup + 2-3 tablespoons

heavy cream,

separated

1

large

egg

1

teaspoon

vanilla bean paste

(or regular vanilla extract)

1/4

teaspoon

almond extract,

optional

3/4

cup

dried tart Montmorency cherries

Optional: sparkling/coarse sugar
Glaze
1

cup

powdered sugar

2

tablespoons

freshly squeezed orange juice
Instructions
Number 1 tip: keep all the ingredients as cold as possible! Chill the flour in the fridge ahead of time if possible (10-20 minutes). BUTTER: Start by cutting the butter into small cubes. Place in the freezer to chill until needed.

DRY INGREDIENTS: in a large bowl, combine the orange zest and sugar. Rub the two together with your fingers until the sugar is fully infused with the orange zest. Add in the baking powder, salt, and flour. Whisk until ingredients are combined.

WET INGREDIENTS: in a small bowl whisk together the 1/2 cup of heavy cream, egg, vanilla paste or extract, and almond extract. Whisk until smooth.

ADD BUTTER: Add the frozen cubed butter into the dry ingredients. Using a pastry blender cut the butter into the scones until the butter is evenly dispersed and the size of small peas. Make a well in the center of the ingredients and pour the wet ingredients into the well. With a wooden spoon gently combine the ingredients until a dough begins to form. As soon as a dough begins to form, add in the dried cherries. Mix as little as possible -- just until everything is moistened and mostly combined.

FORM SCONES: very lightly flour a surface and pour the mixture onto the surface. With lightly floured hands, gently work (we want to handle the dough as little as possible while still getting it into a cohesive disc) the dough into a ball. (If the dough is too sticky, add a tiny bit more flour; if it is too dry add 1-2 tablespoons additional cream.) Press into a disc and cut exactly in half. Form each disc gently into a smaller disc about 5 inches wide. Chill the discs, wrapped tightly for 10 minutes in the fridge. Remove and cut (with a very sharp knife) each disc into 8 equal wedges. Try to cut each wedge in one decisive cut (don't shimmy the knife through the wedge). Place wedges on a parchment paper (or silpat) lined baking sheet, about 2 inches apart from each other. Pour remaining 2 (3 if needed) tablespoons heavy cream into a small dish. Using a pastry brush, brush the cream over the scones. Sprinkle with sparkling/coarse sugar if desired.

REFRIGERATE: Place the pan with the scones on them in the fridge and refrigerate for 20 minutes. Meanwhile, preheat the oven to 400 degrees F.

BAKE: bake for 17-25 minutes or until lightly golden brown around the edges and lightly browned on top. (Remember overbaking scones will make them less flavorful and a denser texture so watch carefully. Mine generally take right around 19-20 minutes.) Remove from the oven and cool for a few minutes on the baking sheet before removing, using a metal spatula, to a cooling rack.

GLAZE: Whisk together the glaze ingredients -- the powdered sugar and orange juice. Add additional juice for a thinner glaze as desired. Drizzle over COMPLETELY cooled scones. Let set and then enjoy.
Recipe Video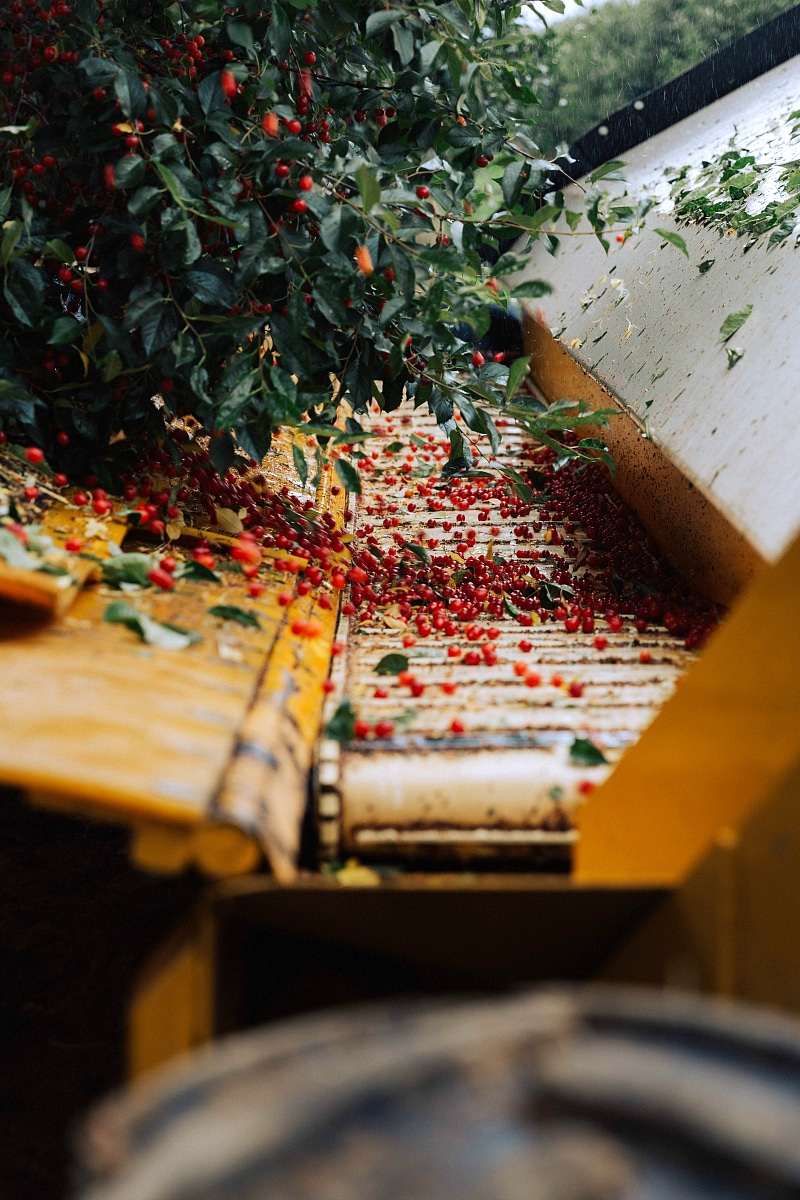 Montmorency tart cherry harvest
Now onto the tart cherry harvest! The Rowley's were so generous in letting me see their farm and learning a bit about their story. Montmorency tart cherries are unique because they're homegrown in the U.S on small family farms instead of boxed in containers and shipped around the world. This gives these cherries a local, fresh taste which I LOVE.
If you don't live in a tart cherry growing state like I do, you may not find tart cherries fresh. Because these fruits are so delicate they can't be shipped all over the United States. In fact most Montmorency tart cherries are processed within 24 hours into other forms such as frozen, dried, canned or in juice. So while you may not be able to enjoy them in their fresh, you can still get the flavor from what's available to you! Just another reason to travel to a tart cherry growing state and visit one of these farms for yourself.. If you don't see Montmorency on the label, you could be buying imported cherries. So I think it's important to support local farmers.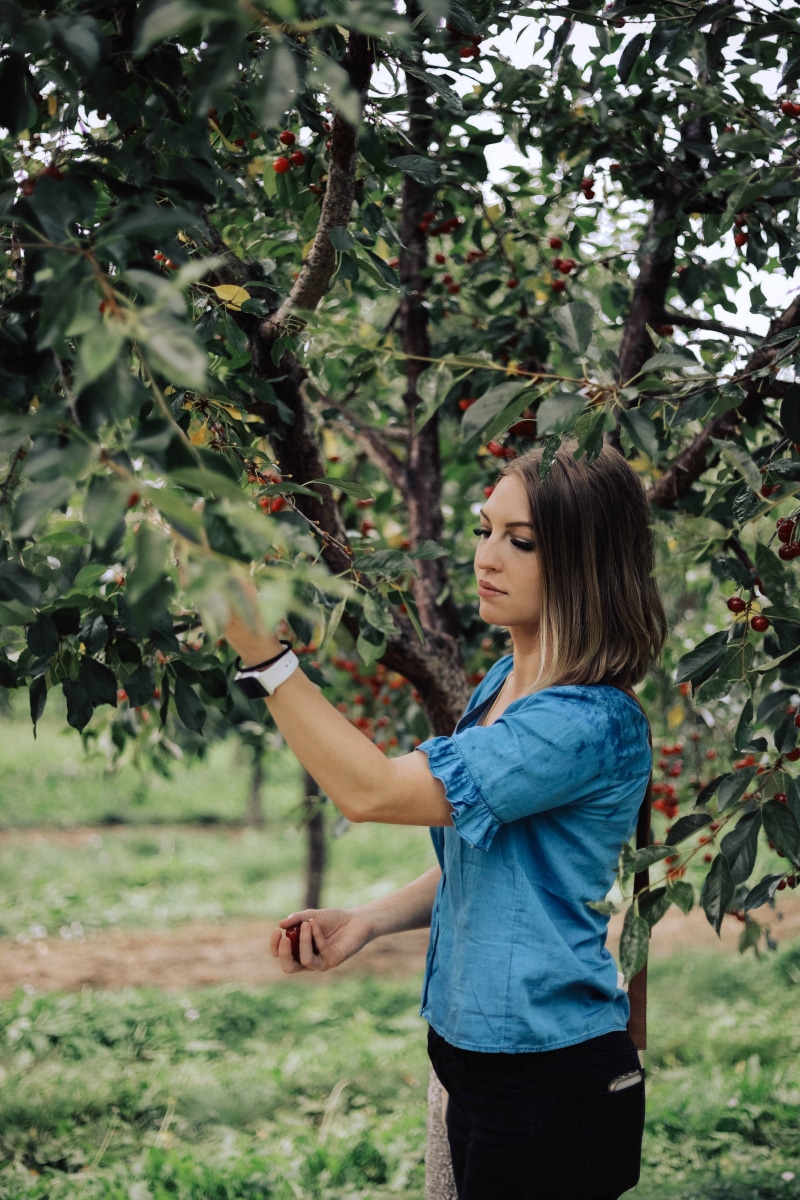 Cherry Hill Farms
Curtis and Marc Rowley are 4th generation tart cherry growers. Their great grandfather started the tart cherry farm in Utah many years ago, and it's still a family business.
And by a family business, I mean a family business! Only 1 of the 15 employees working the day I visited wasn't a member of the Rowley family. They shared how much they love working together and what the rich culture and history of the farm has done for their family.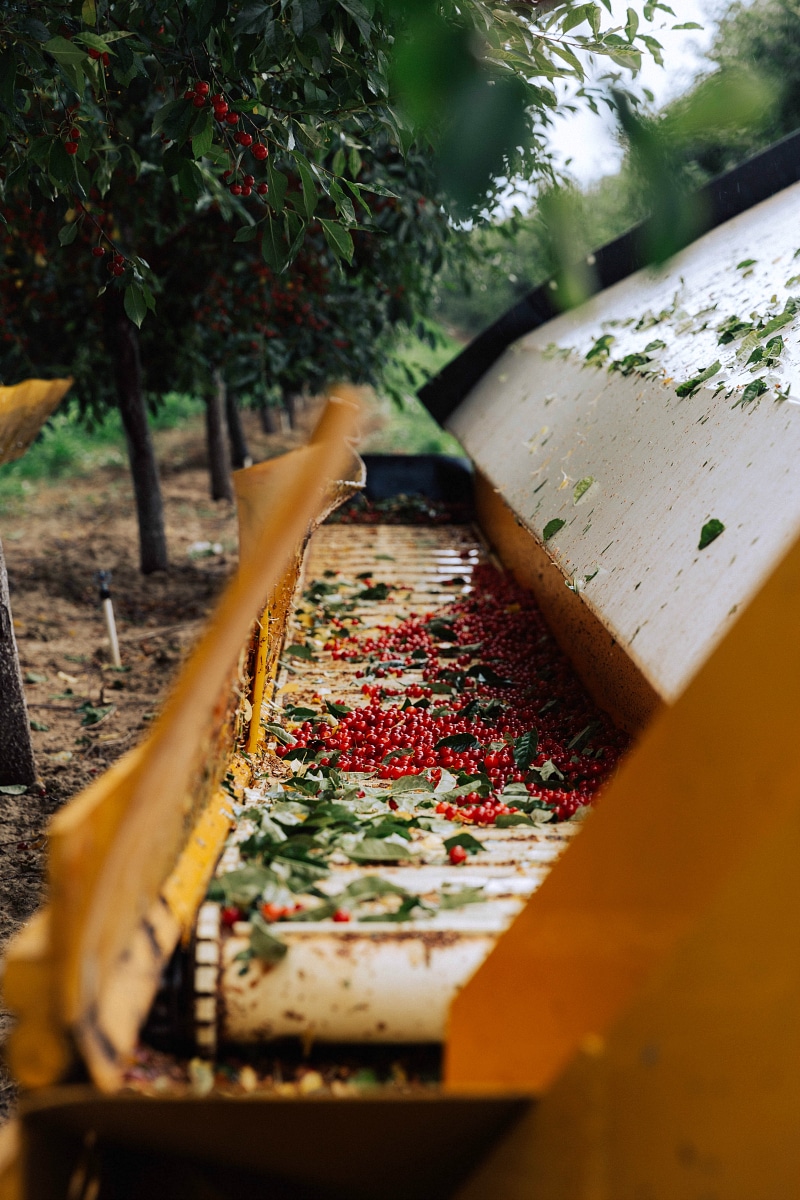 Health benefits
I mentioned that Montmorency tart cherries may have potential health benefits, in fact they are considered superfruits! They contain anthocyanins — a natural compound that contributes to the ruby-red color and distinctive taste. Scientific research has examined the impact of Montmorency tart cherries on exercise recovery, heart health, sleep and inflammation.
Unlike other superfruits, Montmorency tart cherries are available in a wide range of forms such as dried, frozen, canned, juice, or juice concentrate.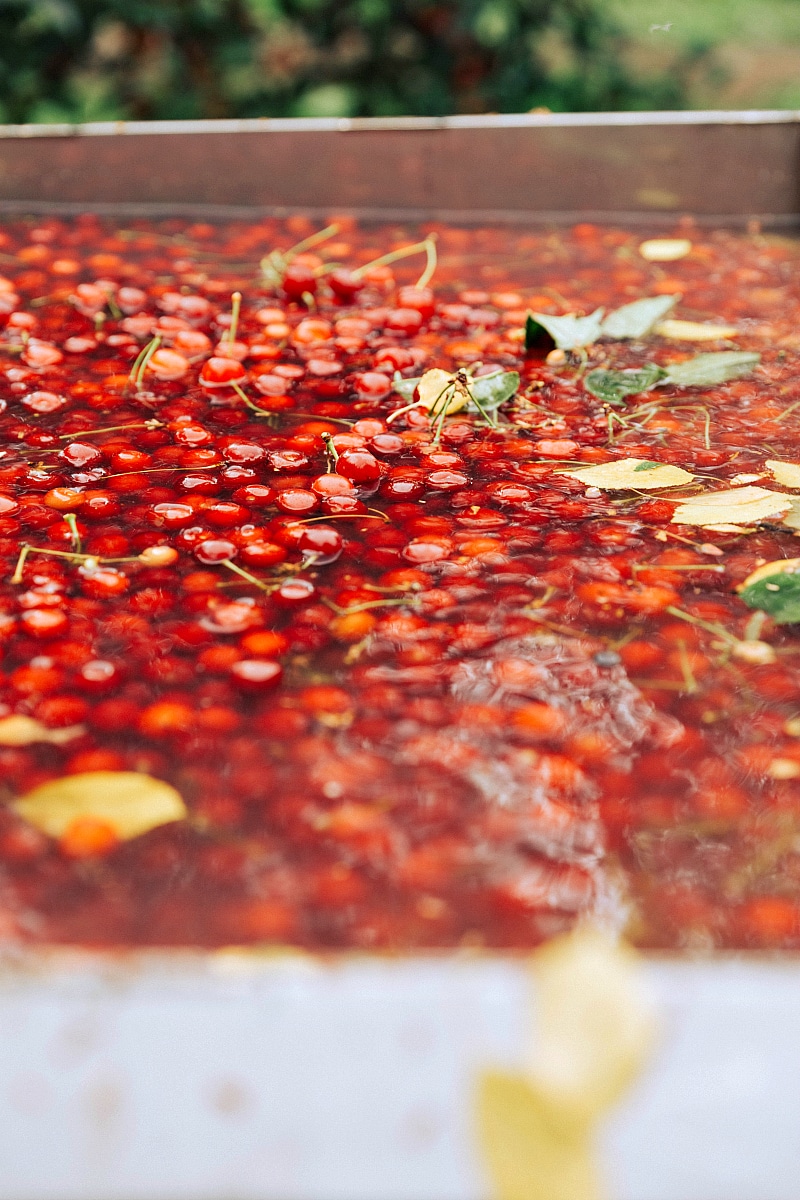 Enjoying tart cherries
Tart cherries are available in so many different forms and there are SO many different ways to enjoy them.
My family loves the dried tart cherries as snacks, in trail mix, and in salads. We love the juice concentrate in this tart cherry spritzer, or this sparkling cherry apple cider.
And we're obsessed with the fresh or frozen cherries in this tart cherry rhubarb crisp and spumoni ice cream bars. For lots more tart cherry recipes, be sure to check out choosecherries.com