A deliciously healthy broth-based chicken, quinoa, and butternut squash soup made simple in the slow cooker.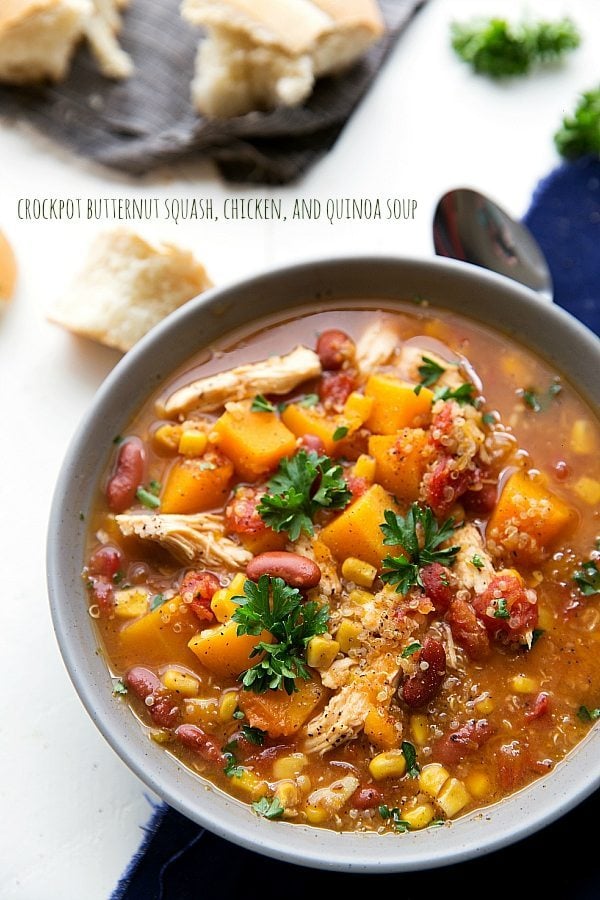 Last year I created this sweet potato, quinoa, and chicken soup and it quickly became a staple for the winter in our home. It's insanely easy and super flavorful. It has gotten great reviews and I've absolutely loved what you all had to say about it. <3
In efforts to try some different veggies and a slightly different flavor I've changed up that original soup to bring you this creation. It's SO similar to the sweet potato one that I wasn't sure if I should even post it. But the flavors ended up being different enough that I thought some of you may like to try it! As similar as butternut squash and sweet potatoes are, to me they are pretty different. Just having the squash changes the flavor and texture quite a bit.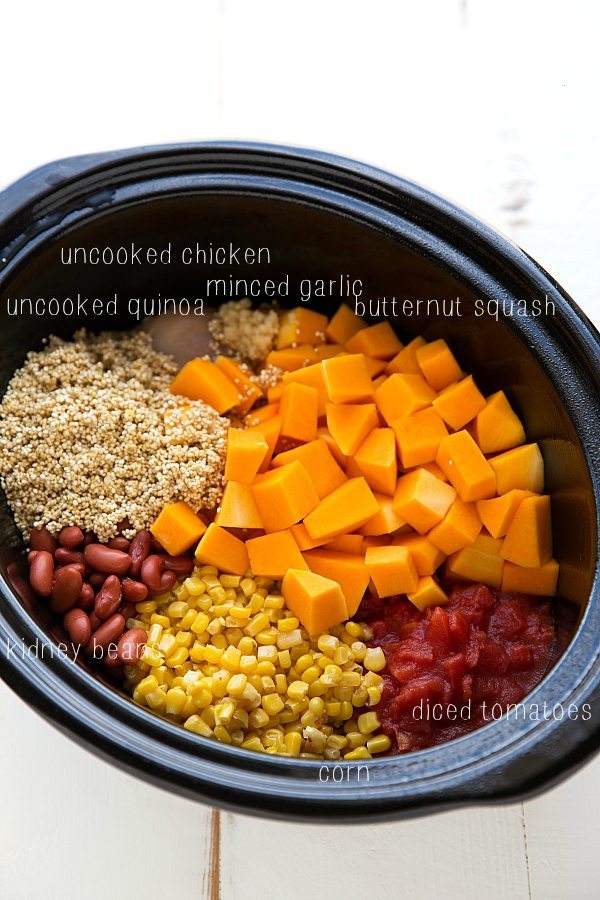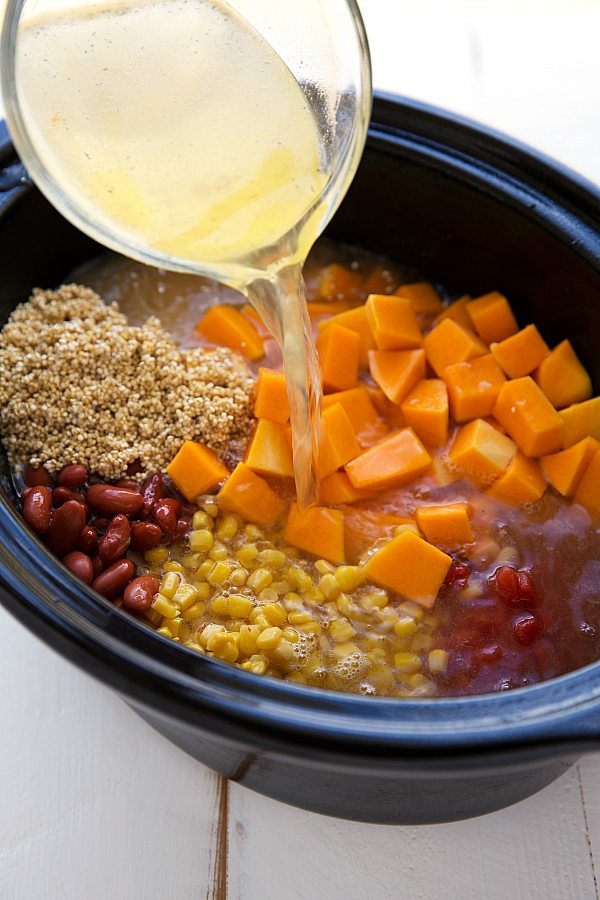 Speaking of squash, it gets so tender in this soup that I mashed up a lot of it after it was done cooking. It makes the soup super hearty without any heavy cream base. You don't have to mash any of the squash, but I really love what that did for the soup.
Hearty soups are a must at my house. If a soup is too brothy or not "substantial" the husband is never a huge fan. He won't complain and he'll eat it, but he starts snacking pretty much the minute the dishes are done.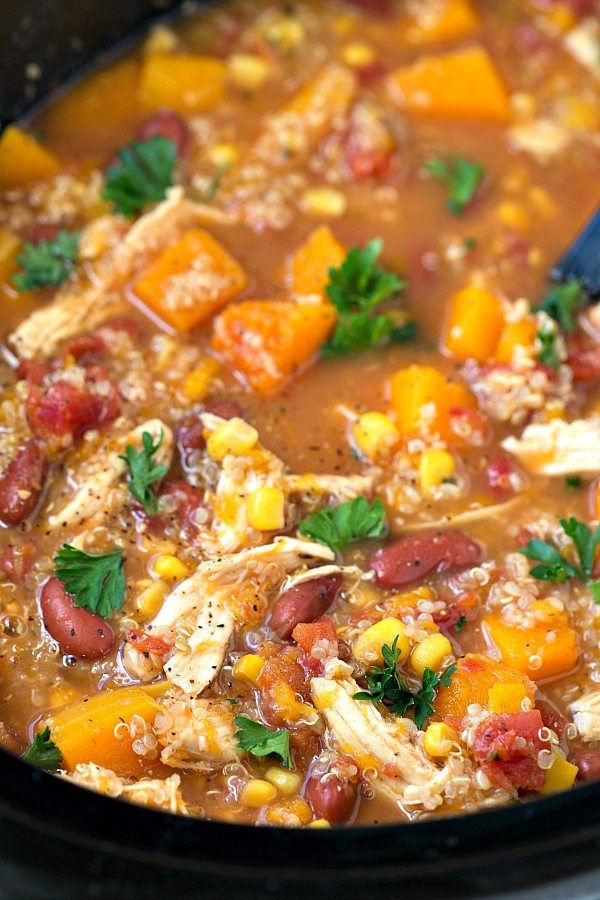 For the other soup (the sweet potato one previously mentioned), I used a packet of chili seasoning. If you love those flavors, use it in this soup too! If you are looking for something different though try a fajita seasoning packet. It really changes the flavor from the other soup and we love it. I've tried both chili and fajita seasoning mixes in this soup and we love both. I can't say which is better because they are just so different.
You could also try using a taco seasoning packet, but I can't vouch for the flavor since I haven't tried it. It's on my agenda to try though so an update will be posted…eventually!
The seasoning packets are for ease and quickness. If you have some time, you can whip up your own seasonings and add it to the soup – that way you get exactly what you like.
Another way to make this soup even quicker is to buy the pre-cubed butternut squash. I know it's a little pricer, but if you are in a rush it can be a lifesaver! I generally find pre-cut butternut squash in the produce aisles. With pre-cut squash I don't think this recipe could get any easier. A MUST for a Fall/Winter soup staple 🙂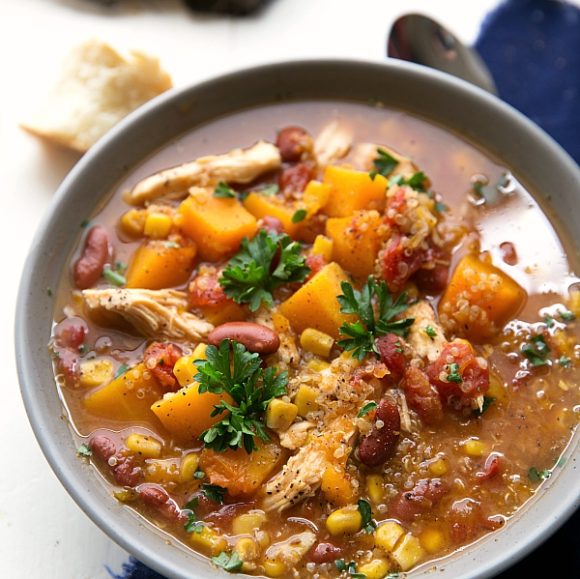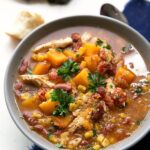 Butternut Squash and Quinoa Soup
A deliciously healthy broth-based chicken, quinoa, and butternut squash soup made simple in the slow cooker. 
Keyword:
Butternut Squash and Quinoa Soup
Ingredients
1 and 1/2

pounds

boneless skinless chicken breasts

1

cup

quinoa

1

(~4 cups)

small butternut squash

1

can (15.25 ounces)

kidney beans

1

can (15 ounces)

corn

1

can (14.5 ounces)

petite diced tomatoes*

2

teaspoons

minced garlic

1

packet (1.12 ounces)

fajita seasoning mix

5

cups

chicken broth**

Salt and pepper

to taste

Optional: fresh parsley, sour cream, cheddar cheese
Instructions
Remove the fat from the chicken. Rinse the quinoa in a fine mesh sieve to remove the bitter saponin coating.

Peel, seed, and chop the butternut squash into small bite-sized pieces (or buy pre-chopped butternut squash for an even faster prep).

Rinse and drain the kidney beans and corn.

Lightly grease your slow cooker with nonstick spray (I use a 6-quart crockpot). Add in the chicken, quinoa, chopped squash, kidney beans, corn, undrained tomatoes, garlic, and fajita seasoning packet. (OR try a chili seasoning packet if you enjoy those flavors better).

Pour in the chicken broth and give everything a good stir.

Cover and cook on high for 3-4 hours or until the quinoa is cooked through and the squash is very tender.

At this point you can remove some of the squash and mash it with a potato masher and then put it back in the soup. This is totally optional, but makes it a bit heartier.

Add some salt and pepper to taste and any other seasonings desired. Garnish with fresh parsley if desired.

If desired, stir in some sour cream (we use and love reduced fat or fat free) and some freshly grated cheddar cheese.

NOTE: slow cookers are known for cooking at different speeds - if yours tends to cook faster your chicken and squash could be done even earlier than 3 hours and alternatively everything may take longer to cook in a cooler slow cooker. The longer this cooks the more liquid the quinoa absorbs - if you don't mind that's fine, otherwise you can always add some more chicken broth and seasoning.
Recipe Notes
*I used fire roasted petite diced tomatoes for an extra kick of flavor. **Instead of chicken broth, I use chicken bouillon cubes dissolved in boiling water. 
Recipe adapted from my Sweet Potato, Chicken, & Quinoa Soup
More delicious soup recipes:
Crockpot healthy quinoa minestrone
Slow Cooker Sweet Potato, Quinoa, and Chicken Soup
Crockpot Kale, White Bean, and Quinoa Soup