A delicious pan seared chicken, butternut squash, and green bean skillet dinner. An easy, family-friendly, 30-minute meal!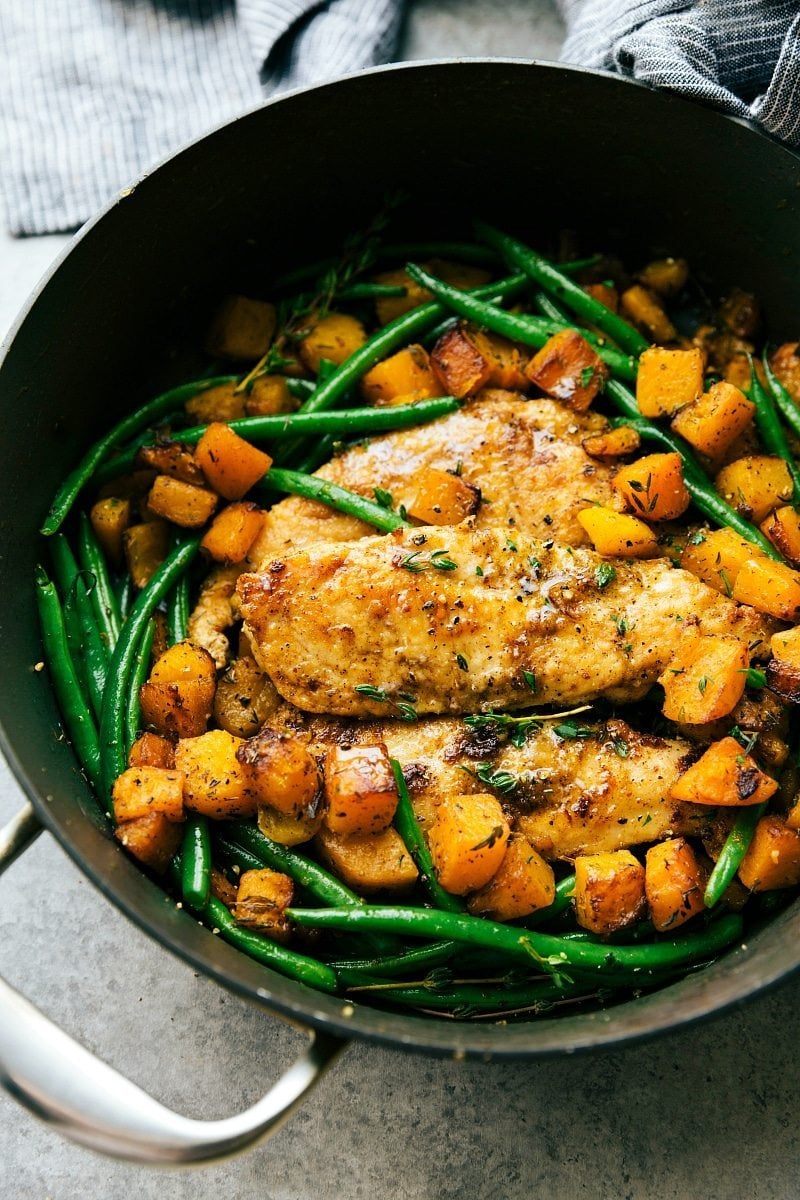 Lightly caramelized butternut squash cooked in browned butter and topped with tender herbed chicken and crisp green beans screams all things Fall and comfort food! This dish is definitely becoming a Fall and Winter staple in our home.
Have you guys tried brown butter in savory dishes? I've done plenty of browned butter desserts, but I'm kind of obsessed with browned butter in savory. It's completely addicting in all the best ways of course.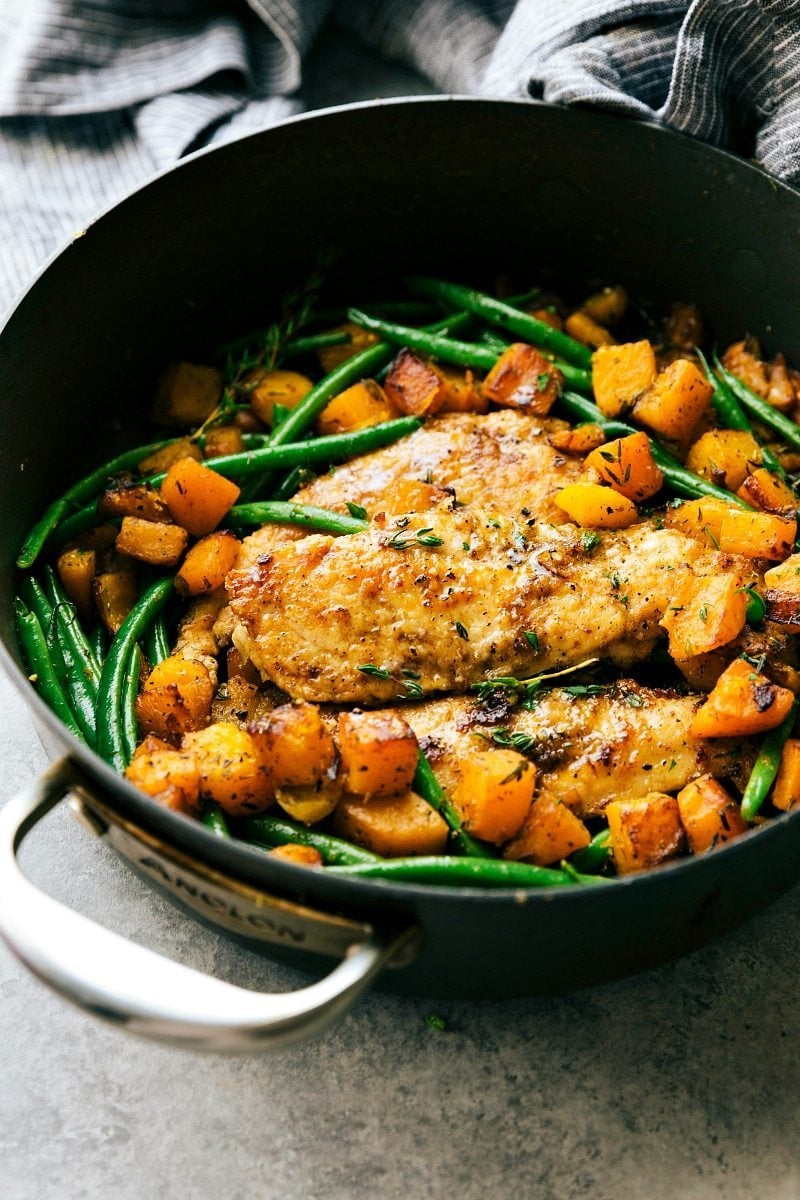 This meal is practically perfect, but I will tell you right now, it does require two skillets. As much as I wanted this to be a one skillet meal, it just wasn't practical. It CAN be a one skillet meal, but it ends up taking more time, effort, and patience than that required of washing one extra pan!
The problems: The veggies take *just* long enough to be done that if the chicken was cooked first and set aside under foil, it was coldish and the "breading" a big soggy by the time it needed to be added back in. Alternatively, doing the veggies first is just a nightmare to transfer them out of the skillet to cook the chicken. Plus cold veggies are no fun…
SO all that said, it isn't all in one skillet, but it is crazy easy. The best part about this meal is it is pretty hands off. There is p.l.e.n.t.y. of time to make side dishes, set the table, clean up the kitchen, or even relax for a few minutes in between making dinner. That is one of my favorite things about this meal!
After browning the butter and getting the veggies started, I literally set the timer for 5 minutes, walk away and do something else. Then I come back and give it a quick stir, set the timer for another 5 minutes, and more hands off time. Once that is done, I cover the veggies with a lid and set the timer for 8 minutes which is pretty much the perfect timing to cook the chicken in another skillet.
Once the chicken is cooked through the veggies are done and dinner is completely ready.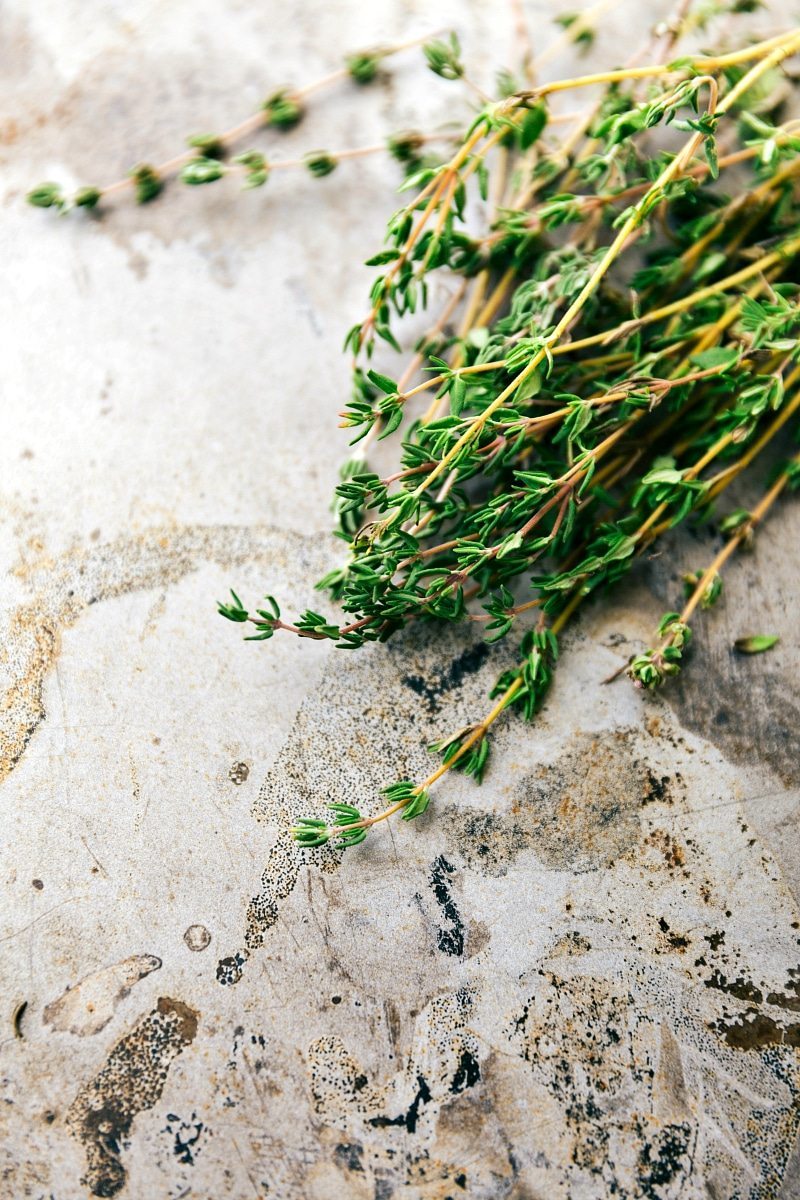 A few things to make this dinner MEGA easy: I buy pre-peeled and cubed butternut squash at the store. This makes the squash an absolute breeze in this dish. Same with the french green beans (pre-washed and prepped)! The beans were actually sitting right next to the cubed squash in the store which was what inspired this meal.
I grabbed those prepped veggies, the thyme, and had everything else on hand already. One question I get asked a lot is: what is poultry seasoning? First, you don't want to leave this out as it adds a lot of flavor even in small quantities — plus you can always add more to taste. Second, you can find it with all other spices in the store — it is literally called poultry seasoning — that's not a nickname for it. And finally it is basically just a mix of different herbs — usually sage, thyme, marjoram, rosemary, nutmeg. & black pepper. With all those you know its gonna be good. 🙂
My other quick meal "hack" is to slice the chicken breasts exactly in half. This saves you the time and effort of pounding the chicken into even pieces AND it still cooks evenly + quickly + remains moist. The breading isn't anything intense — it's mostly to keep the chicken moist. Just flour plus some spices to dredge the chicken in and then cook it over some melted butter. You'll be amazed how flavorful this chicken is for how crazy easy it is. One thing that I do like to do, but it's absolutely NOT required is marinate the chicken in buttermilk all morning. (I even make my own by using 1 cup whole milk + 1 tablespoon vinegar). This makes the chicken ultra tender and flavorful!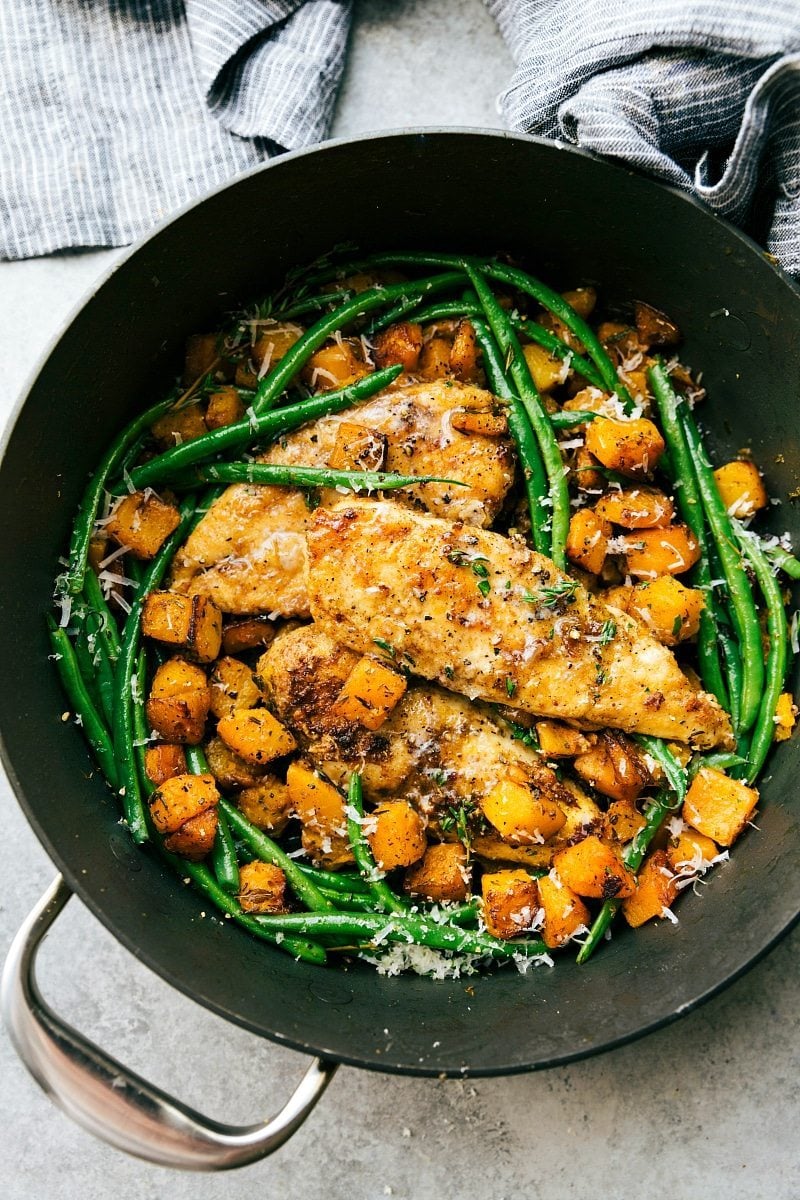 More butternut squash: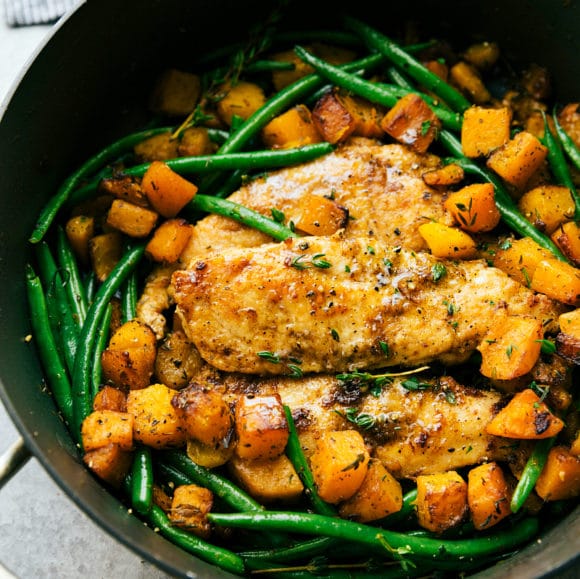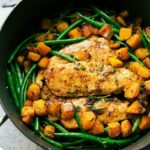 Skillet Chicken and Butternut Squash
Ingredients
6

tablespoons

butter

separated

1 and 1/2

tablespoons

fresh thyme + some additional sprigs**

1

teaspoon

dried oregano

1

teaspoon

minced garlic

1/2

teaspoon

paprika

1

pound

cubed butternut squash*

4

ounces

french green beans

1

pound

boneless skinless chicken breasts

1/4

cup

white flour

Seasoned salt and pepper

1

teaspoon

poultry seasoning

Freshly grated Parmesan cheese
Instructions
Heat a large skillet on medium heat. Add 3 tablespoons of butter, allow it to melt, and whisk it very frequently. It should melt, foam up a bit, and then start to smell nutty and delicious while darkening in color. (Browned butter very quickly turns to burnt butter so watch this carefully! If it does burn, dump it out and start with a new 3 tablespoons.)

Once the butter is browned, remove the skillet completely from the stovetop onto a heating pad on the counter.

Whisking constantly add in the fresh thyme (just pull off the leaves to equal 1 full tablespoon), oregano, garlic, paprika, and about 1/2 teaspoon salt + 1/4 teaspoon pepper. It will foam up. Whisk until completely combined and then add in all the squash. Stir until the squash is well coated in the butter.

Return the skillet with the squash to the stovetop and resume it at medium-high heat.

Spread the squash pieces out in an even layer and let cook, without stirring, so that they brown a bit on one side for about 4-5 minutes. Add in the green beans, a few extra springs of thyme, and then stir and spread the pieces out again. Let cook without stirring another 4-5 minutes.

Cover the pan and reduce the heat to low. Let the veggies cook for 7-15 minutes depending on the desired tenderness and size of squash (Mine is always done around 8 minutes). The squash should be fork tender and beans should be crisp tender.

Meanwhile, in a small bowl, toss together the flour, poultry seasoning (do not omit), and a generous amount of salt and pepper.

Slice 2 large breasts (that equal a pound) into half making 4 large and completely equal chicken pieces.

Dredge the pieces to use up the flour mixture.

In another large (12 inch) skillet, melt 2 tablespoons butter on medium-high heat.

When melted, add in the four breasts in an even layer.

(If the chicken browns too quickly, reduce heat.) Cook, turning as needed, (I cook 3-5 minutes on one side and then flip and cook for another 3-4 minutes on the other) until chicken is browned on both sides, is no longer pink in the center, and the juices run clear. (165 degrees F for a meat thermometer.)

Top the cooked veggies with the cooked meat.

Melt the last 1 tablespoon of butter in the microwave and stir it with some remaining thyme (~1 teaspoon) pour on top of the chicken and generously top the chicken and veggies with freshly grated Parmesan cheese.

Enjoy immediately.
Recipe Notes
*I buy the bags of pre-cut squash to greatly cut down time and effort. Plus it ensures all the pieces cook evenly. **I get a 3-4 ounce package of pre-cut thyme (in produce section of the store)  -- you'll use about half that amount in this recipe.