I'm excited to be partnering up with Pacific Foods to bring you this yummy Butternut Squash Curry recipe and share a little about their organic, plant-based creamy soups!
A creamy butternut squash curry that is perfect for a healthy weeknight dinner or weekly meal prep. This vegan curry is simple to make and naturally dairy-free.
I love serving this butternut squash curry over basmati rice and alongside naan bread. It's also one of those recipes where leftovers taste even BETTER as the flavors have had a chance to develop and deepen.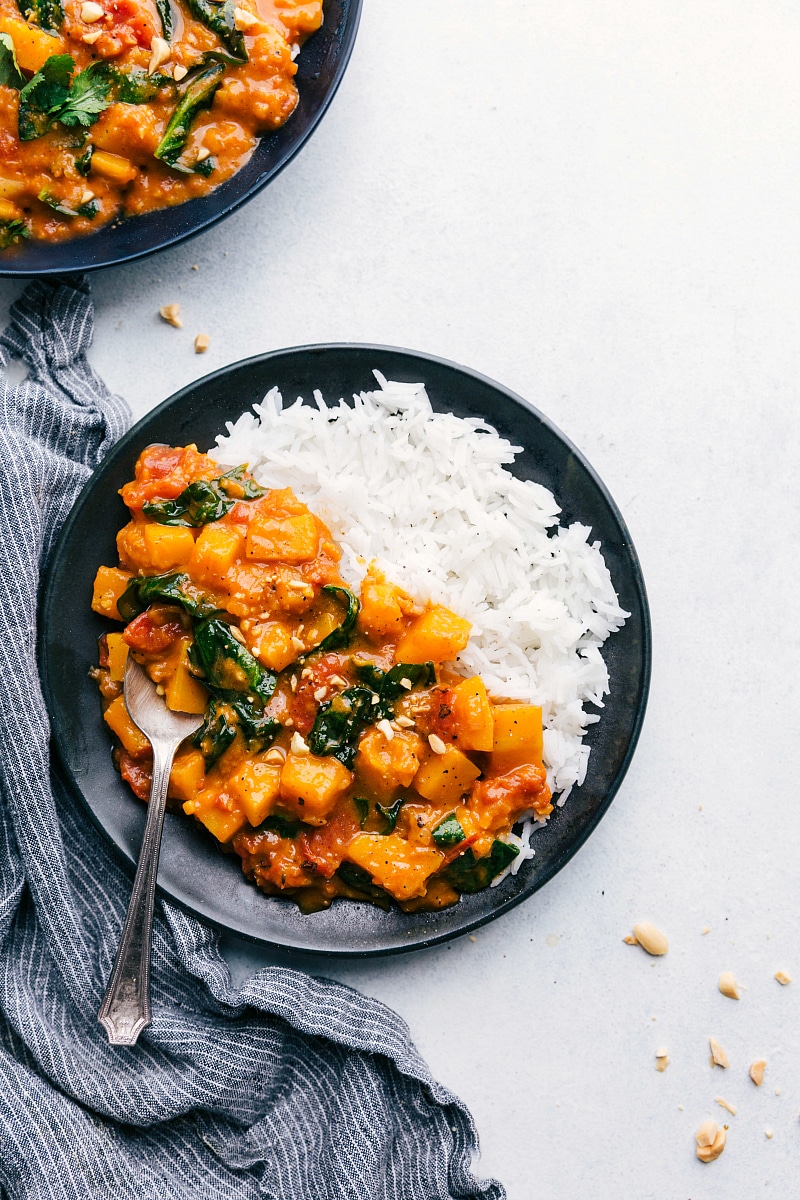 Want a yummy meal that you can feel good about after eating it? Lucky for you, you came to the right place 🙂 This curry includes plant-based ingredients, a deep and earthy flavor from sweet spices, and a hint of brightness with fresh herbs and fresh lime juice.
You might have a hard time believing this butternut squash curry is healthy with how flavorful and indulgently creamy it is!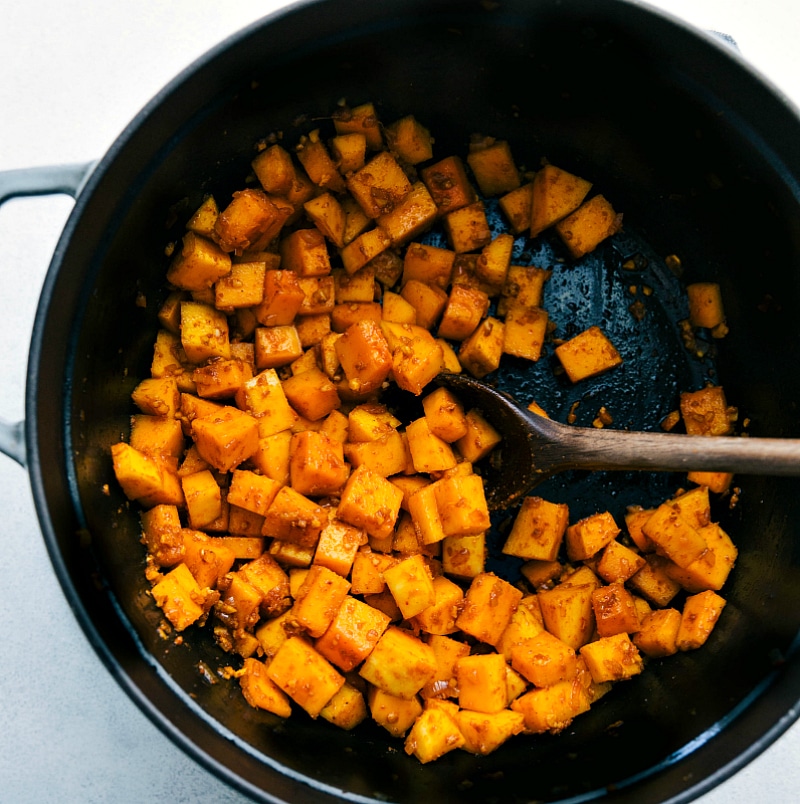 How to make butternut squash curry
Prep veggies

: shallot, garlic, ginger, and butternut squash all need prepped. This is easily the most time-consuming part, but once it's done, the remaining prep is exceptionally simple.

See how to peel and cut a butternut squash

here

.

Bloom spices

: I always recommend frying spices in oil (called blooming) whenever possible. Why? It releases more flavor in the spices and also distributes the spices more efficiently in the curry since they will mix better after blending with the oil.

Add liquids

: Add in the Pacific Foods Organic and Vegan Creamy Butternut Squash Soup, crushed tomatoes, and coconut milk. From here, it's just about simmering to get the squash tender, reduce the liquid, and intensify flavors.

Serve

: Serve over a grain of your choice (or plain), and garnish with crushed peanuts, diced cilantro, and plenty of fresh lime juice!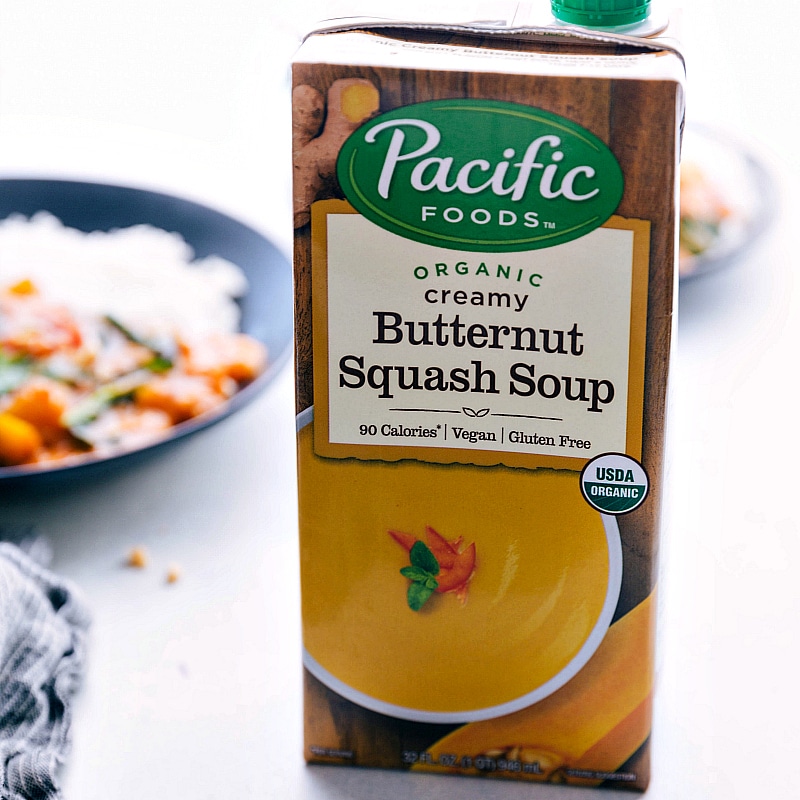 Butternut Squash Soup
This soup adds an additional layer of butternut squash flavor. It also contributes to the creaminess and overall flavor of this butternut squash curry.
I prefer using Pacific Foods' Organic Vegan Creamy Soups because they're made with real, organic veggies, herbs, and plant-based beverages instead of cream. They're organic, vegetarian, vegan, dairy-free, and gluten-free. This curry is made exceptionally nutritious with this soup addition!
This nourishing pantry staple is delicious on its own, but also so good incorporated as an ingredient into this wholesome plant-based butternut squash curry.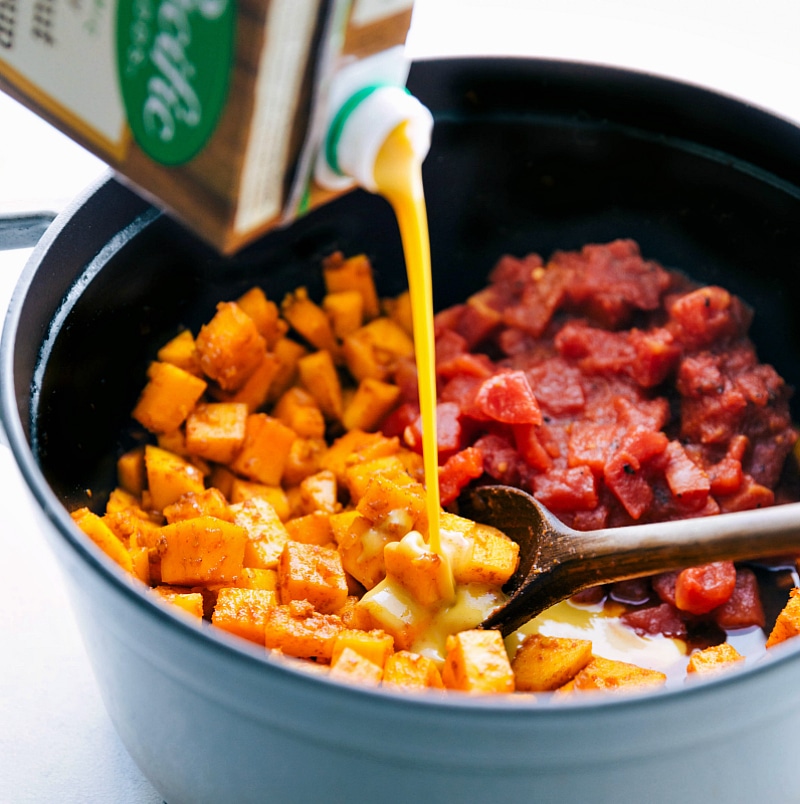 Using leftovers
This recipe doesn't use the entire container of butternut squash soup, so you'll have a bit leftover for the next day. This soup is delicious to eat as-is, or incorporate into other recipes. It's a great compliment to recipes that can take the flavor and creaminess up to the next level.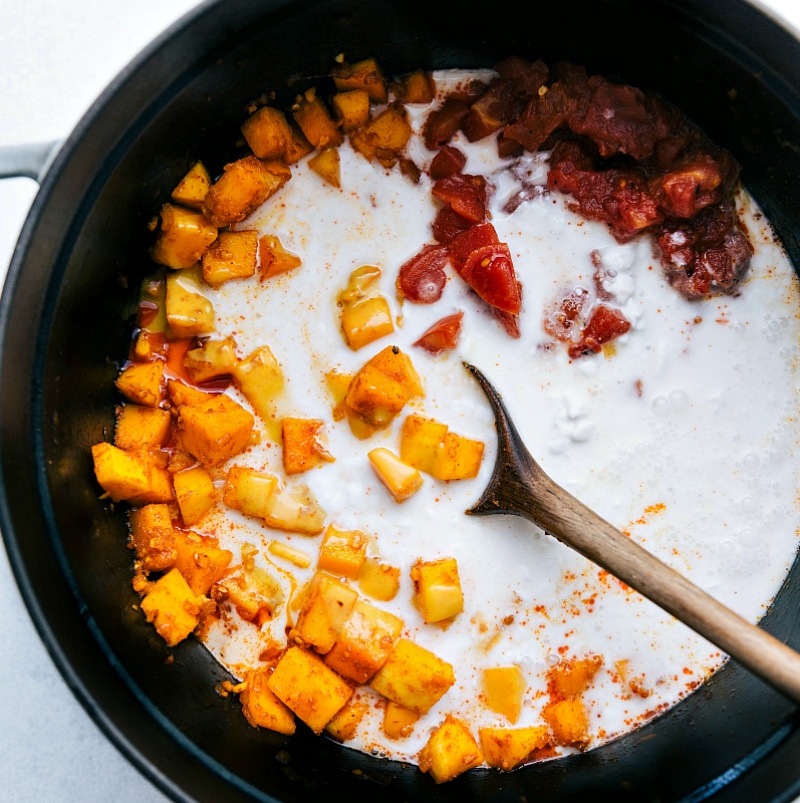 Cooking Tips
High quality ingredients

: Using ripe, quality ingredients will make a big difference in this butternut squash curry. I recommend using an

organic butternut squash

which will typically taste sweeter and is very moist. The other two vital ingredients in this recipe are a good brand of

full-fat coconut milk

and high quality

fire roasted tomatoes

.

Taste and adjust

: As with most recipes, taste and adjust the seasonings to your personal preference.

Remember you can always add more, but you can't remove seasoning.

If you're sensitive to spice I'd recommend using less curry paste and powder.

Remember: the seasonings do intensify as the curry cooks.

Don't skip the toppings

: they add a lot of flavor and texture to this butternut squash curry. If you only do one topping, I recommend

fresh lime juice

. The lime brings everything together and gives this curry a burst of freshness.

Chopped cilantro

also adds a nice flavor and freshness.

Chopped peanuts

are a great texture add.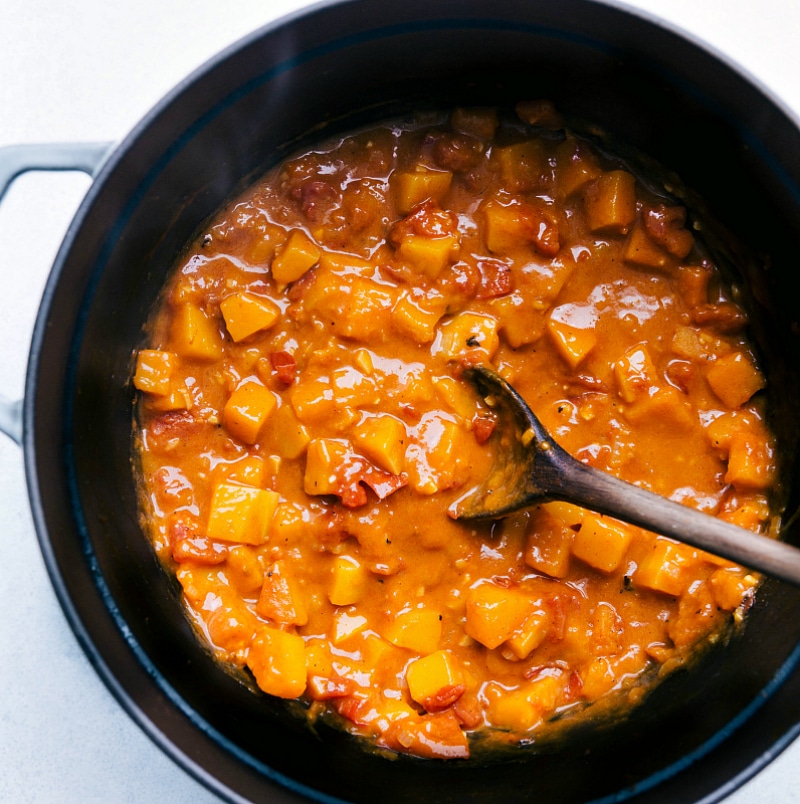 Get creative
Want more spice?

Add up to a teaspoon of sweet paprika and 1/4 to 1/2 teaspoon of ground cayenne pepper. You can also add some red pepper flakes which will add some heat to this butternut squash curry.

Other ideas: stir in a few tablespoons of peanut butter, use kale instead of spinach (you'll need to cook it a bit longer to get it to wilt down), use crushed pistachios or cashews instead of peanuts.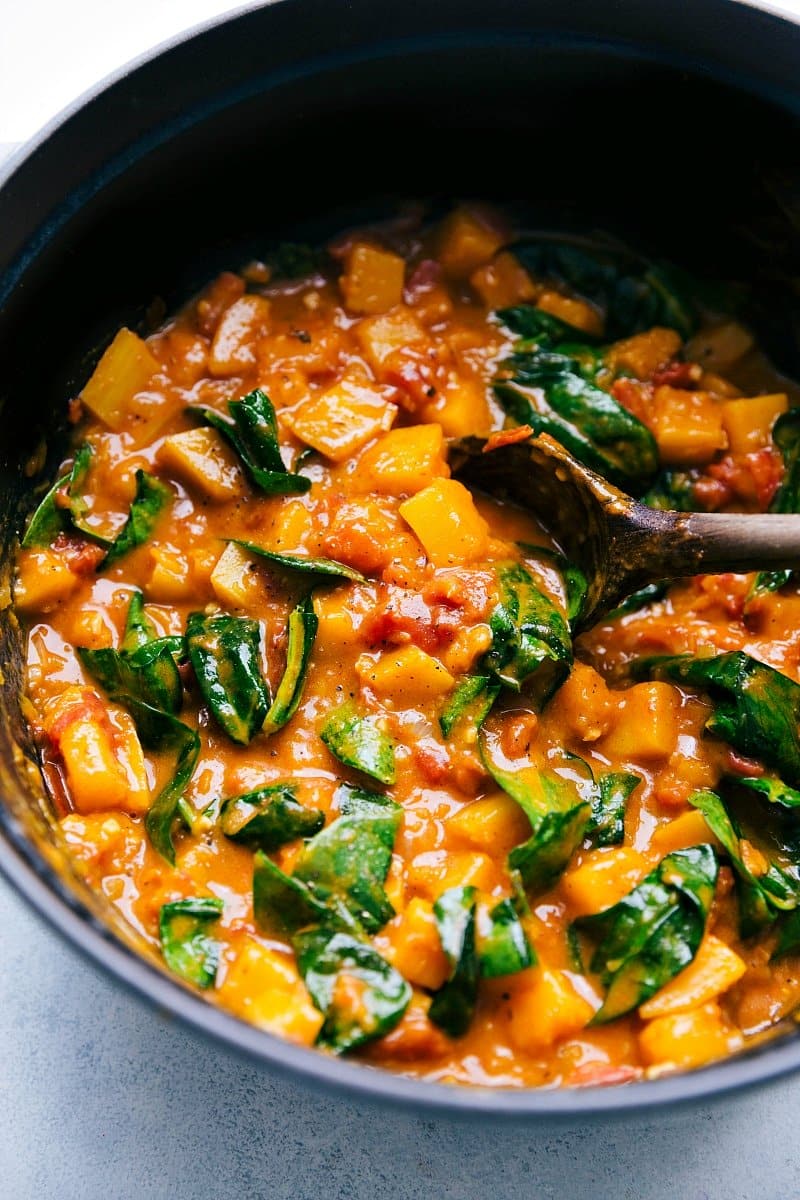 More plant based meals: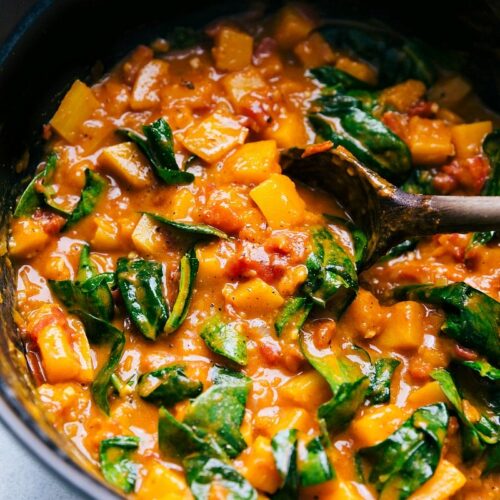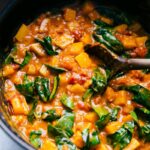 Butternut Squash Curry
A creamy coconutty butternut squash curry that is perfect for a healthy weeknight dinner or weekly meal prep. This curry is simple to make and naturally vegan and dairy free.
Cuisine:
Vegan, Vegetarian
Keyword:
butternut squash curry
Ingredients
1

large shallot,

diced (~1/3 cup)

3

cloves

minced garlic

(~1 and 1/2 teaspoons)

2

tablespoons

finely minced ginger

(from a 1 and 1/2 inch piece)

1

butternut squash,

diced (~4 and 1/2 cups)

2

tablespoons

coconut oil

3

tablespoons

red curry paste

Note 1

1 and 1/2

teaspoons

yellow curry powder

1/4

teaspoon

ground coriander

3/4

cup

Pacific Foods' Organic Creamy Butternut Squash Soup

1

can (15 ounces)

full-fat coconut milk

1

can (14.5 ounces)

good quality fire-roasted diced (or crushed) tomatoes

1

teaspoon

fine sea salt

1-2

teaspoons

white sugar,

optional

3

cups

fresh baby spinach

Serve with: cooked basmati rice, crushed cashews/peanuts/pistachios, chopped cilantro, lime wedges
Instructions
Start by prepping ingredients: dice the shallot, mince the garlic, and mince the ginger. I peel the ginger with a spoon or vegetable peeler and then finely mince it. Peel and then dice the butternut squash to get about 4 and 1/2 cups. Set aside.

Heat the coconut oil in a large deep skillet over medium-high heat. Add the shallots and saute them for 2-3 minutes or until they are beginning to get golden. Add the butternut squash, garlic, and ginger. Stir to coat everything with the oil.

Add the red curry paste, yellow curry powder, and coriander. Stir until all the butternut squash is well coated. Continue to cook the spices and veggies for 3-5 minutes or until everything is fragrant. Pour in the butternut squash soup, coconut milk, and entire can of tomatoes. Stir and add in the salt. Bring the sauce to a simmer and then lower the heat and cover with a lid. Allow the squash to cook all the way through, about 18-25 minutes. (Check tenderness by piercing with a fork; if it pierces easily, it's ready). Remove the lid and continue to simmer for a few minutes to thicken the sauce. Depending on the tomatoes you used, you may need to add 1-2 teaspoons white sugar. Taste and add as needed. Remove from heat and let cool for 1-2 minutes before very gently stirring in the baby spinach and allowing it to wilt.

Serve curry over cooked basmati rice. Squeeze fresh lime over each bowl (a must have addition IMO) and if desired top with finely chopped nuts and cilantro.
Recipe Notes
Note 1: if vegan, make sure your red curry paste is vegan; Thai Kitchen is vegan. If worried about spice, start with 2 tablespoons.
Nutrition Facts do not include rice or optional toppings