This simple instant pot beef stew can be ready in a fraction of the time that beef stew typically takes thanks to the pressure cooker. Tender pieces of beef and plenty of veggies are cooked in liquid and served in the resultant thick and luxurious gravy.
Serve this beef stew on a cold day alongside a crusty baguette or homemade dinner rolls, a big green salad (like this Italian salad), or roasted brussel sprouts.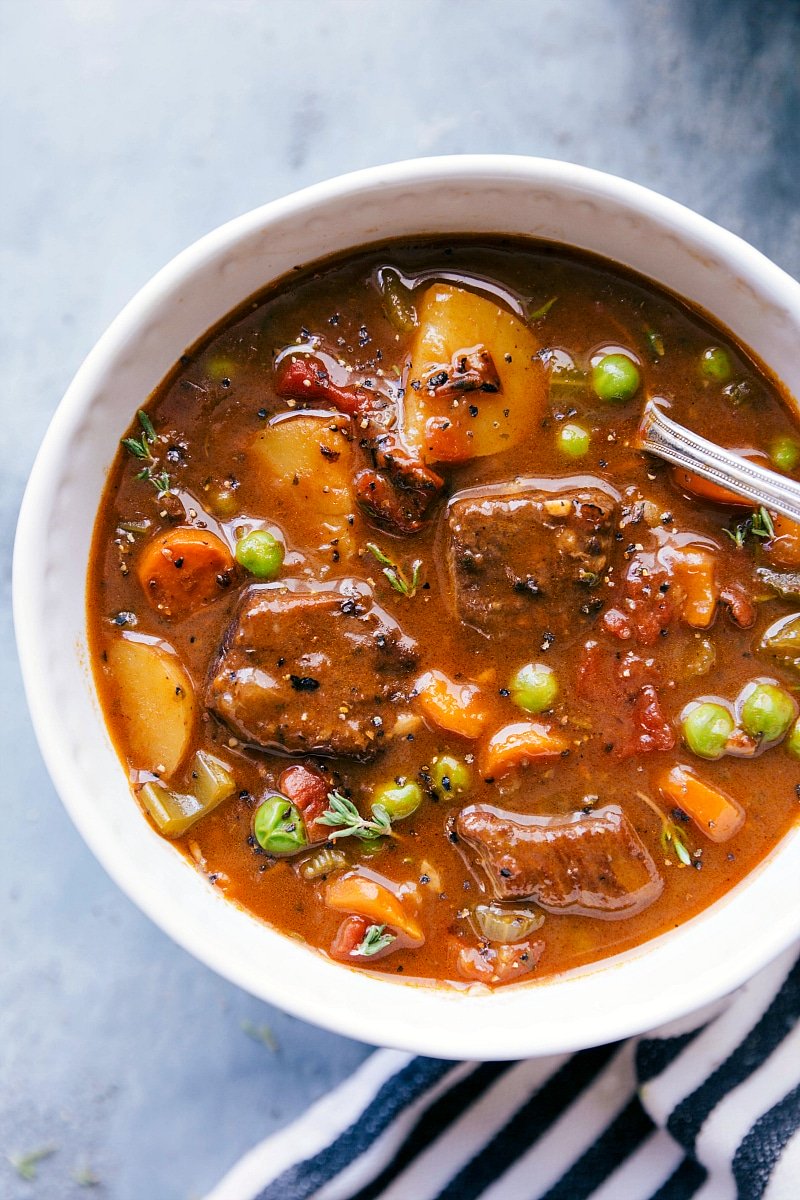 The best things to cook in an instant pot
There are so many great uses for the instant pot, but one of my favorite things to make is beef stew. Other methods of cooking beef stew can take either all day (slow cooker) or several hours (on the stovetop).
You'll get the same great results of tender beef and perfectly cooked vegetables in under an two hours with the pressure cooker.
How to make instant pot beef stew
Below is a quick photo overview of the process for making beef stew in the pressure cooker. And below is a breakdown with what's happening in each photo.
Prep and then add all the veggies to the instant pot. I recommend using baby golden (yukon) potatoes in beef stew.
Seared meat. The searing does two things; first, it creates a more complex flavor in the browning process (the browning also leaves bits of flavor that will be included in the base to this soup) and second, the final dish will have a less grease (and as a result, a less greasy flavor). While you can add raw beef to the instant pot, I highly recommend searing it beforehand!

The meat can be seared in the instant pot, but I prefer doing it on a separate skillet to avoid burn warnings on the instant pot (in case something doesn't get scraped off the bottom) AND it's quicker in a separate skillet.

Add the beef and accumulated juices to the instant pot
In the same skillet used to brown the beef, we make the gravy. Again, this can be done in the instant pot, but I prefer to use the skillet (for speed).
Add the gravy right on top of everything in the instant pot. Seal, bring to pressure, and cook.
Meanwhile, grab out the frozen peas and…
Add them in after the pressure has been released. Stir it through.
And it's ready to serve!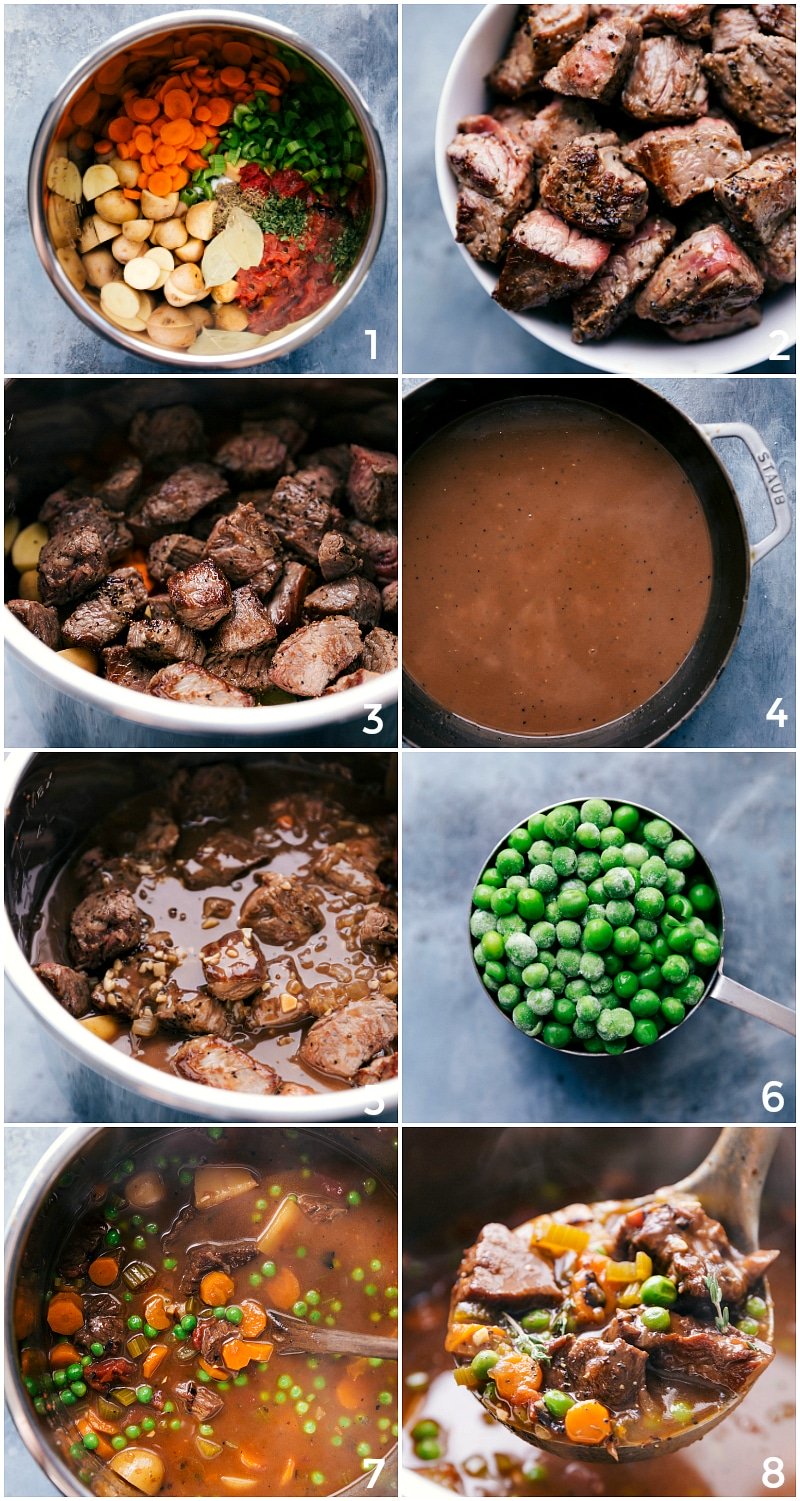 What can I add to beef stew for flavor?
A few ingredients make this instant pot beef stew especially flavorful.
Beef chuck roast: we want meat that's juicy and tender even pressure cooking. More about meat here.
100% concord grape juice: adds a really nice flavor and subtle sweetness to balance acidity of the tomatoes and tomato paste.
Worcestershire sauce: this sauce is tangy, savory, sweet, and salty. It adds a great umami (savory) flavor to this instant pot beef stew.
Thyme/parsley: these two herbs add so much flavor. If you don't have access to the fresh herbs, be sure to use dried instead.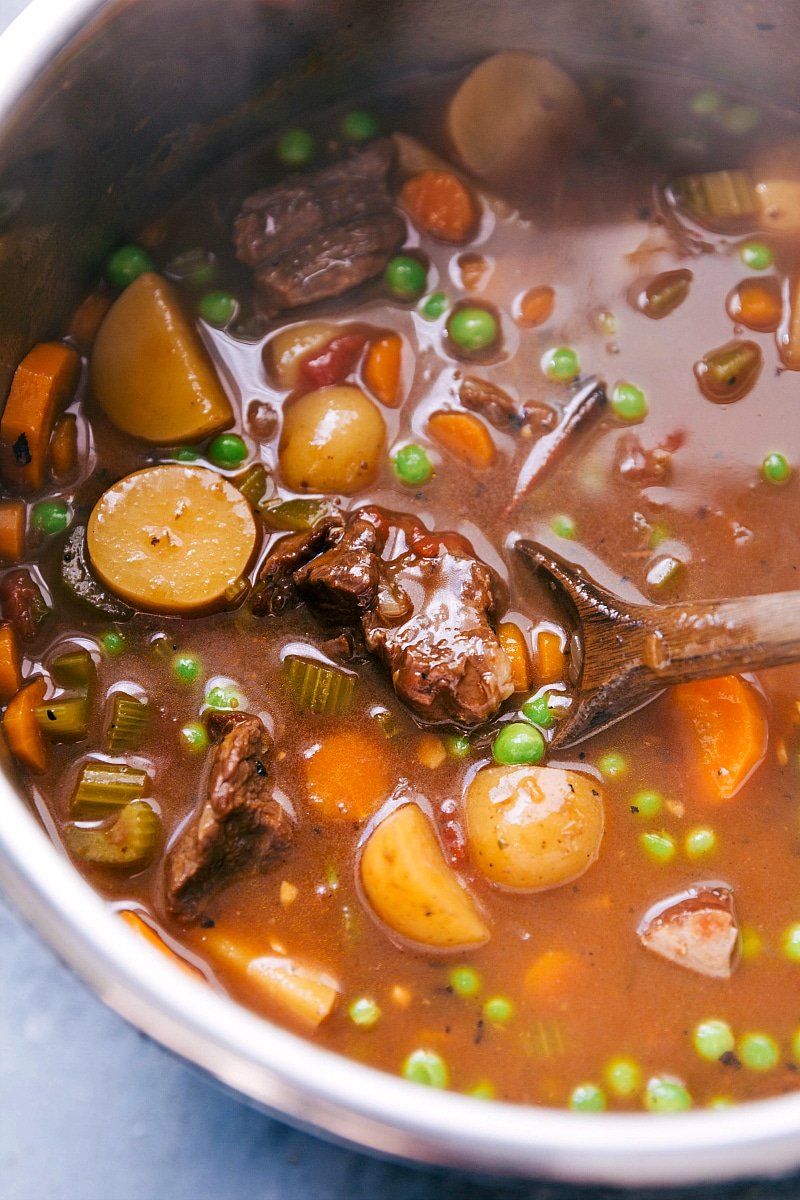 What should I serve with beef stew?
The great thing about beef stew is that it's a meal all in one. It's got meat, plenty of veggies, and a rich gravy. So if you're going to serve something with beef stew, keep it simple! Below are a few recommendations.
A good crusty loaf of warmed bread (Italian or sourdough), homemade rolls, or soup crackers
Some kind of simple green salad like a garden or Caesar salad
Fruit salad such as this winter fruit salad or roasted veggie salad
Short grain brown rice or long grain white rice
More delicious soup recipes:
Number 1 instant pot beef stew tip
When cooking this beef stew in the instant pot, don't rush the release of pressure. A rapid change in temperature and pressure makes the meat very tough. Let the pressure release naturally for at least 10 (preferably 15) minutes before fully releasing.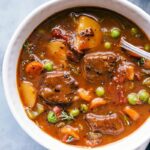 Instant Pot Beef Stew
This simple instant pot beef stew can be ready in a fraction of the time that beef stew typically takes thanks to the pressure cooker. This stew has tender pieces of beef and plenty of veggies cooked in liquid and served in the resultant luxuriously thick gravy.
Keyword:
beef stew, instant pot beef stew
Ingredients
2 and 1/2

cups

beef stock (or beef broth works),

separated

2

cups

thinly sliced carrots,

(~3-4 large carrots)

1 and 3/4

cups

thinly sliced celery

sliced (~4-5 stalks)

1

can (14.5 ounces)

fire-roasted diced tomatoes,

undrained

1

pound

baby yellow (yukon gold) potatoes,

halved (or quartered for large ones)

2

tablespoons

tomato paste

2 and 1/2 to 2 and 3/4

pounds

beef chuck roast,

cut into 1-2 inch cubes

Salt and pepper,

to taste (~1 teaspoon each)

3

tablespoons

olive oil,

separated

1

cup

yellow onion,

diced (~1 small onion)

2

teaspoons

minced garlic

(~2 cloves)

3

tablespoons

unsalted butter

1/3

cup

white all-purpose flour

1/2

cup

100% concord grape juice

1

beef bouillon cube

(Note 2)

1/2

teaspoon

sweet paprika

1

teaspoon

dried parsley

4

sprigs

fresh thyme

(or 1/2 teaspoon dried thyme)

2

bay leaves

1

tablespoon

Worcestershire sauce

1

cup

frozen peas
Instructions
INSTANT POT: In the instant pot, add 1 cup beef stock first. Next add the thinly sliced carrots, sliced celery, fire-roasted diced tomatoes, potatoes, and tomato paste.

BEEF PREP: Cut the beef chuck roast into 1-2 inch bite-sized cubes (removing any large, tough pieces of fat or gristle.) Season all sides to taste with salt and pepper (I use about 1 teaspoon of each).

BEEF: Heat a large cast iron skillet on high. (Note 1). Add in 1 tablespoon olive oil. Once the dutch oven is hot, add the cubed beef (it should sizzle as soon as it hits the skillet). Sear beef for about 2 minutes on each side (to get a nice sear, don't stir the beef around. Leave it in one spot and then, using tongs, flip it to the other side after about 2 minutes) Sear each piece about 4 minutes total. (Add the beef pieces to skillet in 2-3 batches so you don't overcrowd the beef and get a nice sear.) Remove the beef with a slotted spoon into a bowl. Add 1 more tablespoon oil only IF needed. Add the seared beef and any accumulated juices to the instant pot.

GRAVY: Do NOT wash out the skillet. Let slightly cool and then add the remaining 1 tablespoon of oil. Reduce heat to medium low. Add in the diced onions. Cook for 3-4 minutes, scraping up the browned bits in the skillet as you stir the onions. Then add in the garlic and cook for another 30 seconds. Add in the butter and allow to melt. (Reduce heat to low as needed, if anything is getting too hot) While whisking constantly, add in the flour and, whisking constantly, cook for one minute to get rid of the raw flour taste. Pour in the grape juice gradually, while whisking constantly. Simmer over low heat, stirring constantly, until a thick paste forms, about 1-3 minutes. Make sure to scrape the bottom of the skillet as well. Gradually add in 1 and 1/2 cups of the beef stock and bring to a simmer. Whisk until smooth and thickened, another 2-4 minutes.

COOK: Pour the gravy mixture into the instant pot. Add in the beef bouillon cube (crumble it up and add it in), paprika, dried parsley, sprigs of fresh thyme or dried thyme, bay leaves, and Worcestershire sauce. Give everything a good stir. Make sure the beef is submerged in liquid as much as possible, press below other ingredients as needed (this will keep it nice and tender). Pour the remaining 1/2 cup stock in the instant pot. Close and seal the instant pot. Cook on high pressure for 40 minutes, then allow the pressure to release naturally for 15 minutes (don't touch anything for 15 minutes). Vent to release any remaining pressure, then carefully open the lid. Remove and discard the bay leaves. Stir in the frozen peas.

FINISH: Taste the stew and add additional seasonings if needed (salt, pepper, or a pinch of sugar goes a long way). Serve the stew in bowls and enjoy with fresh herbs if desired.
Recipe Video
Recipe Notes
Note 1: I recommend a cast iron skillet; nonstick skillet is ok. While it would make sense and you CAN use the saute function in the instant pot, I personally don't for a few reasons. I've found the flavor development is much better and the process is easier in a separate skillet. You also don't risk getting a burn warning if anything is left on the bottom of the instant pot.
Note 2: Here are the bouillon cubes I use.