A delicious and fresh coconut mango and pineapple sorbet with coconut flakes to top it all off. Scroll down to the bottom for a chance to win your very own ice cream maker!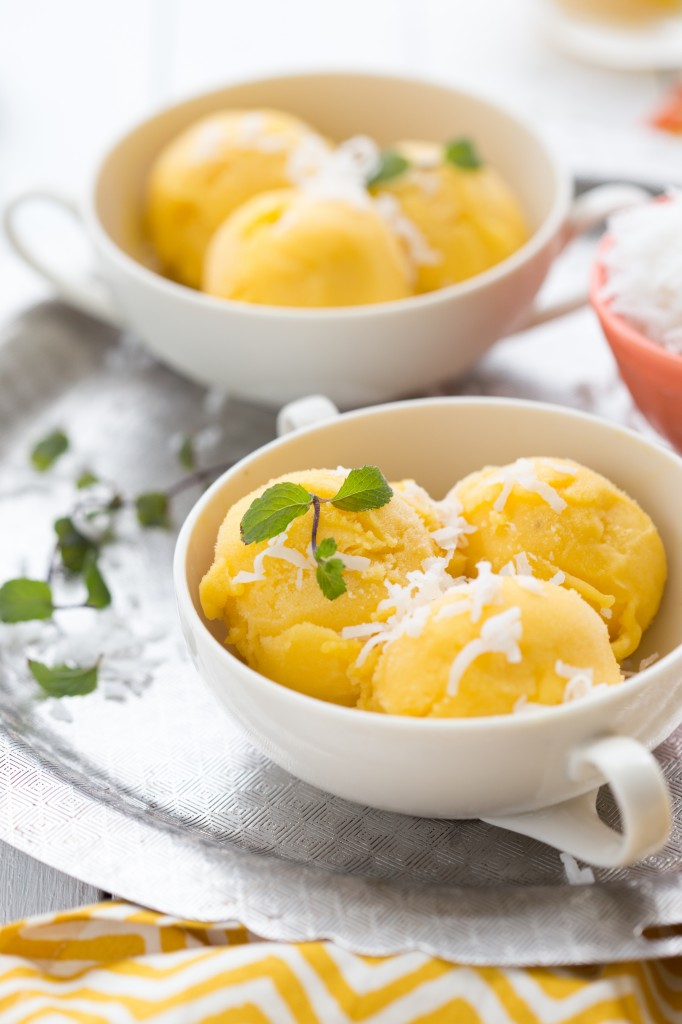 I'm pretty much a produce freak.
I blame it on food blogging, but secretly, I know I've pretty much always been this way.
I go seriously crazy trying to find the most perfectly ripe (but not over-ripe) mango, I must pick up and press on every single avocado, and I'm that weird-o knocking on watermelons while trying to hold them up to my ear. And somehow I never pick out the best watermelon, go figure. The husband? He's a watermelon-picking-pro. Every single time he's picked out a watermelon it's been pretty much the best one ever. His technique? He just grabs one and puts in the cart.
I keep telling him, he could make a serious career out of perfect produce picking. I'd pay some serious dollars for that…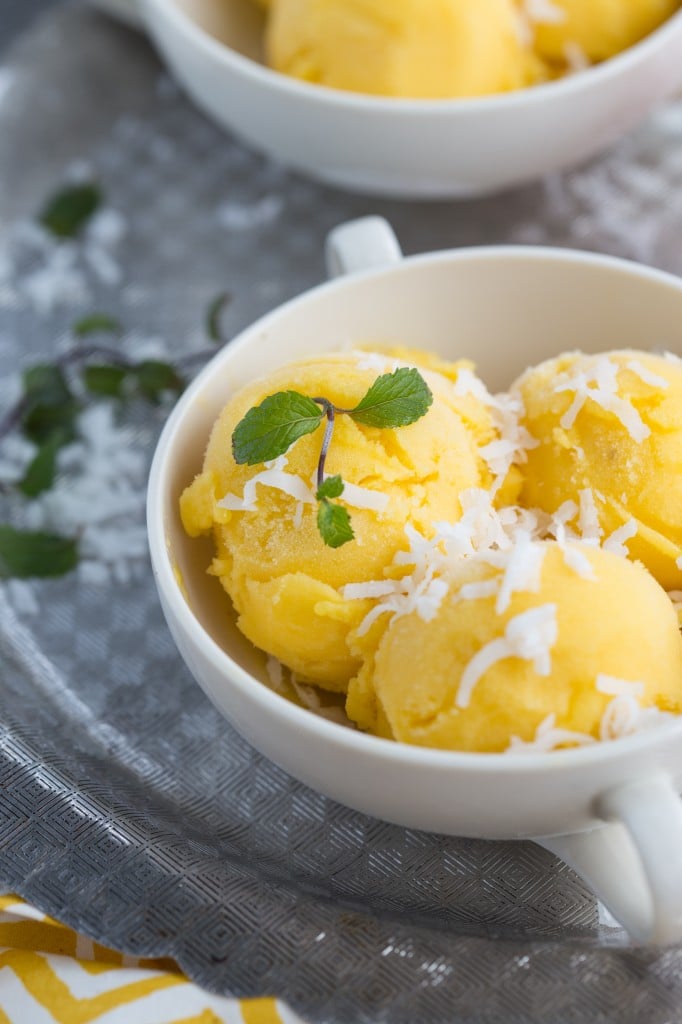 However, this past time when I went to the store, the babe was not having shopping. He was done right when I put him in the shopping cart. So, naturally, I had to hurry my quickest. I used the husband's technique – just grab the produce and go.
I'm telling you – it totally works. I got the very best mango I've ever had. And the pineapple? Dripping with flavor. Literally – the juice was just dripping out of it as I cut it. Mmmmm.
And with some of the best ever produce, it made for some killer sorbet. I'm talking fresh, smooth, and flavor. Plus the sugar doesn't hurt it either 🙂
Also, I finnnnally got an ice cream maker!!! I've been wanting one for-ev-er, but it just wasn't super practical in our itty-bitty apartment at college, nor in our studio apartment in Boston, … but now? Oh it's more than practical. The awesome people at Cuisinart let me try their 2-quart pure indulgence ice cream maker and I am completely in love with it. Not only is it sleek looking, but it's super quick and the ice cream, frozen yogurt, and sorbet tastes perfect-o. I'm pretty sure I've used it at least every other day since getting it in the mail. AND because I love it so much, and Cuisinart is SO awesome, they are letting me give one away to a very lucky reader! So, after the recipe, make sure to enter to win one. Oh, and sometimes the entry widget it slow to load, just a heads up 🙂
P.S. Even if you don't win the ice cream maker, you've GOT to make this sorbet. It's diiiii-vine.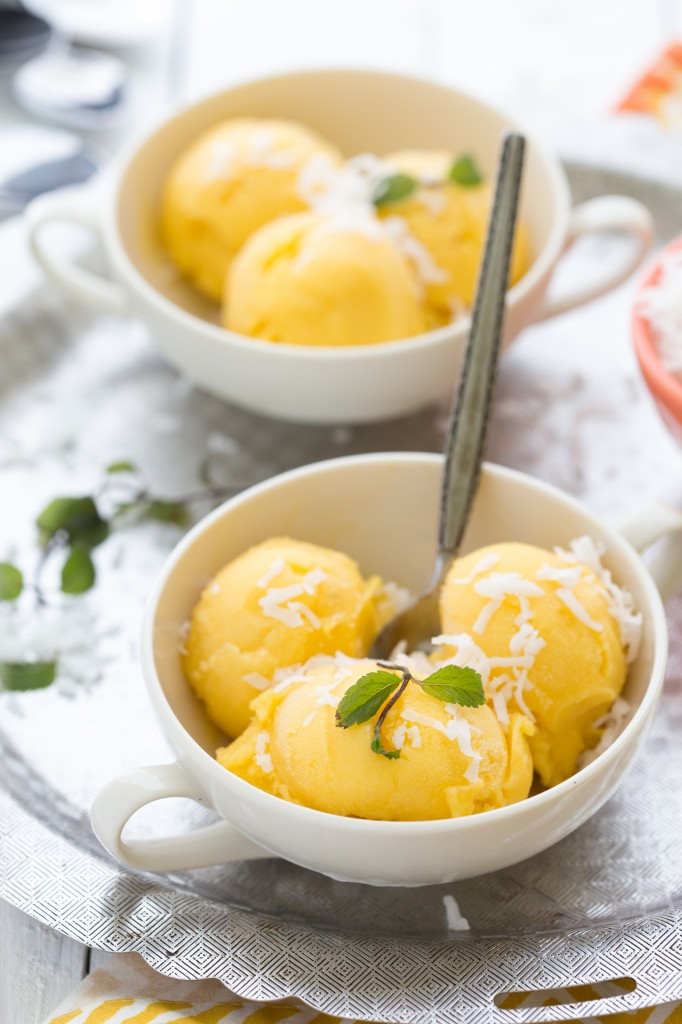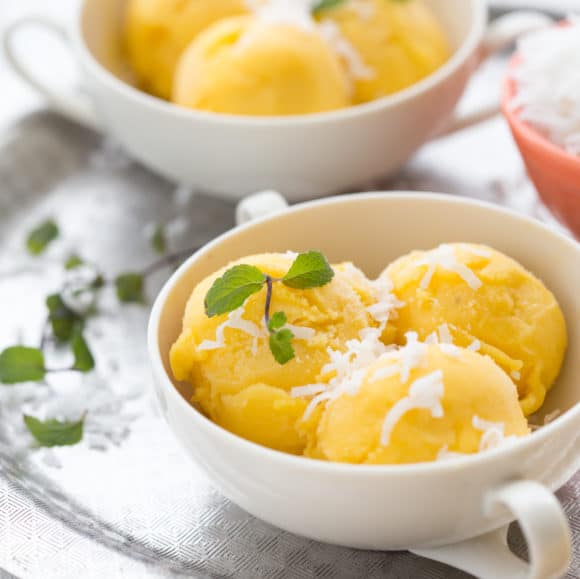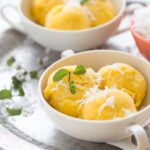 Coconut Mango-Pineapple Sorbet
Ingredients
1

large mango

1

cup

pineapple

2

tablespoons

coconut milk

1

tablespoon

lime juice

1/2

cup

white sugar

Coconut flakes

optional
Instructions
Peel and pit the mango. Chop into large pieces (you should have a very rounded cup of the fruit). Remove the leaves and outer skin of the pineapple. Chop into large pieces.

Combine the chopped mango, chopped pineapple, coconut milk, lime juice, and sugar in a large blender. Blend until smooth.

Freeze in ice cream maker according to manufacturer's directions. It took about 30 minutes for a perfect sorbet consistency.

Enjoy immediately out of the machine topped with some sweetened coconut flakes if desired.

If you want it for later, transfer to an airtight container and freeze in the freezer. Also, freeze any leftovers.
Recipe Notes
The cook time refers to the freezing time in an ice cream maker.
Here is the ice cream maker that I have, love, and highly recommend!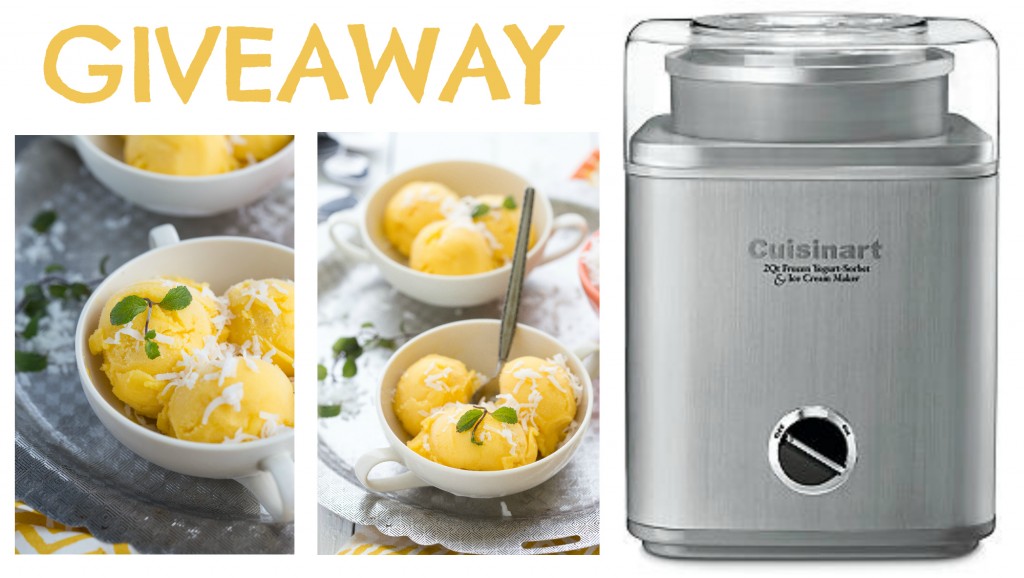 Congrats to [email protected] the winner of this giveaway!
Thanks to everyone who participated!