This Triple Chocolate Tart features a chocolate cookie base, a thick chocolate fudge layer, and a glossy chocolate ganache.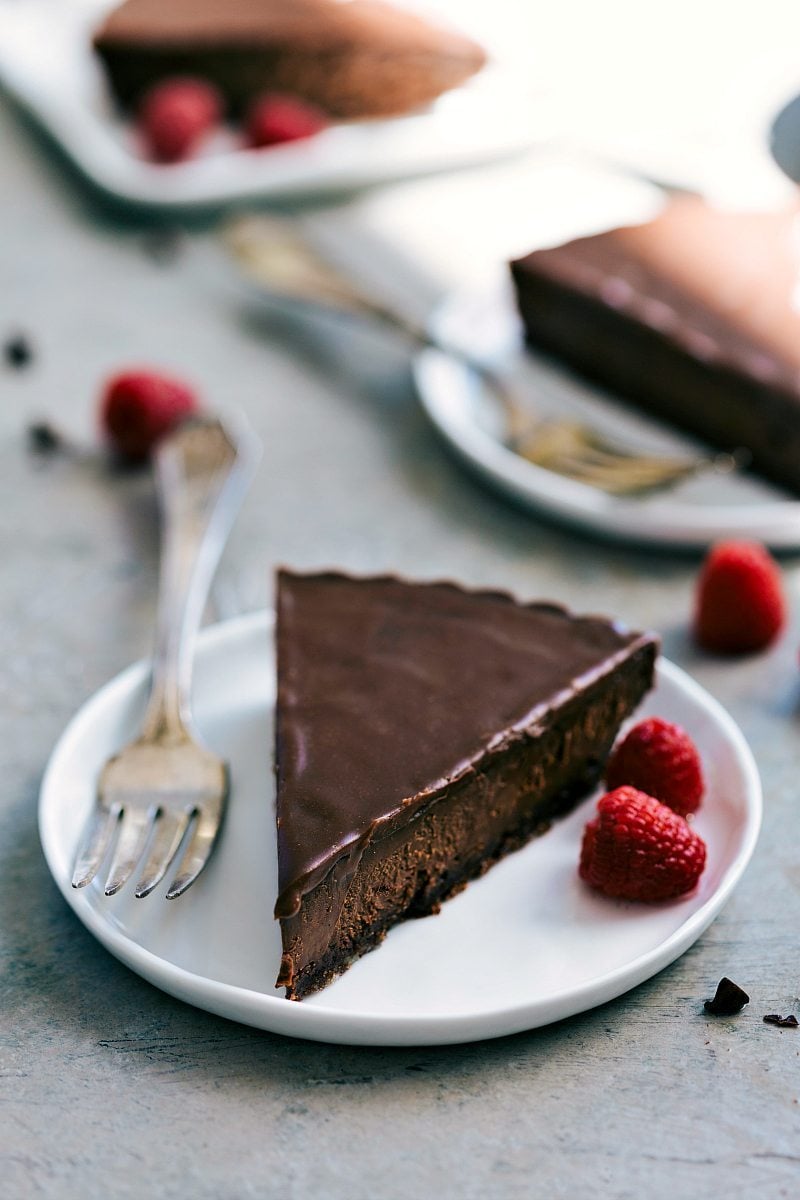 If you've read my blog for any length of time it's no secret that 1: my boys love to cook, bake, and be with me in the kitchen and 2: they make an impressive amount of messes. Like the time Bentley crawled up on a stool in the pantry and emptied 3 HUGE bags of cereal all on the floor in the time I helped my toddler go to the bathroom? …Or did I forget to tell that story here?…
There are dozens of similar stories (here, here, and here to start) and I'm so excited to be partnering with Palmolive® today to talk a little bit about combating those endless messes (aka great memories or so I'm told) my kids create.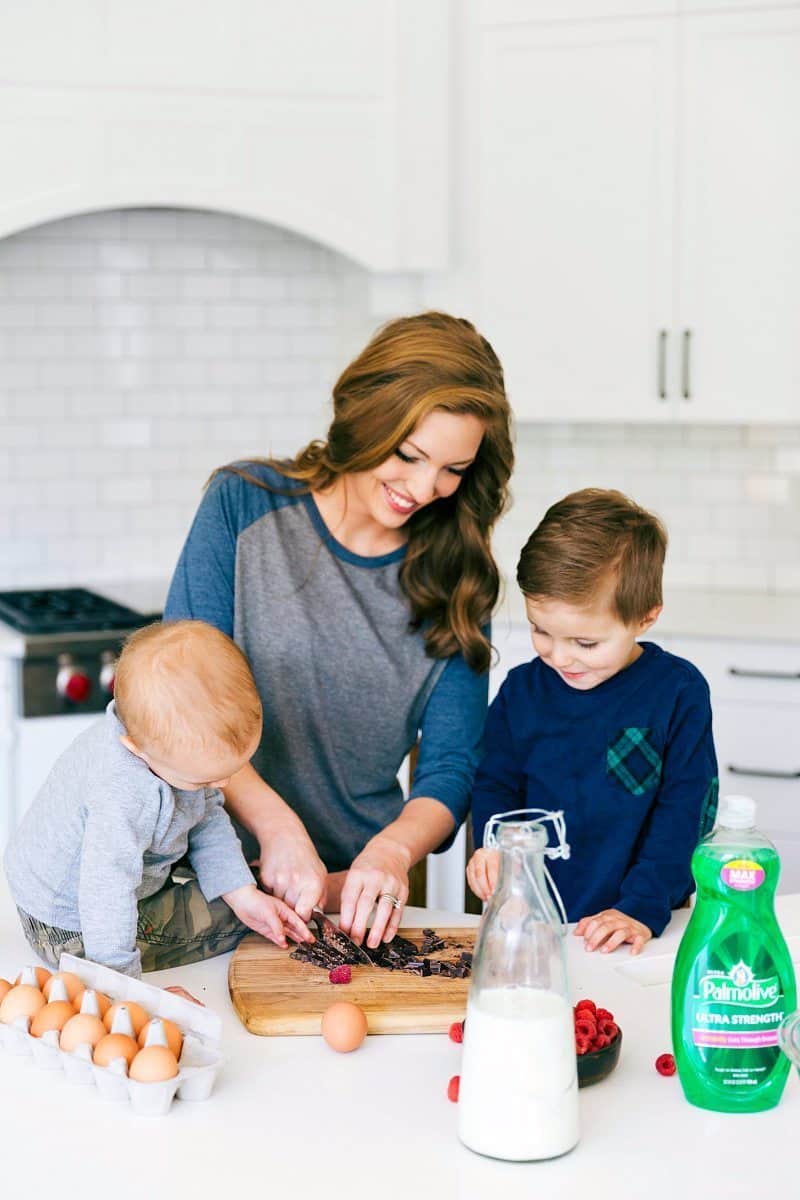 A couple of weeks ago, I was able to watch Freddie Prinze Jr. share his tips for cooking & cleaning in the kitchen with the kiddos. He explained that "Messipes" are like a conjunction of "Messy"and "Recipes" so those particular recipes that tend to make a pretty big mess.
So in creating my own Messipe (Messy Recipe) today, I thought what do my kids tend to get messiest with? Hands down: chocolate. How that chocolate can never seem to make it in their mouths but covers their hands, faces, and table I'll never understand.
Lightly evidenced here: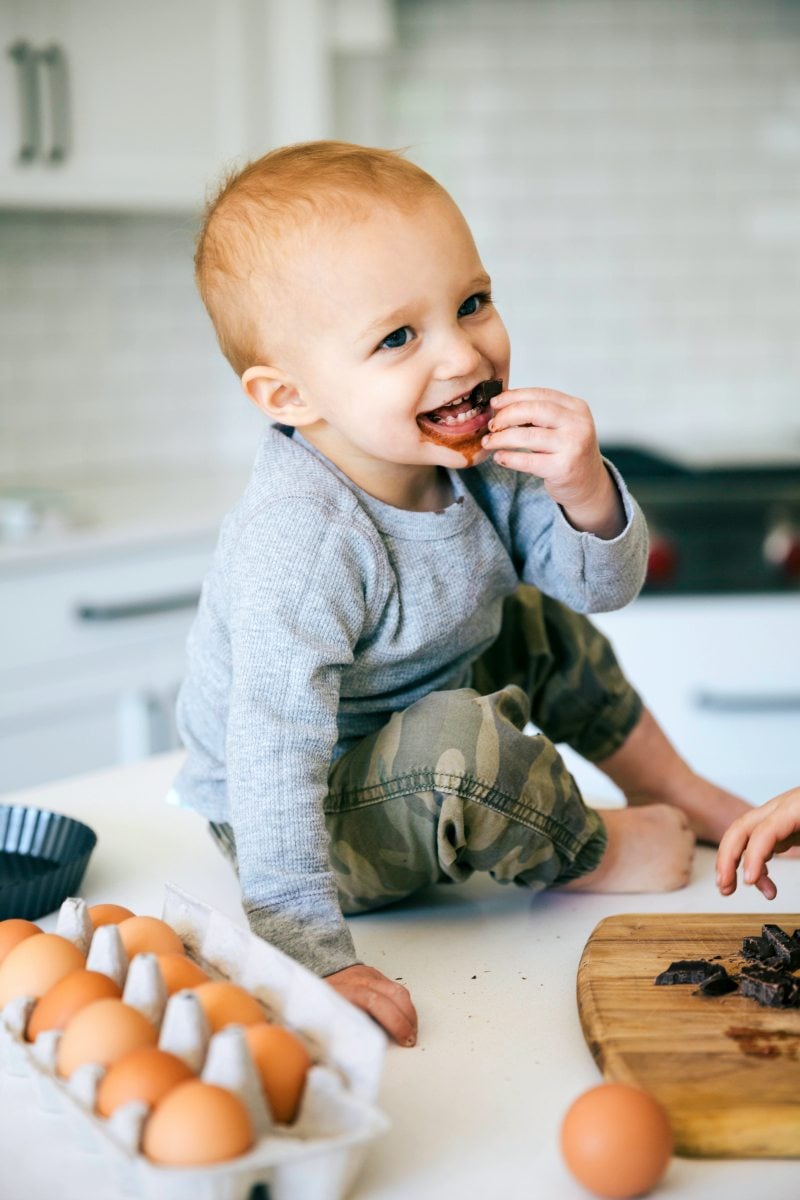 We seriously had the best time making this chocolate tart together and an even better time eating way too much of it. I'm going to warn you right now; not only is it messy it is ADDICTING! Three layers of pure fudgy + chocolatey goodness and you'll be amazed at how simple it is to make. The hard part is just waiting for it to cool!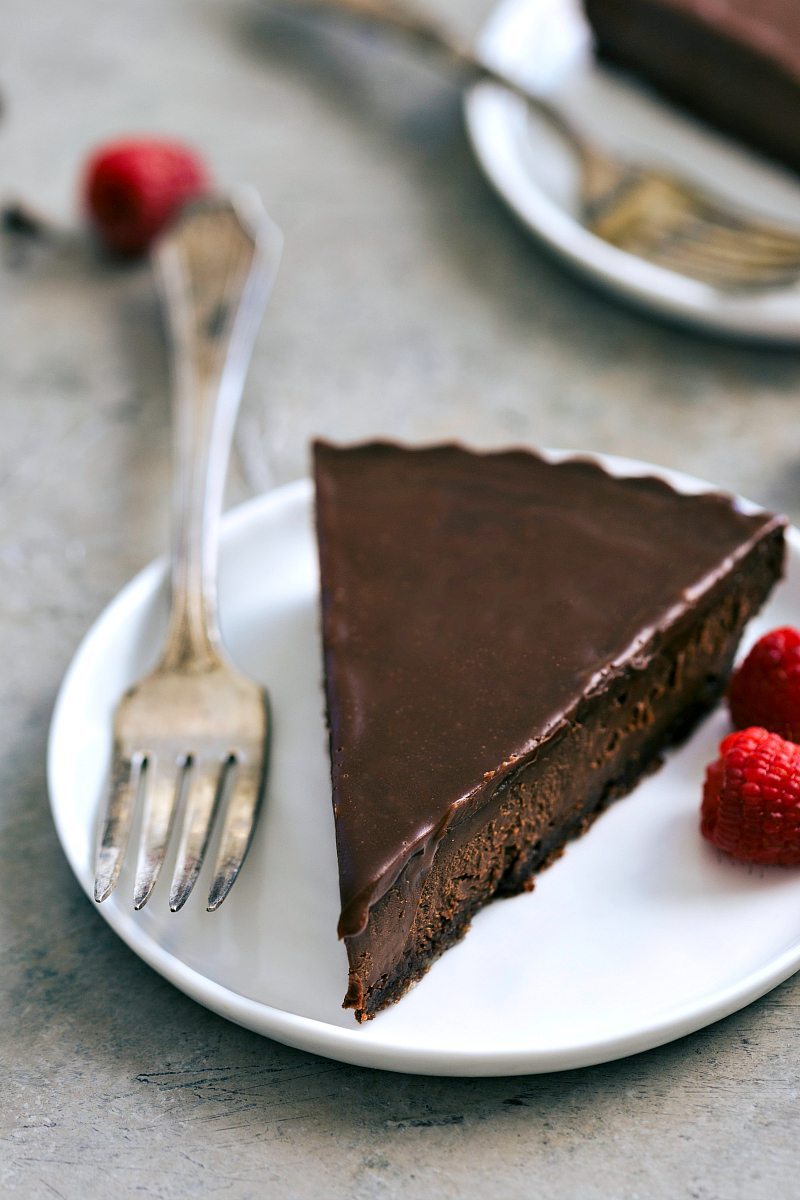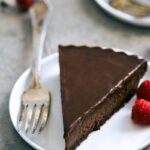 Triple Chocolate Tart
This Triple Chocolate Tart features a chocolate cookie base, a thick chocolate fudge layer, and a glossy chocolate ganache.
Ingredients
Crust
20

chocolate sandwich cookies (oreos),

You'll need 1 cup cookie crumbs (no need to separate cookie from creme)

2

tablespoons

white sugar

4

tablespoons

unsalted butter,

melted
Filling
1 and 1/4

cups

heavy cream

3

large

egg yolks

2

cups

semi-sweet or dark chocolate chips

(whatever your preference is)

1/4

teaspoon

fine sea salt

1

teaspoon

pure vanilla extract
Ganache
2

tablespoons

heavy whipping cream

2

ounces

milk chocolate

1

teaspoon

light corn syrup
Instructions
Preheat the oven to 325 degrees F. Lightly grease a 9-inch tart or pie pan with cooking spray.

In a small bowl, combine cookie crumbs and sugar and then stir in butter. Press firmly into the bottom of the greased and prepared pan and up 3/4ths the way on the sides. Bake for 10 minutes and then remove onto a cooling rack and cool completely.

Whisk together cream and egg yolks in a saucepan. Heat over medium-low heat, stirring constantly, until mixture is very hot (but NEVER boils) and thickens slightly. Remove the mixture from the heat and stir in the chocolate chips until completely melted and mixture is smooth. Stir in the salt and vanilla extract.

Pour the chocolate chip mixture into the prepared crust and then refrigerate for 3 hours.

For the ganache, heat the heavy cream to close to a boil (in the microwave) and then add in the chocolate stirring until smooth. Stir in the corn syrup and whisk until completely combined. (Return to the microwave for 10-15 seconds if needed).

Smooth this glaze evenly over the tart and chill for 1 more hour before serving.