This Triple Chocolate Tart features a chocolate cookie base, a thick chocolate fudge layer, and a glossy chocolate ganache.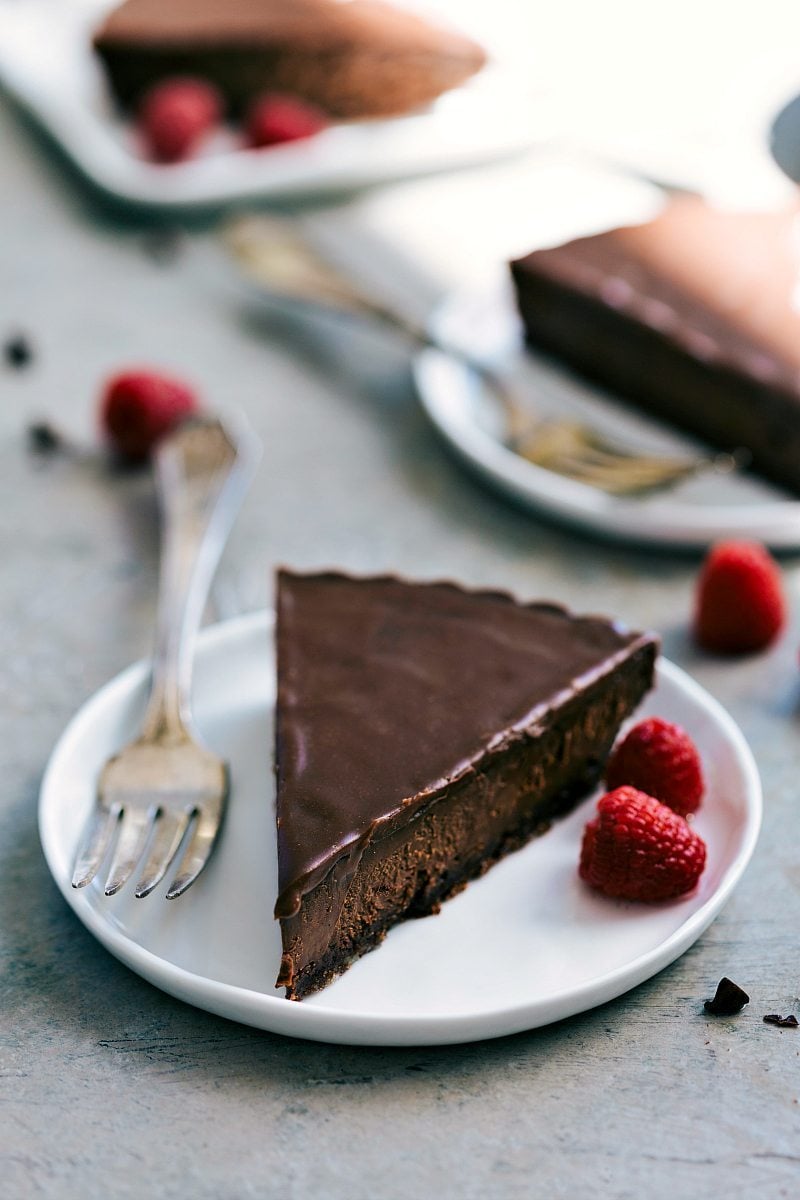 Giveaway: Two readers have a chance to win "Messipes" kits featuring Palmolive® Ultra StrengthTM product and "Messipes" signed by Freddie Prinze Jr. (Details after the printable recipe!)
If you've read my blog for any length of time it's no secret that 1: my boys love to cook, bake, and be with me in the kitchen and 2: they make an impressive amount of messes. Like the time Bentley crawled up on a stool in the pantry and emptied 3 HUGE bags of cereal all on the floor in the time I helped my toddler go to the bathroom? …Or did I forget to tell that story here?… ?
There are dozens of similar stories (here, here, and here to start) and I'm so excited to be partnering with Palmolive® today to talk a little bit about combating those endless messes (aka great memories or so I'm told) my kids create.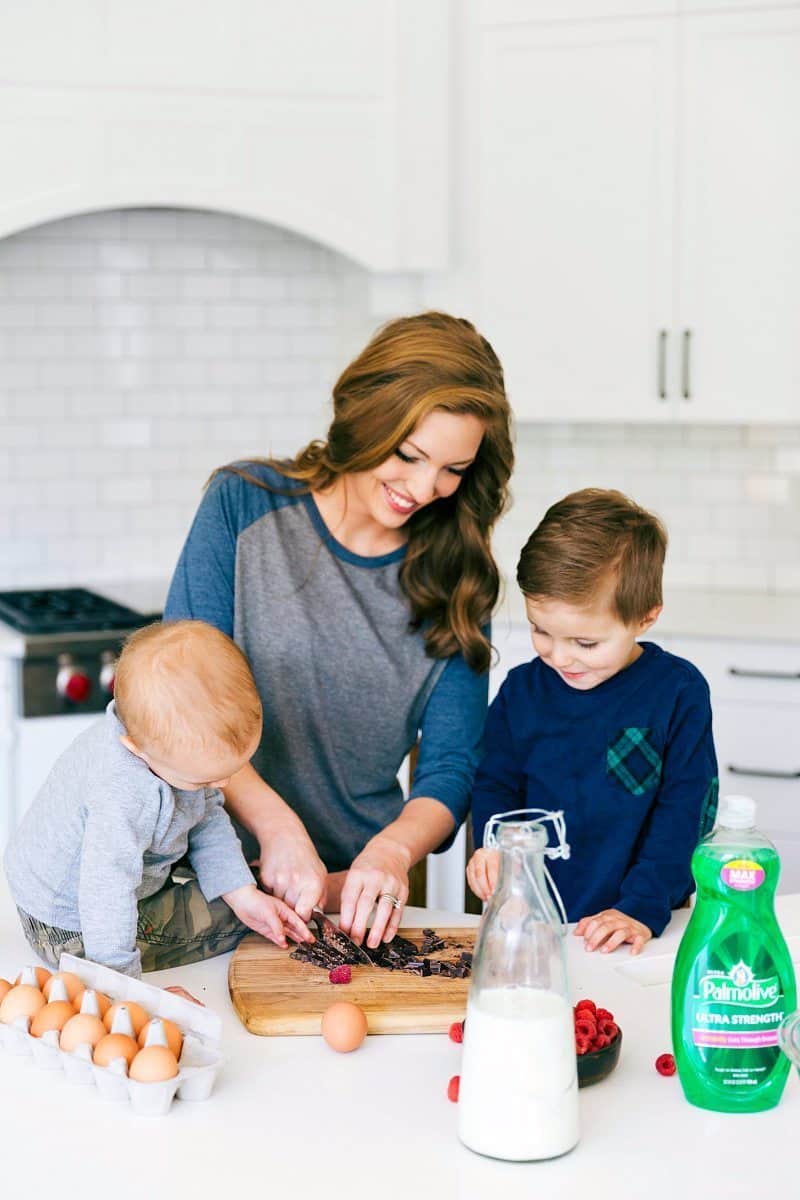 A couple of weeks ago, I was able to watch Freddie Prinze Jr. share his tips for cooking & cleaning in the kitchen with the kiddos. He explained that "Messipes" are like a conjunction of "Messy"and "Recipes" so those particular recipes that tend to make a pretty big mess.  Check out Freddie's own Messipes on the Palmolive® Facebook page here.
So in creating my own Messipe (Messy Recipe) today, I thought what do my kids tend to get messiest with? Hands down: chocolate. How that chocolate can never seem to make it in their mouths but covers their hands, faces, and table I'll never understand.
Lightly evidenced here: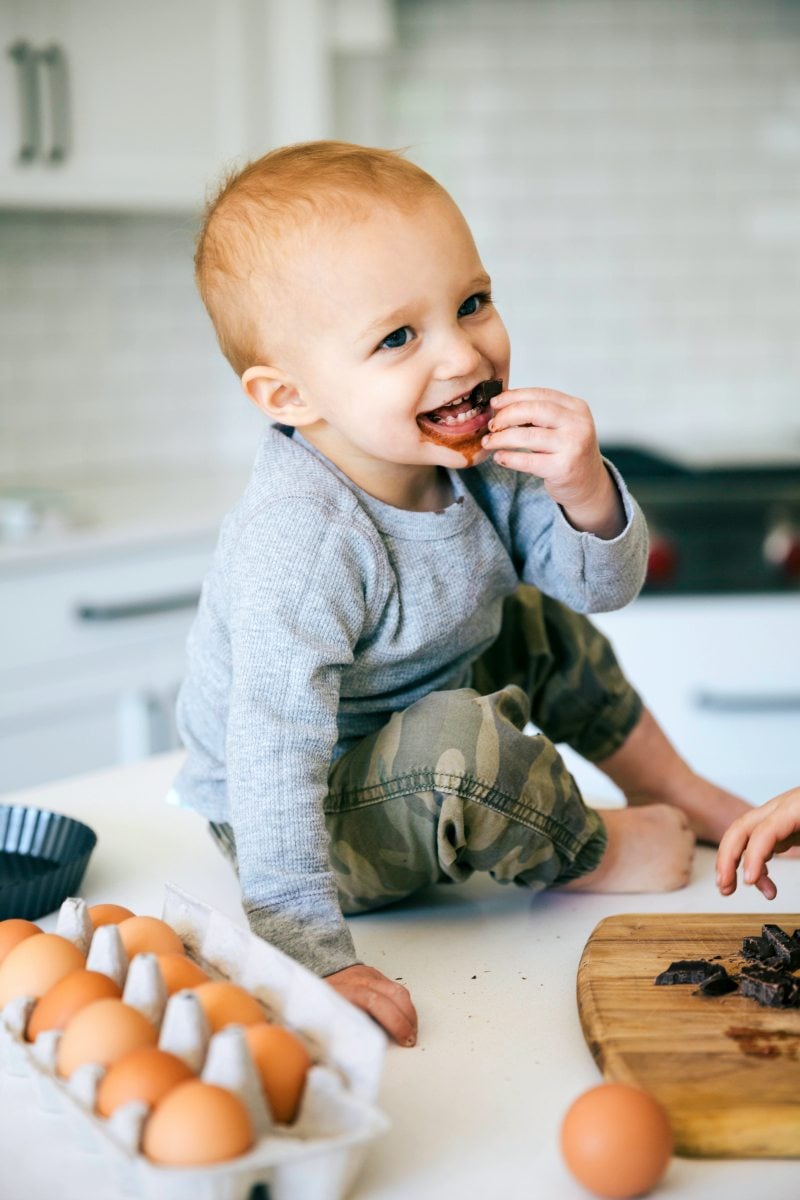 We seriously had the best time making this chocolate tart together and an even better time eating way too much of it. I'm going to warn you right now; not only is it messy it is ADDICTING! Three layers of pure fudgy + chocolatey goodness and you'll be amazed at how simple it is to make. The hard part is just waiting for it to cool!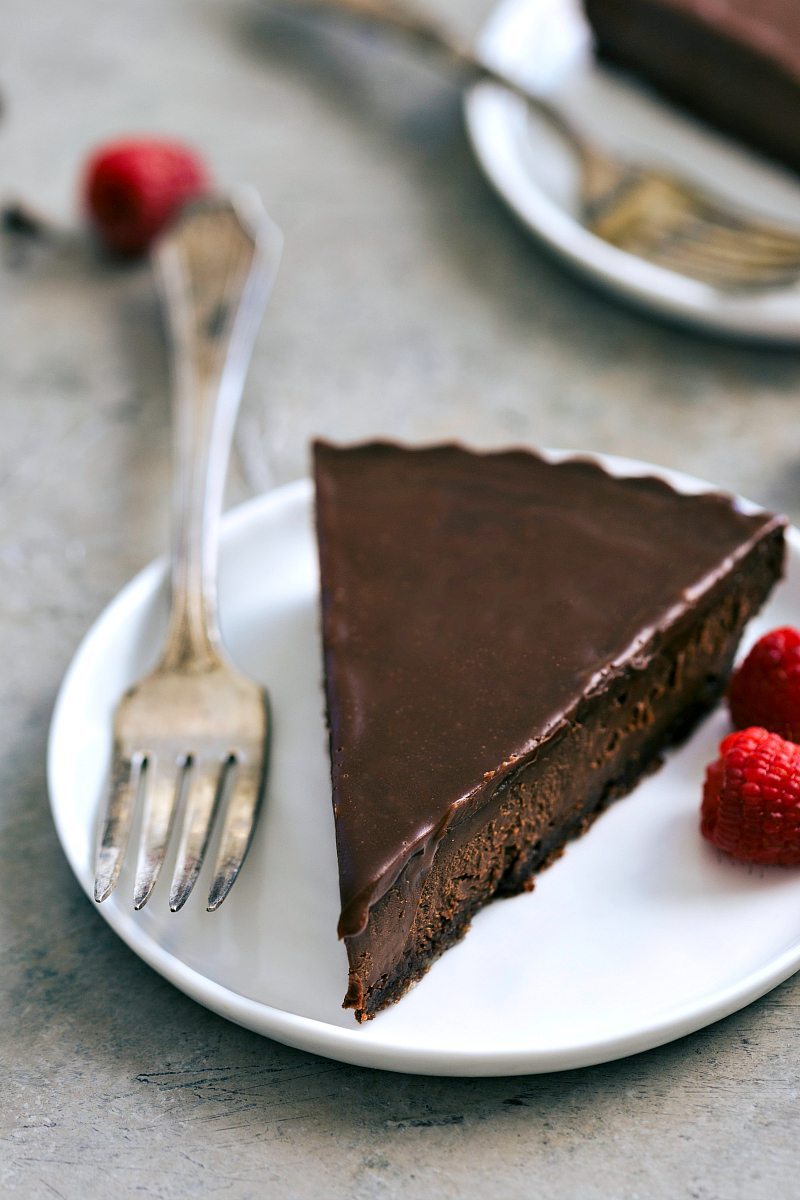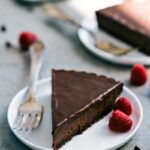 Triple Chocolate Tart
Triple Chocolate Tart features a chocolate cookie base, a thick chocolate fudge layer, and a glossy chocolate ganache.
Servings
:
1
10-inch tart pan (8 large servings)
Ingredients
1

(10-inch)

fluted tart pan (1 inch deep)
Crust
1

cup

Teddy Graham cookies,

finely crushed

5

tablespoons

unsalted butter,

melted

3

tablespoons

white granulated sugar
Fudge Layer
8

tablespoons

unsalted butter,

chop into small pieces

10

ounces

semi-sweet chocolate

2

large

eggs

1

cup

heavy whipping cream

1/3

cup

white granulated sugar

1/4

teaspoon

salt

1/2

teaspoon

vanilla extract
Ganache
2

tablespoons

heavy whipping cream

2

ounces

milk chocolate

1

teaspoon

light corn syrup
Instructions
Preheat the oven to 350 degrees F. Place the tart pan on a large sheet pan and lightly grease the tart pan with nonstick spray.

Blend the teddy grahams until they are finely crushed in a blender or food processor. Toss the crumbs (have the kids measure to make sure you have 1 full cup), melted butter, and white sugar in a bowl. Mix until well combined and then press evenly onto bottom and 3/4 inch up side of the tart pan.

Bake for 8 minutes and then cool on a cooling rack for 15-20 minutes. Have the kids help you clean up the bowl and blender in warm water with a few drops of Palmolive® Ultra StrengthTM while you're waiting.

For the Fudge Layer, add the 10 ounces of chocolate with the chopped butter in a large microwave safe bowl. Melt in the microwave in bursts of 15 seconds, stirring in between each burst for 10-15 seconds until the mixture is smooth. Allow to cool. Definitely allow for a quick taste test here 🙂

In another mixing bowl, beat the eggs with a whisk. Add in the heavy whipping cream, sugar, and salt. Whip this mixture until it becomes frothy and then slowly add the chocolate layer whisking constantly until the mixture is well blended. You don't want to add the chocolate when it's too hot or add it too fast or it will cook those eggs! Whisk in the vanilla extract.




Tip: keep a damp sponge with a few drops of Palmolive® Ultra StrengthTM dish liquid on hand to clear up any splatters from whisking this mixture.


Pour the filling into the prepared crust being careful to not overfill. Place the tart (still on the sheet pan) in the oven and bake for 25-28 minutes or until the edges are set and the center is still slightly jiggly.

Remove from the oven and allow to cool completely and then transfer to the fridge and allow to cool until firm; at least 1 hour.

For the ganache, heat the heavy cream to close to a boil (in the microwave) and then add in the chocolate stirring until smooth. Stir in the corn syrup and whisk until completely combined. (Return to the microwave for 10-15 seconds if needed).

Smooth this glaze evenly over the tart and chill for 1 more hour before serving.

Tip: After serving this tart, soak the sheet pan and the tart pan in a few drops of Palmolive® Ultra StrengthTM and warm water. This helps make the clean up quick and easy!
Recipe Notes
*The total time does not include chilling time of 2 hours.
GIVEAWAY DETAILS: Two readers have a chance to win a package! Everyone has two entry chances; 1: Leave a comment below telling me your favorite "messipe" (messy recipe) and 2: Like Palmolive's

®

Facebook Page. Good luck!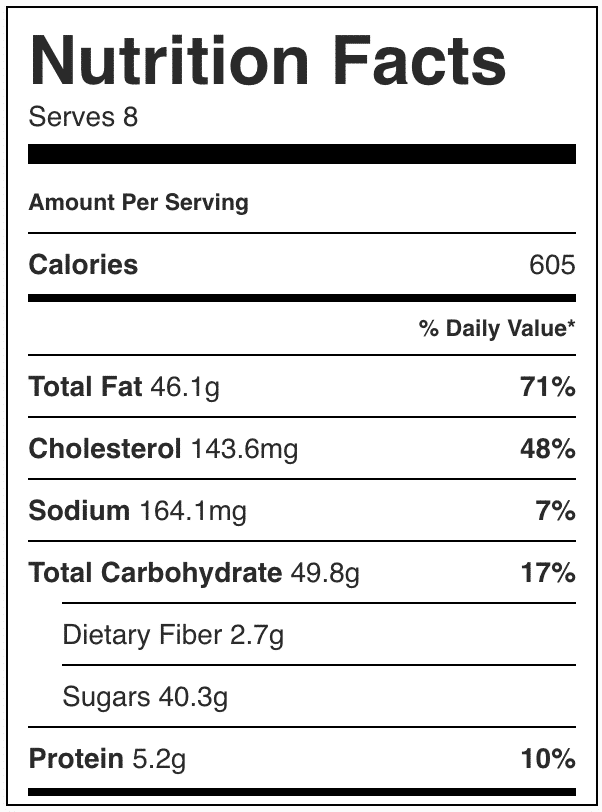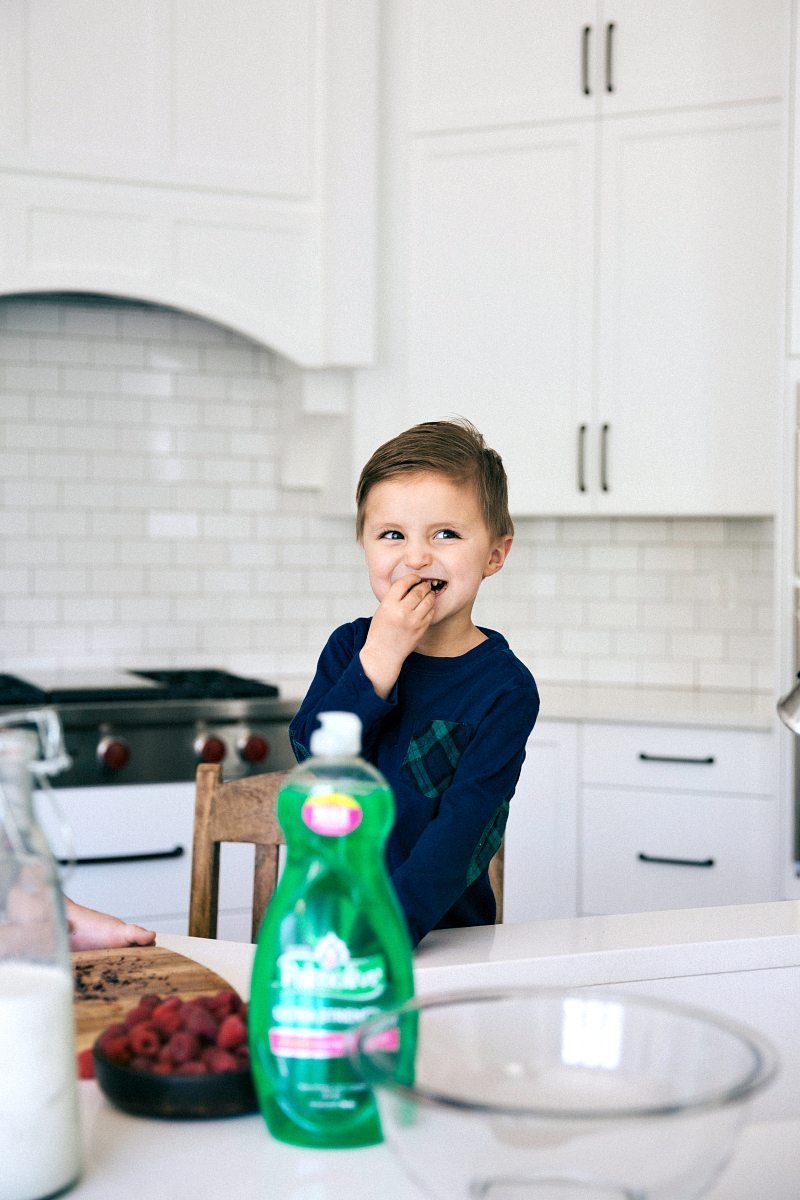 As a participant of the Palmolive® Ultra StrengthTM program, I've received compensation for my time and product samples for review purposes. As always, all opinions are my own.#Messipes