Our favorite Honey Whole Wheat Bread is soft, chewy, with the most delicious buttery crust. This article includes plenty of step-by-step process photos, tips, and directions to help you succeed.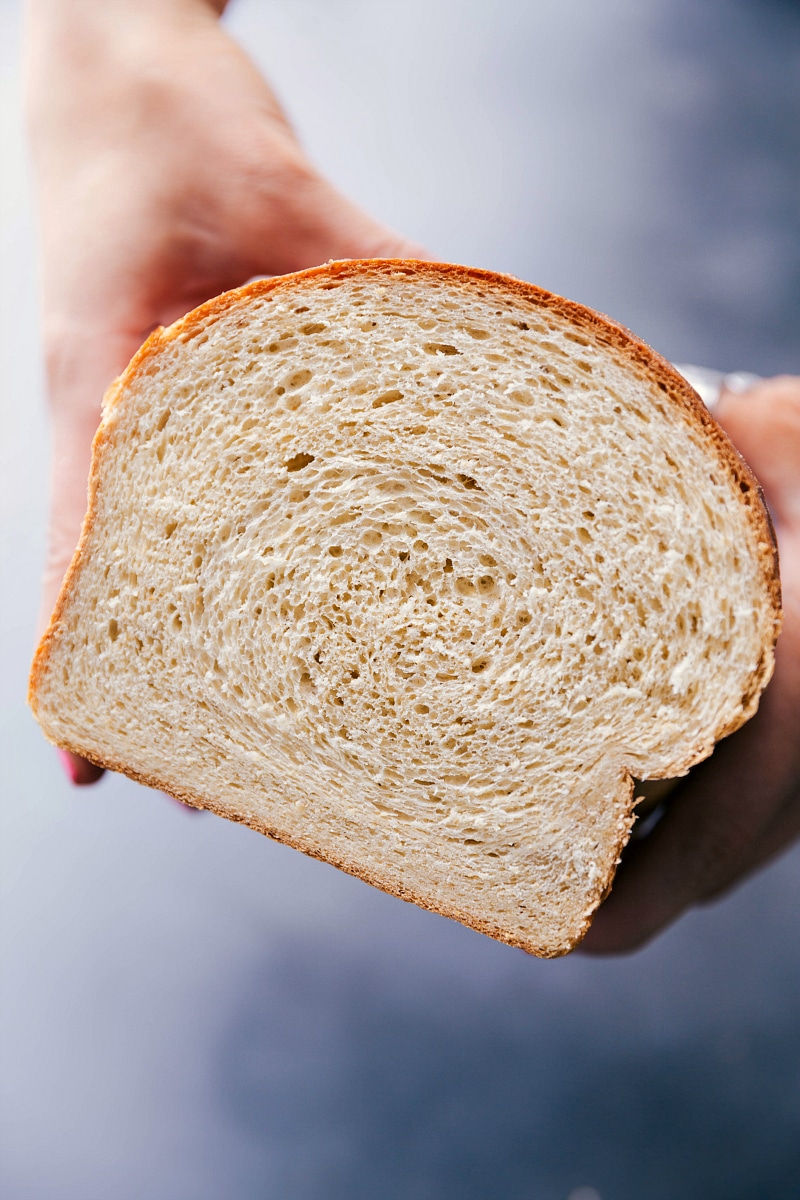 Honey Whole Wheat Bread
Bread making has become quite the trend while so much of the world has been on lock down. I have received so many requests for a homemade bread recipe, so I'm excited to finally be sharing one. I actually started working on this recipe last year, if you can believe it — we had just gotten a Mockmill 100 Grain Mill from Breadtopia, and I quickly became obsessed with grinding my own wheat and making homemade bread.
It's taken me a while to tweak this bread to exactly how we like it, and I'm thrilled with the results. This recipe is based off a honey wheat bread from the restaurant where I used to work. They gave me their recipe, but it made about 600 miniature loaves! After some intense spreadsheet equations to reduce the quantities, and a lot of testing, I finally got to the recipe I'm sharing today. It tastes quite different than the restaurant's bread, but truthfully, we like it even better!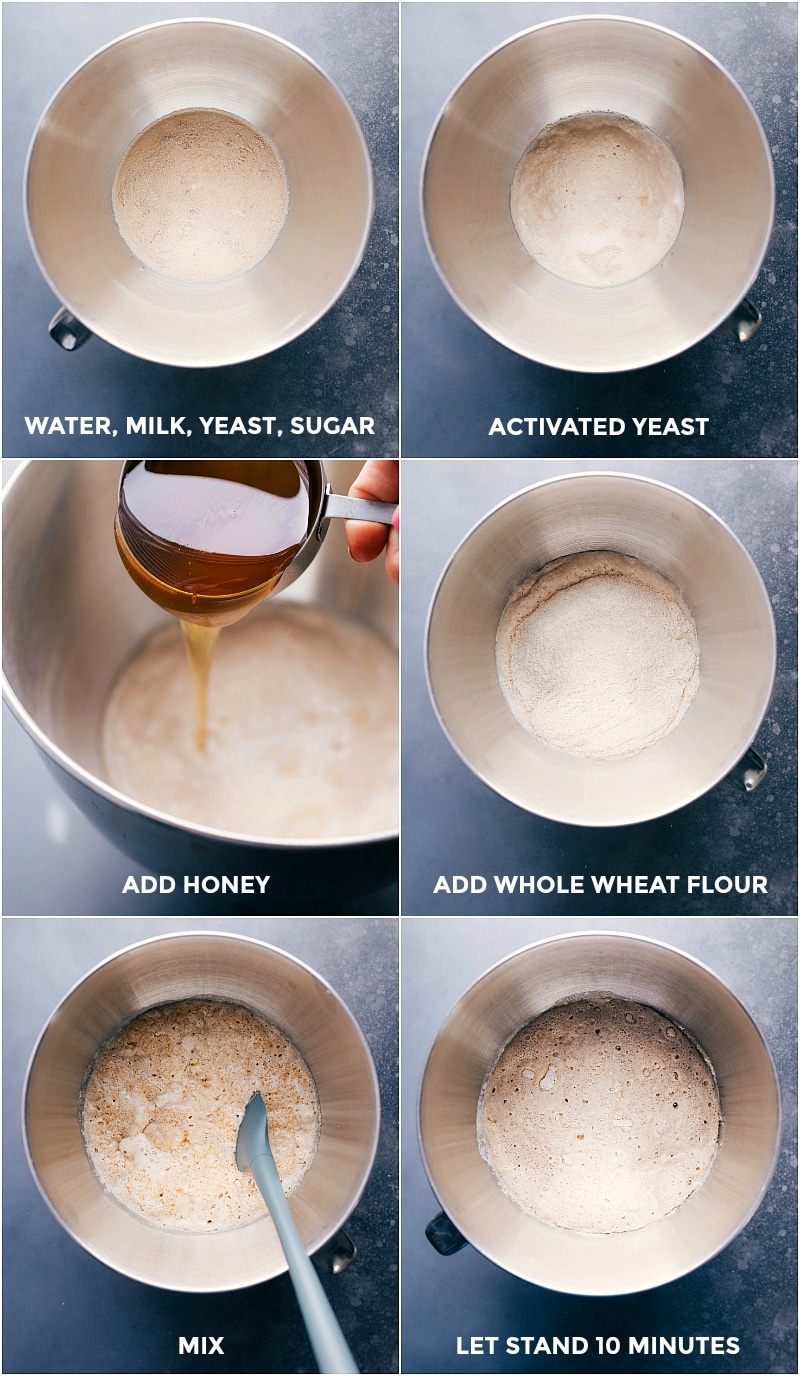 How to make homemade Honey Whole Wheat Bread
While making homemade bread is time consuming, most of the time is hands off. There aren't too many ingredients and the process is very simple. Below I outline the general process, with plenty of tips and explanations sprinkled throughout.
Activate the yeast. We start by proofing yeast, which shows if it is still alive and active (yeast is a living organism). In my recipe, this is done with warm water, warm whole milk, active dry yeast, plus a little sprinkle of sugar. If you're new to bread making, I find it very helpful to make sure you can see the yeast has been activated before moving on to the next steps. If the yeast doesn't activate, the bread won't rise.

Activated yeast will grow, get foamy, smooth, and silky as shown in the photo collage below.
If the yeast doesn't proof, this can be because the yeast is old, the water or milk was too hot, or the water/milk and/or environment is too cold. Yeast produces and feeds best at around 70-80 degrees Fahrenheit.
Unlike mixing baking soda into a snickerdoodle cookie recipe, when you work with yeast, you have to be aware and sensitive to the needs of the tiny cells working their way in the bread dough.

Add honey and whole wheat flour. Mix in these two ingredients and then let the mixture sit for another 10 minutes. You can buy whole wheat flour at the store or grind your own. I mentioned the bread mill I have and highly recommend — it grinds the wheat finely in seconds. If using a bread mill, I recommend grinding the wheat as fine as possible (on the Breadtopia mill, this is at speed 1). (Not sponsored).
Mix in remaining ingredients. The melted butter, fine sea salt, and bread flour complete the ingredient list.

It's important the melted butter has a chance to cool back to room temperature. If hot butter is added into the dough it can kill the yeast.
The salt adds the flavor to this bread; without salt, the bread with taste bland and flat. The salt is also important to the structure of the bread. It tightens the gluten structure and helps control the pace of yeast fermentation.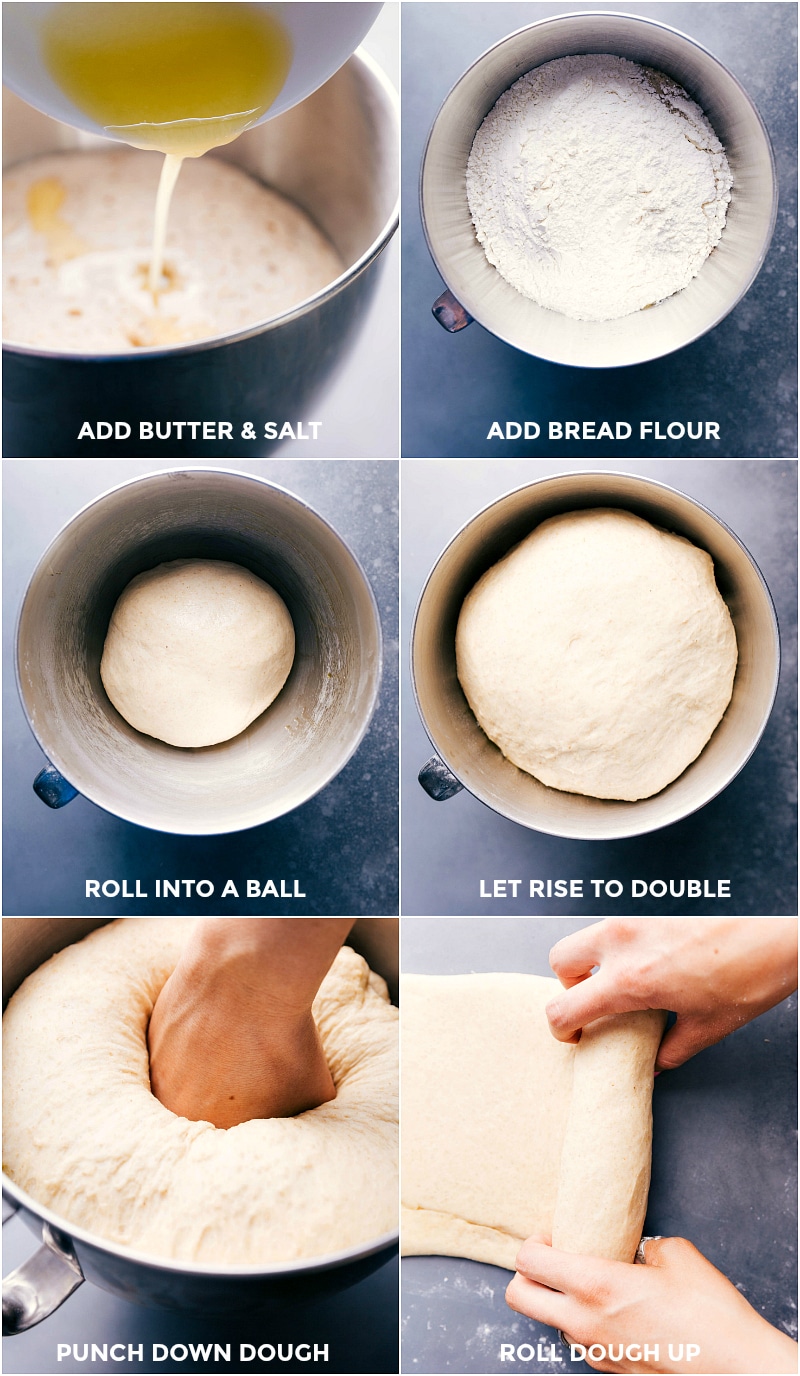 How to make homemade bread, continued
Knead and let rise. Kneading the bread is very important; it's what develops the gluten and will cause the bread to rise. Don't skimp on kneading time — the bread won't rise as well or bake as tall.

Once kneaded, we roll the dough into a ball and let it rise.
I like to drizzle oil into the bowl it's rising in.

Punch the dough down and roll. After the dough doubles in size (about an hour's time), punch the dough to release the air. This removes gas bubbles formed by the yeast during the rising process. It also redistributes the yeast cells so they can ferment and raise the dough again during the proofing stage.

While you can form a loaf with your hands, I like to roll out the dough with a rolling pin and then tightly roll it to form a cylinder loaf shape.
The formed dough roll goes into a greased bread pan and then it's left to double once again.
Once the dough has doubled in size, the bread is ready to bake.

Bake the bread. The loaves bake for about 30-33 minutes and we brush with melted butter or rub a stick of butter on the crust right out of the oven.

After the bread comes out of the oven you may want to cut into it immediately, but the heat inside is continuing to cook the bread. Slicing too soon interrupts this process, and leaves you with overly moist slices of bread near the middle of the loaf.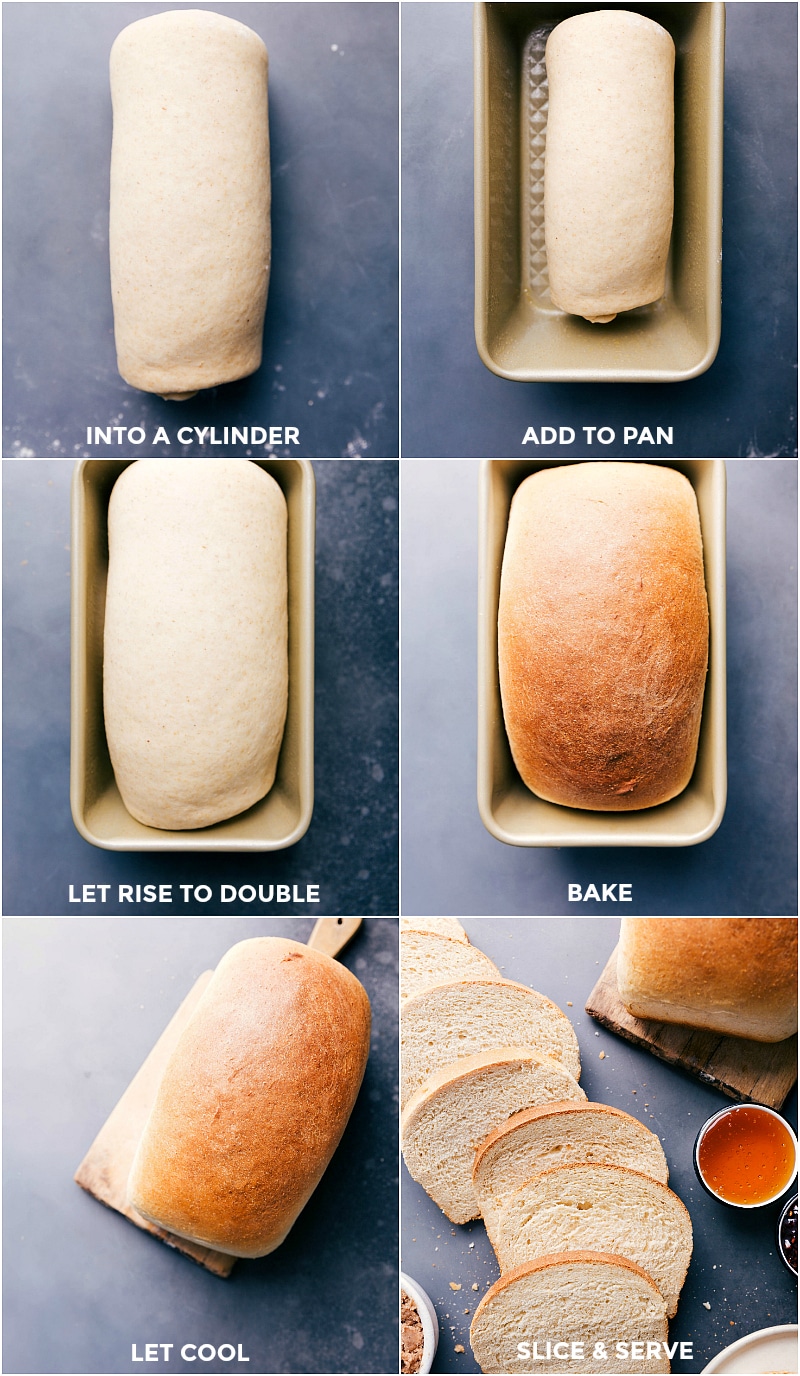 Honey Whole Wheat Bread tips
Making bread takes patience! Don't rush through the steps. And on the flip side, don't let the bread rise too long; over-proofed loaves often have a crumbly, gummy texture.
Adding the flour to the batter can be tricky. Humidity, altitude, and temperature can all factor in to how much flour you'll need. I always recommend starting with 1/2 cup shy of what a recipe calls for and adding very slowly until the dough pulls off the sides of the bowl and is not excessively sticky. We don't want wet dough, but it should still have moisture in it.

Too much flour results in a dense and less-flavorful loaf of bread.
I don't recommend flouring the surface to knead or roll out the bread dough; this unnecessarily adds extra flour to the dough. If you have a dough scraper or metal spatula, use that to scrape any stubborn, sticky areas. Use cooking spray (instead of flour) to coat your hands and the counter tops when rolling and kneading.
When measuring flour for this bread, be sure to spoon and level the flour. If you press a measuring cup into a container and push flour into the cup, you'll end up with way too much flour. Here's how to spoon and level flour.

Make sure the yeast is fresh. (Here's how to test if yeast is fresh.)
Regulate your kitchen's temperature. If your kitchen is too warm or cool it might affect the yeast proofing. If it's warm, the bread will over proof (become dense) and if it's too cool, the yeast might not have a chance to become active and create enough gas to lift the dough. The ideal temperature is in the 65- to 75-degree F range.
If you grind your own wheat, make sure to give sufficient time for the freshly ground flour to cool to room temperature. Grinding wheat to flour creates friction, which makes the flour hot. If added immediately, can kill the yeast.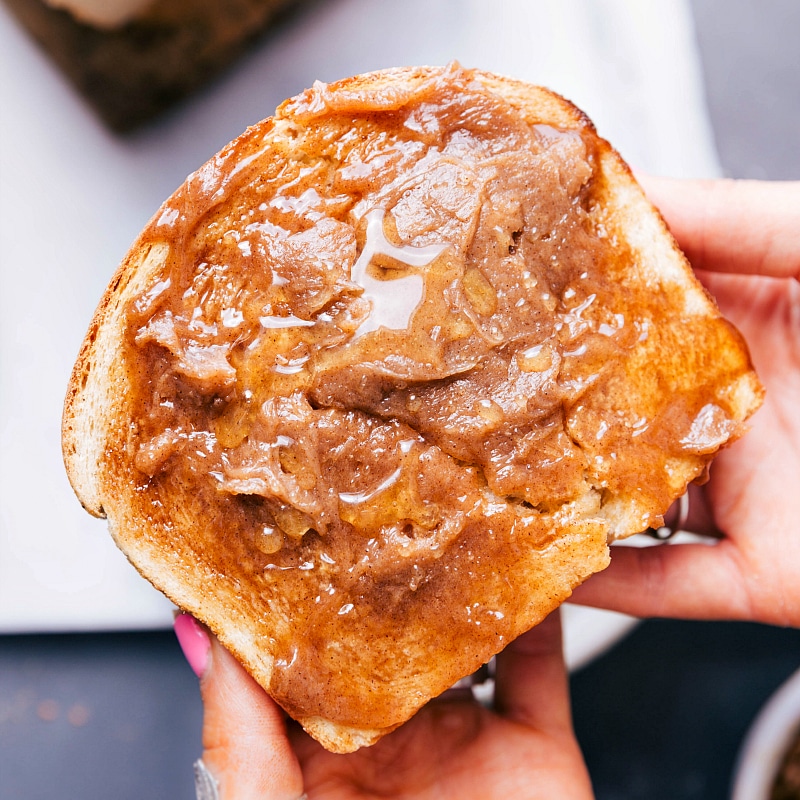 FAQs
Can I substitute ingredients?
While I've worked through this recipe many times, I probably haven't worked through your particular substitution idea. I have only tested and finalized this recipe with the measurements and ingredients listed in the recipe. For best results, I'd recommend sticking exactly to the recipe. Baking is a precise art that involves chemistry! Even tried and true substitutions don't always work with baking.
Why use bread flour?
Bread flour has more protein than all-purpose flour, which helps with the bread's gluten development and yields a better chewiness in this recipe. I recommend using bread flour when making whole wheat bread, for all those reasons. You can read more about the differences between flours here. All-purpose flour can generally be used at a 1:1 substitution for bread flour, but the bread will have less chew.
Can I use instant yeast instead of active dry yeast?
I recommend using active dry yeast for this recipe, but instant yeast will also work.
Why is my bread dense?
There are several reasons bread can come out dense, but most likely it is because the yeast did not proof long enough or was killed.
Here are some other possible culprits:
Adding too much salt or adding salt right on top of the yeast–salt kills yeast, which is why we add it very last.
Proofing in too-cold or warm of a place can hinder the yeast development.
Using dead yeast results in a dense loaf.
If the flour doesn't have enough protein, it will create a dense loaf. This is why I recommend using bread flour.
Adding too much flour can also make for a dense loaf.
More FAQs
How do you knead bread?
Kneading creates structure and strength in the dough. After kneading, the dough should feel soft and elastic. Kneading helps the proteins from the flour begin to line up in a way that will traps gases which help the dough rise, so don't skip or rush the kneading!
The dough can be kneaded by hand or with a stand mixer. I personally prefer using the stand mixer, but have made this bread both ways. Here is a great step by step visual guide to kneading bread with a stand mixer or by hand.
How can you tell if bread is done?
Visually: The bread should have a gorgeous, evenly colored crust that is golden brown. The crust should look firm and dry.
Take the internal temperature: Bread should read about 190-200 degrees F in the center of the loaf.
Tap the bottom: Take the loaf out of the oven and turn it upside down out of the loaf pan. Give the bottom middle of the loaf a light thump with your knuckles and if it sounds hollow, the bread is most likely done. If not, try it again this trick again in 5 minutes.
When in doubt, over-bake it by a few minutes instead of under-baking it. (If you are consistently having trouble with under- or over-done bread, I recommend checking the temperature of your oven. If your oven temperature is off, it could easily be the reason for your problems.)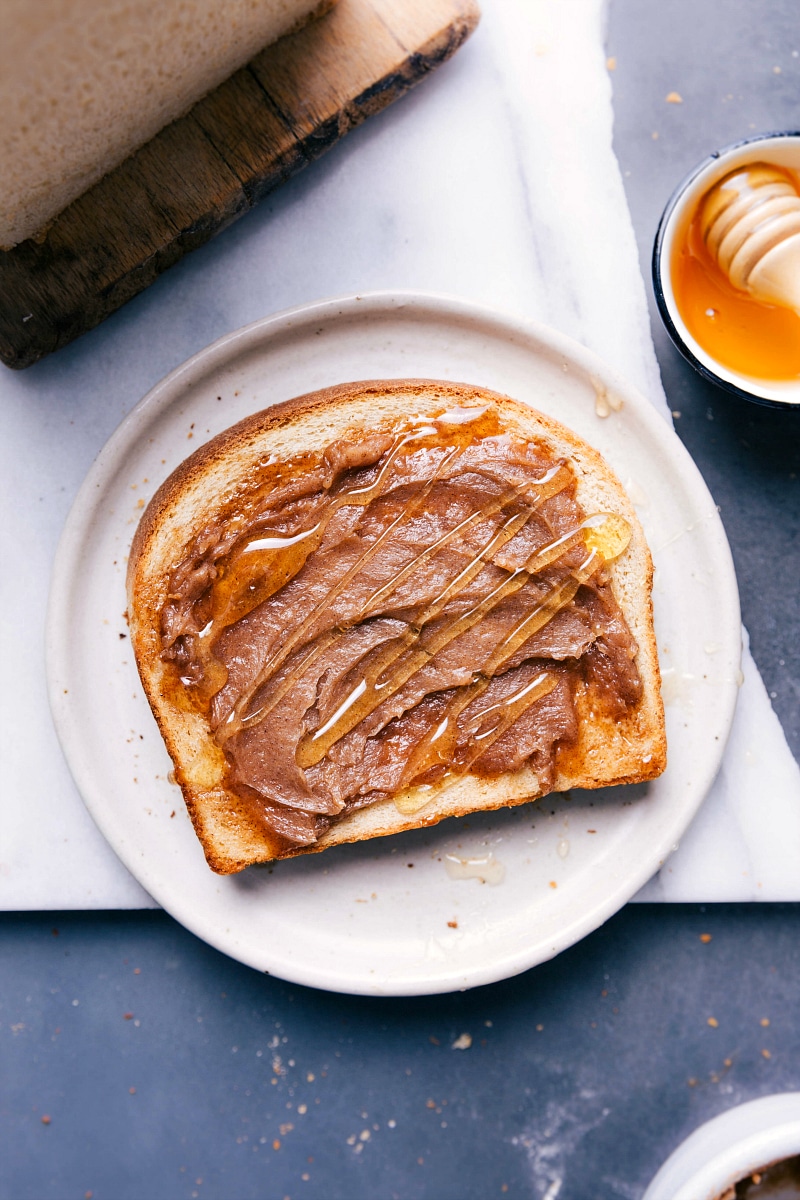 Storing Honey Whole Wheat Bread
Store Honey Whole Wheat Bread at room temperature in a cool dry place, for up to 2-3 days. Heat and humidity can cause bread to mold. I also don't recommend storing it in the refrigerator, as it turns stale quickly. To keep bread soft, store in an airtight plastic bag after it has cooled.
For bread that is leftover after 2-3 days, I recommend storing it in the freezer, where it will keep fresh up to 3 months. Slice it before freezing, and then take out one or two slices at a time, as you need them.
More baking projects
The only thing that can make this bread better? Slathering it in lots and lots of honey butter!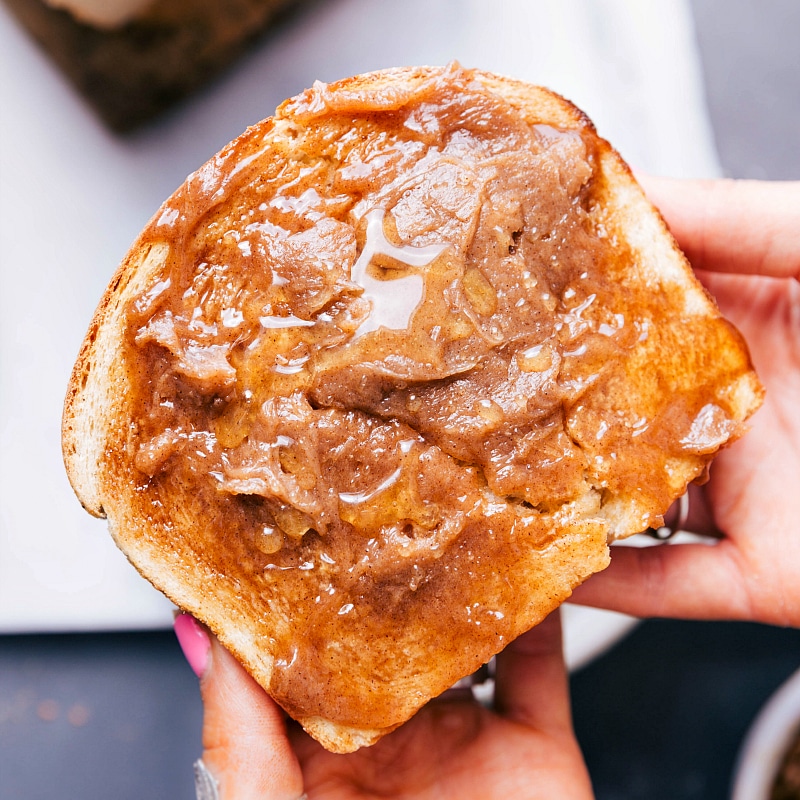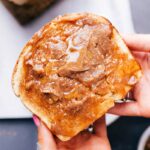 Honey Whole Wheat Bread
Our favorite Honey Whole Wheat Bread is soft, chewy, with the most delicious buttery crust. This article includes plenty of step-by-step process photos, tips, and directions to help you succeed.
Course:
Bread, Breakfast, Side Dish, Vegetarian
Keyword:
honey wheat bread, honey whole wheat bread
Servings
:
2
loaves of bread (24 slices)
Ingredients
1

cup (235g)

warm whole milk

(110 degrees F)

1

cup (210g)

warm water

(110 degrees F)

1

tablespoon

active dry yeast

1

teaspoon

white granulated sugar

1/2

cup (160g)

honey

2

cups (240g)

whole wheat flour

4 and 1/2

cups (595g)

bread flour

1

tablespoon

fine sea salt

6

tablespoons (85g)

melted butter

1/2

tablespoon

olive oil
Instructions
ACTIVATE YEAST: In the bowl of a stand mixer, combine the warm milk and warm water. Neither should be hot or they could burn the yeast. Sprinkle the yeast over top the liquids and then the sugar on top of that. Give everything a quick stir and let stand for 5-10 minutes or until yeast is foamy. If the yeast doesn't foam up, it is dead (either bad yeast or too hot of milk/water) You'll want to dump everything out and start again.

WHOLE WHEAT FLOUR AND HONEY: Pour in the honey and the whole wheat flour. Use the beater blade to stir just until the flour is moistened. Let mixture sit for 10 minutes.

BUTTER: Meanwhile, as the mixture sits, melt the butter in the microwave. Let the butter cool back to room temperature (it's important it's not hot or even warm!) and then stir in the 1 tablespoon of salt. Set aside.

FINISHING DOUGH: Once the dough has sat for 10 minutes, swap to a dough hook. Add in 4 and 1/2 cups of the bread flour. Mix in the butter and salt mixture; use a spatula to scrape all of the butter and salt from the bowl into the dough. Stir on low speed (speed 2) until mixture is all combined and gathers around the dough hook (about 2-3 minutes). If dough is still sticking to the sides, add a little more flour, up to 1 tablespoon at a time. Avoid adding extra unless it really is too sticky.

KNEADING: Once dough has gathered around the dough hook, increase the speed to medium (speed 4-6) and mix for 10 minutes. Don't walk away; your stand mixer might dance off the table If you do (If you don't have a stand mixer you can knead the dough by hand for about 10-12 minutes).

FIRST RISE: Grease a large bowl with 1/2 tablespoon olive oil. Once dough has finished kneading, knead with your hands to shape it into a large even ball of dough. Place the dough in the bowl and turn the ball to coat in the oil. Cover the dough with a damp cloth and place the bowl in a warm place to rise until it doubles in size, about 1 hour.

SECOND RISE: Remove the damp cloth and punch into the dough to release the air. Divide the dough into 2 equal parts (I recommend a food scale to make sure you've got the same amount of dough in each half). Shape dough into two loaves (See Note 1) and place them in greased 8x4-inch bread pans. Cover the pans with a damp cloth and let them rise in a warm place for another 1 hour or until doubled.

BAKE: Bake at 375 degrees for 30-35 minutes. Right out of the oven, brush the tops of the loaves with butter. Let bread cool in the pan for 15 minutes. Then transfer to a wire cooling rack and let cool for at least 30 minutes before slicing (the bread is still cooking even out of the oven). Slice and serve.
Recipe Notes
Note 1: You can roll the dough out with a rolling pin and then roll it up into a cylinder, or shape it with your hands and roll it into a nice even cylinder. If the dough is being difficult to work with and not stretching, let it rest 10 minutes and then try again. This gives a chance for the gluten to relax a little.