This post may contain affiliate links. Please read my disclosure policy.
Pan seared blackened tilapia with a delicious and simple pineapple salsa.
This blackened tilapia meal is quick & easy to whip together, packed with good-for-you ingredients & nutrients, and has such a great fresh flavor.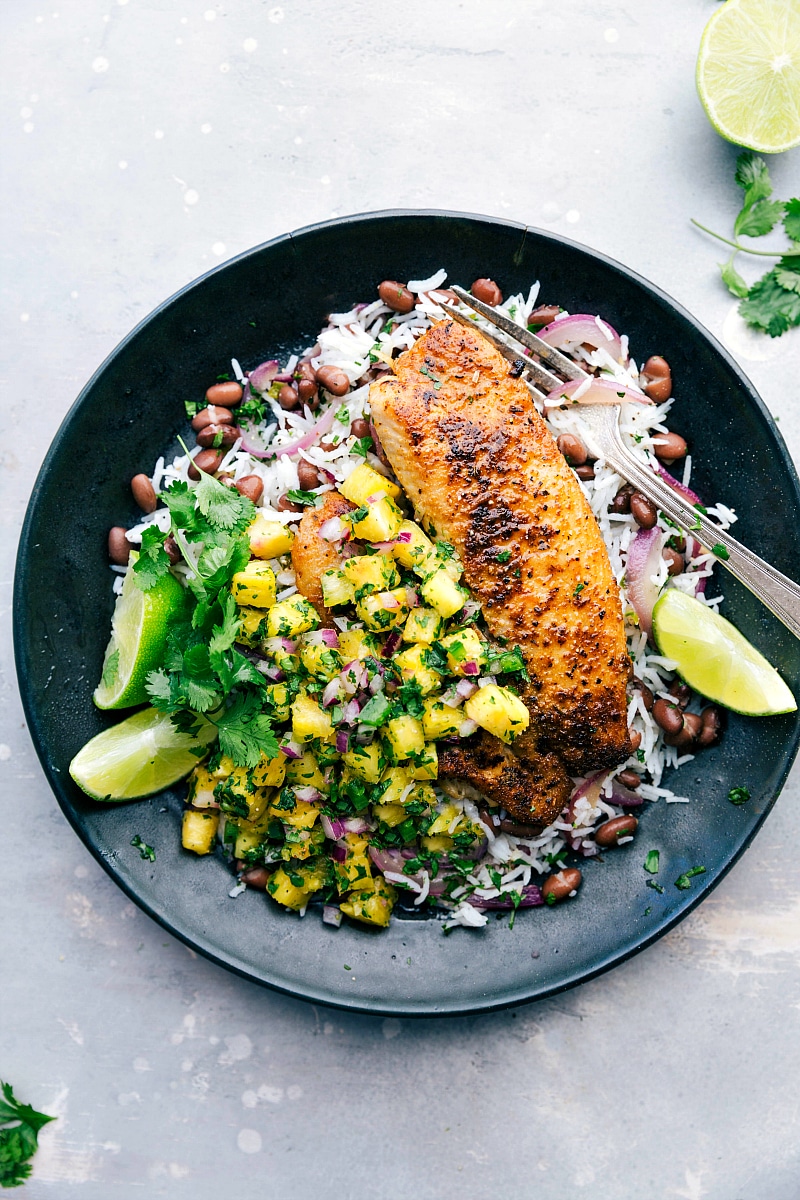 Because we can't get enough of this pineapple chicken, we're revisiting the components from that meal with blackened tilapia. While the salsa is pretty much the same, we're switching up the base and blackening some fish instead of marinating chicken.
As I've been working to reduce food waste as much as possible, we're adding the "leftover" ingredients from the salsa to the rice base. So we'll use the red onion, cilantro, jalapeno, and lime juice in the rice base AND in the salsa. Score!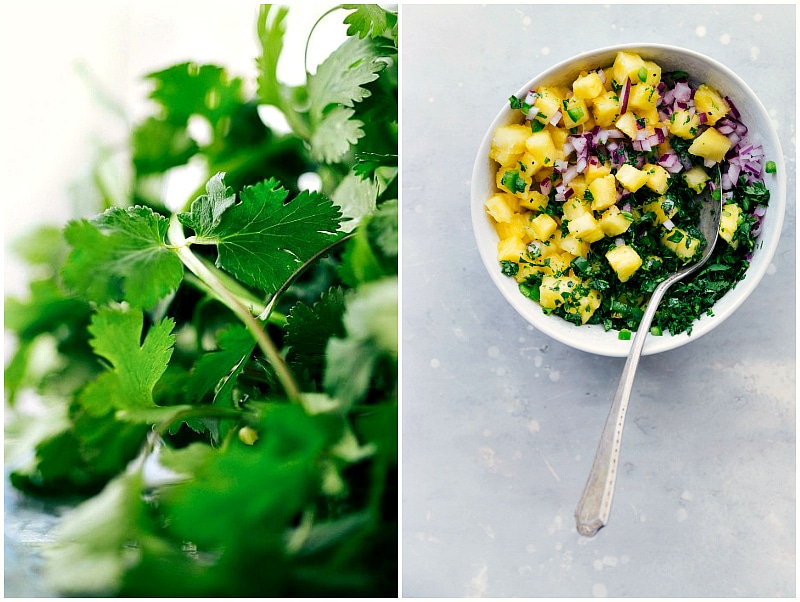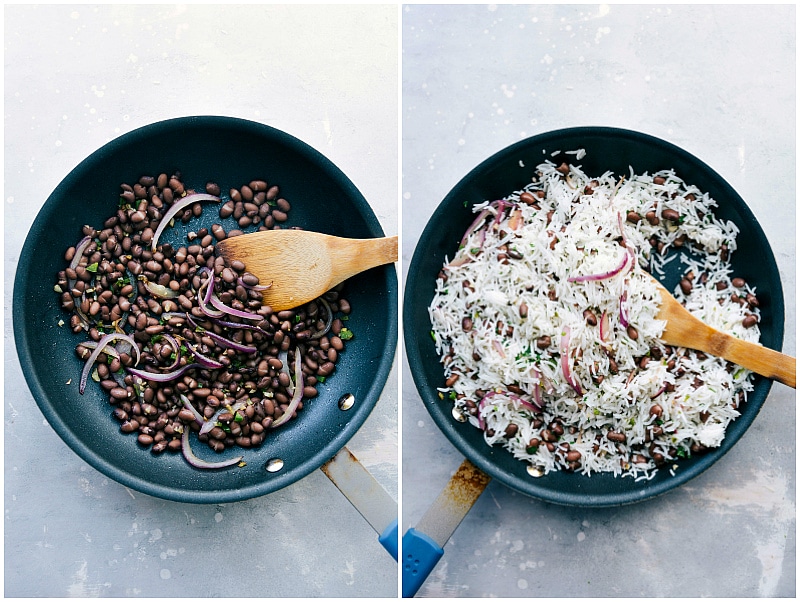 Time saving tips for this blackened tilapia
When it's a busy weeknight, I'm all about shortcuts in the kitchen! Beyond the seasoning blend, here are a few other shortcuts for this blackened tilapia:
Pineapple: if your grocery store sells pre-cored pineapple with the skin removed and you're in a big hurry — grab it! They're rarely too much more expensive when in season and the pre-cored/skinned pineapples are usually perfectly ripe. (If not grabbing a pre-cut pineapple, here's a great guide to cutting one). Alternatively, a pineapple corer/slicer (affiliate link) will also save time and is great to have if you eat a lot of pineapple!
Make rice ahead of time: if you want to save time, make a big batch of rice at the beginning of the week and use it in recipes throughout the week such as this one. Here are a couple other recipes to use leftover rice in: chicken stir fry, coconut curry chicken, or mango chicken.
Juicer: this blackened tilapia recipe requires quite a bit of fresh lime juice, so invest in a good juicer or citrus reamer. You don't need anything special or crazy expensive; this one (affiliate link) is pretty cheap and a great investment if you juice a lot of citrus.

More seafood: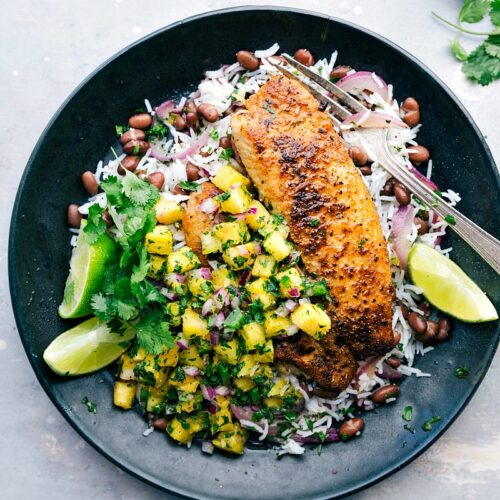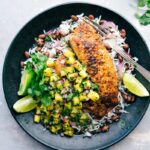 Blackened Tilapia
Pan seared blackened tilapia with a delicious and simple pineapple cilantro salsa.
Keyword:
blackened tilapia
Ingredients
3

tablespoons

finely diced jalapeno,

separated (~1 large jalapeno)

1

medium

red onion, separated

dice one half to get 1/2 cup and then thinly slice the other half to get 3/4 cup

1

bunch

cilantro,

separated

3

juicy

limes,

separated

1

cup

uncooked basmati rice + water to cook in

2 and 1/2

tablespoons

olive oil,

separated

2

tablespoons

finely diced jalapeno

1

teaspoon

minced garlic

1

can (15 ounces)

black beans,

drained and rinsed

Fine sea salt and freshly cracked pepper

3

cups (~18 ounces)

diced pineapple

1

pound (~3 fillets)

tilapia

Cuban inspired mojo seasoning (I use Simple Truth Organic)
Instructions
PREP: We're going to use a lot of these ingredients for the rice and then again for the salsa! Dice a jalapeno to get 3 tablespoons. Halve a red onion. Cut half of that half into thin strips to get about 3/4 cup. Finely dice the other half to get 1/2 cup. Finely dice cilantro to get 3/4 cup (for salsa; measure 3/4 cup loosely and then finely dice) and 2-3 tablespoons (for rice). Zest and juice limes to get 4 tablespoons juice and 1 teaspoon zest. Cut the remaining lime into wedges to serve alongside plates.

BLACK BEAN RICE: In a small pot, cook rice according to package directions. In a large nonstick pan (the same one you'll use for the fish later on), add 1 tablespoon olive oil and heat to medium-high heat. When oil is shimmering, add 1 tablespoon diced jalapeño and thinly sliced red onion (3/4 cup). Saute, stirring frequently, until softened. Add garlic and stir for about 30 more seconds. Add in black beans and stir until warmed through, 2-3 more minutes. Remove from heat and then add black bean mixture to the cooked rice. Add the juice of 1 lime (2 tablespoons lime juice) and 2-3 (or to taste) tablespoons diced cilantro. Season rice mixture to taste with salt and pepper (I use about 1/2 teaspoon salt and 1/4 teaspoon pepper). Toss and taste for seasoning; adjust according to personal preference. Cover to keep warm and set aside.

PINEAPPLE SALSA: (NOTE 1) zest and juice 1 lime to get 2 tablespoons juice and 1 teaspoon zest (avoid the white pith). Add to a bowl along with the 3/4 cup diced cilantro, remaining 2 tablespoons diced jalapeno, remaining 1/2 cup diced red onion, and diced pineapple. Add salt and pepper to taste (I add about 1/4 teaspoon salt and a generous pinch of pepper). Stir until combined and set aside.

TILAPIA: Heat 1 and 1/2 tablespoons olive oil in the large NONSTICK pan (same used for the beans/jalapeno) over medium-high heat. Pat tilapia dry with paper towel, season all over with 1-2 teaspoons mojo spice mix (to taste preference, we use about 1 and 1/2 teaspoons), 1 teaspoon salt, and pepper as desired, and then gently rub in seasoning to all sides of the fish. When oil is shimmering, add tilapia. Fry (working in batches as needed) until browned on bottom, 3-5 minutes. Flip and cook until spices are blackened and fish is cooked through (opaque and flakes easily with a fork) about 3-5 more minutes. Remove fish from the heat. Season if needed with additional salt.

TO SERVE: Separate the rice evenly between plates and add tilapia right on top. Generously spoon pineapple salsa on top of everything. Serve with fresh lime wedges (drizzle lime on right before serving) and enjoy!
Recipe Notes
Note 1: You will likely have more pineapple salsa than "needed" to top fish, but we like a lot on top! OR the extra you can finish off with chips
 You can halve the pineapple salsa recipe, but I like it as written so I don't waste the rest of the veggies.