This Apple Fritter Bread is a play on a favorite dessert, apple fritters, but made in breadloaf form! This sweet old-fashioned dessert bread is made with an apple bread batter, brown sugared apples, and a cinnamon sugar filling. It's finished with a 2-ingredient sugary glaze.
This bread makes a delicious snack or breakfast and could even be served for dessert! It can be made ahead of time and leftovers can be frozen and then thawed for a quick last minute breakfast.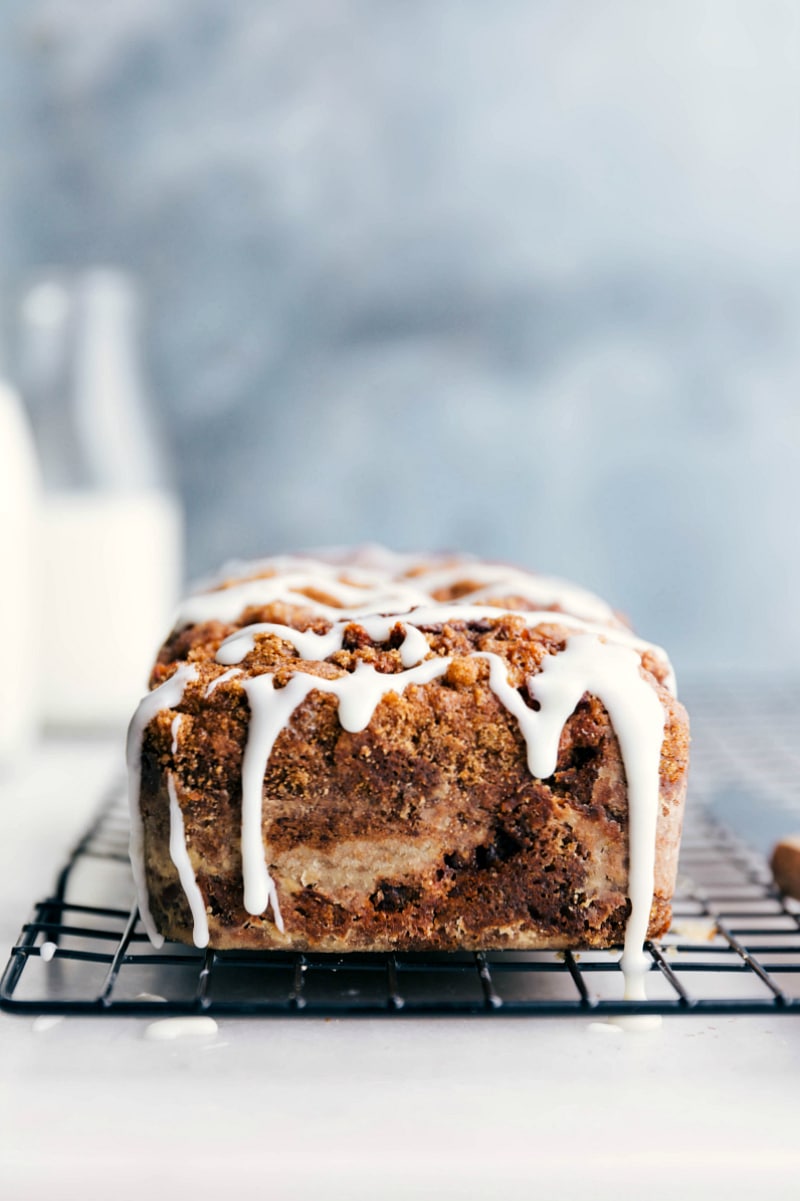 It's no secret we're obsessed with quick bread recipes — from this banana bread to this zucchini bread and over a dozen recipes in between, quick breads are the best! This apple fritter bread is no exception. It's got all the flavors you know and love about apple fritters in a non-fried quick bread form.
This bread is moist, cinnamon-spiced, packed with brown sugared apples, and covered in an easy 2-ingredient glaze. While this bread has a couple more steps than most quick breads, the effort is well worth it!
Let's get started 🙂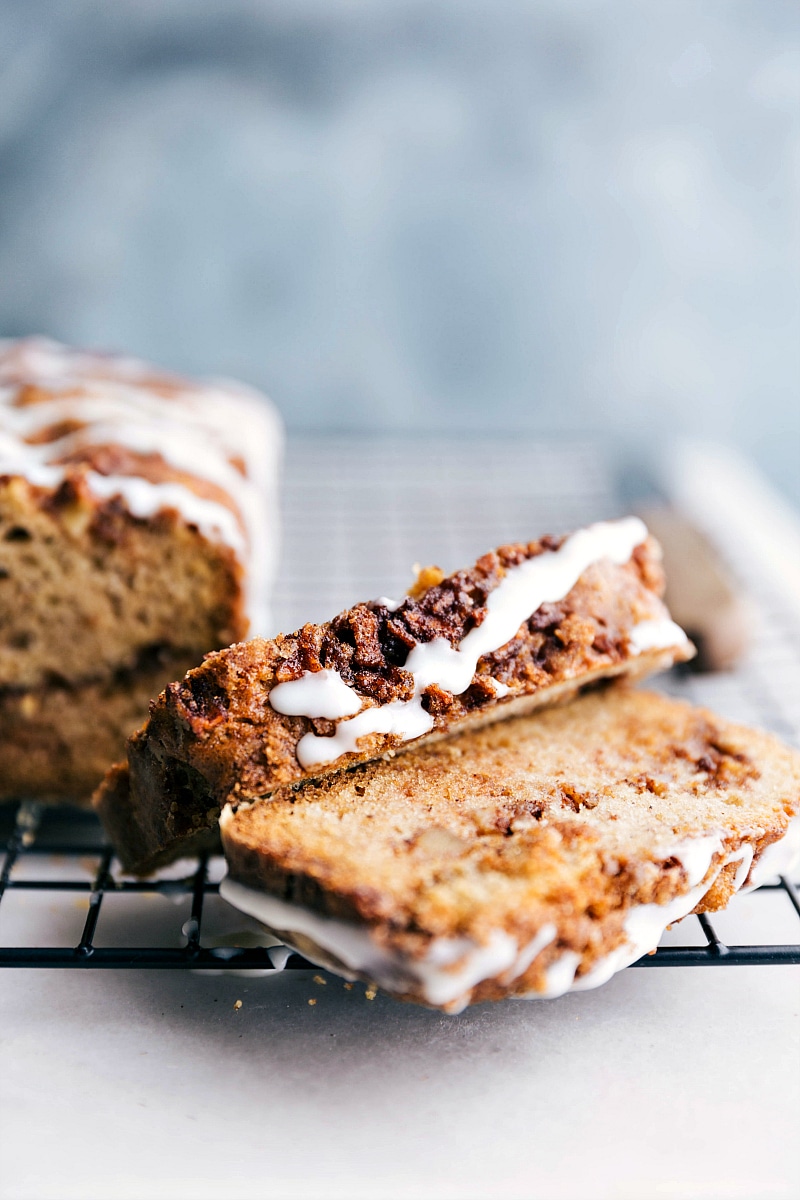 How to make apple fritter bread
We start by making 3 batters. One is the "main" apple bread, the next requires tossing apples and sugar together, and the last is tossing sugar and cinnamon together. Once we've got the 3 batters, they each get layered in a bread pan.
First goes down the apple bread batter, next the sugared apples, and then a layer of cinnamon sugar. Repeat the layers: bread, apples, sugar. And then it's ready to go in the oven! Once the bread has baked and fully cooled, a 2-ingredient glaze gets whisked together and generously coats the top of the bread.
And if you're really into the glaze on apple fritters, you can even spread leftover glaze on individual pieces of this bread (like spreading jam on toast).
What apples are best for apple bread?
Sweet apples with a hint of tartness are best! For this bread, I like using two different kinds of apples; I recommend Honeycrisp and Granny Smith. (You can use one or the other instead of mixing the two.) Make sure to peel the apples before dicing them up and adding them into the batter.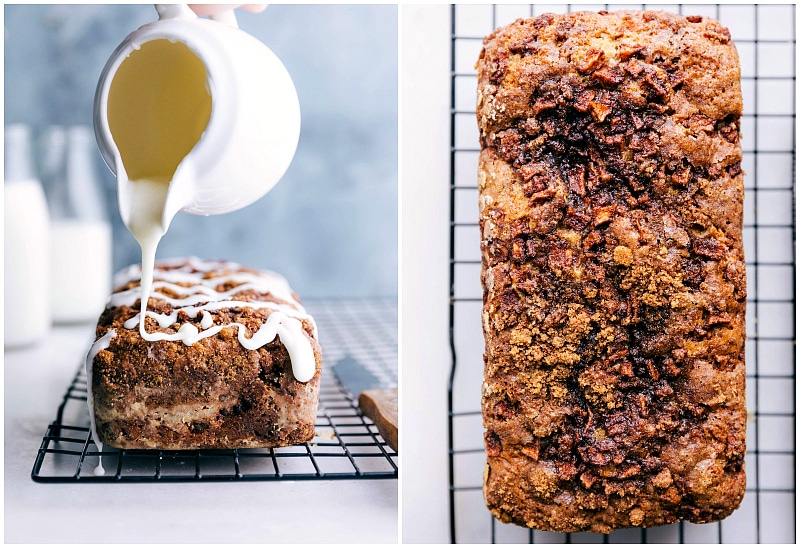 Storage
How long does apple fritter bread last?
We like this bread within 1-2 days of being made (day 2 is my favorite, making this a perfect make ahead dessert or breakfast). After day 2, it does begin to lose texture and flavor. It will, however, last up to 1 week stored in an airtight container/tightly wrapped in plastic wrap. After the first day, I'd recommend storing it in the fridge.
How to store apple fritter bread
You can store apple fritter bread on the counter for a day or two, but after that I would refrigerate it, wrapped tightly and placed in an airtight container.
How to freeze apple fritter bread
Let the bread cool completely (and do not add the glaze). Slice and then wrap individual slices tightly in plastic wrap. Add individually wrapped slices to a large ziplock bag, remove any air, and place in the freezer.
Now you've got a grab and go quick breakfast whenever you need! Add glaze to thawed pieces as desired.
Variation ideas
Not sure about the glaze? You can use a caramel glaze OR cream cheese frosting instead. Alternatively, you can always enjoy the bread without any glaze!
If you love nuts in your quick breads, add some finely chopped pecans or walnuts to the bread batter.
Love spice? Add 1 to 2 teaspoons of apple pie spice to the bread batter mixture.
Want muffins instead? Follow the recipe, adding instead to a muffin tin and cooking for 18-25 minutes.
Make this apple fritter bread into more of a dessert by serving it alongside vanilla bean ice cream.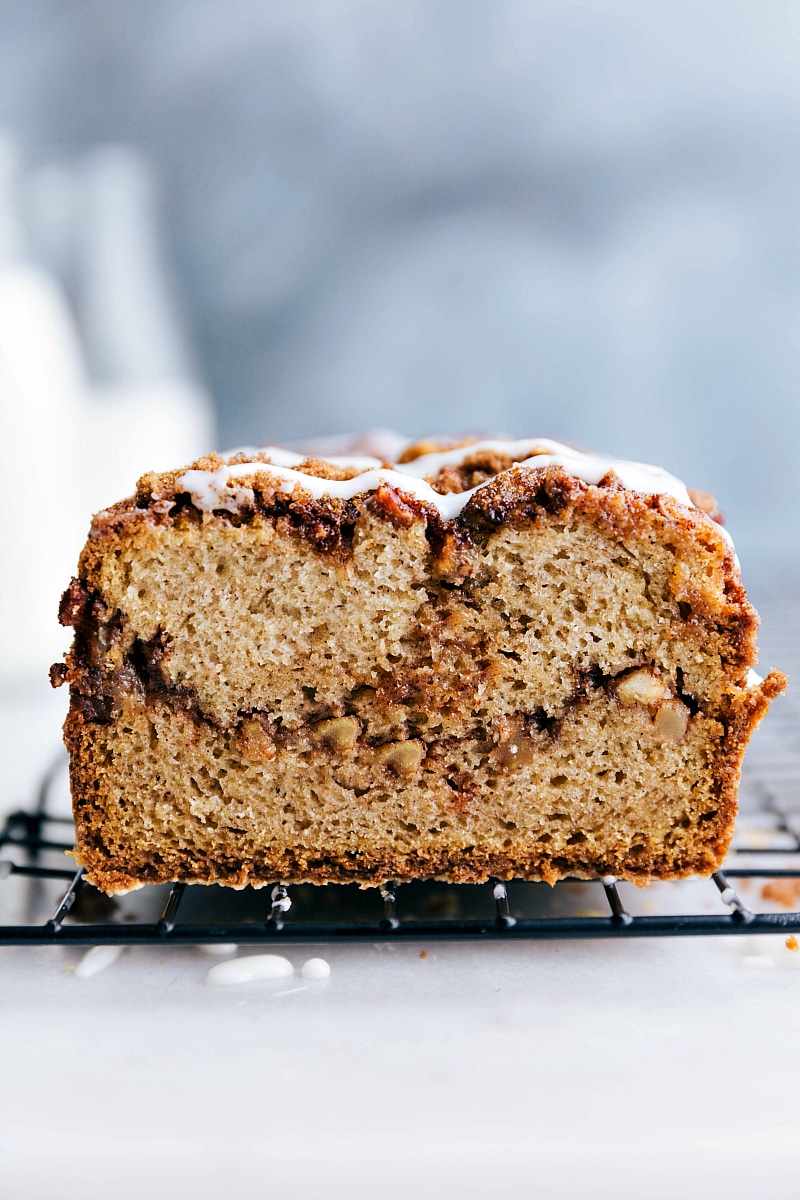 More amazing apple recipes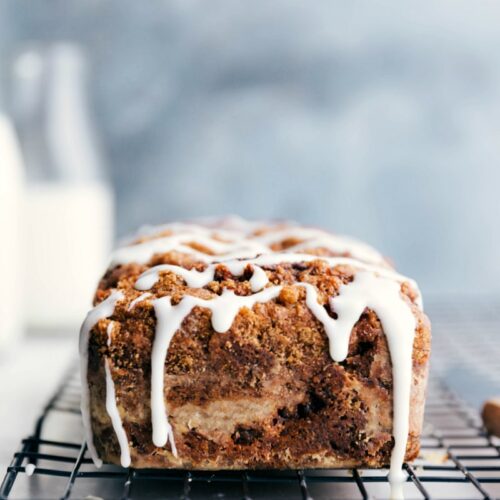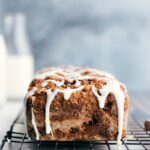 Apple Fritter Bread
This Apple Fritter Bread is packed with delicious flavors and coated in a simple glaze. We're channeling a favorite Fall treat -- apple fritters -- into breadloaf form!
Course:
Breakfast, Dessert
Keyword:
apple fritter bread
Servings
:
1
loaf of apple fritter bread
Ingredients
Apple Mixture
2

small

PEELED & cored apples (I use 1 honeycrisp and 1 Granny smith),

diced into 1/4-inch pieces

1

tablespoon

light brown sugar,

packed

1

teaspoon

ground cinnamon
Cinnamon Sugar Mixture
1/3

cup

light brown sugar,

lightly packed

1

teaspoon

ground cinnamon
Bread Mixture
1

large egg and 1 large egg yolk

(discard or save the whites for a different recipe)

1/2

cup

granulated sugar

3

tablespoons

vegetable oil

3

tablespoons

melted & slightly cooled unsalted butter

6

tablespoons

full fat sour cream

1

teaspoon

vanilla extract

1

teaspoon

baking soda

3/4

teaspoon

fine sea salt

(reduce to 1/2 teaspoon if using table salt)

scant 1/2

teaspoon

ground cinnamon

scant 1/4

teaspoon

ground nutmeg

1 and 1/2

cups

all-purpose white flour

(measured by spooning into the measuring cup and leveling off the top)
Glaze
1/2

cup

powdered sugar

1-3

tablespoons

heavy cream or whole milk
Instructions
PREP: Preheat oven to 350 degrees F. Generously spray an 8×4-inch or 8.5x4.5-inch loaf pan (I wouldn't recommend larger pans; there's not enough batter) with cooking spray. Sprinkle flour over top to coat pan with flour. Set aside.

APPLE MIXTURE: in a small bowl, combine the finely diced apples, 1 tablespoon light brown sugar, and 1 teaspoon cinnamon. Stir and set aside.

CINNAMON SUGAR MIXTURE: in a small bowl, whisk together the 1/3 cup brown sugar and 1 teaspoon cinnamon. Set aside.

BREAD: In a large bowl, add the egg, egg yolk, and sugar. Whisk vigorously until smooth and combined, about 1 minute. While whisking constantly, gradually pour in the oil followed by the melted (and slightly cooled) butter. Add in the sour cream and vanilla. Stir to combine. Add in the baking soda, salt, cinnamon, and nutmeg. Stir until combined. Add in the flour. Stir until JUST combined being careful to not overmix.

ASSEMBLE: (We're going to layer the ingredients) Add half the bread batter into the prepared pan, smoothing the top with the back of a spoon. Evenly sprinkle half of the apples over in a flat layer. Evenly sprinkle half of the cinnamon sugar mixture over the apples. Now add in the remaining bread batter and smooth the top with the back of a spoon. Make sure to press the batter into all of the corners of the bread pan. Add the remaining apple mixture and finally the remaining cinnamon sugar mixture.

BAKE: Place loaf pan on a baking sheet. Bake for 30 minutes and then very loosely drape a sheet of foil over the bread. Bake for another 10-15 minutes or until a toothpick when inserted into the bread (not apples) comes out clean. My bread always takes around 40-45 minutes total. Baking time greatly varies on actual oven, size of apples, pan size, etc. Remove from oven and allow bread to cool in the pan for 5-10 minutes before inverting onto a cooling rack to cool completely before adding the glaze.

GLAZE: In a small bowl, add the powdered sugar and slowly drizzle in the heavy cream or milk, whisking until smooth and combined. (Add cream/milk as necessary until glaze has reached your desired consistency.) Evenly drizzle glaze over bread before slicing and serving.