A delicious and healthy (no white flour or butter, plus lower sugar) applesauce spice cake with an optional simple cream cheese frosting.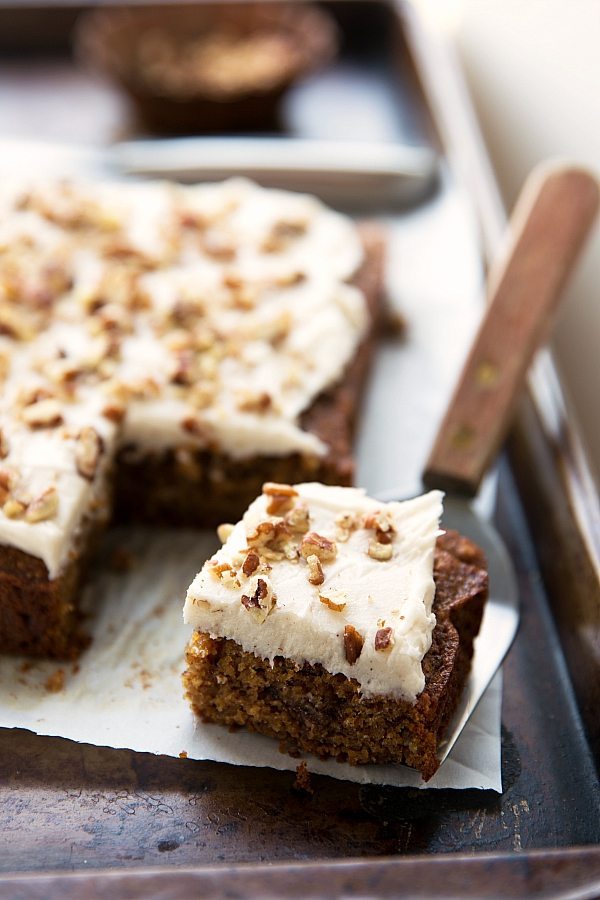 You all know those kids' movies/tv shows where things spiral way out of control and it's to the point where it's not even believable anymore? Like an entire city is demolished because one of the characters accidentally knocks something over?
The longer I'm a mom, the more I feel like those movies get more and more believe-able. Take yesterday for example… I made the mistake of letting my little guy take a whole sippy cup of RED juice to his bed for his nap. Minutes later, I hear these crazy upset screams. Running into his room I observe he's taken the lid off and dumped the juice everywhere. And by everywhere, I mean all over his animals and blankets in his bed, his sheets, the floor, and of course himself. As I'm stripping sheets and throwing blankets in the washer I started a bath for him.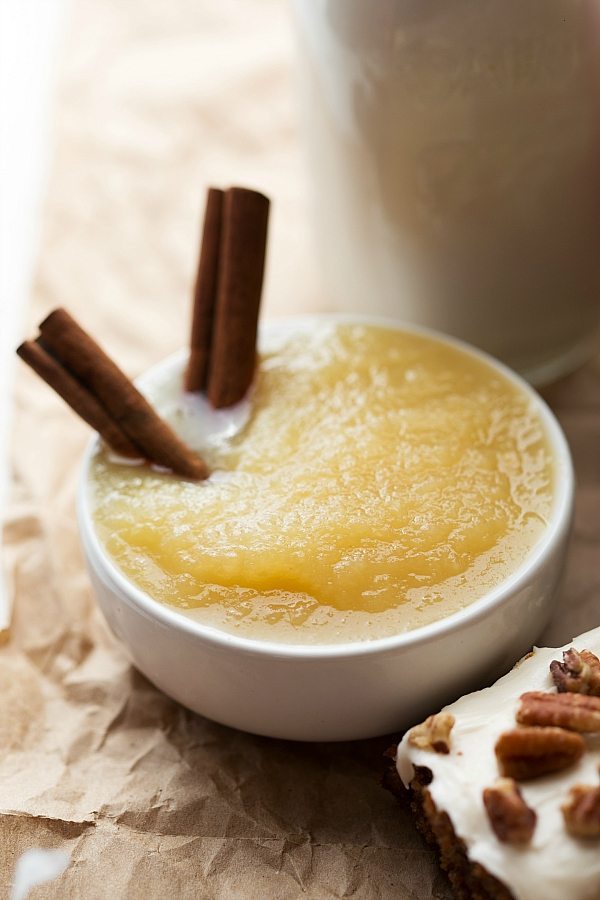 Minutes after he gets in the bath there was a major explosion. Like I don't want to get too graphic here while I'm also talking GOOD FOOD, but yeah there was some need for A LOT of sanitization of a bath and of course the millions of bath toys in said bath. So I quickly grab him out to learn he wasn't quite finished and right there finished on the floor. At this point, he's tired and upset his bath was ruined. As he's screaming that the floor is now covered he runs out to the hallway on the carpet and continues to finish his business.
It's like a totally unbelievable craziness that commenced in a matter of minutes leaving hours of work behind. And I was left thinking you know, those movies really aren't that crazy. Why can't a city be demolished by a sneeze?! My entire house was in shambles after a juice cup…so why not? 🙂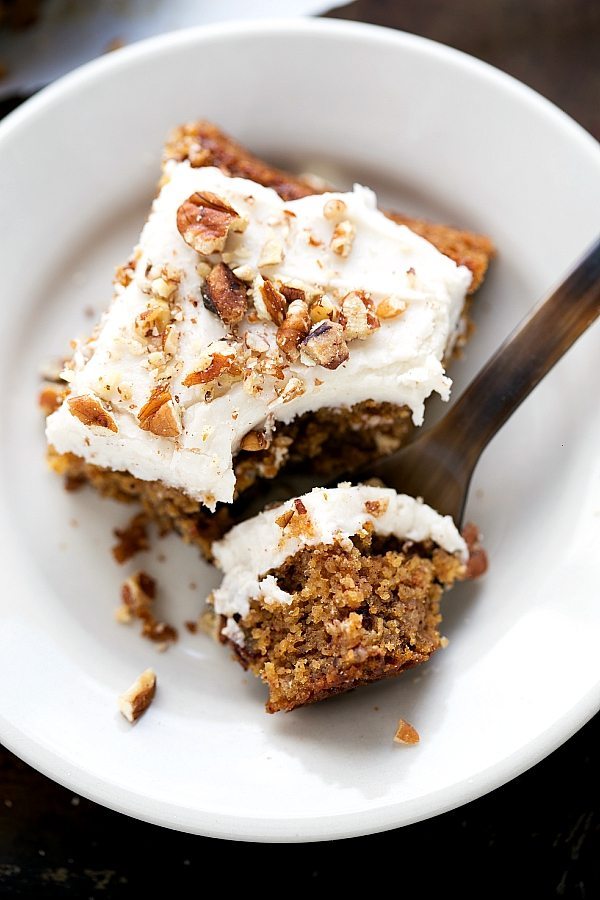 What that has to do with this cake? Absolutely nothing. But I thought since I spent the greater part of my day yesterday sanitizing my entire home, I better have a story to tell about it, right?! 🙂
And this cake couldn't be easier!! It's all made in ONE bowl and no mixers are required for the actual cake (You will need them if you chose to do the frosting). The ingredients are simple and the spices can absolutely be increased or decreased to personal preference. The nuts and raisins in the cake are optional and/or interchangeable for other "mix-ins." And that cream cheese frosting is completely optional as well. I honestly loved the cake both with and without it!
The pecan chips on top though? Well, those are my favorite! If you love pecans you'll love how they go with this cake 🙂

More apple recipes: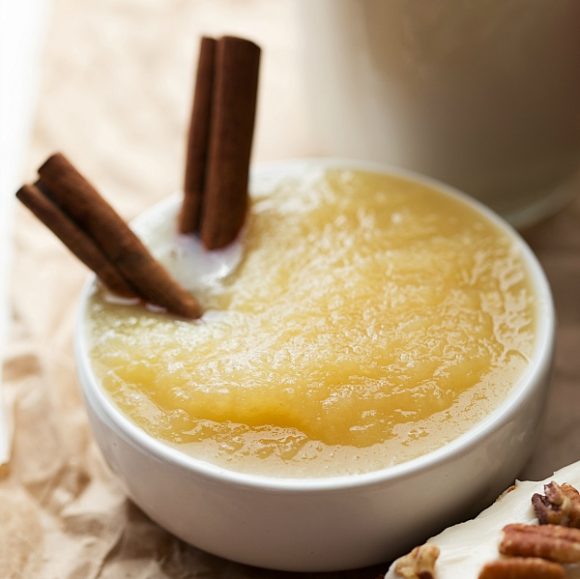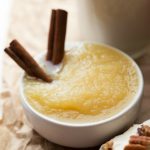 Applesauce Spice Cake
A delicious and healthy (no white flour or butter, plus lower sugar) applesauce spice cake with an optional simple cream cheese frosting.
Keyword:
Applesauce Spice Cake
Servings
:
1
8 x 8 baking pan
Ingredients
1

cup

applesauce

1/4

cup

coconut oil*

1

large egg

1/2

teaspoon

vanilla extract

1

teaspoon

baking soda

3/4

teaspoon

cinnamon

1/4

teaspoon

baking powder

1/4

teaspoon

salt

1/4

teaspoon

allspice

1/8

teaspoon

nutmeg

1

cup

oat flour

just blend up regular oats (if GF, confirm oats are certified GF)

1/2

cup

lightly packed brown sugar

1/4

cup

chopped pecans or walnuts

optional

1/3

cup

raisins

optional
Optional Cream Cheese Frosting
2

ounces

reduced-fat cream cheese

at room temperature

1/2

teaspoon

vanilla extract

Pinch of salt

1 and 1/4 - 1 and 3/4

cups

powdered sugar

Optional: additional chopped pecans to top
Instructions
Preheat the oven to 350 degrees F. Line an 8 x 8 baking pan with parchment paper -- otherwise your cake will likely not come out clean. (Trust me, I had one cake completely stick to the bottom even with spraying and lightly flouring it!)

In a large bowl, stir together the applesauce, coconut oil (measured when completely melted), large egg, and vanilla extract. Stir until completely combined.

Add in the baking soda, cinnamon, baking powder, salt, allspice, and nutmeg. Stir until completely combined. (Here's where you can increase or decrease spices to personal preference -- if you are wary of too much spice add a little less and if you LOVE spice increase them.)

Stir in the brown sugar and oat flour (blend regular old fashioned oats or quick oats in a blender or food processor until they resemble flour -- blend well so you don't have any weird oat chunks! Measure AFTER blending and not before).

If desired add in the chopped pecans or walnuts and raisins. In my testing, I personally liked the cake best with just chopped pecans. But if you love raisins in your cake definitely add them in!

Bake for 30-35 mins at 350 degrees or until a fork when inserted comes out clean. Be careful to not over bake as it will make this cake less tender and less flavorful. Allow to cool.
Optional Cream Cheese Frosting:
Quickly wash and dry the bowl from the cake and place in the *room temperature* cream cheese (Make sure it isn't melted or softened by the microwave). Beat with the vanilla until smooth. Add in the salt and slowly add in the powdered sugar (beating in between additions) until smooth and creamy and your desired consistency has been met. If it is too thick add in a little bit of milk or heavy cream.

Frost the completely cooled cake evenly with the frosting. If desired top the frosting with the chopped pecans.
Recipe Notes
*Not all coconut oils are equal -- some tend to give baked goods a slightly off or bitter taste. I use Pure Coconut Oil by LouAna and have never had a problem with it. I highly recommend this brand for baked goods.