Perfectly spiced and flavorful applesauce cake topped with an easy cream cheese frosting. This cake is made using healthy ingredients and can all be prepared in one bowl!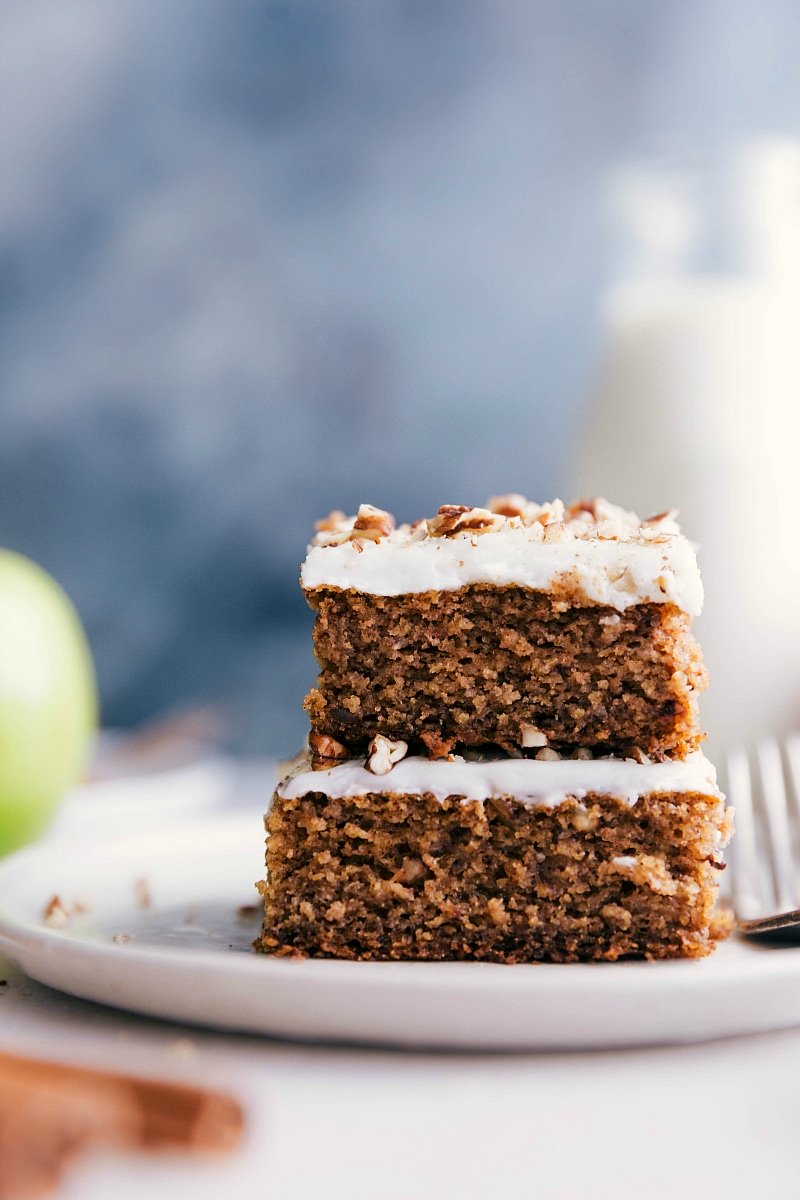 Easy applesauce cake recipe
This cake couldn't be easier to make; it's all mixed together in one bowl with a wooden spoon. You'll only need mixers if you opt to make the frosting. While it's delicious with the frosting, the cake is good enough to stand on its own.
It's also made with better-for-you ingredients. How is it healthier than most cakes?
No white flour; we use ground oats instead.
No butter; instead, we use a healthier oil choice (coconut oil).
This cake requires far less sugar than most cake recipes.
This cake uses chopped pecans, which are loaded with good-for-you fats and nutrients.
And, of course, there's applesauce in the cake (more on this below)!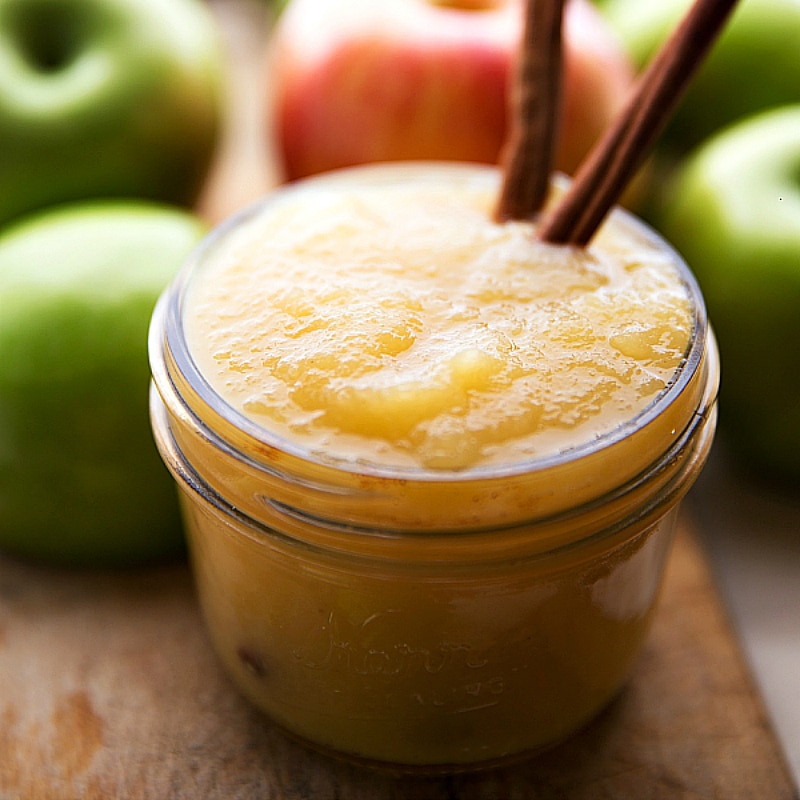 Speaking of applesauce, here are a few commonly asked questions about baking with applesauce.
What does applesauce do in cake?
Besides being nutritious, applesauce works as a great fat replacer in this cake. You don't need butter and there's a lot less oil in this cake because of the applesauce.
Baking with applesauce instead of butter not only reduces the calories, it also adds fiber and healthy nutrients.
Additionally, applesauce keeps this cake moist and fresher longer because of its water content.
In fact, my mom used to replace the oil in cake mix recipes with applesauce! She'd replace the oil with equal amounts of applesauce. And because cake mixes already have so much sugar in them, unsweetened applesauce works just fine.
Will applesauce make a cake moist?
The moisture in applesauce, its sweetness, acidity, and fresh flavor all benefit this cake — both in flavor and texture. The applesauce in this cake recipe absolutely makes it more moist.
What kind of applesauce do you use for baking?
I suggest using unsweetened applesauce in baking because you can always add sugar, but you can't take it away.
That's different from what many recipe creators do. They increase the overall sugar if calling for unsweetened applesauce in the recipe. Sweetened applesauce requires less sugar in the baked good, but since most of us are consciously trying to cut back on sugar, I've used unsweetened applesauce.
Using applesauce as a substitute ingredient
Applesauce is an excellent substitution for things like oil, butter, and eggs. While applesauce is not always a perfect substitute, it will work in a lot of recipes.
Replacing oil: It's a 1:1 substitution (1 cup of oil replaces 1 cup applesauce).
Replacing butter: Replace only half of the butter in 1:1 ratio with applesauce. So if a recipe calls for 1 cup of butter, use 1/2 cup butter and 1/2 cup applesauce.
Replacing eggs: Use 1/4 cup applesauce in place of 1 egg.
Applesauce also adds natural sweetness, which means you can reduce the amount of added sugar– which is a bonus!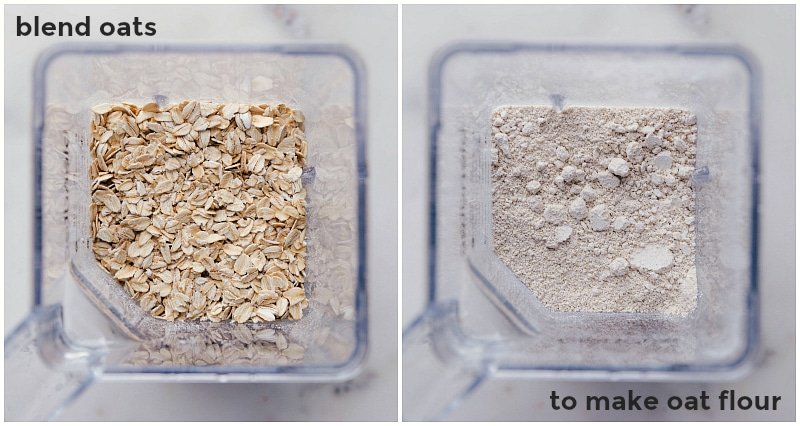 How to make oat flour
If you have quick oats or old-fashioned oats, you can have oat flour in a flash!
Place the oats (you can use old-fashioned or quick oats) in a food processor or small blender jar.
Pulse the oats until they are ground into a powder-like consistency that resembles flour (see photo above on the right).
Stir the oats around if needed to ensure that all the oats have been finely ground and there aren't some whole oats left.
Make sure to measure your oat flour measurement for this applesauce cake after it's been turned to flour and not in the original whole oat form.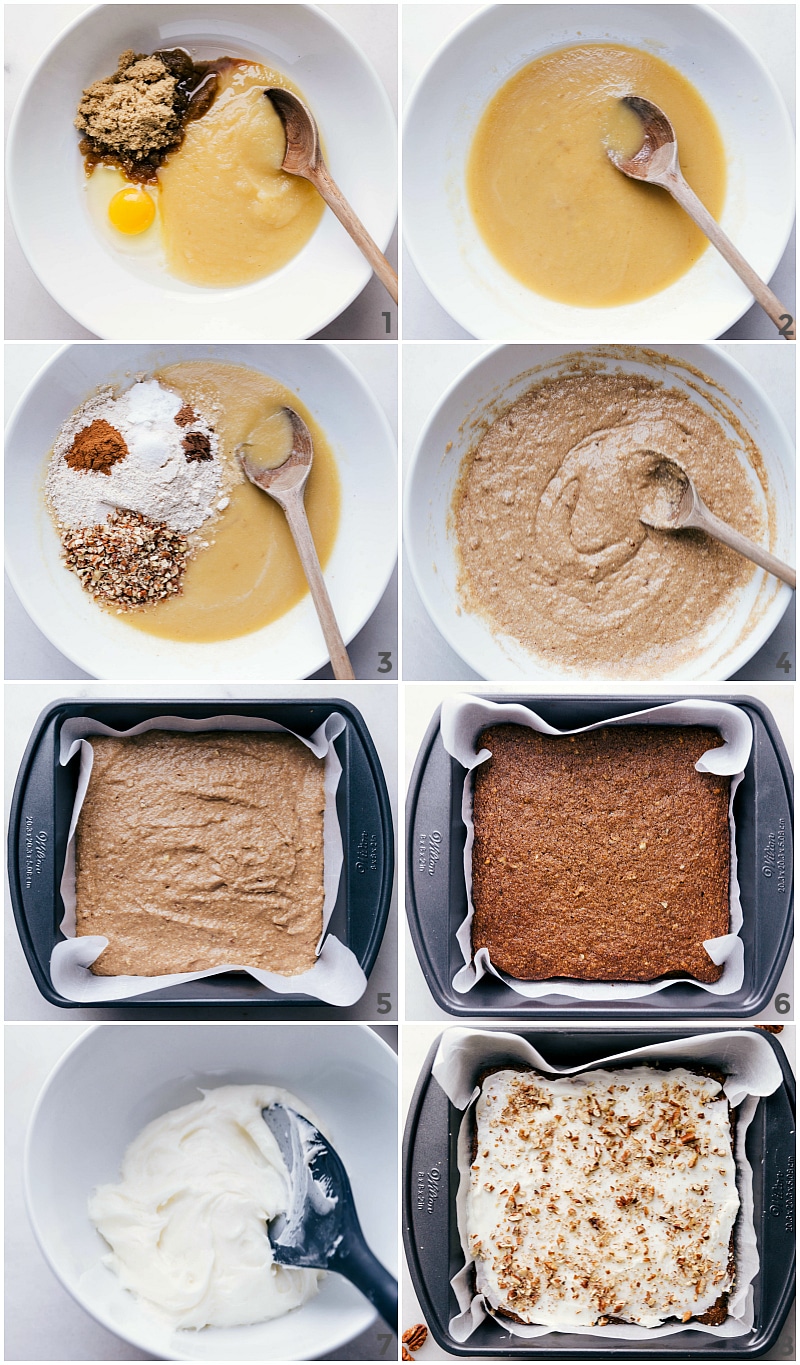 How to make Applesauce Cake:
Combine wet ingredients: Applesauce, melted (and cooled) coconut oil, a large egg, brown sugar, and vanilla extract.
Whisk wet ingredients until smooth.
Add dry ingredients right on top of wet: Baking soda, baking powder, ground cinnamon, ground allspice, ground nutmeg, salt, oat flour (blended up oats), and chopped pecans.
Mix ingredients until well combined and incorporated.
Transfer: Using a spatula, spoon the cake batter into a parchment paper-lined 8×8-inch pan and bake.
Cool: Allow the cake to fully cool at room temperature.
Prepare frosting: While the cake is cooling, whip up a cream cheese frosting. The frosting in this recipe is healthier than most cream cheese frosting recipes. Or click here if you'd like a traditional cream cheese frosting recipe.
Frost: Frost Applesauce Cake when completely cool, and sprinkle crushed pecans on top if desired.
Quick tips
Set cream cheese out at room temperature: We want the cream cheese to have plenty of time to get to room temperature, so start the process of making this cake by pulling it out of the fridge.
Use toasted pecans: Toasted pecans are so much more flavorful. You can toast your own or buy roasted pecans.
Make this cake gluten free: While the ingredients are naturally gluten free, make sure to check all your ingredient labels to ensure they weren't processed in a facility with gluten.
Cool the coconut oil: While the coconut oil needs to be melted, you don't want it hot when you add it to the cake batter. Allow plenty of time for it to get back to room temperature or it will get chunky in this recipe.
More apple recipes: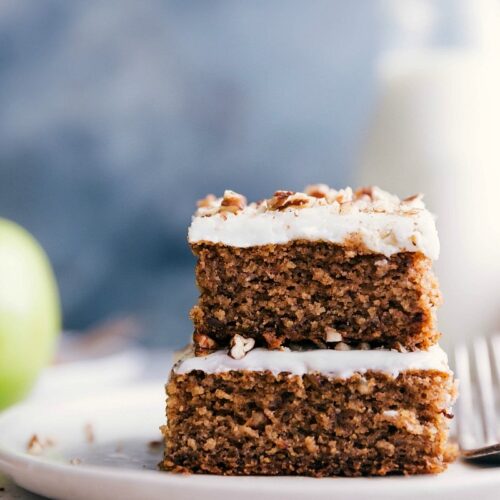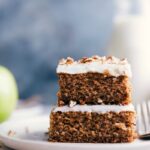 Applesauce Cake
Perfectly spiced and flavorful Applesauce Cake topped with an easy cream cheese frosting. This cake is made using healthy ingredients and can all be prepared in one bowl!
Keyword:
applesauce cake, Applesauce Spice Cake, healthy applesauce cake
Servings
:
12
pieces (1 8x8" baking pan)
Ingredients
1

cup (260g)

unsweetened applesauce

1/4

cup (50g)

coconut oil,

melted and cooled (See Note 1)

1

large

egg

1/2

teaspoon

vanilla extract

1/2

cup (93g)

lightly packed brown sugar

(light brown sugar)

1

teaspoon

baking soda

1/4

teaspoon

baking powder

1/4

teaspoon

salt

3/4

teaspoon

ground cinnamon

1/4

teaspoon

ground allspice

1/8

teaspoon

ground nutmeg

1

cup (91g)

oat flour

(blend up regular oats)

1/4

cup

chopped pecans

optional

1/3

cup

raisins,

optional
Optional Cream Cheese Frosting
2

ounces

reduced-fat cream cheese,

softened to room temperature

1/2

teaspoon

vanilla extract

1/8

teaspoon

salt

1 and 1/4 - 1 and 3/4

cups

powdered sugar

Optional: additional chopped pecans to top
Instructions
PREP: Set out the cream cheese to warm to room temperature. Preheat the oven to 350 degrees F. Line an 8x8-inch baking pan with parchment paper -- otherwise your cake will likely not come out easily. Greasing and flouring the pan isn't enough -- this batter is sticky and needs parchment paper. Foil will affect baking, so I don't recommend foil.

WET INGREDIENTS: In a large bowl, stir together the applesauce, coconut oil (measured when completely melted and then cooled back to room temperature See Note 1), large egg, vanilla extract, and brown sugar. Stir until completely combined and smooth.

DRY INGREDIENTS: Add the baking soda, baking powder, salt, cinnamon, allspice, and nutmeg (you can use a little less or more, depending on your preference). Add in the oat flour. (See Note 2.) Add in the chopped pecans and raisins if desired. Mix ingredients until completely combined and smooth.

BAKE: Transfer batter to prepared 8x8-inch pan. Bake for 28-33 mins at 350 degree F oven or until a fork when inserted comes out clean. Be careful to not-over bake, as it will make this cake less tender and less flavorful. Allow to cool completely before frosting.

FROST: Place softened cream cheese in a large bowl (give it ample time to set out so your frosting isn't chunky). Using a hand mixer, beat with the vanilla until smooth. Add in the salt and slowly add in the powdered sugar (beating in between additions) until smooth and creamy and your desired consistency has been met. If it is too thick add in a little bit of milk. If you'd like a more tangy or soft frosting, only add 1 and 1/4 cups powdered sugar. For a sweeter, thicker frosting, add closer to 1 and 3/4 cups.

DECORATE: Frost the completely cooled cake evenly with the frosting. If desired, top the frosting with the chopped pecans.

STORAGE: Store cake at room temperature, covered with plastic wrap. Applesauce Cake is best when used within 1-2 days. Freeze (un-frosted) pieces for up to 3 months; thaw at room temperature and then frost. Frosted cake doesn't freeze and thaw well.
Recipe Notes
Note 1: The coconut oil needs to be melted, but if it's hot, it will get chunky when added with other cold ingredients. Give it time to come back to room temperature before adding it in with the other ingredients.
Note 2: Make oat flour by blending (or pulsing) regular old fashioned oats or quick oats in a blender or food processor until they resemble flour. Blend well so you don't have any large oat chunks in the cake. Measure oat flour after blending and not before.
These are the calories in just the cake, not including the optional cream cheese frosting. There are 56 calories in a serving of the cream cheese frosting.