Apple Muffins are soft and moist, perfectly spiced, and topped with an easy crumb topping.
These muffins are made with better-for-you ingredients — apples, Greek yogurt, coconut oil, and an egg. We leave out the butter and excessive amounts of sugar found in typical bakery-style muffins and you won't miss either!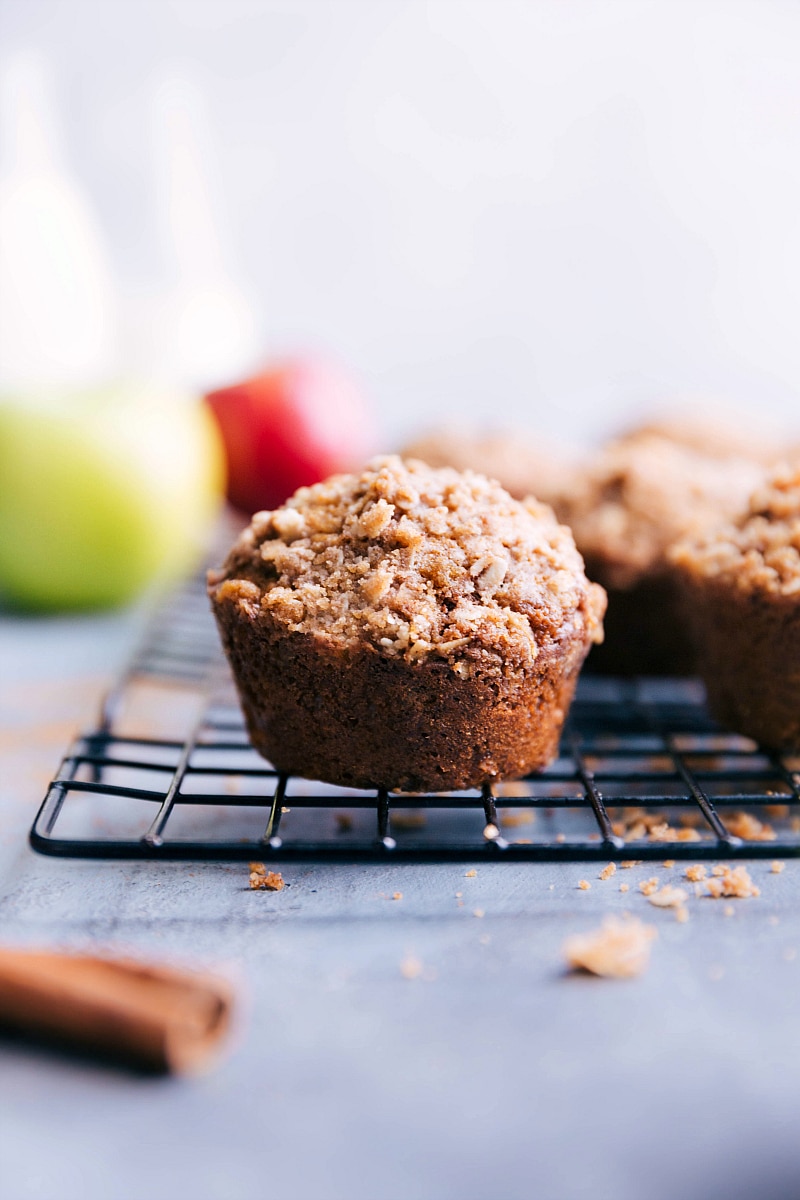 What can I make with all these apples?
We often go apple picking in the fall and end up with so many apples that I'm always asking myself what to do with them all. My first move is making a couple batches of these apple muffins of course!
Over the years, I've created many apple recipes we love, and below are some of our favorite ways to use extra apples besides these muffins:
Now that you've got a whole list of apple recipes to work through, let's talk about this recipe in particular.
Easy Apple Muffins
Apple Muffins are made to imitate a bakery-style muffin, but in a healthier way. They've got the taste, moisture, and texture of your typical bakery muffin but with superior ingredients. Below I break down all the ingredients in these muffins.

Ingredients
White whole wheat flour or white flour: Plain white flour is great in these muffins and we'll use that often, but if you want to amp up the nutritional value a bit, use white whole wheat flour. Not sure what that is? Read up on it here. I don't recommend whole wheat flour — it makes these muffins too dense.
Cornstarch: This is my "secret" ingredient to make these muffins soft and tender. Cake flour is essentially regular flour with cornstarch added in, so we're making a quick imitation cake flour for these muffins by adding in cornstarch.
Baking powder: It's a needed leavening agent to help the batter rise.
Spices: We use ground cinnamon, ground nutmeg, and ground allspice in these muffins. I'd say the spices are very subtle; feel free to add more. You can also add some of this apple pie spice in these muffins.
Salt: This balances and intensifies flavors; I like using fine sea salt.
Large egg
Vanilla Greek yogurt: Make sure to use a good flavored, full-fat Greek yogurt. Greek God's® Honey Vanilla Greek Yogurt is my favorite for making Apple Muffins (not sponsored).
Coconut oil: It's a better-for-you oil that adds a very subtle flavor.
Vanilla extract: For flavor
Apple and lemon juice: I typically use a Granny Smith apple in these muffins. Make sure to peel and very finely dice the apple so the chunks of apples aren't too big. The lemon juice adds a nice zing and keeps the apples from browning before being baked.
Brown sugar: We add a lot less than most muffin recipes, but we definitely need some sugar for flavor in these muffins. Use light brown sugar; dark brown sugar will make these muffins too moist.
Which apples are best for baking?
When baking with apples, we want apples that will hold their structure (so they don't turn into apple mush after baking for a few minutes). Granny Smith apples hold up extremely well with the heat of baking and they balance the sweet-tart flavor in these muffins. Some other great baking apples: Honeycrisp, Jonagold, Braeburn, and Pink Lady.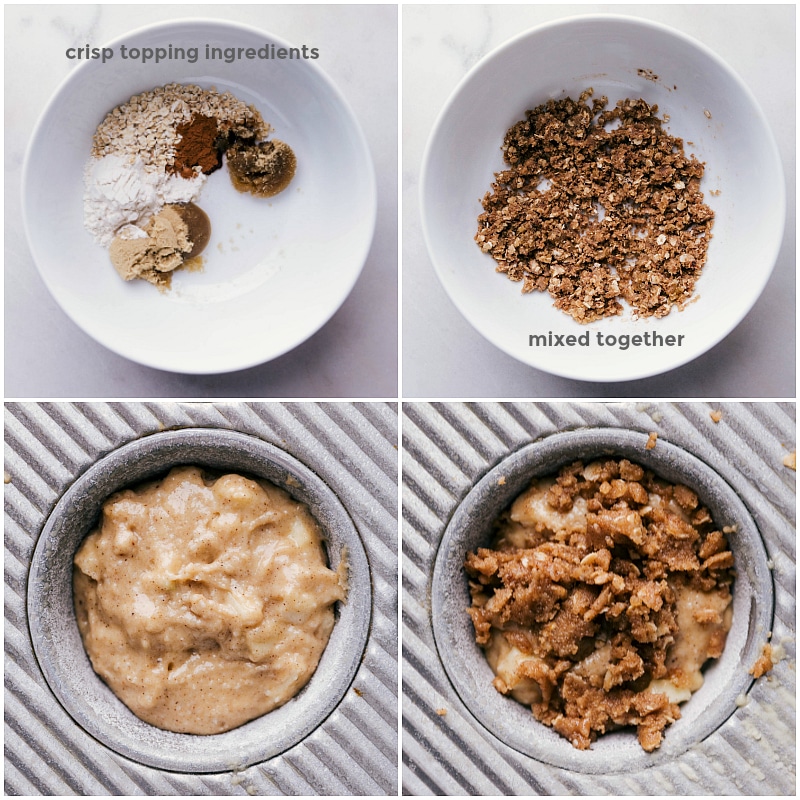 Oat topping for Apple Muffins
These muffins have an irresistible oat topping (pictured above), made with quick oats, a little brown sugar, flour, and coconut oil (no butter!) It's healthier than most crisp toppings and no one can tell it doesn't have loads of butter in it — it's that good.
I like the oat topping because it adds texture and flavor, but these muffins can certainly be made without it.
I wouldn't recommend adding oats to the actual muffins; in this particular recipe it will dry them out.
Apple Muffins tips
Make sure to spoon and level the flour measurement. Too much flour and the muffins won't be nearly as moist and soft. Along with this tip, make sure to measure all ingredients precisely. If you have a food scale, I recommend using it. Here's the type I use often with my recipes.
Don't beat (or over-mix) the batter. This introduces too much air and will cause the muffins to rise and then fall in the centers.
Finely chop the apple. The apple needs to be in really small pieces. I don't recommend grating the apple; I have tested grating the apple for these muffins and they were too moist/wet.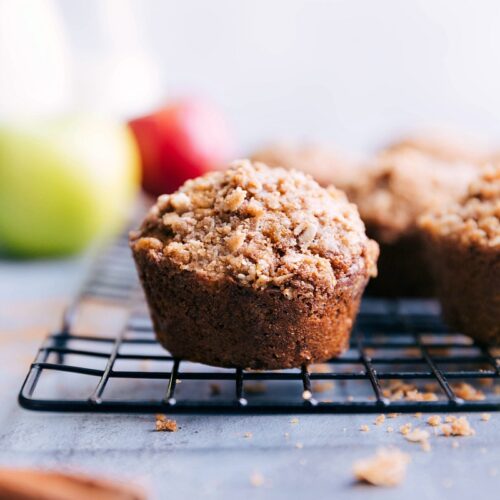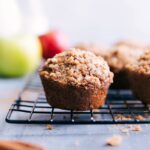 Apple Muffins
Apple Muffins are soft and moist, perfectly spiced, and topped with an easy crumb topping.
Servings
:
8
large muffins
Ingredients
Muffins
1

cup minus 1 tablespoon (126g)

white whole wheat flour

or plain white flour

1

tablespoon

cornstarch

1/2

tablespoon

baking powder

1/2

teaspoon

fine sea salt

1/2

teaspoon

ground cinnamon

1/4

teaspoon EACH:

ground nutmeg and ground allspice

Note 1

1

large egg

1/2

cup (120)

honey vanilla full fat Greek yogurt

(I recommend Greek Gods!)

1/4

cup (53g)

melted coconut oil

Note 2

1/2

teaspoon

vanilla extract

1/2

cup (88g)

light brown sugar,

lightly packed

1

cup (100g)

peeled and finely diced apple

(I use Granny Smith)

1/2

teaspoon

lemon juice
Crisp cinnamon sugar topping
3

tablespoons (27g)

white whole wheat flour

or plain white flour

2

tablespoons (14g)

quick oats

1/2

teaspoon

ground cinnamon

3

tablespoons (32g)

brown sugar

not packed

2

tablespoons (24g)

melted coconut oil

Note 2
Instructions
PREP: Preheat the oven to 350 degrees F. Spray 8 cavities of a muffin tin and lightly dust with flour. Do not use muffin liners as these muffins will stick to them. Set aside.

FLOUR AND DRY INGREDIENTS: In a large bowl, add the flour (spoon and level when you measure; use a food scale if you have it). You should have 1 cup minus 1 tablespoon flour (126 grams of flour).

Add in the 1 tablespoon cornstarch, 1/2 tablespoon baking powder, 1/2 teaspoon salt, 1/2 teaspoon cinnamon, 1/4 teaspoon nutmeg, and 1/4 teaspoon allspice (See Note 1). Mix until combined.

WET INGREDIENTS: In a separate bowl, mix together 1 large egg, 1/2 cup Greek yogurt, 1/4 cup melted coconut oil (See Note 2), 1/2 teaspoon vanilla extract, and 1/2 cup brown sugar. Whisk together until well combined and smooth.

APPLE: Peel and very finely chop the apple. Toss with the lemon juice. Add into the dry ingredients and stir until the apple pieces are coated in the flour (this helps to evenly disperse the apple).

COMBINE: Use a spatula to scrape every bit of wet ingredients into the dry ingredients. Mix with a wooden spoon until ingredients are just combined. Over-mixing yields denser muffins.

FILL MUFFIN CAVITIES: Fill 8 muffin cavities evenly with the mixture -- each cavity will be a little over 3/4 full. Fill the remaining 4 cavities halfway with water (helps for even baking).

TOPPING: In another bowl, toss together the flour, quick oats, cinnamon, and brown sugar. Pour in the coconut oil (measure when melted) and mix to combine (crumble with your fingertips if needed). Add a bit more coconut oil if too dry or a bit more flour if too wet. Sprinkle this topping evenly on top of each muffin. Don't press the topping into the muffin; just sprinkle on top.

BAKE: Bake for 20-25 minutes or until a toothpick when inserted in the center of the muffin comes out clean. Remove and allow to cool for a few minutes before removing the muffins from the tin. Use a spoon to coax the muffins out after about 5 minutes. Allow muffins to finish cooling on a cooling rack so the bottoms don't get soggy as they cool.

STORE: Store completely cooled muffins in an airtight container in the fridge. Warm in the microwave for 10-15 seconds before serving, if desired. Muffins are best enjoyed within 2-3 days.
Recipe Notes
Note 1: Feel free to increase the spices if desired. As written, the spices yield a very subtle flavor.
Note 2: Measure the coconut oil in its melted form. Do not add hot or warm coconut oil to the wet ingredients; wait until it's a room temperature so it doesn't clump.