A delicious Fall-inspired Applesauce Bread made with tons of healthier swaps. Greek yogurt, lower sugar, and oats to name a few. Plenty of spice and flavor!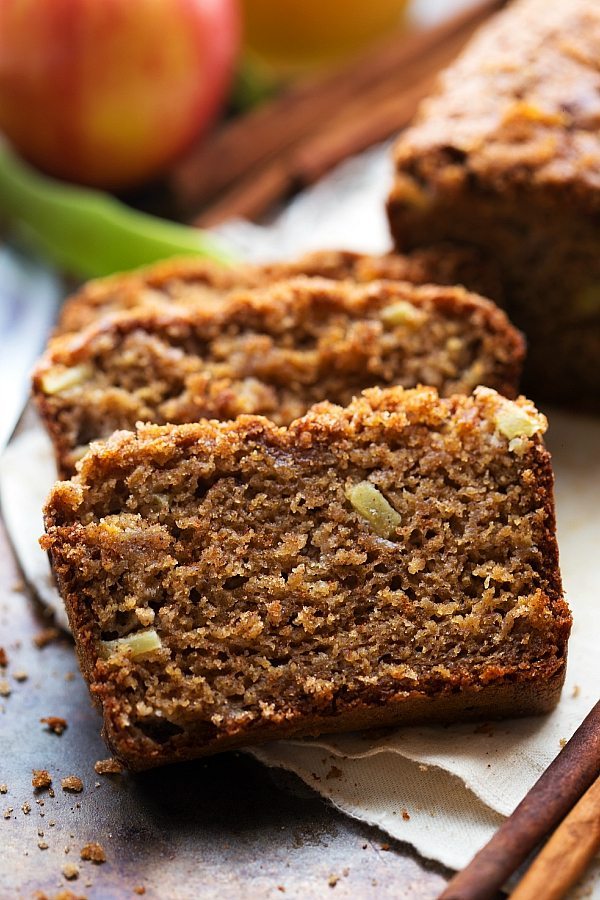 Don't worry, I still have PLENTY more pumpkin recipes for you all. But I've still got some apple ones too that I need to share! And this apple bread has quickly become an absolute favorite in my home. The husband is a HUGE fan of apple anything (his favorite dessert is a simple apple pie) so naturally he's been inhaling this bread. (And the majority of this cake + these muffins he took care of in a hurry.)
The nice thing? This bread is SO easy to make that I can have some made up the rest of apple season! It's a quick, one-bowl, no mixers kind of bread. And that pretty crunchy topping is just a little bit of brown sugar + cinnamon. Seriously easy!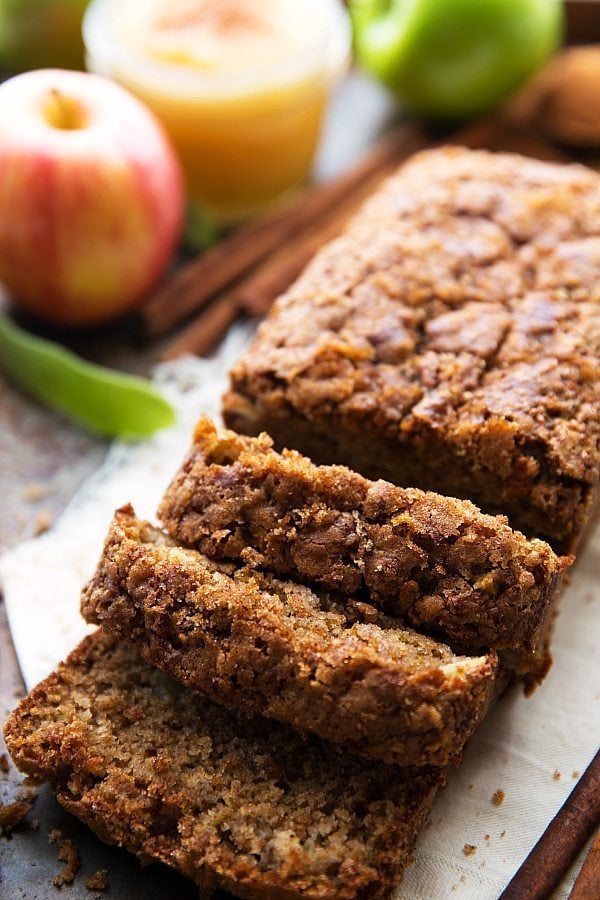 At first I wanted just an applesauce bread with no actual apples, but then I ended up chopping up one apple to put into it in lieu of nuts or raisins and I've never gone back! The apple is great in this bread! By the way, this bread can totally take some nuts/raisins if you enjoy that. As a general rule I don't love nuts in baked goods, but sometimes they are really great and so much is added with the nuts. (Especially in this applesauce cake).
So if you are a nuts in baked goods kind of person definitely add in some chopped up pecans or walnuts! And if you like raisins, soak them in some hot water for about 20 minutes (to get them nice and soft) and then dry them REALLY well. Toss 'em with a little bit of flour and mix those in. The flour will keep them from sinking to the bottom of the bread.
You can opt to leave in the apple or take it out. It's pretty subtle and gives an extra boost of apple flavor to this bread. There isn't too much apple that it's overpowering by any means. The focus is still on those spices and being a soft tender sweet bread. By the way, I swear by Granny Smith apples in baked goods – I believe they always yield the best flavor!
Another fun thing you can try is doing a different flavor Greek yogurt. I'm a HUGE fan of vanilla Greek yogurt and use it pretty much exclusively in my baked goods. However, if you happen to grab an apple Greek yogurt I bet it would be so dang good in this bread. I haven't actually tried that yet, but it's on my list for the next time I try this out.
You could also put an entire streusel on the top of this bread. The reason I opted for just a little bit of brown sugar + cinnamon was to get a nice crisp/slightly crunchy topping without a ton of ingredients or added sugars/butter. I wanted to try and keep this bread as healthy as possible for you all. A streusel generally isn't too healthy so I decided against it. But if you like that kind of thing it would be great on this kind of bread. Although with just the brown sugar and cinnamon it's pretty amazing how great the top of this bread tastes and the texture it yields!
P.S. Please tell me your fun apple picking stories. Have you gone apple picking yet? Apple picking was literally my favorite thing we did in Ohio last Fall. We haven't found a local apple orchard here in Utah yet so please let me live vicariously through you 🙂 xox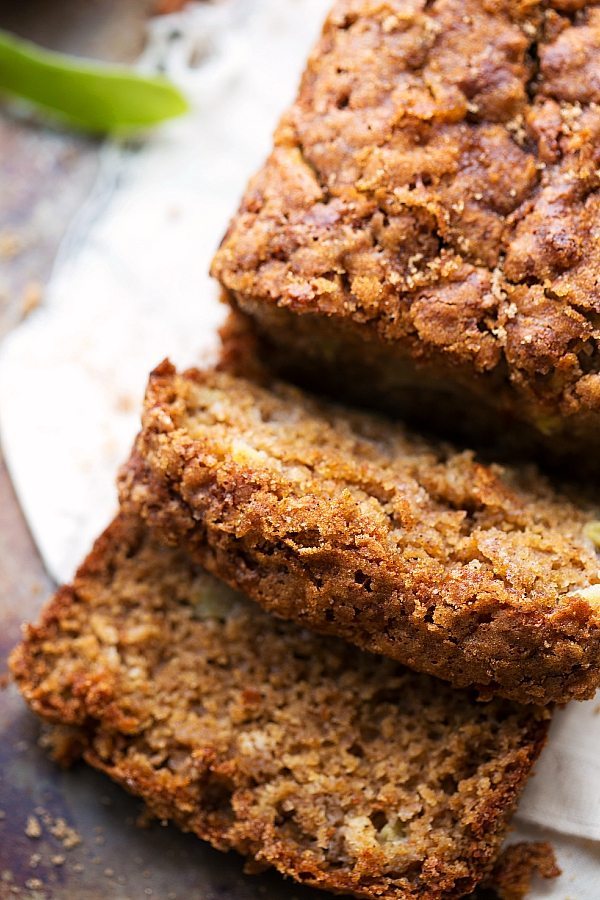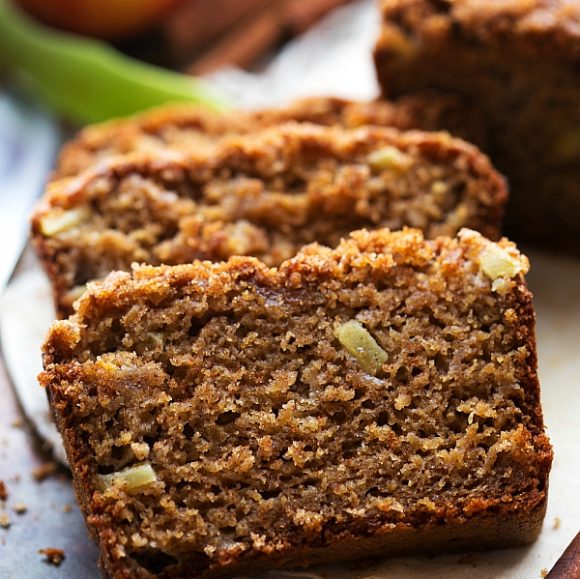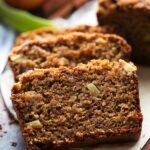 Applesauce Spice Bread
A delicious Fall-inspired Applesauce Spice Bread made with tons of healthier swaps. Greek yogurt, lower sugar, and oats to name a few. Plenty of spice and flavor!
Keyword:
Applesauce Spice Bread
Servings
:
1
loaf of bread
Ingredients
1

cup (260g)

applesauce

1

teaspoon

vanilla extract

1/4

cup (46g)

melted coconut oil

1/3

cup (79g)

vanilla Greek yogurt

I used low-fat, or apple flavored

1

large egg

1/2

cup (74g)

brown sugar

not packed

1/4

teaspoon each

salt and allspice

1/2

teaspoon

nutmeg

1

teaspoon

ground cinnamon

1

teaspoon

baking soda

1/2

teaspoon

baking powder

1/2

cup (60g)

chopped apple

I used Granny Smith + 1/2 teaspoon lemon juice

1

cup (125g)

white whole wheat flour

or all purpose plain white*

1/2

cup (45g)

oat flour

just blend regular oats in the blender
Sugar Crisp Topping
2

tablespoons

brown sugar

1/4

teaspoon

ground cinnamon
Instructions
Preheat the oven to 350 degrees F. Lightly grease and flour a bread pan. (Don't skip this step as the bread has a tendency to stick to the pan if not well greased.)

In a large bowl, stir together the applesauce, vanilla extract, melted coconut oil (measure when it is melted not solid), and Greek yogurt until completely combined.

Add in the egg and brown sugar. Mix.

Add in the salt, allspice, nutmeg, cinnamon (add more spice if desired), baking soda, and baking powder.

Peel and finely chop the apple discarding the core. Toss it with the lemon juice and then drain any extra juice. Toss with 1/2 tablespoon of flour and then add to the mixture. Stir in.

Add in the white whole wheat flour (white all purpose flour works great too!) and the oat flour.

To make the oat flour, blend regular old fashioned or quick oats in a blender or food processor until they resemble a flour. Measure AFTER blending and not before.

Stir until JUST combined (don't overmix with the flour added as that makes for a denser bread).

Pour into prepared bread pan.

Mix the brown sugar and cinnamon together with your fingers and sprinkle evenly to cover the entire bread. Start with 2 tablespoons and use an extra tablespoon of brown sugar if needed.

Bake for 55-65 minutes (Mine always takes right around 60 minutes) or until a toothpick when inserted into the center comes out clean.
Recipe Notes
Store in an airtight container in the fridge for up to 3 days (warm in the microwave for a few seconds before enjoying) and then individually wrap pieces and freeze. * White flour will result in a much "lighter" bread while white whole wheat results in a much denser bread. If you aren't used to whole wheat baked goods try using half and half white flour, white whole wheat. Whole wheat flour not recommended, use white whole wheat flour or white all purpose.