A simple apple turnover recipe made with store-bought puff pastry, filled with sugared apples, and coated in an easy glaze.
After trying an apple turnover, make sure to give this apple crumble or this caramel apple cheesecake a try!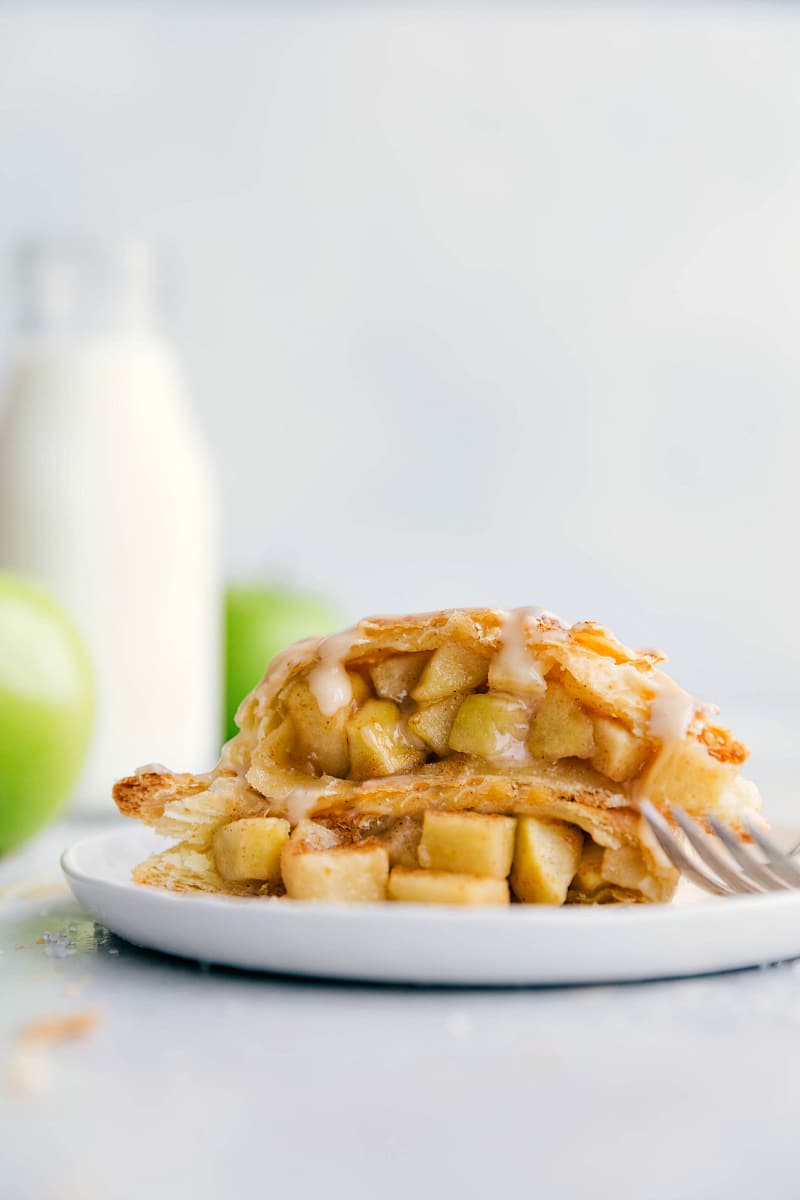 Apple Turnover
Since I've known my husband, he's always ordered an apple turnover whenever it's been on the menu. After taking bites of the turnovers he's had over the years, I've been determined to make him a better version at home. And this apple turnover recipe is just that — so much better than you'd find at any fast food restaurant! It's soft, flaky, buttery, and best of all packed with cinnamon-sugared apples!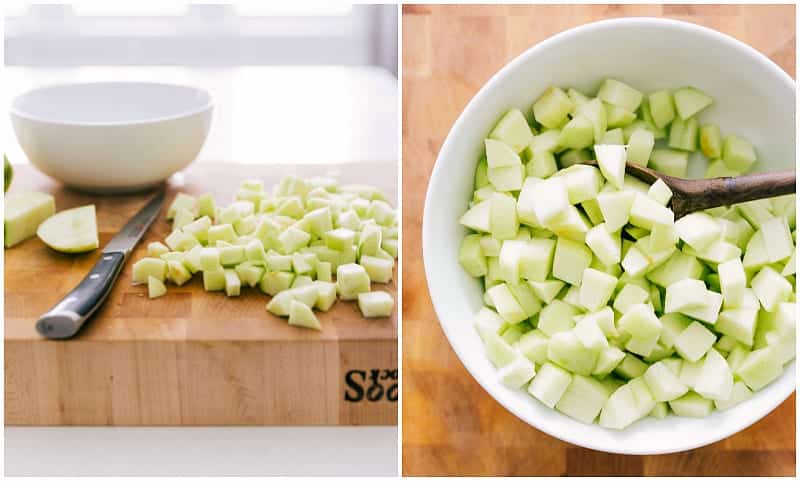 Apple Turnover Tips:
Use a ruler: when measuring the size to cut the puff pastry dough, I highly recommend a ruler for precision — it removes any guessing for how thick/wide you need to roll it out!
Grab tart apples: the sugar and other ingredients added to the filling are depending on tart/sour apples. I recommend Granny Smith apples for this apple turnover recipe otherwise you might end up with overly sweet turnovers.
Line your tray with parchment paper: no matter how well you seal your apple turnovers, some have the tendency to "leak." Save yourself a whole lot of hassle and clean up and line your tray before baking!
Can you freeze apple turnovers?
Yes! Completely prepare the apple turnover recipe and before brushing on the egg mixture or baking, freeze the turnovers (on the tray). Once the turnovers are frozen, wrap them tightly in plastic wrap and the place in an airtight freezer bag.
To bake frozen apple turnovers:
You can take each puff pastry apple turnover straight from the freezer (no need to thaw) and place on a parchment paper lined tray. Brush with the egg white mixture and bake for a few minutes longer (3-5) than if they were made fresh (watch carefully!)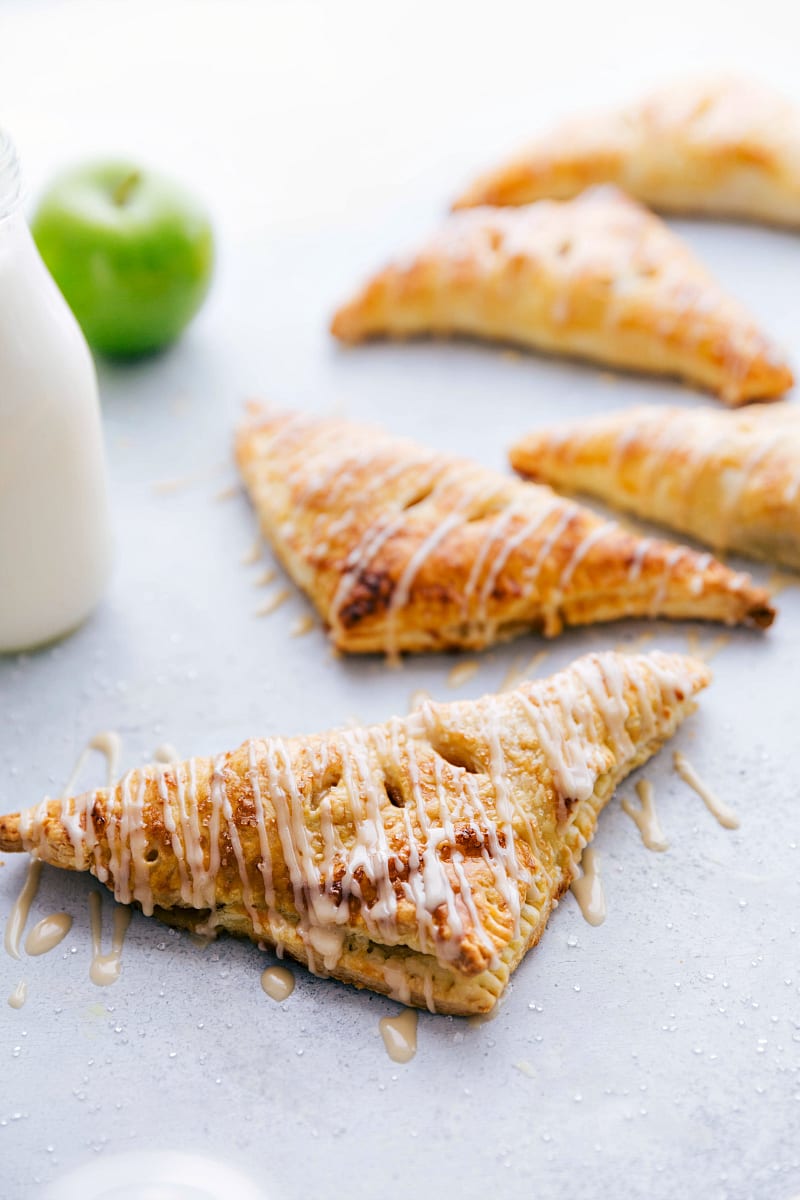 More Dessert Recipes:
While this recipe is quite different from Ina Garten's apple turnovers, I don't have a video (yet) for this recipe, so you may find it helpful to watch her create them.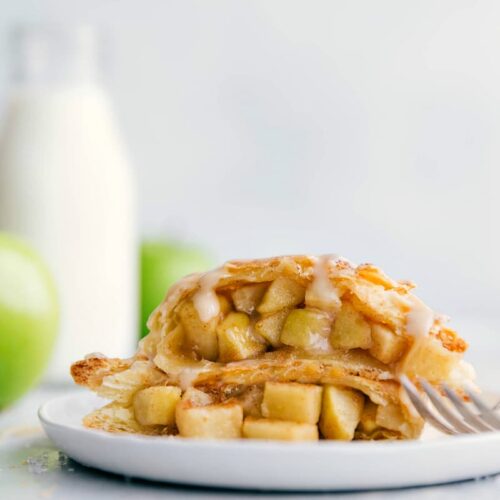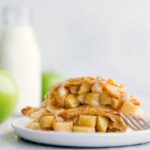 Apple Turnover
A simple apple turnover recipe made with store-bought puff pastry, filled with sugared apples, and coated in an easy glaze.
Ingredients
Apple Turnover
1

(17.3 ounces) package

Puff Pastry Sheets

I like Pepperidge Farm best

4-5

large (4 cups chopped)

granny smith apples

(1 and 3/4ths pounds before being peeled/cored)

1

tablespoon

freshly squeezed lemon juice

3

tablespoons

unsalted butter,

melted

2

tablespoons

all-purpose white flour

1/3

cup

white sugar

1/3

cup

brown sugar,

light or dark (I use dark)

1/2

teaspoon

cinnamon

1/8

teaspoon

salt

2

tablespoons

heavy cream

1/2

teaspoon

vanilla extract
Egg Wash
1

large

egg + 1 tablespoon water,

whisked together

Optional: coarse sugar for topping (or you can use cinnamon sugar*)
Glaze
1

cup

powdered sugar

1

teaspoon

vanilla extract

2-3

tablespoons

milk

(1%, 2%, or whole recommended)
Instructions
Thaw the puff pastry completely in the fridge.

Prepare the apples by peeling them, removing the core, and chopping them into small pieces, no larger than 1/2 inch. Toss the chopped apples with the lemon juice.

In a medium-sized bowl, whisk together the melted butter with flour to create a thick paste. Mix in the white sugar, brown sugar, cinnamon, salt, heavy cream, and vanilla extract. Stir until smooth. Pour over the prepared apples and gently toss to coat.

Preheat the oven to 400 degrees F. Unfold the thawed puff pastry onto a lightly floured surface. Roll each piece of puff pastry into a 12 inch by 12 inch square (use a ruler if you have one!). Cut each 12 x 12 piece into 4 equal sections.

Place a packed 1/3 cup of the apple mixture on top of each square of dough. Spread so the apples are in one even layer on the bottom third triangle of the dough (see photos in post). In a small bowl, whisk the egg with the water to create an egg wash. Brush that egg wash around the entire square of dough and then fold over one corner to the opposite corner. Using a fork, crimp the edges making sure they are all well sealed. Brush the egg wash over the entire pastry. Use a knife to cut 3 small slits in the top of the pastry.

If desired, sprinkle a teaspoon or so of coarse sugar over each pastries. Alternatively, you can sprinkle a mixture of cinnamon sugar over each pastry.

Place the pastries on a parchment lined sheet pan (line your pan to avoid a mess!) and into the fridge for 20 minutes (it's very important they go into the oven cold).

Place the turnovers on baking sheets and bake for 15-18 minutes or until lightly golden brown.

While the turnovers are baking, whisk together all of the glaze ingredients until smooth. If needed, add a little bit of milk to get a thinner consistency.

Pour the glaze into a small plastic bag and cut off the tip. Pipe the glaze over the slightly cooled apple turnovers. Alternatively, spoon the glaze over.

Enjoy while warm! Do not try to toast these later, but you can microwave them for 5-10 seconds to warm them up at another time.
Recipe Notes
To make your own cinnamon sugar: whisk together 1/4 cup white sugar with 1 tablespoon ground cinnamon.