Slow cooker creamy chicken and wild rice soup with extra veggies. A dump it and forget about it meal that is hearty and satisfying made without any heavy cream or cream of "x" soups!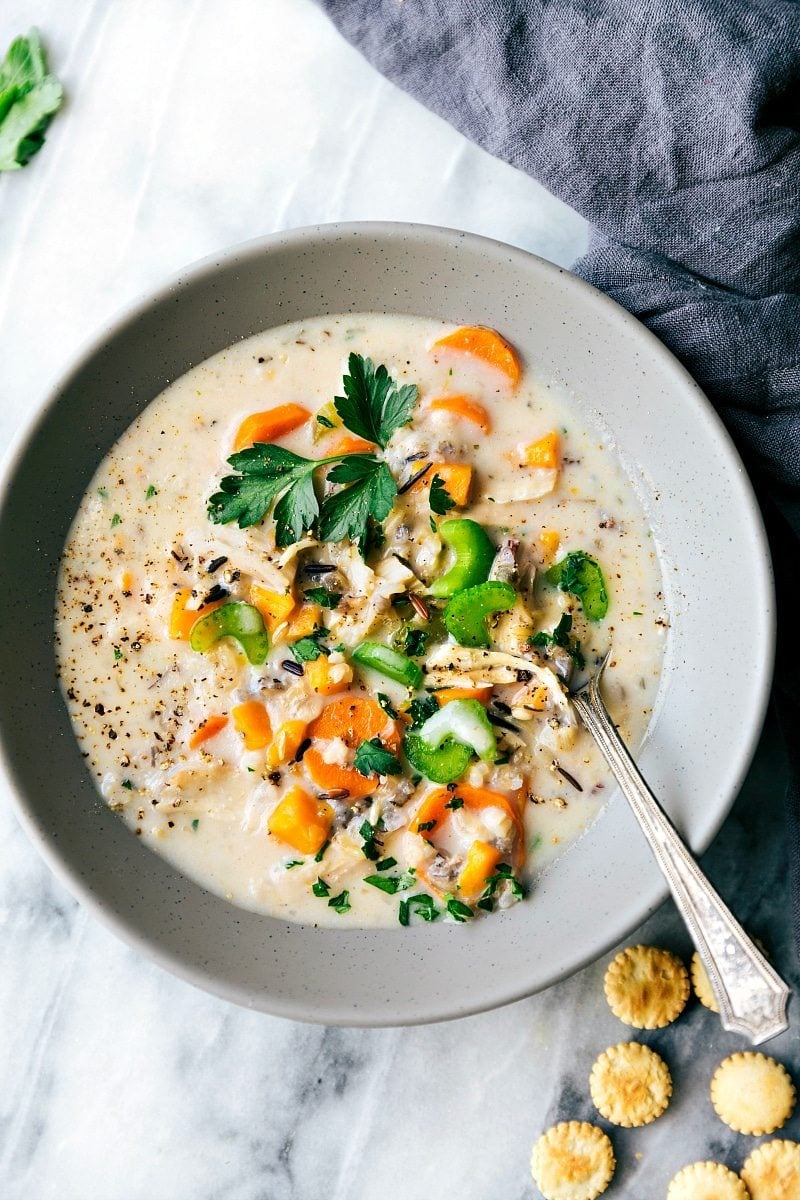 Since my toddler started preschool a couple of weeks ago, he comes home and tells me all kinds of tales from his day. One such tale is that the "big yellow bus goes really, really, REALLY too fast." Somehow, I doubt his bus goes very fast because, well, it's a bus.
He's also told me that his teacher gave him three hot dogs that weren't hot. His take-home journal that the teacher fills out during the day says he eats things like peaches, pears, and cookies. But I guess she keeps forgetting to leave off all those not hot, hot dogs he's eating. ?
Grey has also told me that he cannot go to school anymore because "the baby misses Grey too much." It's amazing that our baby that has never said a word talks to his brother in full sentences now…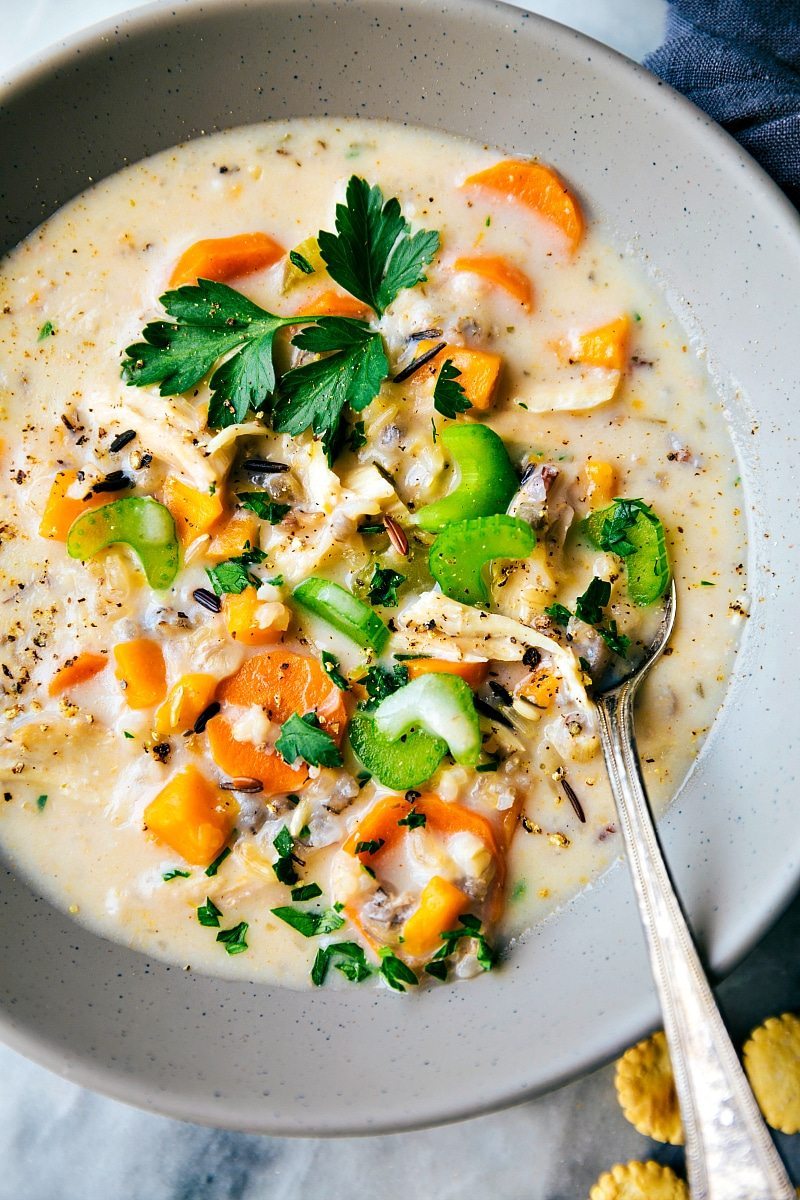 Not that I ever thought I wouldn't miss that kid when he went to school, but it has been far harder than I thought! I'm used to chatting with him all day, baking treats with him, telling him to stop hurting his brother, wrestling with him, or reading him books. It's so weird to have him gone now a few times a week!
It was especially weird to make this soup without him because it is one of his favorites to help with. He loves dumping all of the ingredients into the crockpot and stirring them all together. While it took about a quarter of the time that it usually does to throw this all in the crockpot, it wasn't nearly as exciting.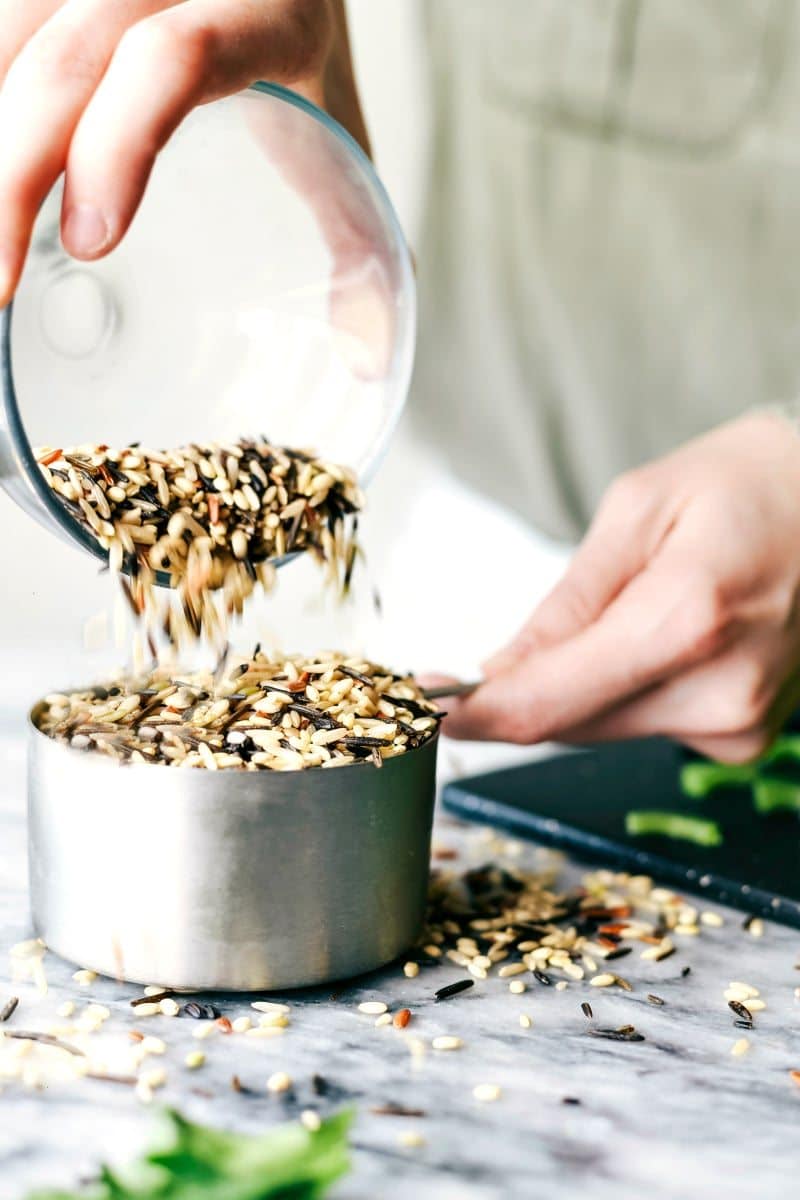 Creamy chicken and wild rice has been one of my favorite soups since I can remember. I make it so many times each winter and yet, have never shared it here because it wasn't completely perfect. When I did perfect it last year, I never snapped any shots of it; and then Spring came and I decided it would have to wait until Fall. But to ensure there is no further delay, it is the first soup of the season and I can' t wait for you all to give it a try!
We are completely obsessed with this soup! And while it does have some butter + flour, it is made lighter/healthier by not adding in any heavy creams or canned cream soups. It's also made healthier by adding in extra veggies. The sweet potato addition is not generally added in creamy chicken and wild rice soup, but I'm certain it will become a new must-have. We LOVE sweet potato in this soup! The sweet potato adds a nice touch of sweetness and also makes the soup heartier + healthier.
Seriously, so good.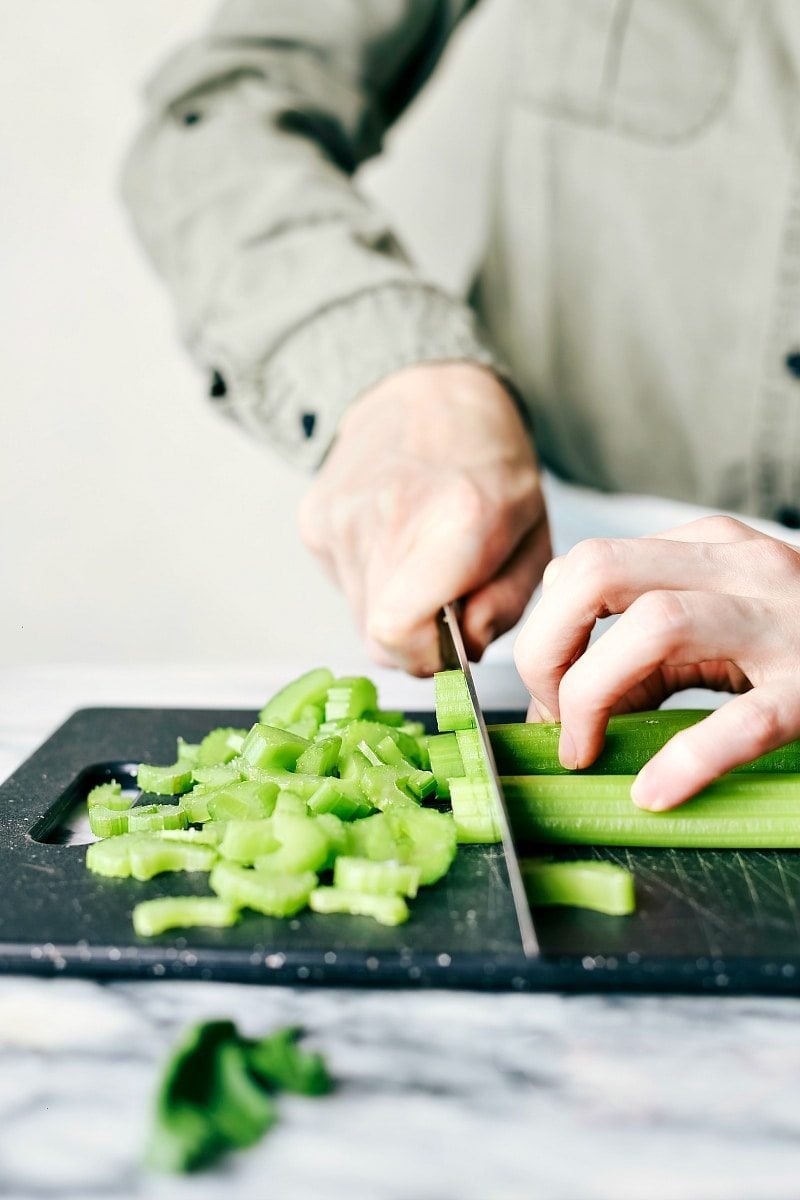 This soup doesn't require too much direction since it's really just a dump it and forget about it kind of meal. To make the prep quicker though, you can buy prepared chopped veggies. There are usually a pre-chopped onion, celery, and carrots mixture in the refrigerated produce section of the grocery store.
And last note: watch what kind of wild rice you buy! I've dyed an entire crockpot of soup purple a few times by using BLACK rice. The rice that I've had the absolute best results with is a wild rice blend by Lundberg. I highly recommend that blend if you are able to find it. I've found it in just about every grocery store near me and it's just by the varieties of rice, quinoa, and couscous.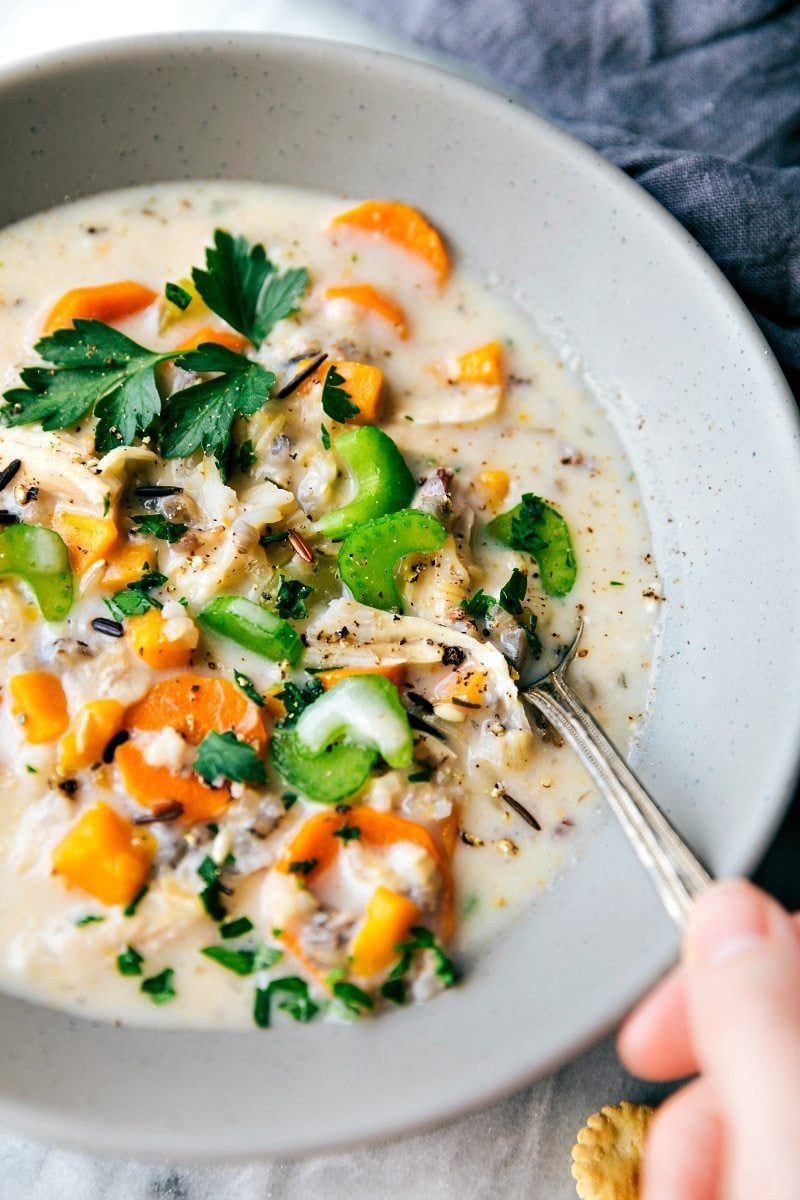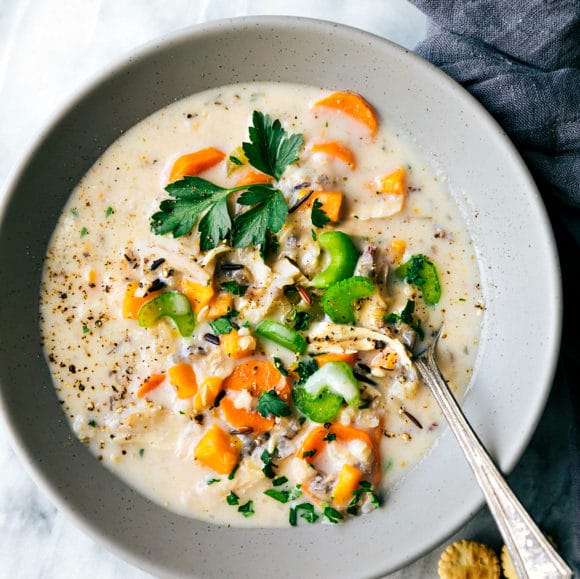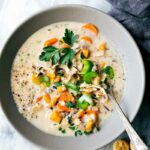 Crockpot Chicken & Rice Soup
Ingredients
3/4ths

pound

boneless skinless chicken thighs

or breasts

1

cup

uncooked wild rice blend*

6

cups

water + 6 teaspoons chicken bouillon granules

or use 6 cups chicken stock/broth

1

(1/2 cup)

small onion

2

(3/4 cup)

stalks celery

1

(3/4 cup)

large carrot

2

teaspoons

minced garlic

1

(1 cup)

small sweet potato

1/2

cup

butter

1/2

cup + 2 tablespoons

white flour

2-3

cups

whole milk
Seasonings
2

leaves

bay

1/2

teaspoon

dried parsley

1/4

teaspoon

EACH dried oregano, dried thyme, garlic powder, onion powder, dried sage

Salt and Pepper

1

teaspoon

poultry/chicken seasoning
Instructions
I use a 6 quart crockpot for this recipe. If you have smaller than 5 quart, you will want to halve this recipe.

Trim the chicken of fat. Add chicken breasts or thighs and uncooked wild rice blend to a large crockpot

Add in the water and bouillon granules or chicken stock.

Prep the veggies: dice the onion, thinly slice the celery, thinly slice the carrot, mince garlic, peel and dice the sweet potato. Place all veggies in the crockpot.

Add all of the seasonings: 2 bay leaves, dried parsley, oregano, thyme, garlic powder, onion powder, sage, 1/2 teaspoon salt, and 1/2 teaspoon pepper, and poultry seasoning.

Stir, cover, and cook on low for 5-8 hours or high for 3-5 hours or until vegetables are tender and chicken is cooked through and shreds easily.

About 30 minutes before soup is done, place the butter in a small pot over medium heat. Whisk until melted and then slowly whisk in the flour. Allow to bubble and cook whisking constantly for 1 minute.

Slowly add 2 cups of the milk and whisk as you add.

Allow to sit over medium heat until thickened stirring occasionally.

Remove the chicken and shred. Pour in the cream mixture and gently stir in the soup. Return the chicken to the soup.

Add extra milk or additional broth if you want a "brothier" soup. (We like it thicker and chunkier)

Remove the bay leaves.

Taste and add any additional seasoning to taste (usually a bit more salt/pepper)

If desired top with fresh chopped parsley
Recipe Notes
*Watch what wild rice you buy. Black or forbidden rice will dye the entire dish black. I love the wild rice blend made by Lundberg.
More Crockpot Soup Recipes:
Crockpot Green Chile Chicken Enchilada Soup
Crockpot Chicken, Quinoa, and Vegetable Soup
Crockpot Italian Chicken Quinoa Soup
Crockpot Creamy Chicken Enchilada Chili