One Skillet Lemon Parmesan Chicken and Green Beans — a simple, family-friendly 30-minute meal with little clean-up required!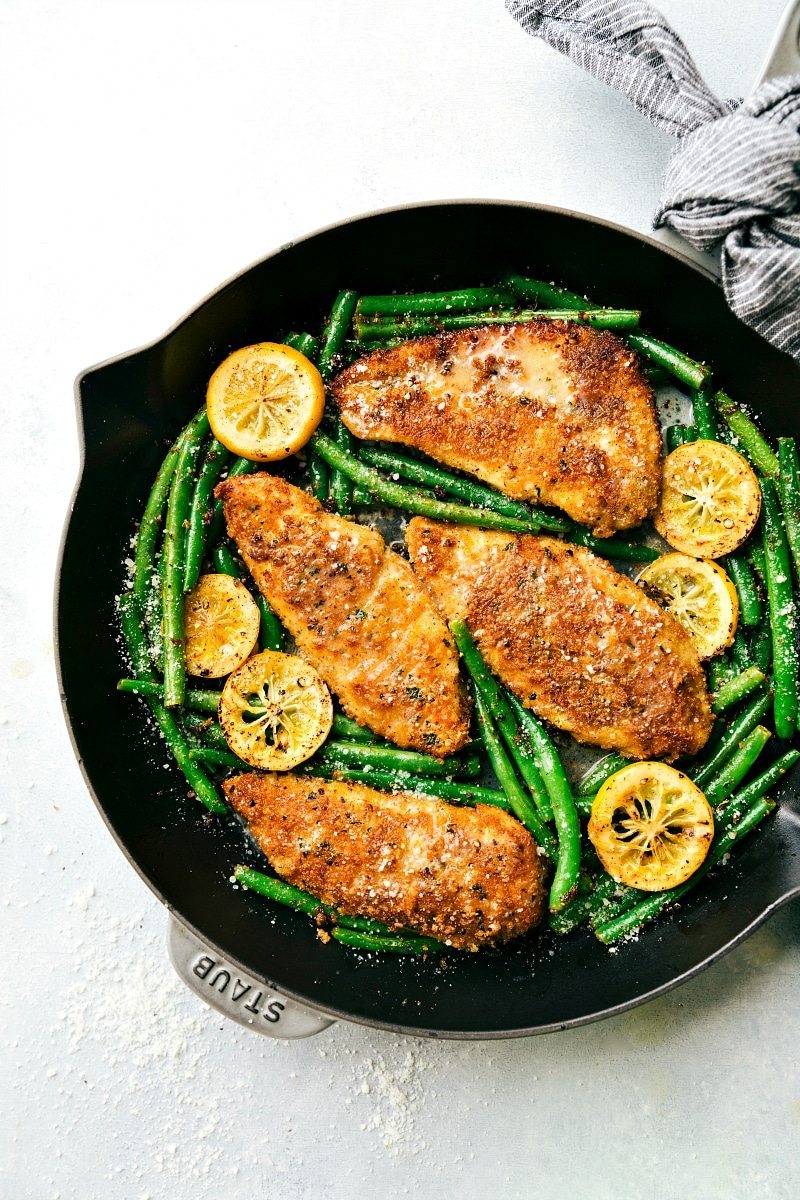 I've never really used cleaning gloves before, but between the amount of dishes I do (a lot) and the weather, my hands have been super dry lately. So, I bought a few pairs of cleaning gloves and I've been wearing them while doing the dishes. It's helped a lot in the aspect of avoiding dry/cracked hands, but they kind of intrigue (freak out?) the boys. They are bright purple and go all the way up my arms…and…I may or may not chase them around the house wiggling the purple fingers at them and making what I'd call my attempt at "monster noises."
They love this game so much that dishes take me at least twice as long as they used to before the gloves. It goes kind of like this: wash 1 dish, run around the house like a crazy person getting so many giggles out of the boys, wash 1/2 of 1 more dish, run around the house like a crazy person with double the giggles, and forget about the rest of the dishes…. #dishpilesfordays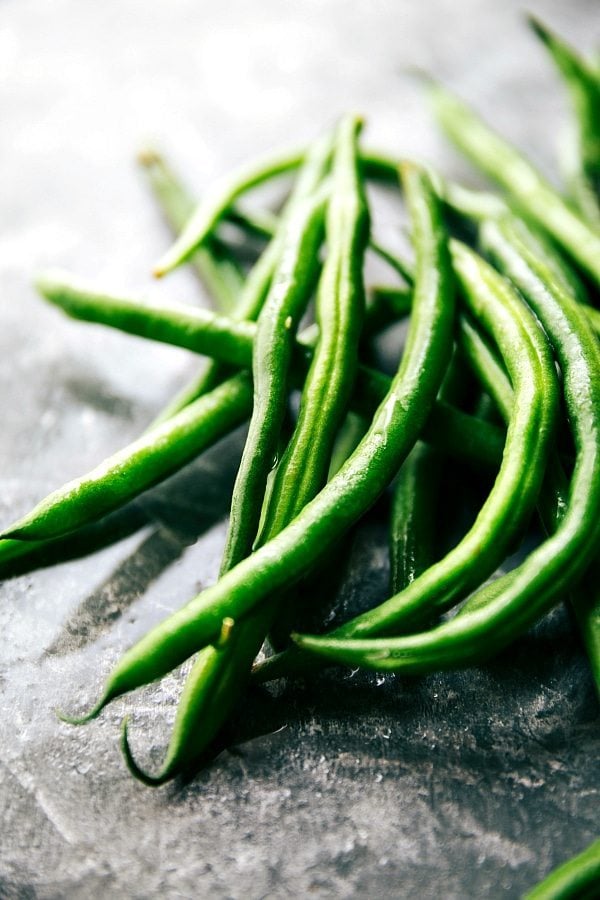 Anyways, the other day as I took a break from scaring the boys with my long scary purple arms, the toddler asked me why I was wearing the gloves. I told him that washing the dishes was hurting my hands and the gloves made it so they didn't hurt. Good explanation right? Or so I thought…
The next day he spilled a bunch of his crackers and I asked him to clean them up. He responded that his hands would hurt so he would need to wear the purple gloves to clean them up.
When it was time for a nap, he told me that sleeping hurts his hands (doesn't it hurt everyones?! ?) so he'd need to sleep with the gloves on so they didn't get more hurt.
And finally, when it was time for dinner, he told me that eating his dinner always hurts his hands, so, of course, the purple gloves were needed.
Who knew the toddler has had such sensitive hands all these years? Apparently he really can not take off those purple gloves because just about everything might hurt those hands of his.
So….because I can not for the life of me get those gloves back, I suppose this forever excuses me from washing dishes right? I'm certain my husband will see the logic.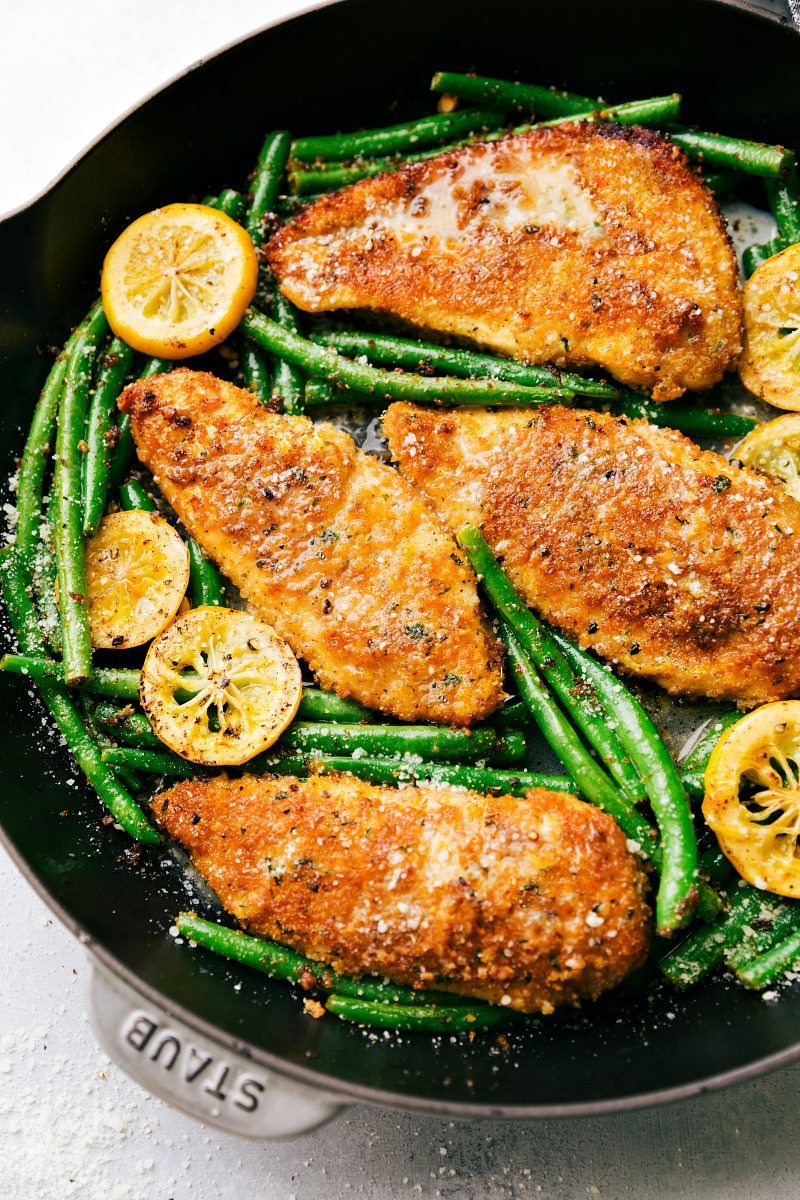 The good news with this dish though, is it only requires washing ONE dish. One skillet of dinner clean-up! ??
While you do create a few dishes in preparing the actual meal, there aren't too many. Especially if you put the breading ingredients in paper plates or bowls. My favorite way to bread chicken lately is using paper plates — it gets the job done and the clean-up is fantastic — aka pretty much nonexistent!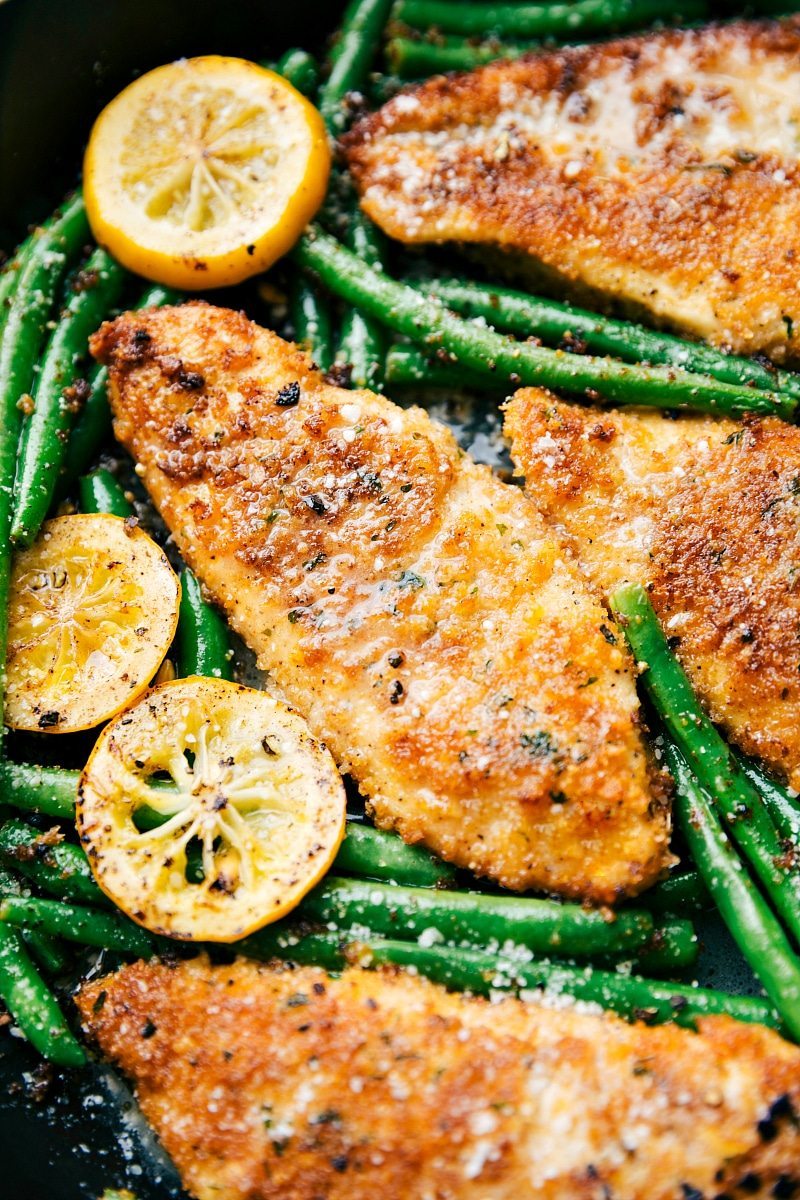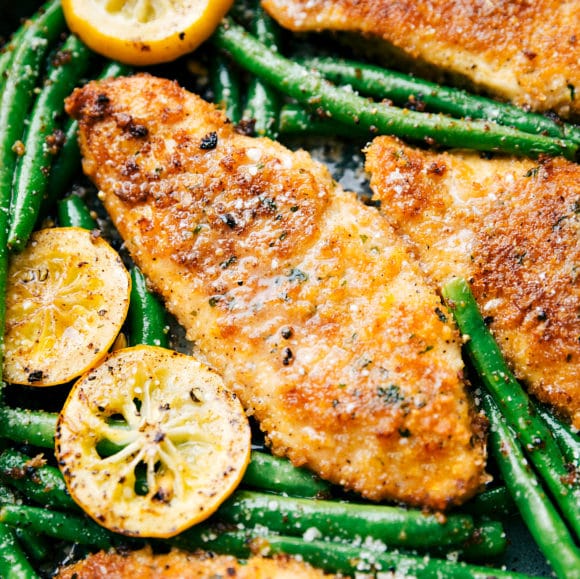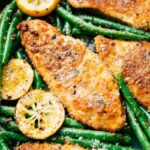 One Skillet Lemon Parmesan Chicken
This One Skillet Lemon Parmesan Chicken is a simple, family-friendly 30-minute meal with little clean-up required!
Ingredients
1

pound (2 large)

boneless, skinless chicken breasts

1/4

cup

white flour

7

tablespoons

unsalted butter,

separated

1/2

teaspoon

EACH: paprika, Italian seasoning

1

teaspoon

dried parsley

2

teaspoons

minced garlic,

separated

1/4

cup

freshly grated Parmesan cheese

1/2

cup

Panko

Salt and freshly cracked pepper

10

ounces

green beans,

trimmed
Lemon Butter Sauce
4

tablespoons

unsalted butter

1/2

teaspoon

minced garlic

2-3

tablespoons

freshly squeezed lemon juice + 1/2 teaspoon lemon zest

(1 large lemon)

1/2

tablespoon

fresh flat-leaf parsley,

minced
Instructions
Start with the Lemon Butter Sauce: In the large nonstick skillet, add the butter and warm it on medium-high heat. When it is melted add in the garlic and stir around until fragrant. Add in the fresh lemon juice, lemon zest, and fresh minced parsley. Simmer on medium-low heat for 3-5 minutes or until slightly reduced. Add freshly cracked pepper if desired. Transfer to a dish and set aside.

Set out 3 shallow bowls or plates (paper plates/bowls for fast clean-up!). In the first, add the flour. In the second, add in 4 tablespoons melted butter. In the last, combine the paprika, Italian seasoning, dried parsley, 1 and 1/2 teaspoon minced garlic, Parmesan cheese, and Panko. Take the 2 large chicken breasts and remove any fat. Butterfly the breasts and then cut exactly in half (so you have 4 thin breasts). Then pound the halves to even thickness. Generously salt and pepper both sides of each chicken breast.

Dredge the chicken in the flour, then the melted butter, and then the Parmesan mixture. If you have leftover butter and Parmesan mixture, dip the chicken in both again (you shouldn't have any leftover of either and double breading is delicious!).

In the same skillet, over medium-high heat add 2 tablespoons butter. Add the breaded chicken breasts and cook for 3-5 minutes, flip and cook for another 3-5 minutes or until chicken registers 165 degrees F on a meat thermometer. If its browning too fast and not cooking in the inside, the heat is too high.

Remove the cooked chicken to a plate (paper!) and tent with foil. Meanwhile, while the chicken is cooking, prepare the green beans by cleaning and trimming them. Thinly slice a lemon.

Add the prepared green beans and 1 more tablespoon butter to the skillet. Season with salt and pepper and cook over medium heat until crisp tender (about 5-8 minutes). Add the lemon slices and remaining 1/2 teaspoon garlic in for the last 1-2 minutes.

Add the chicken back into the skillet and serve immediately with the prepared lemon butter sauce (add the sauce to each bite (dip the chicken) as you are enjoying -- don't pour the sauce over the chicken or it will become soggy). If desired garnish the chicken with 1 more tablespoon parsley. The lemons are just to infuse with more lemon flavor and not necessarily to be eaten.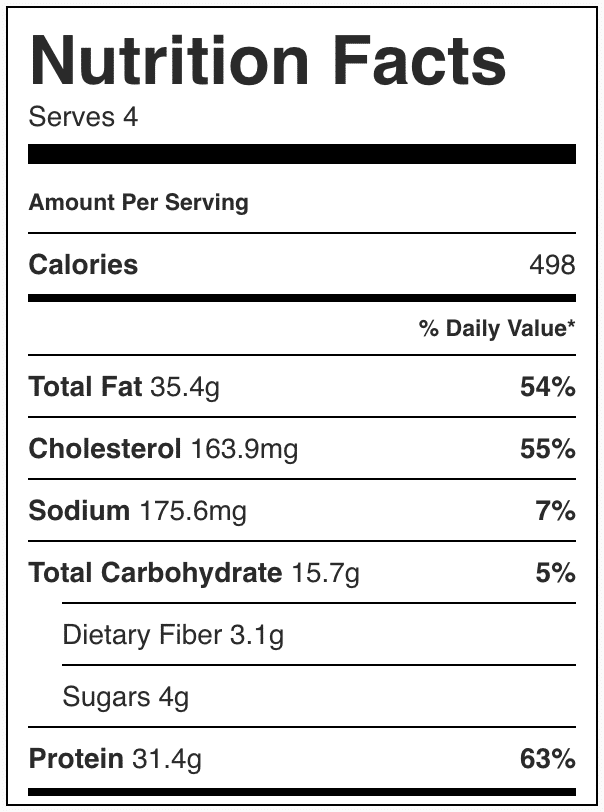 More Easy One Pan Recipes: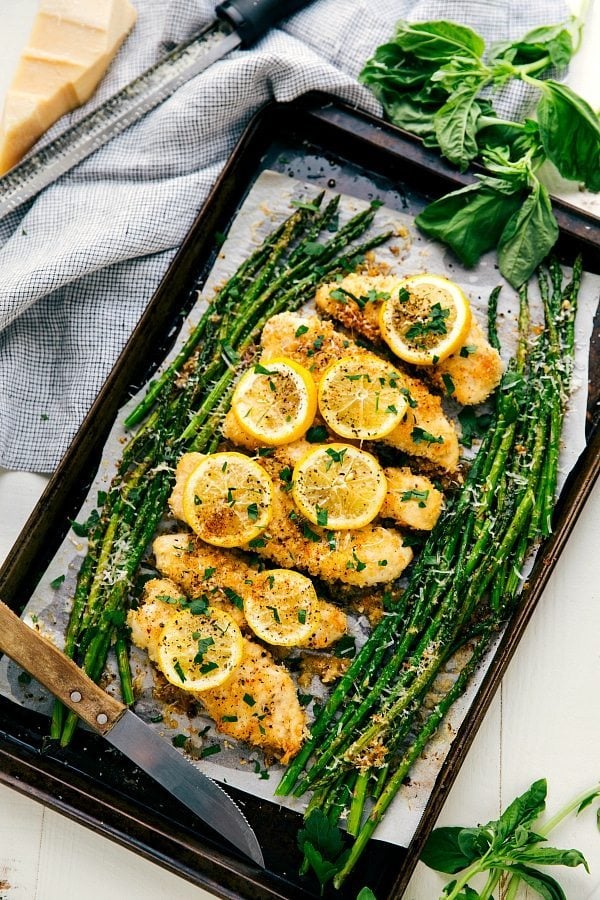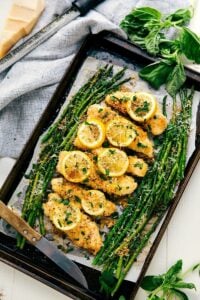 One Pan Lemon Parmesan Chicken and Asparagus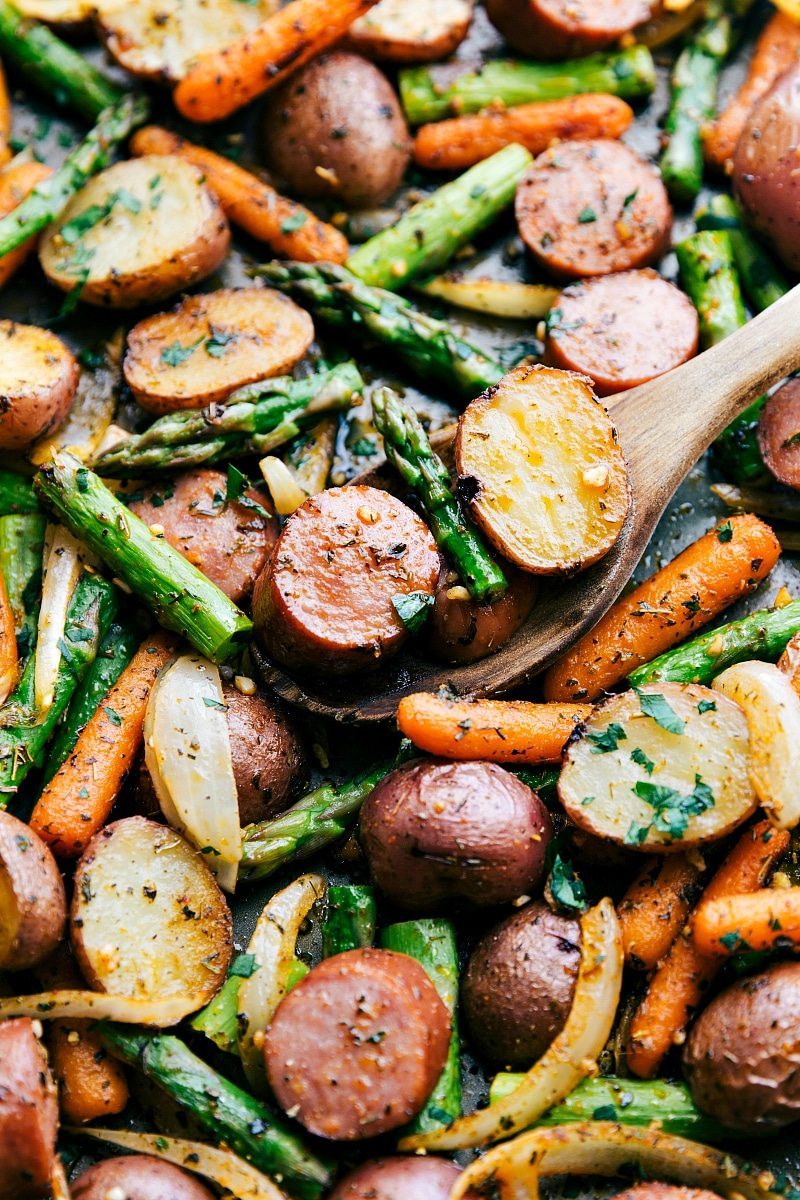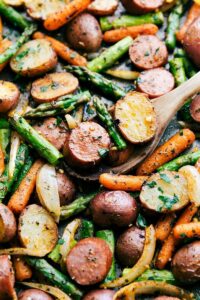 One Pan Garlic Veggies and Sausage