A Girl Scout Cookie Thin Mint cheesecake. This cheesecake has a thin mint crust with a minty cheesecake and ice cream-like filling. Garnished with dollups of whipped cream and thin mint cookies.
Happy Pi Day everyone! Or as I'd rather refer to it as PIE day.
Math and I never really got a long.
But if math will give me an excuse to eat pie, then we can be friends. For today. Only today.
So technically this isn't really a pie, it's a cheesecake and a frozen one at that. But it has the same shape and look of a pie, so it works right?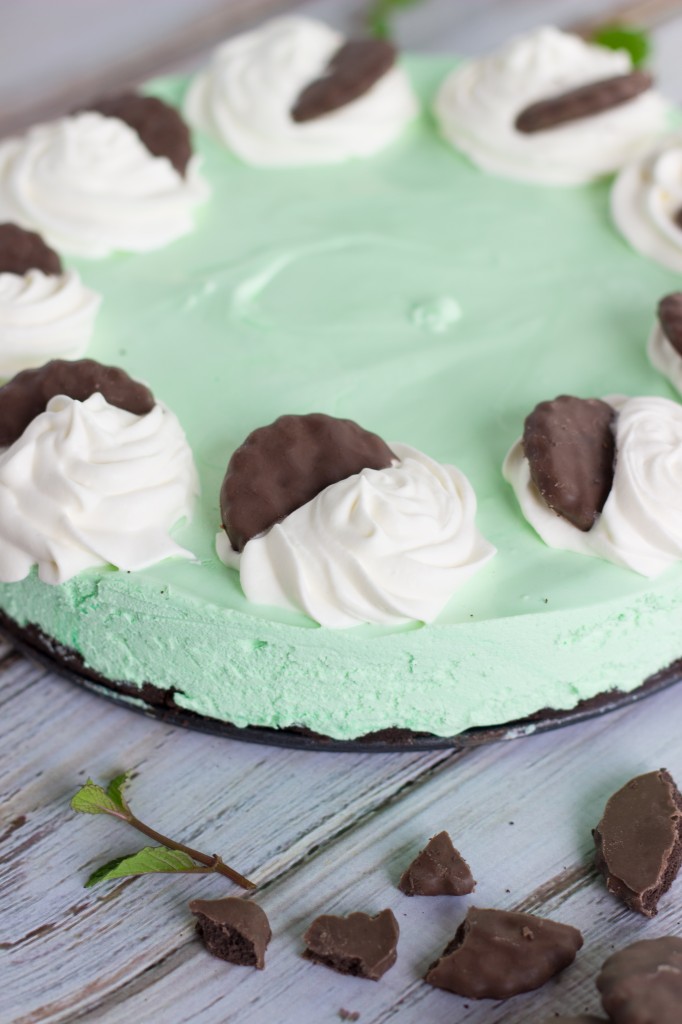 In college, I got a C in statistics. The only C I've ever gotten in my life. But that class made about ZERO sense to me. Negative sense to me if that is even possible.
Then I meet my husband. Like a month after the class finished.
Just guess what he got in statistics? A 98 percent. That's just craziness.
We needed to meet like one semester earlier. Maybe then math and I wouldn't be such bad enemies.
Speaking of the husband, he loves pi day. Because he loves math (he's a smarty, mathy whiz) and his favorite dessert is pie. Of course we celebrate this holiday in our house.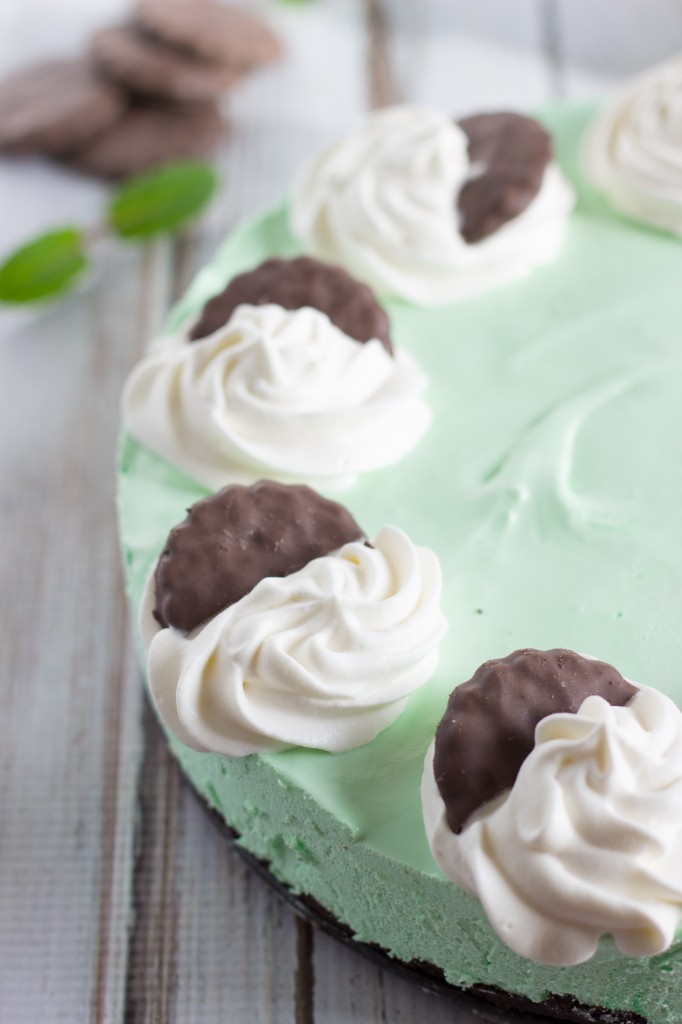 This dessert is incredibly easy and one of my favorite "pies." I mean it has thin mint cookies; can you go wrong there?
The crust is crushed up thin mints (nothing added) pushed down into the bottom of a spring-form pan. (Make sure to spray your pan with non-stick spray first!)
The filling is simple: cream cheese, sweetened condensed milk, whipped topping, peppermint extract, and green food coloring. That's right; only 5 ingredients!
And you can't forget the garnish – whipped topping with little halvsies thin mints. Adorbs.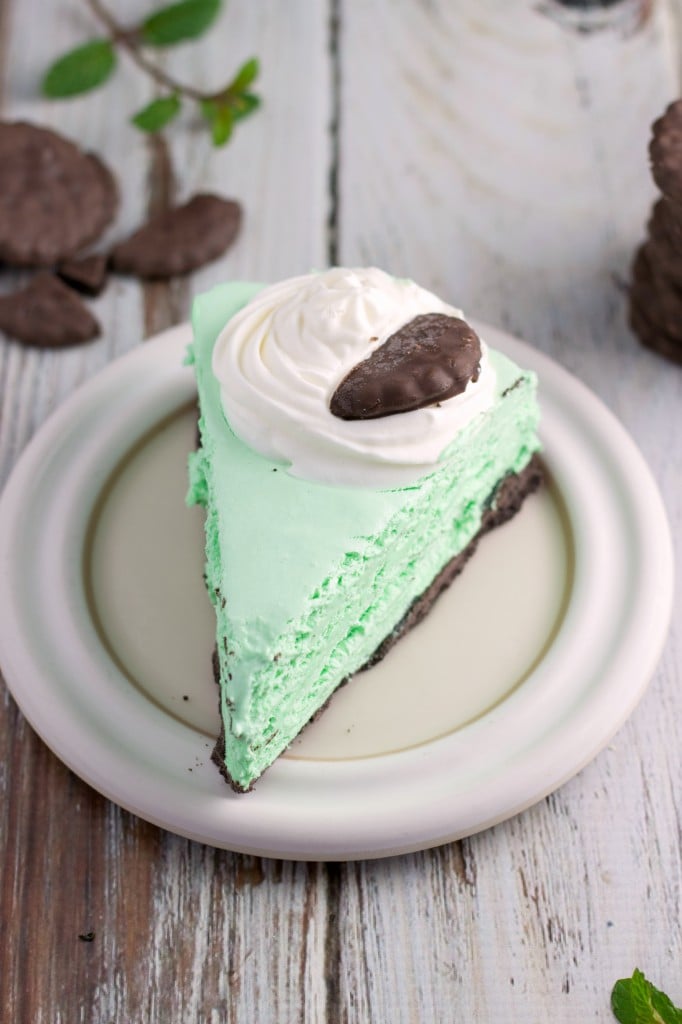 A few notes: this is a frozen cheesecake so it will need to remain in the freezer up until serving time and any leftovers need to return to the freezer. It also needs to freeze for at least 8 hours before serving and preferably overnight (the only hard part about this dessert.)
If you want to substitute the whipped topping for whipping cream, that will work just make sure to have the right quantities (8 ounces of heavy whipping cream AFTER being whipped).
I used a springform pan and haven't tried this dessert in any other pan. I imagine a pie tin would work well, but it may be harder to serve this dessert and still have it "look pretty." I don't know though, you are probably more talented than me at neatly removing pie slices from a pie pan.
And finally…ENJOY!
Craving more?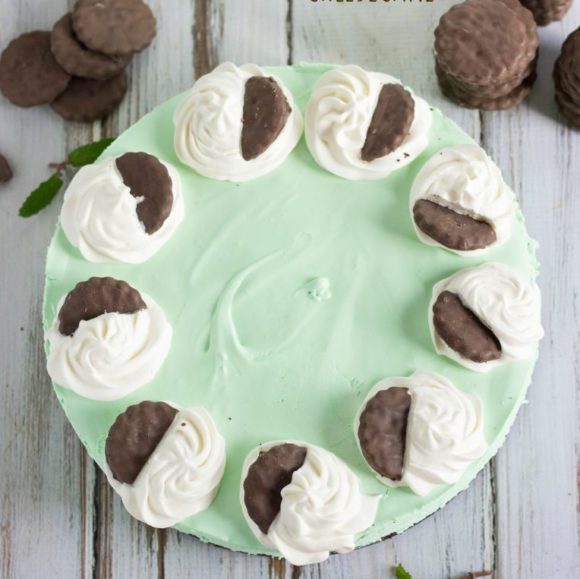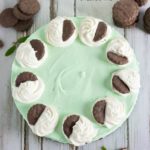 Thin Mint Cheesecake
A Girl Scout Cookie Thin Mint cheesecake. This cheesecake has a thin mint crust with a minty cheesecake and ice cream-like filling. Garnished with dollups of whipped cream and thin mint cookies.
Keyword:
Thin Mint Cheesecake
Ingredients
1

package (9 ounces)

Thin Mint Cookies*

1

package (8 ounces)

cream cheese

softened

1

can (14 ounces)

sweetened condensed milk

2

teaspoons

peppermint extract

not mint extract

Green food coloring

1

container (8 ounces)

cool whip

completely thawed

Optional garnish: Whipped topping spray and extra Thin Mint Cookies
Instructions
Lightly spray a 9-inch springform pan with non-stick spray. Set aside.

In a food processor or blender pulse the entire package of thin mint cookies until fine crumbs.

Press the crumbs into the bottom of the pan. This will take a little bit of patience because but spread them evenly along the bottom, Press them down with the back of a spatula.

In the same bowl (less dishes!) you used to make the crust, put in the cream cheese. Using hand mixers, mix the cream cheese for about 3-4 minutes or until very creamy. Slowly add in the sweetened condensed milk and continue to mix with the hand mixers for another 2-3 minutes.

Using a spatula scrape down the sides and continue to mix for another minute.

Mix in the peppermint extract and food coloring. Do as much food coloring as you want until you reach the desired color you want your cheesecake to be.

With the spatula, fold in the cool whip until it is completely incorporated. Be careful to not overmix the cool whip with the rest of the ingredients.

Freeze overnight or for at least 8 hours.

Serve directly from the freezer and return to the freezer as soon as you are finished serving. It is like ice cream and will melt easily and quickly!

Optionally garnish by spraying dollups of whipped cream around the outside. Cut some thin mints in half with a knife and stick the cookies into the whipped cream.
Recipe Notes
*You can substitute oreo cookies (and leave in the filling) but add 1/4 cup sugar and
6 tbsp. butter melted. You could also use an off brand Fudge Mint cookies, but remove 4 of the cookies for this recipe. (And by remove, I mean eat em!)