Flourless double-chocolate and peanut butter muffins made with healthier ingredients!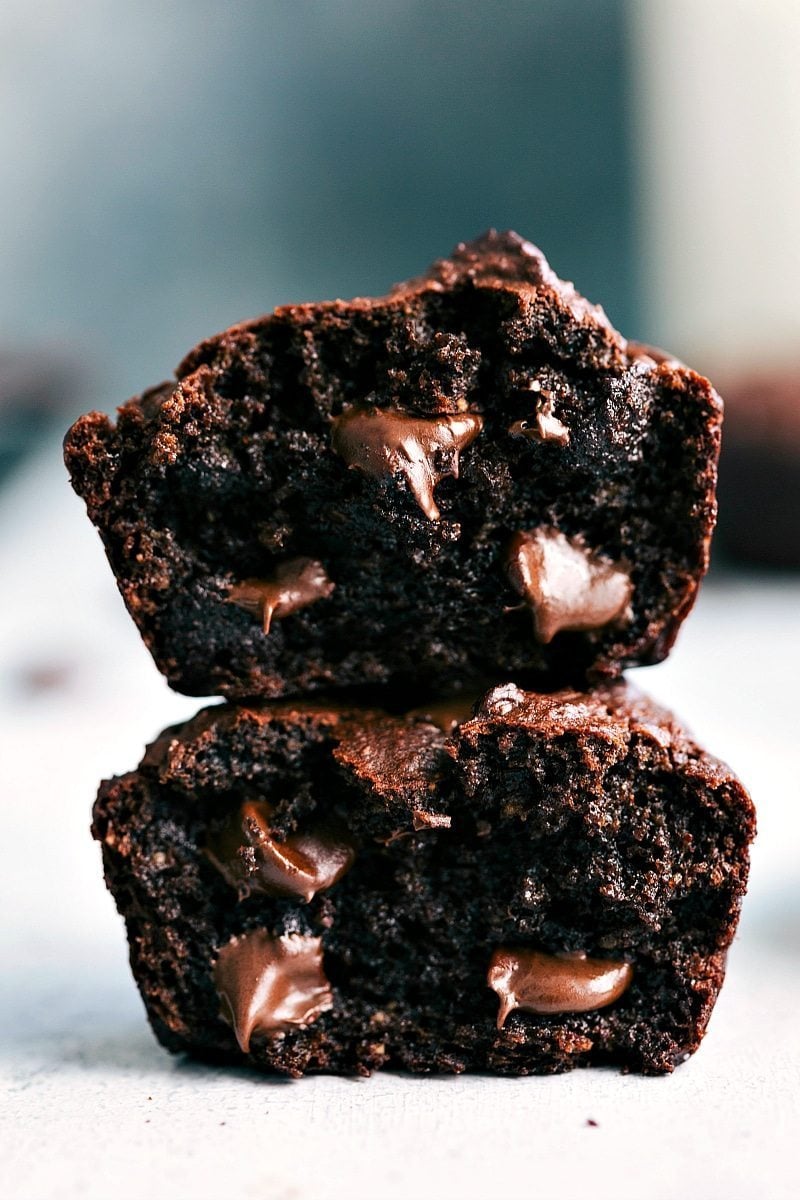 These muffins are AMAZING! Much healthier ingredients, very low sugar, and no flour!
These muffins have Greek yogurt (we love vanilla flavored!), unsweetened applesauce, blended oats, dark chocolate (healthy fats!), peanut butter, an egg, and some sweetener in the form of honey and some brown sugar. You've got your basic baking agents (powder and soda; plus some salt) and that's it! One of my favorite thing about these muffins is there are no "strange" ingredients that you wouldn't probably either have on hand or know exactly where they are in your local grocery store!
I mentioned blended oats…so what exactly are those? Exactly what they sound like — blended up oats! Here's my spill about how easy it is to make blended oats: All you have to do is blend regular old fashioned or quick oats in a blender or food processor. Within seconds, you'll have your very own oat flour. It's really that easy! I've had a few readers ask if they need a high power blender to do this, so I tested it in a $20 cheaper blender and the oats blended into a flour just as well as when I use my Blendtec. It takes seconds to make the oat flour and the only catch with it is, make sure to measure AFTER grinding the oats into a powder and not before. These muffins only use TWO tablespoons of oat flour (I know, a tiny amount), but it really contributes to the overall texture and flavor of these muffins.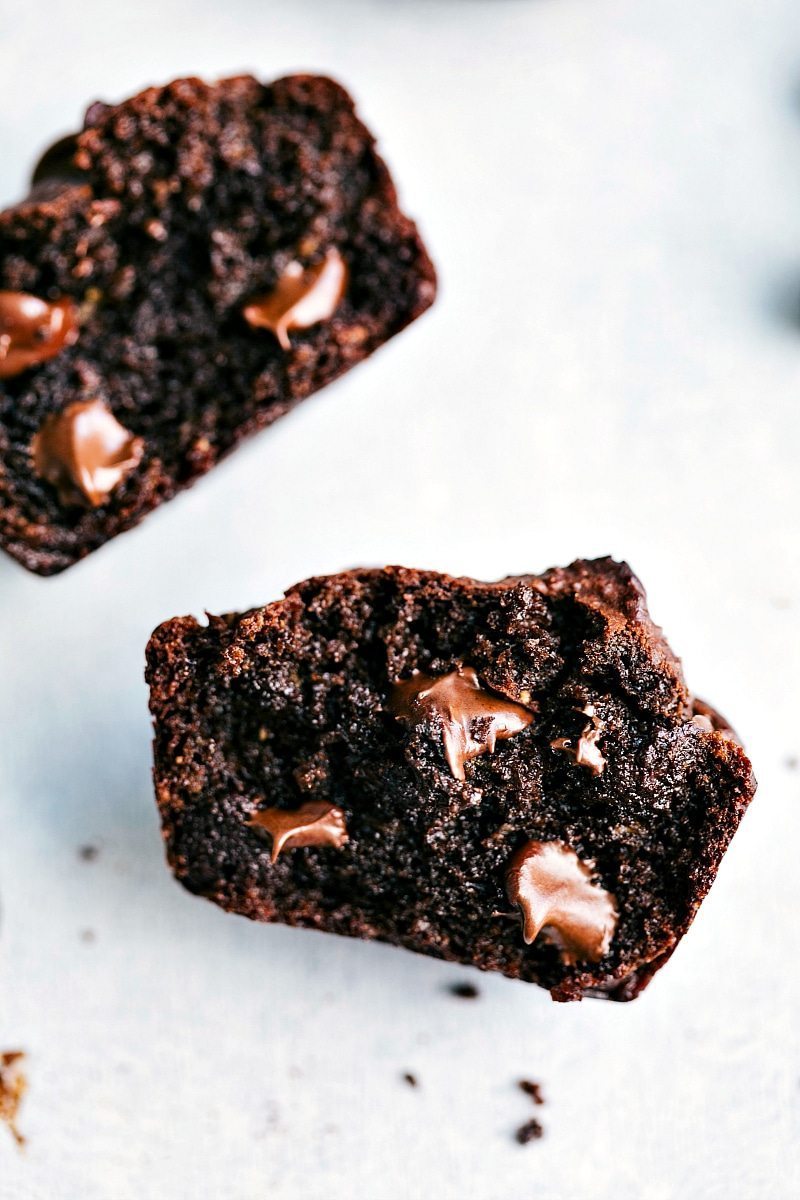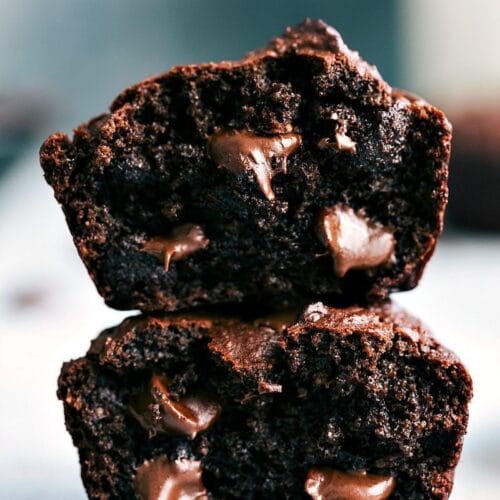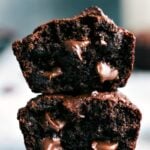 Skinny Double-Chocolate & Peanut Butter Muffins
Flourless double-chocolate and peanut butter muffins made with healthier ingredients!
Ingredients
1/4

cup

cocoa powder

2

tablespoons

oat flour

regular oats that have been blended

1/2

teaspoon

baking soda

1/4

teaspoon

baking powder

1/4

teaspoon

salt

2

tablespoons

brown sugar

lightly packed

1/2

cup

creamy peanut butter

1/4

cup

unsweetened applesauce

1/4

cup

vanilla Greek yogurt

1

teaspoon

vanilla extract

2

tablespoons

honey

1

large egg

5

tablespoons

dark chocolate chips
Instructions
Preheat the oven to 350 degrees F. Spray the 9 of the cavities in a muffin tin and fill the other three up halfway with water (ensures even baking).

Do not use muffin liners! The muffins won't come out well.

In a large bowl, stir together the cocoa powder, oat flour (blend regular oats until they are a flour consistency. Make sure to measure the oats AFTER being blended), baking soda, baking powder, salt, and brown sugar.

In a separate bowl, combine the peanut butter (do not warm up), applesauce, Greek yogurt, vanilla, and honey. Beat until completely combined.

Beat together dry and wet ingredients and add in the egg. Mix until just combined.

Stir in the chocolate chips and (if desired) top each muffin with a few more.

Bake for 18-22 minutes or until a toothpick inserted in the center comes out clean.
Recipe Notes
If desired you can use just applesauce or just Greek yogurt instead of a combination of both, but make sure to still use 1/2 cup measurement of whichever you chose to use.
More Healthier Baked Goods: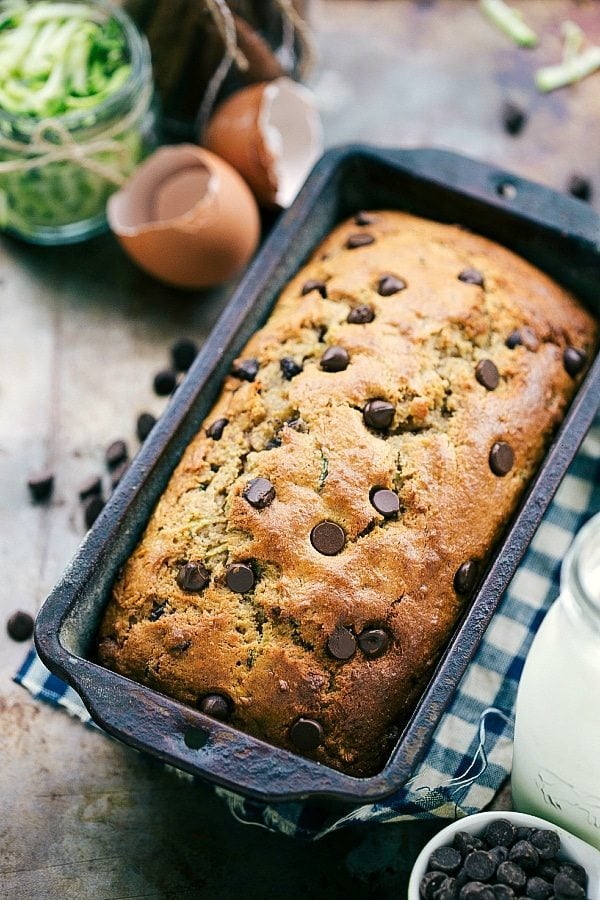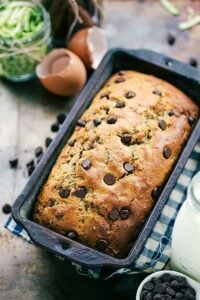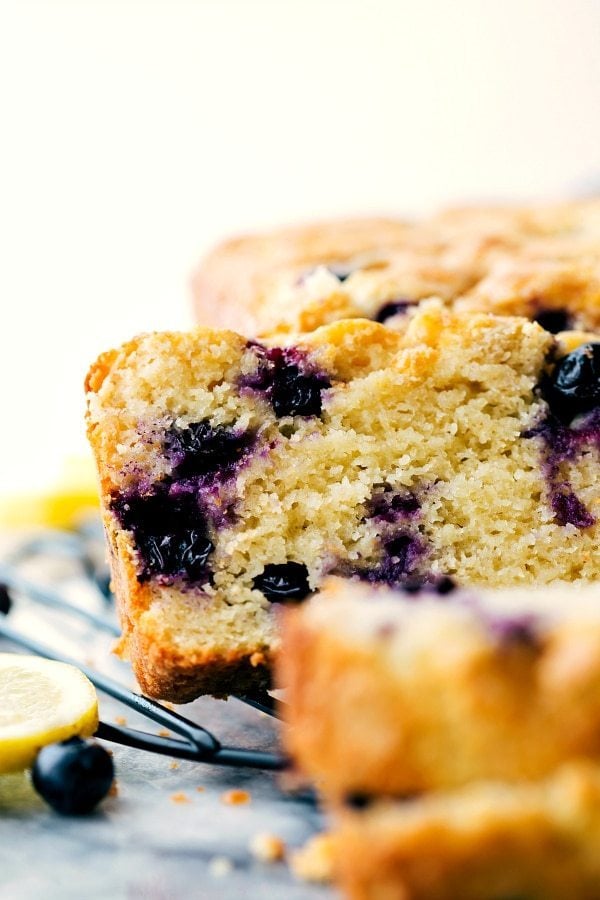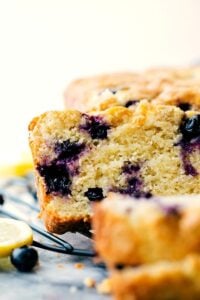 Greek Yogurt Lemon Blueberry Bread