Quinoa Fried Rice can be ready in about 30 minutes. It's easy to make, packed with protein, loaded with veggies and perfectly cooked eggs, and then tossed in a simple, delicious sauce.
Pair Quinoa Fried Rice with my Asian cucumber salad for a filling and veggie-packed meal.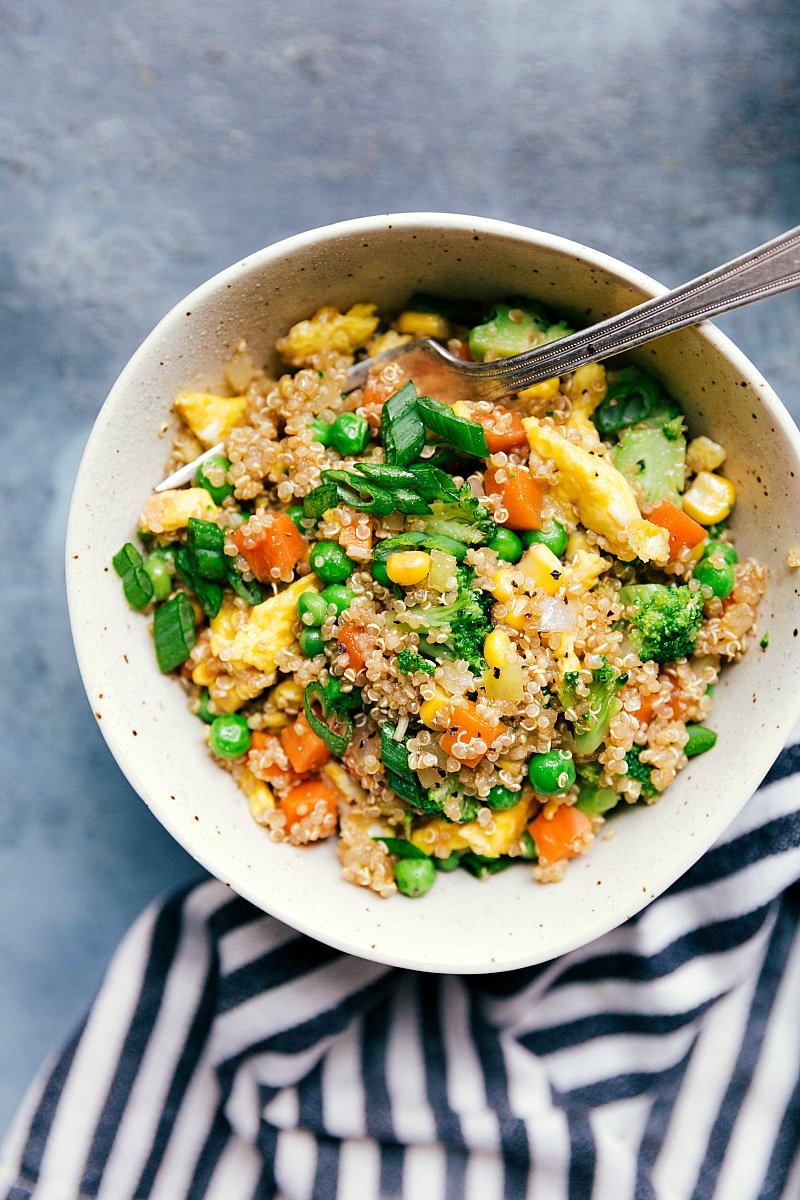 Quinoa Fried "rice" is the perfect clean-out-the fridge meal. It's great for using up leftovers and it's so easy to customize! It's also such a great nutritious meal that's filling even without meat, thanks to all the fiber and protein in quinoa and the protein from the eggs.
I hope you love this fun variation on typical fried rice.
If you're not familiar with parchment paper, it's a great way to prevent sticking and it really makes clean-up easy. This is my favorite type of
parchment paper
.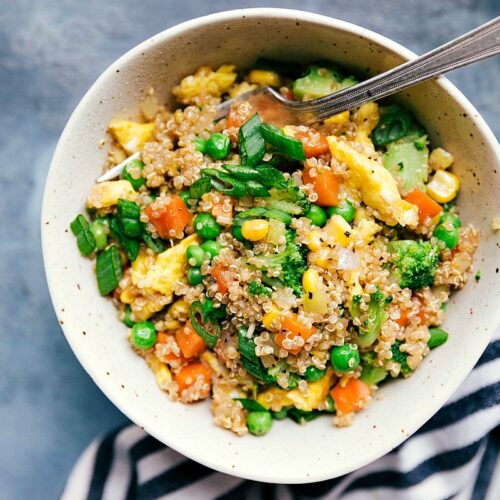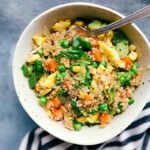 Quinoa Fried Rice
Quinoa Fried Rice can be ready in about 30 minutes or less! It's easy to make, packed with protein, loaded with veggies and perfectly cooked eggs, and then tossed in a simple, delicious sauce.
Keyword:
quinoa fried rice
Ingredients
1

tablespoon

unsalted butter

3

large

eggs

whisked

2

tablespoons

olive oil

1/2

cup

diced yellow onion

1/2

tablespoon

minced fresh garlic

(~2 cloves)

1/2

tablespoon

minced fresh ginger

(~1/2 inch piece)

1

cup

frozen diced carrots and peas

1/2

cup

frozen corn

1/2

cup

frozen broccoli florets,

(give a quick coarse chop to the large pieces)

2

cups

cooked day-old quinoa

(from the fridge) Note 1

3/4

cup

green onions, sliced
Sauce
1

tablespoon

oyster sauce

1/2

teaspoon

chicken bouillon powder

1

tablespoon

low sodium soy sauce

1/4

teaspoon

white pepper

(or black pepper)

1

teaspoon

rice vinegar

1

teaspoon

sesame oil

(or toasted sesame oil)
Instructions
SAUCE: Start by whisking together all of the sauce ingredients except the sesame oil in a small bowl. Set aside until needed. You might also want to prep all the veggies, too, because the cooking goes fast (dice onion, mince garlic, mince ginger).

EGGS: Add butter to a large nonstick skillet over medium high heat. While the butter is melting, add all three eggs to a small bowl and whisk together. As soon as the butter is melted, pour the whisked egg mixture into the skillet. Swirl the skillet to get the eggs in one layer covering the bottom of the pan. Let stand for 30 seconds. Use a silicone spatula to fold the egg layer in half. Tilt the skillet to get any uncooked eggs to fill the empty section of the pan. Continue to press the eggs gently to the other side of the pan and tilt the pan to move any uncooked eggs to the cooking surface. Break up large clumps of egg with the spatula and then transfer to a plate and tent with foil.

FRIED QUINOA: Add the oil to the skillet and increase the heat to high. Add diced onion and stir for about 3-4 minutes or until beginning to turn translucent. Add garlic and ginger and stir for about 20 seconds. Add in the frozen peas, carrots, corn, and frozen broccoli. Stir and cook for about 2-3 minutes or until veggies are defrosted and the excess water has evaporated. Add in the cold cooked and sauce. Cook for 1 and 1/2 - 2 minutes or until the sauce coats all the ingredients.

SERVE: Add in the reserved cooked egg and the green onions. Drizzle in sesame oil. Stir together, taste and season with salt if needed. Remove from heat, and serve hot.
Recipe Notes
Note 1: If you want to make this recipe with fresh quinoa,  spread freshly cooked quinoa out on a sheet pan (lined with parchment paper for quick cleanup). While it's still hot, let it stand for a few minutes and then place the pan in the fridge (or freezer) until chilled thoroughly.
Health FAQs
Is fried rice good for you?
Quinoa is very nutritious* —it's full of fiber, protein, vitamins, and minerals. From purely a calorie perspective, one cup of cooked quinoa has approximately 40 fewer calories than an equal amount of white rice. From a nutritional profile, white rice has almost 15 times more grams of carbohydrates while quinoa provides 5 more grams of fiber and double the protein.
Quinoa is a complete protein, which means it contains all the essential amino acids that the body can't make (and needs to obtain from food). You can read more about the health benefits here.
*While I have my background in Exercise and Wellness (B.S.), all the content in this post is for informational purposes only. Please consult a doctor or dietitian for any specific dietary needs/questions.