Only ONE skillet needed for a delicious 30 minute dinner recipe. Garlic, onion, sausage, white beans, gnocchi, tomatoes, and spinach plus spices and cheese mix together to make an incredible dinner in thirty minutes.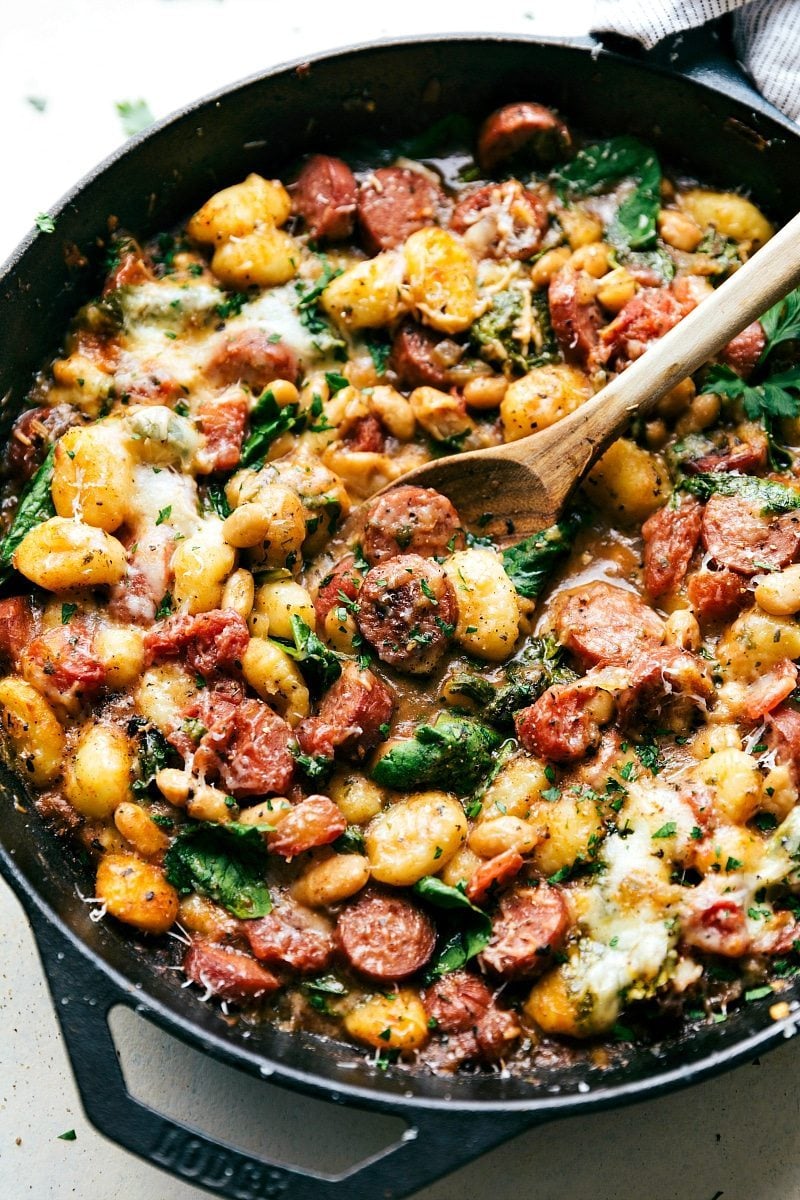 Even though it's still technically summer, it always starts to feel like Fall-time when school is back in and it's September. Regardless of what the calendar says about when Fall-time begins, I always equate September with Fall-time, pumpkin, autumn candles (we've already burned through one ?) and time for more comfort food. ?
This dish is definitely a comfort meal made healthier. It's packed with veggies, protein (turkey sausage + beans), and a handful of Italian spices. But one of the best things about this meal? It's ready and on the table in about thirty minutes; and that time is including hands-off cooking time!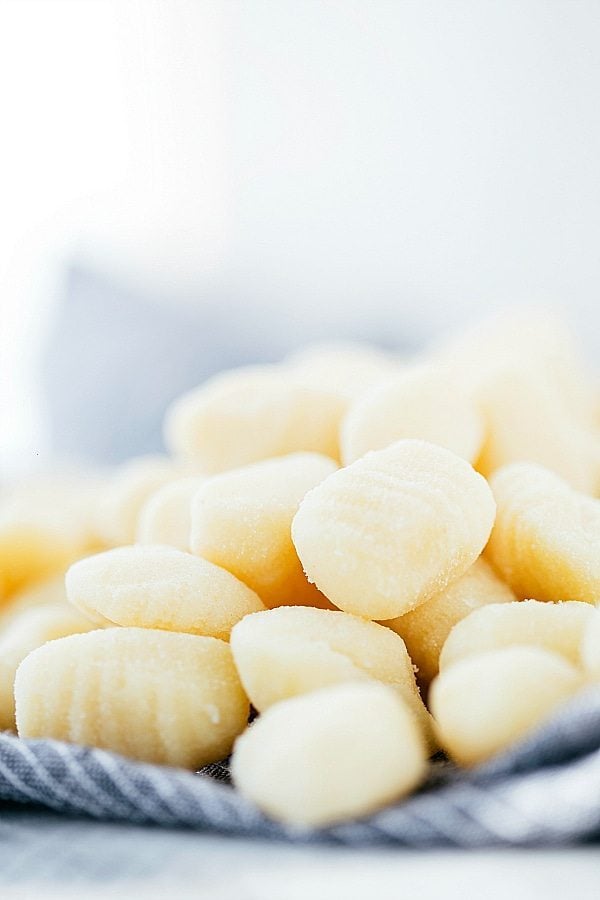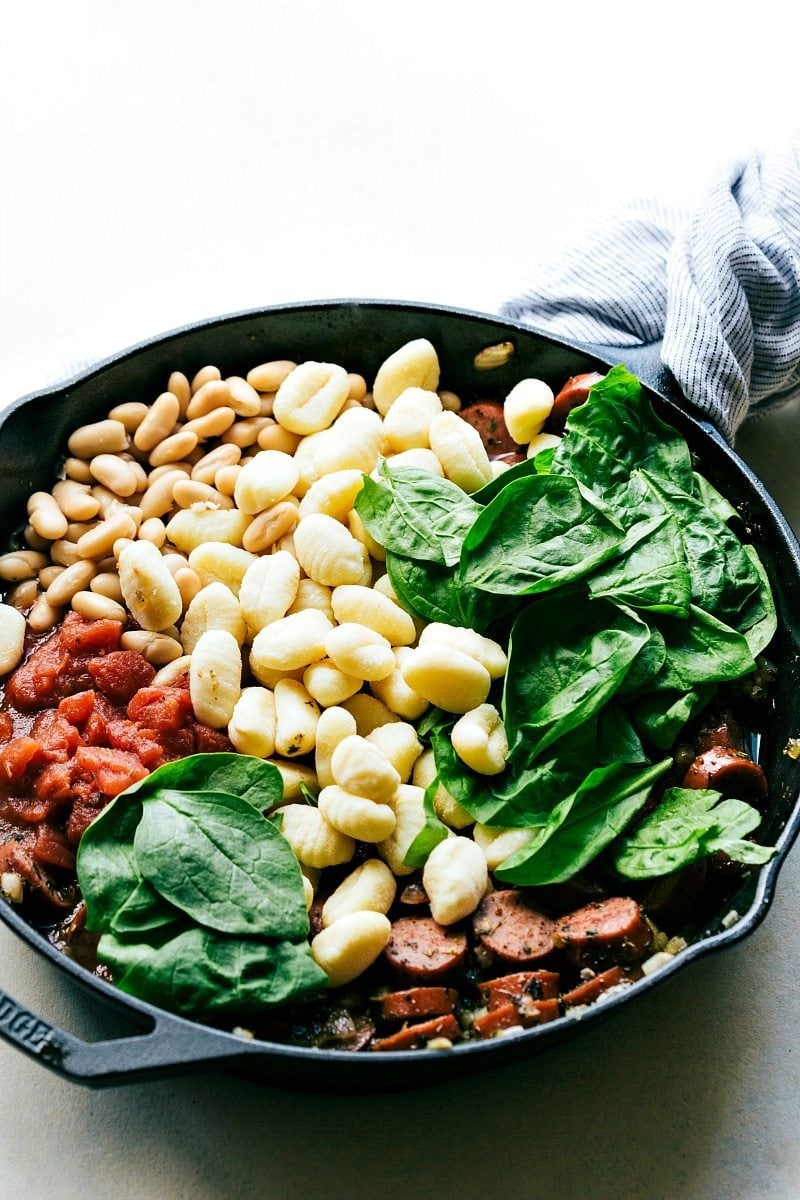 The most popular recipe on the blog this past summer have been these sausage and veggie foil pack dinners. They have received countless rave reviews! As it turns out, many of you tried turkey sausage for the first time and absolutely loved it.
And it's *just* about as easy as a foil pack meal in terms of preparation. There is only one dirty dish at the end of everything — just the skillet made to cook it all in. If you use paper plates, you really do have about the same clean-up as a foil dinner. ??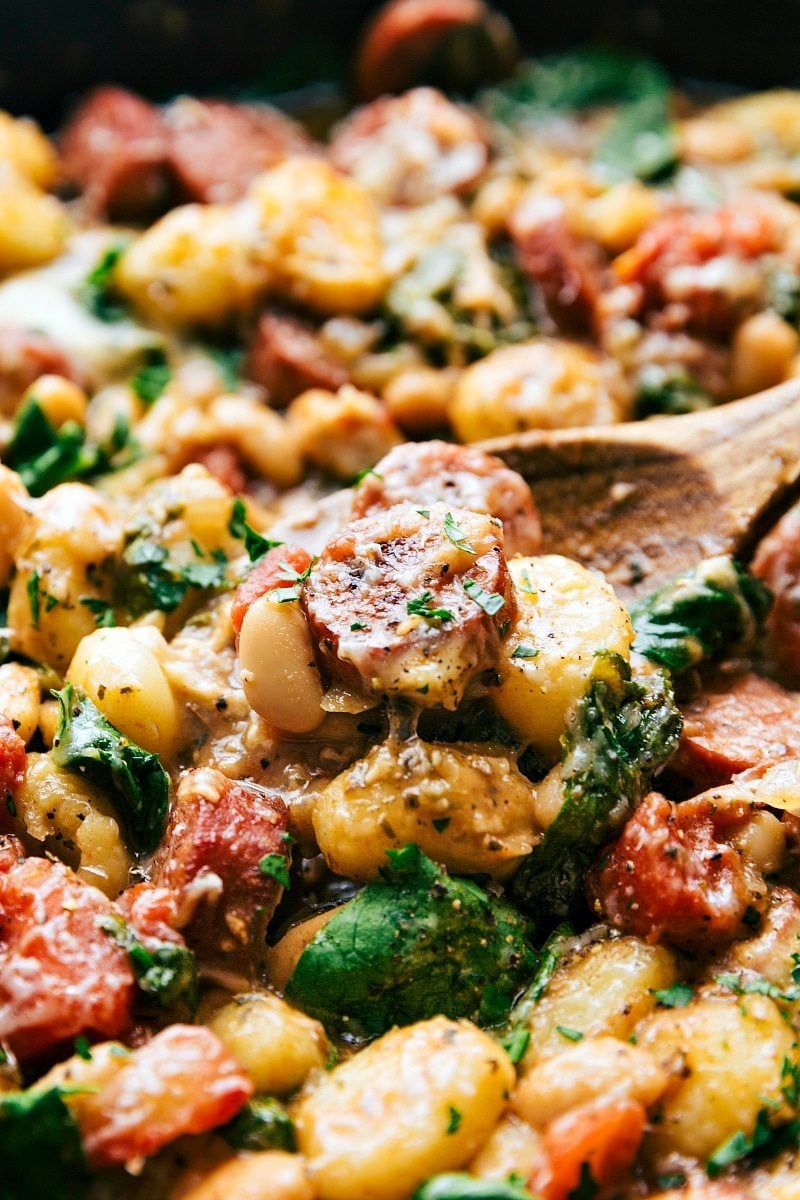 To make this easy one skillet meal, you'll start by sautéing the minced garlic and chopped onion with some olive oil in a large skillet. After that you add in the sausage to brown it a little. Only about 5-7 minutes total of cooking over the stovetop and then you throw in the rest of the ingredients (spices, whites beans, tomatoes, water, gnocchi, & spinach) and stir it all together. The dish gets topped with cheese and thrown in the oven.
After about 17-22 minutes everything is cooked through and most of the water should be absorbed. I like to put the dish under the broiler for a few minutes to really crisp up the gnocchi. When you pull the dish out of the oven let it cool for a few minutes and it will absorb the rest of the leftover water. A sprinkle of freshly chopped parsley and some cracked pepper and this dish is ready to be DEVOURED.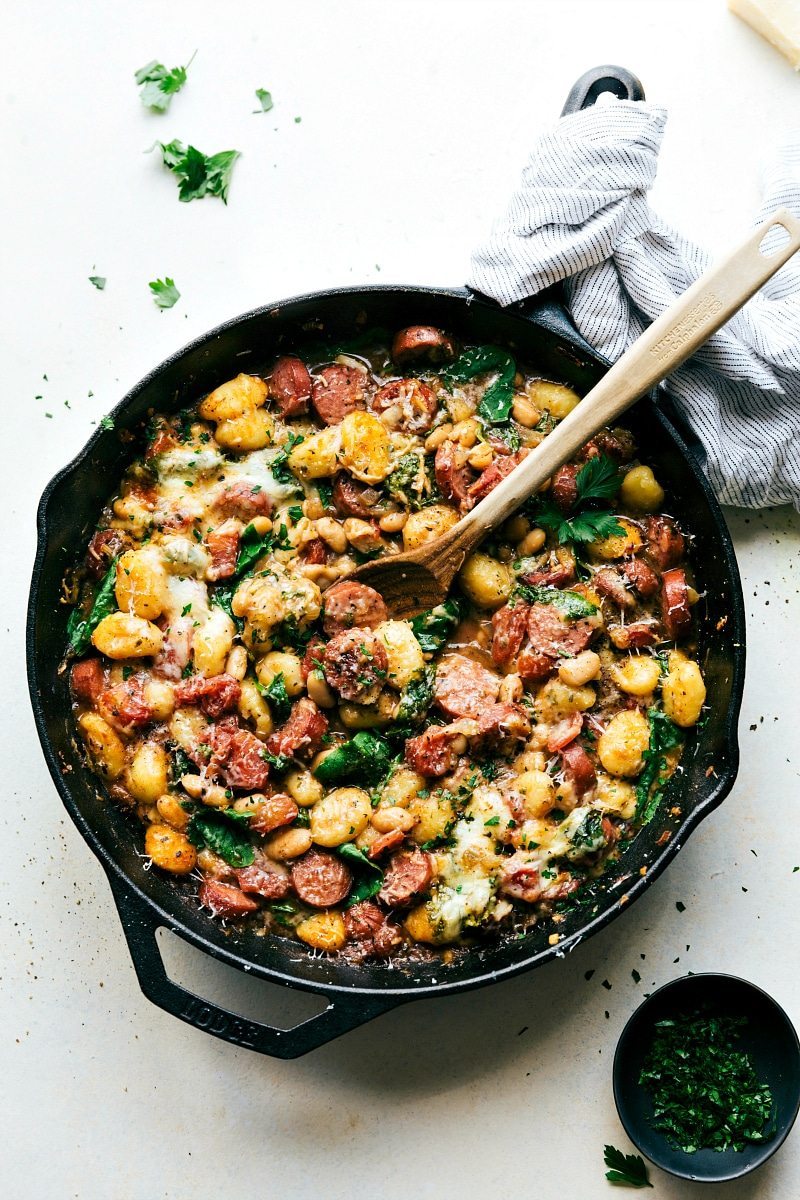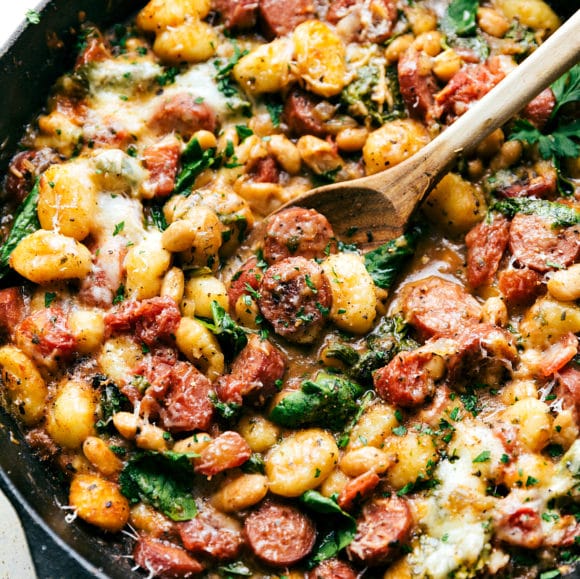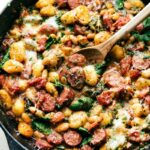 One Skillet Sausage, White Bean, and Gnocchi
Ingredients
1

tablespoon

olive oil

1

medium onion

chopped

2

cloves

garlic

minced

1

package (13 ounces)

Butterball Hardwood Smoked Turkey Sausage

1/4

cup

water or chicken broth

1

can (14.5 ounces)

Italian diced tomatoes

1

tablespoon

dried oregano

1

tablespoon

dried parsley flakes

1/2

teaspoon

garlic powder

1/2

teaspoon

paprika

optional

Seasoned salt and pepper

1

can (15 ounces)

white kidney or cannellini beans

1

package (16 ounces)

gnocchi

1 and 1/2

cups

fresh spinach

~4-5 ounces

1/2

cup

freshly grated mozzarella cheese

1/4

cup

freshly grated Parmesan cheese

Optional: fresh parsley
Instructions
Move a rack in your oven to the upper third of the oven and then preheat to 425 degrees F.

Put a large oven-safe skillet (I use a 12 inch lodge dutch oven skillet), on the stove at medium-high heat. Pour in the olive oil.

Add in the chopped onion and stir until the onion is transparent -- about 4 minutes. Add in the garlic and stir for another 30 seconds.

Coin the turkey sausage and add to the skillet. Cook over high heat until lightly browned or about 3-4 minutes.

Add in the water or broth, undrained Italian diced tomatoes, oregano, parsley, garlic powder, paprika, seasoned salt and pepper, THOROUGHLY rinsed, drained, and dried cannellini beans, and uncooked gnocchi. Stir until everything is well combined. Gently stir in the spinach and make sure it's covered with liquid.

Top with mozzarella and Parmesan cheese and place in the oven.

Bake for 17-22 minutes. If desired, turn on the broiler and then broil for another 2-3 minutes for a delicious crispy top.

Remove from the heat, top with additional salt, pepper, and some chopped fresh parsley if desired. Enjoy immediately.
More One Skillet Dinner Recipes:
One Skillet Tomato Tortellini with Sausage
One Skillet Chicken and Vegetable Gnocchi