Easy, healthy, and delicious, take a gander at our one skillet Sweet Potato Burrito Bowl. This incredible, mouth-watering vegetarian meal is filled with tender sweet potatoes, fluffy rice, sweet bell peppers, protein-backed black beans, crisp corn, and your favorite burrito bowl toppings.
Pair this sweet potato burrito bowl with a veggie loaded salad like this Olive Garden salad or Greek salad.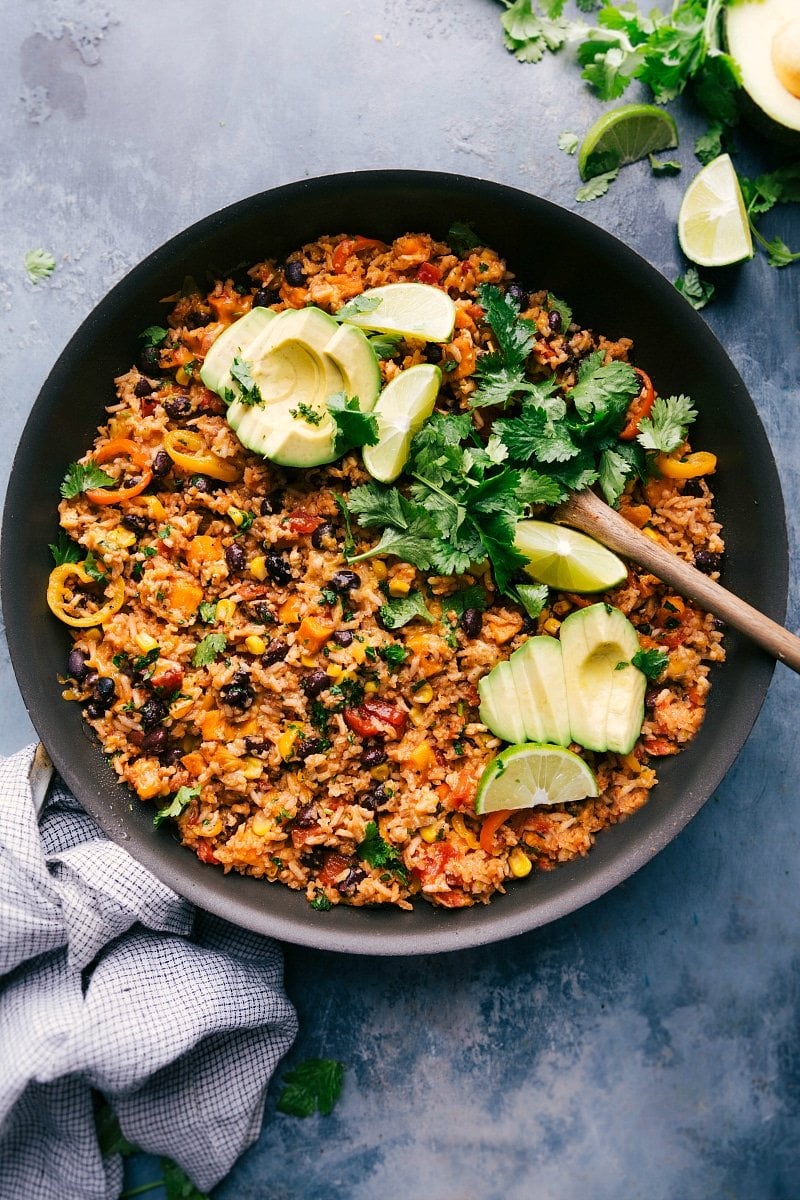 Sweet Potato Burrito Bowls are inexpensive to make, loaded with good-for-you ingredients, and require minimal clean-up. One skillet! Talk about a dinner win; this is it!
Today I'm sharing how to make this easy recipe, possible ingredient substitutions, along with lots of ideas for how to top your burrito bowl. I'm also including a few variation ideas to make this meal your own. Let's get started!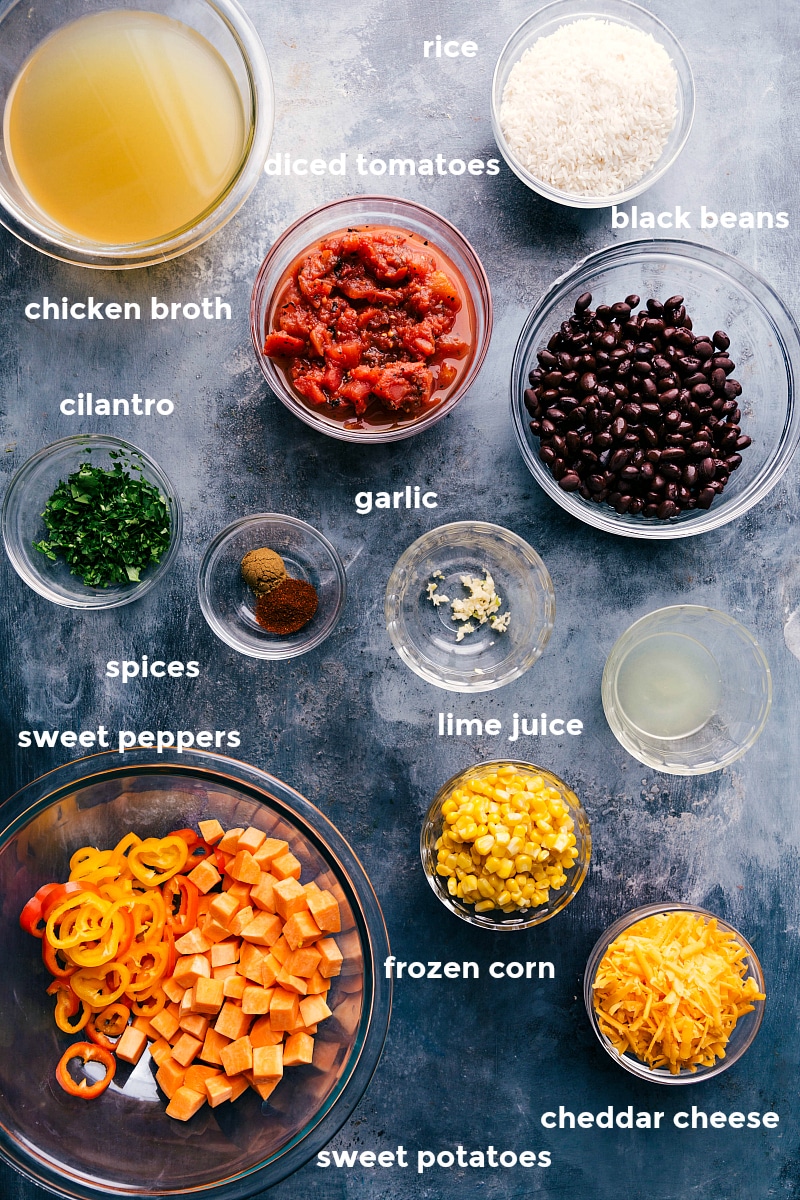 Sweet Potato Burrito Bowl ingredients:
Sweet potato: Diced into 1/2-inch pieces — smallish, so they'll be tender in the right amount of time.
Fire-roasted diced tomatoes: If you'd like to amp up the spice, add in diced tomatoes with green chilies.
Frozen corn: Frozen is more crisp than canned, but canned can work in a pinch,and so can fresh-off-the-cob kernels.
Black beans: Drained and rinsed. Beans are the main protein source for Sweet Potato Burrito Bowls.
Sweet bell pepper: I use mini bell peppers for color variety, but 1 large red, orange, or yellow pepper would work. (Here are some ways to use up your leftovers mini peppers)
Freshly minced garlic: Use jarred, minced garlic for quicker prep, or go with 1/2 teaspoon garlic powder in a pinch.
Seasonings: Salt and pepper (of course), and then some cumin and chili powder add loads of flavor. Feel free to add in some paprika (about 1/2 teaspoon) if you'd like.
Chicken broth: Use low-sodium if you're watching salt; chicken stock also works ( swap out vegetable broth or vegetable stock for vegetarians). And if you struggle to measure the correct amounts, you might want to try this angled measuring cup. It makes it so much easier!
Freshly grated sharp Cheddar cheese: Monterey jack or Colby jack are also great in this recipe.
Fresh lime juice: This optional ingredient adds acid and freshness to the dish.
Diced cilantro: Another optional ingredient, this adds freshness and flavor to the dish.
Topping suggestions
Whatever you like to top any other burrito bowls with will likely work here. Below are some of our favorites:
Fresh lime: I like to add individual wedges to plates so people can add more to their portions.
Pico de gallo or a fresh tomato: Add a scoop of pico or dice up some cherry tomatoes for a topper.
Fresh avocado: Thinly sliced or chopped. A scoop of guacamole also works great.
Fresh cilantro: Finely minced.
Sour cream: Fat free or lite work great.
Tortilla strips: If you're looking to add some crunch, store-bought or homemade tortilla strips will win every time.
Variation ideas
Add an onion: Saute 1/2 cup diced yellow onion along with the sweet potatoes..
Sweet bell peppers: You can leave them out or substitute a Poblano pepper.
Make it low calorie: Reduced-fat Cheddar cheese (and less of it) and fat-free sour cream will help you create a lighter Sweet Potato Burrito Bowl.
Go vegetarian: This dish isn't truly vegetarian because of the chicken broth, but it's easy to substitute in vegetable broth (or stock) instead.
Add heat: If you like things spicy, reach for a can of fire-roasted diced green chiles or an extra 1/2 teaspoon of chili powder. You could also add in a diced jalapeño pepper.
How to make Sweet Potato Burrito Bowls
Saute: Start by adding the peeled sweet potato cubes to a large skillet with olive oil. Saute over medium-high heat until mostly tender and starting to brown on the outside, about 7-10 minutes.
Add rice: We add in the uncooked rice and saute it for 2-3 minutes to toast it a bit before adding any liquid. I also like to stir in the seasonings here so they can get all toasty and fragrant along with the rice.
Add peppers, black beans, frozen corn, fire-roasted diced tomatoes, and chicken broth: Everything else comes in at this point except for the cheese.
Stir: Mix everything up well and then bring it all to a boil. As soon as it's boiling, reduce the heat, cover with a lid, and simmer.
Gaze and admire: After it's finished simmering you'll see that the veggies are tender, liquid is absorbed, and rice is nice and fluffy. Truly a masterpiece!
Add cheese: sprinkle the cheese on top, put the lid back on, and let it melt down for a minute. Stir it all together and all that's left is adding your favorite burrito bowl toppings.
Quick tips
Large non-stick skillet: I recommend a large skillet, since there is a lot of food that goes into the pan (I use a 12-inch skillet for this recipe and it's the perfect size). Using a non-stick pan is best so the rice doesn't stick to the bottom and burn.
Freshly grated cheese: While you can use packaged shredded cheese, the cellulose coating that keeps the cheese from clumping in the bag makes it resist melting nicely in this dish (and it tends to get greasy).
Good canned tomatoes: The tomatoes add so much to this dish, so I highly recommend choosing the fire-roasted variety and going with a good quality brand such as Cento or Muir Glen.
More sweet potato recipes: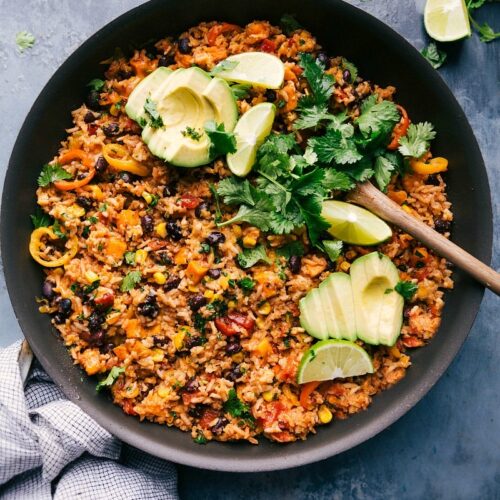 One Skillet Sweet Potato Burrito Bowls
Don't you just love a dinner made in just one skillet? Enter Sweet Potato Burrito Bowls: a mouth-watering vegetarian meal with sweet potatoes, rice, sweet peppers, black beans, corn, and toppings such as fresh cilantro, Cheddar cheese, fresh tomato, and sour cream.
Cuisine:
Mexican, Vegetarian
Keyword:
Sweet Potato Burrito Bowls
Ingredients
1

pound

sweet potatoes,

(heaping 2 cups) cut into 1/2 inch cubes

3

tablespoons

olive oil,

separated

1

cup

white rice

1/2

teaspoon

minced garlic

1/2

teaspoon

chili powder

1

teaspoon

cumin

Salt and pepper

1

can (14.5 ounces)

petite fire-roasted diced tomatoes

1

can (15.25 ounces)

black beans

1

cup

frozen corn

2

cups

chicken broth

(vegetable broth for a vegetarian meal)

1

cup

very thinly sliced (or chopped) sweet bell peppers

(I used miniature assorted red, yellow, and orange)

2

tablespoons

fresh lime juice,

optional

1 and 1/2

cups

freshly grated sharp cheddar cheese

Optional: 1/4 cup finely chopped cilantro, chopped avocado or guacamole; 1 small Roma tomato or a handful of cherry tomatoes, chopped; low-fat sour cream
Instructions
SWEET POTATOES: Peel the sweet potatoes and chop into small pieces (refer to picture for size: 1/2 inch cubes). In a large skillet (Note 1) over medium-high heat, add 2 tablespoons olive oil. Once oil is shimmering, add in all the diced sweet potatoes. Saute the sweet potatoes for 7-10 minutes or until mostly tender and lightly browned on the outside. Add in remaining 1 tablespoon of olive oil and 1 cup of white rice.

RICE: Cook, stirring constantly for 2-3 minutes at medium heat. Add in the 1/2 teaspoon minced garlic, 1/2 teaspoon chili powder, 1 teaspoon cumin, and salt and pepper. Stir for 30 seconds to a minute, or until fragrant.

OTHER INGREDIENTS: Add in the 1 can of undrained, diced fire-roasted tomatoes, 1 can of drained and rinsed black beans, 1 cup frozen corn, 2 cups vegetable or chicken broth, and 1 cup thinly sliced bell peppers. Give everything a really good stir, bring to a boil, and then reduce the heat to a little bit above low, but not quite to medium heat.

COOK: Cover the skillet with a lid and allow to simmer for 10-15 minutes or until all the liquid is absorbed and the rice is cooked through (Check occasionally, stir as needed so the rice doesn't stick to the bottom).

CHEESE: Remove the lid and stir in the optional lime juice and cilantro. Top with the shredded cheddar cheese and then cover the skillet with the lid for 1-2 minutes to allow the cheese to melt. Gently stir the cheese in a little.

SERVE: Spoon the finished burrito mixture into individual serving bowls. Top your burrito bowls with sour cream, chopped cherry tomatoes, chopped cilantro, chopped avocado or guacamole, or any other desired toppings. Enjoy immediately!
Recipe Notes
Note 1: you'll need a large skillet for this recipe, since there is a lot of food that goes into this dish (I use a 12-inch skillet for this recipe and it's the perfect size.) A non-stick skillet works best so the rice doesn't stick to the bottom and burn.