Easy 30-minute beef chow mein with flavorful pieces of beef, plenty of veggies, and an addictive savory sauce coating it all. Today I'm sharing all my tips and tricks for how to make beef chow mein BETTER than takeout!
Want to replace the beef with chicken? Try this chicken chow mein version instead.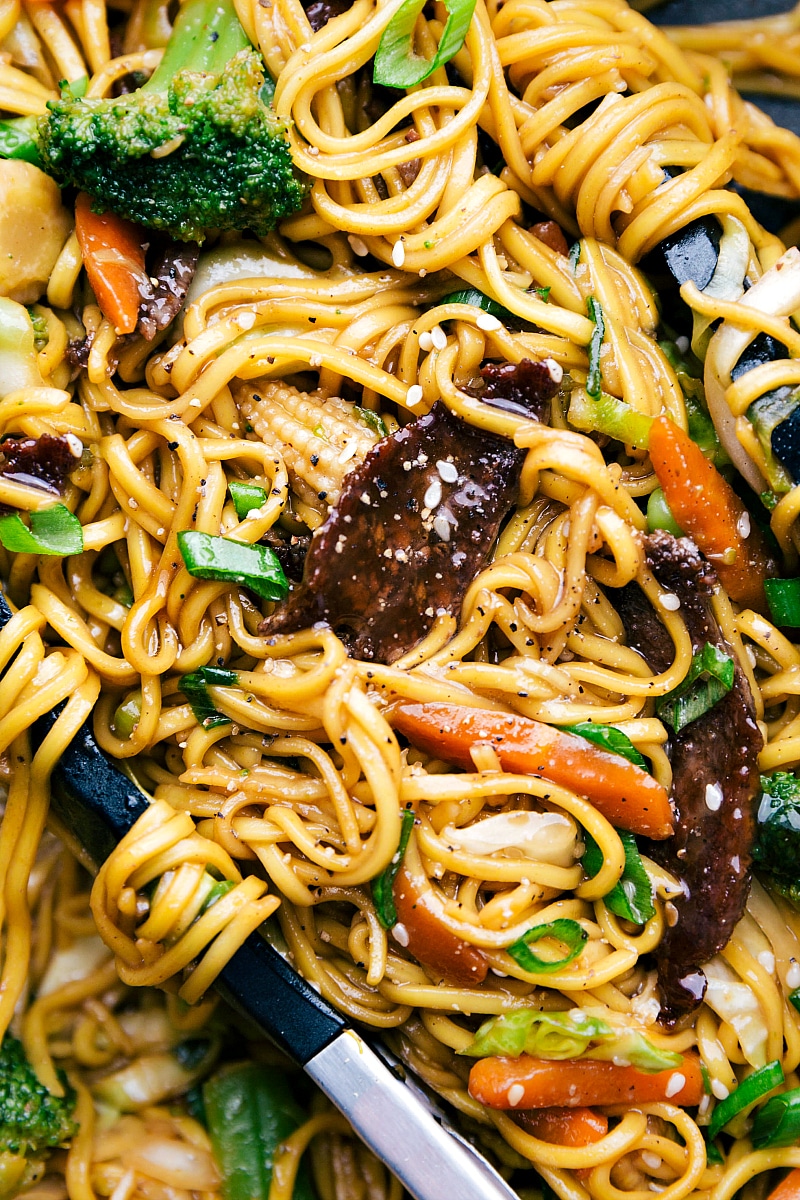 Looking for an easy veggie packed meal that can be ready in 30 minutes or less?! This beef chow mein is just that! It's simple to make and loaded with veggies. The stir fry sauce that covers this dish can be whipped together in minutes and perfectly coats the noodles, beef, and veggies.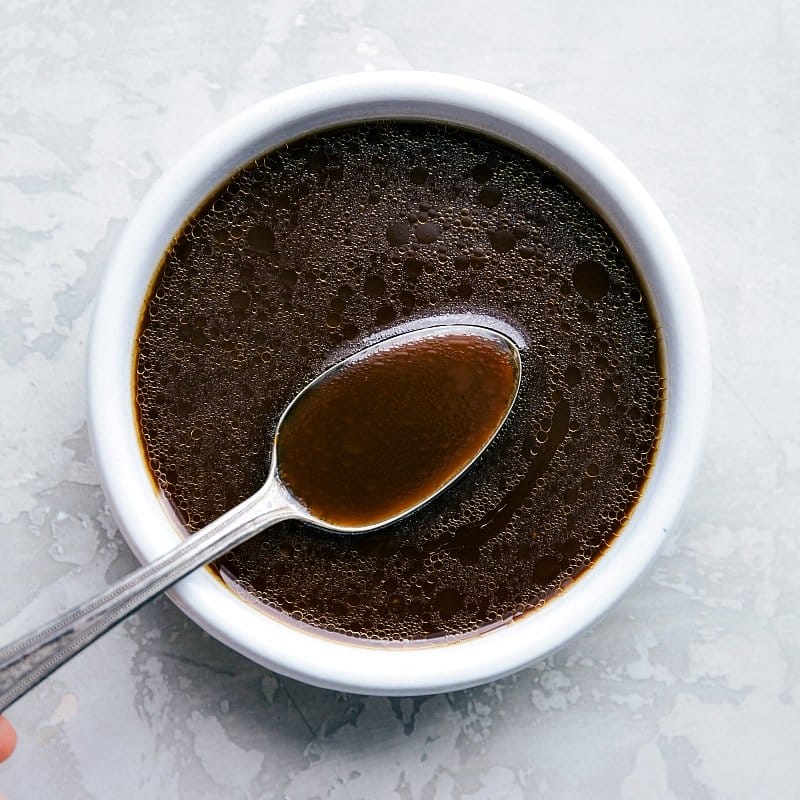 What is the difference between beef lo mein and beef chow mein?
It is often assumed that the main difference between lo mein and chow mein is the type of noodles that are used. However, mein (mian) is simply the Chinese word for noodles. So lo Mein translates to "tossed noodles," while chow mein (chao) translates to "fried noodles"
Using other vegetables
One of the great things about this beef chow mein is how easy it is to customize. Feel free to use your favorite veggies. As long as the quantities remain consistent (and the veggies are chopped so they'll cook in the right amount of time), you can use whatever. Below are some ideas:
Bean Sprouts
Thinly sliced celery
Julienned carrot
Thinly sliced green bell pepper
Thinly sliced sweet peppers
Mushrooms
Red cabbage (instead of green cabbage)
Water chestnuts
Snow peas
If you can't find the frozen vegetables recommended (not sponsored) in this beef chow mein recipe, I'd recommend adding 1-2 additional cups of cabbage, about 3/4 cup julienned carrot pieces, and 3/4 cup thinly sliced celery. (Add all these veggies in after about 1 minute of the beef cooking.)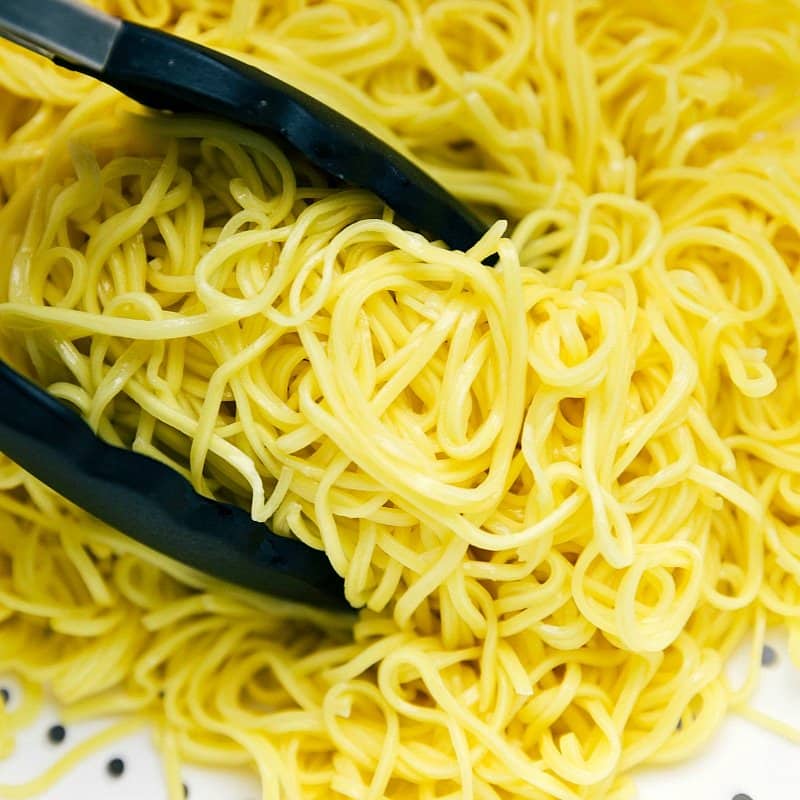 Can you freeze beef chow mein?
Unfortunately this beef chow mein doesn't do well being frozen. I recommend eating it fresh as soon as it's finished being made. (This beef chow mein recipe doesn't make too much — 2 generous servings or 4 small servings.)
More noodles: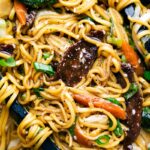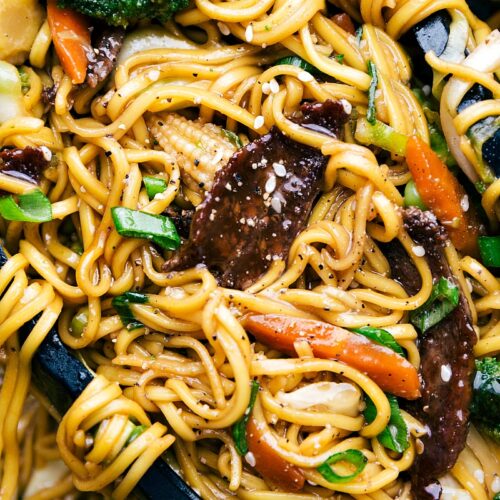 Beef Chow Mein
Ingredients
1

package (10 to 11 ounces)

frozen lightly seasoned Asian Medley veggies

1/2

pound (8 ounces)

flank steak,

thinly sliced against the grain

3/4

teaspoon

baking soda

2

cups

green cabbage

cut in small shreds

1 and 1/2

teaspoons

garlic cloves,

minced (~2 large cloves)

2

teaspoons

fresh ginger,

minced (~1 inch piece)

1/4

cup

green onions

~3 onions

1 and 1/2

tablespoons

vegetable oil

1

package (6 ounces)

chow mein noodles

(I use WEL-pak)

1/2

tablespoon

cornstarch

1 and 1/2

tablespoons

lite soy sauce

1 and 1/2

tablespoons

oyster sauce

1/3

cup

beef stock

(beef broth works)

1

tablespoon

brown sugar,

lightly measured, do not pack!

1/2

teaspoon

toasted (or plain) sesame oil

Freshly cracked pepper

Optional: toasted sesame seeds
Instructions
BEEF PREP: thinly slice the beef (1/4th inch thick) against the grain. Slice long strips into 2-3 smaller pieces. Place in a small bowl and toss with baking soda. Place in the fridge, covered, for 15 minutes. This will make the beef super tender! After 15 minutes, place beef in a fine mesh sieve and rinse thoroughly. (This step is optional; you can simply slice the beef and use like that.) Place in a bowl and add 1 and 1/2 tablespoons of the sauce (step 3). Cover and marinate for 15 minutes to an hour. Pat with a paper towel and it's ready for this recipe!

VEGGIE PREP: prepare the ingredients because the cooking goes fast! Finely shred the cabbage, coarsely mince the ginger and garlic (don't want too fine of a mince or they burn; don't use jarred/tube ginger or garlic). Thinly slice the green onions to separate the white root from the green. You should get about 1/4 cup thinly sliced white roots. Reserve the thinly sliced green part for later.

SAUCE PREP: in a small bowl add the cornstarch and soy sauce. Whisk with a fork until completely smooth. Stir in the oyster sauce, beef stock, brown sugar, and sesame oil. Add pepper to taste (I add about 1/2 teaspoon). Whisk until smooth. Reserve for later.

NOODLES: follow package directions to prepare the chow mein noodles. Rinse in cold water and set aside.

COOK: Add the frozen veggies (unthawed and don't add liquid) to a large nonstick skillet. Put the heat on high and, stirring frequently, cook until mostly thawed, about 5 minutes (add vegetable oil IF sticking/needed). Transfer to a plate. Add 1 and 1/2 tablespoons vegetable oil to the same skillet and keep over high heat. Add the white roots of the onion for a minute or two and then add in the garlic and ginger. Be very careful to make sure neither burn -- only cook for about 10-20 seconds. Add the beef (patted dry from the marinade) and stir constantly for about 1 minute or until both sides are lightly browned (but not cooked through).

COOK CONT.: Add the cabbage right on top. Stir near constantly until cabbage is wilted, about 1-2 minutes. Add back in the vegetables that were set aside. Add in the cooked noodles and the sauce mixture. Toss with tongs for 1 minute. Add in the thinly sliced tops of the green onions.

Enjoy immediately with toasted sesame seeds if desired.