20-minute chow mein noodles with spiralized zucchini. An easy, healthier, and delicious take on your typical chow mein.
Lately the toddler has been obsessed with picking out his own clothes for the day. He picks out his shirt, pants, socks, shoes, and lately has been throwing in a thick/wooly winter hat to the mix. ?
After he's done figuring out his outfit he also likes to pick mine out for the day. Good thing I don't plan on going in public after the outfit he's dressed me in today. I've got some of the funkiest-patterned silky yoga capris, a nice button-up polka-dotted shirt, fuzzy pink socks, and some bright blue Nikes.
I'm pretty sure if I picked the very last things in the world to put together into an outfit it would be what I'm wearing right now. He gets so excited though so there really is no other option but to wear the outfit and hope that no one comes to visit us today…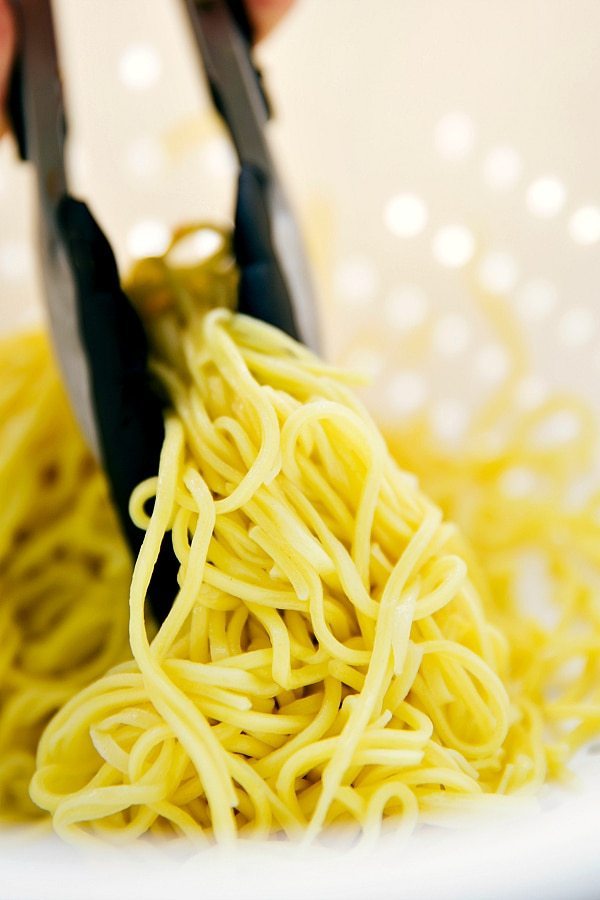 The toddler becomes more and more independent every single day. Besides the dressing part he also thinks he's the only one that is allowed to use our spiralizer.
Spiralizing veggies is totally his jam. He begs me to spiralize just about everything and will not let me help at all. Case in point:
(Also, side-note, I swear his hands are clean!! Something about the back-lighting and shadows are making them look less than clean, but they really were! Ha!) We got my mom a spiralizer for Mother's Day and the toddler insisted he would be the one to teach her how to use it. My poor mother spiralized about fifteen apples before he was convinced that she did indeed understand how to use it. Side-note 2: have you tried spiralizing apples? DELICIOUS!
Since we've been buying zucchini's like crazy lately (I've been testing so many delicious summer treats/meals), we have been eating it almost every night for dinner. And our favorite way to eat it? In noodle form! This zucchini chow mein has become one of our go-to dinners. It's so quick, low maintenance, and filling. Sometimes we'll add a grilled chicken breast or two to it, but even with just the veggies it's quite filling!

Easy Chow Mein with Spiralized Zucchini
Ingredients
2 packages

(6 ounces EACH)

Chow Mein Stir-Fry Noodles*

3

tablespoons

vegetable oil

1

(~3/4 cup)

small finely chopped onion

2/3

cup

chopped celery

3/4

cup

shredded or thinly sliced carrots

2

cups

chopped green cabbage

1

can (8 ounces)

sliced water chestnuts

optional

1 and 1/2

teaspoons

minced garlic

1

teaspoon

grated fresh ginger

4

tablespoons

low sodium soy sauce

1 and 1/2

tablespoons

brown sugar

1

small zucchini

Freshly cracked pepper

Optional: fresh green onions
Instructions
Prepare the noodles according to package directions. Drain, rinse in cold water, and set aside.

Meanwhile, place a large skillet over medium heat on the stovetop.

Add the oil.

Saute the onion and celery until crisp tender. (If slicing carrots, add here)

Add in the shredded carrots, green cabbage, and water chestnuts. Stir until all the vegetables are tender.

In a small bowl, whisk together the minced garlic, grated ginger, soy sauce, and brown sugar.

Spiralize a small zucchini and add it to the cooked vegetables. Stir and cook for 1 more minute.

Combine the veggies and the cooked noodles. Pour the sauce over and toss to coat evenly.

Add a generous amount of freshly cracked pepper (to taste) and a bit more oil or soy sauce if needed. (I always add a bit more soy sauce to mine, but I like saltier dishes!)

Enjoy immediately with some fresh green onions if desired.
Recipe Notes
*I find the chow mein noodles in the Asian aisle of the grocery store. My favorite brand is WEL-PAC and is in a clear package with a large red label 🙂
More delicious Asian dishes: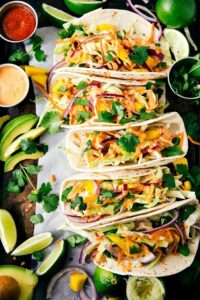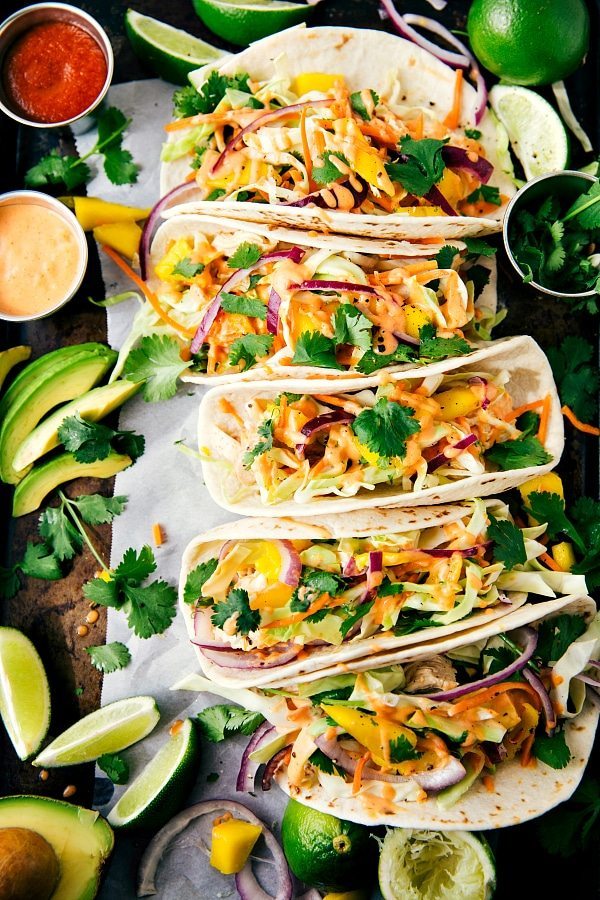 Easy Asian Tacos with a 4-ingredient sriracha sauce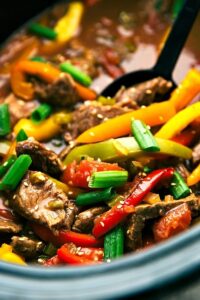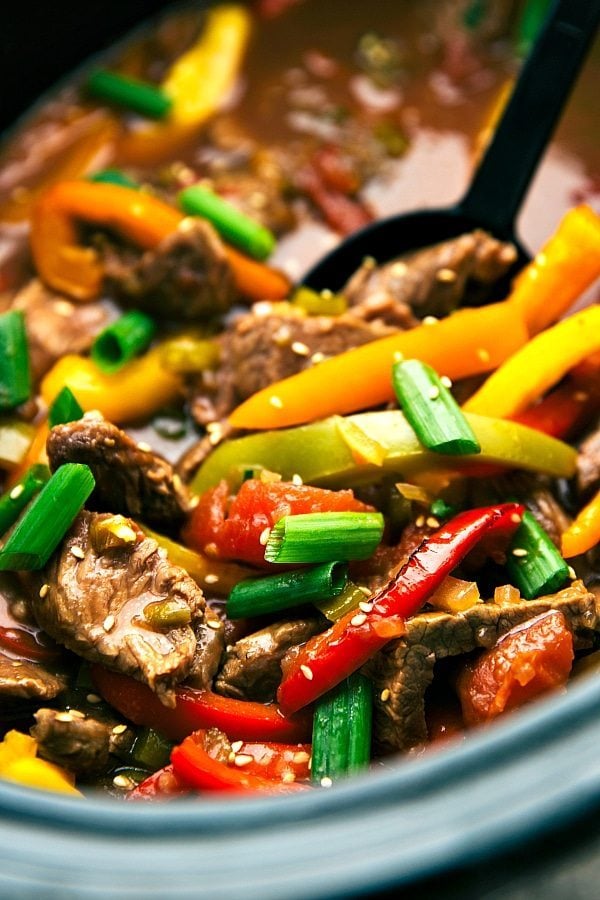 Crockpot Quinoa and Chicken Teriyaki