The best way to enjoy beef and broccoli — over ramen noodles!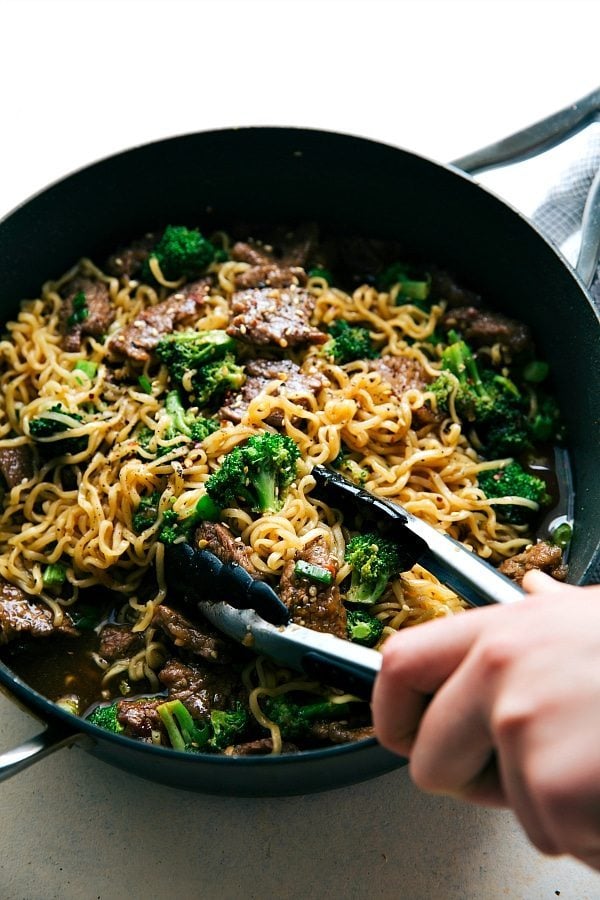 As soon as the weather starts cooling down I am all about soups, casseroles, and comfort food. And pasta definitely equals comfort food.
So beef and broccoli with all the noodles is absolutely a cool-weather-comfort-food-win. Although, let's be honest, I'm definitely never going to limit this meal to just cooler weather. This is a new family favorite!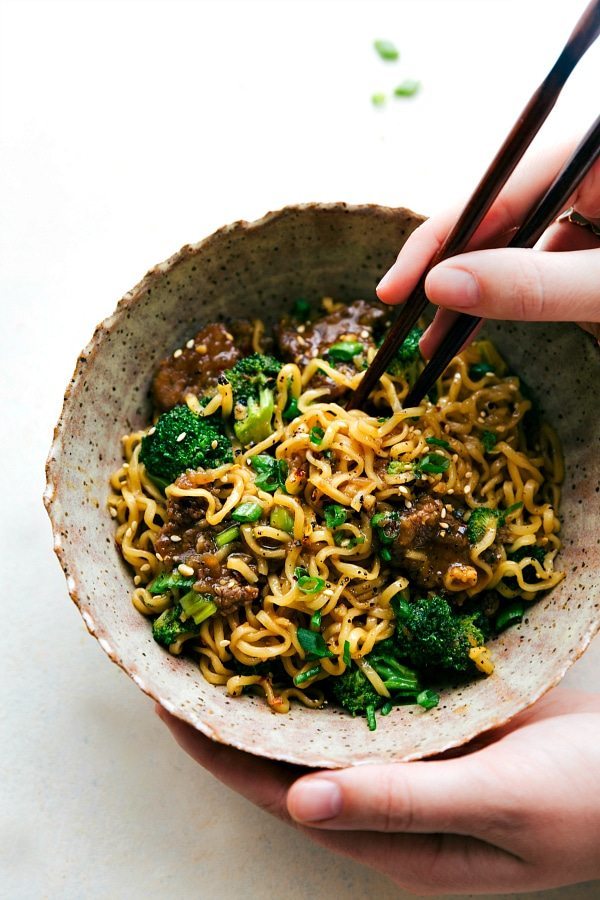 If you love beef and broccoli, you've got to try it with noodles. As someone that always orders chow mein noodles instead of fried rice, I'm obviously a huge proponent of the noodles!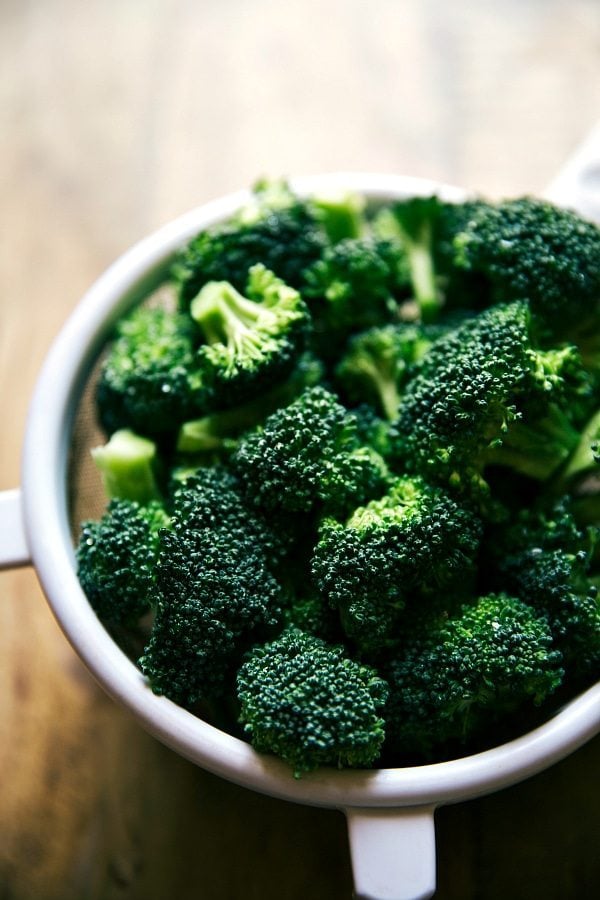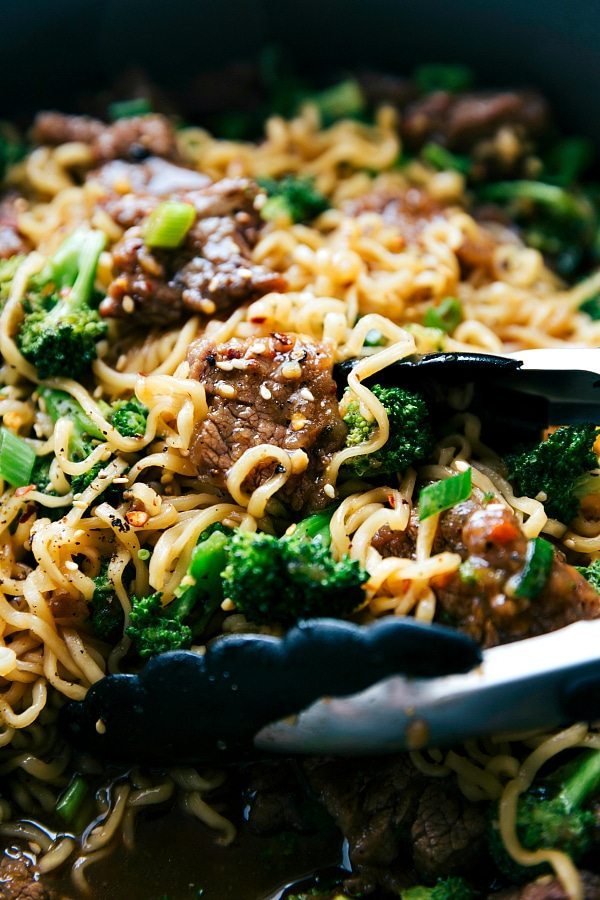 This dinner is very easy to make. There's a bit of process involved with marinating the meat, but one of my favorite reasons for marinating meat is that you can do it earlier in the day or at a different time. THEN, when you are ready to actually make the meal, it feels that much easier to assemble because the meat is already prepped out and ready to go.
The actual making of the meal is super quick — the meat gets cooked in the same skillet that the sauce AND then the broccoli is cooked in. All are added one right after another — 1- cook the meat, 2- add in the sauce and simmer, and then 3- steam the broccoli on top of the sauce. And finally toss it all with the noodles! Also, the nice thing about ramen is that it takes a total of about 3 minutes to be done so that's not slowing down the process at all.
Obviously I'm obsessed with the noodles in this dish, BUT if you aren't a fan, try this dish over a bed of rice. I'm sure you will love it!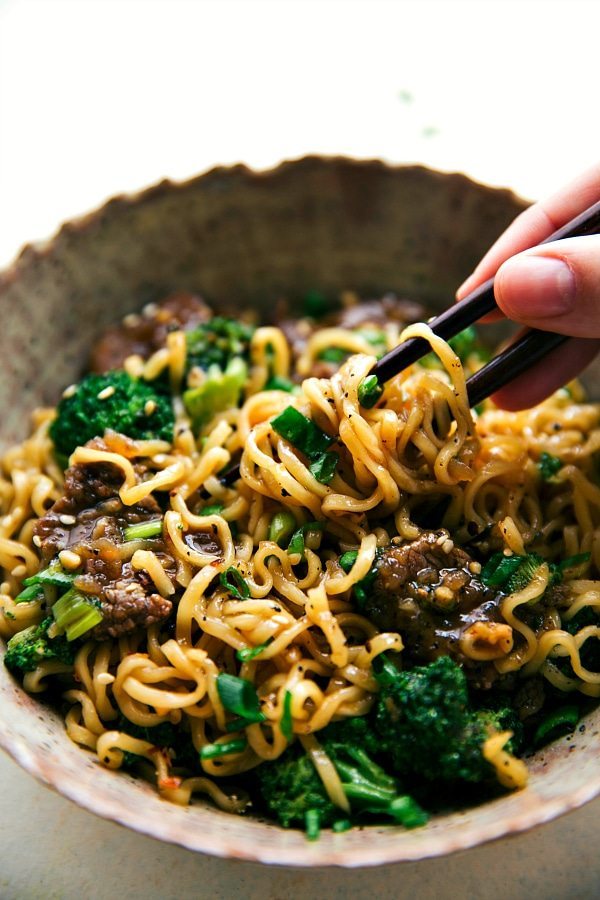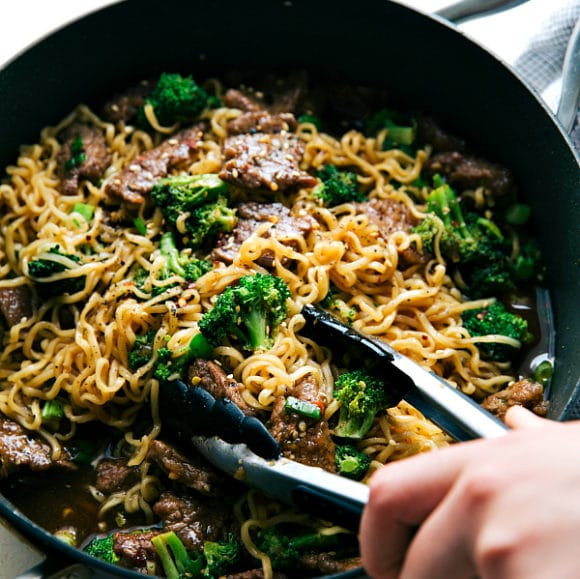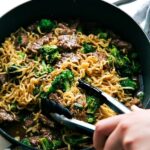 Skillet Beef and Broccoli Ramen
The best way to enjoy beef and broccoli -- over ramen noodles! 
Keyword:
beef and broccoli, beef and broccoli ramen
Ingredients
1/4

cup + 2 tablespoons

vegetable oil

separated

3

teaspoons

minced garlic

separated

2

tablespoons

red wine vinegar

1/4

cup

honey

1/2

cup + 2 tablespoons

low sodium soy sauce

separated

1

tablespoon

Italian flat leaf parsley

3/4

pound

flank steak

3

tablespoons

cornstarch

2

tablespoons

sesame oil

1/3

cup

brown sugar**

1/2

teaspoon

grated ginger

1

cup

beef broth*

1/4

cup

oyster sauce

4

cups

broccoli florets

2

packages (3 ounces each)

ramen noodles

Salt and pepper

Optional: green onions, red pepper flakes, sesame seeds
Instructions
Very thinly slice the flank steak against the grain into 1/4th inch thick strips and then into 2 inch pieces. Put the steak pieces in a large ziploc bag.

In a bowl, combine 1/4 cup vegetable oil, 1 teaspoon minced garlic, 2 tablespoons red wine vinegar, 1/4 cup honey, 1/4 cup soy sauce, 1/4 teaspoon pepper, 1/2 teaspoon salt, and 1 tablespoon coarsely chopped Italian parsley.

Whisk together and pour over the flank steak in the bag.

Seal and place in the fridge for at least 1 hour and preferably 6-8+ hours (no more than 12 hours). Flip the steak in the bag halfway through the marinating time.

Boil a small pot of water and cook the ramen noodles for exactly 2 minutes. Drain and rinse in cold water.

Chop the broccoli into bite-sized even pieces.

Remove the flank steak and drain off any remaining marinade. Toss the steak to coat with the cornstarch.

In a large skillet over high heat, add in 1 tablespoon of the remaining vegetable oil. Heat until the oil is shimmering and then add in 1/2 the beef so it can be in a single layer.

Cook without moving until the beef is well seared, about 1-1/2 minutes. Continue cooking while stirring until the beef is lightly cooked but still pink in spots, about 30 seconds. Transfer to a plate.

Add in the last remaining tablespoon of oil to the pan and heat until shimmering. Add the remaining beef and cook without moving until the beef is well seared, about 1-1/2 minutes. Cook for another 30 seconds.

Transfer the rest of the beef to the plate.

In the same skillet, add the beef broth, brown sugar, remaining soy sauce, sesame oil, oyster sauce, remaining garlic, and ginger.

Stir and cook (uncovered) over medium heat until sauce thickens a bit and reduces by about a third (about 5-8 minutes). You don't want to reduce it too much so it can still generously coat all the noodles & veggies.

Bring the mixture to a boil. Once boiling, top the mixture evenly with the broccoli (don't stir in). Cover the pot with a lid and reduce the heat to low.

Allow the broccoli to steam until crisp tender about 3 minutes or to desired tender-ness.

Remove the lid, add in the cooked pasta and cooked meat.

Stir and top with desired toppings: green onions, red pepper flakes, sesame seeds.

Enjoy immediately.
Recipe Video
Recipe Notes
*You can make your own "beef broth" by using the seasoning packets from the Ramen noodles. **Not packed -- add slowly. I've gotten a few comments about it being too sweet (I like beef and broccoli sweet!) so add the sugar slowly and to taste preference.
More Easy Dinner Recipes: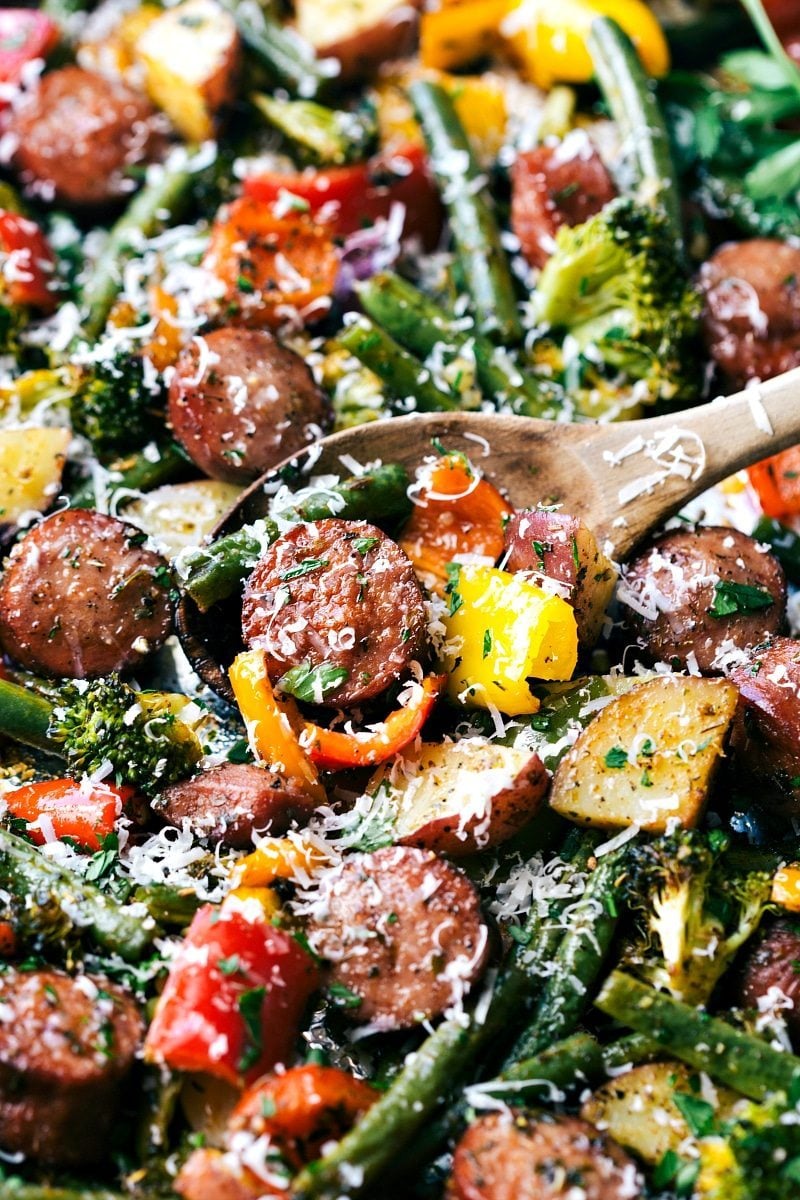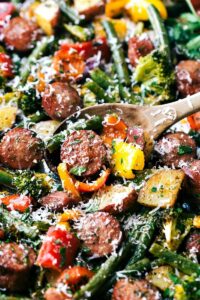 One Pan Garlic Parmesan Sausage and Veggies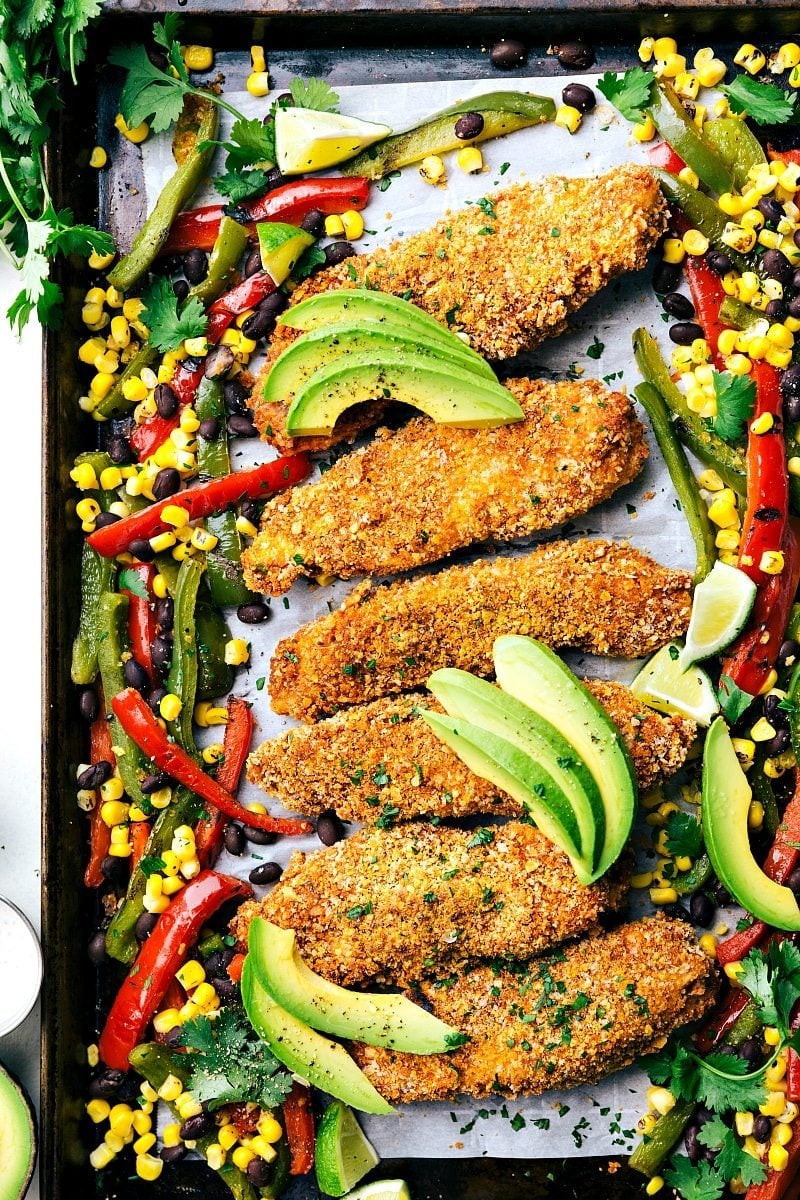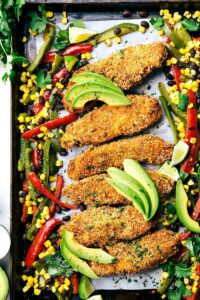 One Pan Mexican Tortilla Chicken
Skinny Chicken, Bacon, Broccoli Alfredo