Garlic Beef and Veggie Ramen is an easy dinner recipe that is so much better than take-out!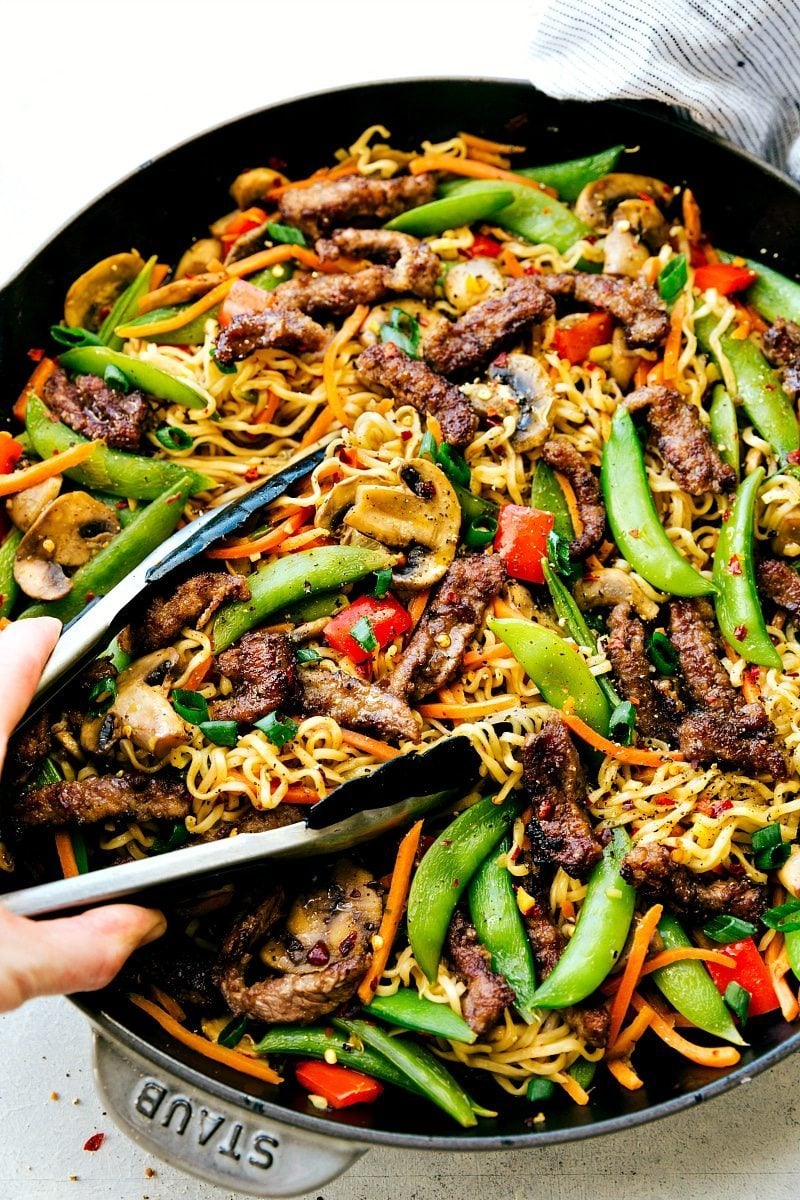 I've started giving the toddler a few more chores around the house — simple things that he can easily complete in not too much time.
But instead of ever finishing these tasks in a few minutes, they get drawn out for ridiculous amounts of time. The other day, when he knocked over a box of cereal, I asked him to clean up the spilled cereal and throw it away. He slowly and dramatically cleaned up three or four pieces and then stood there and said in the sweetest, most innocent voice, "Mom, I think you need to clean these up, because I really need a break." ?
Other excuses as of late: "It's too hard mom," or "it makes me so much tired," or another favorite: "can the baby do that?"
I have no idea where he's come up with these excuses, but I'm not doing a great job discouraging them when they make me bust out in laughter.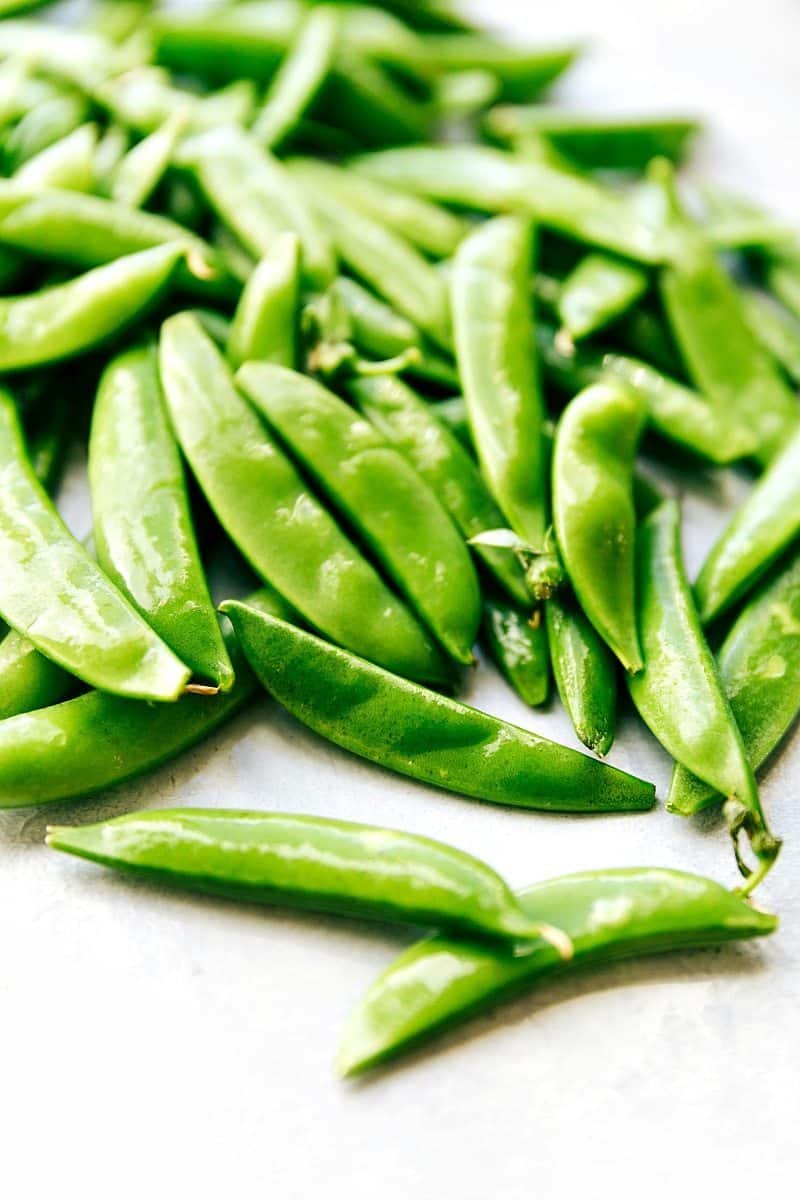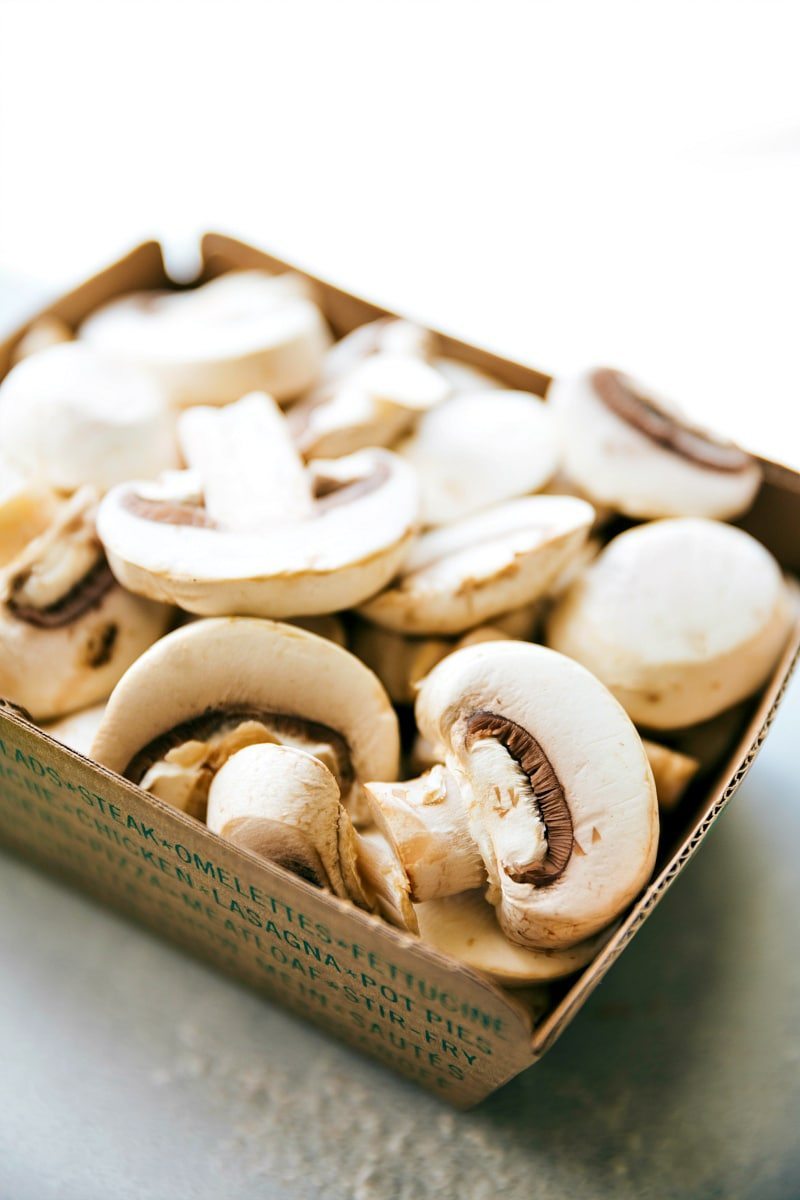 So when it came time to eat dinner and he told me he "need(ed) a break from carrots," all I could do was laugh and tell him he didn't have to eat the carrots. That turned into him also removing the mushrooms, peppers, and the beef. So basically he ate ramen and snap peas for dinner and couldn't stop telling me how much he liked it. ?
This dish does have a few steps to it, but it comes together pretty quickly and flows well. Most is done all in one skillet (or a wok if you have one), but you will use an extra pot to cook the ramen in. Technically you can cook the ramen in the sauce at the end, but I preferred the taste/texture better with the noodles cooked separately (especially if you are going to have leftovers!).
Speaking of the ramen noodles, you'll barely boil them to keep them from getting mushy. The package says to cook them for 3 minutes, but I remove them right at 2 minutes and then drain and rinse in cold water. This way when you mix the noodles with the sauce and other ingredients, it has a chance to get a little more tender without getting mushy. ??
I discard the seasoning packets in the noodles, but you can use those in place of the beef stock/broth (just add 1 cup water), but beware of the dish being a bit salty if you use those packets. And definitely make sure to use low sodium soy sauce to avoid an overly salty dish.
Enjoy!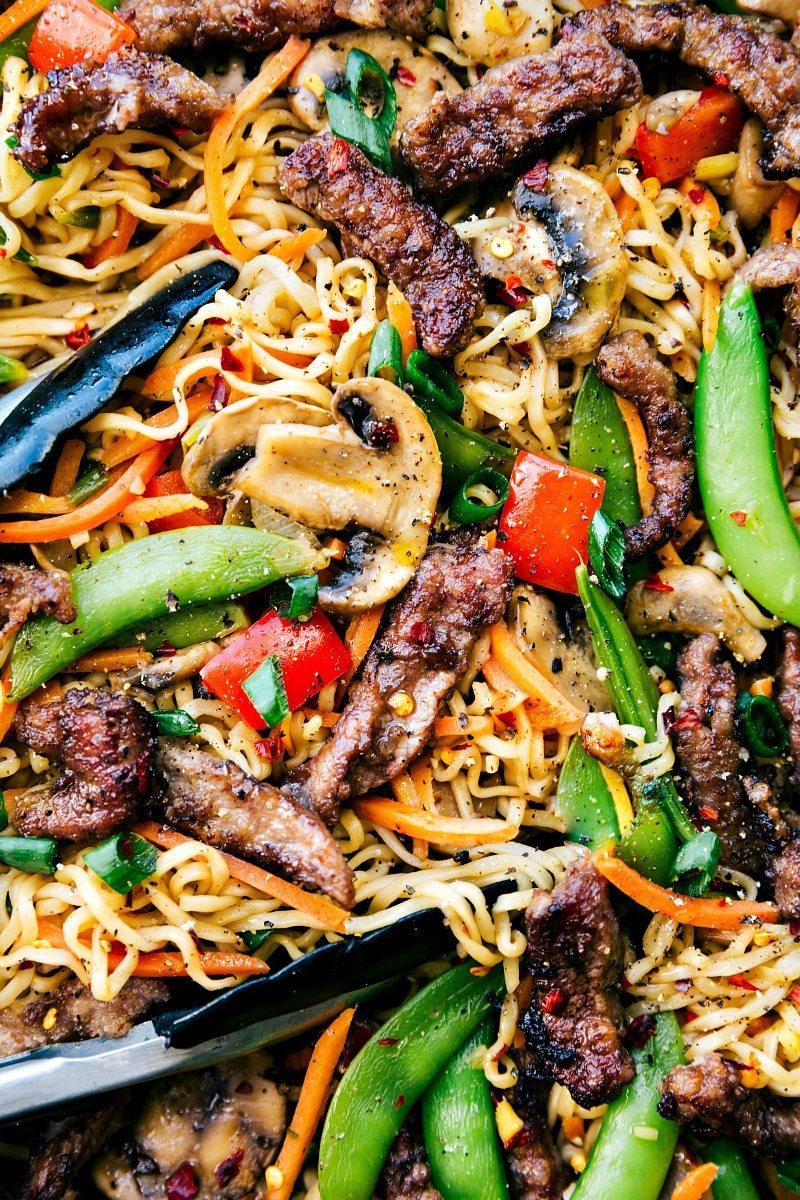 PIN THIS RECIPE to your recipe board!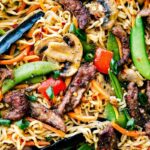 Garlic Beef and Veggie Ramen
Garlic Beef and Veggie Ramen is an easy 30-minute dinner recipe that is so much better than take-out!
Ingredients
3/4

cup + 2 tablespoons

low-sodium soy sauce,

separated

2

tablespoons

hoisin sauce

2 and 1/2

tablespoons

minced garlic,

separated

3

tablespoons + 1 teaspoon

cornstarch,

separated

1

pound

flank steak

3-5

tablespoons

vegetable oil,

separated

Assorted veggies: 8 ounces sliced mushrooms, 8 ounces snap peas, 1 cup shredded carrots, 1 red bell pepper

2 packages

(3 ounces each)

ramen noodles

(discard seasoning packets; use just the noodles!)

2

tablespoons

sesame oil

1

cup

low-sodium beef stock or broth

1

tablespoon

minced ginger

1/2

cup

brown sugar*,

packed

1/2 - 1 full

teaspoon

red pepper flakes

Optional: green onions
Instructions
OPTIONAL: marinade the meat. Toss together 1/4 cup soy sauce, hoisin sauce, and 1 tablespoon minced garlic. Very thinly slice the flank steak against the grain into 1/4th inch thick strips and then into 2 inch pieces. Place the steak pieces in the marinade and set out at room temperature for 20-30 minutes. OR cover tightly and place in the fridge for up to 8 hours. If you want this to be a true 30-minute dinner, skip this step!

While the meat is marinating, prep and cook the veggies. Place 1 tablespoon oil in a large skillet or wok and add in the sliced mushrooms, snap peas, shredded carrots, and chopped red bell pepper. Cook over medium high heat until crisp tender and transfer to a bowl/plate.

Remove the meat and drain off any remaining marinade. Toss the meat to coat with the cornstarch in a large plastic bag. Alternatively use your fingers to work the cornstarch into the meat. Make sure all of the meat is well coated in cornstarch.

Add another tablespoon of oil. Heat until the oil is shimmering and then add in 1/2 the beef so it can be in a single layer. Cook without moving until the beef is well seared, about 1-1/2 minutes. Continue cooking while stirring until the beef is lightly cooked but still pink in spots, about 30 seconds. Transfer to a plate.

Add in the last remaining tablespoon of oil to the pan and heat until shimmering. Add the remaining beef and cook without moving until the beef is well seared, about 1-1/2 minutes. Cook for another 30 seconds. Transfer the rest of the beef to the plate.

In that same skillet or wok, add in the sesame oil, remaining 1/2 cup + 2 tablespoons soy sauce, beef stock or broth, remaining 1 and 1/2 tablespoons minced garlic, minced ginger, brown sugar* (add to your taste preference, we like a lot of sugar in this dish), and red pepper flakes.

Stir and cook (uncovered) over medium heat until sauce thickens a bit and reduces by about a third (about 10-12 minutes). You don't want to reduce it too much so it can still generously coat all the noodles & veggies.


In a small dish, whisk together remaining 1 teaspoon cornstarch with 1 teaspoon water until smooth. Whisk into the sauce.

While the sauce is reducing, boil a small pot of water and cook the ramen noodles for exactly 2 minutes. Drain and rinse in cold water.

Add the cooked veggies, cooked meat, and drained ramen noodles into the sauce. Toss to coat and top with green onions. Add some cracked pepper and additional red pepper flakes if desired. Enjoy immediately.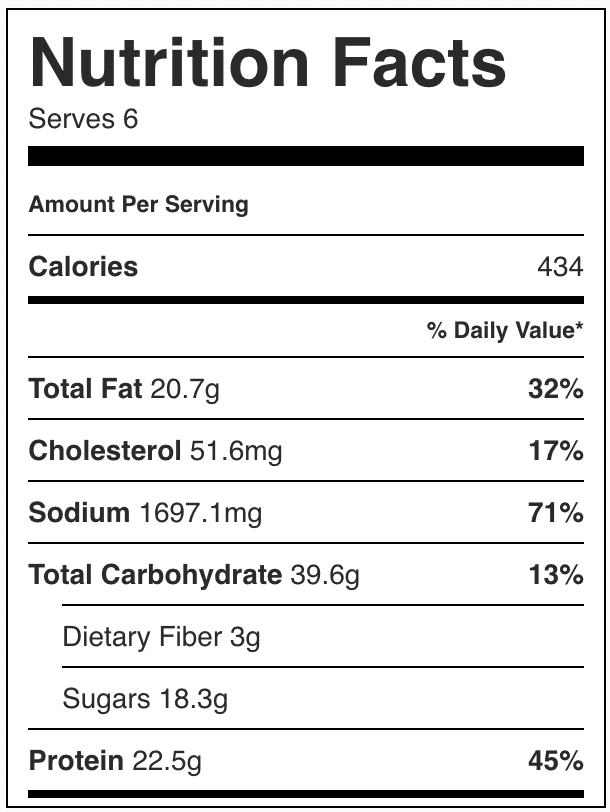 More Easy Dinner Recipes: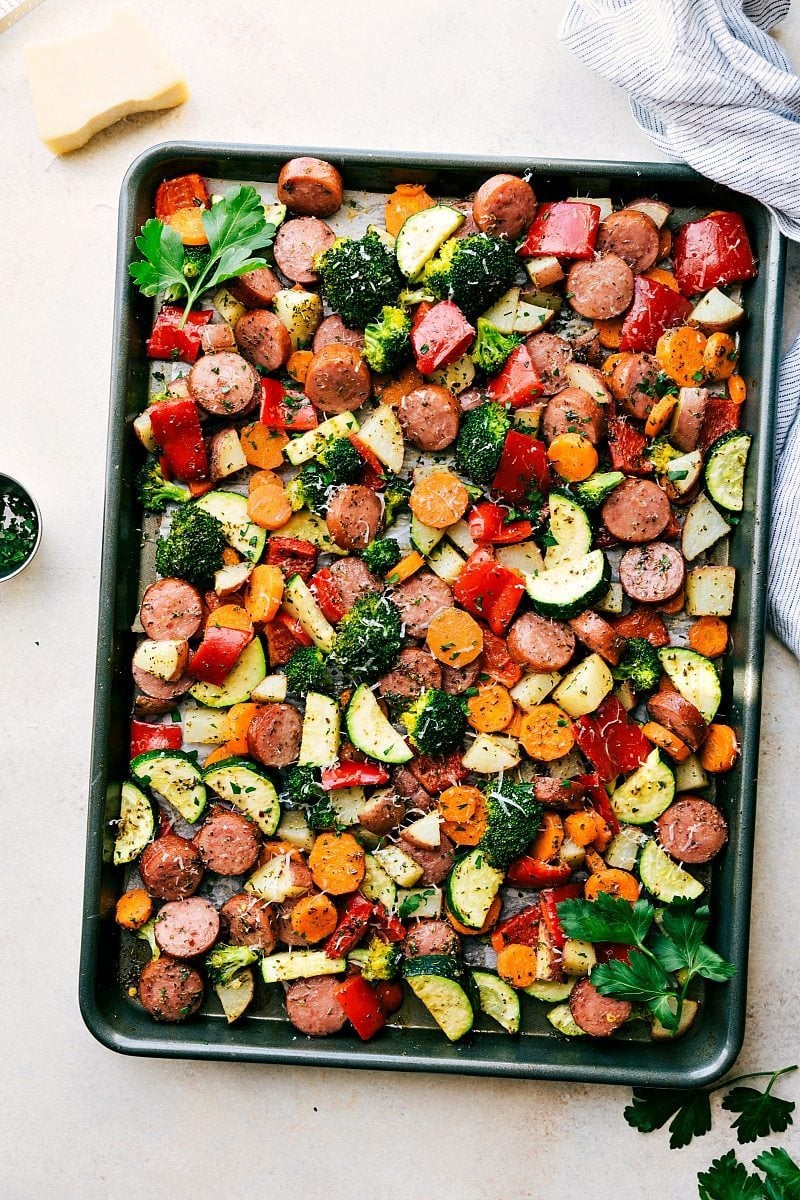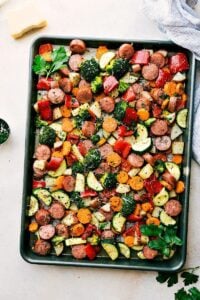 One Pan Italian Sausage & Veggies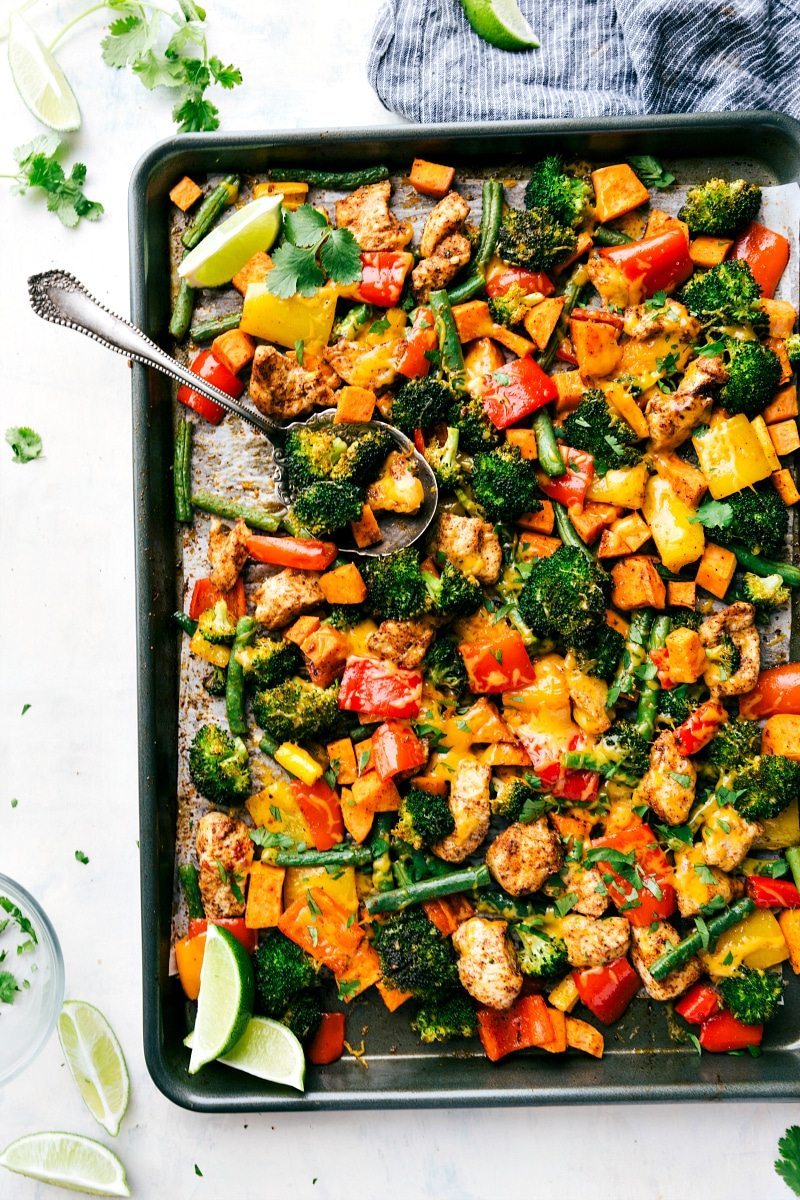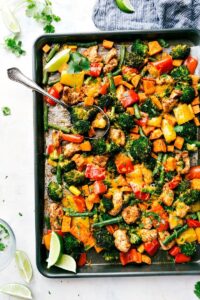 Healthy Sheet Pan Chicken and Veggies