A quick and delicious take on fish and chips — all baked on just ONE pan. This version is healthier because it isn't baked, but it certainly isn't lacking on flavor! The fries are ultra crispy and flavorful, the fish has a secret hack to make it seem fried, and all prep is done in under 30 minutes. Plus a quick homemade tartar sauce (optional to make) that takes no more than 5 minutes to assemble.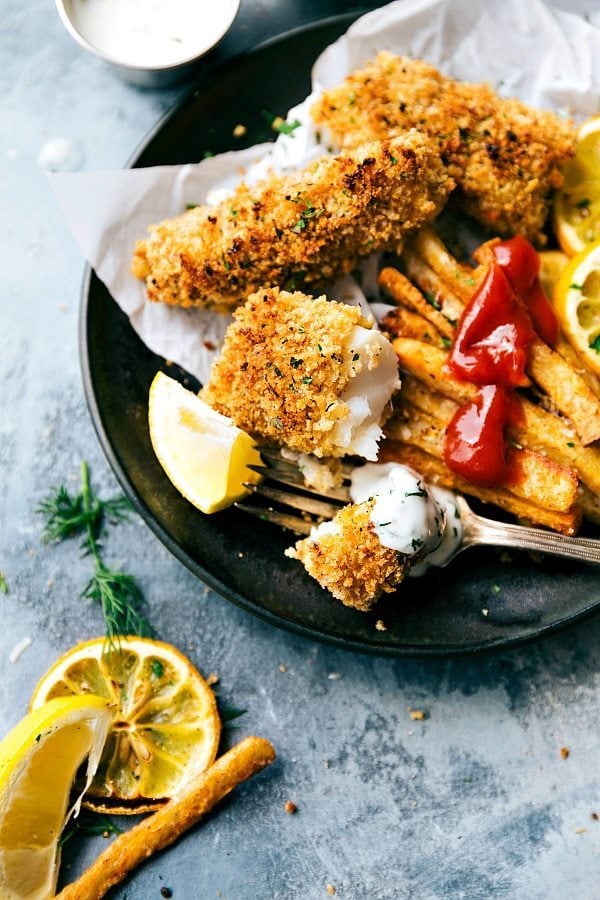 Growing up one of my family's favorite meals my mom "made" was fish-sticks and french fries. Both the fish-sticks and fries were from a box (or bag?), but we couldn't care less because we all loved them so dang much. I'm sure my mom loved them too because dinner prep was an absolute breeze and all 7 kids couldn't have been more happy. We would also squeeze wedges of lemon over our store-bought fish-sticks and pretend to be fancy with it all ?.
I could still probably down half a box of fish sticks these days (and no guarantees I didn't while I was in college..), but since I'm not too sure how much fish actually makes it into those fish-sticks, along with all the other ingredients they throw in there, I don't buy them all that often anymore. In fact, I don't think I've bought them since college days. ? So, clearly, a recipe with breaded fish has been very much needed.
While these aren't really like fish-sticks (trust me, SO much better), they aren't completely like fish and chips either because they are baked. That said, these are so dang good and the name ended at fish and sticks, because what else could I call this? I'm not so good at this whole naming recipes thing. BUT regardless of the name, you honestly will not miss the fried version after trying this one out. In fact, the husband even thought the fries had been fried because they are that good and crispy. I have a few tips and tricks that I'll share for extra crispy oven baked fries after trying so many different things over the years.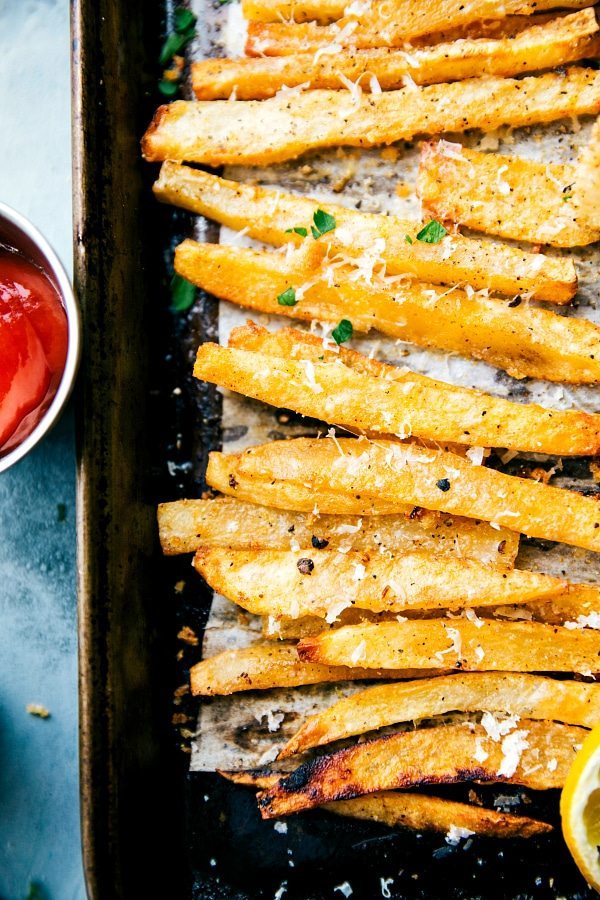 So how do you get crispy fries with out the deep frying? First, soak the cut potatoes in water before baking. By soaking the potatoes you are removing some of the extra starch which will naturally make the fries more crispy. If you haven't tried soaking your fries before baking them, you will notice a HUGE difference. The one note here is to make sure the fries get completely 100% dried after being soaked. I can't stress this enough — if they are a little wet they do not crisp up super well. They just end soggy and blah. Trust me — I've been lazy before and not totally dried them out. You'll want to soak the potatoes for at least 30 minutes and can soak them up to 2 hours. If you are soaking the potatoes longer than 30 minutes, cover them up and place them in the fridge.
Another way to get crispy fries is how you actually cut up the fries. First off, I just slice off both ends of the potatoes and chuck those pieces. That will help in getting evenly cut fries. You want the fries to be as even as possible — too thick and then never really crisp up and too thin they get too crispy. Aim for the fries to be about 1/4th an inch in thickness.
And lastly, how you put the fries on the pan matters. First off you'll want to use parchment paper for this recipe. This ensures a nice "crust" for the fish, but it also helps in getting the fries extra crispy. So first, parchment paper and second, make sure to not overlap the fries. Spread the fries completely evenly on the sheet pan so they each have space to cook evenly. This recipe calls for 3-4 potatoes, so don't use more than that and make sure each of the fries have adequate room to cook.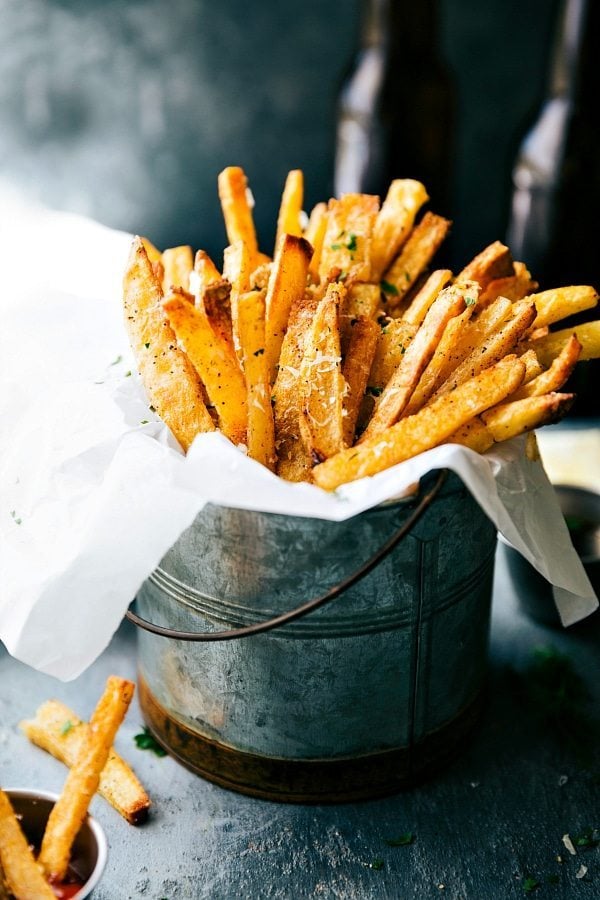 As far as the extra crispy oven baked fish, I have a few tips and tricks for that as well.
First, the breading that coats the fish gets a quick "fake fry." You'll take the coating mixture (Panko, thyme, garlic) and toast it on a skillet with some oil. This gives it an incredible flavor and more of a fry-like feel without the calories and all the work (and oil) of frying. It only takes about 5-7 minutes and really enhances this dish's flavor.
You'll also generously dredge the fish in flour before the breading mixture which helps in the overall crispiness. And the last tip is to do a quick broil in the oven. You don't want to do it for more than 30 seconds or so, but this really helps to give a nice crisp exterior to the fish.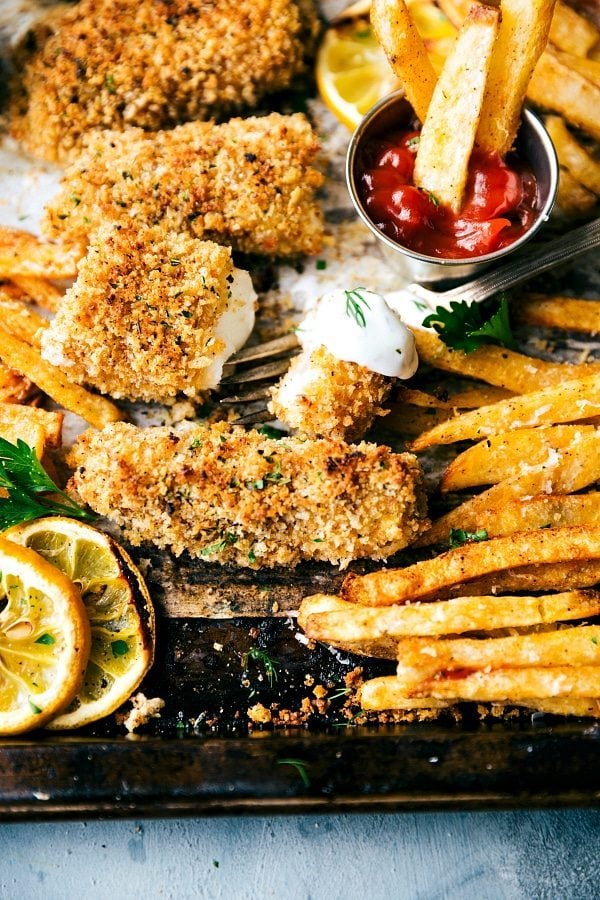 Although all these tips and tricks seem like it's requiring a lot of extra effort, it really doesn't. This dish comes together very easily and it's one of those dishes were you always have something to do and then BOOM dinner is ready. Here's how I like to prep it out: Soak the fries and do something else while they are soaking. Next, work on the fries while the oven is pre-heating (dry, cut, make the spices). Once the oven is heated, the fries should be ready so start cooking those. (I prep the fries right on the sheet pan to avoid extra dishes) Next work on the fish. (Again to avoid dishes, I leave the breading in the skillet and bread the fish in that same skillet once it's cooled.) The fish is easily ready to go by the time the fries are ready. So, add the fish to the pan. Bake for about 10 more minutes. In that last 10 minutes, make the tartar sauce, set the table, maybe even put your feet up for the last 2-3 minutes 🙂
And there you have it: a one pan meal all ready to LOVE.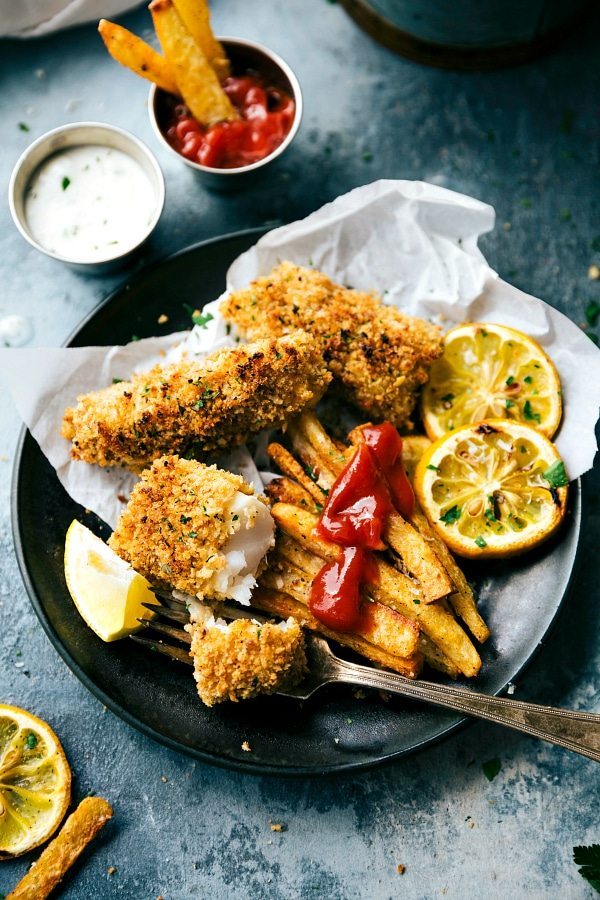 The instructions are long, but this recipe is not difficult to make. I am just very thorough to help avoid any confusion! Enjoy 🙂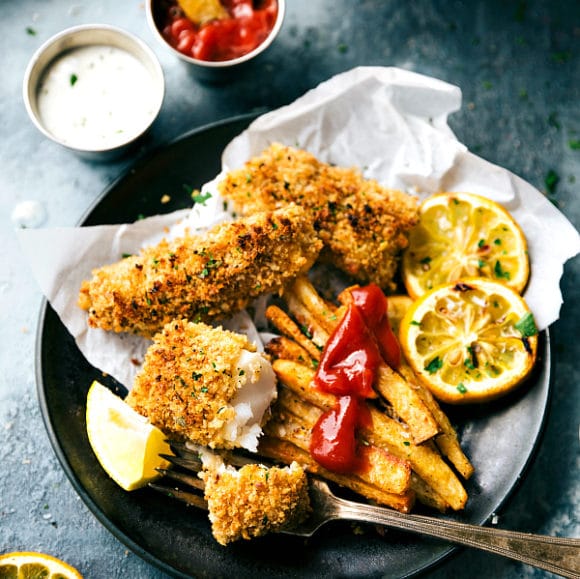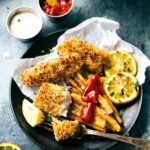 ONE PAN Baked Fish and Chips
Ingredients
3-4

medium sized russet potatoes

Seasoned salt and Pepper

1/4

teaspoon

each chili powder & garlic powder

Pinch ground cumin

10

ounces

cod

1

cup

Panko*

1/4

teaspoon

dried thyme

1

teaspoon

minced garlic

4

tablespoons

olive oil

separated

1/3

cup

flour

1

large egg

2

tablespoons

Dijon mustard

2-4

tablespoons

Parmesan cheese

optional

Serve with: Fresh lemon, tartar sauce, (recipe for delicious homemade tartar sauce is below this recipe!) ketchup, fry sauce
Instructions
Wash and peel the potatoes. Cut them into 1/4th inch thick pieces and place in a cold bowl of water for about 30 minutes. (If you plan on soaking longer than 30 minutes, place in the fridge covered)

Adjust the oven rack to be the 2nd from the top. Preheat the oven to 425 degrees F. Line a large pan with parchment paper (do not skip the parchment) and set aside.

Remove the fries from the water and dry VERY thoroughly.

Toss together seasoned salt (1/2 tablespoon), pepper (pinch), chili powder, garlic powder, and cumin. Remove 1 teaspoon of these spices.

Place the COMPLETELY dried fries on the prepared sheet pan. Cover with 1 to 2 tablespoons olive oil and the 1 teaspoon of spices. Toss and then quickly separate to be in one layer.

Bake in preheated oven for 15 minutes, remove, flip, and bake for another 15 minutes.

MEANWHILE, prepare the fish. Take the Panko, dried thyme, minced garlic, and 2 tablespoons olive oil and place in a large pan over medium to medium high heat. Stir pretty constantly for 4-6 minutes or until the Panko is toasted. Remove from the heat and set aside.

Grab 2 other bowls. Put flour in one bowl. Place the egg and Dijon mustard in the last bowl. Briskly whisk the egg and mustard until well combined.

Cut the 10 ounces of cod into 6 equal sized pieces. Generously salt (about 1 teaspoon) and pepper (about 1/2 teaspoon) both sides of each of the cod pieces.

Being gentle, dredge each piece in flour. Be generous you should use up most of the flour.

Then dredge each piece is the mustard + egg mixture.

Finally dredge each piece in the panko. All 3 of the mixtures should be all used up.

Remove the fries from the oven and separate them to either side of the pan so there is a section in the center.

Place the 6 pieces of fish in the center and put back in the oven for 9-13 minutes or until the fish is cooked through and the fries are crispy. Broil for 30 seconds if desired.

Remove from the oven and toss the fries with another teaspoon (or to taste) of the fry seasoning mix. Toss with the Parmesan cheese if desired.

Enjoy immediately with tartar sauce and fresh lemon.
And for the Easy Homemade Tartar Sauce: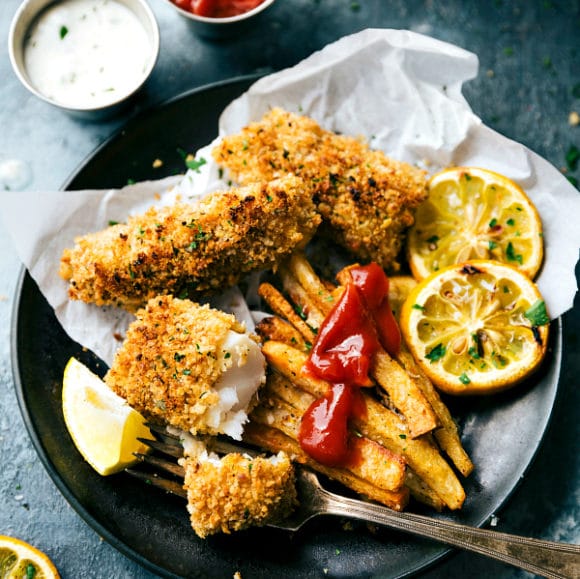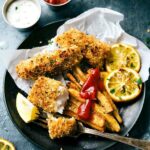 Quick Homemade Tartar Sauce
Ingredients
1/2

tablespoon

minced yellow onion

1

tablespoon

fresh dill

1/2

tablespoon

pickle relish

1

large lemon

(1/2 teaspoon zest and 2 tablespoons juice)

1/2

cup

full fat mayo

Salt and pepper
Instructions
In a small blender or food processor, pulse the onion, dill, pickle relish, lemon zest, and lemon juice until quite smooth.

Stir in the mayo.

Season with salt and pepper to taste.
More easy ONE PAN dinners: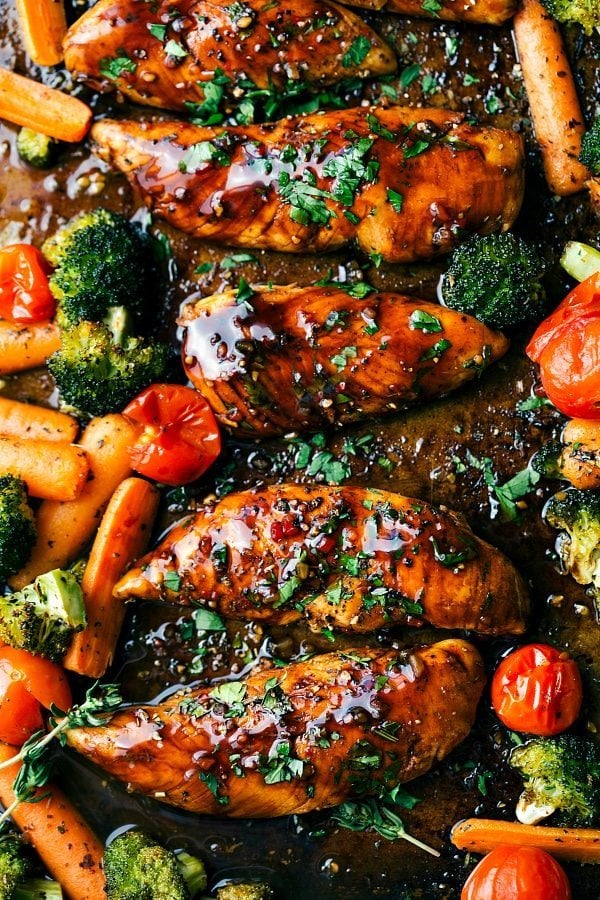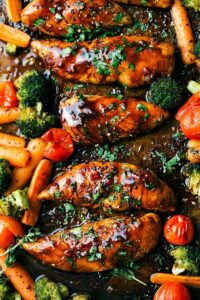 One Pan Balsamic Chicken and Veggies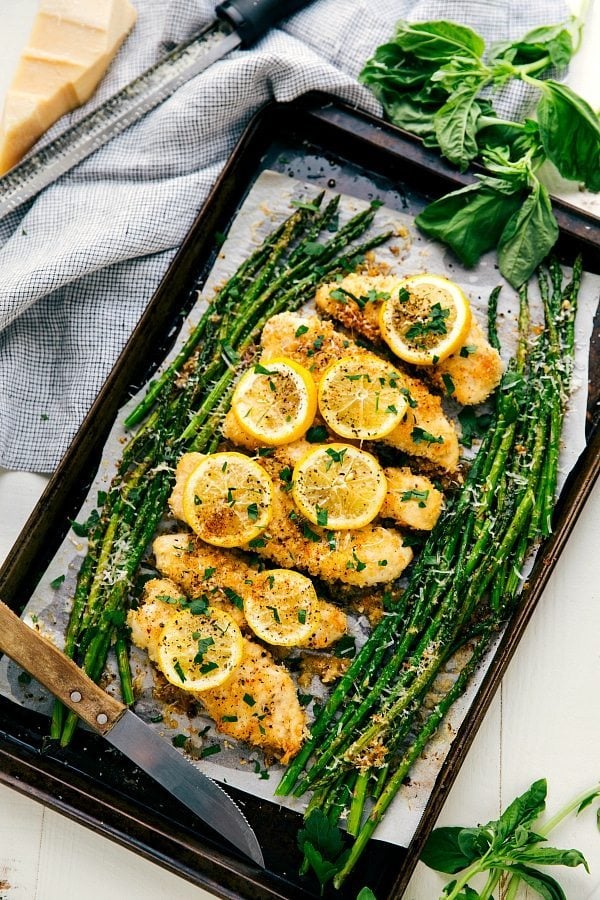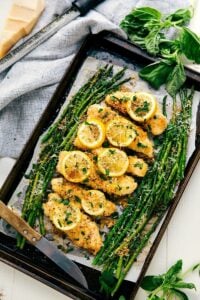 One Pan Lemon Parmesan Chicken and Asparagus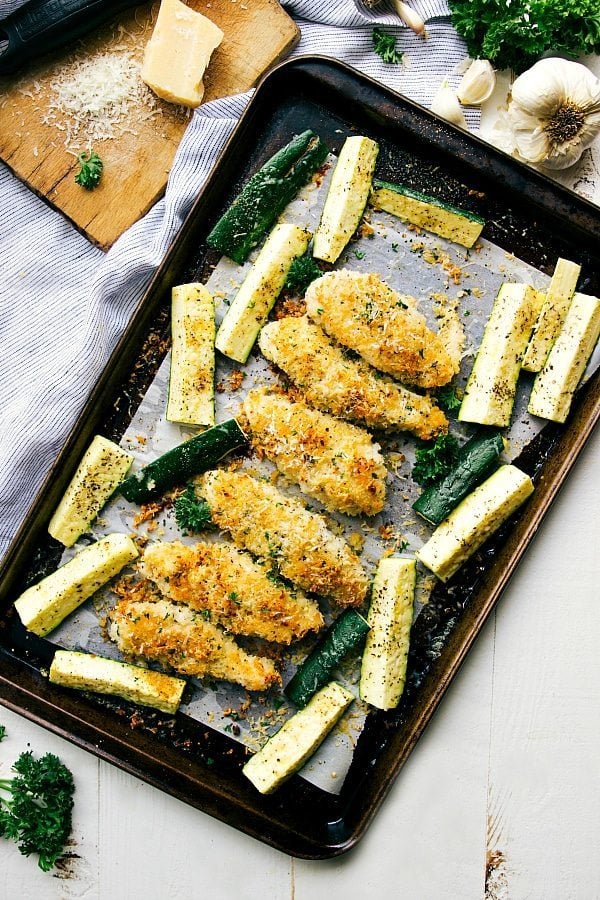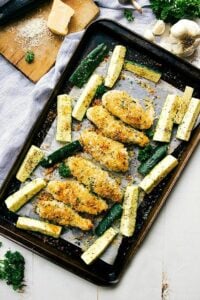 One Pan Parmesan Garlic Chicken with Zucchini
Nutrition: (Fish and Chips on the left, Tartar Sauce on the Right)