Baked EXTRA CRISPY parmesan chicken and veggies — dinner made on one pan and packed with flavor! Sure to be a hit with the entire family!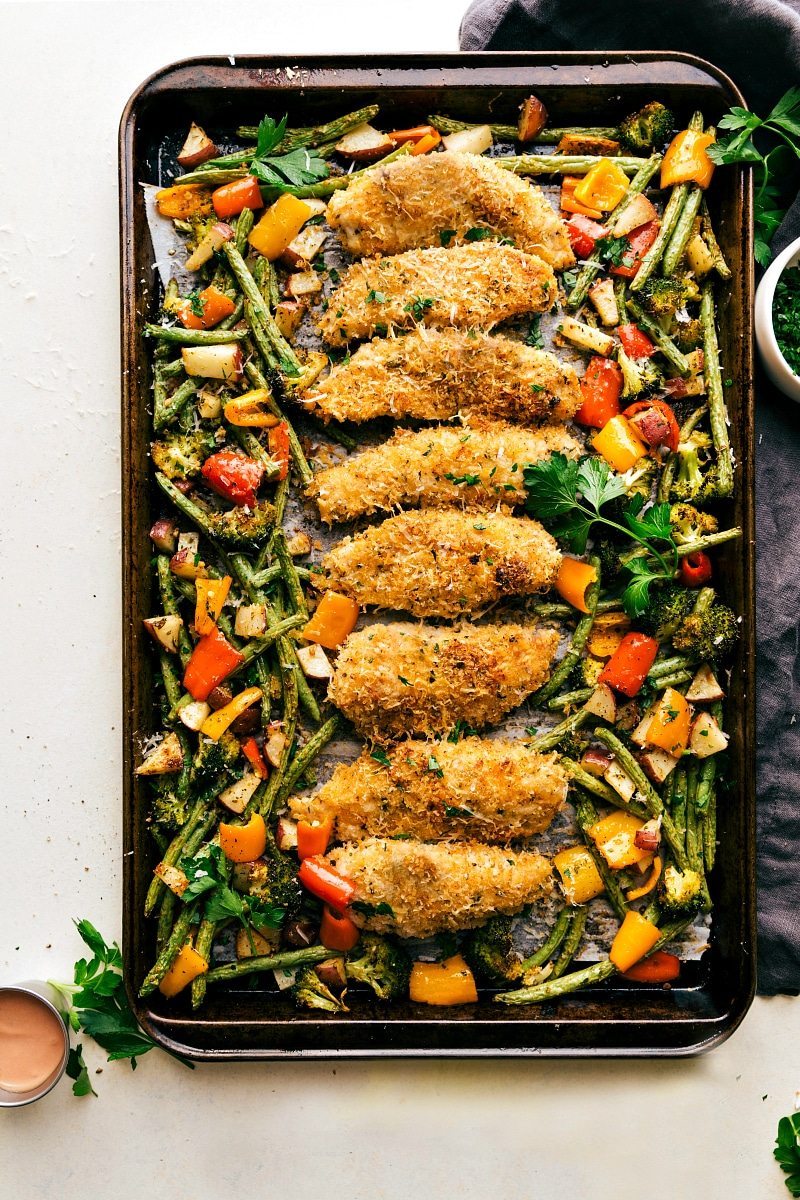 And just like that it's December! I can't believe how fast this year has flown by!
I know it's been a lot of desserts around these parts lately (and more coming). The boys and I can't get enough of baking around the holiday times. Especially because my toddler LOVES doing it with me. He could bake all day if I let him! The babe loves being in the kitchen too — he's just more of the destructive type instead of helping type 🙂 He'll empty cupboards, create his own music by banging spoons against lids, and empty the bottom shelves of the pantry.
When we blend or mix something though he has to be up and in the action. He'll walk over and grab my legs which means he needs to be picked up and see what is going on. He'll "ooo" and "ah" over the sounds of the blender, hand mixers, food processor, and/or the stand mixer. Which is a little surprising to me since I would think babies would be more scared than amazed by those sounds.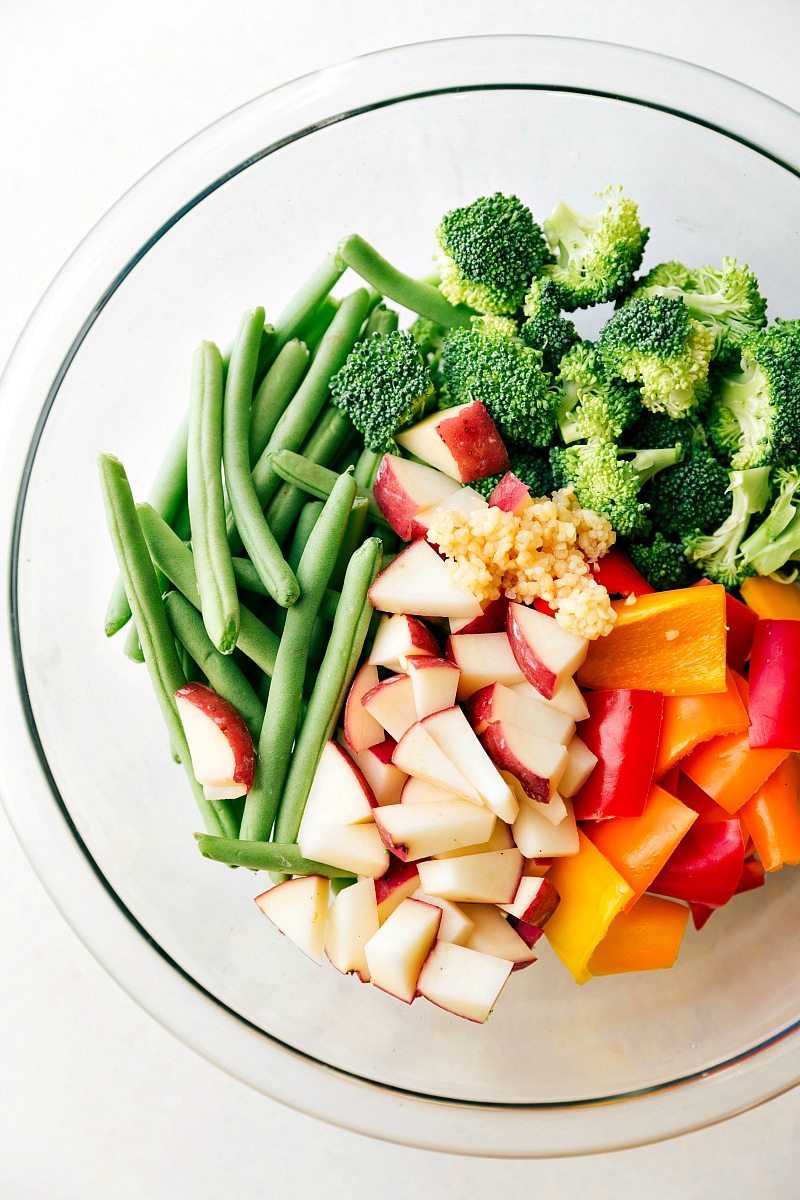 Anyways, hand mixers down for a minute here while I share another ONE PAN chicken dinner. ??This dinner has tons of veggies added in which is nice for the winter when good produce is harder to get and it can be more difficult to eat healthy.
Besides the fact that not all the summer produce is at its peak (or at a good price), it's also nice to have a dinner packed with good ingredients when there are likely lots of desserts heading your way this month.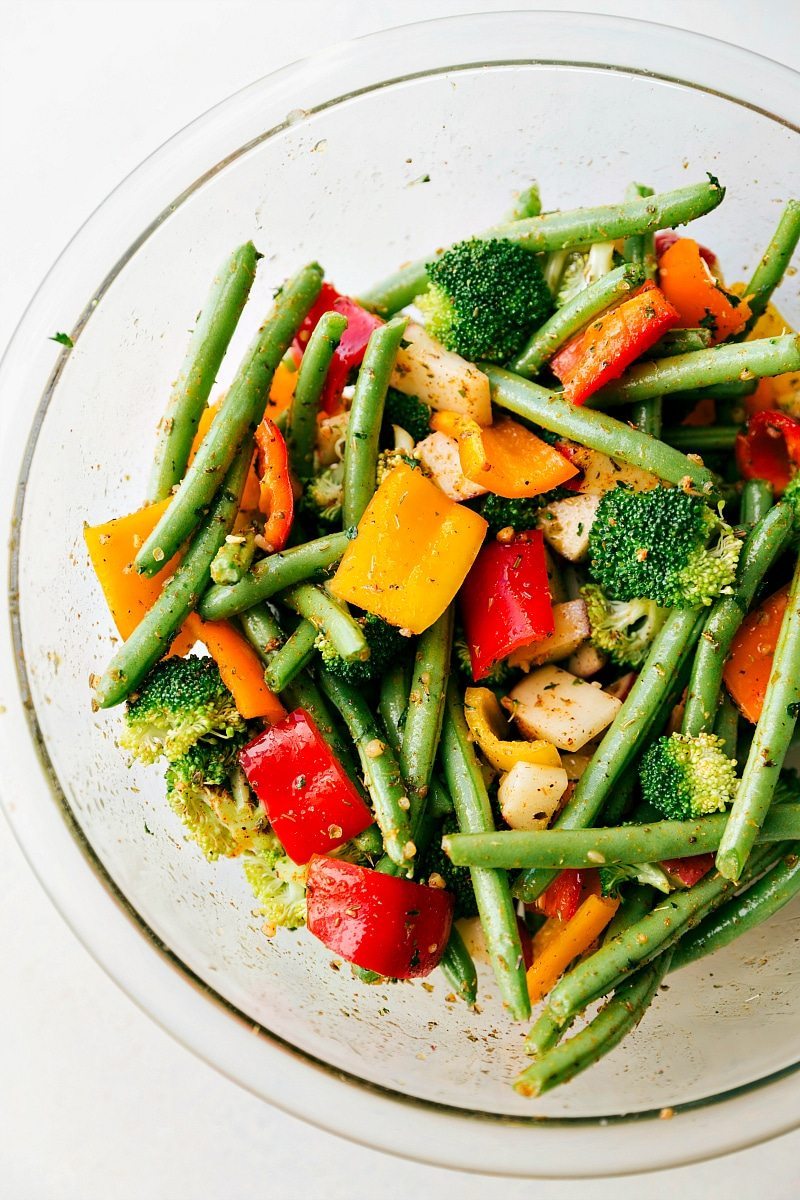 The veggies get tossed in a nice seasoning mix + some olive oil and they get baked on the sheet pan right next to the chicken. The chicken gets some of that same seasoning mix (two birds, one stone!), panko, and some grated Parmesan and then is baked on the same pan as the veggies.
I've also got an easy chicken dipping sauce if you're someone that has to dip your chicken in something! If you've ever been to Zaxby's (one of our favorite places to get a quick chicken sandwich) they have an amazing sauce. This is a copycat of that very sauce 🙂 If you're looking for a different sauce, here is my all-time favorite THREE ingredient dipping sauce for chicken (<–click there.)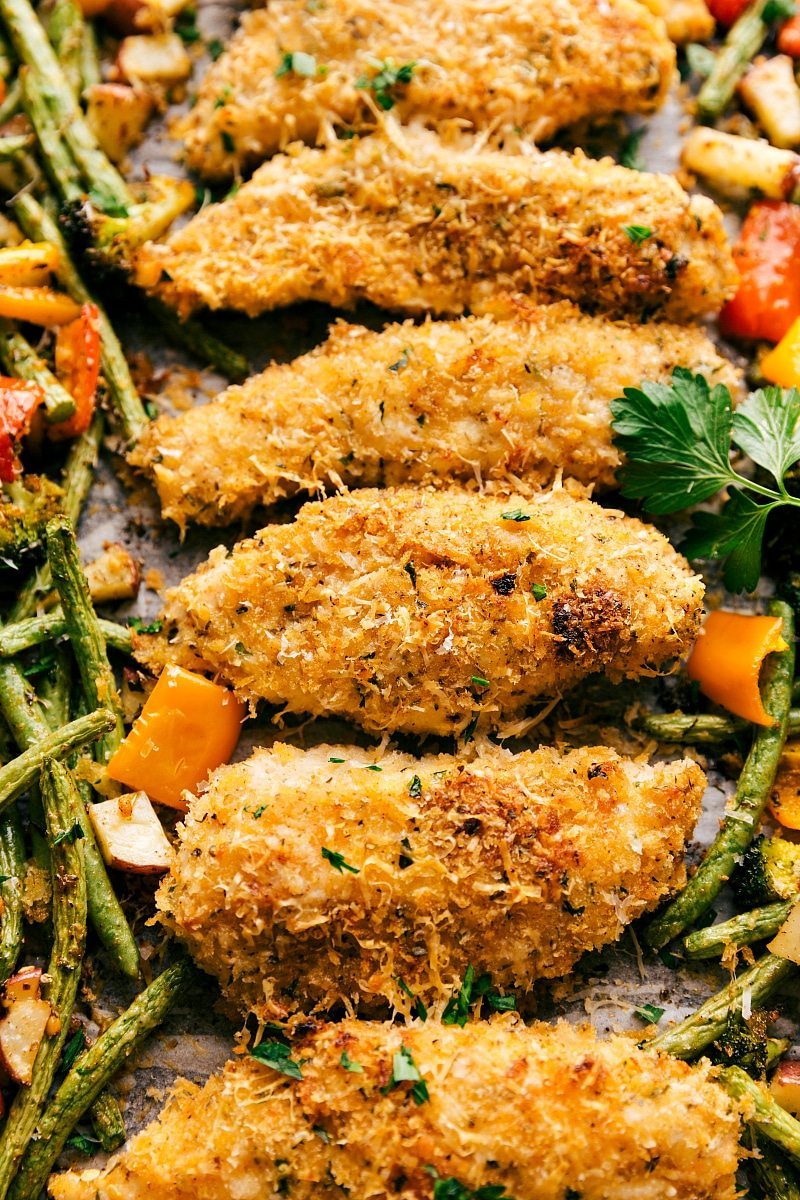 Okay and now for probably the most exciting part of this post; I've got a new secret for getting EXTRA CRISPY baked chicken. It was a happy accident that I can't wait to share.
I had just had some cookies cooling on my tiny cooling rack when I started making this dish for dinner to test it for the first time. They were cooled enough and ready to put in a plastic bag so I transfered them over and washed the cooling rack. It was set out drying when I started dredging the chicken. After putting the veggies on the sheet pan I noticed a bit of the oil leaked into the center section and was wondering if that might make the chicken soggy. SO, I grabbed that cooling rack and placed it on the left-side of the pan with the breaded chicken on top (moved the veggies to the right side) and cooked it that way. It is seriously life-changing for crispy baked chicken!! If you have a small cooling rack, try this out with this dish! If you don't, your chicken won't be soggy (I tried this dish without the cooling rack) it's just not to the degree of crispiness with the cooling rack.
By the way; if you are wondering what small cooling rack I have; you can check it out right here: COOLING RACK
. Also, I haven't tried it, but if you have a larger cooling rack that could lay vertically over the pan on one side and still fit in the oven, that should work too! 🙂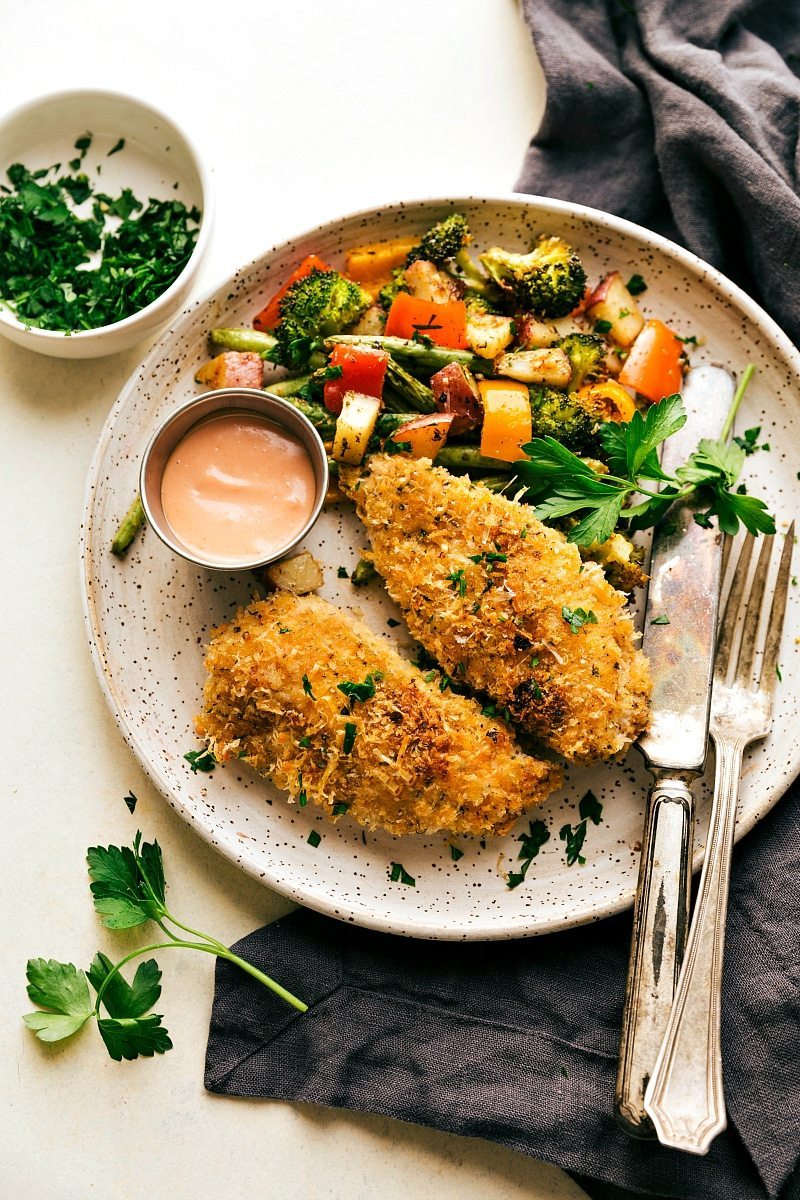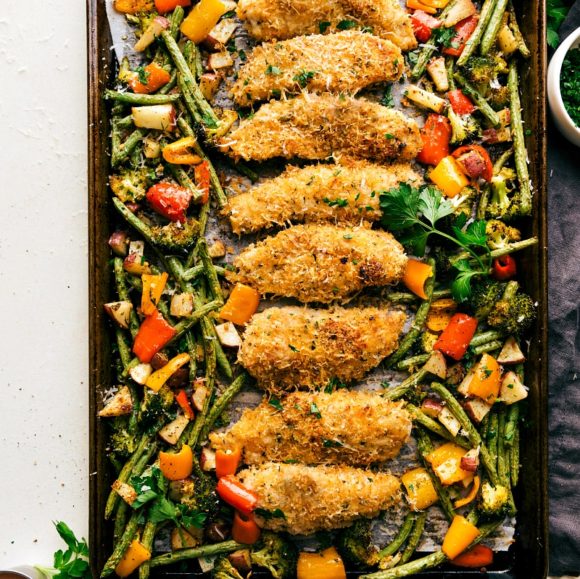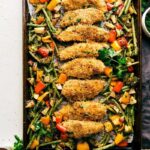 One Pan Crispy Parmesan Chicken & Veggies
Ingredients
1

teaspoon

paprika

1/2

teaspoon

garlic powder

1

tablespoon

dried oregano

1

tablespoon

dried parsley

Seasoned salt and pepper

Veggies: 1 small (1 cup) red potato, 1/2 pound (8 ounces) green beans, 1 head (heaping 1 cup) broccoli, 1 sweet bell pepper (or 8-9 miniature bell peppers), 1 tablespoon minced garlic

3

tablespoons

olive oil

1 and 1/2

pounds

boneless skinless chicken tenders

or breasts

1/3

cup

white flour

1

cup

Panko*

1

cup

freshly grated Parmesan cheese

separated

4

tablespoons

butter
Optional Dipping Sauce
1/2

cup

regular mayo

1/4

cup

ketchup

1/2

teaspoon

garlic powder

1/4

teaspoon

Worcestershire sauce
Instructions
Preheat the oven to 400 degrees F. Line a large pan with parchment paper (easier clean up) and set aside.

In a small bowl, combine the paprika, garlic powder, oregano, parsley, and 1/4 teaspoon (or to taste) each of seasoned salt and pepper. (You will separate this seasoning mixture into 2 equal parts.)

Prep the veggies: dice a red potato (small pieces so it cooks in time), trim green beans, chop broccoli (again small pieces), chop the peppers, mince garlic.

In a large bowl or just on the pan, toss all the veggies with one half of the seasoning mix and olive oil. Toss to coat and then spread on either one side of the pan or on both sides. (one side is easier when mixing the veggies after the first bake.)

If using chicken breasts, remove excess fat, pound them to even thickness and slice them to the size of tenders (about 1 and 1/4th inch strips) or use chicken tenders. If using tenders, cut off any fat/unwanted pieces.

Grab three bowls. Add the flour to one bowl.

Combine panko, 2/3rds cup freshly grated parmesan cheese, and the remaining half of the seasoning mixture. Mix.

In the final bowl, add in the butter and melt. (Just melt -- don't heat it).

Coat in flour, dredge in butter, and then heavily coat in the Parmesan panko mixture.

Place on prepared sheet pan (OR on a cooling rack -- see note on how to get extra crispy baked chicken). Use any remaining Parmesan panko mixture and sprinkle over and press into the chicken.

Bake the sheet pan for 10 minutes and then remove. Using tongs, flip the chicken tenders onto the other side. Stir around/flip the veggies.

Return to the oven for another 10-15 minutes or until internal temperature of the chicken is 165 degrees F and veggies are crisp tender.

Remove from the oven and toss the veggies with the remaining 1/3 cup parmesan cheese.

While the chicken is baking, whip up a sauce to go with it if desired. Mix the mayo, ketchup, garlic powder, Worcestershire sauce, and about 1/2 teaspoon pepper. Whisk. Serve with chicken.
Recipe Notes
For EXTRA crispy baked chicken, place a small cooling rack on one side of the pan. Place the chicken on top of the cooling rack and then the veggies on the other side of the pan. Without the cooling rack just be careful that the oil from the veggies don't touch the chicken. (If you have a smaller tray place chicken on one side and veggies on the other)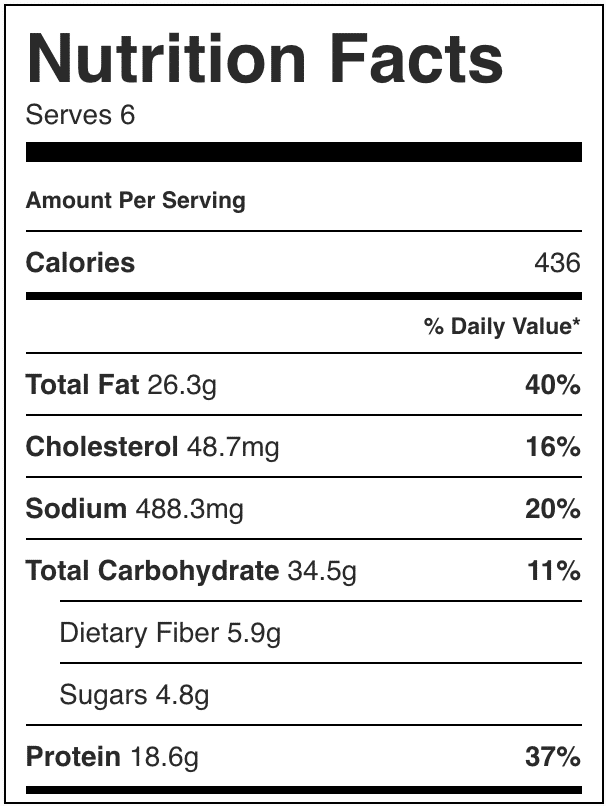 (Nutrition does not include optional dipping sauce as it's hard to guage how much is per serving)
More One Pan Dinners: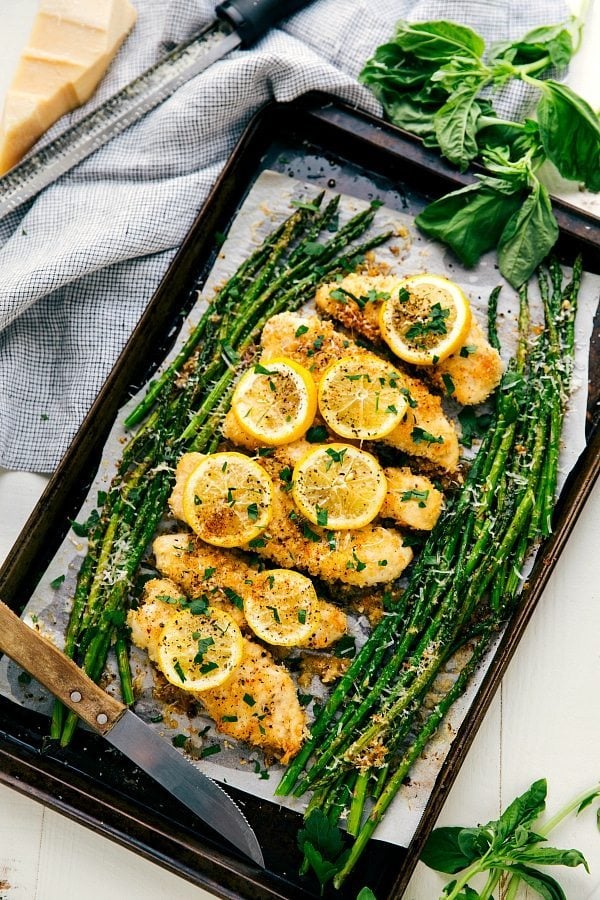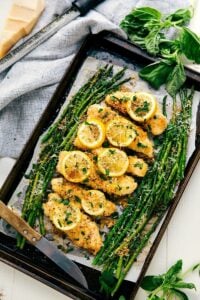 One Pan Lemon Chicken and Asparagus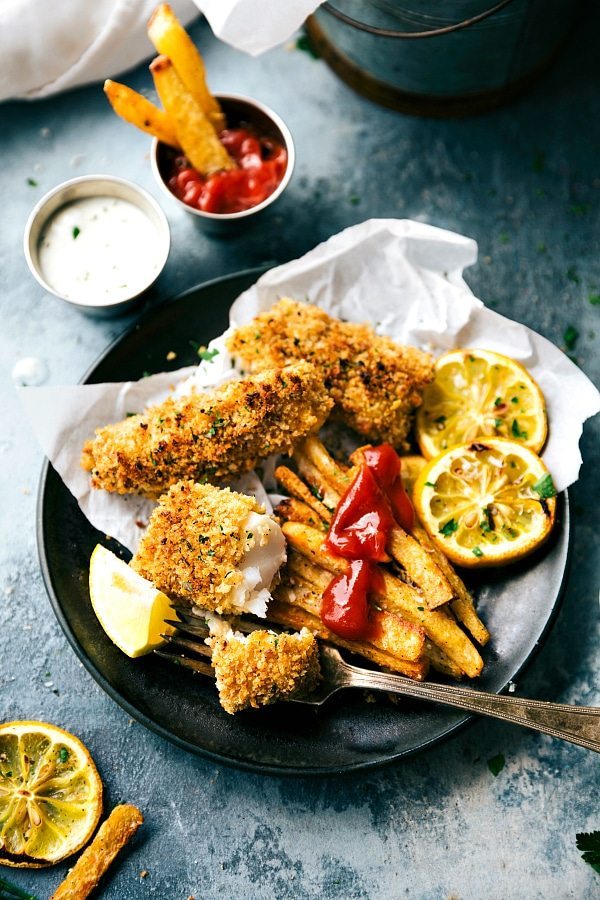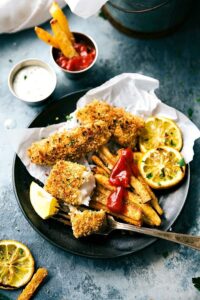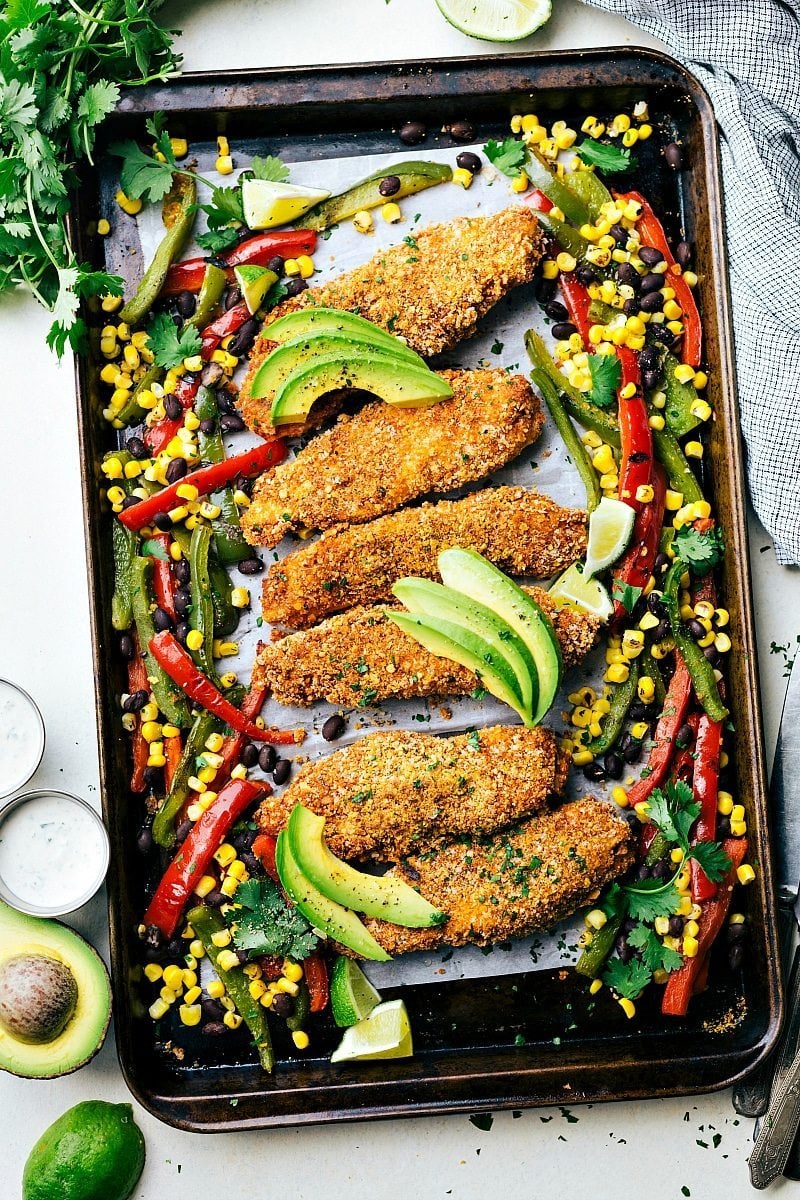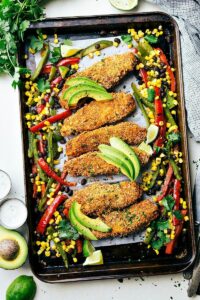 One Pan Mexican Tortilla Chicken and Veggies