No Bake Granola Bars that are naturally sweetened, no baking required, and absolutely delicious!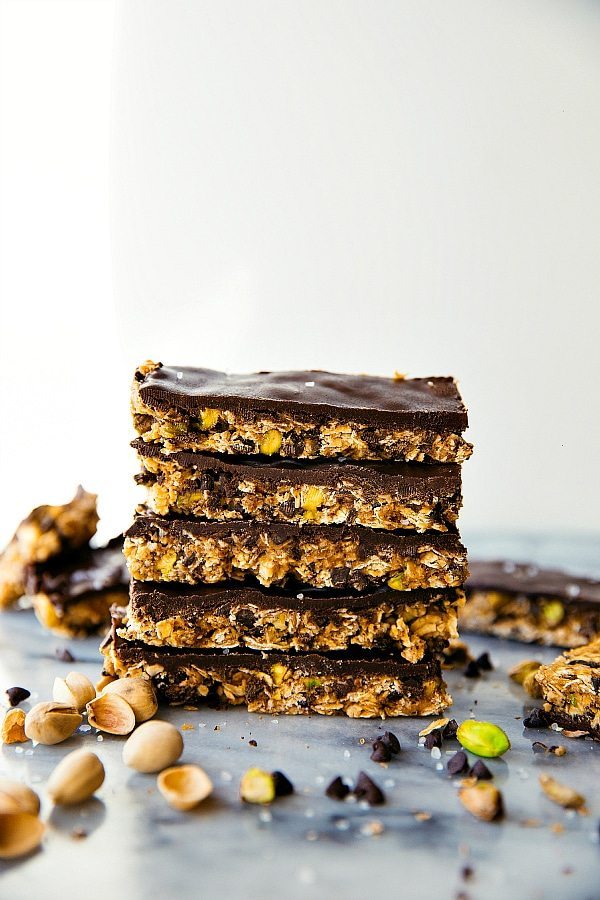 No Bake Granola Bars
The toddler is pretty obsessed with any kind of remote controlled toy. He especially loves remote controlled cars and will drive those for hours on end. That is, in between the ridiculous amounts of charging they require, with how much he plays with them.
For Christmas, the husband found an awesome remote controlled little plane on a Black Friday sale. I'm pretty sure this gift was actually intended for the husband, but it's definitely not his toy anymore. The toddler has learned how to play with it and can fly it quite well.
And by quite well, I mean he completely flew it into my hair, got frustrated it was tangled in my hair, and continued to try to fly it out of my hair. My frantic screams to "STOP! Don't push the buttons!!!" resulted in him pressing all the said buttons and a painful thirty minutes later, I now have about 50% less hair than I did yesterday.
I'm not sure if the toddler felt bad (how does a little boy even know how painful long hair being twisted and pulled is?!), but he did try and pick up my cut hair and put it back into my head. He was also a little frustrated when it didn't stay there.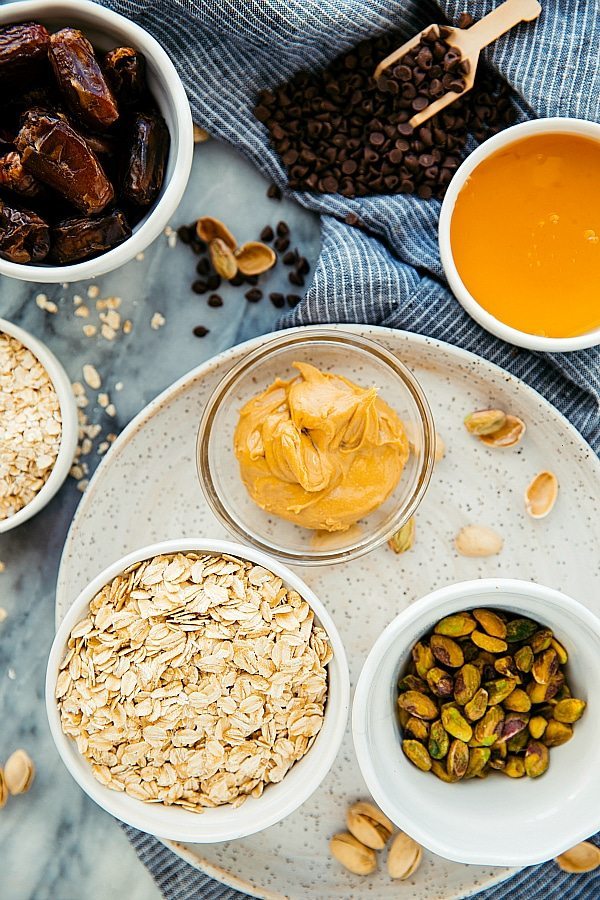 After a few more flying incidents I made the executive decision to retire the airplane until dad gets home and wants to help out. And then I convinced the toddler to do something I'm better at helping out with anyways — some snack making! We've been eating these granola bars like CRAZY. Also making TONS of this granola, and these energy bites. We've been making tons of healthy snacks to help with our healthy eating goals this January. And to stop all those cookie cravings….
The recipe is adapted from this recipe I shared a while back. BUT by changing up just a few ingredients the flavor is a bit different and absolutely delicious! Especially for a pistachio and dark chocolate lover.
I also thought a lot of people might have skipped out on those other granola bars since they were cut out like footballs and have a football lacing. But you don't want to miss these bars!! So these ones are a lot "lower maintenance." They are quick to make and no cutting or decorating required!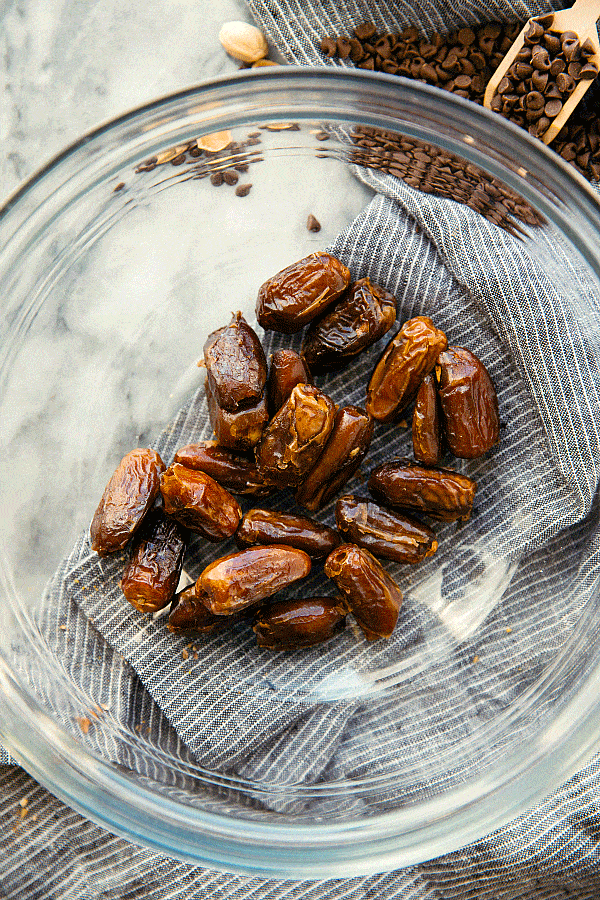 Also, if you happen to lose nearly half of the hair in your head from a toddler's lack of airplane flying skills, these granola bars tend to make everything a lot better. That and a couple tylenol. I'm just sayin… these bars… 🙂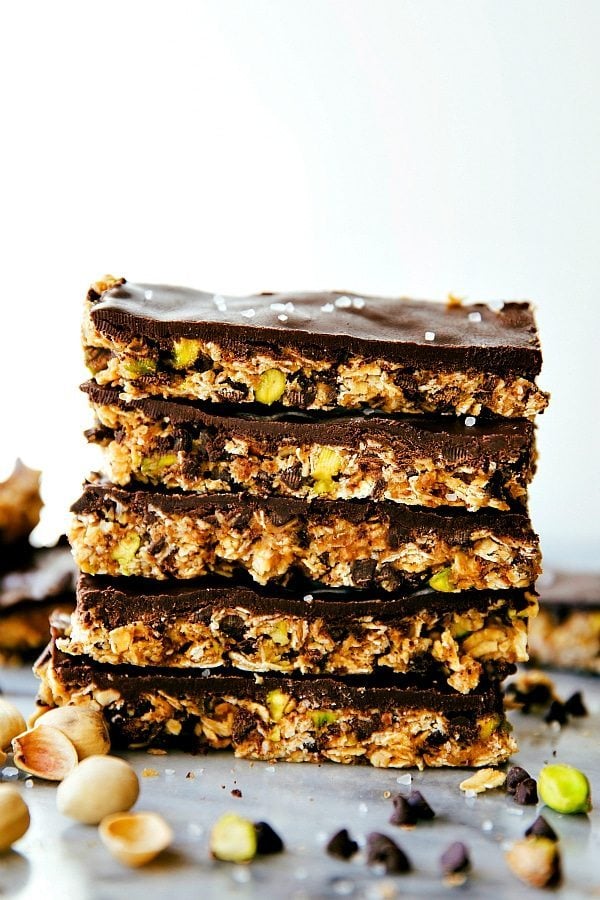 More healthy snacks: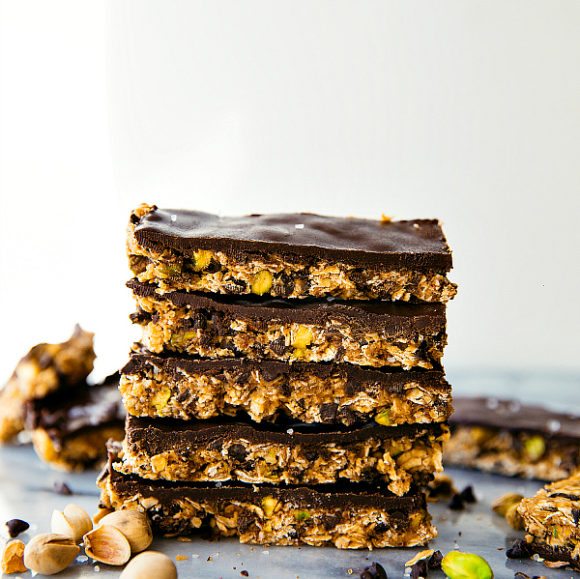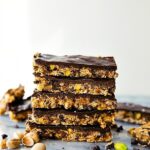 Dark Chocolate Pistachio Granola Bars
No Bake Granola Bars that are naturally sweetened, no baking required, and absolutely delicious!
Keyword:
No Bake Granola Bars
Ingredients
1

cup

packed pitted dates

deglect noor recommended

1/3

cup

creamy peanut butter

1/3

cup

pure maple syrup

1

teaspoon

vanilla extract

1/2

cup

quick-1 minute Oats

1

cup

old fashioned oats

3/4

cup

shelled pistachios

chopped

1/2

cup

miniature dark chocolate chips
Granola Bar Topping
1

cup

dark or milk chocolate chips

2

teaspoons

coconut oil
Instructions
Line an 8 x 8 pan with parchment paper or foil with an overhang for easy removal. Don't spray with cooking spray as it makes these greasy. Set aside.

In a small blender jar (I use the Twister jar for Blendtec) or a food processor, pulse the pitted dates to create a very thick and sticky paste. (If your dates aren't moist, soak in warm water and then drain and dry very well)

Scoop out the date paste and place in a bowl.

Slightly warm up the peanut butter and maple syrup in the microwave (like 20 seconds) and stir into the date paste. Stir well.

Add in the vanilla extract.

Stir in the quick oats and the old fashioned oats.

Add in the miniature chocolate chips and chopped pistachios

Knead with your hands to get it all well mixed.

Press into the prepared 8 x 8 baking pan and set aside while assembling the melted chocolate.

In a large microwave safe bowl combine the chocolate chips and coconut oil (measured when the oil is in a hardened state).

Microwave in bursts of 15 seconds stirring in between each burst for 15 seconds until melted.

Pour evenly over the bars and tip the pan around to move the chocolate in an even layer on top.

Place in the fridge (covered) until the chocolate is completely set.

Remove from the pan and cut into bars.

Store in the fridge, covered.